TRUE P-SOLO Delivers Big Studio Fidelity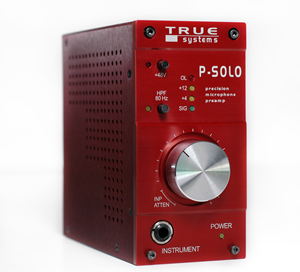 No one wants to hire the world's best guitarist if all he has to record is outrageous solos with a Radio Shack mic and a boom box! So, big studio fidelity is still the goal with online collaborators like eSession. As part of a project with ASCAP dubbed, "Digital Songwriter," founder, Gina Fant-Saez travels the country helping musicians and songwriters bone up on their technical chops so that they can comfortably exchange material with other professionals. Although still in its infancy, eSession boasts over 9,000 active members who can view online profiles of other members to hire and collaborate, and the site takes care of details of arranging bids and billing. "Apart from the mic, the mic pre is the most important link in the chain, and True Systems's P-SOLO makes professional sound affordable. To my knowledge, it is the least expensive high-end preamp you can get and makes a big difference in the sound of any microphone," says Fant-Saez, a previous studio owner.
True Systems is distributed TransAudio Group the premier US importer and distributor for high-end recording gear. Phone (702) 307-2700 or email Brad Lunde More info at www.transaudiogroup.com

Dream A Drawmer
25% saving passed on to US customers of Trans Audio Group For A Limited Time



Although news of the world economy appears to be written with a somewhat dour pen these days, with markets swinging wildly, promoting some uncertainty, TransAudio Group, Drawmer's U.S. distributor has some happy news for its customers. The price of all new Drawmer equipment has been dropped by 25% in the States. As there is no telling how long the economic conditions that are serving to underwrite this blowout will remain. Now is the time to buy Drawmer!

"It's a point of pride that Drawmer still manufactures all of its equipment in the UK, as it always has," said Brad Lunde, president of TransAudio Group, Drawmer's longtime US distributor. "But now it's also a point of leverage for US customers! The effective price to manufacture, say, a 1960 tube compressor, has come down by approximately 25% due to the relative strength of the dollar to the British pound, we are passing this savings on to all of our customers as long as these favorable currency ratios remains stable."

All of Drawmer's celebrated lines, including, the MX Series, the legendary '60s series, the workhorse Pro Series, the modern Digital Series, and the no-compromise Signature Series, are affected. If you've ever dreamed of owning your own Drawmer (or if you simply want to add more to your racks), now is the time to buy!

Call or e-mail your order today! Drawmer is distributed TransAudio Group the premier US importer and distributor for high-end recording gear. Phone (702) 307-2700 or email Brad Lunde More info at www.transaudiogroup.com

ATC Speakers at San Francisco's Dustpan Studios
Clio and Addy Award-winner Smith's Secret to a Great Mix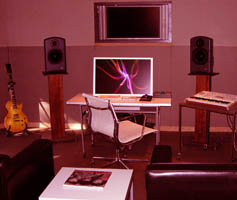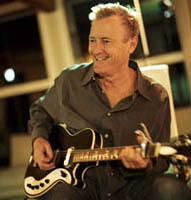 A pair of active ATC SCM 20 ASL monitors is the finishing touch to the redesign of Zack Smith's Dustpan Studio in San Francisco
Zack Smith is one of those rare individuals who seemingly erases the line with undeniable authority and inspired authenticity.
For those in the industry, his name precedes him. For those requiring some proof, a wall loaded with Clio and Addy awards and Platinum records should suffice. Smith started his career as the founder of the 1980s band Scandal (fronted by Patty Smyth)
and wrote most of the band's hits (most notably, "Goodbye To You"). He earned an Emmy for NBC's "Henson Rain Forest" special and is the creator of Cotton's "Fabric of Our Lives," ASCAP's most-played advertising theme. Clearly, he's got the chops, he's got the intuition, and he's even got the gear. A walk through his San Francisco studio, ironically named "Dustpan,"would stir feelings of envy in many pro audio geeks. Surprisingly, it was only recently that Zack gained full confidence in the translation of his mixes and freed his workflow from the logistical constraints of hired engineers. In the end, proper acoustic treatment and a pair of active ATC SCM 20 ASL loudspeakers made all the difference. Smith hired friend and renowned acoustician Manny Lacarruba - a partner at Sausalito Audio and the moving force behind the original design of The Plant- to reinvent the control room at Dustpan. The two made a plan and then proceeded to gut the existing 24' x 20' x 9' structure. They did everything right.
They reframed a double wall, floated speaker towers on shock absorbers, and basically decoupled everything from everything else. They added absorption to the walls and ceiling where appropriate and installed refractors elsewhere. Bass traps removed dominant room modes. The result was a vast improvement. "Over the past 20 years, I've always had fairly ambient control rooms in my New York and San Francisco studios," said Smith. "But several months ago I spent three weeks listening to my mixes at Skywalker and various other high-end studios around California. I didn't like what I was hearing. There were things happening with ambiences, EQ, and especially bass that were completely hidden at my studio and more than a little disappointing." With the ATC SCM 20 ASLs in the near-field position, Smith bumped his existing Dynaudio BM15s with twelve-inch sub to mid-field position. Although he considered getting a subwoofer for the near-fields as well, the crossover gradient on the ATCs allowed him to generate ample and appropriate bass without it. In the first month with everything up and running, Smith has turned to the mid-fields mainly for drum tracking and for situations where sheer volume is all that's needed. "When I need something more 'hype-y' or when I'm need to blow people's hair back, I use the midfields," he explained. "But I don't consider them nearly as accurate as the ATCs. The midfields are basically for entertainment. The ATCs are for serious mixing." As an aside, Smith admitted that he has yet to clip the ATCs. "They push much, much harder than anything their size and are fatigue-free even after marathon, sixteen-hour sessions!" "I've been in this business for a long time," he says, "and I've always wondered how all these really world-class mix guys do it. How do they build such consistently awesome mixes that sound amazing no matter what system they're played on? It seemed like magic. But now I'm learning that the truth lies, to a large degree, in great speakers and great rooms. The key is simply having a system that lets you hear it." Recent spots completed for Honda and Barbie's 50th Birthday were mixed on the ATCs

ATC's drivers are manufactured in-house to exacting tolerances and are legendary for their many design innovations, such as the innovative SL magnet system and the company's renowned Soft Dome mid-range driver, which achieves exceptionally broad and even dispersion to produce a flat response anywhere in the room. Situated in Aston Down in rural Gloucestershire, England, ATC was established in London in 1974 by acoustics engineer and musician, Bill Woodman.

ATC Loudspeakers is distributed TransAudio Group the premier US importer and distributor for high-end recording gear. Phone (702) 307-2700 or email Brad Lunde More info at www.transaudiogroup.com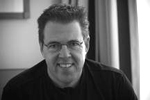 TransAudio Group, founded by industry veteran Brad Lunde, has quickly become the premier US importer/distributor and/or US sales and marketing representative for high-end audio. Success hinges on TransAudio providing dealers and end users with a higher standard of product expertise and support far beyond the norm. TAG product line includes Accusound, A-Designs (USA) AEA ribbon microphones (USA), ADT Toolkit, AEA, ATC Loudspeakers (UK), Brauner microphones(Germany), Drawmer (UK), Geoffrey Daking & Co. (USA), Enhanced Audio (Ireland), George Massenburg Labs (GML) (USA), Heil Sound (USA); Mercury Audio (USA) Mission Audio (UK) Phoenix Audio (UK), PAULY Superscreens(Germany), SABRA SOM(Brazil), Soundelux (USA), SoundField Microphones (UK), Z-Systems (USA), Sonodore Microphones (Holland), Tonelux,
True Systems, Tube Tech-Sound Engineering and Weiss Engineering (Switzerland) and Z Systems (USA)
LasVegasProAudio.com, LasVegasProAudio.com, a division of TransAudio Group, is the launch pad for the brands of tomorrow. The goal of LasVegasProAudio.com is to provide unique equipment, useful information and long-term support to their clients.






Expresso Walk And Talk...

Sign O' Times Los Angeles Times Magazine has tapped Nic Harcourt as Editor at Large, Music & Culture. Beginning February 8, 2009, in LA's January/February double Oscar issue, Harcourt will contribute a monthly column "Listen Up" will feature a hand-selected playlist, his picks for upcoming local concerts, shows and/or events and Q&As with emerging artists.
Harcourt most recently served as Music Director at Los Angeles radio station KCRW. For more than 10 years, he hosted the programs Morning Becomes Eclectic and Sounds Eclectic which helped to break numerous artists, including Coldplay, Dido, Moby, Interpol, Alanis Morissette, Death Cab for Cutie, Damien Rice, the Ting Tings, David Gray and Norah Jones.

Sony is slashing 8,000 jobs, or 4 percent of its global work force, aiming to cut costs by $1.1 billion a year as an economic downturn and a stronger yen batter profits at the Japanese electronics maker. The cost of the job cuts and plant shutdowns will be disclosed next year when the company updates its forecast for the fiscal year, the company said. Sources say Sony will reduce investment in electronics by 30 percent for the following fiscal year ending March 2010, though specific numbers and details are not decided. The announcement came shortly after trading ended in Tokyo, where Sony shares rose 3.9 percent to 1,896 yen ($20).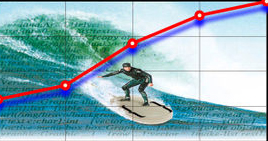 Learning To Ride the Wave MidemNet music conference in Cannes focused on Attention-Based Revenue as wave of "the future". Legal peer-to-peer trial in the Isle of Man that permits broadband subscribers to pay a small tax in exchange for the right to share copyrighted music was the topic of a study. The Recording Industry Association of America, which represents US labels, has traditionally been the most aggressive in chasing file-sharers. But it has just announced that it will no longer sue suspected offenders. Now Apple is removing DRM from iTunes, the leading download store, marking a resounding defeat in that particular battle. Howie Singer from Warner Music said his company wanted to see "compensation and not simply control. The issue is finding a way to get paid for it." That view was echoed by Marcel Engh from Sony Music Europe. " Keyboard player Mark Kelly said e-mail addresses were "the new
currency". Some singers offer fans an annual subscription fee, in return for which they get live and rare songs. Josh Rouse, for example, charges $30 (£20.50) a year and has so far sent out more than 100 songs in nine months. Kanye West, meanwhile, makes money from his prolific blogging activities, the conference heard, with his website turning a profit thanks to advertising and sponsorship. Research from Sweden indicates that 70% of illegal file-sharers are willing to pay for it. "There are two aspects. One is the collaboration between all the players who have a stake in the pie… we're not there to destruct, we're there to construct.
A series of interim steps as opposed to a big bang may be the way forward," says Gary Churgin from Harry Fox Agency.
A Victory For Song Sharing
The group representing the US recording industry said late December it has abandoned its policy of suing people for sharing songs protected by copyright and will work with Internet service providers to cut abusers' access if they ignore repeated warnings. The move ends a controversial program that saw the Recording Industry Association of America sue about 35,000 people since 2003 for swapping songs online. Because of high legal costs for defenders, virtually all of those hit with lawsuits settled, on average for around $3,500. The association's legal costs, in the meantime, exceeded the settlement money it brought in.
Brian Toder, a lawyer with Chestnut & Cambronne in Minneapolis, who defended single mother Jammie Thomas in a copyright suit filed by the RIAA, said he is also set to retry the case March 9 after a judge threw out a $222,000 decision against her. "I think it's a good thing that they've ended this campaign of going after people," Toder said. "But they need to change how people spend money on records," he said. "People like to share music. The Internet makes it so easy. They have to do something to change this business model of theirs." Legitimate sales of digital music tracks soared for the first time past the 1 billion mark, up 28 percent over all of last year, according to Nielsen Soundscan.


Reach For The Hits!
The Internet was set to re-shape our music-buying ways - opening up a vast market for sellers and buyers where obscure tracks would drive sales. A study has found that more than 10 million of the 13 million tracks available on the Internet failed to find a single buyer last year. The '80/20' rule in retailing suggests the most popular 20 per cent of products is the way to make a profit as they will account for 80 per cent of the sales. The initial hope was that due to cheapness and accessibility of searching for products on online, retailers would be able to make money from more obscure products because they would find an audience. The new study by Will Page, chief economist of the MCPS-PRS Alliance, suggests the success of online sales still depends on big hits! The not-for-profit royalty collection society found that, for the online singles market, 80 per cent of all revenue came from 52,000 tracks. For albums, the figures were even less encouraging. Of the 1.23 million available, only 173,000 were ever bought, meaning 85 per cent did not sell a single copy all year. The study found that online music sales followed a sales distribution laid out by Robert Goodell Brown, an American economist, in 1956. Brown outlined the theory in Statistical Forecasting For Inventory Control that focused on the sales of industrial items such as rivets and widgets.'There is a an eerie similarity between digital and high-street retailer in terms of what constitutes an efficient inventory and the shape of their respective demand curves,' said Page. 'I think there's something more going on there: a case of new school meets old rules,' he added.


Enter The Historic EastWest Recording Studios
A "Starckingly" Beautiful Makeover that Respects & Inspires Music Making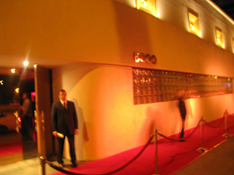 When you hear the name Philippe Starck, images of radically modern and imaginative hotels or objects come to mind.
6000 Sunset conjures up the image of "Temple of Sound." Now, put the two together and enter EASTWEST Studios
When owner and producer Doug Rogers took over the building in 2006 (formerly Cello and before that Bill Putnum's legendary Western Recorders), he needed to find a designer who shared his vision. Rogers enlisted famed designer Philippe Starck to help bring the Studios into the 21st century while still preserving the original sound of the rooms. Starck and Rogers are known for using words like "Respect and Quality" to describe the multi-million dollar renovation of the iconic Hollywood studios' public spaces. "I listen to music while I design and I feel that my inspiration comes from the quality of the artist's music, so sound is very important to me," says Starck.






l-r: East West owner and producer, Doug Rogers, Designer Phillipe Starck, Frank Sinatra, Bill Putnam Sr. with Bing Crosby at the legendary Western Recorders (now EastWest)

All three studios, including the massive Studio One (above), remain untouched in their original glory. The exterior of the rooms are surrounded by heavy red curtains - a metaphor for honoring and preserving the "audio jewels" within. Call it Starck's poetry of design. From the moment one steps into the 21,000-square-foot facility, you get the feeling of preparing to "go on stage" and perform!
For further inspiration and relaxation between studio sessions, Starck adds a VIP suite upstairs, complete with personal entrance, large terrace, cabana, fireplace, lounge area with pool table and a private restroom and shower. In addition, three more artists lounges are created on the ground floor in separate structures. Musicians will relate to Starck's sense of fun and humor and can witness the love that's present in every corner of the space that's designed for creating and living music.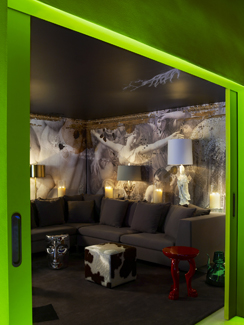 Modern lounge and kitchen spaces surrounding the vintage studios

EASTWEST Studios will serve as the new headquarters for the leading virtual instrument software development company as well as an inspirational recording complex for some of music industry's top talent. It will be the only studio in the world to offer, recording, editing, software development, marketing and distribution - all under one roof. Since its foundation in 1961, the studios have hosted musical royalty to include: Frank Sinatra ("My Way", "It Was A Very Good Year," "That's Life"), The Beach Boys ("Pet Sounds"), Ray Charles who sang"I Can't Stop Loving You", Mamas and Papas ("California Dreamin'", "Monday Monday"), to current superstars such as Madonna, The Rolling Stones, U2, to name a few. During its tenure as United/Western, under the rein of Bill Putnam who was involved in many recording firsts, the studio was developed to incorporate some of the most cutting-edge recording technologies of that time. With this latest transformation, EASTWEST founder and producer, Doug Rogers, is looking to breathe new life into this "temple of sound" for the next generation of recording artists.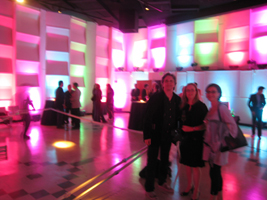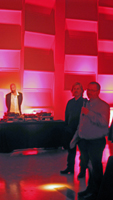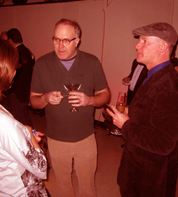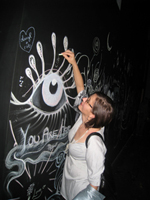 Guest included: Producer and engineers Mark Linett with wife & Claris, Putnum brothers Jim and Bill with Rogers and mixer/producer Clark Germain
Guests at the opening party were treated to a fully catered affair that included theatrical music of Lucent Dossier, costumed entertainers who truly set the stage for the good times to roll at EastWest Studios!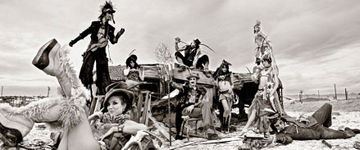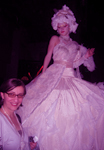 Lucent Dossier entertained at EastWest; EASTWEST featured the latest collection by leading producer Chris Hein, Chris Hein Horns Vol. 2 – Section Horns, at NAMM 2009. The perfect companion to Chris Hein Horns Vol. 1 (version 1.5) the new library looks to expand on the previous solo collections and offers 10 section combinations in addition to 17 solo instruments, perfect for a variety of musical genres including pop, jazz, funk and big-band.

The red carpet party followed a press conference conducted by Rogers who introduced Phillipe Starck and Universal Audio's Bill Putnum Jr. with a video presentation about the astonishing music history of EastWest Studios.

EASTWEST has equipped the Studios with vintage analog equipment that was utilized on the company's MIPA Award-winning Fab Four Virtual Instrument collection, including a very rare EMI REDD tube desk and EMI REDD47 preamps . A rare original Trident A Range desk was purchased for the famous Beach Boys "Pet Sounds" control room, Studio 3. Rogers also purchased other rare audio equipment so the range of audio "colors" available to EASTWEST and outside recording engineers is unparalleled. All studios have been equipped with ATC300 monitors.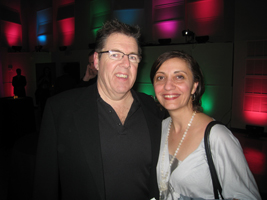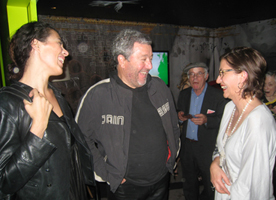 Brad Lunde of Trans Audio Group and Las Vegas ProAudio with studioexpresso's Claris; Designer Phillipe Starck with guests at the EastWest Studios Jan 09 party in Hollywood

"With EASTEST studios, we are really looking to bring both our users' as well as outside artists' projects to the next level," Rogers continues. "Having our own studios will allow us more time to experiment with sounds for our future collections, helping us to further expand our product offerings. Combining our expertise in creating and distributing software virtual instruments with my previous experiences as an engineer/producer and former studio owner, EASTWEST Studios is able to provide artists with a truly "state of the art" recording environment as well as distribution support, all in an atmosphere that is truly inspiring."
Gary Myerberg ("Mix This!" Royaltone & A&M Studios) is chief engineer and director of technical operations.

Opening of EastWest Studios in 2009 is indeed music to the ears of many producers and engineers who found the sound integrity of the three legendary studios simply unmatched. "It was important to us to keep the studios themselves as they were originally, as the acoustics in these spaces have proven themselves over a 50 year period with more engineering awards than any other studios," says Rogers who worked closely with Starck to achieve the stunning outcome. Indeed it was this careful balance of vintage and new and collaboration between studio owner and designer that gives the space an inspired and magical quality. Like Starck's timeless icons EastWest brings a new dimension to the international studio landscape and is on the map of major recording studios again. In fact, Rogers is setting new standards for what a full-service modern studio can offer to discriminating artists and producers.

Four years ago, when Cello was about to close its doors, an article by Claris (managed the facility during years 87-99) appeared in studioexpresso (February of 2005 issue) comparing the 6000 building to the fallen angel, Clarence in the Christmas classic film It's A Beautiful Life with Jimmy Stewart. "What the 6000 Sunset needs is a visionary like Bill Putnam or Paul Allen who can combine profitable business models with traditional studio operation (referring to Seattle' Experience Music Project)," she wrote.
Doug Rogers is truly that visionary who saved 6000 Sunset from becoming a parking lot or condominium. With 30 years experience in the audio field, EASTWEST Studios' founder and producer Rogers is the recipient of many recording industry awards including "Recording Engineer of the Year." In 2005, "The Art of Digital Music" named him one of "56 Visionary Artists & Insiders" in the book of the same name. Thank you, Doug for giving Clarence his wings!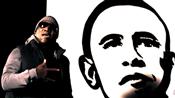 Bill O'Reilly staged his latest attack on hip-hop by showing clips bashing Young Jeezy and Jay-Z for their song, "My President Is Black." Young Jeezy has now agreed to appear on the O'Reilly Factor to explain his position.


It's NAMM... Happy Days Are Here Again with Las Vegas Pro Audio!
Trans Audio Group booth featuring ATC, A Designs, Daking, Drawmer and Tube-Tech

The TransAudio booth 6849 in Hall A featured gear heroes like Geoff Daking, Tim Spencer of True Systems, Paul Wolff of Tonelux, and Jesper Nielsen and John Petersen of TAG's newest line: Tube-Tech where seasoned engineers like Barry Rudolph (far left under the ADesigns sign below) gathered. Many were on hand checking the newest in high end gear from around the world and talking to toy inventors present.
President of TransAudio Group, Brad Lunde was on hand raving about the gear like the gain structure of Class A, fully-discrete transistor circuitry design of the popular Daking Mic-Pre IV, the Mic-Pre One. "It features a unique variable high-pass filter and ships in a freestanding 'DI-style' steel enclosure, ensuring both strength and noise immunity," notes Lunde. "This Mic-Pre One is the very definition of value - a Daking-designed high-end mic pre for those who only need one channel. It's ideal for pros on tour and studios that seek to locate the mic pre in the vocal booth for short cable runs. Small project studios on a limited budget can now use the same high-end sounding gear as the pros," adds Lunde who knows about studios and people who make it work.
Made in the USA, Daking Mic-Pre One MSRP: $850.00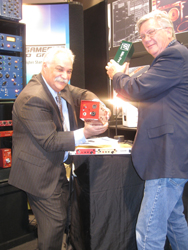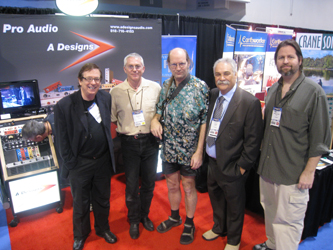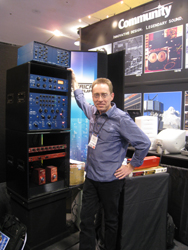 Geoffrey Daking & Co. is distributed TransAudio Group the premier US importer and distributor for high-end recording gear.
Phone (702) 307-2700 or email Brad Lunde More info at www.transaudiogroup.com

TAG product line includes Accusound, A-Designs (USA) AEA ribbon microphones (USA), ADT Toolkit, AEA, ATC Loudspeakers (UK), Brauner microphones(Germany), Drawmer (UK), Geoffrey Daking & Co. (USA), Enhanced Audio (Ireland), George Massenburg Labs (GML) (USA), Heil Sound (USA); Mercury Audio (USA) Mission Audio (UK) Phoenix Audio (UK), PAULY Superscreens(Germany), SABRA SOM(Brazil), Soundelux (USA), SoundField Microphones (UK), Z-Systems (USA), Sonodore Microphones (Holland), Tonelux, True Systems, Tube Tech-Sound Engineering and Weiss Engineering (Switzerland) and Z Systems (USA)
LasVegasProAudio.com, LasVegasProAudio.com, a division of TransAudio Group, is the launch pad for the brands of tomorrow. The goal of LasVegasProAudio.com is to provide unique equipment, useful information and long-term support to their clients.

NAMM With Guru and BFD
The halls at the Anneheim convention center were once again brimming with shiny instruments and eager musicians showing off licks. This year was no exception for new product releases from your favorite brands and some new comers too!
studioexpresso made few stops to include fxpansion booth where we were greeted by none other than engineer/mixer Rail Rogut, sporting the Sound City Studio T (pictured with Claris below). BFD2 has won EM magazine's "Best Drum Software" award for 2009, continuing the family pedigree following BFD1's "Best Drum Software" award in 2004. Founded by musicians, FXpansion says staying connected to top engineers, producers and musicians is vital in creating the most useful and intuitive software.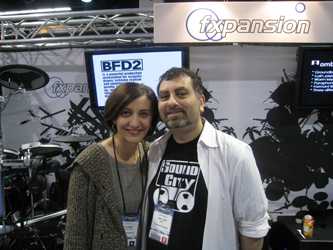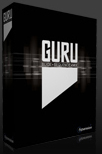 High-quality Percussion Samples from around the World and around the House is what you get. "We've recorded a few drum kits in our studio," says Rogut, programmer/engineer/producer. Imgaine. Own sounds recorded by Steve Duda of Nine Inch Nails, A Perfect Circle. Priced from mid $200 to $400. It's like saying you can add the sound of seven vintage and modern kits and $50,000 worth of classic microphones to your library. Cool.
NAMM With Solid State Music, Music Smarts and TELEFUNKEN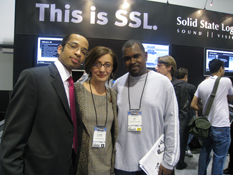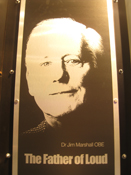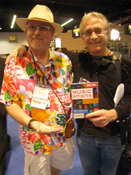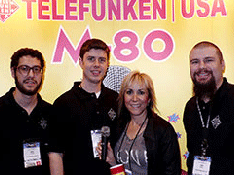 Quinton Nixon, partnership manager was on hand at the Solid State Logic booth 6907. In December, SSL's VIP guests were invited to Burbank's LA Sound Gallery which opened its doors on a new room that can handle orchestral recording for up to 65 pieces. The centerpiece of the studio is a 72-channel Solid State Logic Duality console that delivers the sound quality and signal processing of the legendary 9000 K Series while providing the integrated control of a DAW.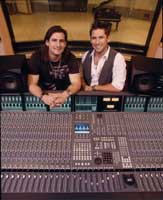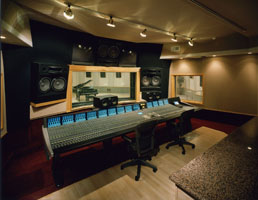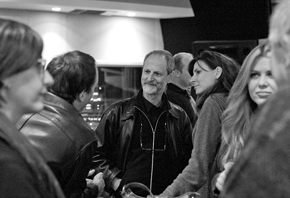 SSL December party guests at the LA Sound Gallery included legendary producer Eddie Kramer (above).

Academy Award nominated engineer Dan Wallin experienced a flawless performance by the Duality for the hit TV series "Fringe" in the studio's first session. The world's leading manufacturer of analogue and digital audio consoles and provider of creative tools for music, broadcast and post production professionals, featured its Matrix SuperAnalogue™ 16 channel, 40 input mixing console with inbuilt signal router and multi-layer digital workstation control and newly upgraded AWS 900+ mixing console, the AWS 900+ SE.

Get Smart! Berklee Press, the publishing division of Boston's renowned Berklee College of Music, announces the release of the book Music Smarts (available from Amazon banner to your left here)- the Inside Truth and Road-Tested Wisdom from the Brightest Minds in the Music Business by Mr. Bonzai. Designed as a handy illustrated pocket guidebook, Music Smarts is an inspirational and entertaining compilation of profound observations, humor, and wisdom from top names in the music world Drawn from 25 years of feature interviews by notorious studio insider, Mr. Bonzai, and edited by Mix magazine creator, David Schwartz, Music Smarts features razor-sharp insights from the music industry's savants artists, producers, technicians, and business execs including George Martin, Tom Petty, Phil Ramone, Brian Wilson, Jack Johnson, k.d. Lang, David Foster, and Carlos Santana and more...
Text Telefunken. Each day, vintage microphone expert like Dan Alexander conducted microphone comparisons at the TELEFUNKEN USA booth where participants entered to win M 80 microphones by texting the word TELEFUNKEN and dropped by the booth to pick up their prizes. One of eight winners was Jeri Palumbo, Broadcast Audio Engineer/Field and RF Tech for ESPN/FoxSports/CBS Numerous international dealers in recording equipment, as well as musicians, engineers, and producers offered their opinion of how the company's Historic Reissue microphones compare to excellent, original examples of the classic European microphones.

NAMM On Legends Lane With Michelle Moog & Herbie Hancock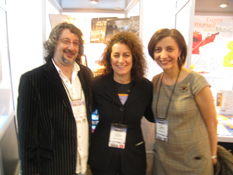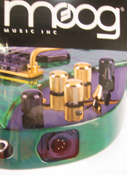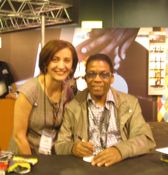 NAMM 09 with musician/composer, Dave Gross, Michelle Moog-Koussa and Herbie Hancock.
Michelle Moog-Koussa has a mission. To document, teach and celebrate the innovative thinking of her late father, Bob Moog in electronic music. "A team of Bob Moog Foundation volunteers spent many hours cataloging Bob's archives, finding innumerable treasures. There is still more left to discover," says Michelle who has had support from musicians like Billy Corgan of the Smashing Pumpkins and Symphonic rocker Erik Norlander composer of "The Princely Hours," an original all-Moog composition available exclusively through the Bob Moog Memorial Foundation. You can purchase the track for $0.99. All profits go to support the Bob Moog Memorial Foundation. Simply put, the foundation's goal is to make sound waves with Moog instruments. "To create a "ripple effect" of opportunity for electronic musicians and engineers; and to inspire people around the world to be innovators," says Michelle who has plans for a Bob Moog Museum and other Outreach Programs. To donate or learn more contact info@moogfoundation.org Famous Moogees? Keith Emerson, Wendy Carlos, Rick Wakeman, Stevie Wonder, and everybody else who's ever played a synthesizer. studioexpresso caught up with walking legend, Herbie Hancock at the www.Korg.com booth. Hancock who performed earlier this month at the Obama Inaugural Celebration In Washington, DC. is a true icon of modern music. Herbie can indeed bring musical exploration to uncharted territory. A pianist since age seven, Herbie admits to being a "gadget freak," and has simultaneously embraced jazz, funk, and avant-garde electronic music creation while still fulfilling the inclination to make an acoustic journey in between. At 65, Hancock says he enjoys what he's doing today as much as his film scores and work we've come to love with Miles Davis. What does he go for? "Music that doesn't automatically fit into this category or that category. I want something that just works for the heart," says Hancock. His latest studio project, Possibilities, released in August 2005 is aptly named, as it consists of an even wider-ranging collection of sounds and styles than his previous collaborative works. For Possibilities, Herbie teamed with established artists such as Sting, Annie Lennox, John Mayer, Christina Aguilera, Paul Simon and Carlos Santana, as well as serious up-and-comers like Joss Stone and Damien Rice.


NAMM FANS!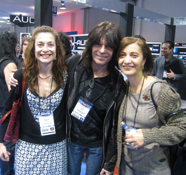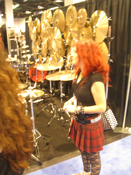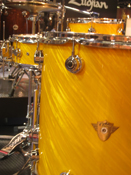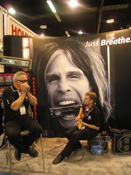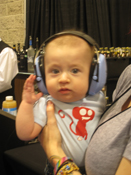 A fan writes on his blog: "Now I am neither a musician nor a vendor. I'm just a huge fan of music so I just walked around star struck all day long not minding the long lines for the chance to snap a pic and get an autograph." Ah, doing the NAMM thing. Here's to being a kid in a candy store!

Tournee To Award Shows, KMD Spells Events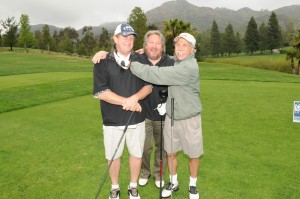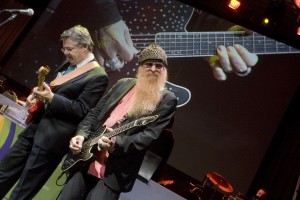 l-r: MIX Open at Malibu Country Club with mixer/engineer, Ed Cherney and friends; Tec Awards photos by: Paul Lester & Eric Slomanson
Based in the San Francisco Bay Area, KMD Productions offers full-service event coordination, management and photography for businesses and individuals. Founded by Karen Margroff Dunn, whose experience managing high profile music awards shows and golf tournaments like the MIX Open spans 20 years, KMD can handle all the details of your fundraiser, corporate function, or life-celebration. Contact KMD today for a complimentary consultation. Visit www.kmdpro.com today to find out how Karen can make your next event noteworthy on a nominal budget.
A December Celebration!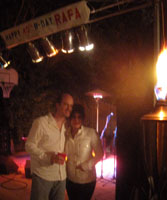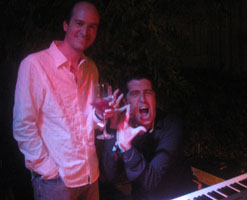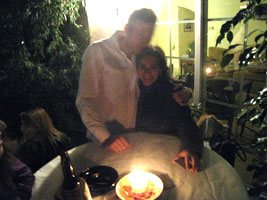 Artists and musicians gathered at AfterHours studio to celebrate Rafa Sardina's birthday in December. Guests included Cheche Alara, songsmith, Christina Abaroa and more...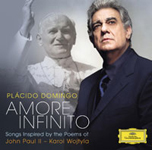 Pope John Paul II's Poems Reborn Tenor Placido Domingo released a new album of songs based on the poems of Pope John Paul II on December 23 on Deutsche Grammophon and said he was certain the late pontiff was a saintly man. In "Infinite Love," a CD he presented at the Vatican, the Spanish-born Domingo sings duets with Josh Groban, Andrea Bocelli, Vanessa Williams and Katherine Jenkins as well as with his son, Placido Domingo Jr. The songs in English, Spanish and Italian are based on poems the Polish pope wrote before his election in 1978. The songs on the CD include titles such as "A Mother's Wonderment," "Palabras," (Words), and "Canto Del Sole Inesaurible" (Song of an Inexhaustible Sun). They were translated from the original Polish and put to music by various composers. The CD was arranged/CO-produced by Jorge Calandrelli (Barbra Streissand, Josh Groban) and includes music by the London Symphony Orchestra recorded at Abbey Road studios. "My son Plácido wrote a lovely song that was perfect for Vanessa Williams," says Plácido who sings in beautiful high-baritone voice a song that he wrote with Jorge Calandrelli, the musician who has been central to this project


COME TOGETHER!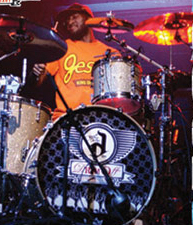 Artist/location: Jerome Flood II
Major Milestone: On Saturday, January 10th, in front of a star-studded capacity crowd at the historic Music Box at the Henry Fonda Theater in Los Angeles, one aspiring drummer's dreams came true, as Guitar Center crowned
Jerome Flood II the winner of Guitar Center's 20th Annual Guitar Center Drum-Off championships. Sharing the stage with such drumming greats and artists such as Nicko McBrain (Iron Maiden), Jason Bittner (Shadows Fall), Thomas Pridgen (The Mars Volta), Thomas Lang and Papa Roach, the winner was chosen by a panel of today's most iconic and influential drummers, including Taylor Hawkins (Foo Fighters), Kenny Aronoff, The Rev (Avenged Sevenfold), Danny Carey (Tool), Trevor Lawrence Jr. (Snoop Dogg), Drew Hester (Foo Fighters/Joe Walsh), Atom Willard (Angels & Airwaves), Alan White (Yes) and Frank Zummo (Street Drum Corps).

RIP
EARTHA KITT
Jan. 17, 1927 - Dec. 25, 2008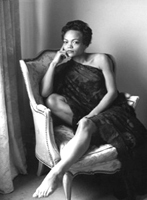 Eartha Mae Kitt was ostracized at an early age because of her mixed-race heritage. In 1967, Miss Kitt made an indelible mark on pop culture as the infamous CATWOMAN in the television series, BATMAN. Singing in ten different languages, Miss Kitt has performed in over 100 countries and was honored with a star on The Hollywood Walk of Fame in 1960. In 1966, she was nominated for an Emmy for her role in the series, I SPY. In 1968, Miss Kitt's career took a sudden turn when, at a White House luncheon hosted by Lady Bird Johnson, she spoke out against the Vietnam War. In December 2006 she returned to Washington and lit the National Christmas Tree alongside President and Mrs. George W. Bush.
"She wanted to leave this earth as she had arrived, with no fanfare. The life she lived is tribute itself."
--Kitt Shapirom EARTHA KITT's daughter

A musician, concert goer, donor, board member, staff, volunteer, and dear friend to so many at the New West Symphony passed away Sunday January 25 in her home. Antonia Boehm retired from her performing career as violonist with Conejo Symphony and continued serving NWS as a volunteer librarian, helping prepare the music for concerts and marking bowings for the string players. She is survived by her husband Helmut, a sister in Pisa, Italy, and a daughter Suzy of Rome, Italy.
Ode to Antonia Boehm
-1.25.09




Gentle lady with a smile
Walks in her quiet style
Silver hair of strings
Pearls run up and down her wings
My soul, she notes
Wisdom, passion untold
Bows in rows
Noise, a Rose
Now a Symphony 8, 10 and 12
For a single Peony
Bows for her, bows for him
Behold, she's bold with her gentle smile
Walks out with music in her heart
Boehm, a gentle lady with a smile
-C Dodge

William Claxton
10.22.14-10.11.08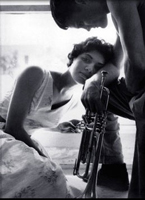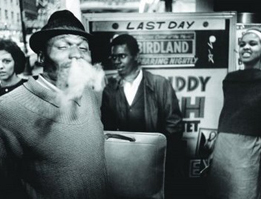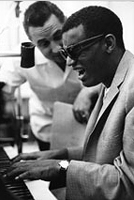 l-r: Chet Baker photograph, Drummer Elvin Jones outside Birdland, Manhattan, New York City, Miles Davis, Ray Charles and Marty Paich, Hollywood, 1962 by William Claxton
William Claxton passed away October 11th in Los Angeles. He is survived by his wife Peggy Moffitt and his son Christopher.
In 1952, while a student at UCLA, Claxton began to photograph a young and unknown trumpet player named Chet Baker. The resulting collection of images from these sessions has become known throughout the world of jazz music. Shooting for Life, Paris Match, and Vogue, among other magazines – Claxton worked with and become friends with many Hollywood luminaries, including Frank Sinatra and Steve McQueen. A Claxton-directed film from the era, Basic Black, is considered by many to be the first "fashion video" and is now part of the collection of the Museum of Modern Art in New York. "I'm honored to have met Clax on several occasions and treasure the book of photographs he autographed for me," says Claris Sayadian-Dodge. His work is collected in an array of spectacular books, including "Jazz: William Claxton," "Young Chet," "Claxography," "Steve McQueen" and "Jazzlife." He commented on his nickname and its connection to Miles Davis: "He had that raspy, funny voice: 'Hiya, Clax.' Allen Eager introduced me to him on the street in New York one night after the theater — you know how the theaters break and the streets are just full of people in the West 40s? We were walking and coming toward us was Miles Davis with a beautiful fashion model on each arm and Eager, a tenor saxophone player — a bebopper — said, 'Here comes Miles Davis. You wanna meet him?' We walked up to him and said, 'Hi, hi, hi.' Allen called me Clax and Miles said, 'Clax? Man, it sounds like a household cleanser.' [Laughs] Clax your sink, Clax your toilet, Clax your car. Later on Miles wasn't much fun," said Claxton in an interview.





Claxton also photographed fashion and a myriad of models of the era, most notably his wife of 49 years Peggy Moffitt (who was the chief model and muse of fashion designer Rudi Gernreich), his son Christopher; sister Colleen Lewis of Eagle Rock; and several nieces and nephews.
Make Fuel Not War...Go See the Fuel Film!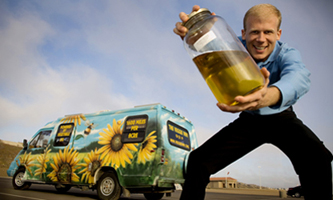 Image courtesy of Fields of Fuel
This year another environmental doc, Fields of Fuel (90 minute film), turned out to be a huge hit with audiences at Sundance in Utah, winning the audience award for documentary. Directed by environmental activist Josh Tickell, Fields of Fuel is a film about biodiesel -- fuel made from organic products. It can be made from corn or soybeans, but can also be made from agricultural product less impactful on the environment, like switch grass and algae. Director has been driving the vegie van cross hte country and stopping at fast food stores to fule up! Robert Redford personally invited Tickell to screen the film on Wednesday, the first day of Sundance festival. Tickell's journey of creation begins in Australia, where his American mother fills his head with bucolic images of the Louisiana of her childhood. He shares her pain of discovering the remembered treasures of that environment replaced with cancer corridors from rampant oil refining. It's not that hard to do something to improve the environment. In fact, SUV-lovers rejoice - even you need not feel your lifestyle is being threatened. Any diesel engine can make the switch cold turkey.
Documentary includes appearances by: Larry Hagman, Woody Harrelson, Willie Nelson, Julia Roberts and Neil Young.
Fuel opens in Santa Monica on February 13.


"We ask you to help us work for that day when black will not be asked to get in back, when brown can stick around. When yellow will be mellow, when the red man can get ahead, man; and when white will embrace what is right. That all those who do justice and love mercy say Amen."
--From Reverend Joseph Lowery's Inaugural Benediction of President Barack Obama on January 2009


"It's really not about the technology. It's about honesty. It's really about creating from your heart. Creating from the standpoint of wanting to provide a service for humanity, because you care."
--Herbie Hancock

You are subscribed as %Email% Please click here -- http://www.studioexpresso.com/MailListForm.asp to unsubscribe or subscribe from any future mailings. We respect all requests. Thank you