Pete Byrne
producer l songwriter l musician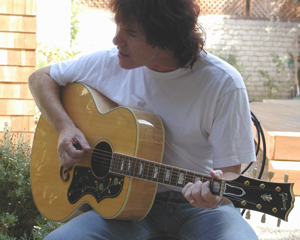 Watch the Pete Byrne interview and Watch Pete play one of his songs at Glenwood Place
courtesy of Record Production, Babblefish and studioexpresso

History:

It seems that the 80's style bands are starting to make a comeback in the clubs these days. The Fixx, Tears For Fears, Duran Duran. And what about Naked Eyes?

You can say that Naked Eyes is back again! It's a real treat when you listen to cool new mixes or even an acoustic version of the original hits by the original member, Pete Byrne!



A key presence in the synth-pop movement of the early '80s, the "New Romantic" duo Naked Eyes formed in Britain in 1981. Comprised of former schoolmates Pete Byrne (vocals) and Rob Fisher (keyboards), Naked Eyes debuted in March 1983 with the LP Burning Bridges, reissued in the U.S. a month later (minus several tracks) as a self-titled effort. The lead single, a majestic cover of the Burt Bacharach-Hal David perennial "Always Something There to Remind Me," emerged as a hit on both sides of the Atlantic, reaching the U.S. Top Ten on the strength of its video, which received heavy airplay on the fledgling MTV network.
"We went to New York in the spring of '82 to meet with both EMI and Polygram, and EMI made us the better offer. We were looking for a name that suggested "two", and 'Naked Eyes' just popped into my head," says Byrne.
The American follow-up "Promises, Promises" was also a major hit. They followed this up with two more top forty singles before parting ways. They reformed in the 90's to record their third album, but Rob Fisher tragically passed away before it could be completed.





Pete headed out to California, where he worked with Gary Olazabal at Wonderland, sitting in and doing backgrounds for Stevie Wonder on ³Part Time Lover² and writing and recording with Brad Buxer (Michael Jackson).
His production and writing credits include the Olsen twins "I am the Cute One" and the recently released "Everthing and More", the Naked Eyes 12" dance mix compilation, featuring "Promises Promises" with Madonna.
Current Credits: Pete recently released a solo record called "The Real Illusion" and is working on a collection of acoustic tracks called "Fumbling
with the Covers" This will include the Naked Eyes hits along with songs from, The Beatles, Stones, Dylan and Costello and will be released under the DNaked Eyes moniker. Pete is scheduled to be in NY early this year for an In-studio acoustic guitar performance video for VH1 Classics.

Contact:
Naked Eyes WebSite


copyright 2004 studioexpresso