Elliot Scheiner
Producer
l Engineer l Mixer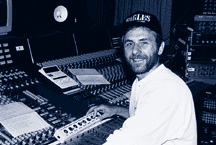 Watch Elliot Scheiner Video Interview Here!
Courtesy of Record Production, Babblefish and studioexpresso
History: When Elliot Scheiner first took a job working for Phil Ramone in October of 1967, he probably never imagined that 30 years later he would be one of the most successful producer/engineers in the industry today. He started as Phil Ramone's assistant at A&R Recording in New York City and quickly advanced to an engineer. By 1973 he had begun to freelance as an engineer and producer becoming the first person ever to work as a freelance engineer for other artists. Mr. Scheiner began as a musician playing percussion in various bands including Jimmy Buffett's Coral Reefers but his heart was always in the studio.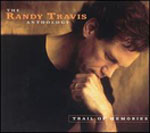 Since then Elliot has produced and engineered an eclectic array of talented artists such as Beck, Faith Hill, Steely Dan, Ricky Martin, Sting, Bruce Hornsby, The Eagles, B.B. King, Van Morrison, Fleetwood Mac, Aerosmith and many others. He mixed the IMAX film All Access in surround sound. The film footage includes Dave Matthews, Sheryl Crowe, Macy Gray, Kid Rock, Moby, George Clinton, Mary J. Blige, Al Green, and Rob Thomas (Matchbox 20).





Elliot's talents have been recognized with 16 Grammy Award nominations, five of which he won, two Emmy nominations and three TEC Award nominations. Mr. Scheiner continues to be one of the most sought after producers and engineers in the industry, and is one of the world's leading authority on 5.1 Surround Sound mixing and DVD audio.
Elliot's partial discography is available at All Music.



Current Credits: Elliot received the 1st Surround Pioneer Award during Surround 2002, created to honor individuals who have made significant, groundbreaking contributions to the art of surround music production. From the Eagles to Queen, from Steely Dan to Van Morrison, with new releases in the wings from Faith Hill, Beck and R.E.M., Scheiner has single-handedly mixed and produced enough surround music titles to give the genre a firm foundation. A night at the Opera with Queen mixed by Elliot for DTS entertainment received nominations for Best of Show, Most Adventurous Mix and Best Multichannel Reissue.
Scheiner engineered Lenny Kravitiz's live concert sessions.

Contact: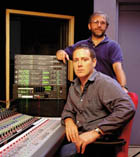 One of the
first 24-bit / 96kHz DVD album releases, Simon Osborne and Elliot Scheiner during mix of Sting 's album "Brand New Day" to a Genex GX8500 at Crescent Studios in Westport, Connecticut.
copyright 2002 studioexpresso