André Fischer
producer l arranger l musician l A&R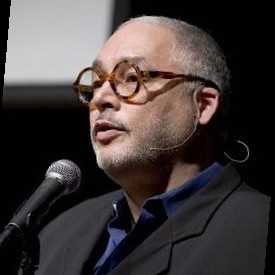 Watch Andre Fischer Interview from Village Studios here!
Courtesy of Record Production, Babblefish and studioexprsso
History: With forty Platinum and twenty-five Gold Albums, Fischer is best known for his production and arrangement work on Natalie Cole's "Unforgettable" (the album won seven Grammy awards). Additionally André won three Grammy Awards (including Producer of the Year nomination in 1992 ), four American Music Awards and numerous other awards for songwriting, publishing, album/soundtrack sales and for his cultural and Fundraising efforts.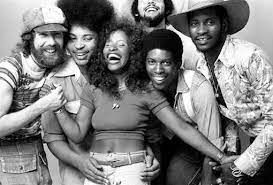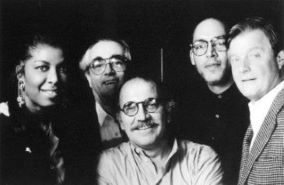 studioexpresso interview with Andre Fischer

André is an exceptional talent offering an inexhaustible resource of diverse entertainment industry and global business expertise ranging in record/festival production, marketing and administration of major corporate departments and multi-million dollar budgets. He has held executive positions at various record music/film companies as: Senior Vice President, MCA/Universal Urban Music, Vice President Jazz A&R for Quincy Jones, Qwest/Warner Bros., Vice President of Publishing Development, 20th Century Fox Records & Films, to name a few.





Over the past three decades André has amassed an extensive network of contacts and established working relationships with broad spectrum of industry -- law firms, music publishers, recording artists/composers, promoters, radio and television program directors, corporate sponsors, lobbyist and educational institutions. Fischer served on the advisory committee on the Arts and Humanities, Washington, DC and is the former Chapter President, Governor, Trustee and Outreach Chairman for Los Angeles Chapter of National Academy of Recording Arts and Sciences. He has lectured at Universites and professional schools at UCLA, California State University, Dominguez Hills and Full Sail University, Orlando Florida.










"The wealthier we are and the higher our education level, the more we collectively lose sight of the randomness of misfortune and come to believe that we have the power to control variables and thereby eliminate risk, this attitude is solely based on assumption, I think assumption should be considered a luxury that no one can afford," says Fischer who is the executive director of Twin Cities Mobile Jazz Project.
Fischer grew up surrounded by music and art - his mother a jazz singer/sculptor, his father a music professor and trumpet player in a swing band, and his uncle is renowned jazz composer/pianist Clare Fischer. By the age of four André began touring with his father who performed and arranged for the big bands of Woody Herman, Little John Beacher, Harry James and the Lee William's orchestra. He had extensively traveled throughout the United States, Mexico and Europe by the time he was 10 and while still in high school, he began recording, performing, musical directing, producing and touring with the world's most successful recording artists.
In 1970, Fischer moved to Chicago and began playing drums for Curtis Mayfield, Gene Chandler, Jerry Butler, and on jingles while staying in the basement of arranger/producer Richard Evans (Soulful Strings, Rockie Robbins, Natalie Cole, Peabo Bryson's Reaching for the Sky). He played with local band American Band who hit with "Bend Me Shape Me."

The band became Ask Rufus and after adding singer Chaka Khan became Rufus, recording their first album for ABC Records in 1973. In a ten-year span, the band charted 15 pop singles (including two gold singles, the number three pop/R&B hit "Tell Me Something Good" written by Stevie Wonder and the number five pop/number one R&B hit "Sweet Thing").












Fischer is responsible for producing, executive producing, performing and recording with many of the music industry's most gifted pop, R&B, rock and jazz performers: Rufus featuring Chaka Khan ( founding member and producer), Patti Labelle, Michael Franks, Natalie Cole, Tony Bennett ( Perfectly Frank, which won a 1993 Grammy Award for Best Traditional Pop Vocal), James Ingram, B.B. King, Gladys Knight, Nina Simone, Frank Sinatra, Pointer Sisters, Diane Schuur, Temptations, Dusty Springfield, Brenda Russell, OC Smith, Dr. John, Laura Nyro, Lou Rawls, Jackie DeShannon, Nancy Wilson, Milt Jackson, Bruce Hornsby, Oscar Brown, Curtis Mayfield & the Impressions, Jerry Butler, The Rolling Stones tour, Elton John tour, The Who Tour, Etta James, Neil Diamond, Anita Baker, Janet Jackson, Vesta Williams, Leroy Hudson, Betty Wright, Phil Perry, Steve Khan, Tower of Power, Vanessa Ruben, Angela Winbush, James Moody, Ahmad Jamal, Isley Brothers, Donny Hathaway, Richie Havens, Eddie Harris, Clarke Terry, Randy Crawford, Ralph Tresvant, Jackie Lomax, Al Green and Bobby Brown.





Andre is the co-founder and drummer of Rufus. One of the most commercially successful funk groups of the '70s, the multi-racial Rufus are today best remembered for launching the career of soul diva Chaka Khan, whose fiery lead vocals were easily the band's focal point. Powered by Khan -- who was eventually billed in addition to the group -- and an unerring sense of groove, Rufus scored an impressive string of hit singles on both the pop and R&B charts, which lasted through the early 80's. Fischer produced urban Adult Contemporary/Smooth Jazz/Pop artist Eloise Laws. Barry Rudolph engineered and mixed the sessions. André played drums and is joined by CO-original Rufus member Bobby Watson on bass guitar. The supporting cast of musicians include: keyboardist Bill Cantos, guitarists Dwight Sills and original Gap Band member Fred Jenkins. Bridgette Bryant sang backing vocals on most of the ten tracks. As president of KSF Enterprises Fischer provided all music production services -- budget management & event planning, marketing and lecturing, for a variety of entertainment and technology companies.





Current Credits: André Fischer served as the Dean of Music Industries at McNally Smith College of Music where a Bachelor Degrees in Music Performance, Music Business and Music Composition is offered. In 2019 he worked with the Danish Radio (DR) Big Band feat International singer, Sinne Eeg.
The record of her songs was produced by André Fischer (Diane Schuur, Nina Simone, Natalie Cole) and mixed at Capitol Studios in Los Angeles by the legendary Al Schmitt (Frank Sinatra, Miles Davis, Ray Charles). Fischer is executive director of a non-profit, Twin Cities Mobile Jazz Project.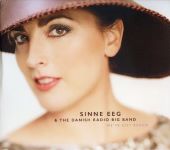 Contact:
claris@studioexpresso.com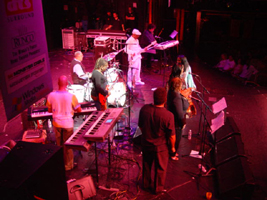 Rufus booking Agent: Bob Birk at Paradise Artists (805) 646-843
3

Cruise 2005

<![if !supportEmptyParas]>
copyright 2004 studioexpresso