AfterHours
studios
Go After Hours With
Top-Flight Musicians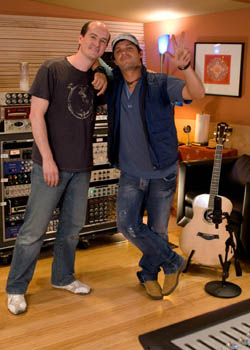 Rafa Sardina with Alejandro Sanz at After Hours

For Eleven-time Grammy Winner mixer/engineer Rafa Sardina (Stevie Wonder, Dr. Dre, Alejandro Sanz) work and play always happen after hours.

"Having my own place helps me offer my services to a wider group of artists or labels. I've been collecting cool gear for many years and most of it is parked at After Hours. I wanted a comfortable musician-friendly environment to work on projects that don't necessarily have the budgets for commercial studios. Plus it allows me to get more involved with a wider range of artists/bands or music that I love," says Sardina who recently received delivery of a SSL Duality console.


With Quincy Jones
The After Hours Studios is designed by Clayt Hudson, principal architect of COMPOS/IT/E with design credits to include: O'Henry Studio C, artist home studios, and NRG Recording Services.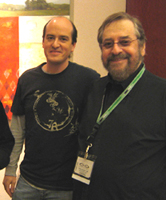 With Phil Ramone

"The design evolved from a very basic 'home studio' to one on par with commercial facilities. Rafa and I worked together to develop a working studio that would satisfy his Grammy-worthy demands and were able to maximize the existing spaces to become a dedicated recording/mixing environment experience," says the architect.


The main studio at After Hours is large enough to accommodate rhythm track sessions comfortably. Recently After Hours hosted Gregg Bissonette (Don Henley, Duran Duran, Ray Charles, and Carlos Santana) on drums and songwriter Matt Bissonette on bass.
LA club circuit, Detroit Mutant Radio recently stopped by. "Your hospitality and engagement with our music was perfect. The boys had lot of fun cutting over ten songs in two days," says Joseph Bialik of DMR.

Sardina becomes the first Los Angeles-based independent engineer/producer
to choose the recently-introduced SSL AWS 900+. Analogue Workstation System which also includes an SSL XLogic X-Rack packed with eight Dynamics modules.
The control room houses the ProTools HD system fully loaded with Apogee converters and plug-ins. "I wanted to have a tool that would help me mix to the level I'm used to-I've been using SSL consoles for a very long time-and I find that mixing 'in the box' doesn't satisfy my requirements, sonically speaking, especially in recording basic tracks," says Sardina.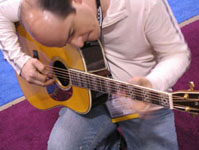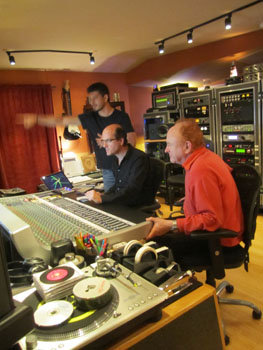 Rodrigo y Gabriela with Peter Asher & Rafa Sardina at After Hours



The studios are booked for tracking, mixing, overdubs and MIDI sessions. After Hours Control rooms is generously appointed with well-maintained vintage and contemporary outboard equipment including an impressive microphone collection like a matched pair of the new Telefunken Ela M12 which is the recreation of the classic microhone manufactured in the 60s and considered one of the most desirable of the classic condenser tube microphones. "I'm also a huge fan of AT mics.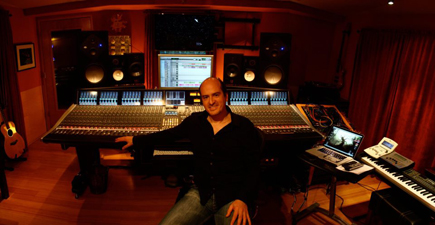 What I love about these mics is their performance and versatility. Last year I found myself renting the mics on almost every session. So, finally I have a pair of my own," says Sardina. According to the engineer/mixer who has works with major artists at some of the worlds' top studios (Abbey Road, Chalice and Record Plant) he uses the mics for Drums and strings to vox and everything in between.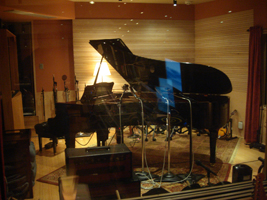 Sardina's eclectic credits include chart topping artists like Macy Gray, Jessy Moss, Dr. Dre, Luis Miguel, Sheryl Crow, Marc Antoine, Angie Stone and Alejandro Sanz.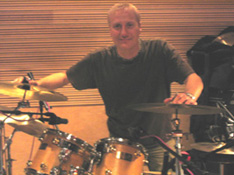 Gregg Bissonette at After Hours
Rafa who has been working at some of the best studios internationally, decided to have his own place so he could be more flexible with a wide range of client budgets and still be able to do what he loves...mixing, engineering and producing albums.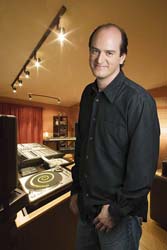 Photo: Ed Freeman Courtesy of AT






"I'm mixing songs for an upcoming Warner release this week in my studio. Even some of my more established clients will appreciate the cost saving move. Plus this allows me the luxury to experiment with sound and have more fun," says the mixer/engineer.



Bookings or Private Studio Tours
Contact: