Scott Mathews

Music Producer l Film Composer l Song Doctor l Multi-instrumentalist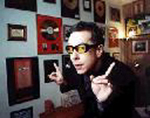 Watch Scott Mathews Interview Here!
Courtesy of Record Production, Babblefish and studioexpresso
Scott Mathews has combined sales of more than 12,000,000 units worldwide with several top 10 records in Pop, Alternative Rock, R & B, Country
and Americana. He has participated in Grammy and Oscar award winning projects for twenty years and has been featured internationally in such magazines as Rolling Stone, Spin, Billboard, Gavin, Mojo, Q, NME, Time, Electronic Musician, Mix, Guitar Player and Addicted to Noise web magazine.

Mathews owns and operates TikiTown, a full service (tube-analog front end /digital storage) Pro Tools HD recording studio in idyllic Marin County, five minutes over the Golden Gate bridge from San Francisco. Scott also owns and operates Hang On To Your Publishing, a music publishing company with more than three million units in combined sales.








Scott has produced, recroded or performed with: The Beach Boys, Johnny Cash, Roseanne Cash, Eric Clapton, Elvis Costello, Ry Cooder, Robert Cray, John Fogerty, John Hiatt, John Wesley Harding, George Harrison, John Lee Hooker, Mick Jagger. Booker T. Jones, Patti Labelle, Huey Lewis, Nick Lowe, Steve Miller, Van Morrison, Aaron Neville, Roy Orbison, Steve Perry, Bonnie Raitt, Joey Ramone, Keith Richards, Todd Rundgren, Carlos Santana, oz Scaggs, Ringo Starr, Barbra Streisand, Trip Shakespeare (Semisonic) Brian Wilson, Neil Young.

His work in movies ranges from the multiple Oscar winning, 'One Flew Over the Cuckoo's Nest,' to the Oscar nominated, 'Wag the Dog.' As a songwriter, Scott's songs have sold millions for recording artists in all fields, from Barbra Streisand to Dave Edmunds.




Current credits: Mathews collaborated with Bonnie Raitt on the song "I'm in the mood for love" that won three Grammy Awards at the 2004 show. The song was included on 'Martin Scorsese Presents; 'the blues' box set release to his PBS Television Special of the same name.

Mathews had the #1 independent single throughout most of Europe with 'United We Fall' by Heather Myles and JJ Johns. He produced, played all the instruments and sang all the bgvs (the artists sang lead). The project was recorded, mixed and mastered at Tikitown studios in Mill Valley, Calif. This record was also top 20 worldwide (majors and independents) for airplay. "We are currently developing artists with amazing songs and voices in the hopes of providing the world with more #1s. Nothing against major labels but we feel if you are not independent you are dependent. Seeing our indie projects succeed is more rewarding to us than any of our past glories through majors," says Mathews.





Scott's productions with The Rock n Roll Soldiers ( www.rnrsoldiers.com ) are being released worldwide on Atlantic Records' new imprint, East-West Records. Scott discovered this band when they were teenagers. The mighty and elusive Durocs (Ron Nagle and Scott) are filming a segment for an upcoming documentary on the quintessential '70s San Francisco band/circus The Tubes, at Tikitown. Ron and Scott wrote some of the band's best known songs and will be spilling some big beans in this tell-all interview. The Durocs plan to make the Michael Jackson trial look like small potatoes with their scandalous recollections of The Tubes. .
The red hot band out of Wilmington, North Carolina that Huey Lewis discovered, Bender, is currently laying down tracks with Scott for their debut release. The buzz on these guys is getting big, fast. The word on the streets of Sausalito is that these guys know how to live well and that rock stardom is going to suit them to a tee . . .
He also produced 'Matt Wilson' who has the lead role in Tony Award winning Billy Joel / Twyla Tharp hit broadway show, Movin' Out. Wilson is a singer/songwriter in his own right and is releasing this on an independent label. Mathews recently finished producing 'Karen Lehner' for her new release on Grey Mause/Universal. Van Dyke Parks and Steve Nieve have been collaborating with Scott on recent proejcts. Mathews also wrote songs for the critically acclaimed new Robert Cray release on Sanctuary, "20". Rolling Stone Magazine (and many other industry publications) has hailed this work to be the best of Crays' career.
Mathews is off to New Zealand for some recording in August then back to Mill Valley, CA for the remainder of 2005 producing projects with his chief engineer at Tikitown, Tom Luekens.
Contact:Mary Ezzell, A&R
Hit Or Myth Productions
www.scottmathews.com
415-389-9682

<![if !supportEmptyParas]>
copyright 2004 studioexpresso