Steve Parr
Songwriter/5.1Mixer/Producer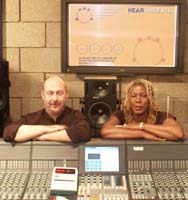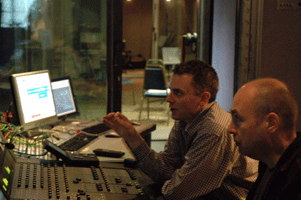 Steve with songwriter/producer partner Sharon Rose at Hear No Evil Studios in UK; Parr with Cranford composer, Carl Davis
Watch the video interview with Steve & Sharon and take a tour of Hear No Evil courtesy of Record Production here!
courtesy of Record Production, Babblefish and studioexpresso


History: Producers Steve Parr and Sharon Rose have built up an enviable reputation as one of a select group of London studios. Hear No Evil specializes in music to picture, since its opening twelve years ago.

In addition to his hands-on role, Steve is vice chairman of MPG ( the Music Producers' Guild). Recently Steve spoke on the merits of 6.1, which was held at the studio and attended by more than 50 producers. 'These days I spend the majority of my time mixing music in surround, be it 5.1 for cinema and DVD or 6.1 for DTS ES. When I go back to stereo I have this strange notion that there's something missing........," says Parr.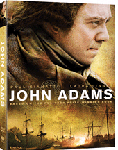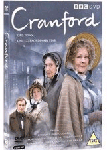 Sharon Rose is a board member of the Women in Film & Television organisation as well as running Traxx Music Production, a company that manages composers and produces music for commercials. Sharon is the managing director of Hear No Evil. She won the FIPA for best original soundtrack 2001 for '100 Days' together with Steve Parr. Recent mixing credits include: Tea With Mussolini and The Lost Prince.F

ilm and TV projects handled by the Fulham studio range from the movie 'The Lost World' to the popular TV drama series about rival hairdressers - 'Cutting It'. More recent projects include the DVD of the Sherlock Holmes classic 'The Hound of the Baskervilles', the BBC's controversial new drama -the Victorian lesbian love story 'Tipping the Velvet.' and the latest Hollywood sci fi epic 'Reign of Fire'.

Steve mixed one of the world's first 6.1 DVDs for LA based Studio Voodoo which is being released by DTS (Digital Theater Systems). This initial project has led on to a much closer collaboration with DTS who have become regular clients.
DTS Entertainment just released Club Voodoo which features a remix by Steve Parr. He recently remixed "Won't Get Fooled Again" and 'Baba O'Riley' for a DVD reissue of The Who's 'The Kids Are Alright.' Steve recalls: "As I was mixing Studio Voodoo, I became very aware of how much better 6.1 is. The centre rear localisation makes a huge difference to the overall sound, now there is an anchor at the back as well as the front. The new Genelec sub-woofer has a very clever bass management system that enables you easily to accurately monitor the entire audio bandwidth of every channel." Hear No Evil Studio has installed a complete 6.1 Genelec monitoring system featuring 1037B monitors and a new 7071A LSE 6.1 Subwoofer.
Hear No Evil was nominated for two awards at the first Surround Music Awards in Los Angeles on Dec 13, 2002. The nominations are for Best Orchestral Mix for 'Hound of the Baskervilles' and for Best Archive Remix for CSI's title music 'Who Are You' by Pete Townshend which was originally recordrd by the Who in the seventies. The studio's live room is featured on the cover of Nov/Dec Resolution magazine.
Current Credits: Steve and Sharon have set-up a DVD production company called, of course, See No Evil. This is the second collaboration between Hooper, Angel and Hear No Evil, having composed, recorded and mixed the music for 'The Heart of Me' featuring Paul Bettany and Helena Bonham Carter.Steve chose a RADAR 24 system for both projects: 'I prepared guide audio tracks and clicks at Hear No Evil and then sent the hard drive over to Steve Price for the orchestral recording. I frequently work in this way because it's so easy, there are no configuration or hardware issues to address and I can get on with mixing literally in less than a minute of receiving the drive.' Also nominated for an award was "the Lost Prince', music by Adrian Johnston and recorded and mixed by Steve Parr in Rome, Bratislava, and London. Johnston won the Emmy for "Shackleton.' Steve Parr was recording live for a 6.1 DVD of the music of Steve Reich in NY
Steve Parr recorded and mixed three out of the four nominations for
this year's Bafta Television Award for Best original Music. The nominations were Paddy Cunneen – Boy A (Channel 4/Cuba Pictures), Cranford (BBC One/BBC Drama Productions/WGBH Boston in association with Chestermead Ltd) - the major BBC classic drama of last year, featuring Judy Dench. Music written by Carl Davis; Adrian Johnston – Capturing Mary (BBC Two/A Talkback Thames Production for BBC Films and HBO). He also worked on John Adams -a Tom Hanks production for HBO. Music by Rob Lane, composer of 'Elizabeth' and Bafta award winner and three times Ivor Novello award winner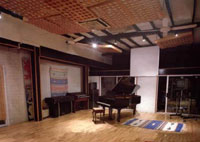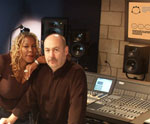 The live room is suitable for ensembles of up to 30 players and offers three separation booths and a Yamaha grand,one of the best recording pianos in London. The Euphonix console in the control room has total dynamic automation and instant recall.

Contact: Info@Hear No Evil
web: Hear No Evil


copyright 2004 studioexpresso