Avatar Sounds & People!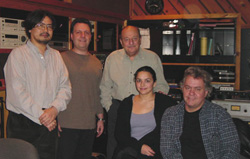 Kirk Imamua, Tino Passante, Arif Mardin (producer),
Norah Jones, Jay Newland (engineer)

Over 400 Gold and Platinum albums have been recorded in the building that houses Avatar Studios, which was formerly known as The Power Station.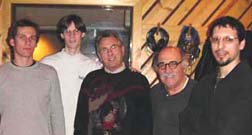 L-R: Verve artist Mark Scholtes, Brian Montgomery, Al Schmitt, Tommy LiPuma and Chad Lupo
Recent sessions at Avatar: Top producers and engineers gathered to hear the Lipinski Sound mastering quality level speakers set up for surround in the famed control room A and also inside an Acura TL car equipped with a surround sound system designed by Elliot Scheiner, who also happened to mix the Porcupine Tree release.
Studio A also hosted Sony Classical artist Jane Monheit recently recorded her new album with engineer/co-producer Al Schmitt, and producer Peter Asher. Brian Montgomery handled Pro Tools operations.
Diana Krall's new album "The Girl in the Other Room" with Al Schmitt and Norah Jones' big hit with Arif Mardin was recorded at Avatar.

Studio B (SSL 9000)-- Island Def Jam artist Fefe Dobson recently came in to cut vocals with producer Jay Levine and Avatar engineer Ross Petersen.

Studio C- (NEVE-VRP72) -- Producer Todd Barkan recently recorded a new album with Eric Alexander. Dave Darlington engineered with help from Aya Takemura.
Geoffrey Keezer recently recorded a new album with Yasohachi "88" Itoh, for Village Records. Yoshihiro Suzuki engineered the DSD Surround sessions with help from Peter Doris and Aya Takemura
Engineer Joe Ferla recently in mixing Marc Johnson's latest CD for ECM. Brian Montgomery handled Pro Tools operation.
Producer Nile Rogers gathered a plethora of stars some of the 90-plus celebrities at the session included: Dionne Warwick, Patti LaBelle, Diana Ross, Roberta Flack, Eartha Kitt, Fred Schneider (B-52s), Darius Rucker (Hootie and the Blowfish), Sister Sledge, Deborah Gibson, Ashford & Simpson, Phoebe Snow, Steve Van Zandt, Rosie Perez, Matthew Modine, Joel Grey, Molly Shannon, Montel Williams, Macauly Culkin, Bernadette Peters, Lisa Ling (The View), supermodel Kylie Bax, John McEnroe, Jim Courier, May Pang and many others.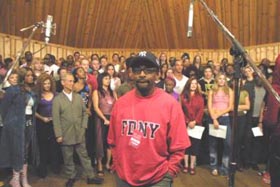 Avatar hosts a family affair and announces updates to studio D with
a 2nd SSL9000J and Studios E &K with two ProTool systems.
The hit for Sister Sledge, co-written by Nile Rodgers in 1979, was originally recorded in AVATAR's Studio A. Produced by Rodgers and co-executive producer Tom Silverman for Tommy Boy Music and SumThing Else Musicworks, part of the proceeds from the recording will support the victims of the World Trade Center attack through a donation to the community work of the Red Cross. Spike Lee directed the music video.
Additionally, Globalvision's Danny Schechter is producing a documentary about the recording session featuring interviews with the participating artists and celebrities regarding their experiences and perspectives about the recent tragic events.
Avatar completed its redesigned studio "D" with an SSL 9K plus two Pro Tool rooms dubbed studios "E" & "K."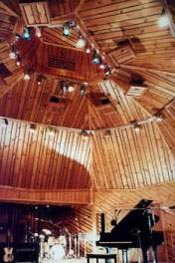 Studio A
(Neve 8068)
It took three months to refit AVATAR's second SSL-9000 series console with Westlake BBSM-15 monitors in the newly designed studio D (left), home to artists like: Diana Ross, Missy Elliot, Jon Bon Jovi, Mariah Carey, Foxy Brown, Latoya Jackson, Nile Rodgers, Joe Jackson, Brenda Starr, Maxi Priest, Coko, Bad Company, Tony Visconti, Ric Wake, Celine Dion, Dream Theatre, Erykah Badu, Luther Vandross, Bebe Winans, Gonzalo Rubalcaba and John Patitucci.
PRO TOOLS STUDIOS E & K are AVATAR'S two Pro Tools Suites designed to accommodate every client's need outside a traditional control room setting. From pre-production, writing, and overdubbing in Studio K, to expert editing and massaging in Studio E, the facility can handle every project from inception to final mix and editing.
AVATAR Studios is a 31,000-square-foot multi-room facility on Manhattan's west side dedicated to providing the highest possible quality audio recording services to the recording industry. The studio houses four premier recording rooms containing Neve 8068, two SSL 9000Js, a Neve VRP and two Pro Tools editing suites. All Studios are equipped with Dolby AC2-AC3 Systems and ISDN. Additionally a vintage Telefunken Redd 37, 12-channel tube console can be rolled into any room at a moments notice. Here you'll find the largest selections of new & vintage Neumann Microphones in New York. Other tape formats available at Avatar include 24, 32 and 48 Track analog and Digital. Considered one of the great recording rooms in the world, Studio A is based around a custom Neve 8068, 40-input console (this is the last 8068 that Neve built - specifically for AVATAR). The room is a large, ambient, three-way modular tracking room with two smaller iso booths to the side and can accommodate up to 60 musicians. The live room is approximately 48-feet wide and 52-feet long, with a ceiling height of 35 feet at its highest point. The studio includes a large, comfortable, private lounge with cable television, video playback, video games, a microwave and Starbucks Coffee.
441 Records Corporation is a new & innovative, independent record label located within Avatar Studios. It features top quality recordings of quality jazz, blues, R&B and electronica music. Our artists are real musicians playing real music. President of the label, Harvey Rosen, has over 30 years of major label as well as independent label sales & marketing experience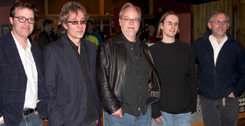 L-R: - Fred Maher (DTS), Richard Barbieri (Porcupine Tree), Walter Becker (Steely Dan), Steve Wilson (Porcupine Tree), Elliot Scheiner, engineer/mixer
Acoustically, this is undeniably one of the great recording facilities in the world. As proof, Sony and Yamaha both recently took sound samples for their reverb box products. Aside from technical excellence, clients are treated to the finest amenities New York has to offer by a congenial staff desiring to make working there a unique experience for both producers and artists.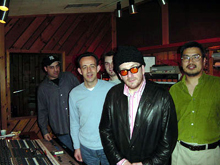 L-R: Anthony Ruotolo (Assistant Engineer), Kevin Killen (Engineer), Ross Peterson (Assistant Engineer), Elvis Costello, Kirk Imamura (President of Avatar)
A combination of experienced staff and room design make up this unique, comfortable, and creative sanctuary many artists and producers seek when they come to Avatar Studios. This special environment has attracted and continues to attract the cream of the crop in the recording industry in the fields of rock, pop, hip-hop, and jazz: Aerosmith, Marc Anthony, The Bee Gees, Bad Company, Anita Baker, Tony Bennett, George Benson, Brandi, Dave Brubeck, Mariah Carey, Joe Cocker, Puffy Combs, Harry Connick Jr., Celine Dion, Faith Evans, Roberta Flack, Al Jarreau, Jon Bon Jovi, Iggy Pop, Journey, LL Cool J, Bobby McFerrin, George Michael, Moby, Nada Surf, Meat Loaf, Diana Ross, Jon Secada, Sista Sol-Jah, Spice Girls, Bonnie Tyler and Vanessa Williams. Many artists,producers, and engineers have passed through the doors of this studio. This facility served as Madonna's home when she recorded "Like a Virgin" and played host to luminaries including Bruce Springsteen, The Rolling Stones, Barbara Streisand, Eric Clapton, the Ramones, and Mariah Carey. More recently, clients include: Aerosmith, Diana Krall, Foxy Brown, and Sheryl Crow ARIF MARDIN, MICHAEL OREILLEY, TOMMY LIPUMA, ELLIOT SCHEINER, DAVID FOSTER, WALTER AFANASIEFF, NILE RODGERS, GLEN BALLARD, AL SCHMITT, JOE FERLA, JIM ANDERSON, JAMES FARBER, JACK RENNER,MICHAEL JACKSON and others.......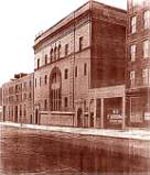 The building where Avatar Studios is currently housed was a former Consolidated Edison plant located in what was then the deserted stretch of 53rd Street between Ninth and 10th Avenues, squarely in Hell's Kitchen. The building was then turned into the sound stage for the popular television game show, Let's Make a Deal with Monty Hall, run by LewRon Television. You can still read the faint company name on the glass above the front door of the building.
The recording studio was designed and built in 1977 as Power Station by Tony Bongiovi, a respected producer and an acoustical genius. As Power Station, the studio won five TEC awards from 1985 to 1990 in the Recording Studio category.

Avatar Entertainment Corporation was founded in May of 1996 and opened its doors as Avatar Studios in July of 1996. Remodeled, re-equipped and renamed, Avatar maintains a choice mix of both new and vintage electronics to support the demands of professional engineers and artists in the most discriminating of all markets, New York City.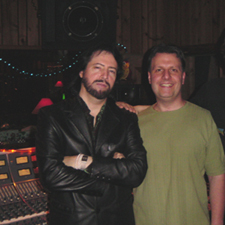 Jack Joseph Puig (Producer / Engineer), Tino Passante


AVATAR Studios has been the home of Grammy Award winning producer Jeff Bova longer than any of its present inhabitants. Situated at AVATAR for 15 years, the past 10 in his own studio on the 2nd floor (coined Bovaland), Bova is the first in a group of other talented engineers, such as Jan Folkson and Jim Janik, to be part of an effort to foster a 'creative community' of engineers and producers.

If you look up the word "avatar" in a dictionary, you'll find several definitions. One definition talks about incarnation of a deity. Another definition talks about an embodiment of a concept or philosophy in a person. The management at Avatar interprets it as "an embodiment of the best quality sound that the client is envisioning."
According to studio manager, Tino Passante: "Avatar continues to be the choice facility for the elite industry icons that we service on a daily basis, as well as for the up and coming stars of all the musical genres that cross paths in our magical building. The special compliment of service and superior sound make Avatar a standout in the industry worldwide. You can feel the magic the minute you walk into the building- the legendary address from which over 500 Gold and Platinum records emanated. But dont take my word for it! Stop by and experience the magic for yourself! It's really an amazing thing!"

Steinway B Piano and Pro Tools HD3 System and Tracking to DSDAvailable!!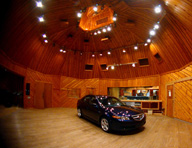 How did they get the car into the studio? Just ask
Elliot Scheiner!

Avatar Studios can offer you the option to digitally record to 2-track DSD or 8-track DSD at the same time you are tracking to tape. By doing so gives you the option to be able to release your recording in SACD format in the future. DSD, or Direct Stream Digital, is a new and improved method of converting music into the digital domain, sampling at 2.8224 MHz. "This results in a frequency response from 0 Hz to beyond 100 kHz, and a dynamic range greater than 120 dB," says Tino, studio manager.

Contact: Tino Passante, studio manager
Avatar Entertainment Corporation
441 West 53rd Street
New York, N.Y. 10019
Tel: (212) 765-7500
Fax:(212) 765-7450
E-mail: tino@avatarstudios.net