Eddie Kramer
producer l mixer l engineer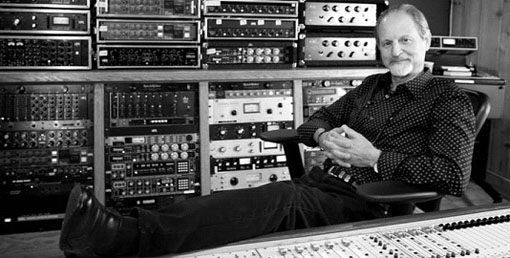 photo: © Brian Peterson 2011
History: Any producer is only as good as the music he helps create. By this standard, Eddie Kramer must be regarded as a legend. In the course of a production and engineering career that has spanned 30 years, Kramer has been behind the boards for the biggest names in music - The Rolling Stones, Traffic, Peter Frampton, Carly Simon, Joe Cocker, Johnny Winter, David Bowie, The Beatles and Bad Company, just to name a few. But he is perhaps best known for three long-term associations in which he not only helped create some of the most important music of the rock era, but also set standards for rock production that set him aside as a true innovator. His work with Jimi Hendrix, Led Zeppelin and Kiss produced music which continues to influence rock musicians and producers today.
Born in South Africa Eddie studied classical piano, cello and violin at the prestigious South African college of Music. At a young age his interest switched from classical to jazz. He moved to England at 19, where he recorded local jazz groups in a home-based studio and installed hi-fi equipment as a hobby. In 1964 he joined Pye Studios, and recorded a variety of artists including Sammy Davis Jr., Petula Clark and The Kinks, demonstrating a versatility, which Eddie possesses to this day.
In 1965 Kramer established the sophisticated KPS Studios, which, despite its rudimentary 2-track recording capability, gained such a reputation that in less than a year they were bought out by Regent Sound. They enlisted Kramer to oversee construction of their new four-track studio.
Kramer's next stop was Olympic Sound studios where he developed a fantastic reputation among the bands of the time - Small Faces, The Beatles, The Rolling Stones and Jimi Hendrix among others. His association with Hendrix was the most powerful one, and the one that lasted the longest. Kramer engineered every Hendrix album from "Are You Experienced" to "Cry of Love," and after Hendrix's death co-produced the posthumous releases "War Heroes," "Rainbow Bridge" and "Hendrix in the West."
In 1968 Kramer came to work at the Record Plant in NYC, engineering Hendrix's "Electric Ladyland" LP, and also worked with Vanilla Fudge, Joe Cocker and NRBQ. In 1969 Kramer went independent, producing Johnny Winter's first LP and engineering Led Zeppelin II, acknowledged by fans and critics alike as perhaps that bands most influential work. This led to work on five albums with the band, half of their overall output. This pairing provided some historic moments. As Eddie tells of one particular session, "Zep II was mixed over a two day period in New York, and at one point there was bleed-through of a previously recorded vocal in the recording of "Whole Lotta Love." It was the middle part where Robert (Plant) screams "Wo-man. You need it." Since we couldn't re-record at that point, I just threw some echo on it to see how it would sound and Jimmy (Page) said "Great! Just leave it."

Soon afterwards, Kramer was recruited to record the Woodstock festival for both the album and the movie. "I arrived at dawn and was struck by the sight of the sun rising over what appeared to be the stage. The show was scheduled to start by lunchtime. That panic pretty much set the tone for the entire concert. All of us in the crew had Vitamin B shots, so that we would be able to stay up for three days. The whole thing was recorded under the most primitive of conditions, but we got it done," says Kramer. "Woodstock was 3 days of hell and drugs".
Woodstock established Kramer as one of the most important live music producers of the rock era, starting a series of artists recorded live which would ultimately include Led Zeppelin, Jimi Hendrix, Kiss, John Mayall, The Rolling Stones, Peter Frampton, Joe Cocker, Curtis Mayfield, Santana, David Bowie, Derek and The Dominoes and others.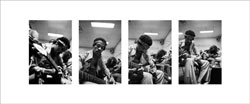 Hendrix quickly hired Kramer to build a state of the art studio. After 13 months and a million dollars, Electric Lady Studios was complete, and Kramer served as its Director of Engineering from 1970 - 1974. During this time, in addition to producing the posthumous Hendrix records, Kramer produced records by Carly Simon, Sha Na Na and Peter Frampton, and engineered albums for artists as diverse as Dionne Warwick and Lena Horne plus David Bowie's "Live at the Spectrum" and "Young Americans" which included "Fame" with John Lennon and Led Zeppelin's "Houses of the Holy" and "Physical Graffiti," among others.
In 1975 Kramer left Electric Lady Studios to work with the No. 1 band in America at the time and produced "Kiss Alive." In addition to producing "Rock and Roll Over," "Love Gun," "Alive II" and "Double Platinum" for Kiss, Kramer worked on Ace Frehley's first solo record, Led Zeppelin's "The Song Remains the Same" (the album and the movie), Peter Frampton's historic "Comes Alive" LP, and The Rolling Stones "Love Ya Live," three of the most popular live albums of the rock era.
Kramer kicked off the 80's producing bands like Fastway and his work with Anthrax on "Among The Living" and "I'm The Man" helped them cross-over to a more mainstream rock audience, and helped ignite a career that has sold over seven million records. His work with Twisted Sister on "Under The Blade" helped their career take off, and after producing The Scream, Motley Crue snatched their singer up. Other rock bands he has worked with since include Angel, Ace Frehley, Alcatraz (with Steve Vai), Raven, Loudness, Triumph, Robin Trower, Havana Black and Whitesnake, and he has also done work in fields as diverse as country and classical, recording acts such as the Kentucky Headhunters and guitarist John Williams.

Eddie produced the Hendrix tribute album, "Stone Free," for Warner Bros., which features tracks from artists such as: The Cure, Eric Clapton, The Spin Doctors, Buddy Guy, Seal/Jeff Beck, Slash/Paul Rodgers, P.M. Dawn, Body Count/Ice Tea. The album has to date generated approximately $1,000,000 in charitable funds which have been donated in Jimi Hendrix's name to the United Negro College Fund as musical scholarships to The Berklee School of Music, The Julliard School of Music and The Dance Theatre of Harlem, etc.
Kramer has co-authored with Hendrix historian John McDermott, "HENDRIX: SETTING THE RECORD STRAIGHT," which is the definitive Hendrix biography, told entirely by Jimi's closest associates. The book is now in its sixth U.S. printing (translated into 4 languages) and was on the best seller list in the U.K. Eddie was a contributing author to "Jimi Hendrix Sessions," which was published in 1995 by Little Brown and chronicles the creative process of Jimi Hendrix in the studio. He is currently in the process of compiling a photographic book called, "FROM THE OTHER SIDE OF THE GLASS," which features his photographic portraits, candid shots and recollections about the artists and sessions that he worked with during the 60's and 70's.

Buddy Guy's album "Slippin' In" (Silvertone Records), produced and engineered by Kramer, received a '96 Grammy Award for "Best Contemporary Blues Record" and a W.C. Handy Blues Foundation award, "Album of the Year" 1995. "Buddy Guy and The Saturday Nite Live Band with G.E. Smith," a "live album" and documentary film, were released in the summer of '96 (Silvertone Records).
Eddie produced "In From The Storm," (BMG Records), a compilation of Hendrix tracks featuring: Sting, Steve Vai, Carlos Santana, Robben Ford, Tony Williams, Stanley Clarke, etc., with The London Metropolitan Orchestra, which was released in '95. The Sting track was nominated for a Grammy Award in 1996.
In February '96, Eddie traveled to Rio de Janeiro, Brazil where he and architect John Storyk of the Walters/Storyk design group tested and implemented a new recording studio, "Studio AR." In March of '96 he completed a promotional tour of South Africa for Shure Bros, Lexicon, BMG Records, Little Brown, (Publisher of Hendrix Sessions) and the Adventures in Modern Recording Video. This was the first time in 35 years that Eddie had returned to his home country and he received much press, radio and TV coverage. Also in March '96, Eddie recorded an up and coming British band "Stone" in London. In April '96, Eddie began working with Paul Rodgers (Bad Company and The Firm) on a solo album project, which was released in the fall of '96. During June '96, Eddie produced 5 new tracks for a John McEnroe album. In July of '96 he produced the Out of Control Blues Band for an independent label. The band played the Newport Jazz Festival in the summer of '96.
During '97 Eddie worked on tracks for a new Big Sugar Album for A&M Canada. He has produced a compilation album featuring the Flying Burrito Bros, The Wrecking Crew, Eric Schenkman (ex-Spin Doctors) and Carl Verhyen. Eddie also completed producing Eric Schenkman (ex-lead guitarist of the Spin Doctors) and his band, "THE CHRYSALIDS."
Eddie filmed a documentary for the BBC entitled "The Making of Electric Lady Land" featuring interviews with Chas Chandler, Mitch Mitchell, Noel Redding, Buddy Miles and Jack Cassidy which aired on VH1 in 1997.
Since 1997 he has remastered all of the Jimi Hendrix albums from the original master tapes for Experience Hendrix/MCA. In addition, all reissued albums have been released on 180 gram VINYL with the original artwork and gatefold covers. Eddie continues to work with the Hendrix family on new albums - film and video projects.
During 1999 he completed mixing a new documentary film about the Band of Gypsys including never before seen footage from the New Year's Show at the Fillmore East. During that year a DVD entitled "Band Of Gypsies" was released in addition to a CD entitled "Live at the Filmore East."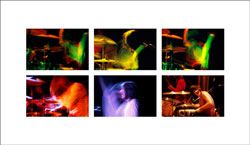 In the latter part of '98 Eddie produced an album with Scott Holt (Buddy Guy's protégé guitar player) featuring Billy Cox and Mitch Mitchell (ex Experience) and Double Trouble (ex Stevie Ray Vaughn). This album was released on Mystic Records (WEA distribution) in the fall of '99. Also during '98 Eddie produced an album with Vince Converse, a young Texas blues guitarist signed to Mystic Records. This album was released in May '99.
In '99 Eddie completed the definitive version of Jimi Hendrix's historical performance at Woodstock, which now contains 30 minutes of previously unreleased material. For the closing ceremonies at the '99 Woodstock Festival, Eddie contributed the audio to what was a monumental visual presentation of Jimi's performance of Star Spangled Banner. Eddie completed "The Jimi Hendrix Experience," a 4-cd box set, described by Rolling Stone as "The Rolls Royce of Box Sets." This was released in September 2000 and was certified gold.
Eddie mixed the Wilson Pickett record on Rounder Records (first new release in twelve years) and produced an album with an all girl punk rock band from Nashville called "Fair Verona" on indie lable I. V. Records. Eddie produced an album by a band of young graduates from the University of Miami -- The Gabe Dixon Band. Their album was released on Warner Records in 2000. Gabe Dixon recently played all of the keyboard parts on Paul McCartney's most recent album.
Eddie began mixing Jimi Hendrix' 1970 performance at the Isle of Wight in 5.1 surround. Jimi's full 2-hour performance has been restored, plus 10-minutes of new documentary footage. This DVD was released in 2002, entitled "Blue Wild Angel." The video went gold.

As part of Eddie's foray into the world of 5.1 film mixing, he has managed to do the following:
5.1 surround mix and restoration of the classic movie, "Monterey Pop," featuring performances by Jimi Hendrix, Otis Redding, The Who, and Janis Joplin. The DVD box set was released in the fall of 2002.
5.1 surround mix of a movie entitled "Only The Strong Survive," for D.A. Penne Baker/Miramax Films, featuring performances by Wilson Pickett and Mary Wilson.
A movie project entitled "THE FESTIVAL EXPRESS" which features performances by Janis Joplin, The Band, The Grateful Dead, Buddy Guy, Traffic, etc. The movie was finally completed in 2003 and was presented at the Toronto Film Festival to great acclaim. It will be released by Miramax in the spring of 2004.
"Indigenous Live," a 5.1 surround mix of Indigenous's live performances in Denver and at the House of Blues in Chicago that was released in 2002.
Eddie remixed Hendrix' legendary performance "Jimi Plays Berkeley," in 5.1 surround sound at N.R.G. Studios featuring some of Jimi's most stunning live performances captured on film. It was released in 2003.

During 2003 Eddie mixed a special version of twelve Jimi Hendrix songs for the new guitar port from Line 6. Eddie restored soundtracks for two DVD's entitled "American Folk Blues Festival," featuring performances by legendary blues players, Muddy Waters, Sonny Boy Williamson, Willie Dixon, Otis Rush, and John Lee Hooker, which was just nominated for a Grammy.
current credits:

Eddie just mixed tracks for a Jimi Hendrix tribute album entitled, "Power of Soul," featuring performances by Eric Clapton, Carlos Santana, Stevie Ray Vaughn and Sting.
During 2002/2003 Eddie has been working with Kyle Cook (the lead guitarist for Matchbox 20) on a solo project called "The New Left." Also, Kyle Cook created a suite of film music involving a 60-piece orchestra which Eddie produced and engineered.
Eddie participated as engineer on the 2002 Grammy winning recording of Carlos Santana and Michelle Branch single, "The Game of Love." And in the beginning of 2003, Eddie worked with Lauren Hill on a new album that is yet to be released.
Eddie met a band from Norway, "Hangface" at South by Southwest in 2002 and brought them to the U.S. to record their debut album at N.R.G. Studios in Los Angeles. The album was completed in December 2003 and the band has been showcasing both in L.A. and in NYC for a record deal.
During 2002 Eddie formed a new company, Kramer Archives, Inc., featuring his photographs of the artists he worked with during 1967-1972, including Hendrix, Stones, Zeppelin, Small Faces, Traffic, Johnny Winter, Joe Cocker, Frank Zappa, etc. The photographs were installed at Rock and Roll Hall of Fame in 2002 and VH1 Times Square headquarters in 2001. Eddie's photographs may be viewed at   www.kramerarchives.com
Eddie was featured on an episode of "Queer Eye for the Straight Guy," in which he gives a framed limited edition print of Jimi Hendrix to the episodes "Straight Guy."
And finally, Eddie is going to have a nervous breakdown and retire to the Fiji Islands to complete his memoirs entitled, "From the Other Side of the Glass."
The beat keeps getting LOUDER.....

Contact: Eddie Kramer
Copyright 2001 studioexpresso