Eddie Miller
musician I engineer l mixer l producer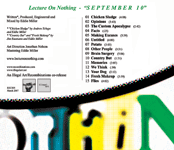 Lecture On Nothing available on

Recombinations and Illegal Art labels
Release date: March 30, 2007

History:  As an artist Eddie Miller has found a niche in the imaginative and creative works of his collages, based on fragments of previously released sound. Best know as one of LA's top engineer/mixer/producers, Miller got his start as the first assistant engineer at Prince's Paisley Park studios. Soon, he found himself in the hot seat where he earned engineering and mixing credit on Prince's "Lovesexy" album, among others. A move to Miami and he contributed as engineer and mixer on tracks that become #1 hits for H-Town, 2 Live Crew, Luke, and J.T. Money and Poison Clan. Eddie's diverse work also appears on albums by Matthew Sweet, Stone Temple Pilots, Creed, Willie Nelson, Travis Tritt, Letters to Cleo, Sister Hazel, Brooks and Dunn, and Sugar Ray, to name a few.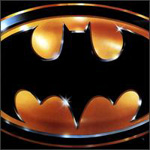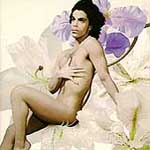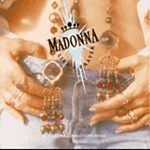 Later Miller began producing tracks with William Burroughs, Perry Farrell, and The Doors for "Stoned Immaculate- The Music of the Doors". Additionally, he has engineered and mixed with Greg Kurstin for his debut release on Verve Records in March 2001 with guest artists to include: Flea, and musicians from a number of bands including Buck Cherry, No Doubt, Garbage, Beck's band, Incubus and Soul Coughing.
Eddie also worked on the Goldmember soundtrack and the band Ming Tea- which is Mike Myers (Austin Powers), Matthew Sweet, and Susanna Hoffs.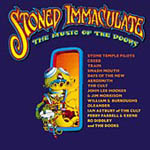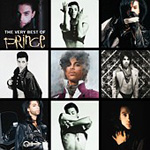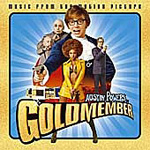 Current credits:

Lecture On Nothing, his

latest release (March 30, 2007) on the Recombinations and Illegal Art labels, showcases Miller's work - no headphones required in order to hear the potpourri of communication lost in translation from this master pop sound designer. Expect abundance of clever samples, sound bites and spoken words in a refreshing breed of world music that combines jazz, Indian, African, classical and urban beats sprinkled in a blend of talking heads. The lyrics are funny, controversial, fun but always musical, even suitable for your next Hollywood party that says

tres chic

. Don't be fooled by Miller, an expert audiophile who's careful not to cross the overproduction line by maintaining an organic DJ-like feel. Eddie even touches on the sensitive subject of genocide while helping us sit back and relax in Couch Potato. We highly recommend this for your sanity in a world where communication in a global media becomes Hundreds of Thousands of

Facts or

rather

lecture on nothing! Eddie offers his brilliant observation on modern society and questions the official statements offered by today's politicians, business leaders, religious figures and media merely by repeating them. Truth can be stranger than fiction. Take this magical mystery tour with Eddie Miller...You'll leave with a big smile. At one point he makes the listener groove to the toe tapping

"This planet is about to be recycled." And his parting words "I want you to doubt everything I say. Find out for yourselves" is true to artist's philosophy.
.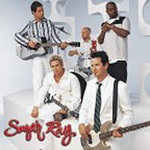 Interview with Eddie Miller on the making of Lecture On Nothing

(

March 27, 07)


by studioexpresso's Claris Sayadian-Dodge

SE: Do you have any collaborators on this album?
EM:

Andrew Scheps co-wrote the first song "Chicken Sludge" with me in 1998. I went to college with Andrew, so when I got back in touch with him, I thought it would be fun to try to collaborate on something. I think he could vouch for the fact that I've been doing this kind of crazy collage stuff since the early 80's, when we were in school. He's awesome.

Another friend who collaborated in the new release on "Country But", and "Fresh Makeup" is Jim Baumann. Jim has been a friend of mine since we worked together at a big record store in Miami in the mid 80's. We listened to music all day, everyday. It was the biggest part of my musical education. Jim was great at making sure I listened to Dylan and the Byrds, etc., instead of Coltrane all the time.

SE: You have a classical background…how does it help or hinder the process of working on a pop album?
EM:I do have a music degree, and I'm sure it helped me to conceptualize in coming up with my own compositional approach.

SE: What's the inspiration for this (Lecture On Nothing) album?
EM: I noticed that what I was doing with the lyrics/words in these pieces was to work out where I stood on a number of issues I found important, or at least interesting, or ridiculous. I named this album "September 10" because for one thing, the album was completed in 1999. 9-11-01 forced me to question my mode of thought about the world that I had pre 9-11. I'll just say that my views are different now- a lot less emphasis for me now on Noam Chomsky-type thinking. So like the words on this album, the title for the album has more importance to me than to anyone else. Sorry!

As for what inspires the music side of things, I was greatly inspired by Steve Reich, along with everything else I've ever heard. I like harmony, which is probably why I like Steve Reich more than the other contemporary composers. He has a real jazz sensibility about the harmony he uses. I loved what he did with "Different Trains" in using sampling vocals, transcribing them, and using them in a musical way. I liked the idea of doing the same with the vocals, but also using a multitude of music samples. The idea with Lecture on Nothing is to make an entirely new piece out of entirely old pieces. It's primitive. I'm no Steve Reich. But I like it. Somehow, it's what I had to do.


SE: What's your process of recording or mixing the tracks and are there any key gears you like?
EM: I'm primarily a drummer, so I will often start with an idea for rhythm. Then I'll take some music chunks that I find interesting, sample them, and play them on the keyboard and twist them around in a way that starts to suggest a new musical idea to me. And one thing starts to suggest another to me, so I go with it until I think it's done. More often than not, I'll start with the music, and then I put the words on top of it. That's where I'll try to find a subject that interests me, and I'll go on a search for samples of people talking about that subject, or use words out of context to say what I'm trying to say. And then I rewrite what all these people say in a way that works melodically with the music. It's tedious. But it was the best thing I could come up with in terms of doing my own thing. I tend to like to see people trying to do something new with music, rather than to try to re-create what the Beatles did 40 years ago (which isn't easy. Impossible, really). Having said that, what I do would more or less fit into the "Revolution #9" style. Is there anything really new to be done with music? I'm not sure. I'm not even sure at times if that is even an important cause to take up.

The first album was done without any computers or sequencers. A casio fz-1 sampler, cheap (A.R.T.) harmonizer, and a tascam 388 8-track tape machine were used. I mixed down to an early form of digital 2- track (pre DAT), which used a box to convert analog to digital (and vice versa), and a sony beta machine to store the data. I think the one I had was made by akai. All samples were played by hand, which in some ways is quicker, and allows for more experimenting with pitch, rhythm, and harmony. The second album was done much the same way, but I used a computer (Cubase was the software) for a tape recorder and mix down machine, and for some drum loop editing. I just remastered the new album on my current pro tools setup. I was lucky to get Joe Gastwirt to master my first album.

SE:How is it distributed? Would it be available on Itunes or myspace?
EM: It will be available for downloading on 3-30-07. There is a link at
www.lectureonnothing.com

SE: The album is visual…Any plans for making a video…for which song?
EM:No plans yet. I did a video for the first album which you can see at http://www.lectureonnothing.com/. That's already 3 minutes out of your life that you're not gonna get back if you saw that one.


SE: Who are some of your music heroes and if you had an opportunity to collaborate with another artist who would it be?
EM: Steve Reich ("Different Trains") and De La Soul ("3 feet high and Rising") were major influences, and somehow I heard a lot of similarities in what they were doing musically in the early 90's. John Coltrane has consistently been my favorite musician since the time I first heard him. But I'm obviously not that kind of musician.
If I do another album, maybe I'll try to collaborate with real musicians. If I did that, I'd probably call Greg Kurstin first, because he's the most talented musician I know. It would be a departure though, because the main idea with lecture on nothing is to create new music out of recycled old music and sounds.

SE: You've been recording other artists for so long….How is it different when you work on your own material?
EM: I learned early on that my job as an engineer was to help other people realize their unique ideas. If wanted to put my ideas out there, I'd have to take up the role of the artist. I set a low priority on being successful as an artist so that I wouldn't have the excuse that I had to cater to anyone. And what do you know? I haven't been successful as an artist! But I'm glad I've taken the time to do my own thing.

SE: What's next? Musically speaking, what makes Eddie happy or the creative juices going?
EM: I don't know what's next- I've never been one to make a 5 year plan or anything like that. It works for me! I recently got married. For the longest time, I never thought I would. That has made me happier than anything else I've ever done!





<![if !supportEmptyParas]> <![endif]>

Contact:lon@sprintmail.com

copyright 2001 studioexpresso