Barry Rudolph

engineer l mixer l producer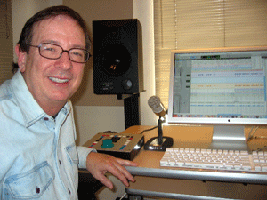 History: Barry's discography includes engineering and mixing numerous gold/platinum certified records by artists: Rod Stewart, Lynyrd Skynyrd, Hall and Oates, The Corrs, BB Mak, Enrique Iglesias, Waylon Jennings, Johnny Mathis, Mick Jagger, Robbie Nevil, Jon Bon Jovi, Selena, Tony Williams, Levon Helm, John Prine, Keith Moon, and The Beach Boys.

Barry's interest in recording goes back to his electronic projects in grammar school. In the sixth grade, he won a prize at the science fair for building a radio control transmitter from parts he found at a war surplus store. While working his way through Long Beach State University, Barry worked for NASA-contracted companies trouble-shooting individual circuit boards for digital systems, later graduating to complete digital computer systems. Barry played the drums in a garage rock band and designed, built and installed the band's P.A. system. He developed an interest in music recording from listening to pop records. "I was interested in what made certain records sound better to me and why," says Barry. He soon discovered a studio near his house and got a job as a gofer at United Audio, Santa Ana, CA but soon moved to LA to start at Larrabee studios. Beside gofer duties, he was now cutting mono acetate discs used for song publishing demos at the time. "It was a place where you could learn by experiment, watch seasoned pros work, make a few mistakes, and not cause many problems. After cutting a few thousand discs, and with the right attitude, you were ready to assist first engineers. I would setup tracking sessions, move mics, plug in equipment, get coffee for everybody and sweep up. I started as a staff first engineer on song publishing demos and graduated to freelance engineer after my first gold record, Al Wilson's "Show and Tell" reached #1 and sold 1.8 million copies," says Rudolph.


Barry has worked with producers: Tom Dowd, Steve Cropper, Jerry Fuller, Oliver Leiber, David Gamson, Neil Giraldo, Rick Rubin, Rafael Botijja-Perez, Sonny Bono, Stanley Clarke, Kevin Savigar and Rob Cavallo, to name a few. Late last year, Barry engineered rock cues for Mission Impossible II for Paramount Pictures and Hans Zimmer. Prior to that, Barry finished recording most of the debut album for the latest British Invasion sensation BB Mak for Hollywood Records and producers Oliver Leiber and Rob Cavallo.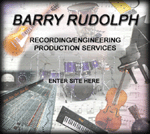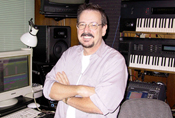 Current Credits: Barry is working with producer Neil Giraldo and wife/artist Pat Benatar on their upcoming album. Barry has also been helping out the production team of Oliver Leiber and David Gamson with artists Youngstown on Hollywood Records, Dakota Moon on Elektra Records and Jennifer Paige also on Hollywood. Other recent work includes artist demos for EMI songwriter, Richard Ezra and veteran songwriter Stephen Epstein with singer Dawn Danielle.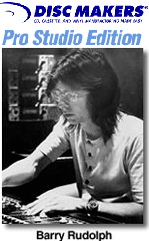 Contact: Barry Rudolph
Copyright 2001 studioexpresso