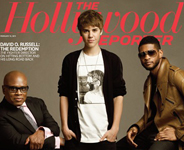 Artist Development Or Overnight Success? In February The Hollywood Reporter talks to Music exec L.A. Reid, Usher and manager Scooter Braun on how they found and grew the teen sensation - and what their longterm plans are for his career (especially now that his voice is changing!). So, what do you do after you've sold 10 million albums worldwide in 14 months. Inspird more than 100 products that become top holiday sellers in the company of Harry Potter and Barbie. Open your first movie on 3,000-plus screens with box-office earnings that could top $20 million. Bieber who has amassed 7 million Twitter followers in two years and received two Grammy noms (one in the highly coveted best new artist category) is at the center of an entire empire being built around him and his talent. And that's not all...supposedly all his touring, is grossing 1.5 million a concert. Say hello to Hollywood's 100 million dollar IT boy (interesting read).


Game Over. Activision pulls plug on Guitar Hero —which earned it more than $1 billion just 2 years ago—is being discontinued. Members of the Guitar Hero team will be among some 500 Activision employees to be laid off, the Los Angeles Times reports. Activision is also axing the True Crime: Hong Kong game that was in development. The company plans to focus on World of Warcraft and future Call of Duty titles.




The Sold Out Ultra Music Festival is set to take place from March 25 to 27, at Bicentennial Park in Miami headlined by Tiësto, deadmau5, The Chemical Brothers, David Guetta, Carl Cox and Empire of the Sun and is expected to draw more than 150,000 fans. This year will also mark the first year that the festival expands from a 2-day to a 3-day format. Originally launched in 1999, the festival has become one of the highest grossing festivals in the world. Ultra is also expanding into other markets and this year will be staging an Ultra Music Festival in dance music mecca Ibiza as well as San Paulo, Brazil on November 6t.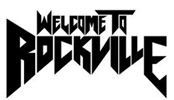 The first annual Welcome To Rockville festival will be held along the beautiful St. Johns River in Downtown Jacksonville, FL at Metropolitan Park on Sunday May 8th 2011. Featuring over 20 bands including Godsmack, Seether, Stone Sour, Theory Of A Deadman, Puddle Of Mudd, Skillet, Halestorm, Rev Theory, My Darkest Days, Jacksonville's own Cold and many others. The event will feature three stages of continuous music throughout the day. Tickets for Welcome To Rockville will be priced at $39.50 and the general on sale will begin on March 4th at 7am.
For presale password information visit: www.x1029.com and www.facebook.com/rock1045. Ticket prices for the event will increase the week and day of the show Fans also have the option to purchase a VIP ticket for $90 which includes: VIP entrance to venue, access to VIP lounge area featuring dedicated bar, beverage and food service, premium viewing of main stage (seated and standing areas), seated area with shade for dining and private restroom facilities. For fans traveling from out of town Crowne Plaza Jacksonville Riverfront Hotel is the official hotel of Welcome to Rockville. Mistress Juliya from Fuse TV will be the host for Welcome To Rockville introducing the bands and interacting with fans throughout the day.Monster Energy Drink and Metro PCS will be the primary sponsors of the event with Monster presenting the main stage and Jägermeister presenting the third stage. Ten local area bands will be selected through a battle format to perform at Welcome to Rockville. The winner of the Rumble will open the Monster Main Stage. Second place winner will open the Field Stage. All other winners will perform on the Jagermeister Stage. The first rumble will be held in the third week of March at Jack Rabbits. Contact Tim@jaxlive.com for more information and to sign-up for the Rumble.

Arizona Rock Impresario Danny Zelisko and Live Nation have parted ways, but Mr. Zelisko has announced his first new concert, following the split, featuring Jackson Browne and Alice Cooper, in partnership with Danny Zelisko Presents. The event is a fundraiser for the non-profit Community Foundation for Southern Arizona, benefiting the newly established Fund for Civility, Respect, and Understanding. The Fund will support individuals and families affected by the January 8th shooting in Tucson, and will promote civility and respect in public discourse, schools, and the community. The fund will also work to increase awareness of mental health symptoms, prevention and treatment services. An all-star line-up of musicians for a benefit concert will take place at the Tucson Convention Center, (who have donated the building), on Thursday, March 10, 6PM. Performers on the bill include Jackson Browne, Alice Cooper, David Crosby & Graham Nash, Sam Moore, Nils Lofgren, Keb' Mo', Jerry Riopelle, Dar Williams, Roger Clyne, Jennifer Warnes, Ozomatli, and Calexico. The event will also feature speakers including Ron Barber, who was among those wounded on January 8, NASA Astronaut Mark Kelly (Giffords' husband), Lea Marquez Peterson (president of the Tucson Hispanic Chamber of Commerce) and Tucson Mayor Bob Walkup (who introduced a nation-wide Civility Accord at the winter legislative meeting of the U.S. Conference of Mayors in Washington, D.C. on January 18, which has since been signed by almost 200 mayors). Zelisko began his promoting career as founder and president of Evening Star Productions, in 1974, which brought the world's best music to the Southwest USA. In 2001, Zelisko, a native of Chicago, sold Evening Star Productions to SFX Entertainment, which was then purchased by Clear Channel, which spun off the entertainment division to what became Live Nation. Zelisko was promoted to the position of Chairman of Live Nation Southwest in 2007, presiding over Live Nation's concert operations in Arizona, New Mexico and Las Vegas. Zelisko has worked with thousands of notable acts over a 37 year career, including: Paul McCartney, Roger Waters, Billy Joel, The Rolling Stones, Pink Floyd, Stevie Nicks, Tina Turner, Bon Jovi, Elton John, The Who, Jeff Beck, Alice Cooper, Rod Stewart, Eric Clapton, Iron Maiden, Santana, Pink, Scorpions, Robert Plant and Jimmy Page, King Crimson, and Ozzy Osbourne, to name just a few. Since 2006, Zelisko has done a popular Sunday night progressive radio show at legendary Phoenix radio station KDKB, called the Regular Guy Radio Program, named after his long running golf tournament, of the same name. "I will be making a proper announcement soon regarding new adventures," Danny Zelisko said.
83rd Academy Awards are watched by millions of movie lovers who tune in to watch the year's most glamorous ceremony and learn who will take home filmmaking's highest honor. William Ross is at the podium as conductor for the 83rd Academy Awards Sunday. Ross, who conducted for the 79th Academy Awards, is a prolific composer, orchestration and arranger. He has arranged music for artists including Barbra Steisand, Celine Dion, Josh Groban, Andrea Bocelli, Michael Buble, Kenny G., Sting and Bette Midler. studioexpresso focuses on three of our favorite catagories with nominees: Congratulations all!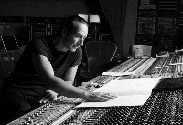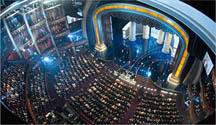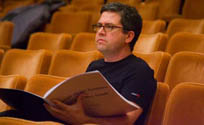 l-r: Alexandre Desplat, John Powell, Trent Reznor
Music (Original Score)
"How to Train Your Dragon" John Powell
"Inception" Hans Zimmer
"The King's Speech" Alexandre Desplat
"127 Hours" A.R. Rahman
"The Social Network" Trent Reznor and Atticus Ross




Hillary Lindsey, Music conductor William Ross

Music (Original Song)
"Coming Home" from "Country Strong" Music and Lyric by Tom Douglas, Troy Verges and Hillary Lindsey
"I See the Light" from "Tangled" Music by Alan Menken Lyric by Glenn Slater
"If I Rise" from "127 Hours" Music by AR Rahman Lyric by Dido and Rollo Armstrong
"We Belong Together" from "Toy Story 3" Music and Lyric by Randy Newman

Sound Mixing
"Inception" Lora Hirschberg, Gary A. Rizzo and Ed Novick
"The King's Speech" Paul Hamblin, Martin Jensen and John Midgley
"Salt" Jeffrey J. Haboush, Greg P. Russell, Scott Millan and William Sarokin
"The Social Network" Ren Klyce, David Parker, Michael Semanick and Mark Weingarten
"True Grit" Skip Lievsay, Craig Berkey, Greg Orloff and Peter F. Kurland


Hollywood history: Back in 1929 Two hundred seventy people attended the May 16, dinner in the Hollywood Roosevelt Hotel's Blossom Room; guest tickets cost $5. It was a long affair filled with speeches, but Academy President Douglas Fairbanks made quick work of handing out the statuettes. The first presentation was the only one to escape a media audience; by the second year, enthusiasm for the Awards was such that a Los Angeles radio station produced a live one-hour broadcast of the event. The Academy continued to hand out the awards at banquets – held at the Ambassador and Biltmore hotels – until 1942, when increased attendance made these dinner ceremonies impractical. Starting with the 16th Oscar ceremony, which was held at Grauman's Chinese Theatre in Hollywood, the event has always been held at a theater.In 1953, the first televised Oscar ceremony enabled millions throughout the United States and Canada to watch the proceedings. Broadcasting in color began in 1966, affording home viewers a chance to fully experience the dazzling allure of the event. Since 1969, the Oscar show has been broadcast internationally, now reaching movie fans in over 200 countries.
Spotlight On Audio Fidelity at Grammy 2011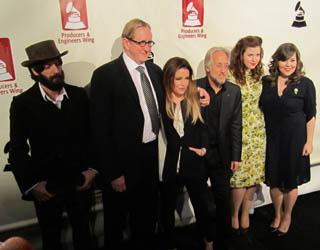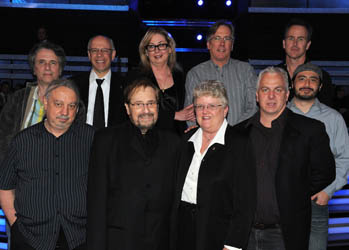 L-R: Grammy P&E Wing honoring TBone Burnett at the Village studios. Top Row: Mark Linnet, M3 Offline Remix Truck Engineer-in-Charge; Hank Neuberger, GRAMMY Award Telecast sound supervisor; Maureen Droney, P&E Wing Senior Executive Director; Michael Abbott, Audio Coordinator; and Mikael Stewart, Front-of-House Engineer. Bottom Row: Eric Schilling, Co-Broadcast Music Mixer; Phil Ramone and Leslie Ann Jones, GRAMMY Award Telecast sound supervisors; Doug Mountain, Consulting Engineer; and B.J. Ramone, Assistant Engineer. Photograph courtesy of The Recording Academy/Wireimage.com © 2011. Photograph by Jordan Strauss.
The 53rd Annual GRAMMY Awards® on Sunday, Feb. 13, 2011, showcased an amazing collection of musical performances and tributes and utilized the latest in technology to provide television viewers worldwide with a cutting-edge, high-definition/5.1 surround sound event. The GRAMMY Awards' technical staff consists of audio pioneers who continually strive to employ the latest technology to enhance the show. The Recording Academy® Producers & Engineers Wing® members Phil Ramone and Hank Neuberger again supervised the broadcast audio, while fellow P&E Wing member Leslie Ann Jones supervised the house audio. Watch interviews with technical crew on the rehearsal day before the Grammy telecast. studioexpresso's Claris visits with Rhianna's MD, Tony Bruno who talks about her musical requirements and how he he communicates that to the technical crew in the remote trucks where the show is mixed. We meet up with Mark Linett, the M3 Offline Remix Truck Engineer-in-Charge. The show was produced by John Cossette Productions and AEG Ehrlich Ventures for The Recording Academy. Ken Ehrlich and John Cossette are executive producers, Louis J. Horvitz is director, and David Wild and Ken Ehrlich are the writers.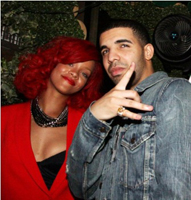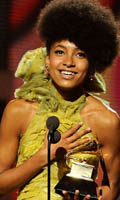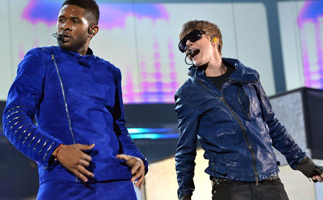 l-r: Rihanna with Drake, Esperanza Spalding, Usher with Justin Beiber at the 53rd Annual GRAMMY Awards® on Sunday, Feb. 13, 2011

The Grammy show format, though at times predictable, helps move the complex production forward smoothly. Arcade Fire, Avett Brothers, Bieber, B.o.B, Dr. Dre, Jagger, Lambert, Mars, Monáe, Mumford & Sons, Muse, Paltrow, Smith, Spalding, and Welch performed on the GRAMMY telecast for the first time. All five Album Of The Year nominees performed on Music's Biggest Night: Arcade Fire, Eminem, Lady Antebellum, Lady Gaga, and Perry, as well as all five of the Best New Artist nominees: Bieber, Drake, Mumford & Sons, Spalding, and Welch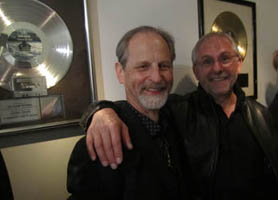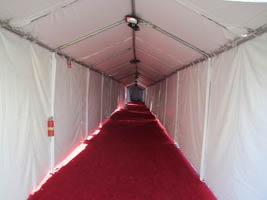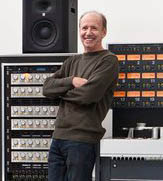 l-r: Eddie Kramer, Elliot Scheiner, among VIP Grammy guests at Village Studios; Le Mobil's Guy Charbonneau
Lifetime Achievement Award recipient Bob Dylan performed with current GRAMMY® nominee Mumford & Sons and folk-rock band the Avett Brothers in a special salute to acoustic music; and six-time GRAMMY winner and current nominee Dr. Dre — in his first live television performance in more than a decade —graced the stage for the first time joining current 10-time nominee Eminem for a historic collaboration. Barbra Streisand — actress/singer/director/writer/ composer/producer/designer/ author/activist and eight-time GRAMMY winner, the GRAMMY Legend Award and Recording Academy Lifetime Achievement Award recipient — was honored as the 2011 MusiCares Person of the Year at its 21st annual benefit gala on Feb. 11. Le Mobil was there to record the show. According to owner Guy Charbonneau Le Mobile began recording Grammy Musicare show in 2006. "We work closely wit the MD's --last two years it was Don Was. Depending on the size of the show I take the Flight Pack and/or Le Box. Neil Diamond in 2009, Aretha Franklin in 2008 and Neil Young in 2010. This year, I got to meet Phil Ramon'es son who trusted me to switch from velcro to microphone clips while recording the orchestra! "We kept the clips and it sounded good, according to Ramone Sr," says Guy with a chuckle. Phil (Ramone) was my first client in NY -- we recorded Paul Simon in Celveland together. Charbonneau is quick to say that at the end of the day it's always the song and perfomance that grabs him as a fan.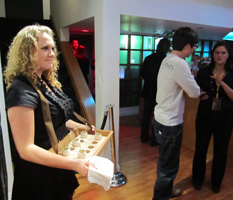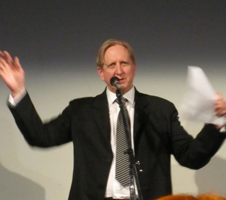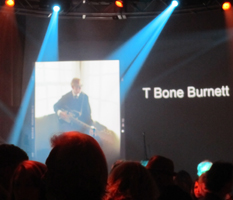 T Bone Burnett was awarded two Grammys, taking home statues for Best Compilation Soundtrack Album For Motion Picture, Television Or Other Visual Media, for his work on Crazy Heart, and Best Song Written For Motion Picture, Television Or Other Visual Media, along with Ryan Bingham, for "The Weary Kind (Theme From Crazy Heart)". Additionally, T Bone received NARAS' President's Special Merit Award at an event attended by hundreds of recording artists, industry peers and luminaries at the Village Studios. "The music business made a mistake in its blind embrace of digital," the analog-loving producer said.
Burnett went on to quote Marshall McLuhan, demand that analog recording not be abandoned and that the Recording Academy "develop a new audio standard for the 21st century." "[T Bone} is revered for the quality and integrity of his work. His career spans 40 years, yet he remains on the cutting edge and is eminently respected by his peers," says Maureen Droney, stated, Senior Executive Director of NARAS' Producers & Engineers Wing. "I can't think of a better individual to represent the spirit of this event, which celebrates the people who work behind the scenes to create music," Droney added. Guests included Robbie Robertson, Elton John's US manager Johnny Barbis, Ray LaMontagne and Lisa Marie Presley. Elton John and Leon Russell send TBone their congratulations via video. A film that chronicled Burnett's producing achievements -- from Bob Dylan to soundtracks for Coen brothers movies to the Elton John/Leon Russell pairing "The Union" -- preceded a performance from Burnett's latest production effort, the Secret Sisters.
Best producer honors went to Danger Mouse's Gnarls Barlkley . "I got 3, can you believe it?? I am really thrilled and humbled," says Jeff Beck. Lady Antebellum, Lady Gaga, and our favorite, Esperanza Spalding were big winners; Arcade Fire earned Album honors . Rihanna grabbed the GRAMMY in the Best Dance Recording category for "Only Girl (In The World)," a massive club banger that introduced a brand-new sound for the talented singer. Rihanna beat out Goldfrapp, Lady Gaga, La Roux, and Robyn in this hotly contested category. The song's co-writers and co-producers Stargate (Tor Erik Hermansen and Mikkel Eriksen), and co-producer/mixer Sandy Vee were in attendance during the Pre-Telecast Ceremony to accept the award. studioexpresso met up Rihanna's MD, Tony Bruno Noms & Winners here


Lee Ritenour Second Annual Yamaha 6 String Theory Guitar Competition Announced Prizes include: Yamaha Guitars, Endorsement Deals from Yamaha, Monster Cable, and D'Addario Strings, Recording Contract opportunity with Concord Records, Vacation Package at Flathead Lake Lodge in Montana, National Guitar Workshop Scholarships, 2012 NGW Clinic Tour... and MORE! Final Competition to be held August 31 at the Bigfork Performing Arts Center in Montana. Enter in 1 of 6 categories: Rock, Blues, Jazz, Classical, Acoustic, and Country. Upload Your Videos: Submit two 5 min. videos. Click here to sign up! Entry deadline is April 30th, 2011. The contest is the inspiration of the legendary GRAMMY® award winning guitarist/composer and producer, Lee Ritenour, who debuted the international competition in 2010 with the release of his all-star guitar CD, 6 String Theory. The CD has been named Guitar International's "Best Album of 2010," Jazziz' "Publisher's Album of the Year – and culminated in Ritenour recently receiving a Lifetime Achievement Award from Guitar Player Magazine.



artist expresso-- Ask Claris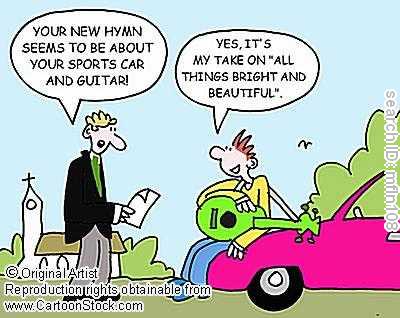 We hear from artists every day from all corners of the world -- France, Germany, Russian, Israel, Asia, Australia and Middle East asking how they can get heard or build their careers. We've decided to feature a letter or phone message each month and share our response with other new artists with similar needs or questions. Our goal remains to empower new artists and encourage them to find their voice and musical path. Most importantly, we're here to remind artists that it's a long journey, so enjoy the process. We encourage artists to provide a link to their music site when they contact us..this way, if a producer or manager is interested, they can be contacted directly.visit production talent at studioexpresso We can recommend someone who fits your requirements or you may send your top 3 choice(s). Thanks.

Artist: We own all publishing and copyrights to our music and we also bring in revenue from shows and merchandise sales-this.... We have a professionally produced album and we've moved over 3,000 copies. We promote on the usual myspace, facebook, website, etc. We receive the usual airplay on local stations. We're currently shopping ourselves around to labels, radio stations, etc. We can book local shows at the best clubs and handle all of the work associated with that. We need someone with connections in the business, perhaps beyond Pittsburgh.... If you happen to have any interesting connections...we would be very interested in doing business and giving you a proper cut. Thank you very much in advance. Mike Geary, 724.244.1504 http://www.crashingmetropolis.com/media.html
Claris: Good start. Take charge artists can go a long way...keep doing what you do and develop your sound/performance...you'll draw the right attention when it's time. promise. Tip. Since the world doesn't know about you yet, post a good performance piece on youtube vs special effects on coming attraction or release.
"I was impressed...that the human brain -- just a few dollars worth of water and salt and protein and whatever else we have in our skulls -- could play at the same level as this jillion-dollar computer the size of a room."
-- 'Jeopardy' champ, Ken Jennings on Man vs. Machine
The band (Arcade Fire) makes great albums, they're not a radio driven singles band. On top of that, they own their own masters and copyrights and are in complete control of their own destiny. Things couldn't be better.
--Scott Rodger
"I count MP3s among the worst blights ever on Earth."
-- TBone Burnett (exherb from his acceptance speech during Grammy week when given NARAS President's Merit Award)
A Bright Spot For Vinyl Sales. Billboard and Nielsen SoundScan announced their year-end tally for album sales, as well as downloads and vinyl. The real bright spot for 2010 was in vinyl sales. The format has been gaining interest with audiofiles as well as music fans for its warmth of sound, physical heft, and vintage ambiance. Billboard reports that vinyl posted a 14% increase in 2010 over 2009. Not surprisingly, the top-selling vinyl albums came from artists whose sound often harks back to vinyl-centric eras like the '60s, '70s, and '80s. Arcade Fire's Suburbs and the Black Keys' Brothers topped the list of new releases, with only the reissued Beatles' Abbey Road outselling them with 35,000 total units. Vampire Weekend and Beach House also scored big in 2010 with vinyl. Album 326.2 million units were sold on the year, a 12% decline over 2009's 373.9 million. Single track downloads were up 1% from 2009, a meager increase, though any numbers in the black might be seen as positive for the beleaguered music industry.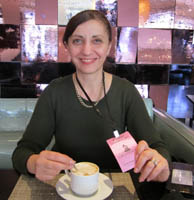 EXPRESS YOURSELF!
Until next month...here's to analog wishes and vinyl dreams!
Watch The studioexpresso Grammy Behind-the-Scenes Audio Report here