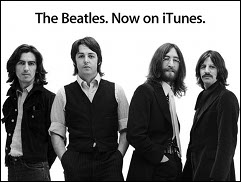 Timeless! First glance at the life-size cut out of Beatles in the Apple computer window and you think how "2010" these guys actually look! Consider the fact that the photo was taken circa 1960s!
Apple says people snapped up more than 450,000 copies of Beatles albums plus two million individual songs during the Fab Four's first week on sale through iTunes. Apple Inc. says the best-selling Beatles album in the U.S. is "Abbey Road," and the best-selling individual track is "Here Comes the Sun." The Beatles Box Set, which costs $149, is No. 10 on Apple's weekly iTunes top-10 list. The Beatles' music went on sale on iTunes on Nov. 16. Until then, the biggest-selling, most influential group in rock history has been glaringly absent from iTunes and other legal online music services. Apple struck an agreement after on-and-off negotiations with the Beatles' recording label, EMI Group, and their management company, Apple Corps.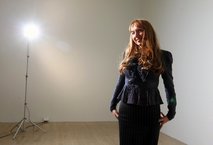 Lowlands Away Gets Turner Prize at Tate. Susan Philipsz became the first sound artist to win Britain's coveted Turner Prize on Monday, but her acceptance speech at the Tate Britain gallery was drowned out by noisy protesters opposing cuts to arts funding. The 45-year-old Scot, the bookmakers' firm favorite to scoop the 25,000 pound ($40,000) award, said she sympathized with the demonstrators, who were kept out of sight but not out of earshot at the London awards ceremony. "It was kind of a surreal experience," the soft-spoken Philipsz told reporters in the gallery where her winning voice installation could be heard in the background. She recorded herself singing three versions of the 16th-century Scottish folk song, "Lowlands Away." It was the first time a sound installation had been shortlisted for the prize since it was set up in 1984 to promote modern British art. The installation was exhibited in an otherwise empty gallery. "Drawing on the powerful, immersive properties of sound and the human voice, Philipsz is engaged with the notion of singing as a physical and sculptural experience," the organizers said in a statement. A youtube post says presumably you can buy her "work" on CD for £1.99 The prize is open only to British artists under the age of 50. Prior winners include well-known British artists Damien Hirst and Tracey Emin. Philipsz was up against painter Dexter Dalwood, Angela de la Cruz and The Otolith Group filmmakers. They would each receive 5,000 pounds ($7,800). The prize is named after esteemed British painter J.M.W. Turner. A Vitual tour of Tate Gallery 2010 here!


Dr Dre's Gear In 2007, Dr. Dre, Jimmy Iovine (U2, Patti Smith, Tom Petty), and Head Monster, Noel Lee, introduced the world to Beats by Dr. Dre™ Studio headphones and forever changed how people listen to music. On September 29, 2010 Beats™ and Monster® changed the game…again. "It just drives me nuts," said Iovine in an interview with NY Times. "We need a real file that can capture music the way it was intended to be heard. Labels have been dumbing down the music for years."Part of the problem, Mr. Iovine says, is the quality of music found on file-sharing sites. "You download an MP3 file off of LimeWire and it sounds like it's been through a blender," he said. Mr. Iovine said that Universal Music Group is working with Apple to increase the quality of the recording it sends to iTunes. "An audio signal is only as good as its weakest link," he said. Among the new products shown at the news conference was Beats Pro, $450 headphones that sit at the top of Beats' product lineup. An speaker dock for an iPod or iPhone, the Beatbox ($400), was also shown. In-ear headphones from Beats included the Lebron James-endorsed Powerbeats ($170), which are designed to stay on during workouts and the iBeats, $120 earbuds that, conference attendees were told, were designed (although apparently not priced) to appeal to the youth market. If that market does not respond well to iBeats, Beats also has two versions of their headphones (the original Beats Solo, $200, and the new $120 iBeats) in bright purple. These are called the JustBeats, where the "Just" stands for teen sensation Justin Bieber, who has also been drafted into the Beats' pantheon (Dr. Dre, Diddy, Gaga, Lebron) of endorsers. Bieber spoke to the audience by way of prerecorded video, explaining that "as a musician" he wanted to make sure his fans heard the "emotion" of his music.
Watch the HP ad with DR Dre here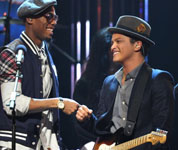 The 53rd Annual GRAMMY Awards will be held on "GRAMMY Sunday," Feb. 13, 2011, at Staples Center in Los Angeles and once again will be broadcast live in high-definition TV and 5.1 surround sound on CBS from 8–11:30 p.m. (ET/PT). This year's GRAMMY Awards process registered the highest number of submissions ever with nearly 20,000 entries. Our fave catagory nominees for Producer Of The Year, Non-Classical nominees are: Rob Cavallo, Danger Mouse, Dr. Luke, RedOne, and the Smeezingtons (Bruno Mars, Philip Lawrence, Ari Levine). Eminem topped the nominations with 10; Bruno Mars garnered seven; and Jay-Z, Lady Antebellum, and Lady Gaga each earned six nods. Jeff Beck, B.o.B, David Frost, Philip Lawrence, and John Legend received five each; and Alex Da Kid, the Black Keys, Drake, Cee Lo Green, Ari Levine, Katy Perry, Rihanna, the Roots, Dirk Sobotka, and Zac Brown each earned four nominations. "This year's nominations are a true reflection of an exceptional and talented community of music makers that embody some of the highest levels of excellence and artistry in their respective fields," said Neil Portnow, President/CEO of The Recording Academy. Good luck Grammy Nominees!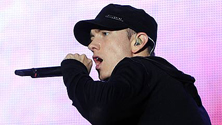 Eminem Gone Mainstream. It's a sign of how much times have changed, and Eminem himself, that his leading nominations were not controversial, but expected and respected. The person with the second-leading tally, Bruno Mars with seven, was not without his own drama this year, after getting arrested in Las Vegas for coke possession; his case is pending. It was the only negative in brilliant year for Mars, who CO-wrote"(Expletive) You" and was also featured on B.o.B's "Nothin' On You," also nominated for record of the year. When Eminem was first nominated for album of the year some 10 years ago for "The Marshall Mathers LP," it marked a milestone for the Grammys as it chose to honor an album that was considered masterful in its artistry yet morally bankrupt in its values. On Wednesday, as the Recording Academy once again nominated Eminem for album of the year along with nine other bids, they again gave accolades to a foul but genius piece of work - Cee Lo's "(Expletive) You," an infectious retro groove with an unforgettable, unprintable chorus. The tune, which is so profane it had to be changed to "Forget You" for radio play, was nominated for two top Grammy honors: record and song of the year. "It wasn't meant to be a radio song," said Cee Lo after the nominations. "It was meant to be something with flair and first impression and it really took on a life of its own, and I had no idea it would become what it is today."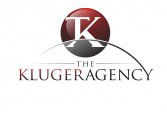 Your Song 4 A Brand Drop One of the earliest examples of product placement within a song can be found in Take Me Out to the Ball Game. Not only did it have its little toy surprise going for it, Cracker Jack also had a memorable mention in the chorus of this (now) immortalized melody. Written in 1908 by Jack Norworth and later scored by Albert Von Tilzer, the chorus goes like this (feel free to sing along...):
Take me out to the ball game,
Take me out with the crowd.
Buy me some peanuts and Cracker Jack...
Ever since Busta Rhymes' Pass the Courvoisier became a hit in 2002—causing sales of the cognac to shoot up—artists and marketers had awakened to the possibilities of "brand drops," to use Kluger's term. Kluger first got the idea for his company as a high school student in 1999, when the band LFO released the song "Summer Girls." The chorus repeated the line "I like girls that wear Abercrombie & Fitch," and sales at the apparel chain increased. How many kids felt the urge to shop at Abercrombie & Fitch after hearing that song, as he had? (Abercrombie & Fitch says it didn't pay for the mention.)
Fast forward 2010 and meet Adam Kluger (music school drop out), the budding music mogul who puts the Soda in Pop Songs. Kluger is the founder and CEO of The Kluger Agency (TKA), a full service non-traditional Advertising Agency with a focus on strategic partnerships and product placement within the music industry. TKA handles the needs of both corporations and artists in house, which allows brands to personally work with the artist and TKA's award winning creative team to build integrated advertising campaigns far superior to any other opportunity available in today's market. Eric "E-Class" Prince, chief executive of Poe Boy Music who represents Flo Rida and other rappers, said he has never heard a complaint from fans about brand-dropping or music video placements. Kluger says he'll reach $5 million in revenue this year with his advertising co, The Kluger Agency.

Spalding was nominated for Best New Artist along with Justin Bieber, Drake, Florence & the Machine, and Mumford and Sons. Her inclusion in this mainstream category signifies her considerable appeal to a broad audience. Spalding's most recent release, Chamber Music Society, is a brilliant marriage of string and jazz trio, and a showcase for her eclectic sensibilities along with her vocal and compositional talents. Telarc International and Heads Up International, divisions of Concord Music Group, received 7 GRAMMY® nominations in an array of categories including Best New Artist, pop, jazz, blues and classical. All nominations were for albums released from September 1, 2009 to September 30, 2010.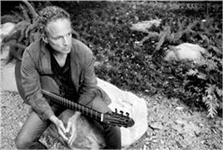 Multi-instrumentalist, composer and producer LINDSEY BUCKINGHAM will be presented with the prestigious Les Paul Award as the highlight of the 26th Annual TEC Awards on Friday, January 14, at the 2011 NAMM Show. The Fleetwood Mac lead guitarist and successful solo artist's work epitomizes the creative application of recording technology honored by the Les Paul Award. TEC Foundation has announced 10 inventions and products it will induct to its 6th Annual TECnology Hall of Fame.
1915 – Electric Wave-Filter (Audio Equalizer)
1926 – Western Electric 555-w Compression Driver
1937 – Lansing Iconic Studio Monitor
1939 – PCM Patent
1956 – Ampex Model VRX-1000 Video Recorder
1960 – Sennheiser MD-421 Microphone
1978 – Dave Smith Sequential Circuits Prophet-5
1985 – Future Sonics Ear Monitors
1992 – Waves Q10 Paragraphic Equalizer Plug-in
1997 – Antares Auto-Tune
The ceremony will be held in Anaheim, California, and will be hosted by veteran pro audio journalist George Petersen. TEC Awards tickets, which include a pre-show General Reception and theatre-style seating at the ceremony, can be ordered here


SESAC awarded Hillary Scott with top honors at the "SESAC Nashville Music Awards" when she was named Songwriter Of The Year. Scott, a member of platinum-selling group Lady Antebellum, also took home the trophy for Song Of The Year for the smash, "Need You Now." Publisher of the Year honors went to EMI Foray Music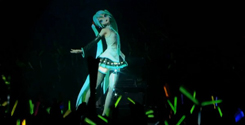 Robato Sold Out Concerts! Hatsune Miku has topped the pop charts in Japan, sold out stadium concerts and become a legitimate cultural phenomenon. One small detail. Miku doesn't exist -- at least not in any traditional sense of the word. Miku is a computer-generated avatar that performs songs with the help of a live band. But unlike say, Gorillaz, a cartoon band that merely serves as the public face of an artistic collective, everything about Miku comes from a computer. She is the product of a company called Crypton Future Media, which synthesizes Miku's voice using Yamaha's Vocaloid software. Creating the character -- which appears as a girl with blue pigtails and a cyberpunk version of the traditional Japanese school-girl uniform -- was a meticulous process. First, the creators recorded voice actress Saki Fujita making individual phonetic sounds at a specific pitch and tone. Then, they recombined the samples and fed them through the synthesis software to produce an almost endless number of words and sounds. Users can actually purchase a copy of Miku to run on their home PCs, and have her perform songs of their own creation. Despite Miku's availability for private performances on home PCs, crowds still shell out for live concerts, where Miku is able to whip her legions of fans into a frenzy (as seen in the video). At these sold-out shows, Miku is materialized, so to speak, as a 3-D hologram. She parades and dances around the stage as she belts out pop-rock songs, while her human band provides a musical backdrop for her J-Pop crooning.


Diller Deals Accoridng to a Daily Variety report in November, the former Live Nation Entertainment board chairman Barry Diller has dumped 2.5 million shares of the concert, ticketing and management company's stock, according to a Nov. 5 Securities and Exchange Commission filing. Selling at $9.62 per share, Diller -- who held onto just 10,396 shares -- cleared $24.3 million in the transaction. There are 173.4 million outstanding shares of LNE stock; before the sale, Diller held approximately 1.4% of those shares. Amid rumors of boardroom acrimony, Diller, who heads New York-based InterActive Corp., resigned his LNE board position in September (Daily Variety, Oct. 4). Liberty Media chairman John Malone was named interim chairman of the board.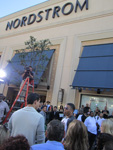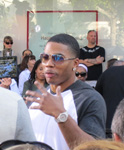 Nelly 5.0 Rapper NELLY launched his own radio show in November and blames his label for poor sales of new album. Sources say he'll play the "biggest and best urban music" in addition to a selection of tracks from his upcoming album, 5.0. Programme director of Choice, Robert D'Ovidio says, "We're thrilled to welcome Nelly to the station. This is the latest in a series of exclusive takeovers on Choice as we continue to provide our audience with innovative and fresh programming alongside the urban songs they love." studioexpresso caught up with Nelly at the Glendale Americana during a brief stop early December. He spoke about his new album and his radio show. In a series of posts on his Twitter.com page, Nelly writes, "A record deal is a 50/50 partnership! As (an) artist it's your job to provide the record company with music that they (record company) can sell! Thing about the partnership is that (in) the public eye the responsibility is not 50/50! The artist is always the 1 who catches 90 per cent of the blame. When (an) artist doesn't deliver sufficient material they gets its budget cut for (their) next album or worse dropped from the label!... Who should be held responsible wen (sic) (an) artist has a history for selling records so it's not like a new artist (and) no1 (sic) knows his (or) her name?... "The fact is that some1 (sic) needs to hold up there (sic) end of the partnership!... If u (sic) only ship 200thound (200,000 copies) of an album how many are u f**king tryen (sic) to sell?? The artist does (not) control that nor does he or she control marketing." Marketeres are you listening?


artist expresso-- Ask Claris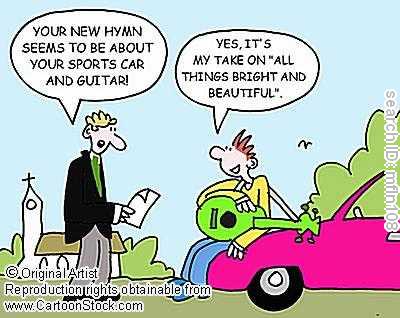 We hear from artists every day from all corners of the world -- France, Germany, Russian, Israel, Asia, Australia and Middle East asking how they can get heard or build their careers. We've decided to feature a letter or phone message each month and share our response with other new artists with similar needs or questions. Our goal remains to empower new artists and encourage them to find their voice and musical path. Most importantly, we're here to remind artists that it's a long journey, so enjoy the process. We encourage artists to provide a link to their music site when they contact us..this way, if a producer or manager is interested, they can be contacted directly.

Artist: My name is DiDi, a pop singer, originally from Bulgaria but living in Queens, NY. This is my official website: didi-music.com Music is my life! My mother always said to her: "You are only as big as your dreams are". I wanted to ask if I have your permission because I'd like to send you a press kit via mail. Please get back to me if you have any questions or further requests. Thank you for your time!
C: Hi Didi, Your mother is right! Thanks for your interest in studioexpresso. We facilitate production by hire and can suggest producers or mixers/engineers, when you're ready to go in the studio - the following is needed before we can proceed:
1. Number of songs 2. timeline - delivery date 3. budget Repertoire (songs) is usually discussed during pre-production phase (after you've chosen a producer and mutually agreed to production terms). Best always. studioexpresso
Meantime, visit production talent at studioexpresso We can recommend someone who fits your requirements or you may send your top 3 choice(s). Thanks.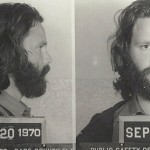 Morrison Pardoned 39 Years Later Jim Morrison, the long-dead and much-mourned lead singer of the rock group The Doors, was pardoned Thursday for a 1969 indecent exposure conviction There was no evidence that linked Morrison to the incident and just one eye witness that would eventually recant her testimony before the trial ever began. Yet the court ruled that he was guilty and sentenced him to six months in jail. He would never serve the sentence as he was freed to appeal the conviction. Outgoing Florida governor Charlie Crist started reviewing the case for a possible pardon he was surprised at how sneaky and underhanded the prosecution and courts had been at the time.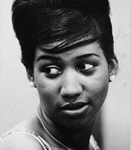 I Say A Little Prayer For You. The 68-year-old Queen of Soul Aretha Franklin's is "doing better than doctors expected" and plans to be released from the hospital soon. Cousin Brenda Corbett tells the Detroit Free Press that Franklin "has a long life in front of her and will be back in concert, on stage, late spring or early summer." Franklin announced last week that she had undergone a surgical procedure for pancreatic cancer. Franklin has won eighteen (18) Grammy Awards in total during her nearly half-century long career (she first charted in 1961) and holds the record for most Best Female R&B Vocal Performance awards with eleven to her name (including eight consecutive awards from 1968 to 1975 — the first eight awarded in that category).
Farewell to A Friend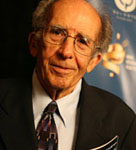 A Good Life. At 97, DR J. Michael Hagopian was planning to direct two films (one about a family in India, scheduled for filming in January 2011). He was also scheduled to meet his favorite director Steve Spielberg at a dinner before his sudden death last week. Michael inspired us with his determination and passion for history, justice and human rights. On April 13, Spielberg's USC Shoah Foundation Institute signed an historic agreement with Dr. Hagopian and the Armenian Film Foundation. The agreement paves the way for the preservation and dissemination of the largest archive of filmed interviews with survivors of and witnesses to the First Genocide of 20th Century. The two organizations will work together to make approximately 400 testimonies of Armenian Genocide survivors and witnesses available for educational purposes through the Shoah Foundation Institute's Visual History Archive.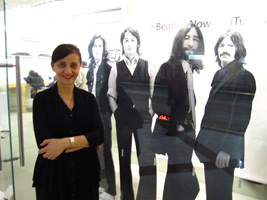 Music Can Fill A Space like Your Heart In Most Unexpected Times and Places.
Hear this Holiday Chorus Popping Up In A Public Food Court -- Posted on Youtube and Have A Merry Chirstmas!
Until next year...thanks for reading!