Expresso Walk And Talk with..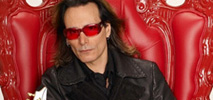 photo: Larry DiMarzio
Steve Vai to Receive Les Paul Award Guitarist, composer and producer Steve Vai will be presented with the prestigious Les Paul Award at the 27th Annual TEC Awards on Friday, January 20, at the 2012 NAMM Show. Since launching his solo career in the early '80s Vai has ascended to the ranks of rock's "guitar heroes," having sold 15 million records, and become a concert sensation while earning three Grammy Awards and being nominated for more than a dozen. Vai will perform with an all-star lineup at the TEC Awards ceremony, backed by the 2Cold Chili Bone TEC Band. Vai has received honorary doctorates from Berklee College of Music and Musician's Institute, and founded Mothership studios and Favored Nations, a record label for musicians, who in Vai's words, "have attained the highest performance level on their chosen instruments." He has also served as a Trustee for the Recording Academy, is on the board of Hollywood Arts, and works closely with his own Make a Noise Foundation, raising money for music education. The 27th Annual Technical Excellence & Creativity Awards, presented by the TEC Foundation for Excellence in Audio and NAMM, will be held on Friday, January 20, 2012 at the NAMM Show in the Pacific Ballroom of the Hilton Anaheim, adjacent to the Convention Center, Anaheim, CA. To purchase tickets, please visit here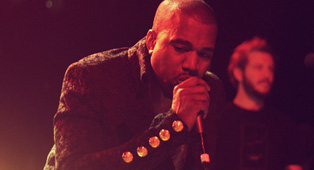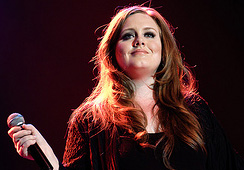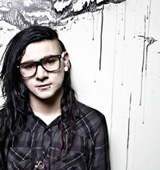 l-r: Kanye West, Bon Iver, Adele, Skrillex

The 54th Annual GRAMMY Award Nominees Announced Adele had a huge evening, earning nods for Song of the Year, Record of the Year, Album of the Year, Best Pop Vocal Album and Best Pop Solo Performance. Kanye West scored nods for both his solo work and his collaboration with Jay-Z. West's song "All of the Lights" will compete against "Otis" for Best Rap Song. West, overall, had seven nominations, leading the pack. Rockers the Foo Fighters also had a big evening, with multiple nominations including Album of the Year; they finished the night with six nods. Bruno Mars also scored big, with looks for Record of the Year, Song of the Year, Best Pop Solo Performance and Best Pop Vocal Album. Pop mainstays Lady Gaga and Rihanna are both up for Album of the Year, while Rihanna also has nods for Best Pop Vocal Album, Best Rap/Sung Collaboration and Best Rap Song. The late and great Amy Winehouse received a nomination for her collaboration with Tony Bennett. our Fave category Best new artist nominees along with Indie singer-songwriter Bon Iver who received recognition in the categories for Song of the Year, Record of the Year, Best New Artist and Best Alternative Album are country trio The Band Perry, rappers J. Cole and Nicki Minaj, and DJ-dance music performer Skrillex (Sonny Moore).Surprisingly, the two fastest-selling albums of the last 12 months, Taylor Swift's "Speak Now" and Lady Gaga's "Born This Way" -- the first collections in more than five years to sell more than a million copies in their first week of release -- collectively generated just one nomination in the top four categories, an album-of-the-year nod for "Born This Way." Swift, whose third album has sold almost 3.8 million copies, is vying for country album honors, and her anti-bullying single "Mean" is nominated for country song and solo performance. You could say, these two artist have already won! Wednesday's live "Grammy Nominations Concert" was dominated by opening and closing act Lady Gaga, who lead off with her latest single, "Marry the Night."
Our other favorite category belongs to the producer, mixer/engineer, mastering engineer and arrangers. Here's big congrats to Mike Shipley, Kevin Killen, Frank Filipetti, Bob Ludwig, Eric Schilling, Doug Sax, Stephen Marcussen, Butch Vig, Raphael Saadiq, Rafa Sardina (Lady Gaga Born This Way), Cheche Alera (Lady Gaga Born This Way), Manny Marroquin, Dana Nielsen (Album of the year Loud/Rihanna) and Clare Fischer and Brent Fischer for their instrumental arrangement of In The Beginning from Continuum. For all nominees click here The 54th Annual GRAMMY Awards will be held on "GRAMMY Sunday," Feb. 12, 2012, at STAPLES Center in Los Angeles and once again will be broadcast live in high-definition TV and 5.1 surround sound on CBS from 8 – 11:30 p.m.
Profile of A Songwriter Dan Wilson wrote Adel's "Someone Like You." A singer, multi-instrumentalist, and Grammy-winning songwriter for over two decades, he has built a reputation as a writer of songs of uncompromising beauty and timeless artistry: a "songwriter's songwriter" whose music has nonetheless many times graced the top of the popular charts.

Experience Mixing Alicia Keys The Sony Wonder Technology Lab is a free, four-story, interactive technology and entertainment experience for all ages. Located in mid-town Manhattan, SWTL inspires creativity in a high-quality, engaging, and family-friendly learning environment. Their latest exhibit is a Music Mixer, an interactive exhibit featuring 14-time Grammy® Award-winning recording artist Alicia Keys. Visitors can put their own spin on the Keys hit, "Empire State of Mind (Part II)," using a variety of instrument tracks in genres ranging from Hip-Hop to World. By manipulating a set of three-dimensional "audio blocks" on an interactive table, visitors work together to create a whole new mix, while learning about the characteristics of different instruments, effects and musical styles. "Our mission has always been to inspire kids to learn about technology and entertainment in a hands-on setting, and there is no better example of that than the music experience we are opening today," said Karen Kelso, Executive Director of the Sony Wonder Technology Lab. You can even schedule your kid's next Birthday Party at Sony Wonder Tech Lab.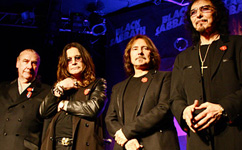 11.11.11.11 Black Sabbath To Re-unite w/Ozzy Osbourne The announcement was made as the four musicians (joined by producer Rick Rubin, who will work on the band's new album) gathered at the site of their very first U.S. show, L.A.'s famed Whisky a Go-Go on the Sunset STrip. That gig was played 41 years ago to the day on 11/11/70, so that's where the men convened at 11:11AM, along with emcee, musician and spoken-word artist Henry Rollins. Rubin expressed a lot of enthusiasm at being able to work with such seasoned legends. According to Rubin, the writing process is ongoing, with several songs already written. Recording will begin early next year.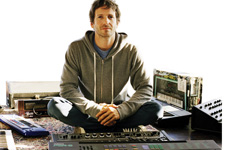 SONY Signs exclusive production deal w/Dr. Luke Lukasz Gottwald, better known as Dr Luke is the star producer and Max Martin protégé who's delivered hits for Katy Perry ("I Kissed a Girl," "Teenage Dream"), Britney Spears ("Til the World Ends," "Hold It Against Me") and Kelly Clarkson ("Since U Been Gone," "My Life Would Suck Without You") and discovered Ke$ha, will launch his own Kemosabe Records in January, which was described in the article as "Sony's fourth label division" (the other three being Columbia, run by chairman Rob Stringer, Epic, headed by chairman and CEO L.A. Reid and RCA which recently announced Peter Edge as its new CEO). The Doctor will report to Morris at Sony Music
"I plan to sign only artists that I really love and really want to work with," Dr. Luke (néeLukasz Gottwald) is quoted as saying. "I also believe that songs are the bloodline of a label, so I will still be instrumental in creating and acquiring them."

Hip-Hop Super Agent Cara Lewis Exits William Morris. Lewis' clients include: Kanye West, Eminem, B.o.B, and Common -- She's the no. 14 honoree in Billboard's 2011 Women in Music executives and she's leaving William Morris Endeavour, where she served for 23 years, at the end of the month when her contract expires. It's unclear how the rest of the roster may shake out and which of Lewis' clients will join her.

Universal Music Group Acquires EMI Recorded Music catalog Universal Music Group announced in November that it had signed with Citigroup a definitive agreement to buy EMI's recorded music division for approximately $1.9 billion (£1.2 billion). And, in another equally surprising development, Sony Corp announced that it is buying EMI's music publishing division for $2.2 billion.
With this sale, Universal – which already controls an extensive catalog of music featuring superstar artists such as Bon Jovi, Lady Gaga, U2, Eminem and Kanye West – will acquire the major works of acts including the Beatles, Pink Floyd, Radiohead, Coldplay and the Beach Boys. Sony/ATV Music Publishing is a joint venture between Sony Corp. and the Michael Jackson estate. It controls more than 750,000 copyrights (including evergreens by the Beatles and Bob Dylan). Chairman-CEO Martin Bandier said in a statement: "I am excited to be reunited with the incredible songs, writers and people of a company I helped build. Our track record at Sony/ATV over the past four years demonstrates our ability to build a strong platform that sustains significant growth. The opportunity represented by this transaction is both transformative for Sony/ATV and a truly special moment for me, personally." UMG chairman-CEO Lucian Grainge said in a statement: "This is a historic acquisition for UMG and an important step in preserving the legacy of EMI Music."





artist expresso-- Ask Claris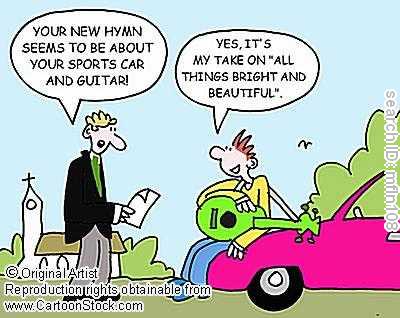 Now and then we'll feature a letter or feedback and or print your Wants/Needs. Our goal remains to empower and encourage you to connect. Send it here claris@studioexpresso.com
When possible, provide a link to your music or gear...When you're interested to have a producer or mixer involved, specify number of songs, budget and desired delivery date. Meantime, visit production talent at studioexpresso to find the right production partner for you.
WANTS/ NEEDS

A studioexpresso reader writes: "... I'll make this super quick! My name is Alfie, and I'm a 26-year-old songwriter/producer with perfect pitch. A few weeks ago, I made this14-minute-long video (youtube) of me playing through the entire current Billboard Top 40 songs in the country on piano, in order, from memory. It was all done in one straight take, with no editing. The arrangements are all my own." Well, Alfie, thanks for that quick year-end wrap up! Our readers are welcome to respond to you directly at alfie.magliano@gmail.com
RECORD COMPANY CATALOGUE FOR SALE, CONTAINING MASTERS AND MUSIC PUBLISHING:
An earning Music Publishing company that incorporates three (3) Record Labels with a wide range of almost all music styles of Rock, Pop, Neo/Soul/R&B/Jazz Tip, Dance, Electronic, Rap/Hip Hop/Old School, etc. The Publishing company controls 95% of the copyrights for full period of copyright, and the Label has over 100 released Masters plus a further Masters to be released for full period of copyright. ALSO, we have other earning catalogues available. *serious inquires only* CONTACT: James Citkovic, Countdown Entertainment (212)645-3068 James@countdownentertainment.com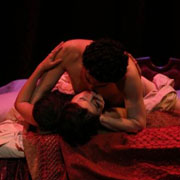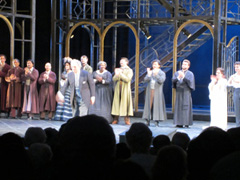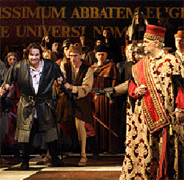 LA Opera's Dream Team. A brand new dazzling dream couple for opera meets Maestro Domingo at Dorothy Chandler Pavilion on Saturday, November 26th. You already know Shakespeare's classic tale of star-crossed lovers torn apart by a familial hatred that consumes their worlds, forever united in heart, soul and death. Tenor sensation Vittorio Grigolo (good-looking and charismatic) made his Company debut as Roméo, with the sultry Nino Machaidze returning as Juliette. The opera is French and most effective when sung by the French. Plácido Domingo conducted this LA Opera's landmark production, directed by Ian Judge in November. Maestro Domingo, who served as general director of the Washington National Opera for approximately 14 years and holds the post of general director at Los Angeles Opera, got some beautiful playing from the orchestra and received numerous warm applause for his steady orchestral leadership in the pit. John Gunter's iron-scaffold sets gave the stage an updated multidimensional look and allowed actors to execute an energetic choreography both on vertical and horizontal planes. Tim Goodchild's costumes --mid-19th-century swirling ballgowns and hoopskirts -- are beautiful in the opening ball scene. Thank you for making us fall in love all over again, hearing five sublime love duets...so pure, so poetic, so perfect... the theater was flooded with intoxicating romance, making Roméo et Juliette an unforgettable experience to savor.

Become LA Opera's Visiting Patron Membership in the Visiting Patron Program requires a $2,000 tax-deductible contribution to LA Opera. Benefits include VIP ticketing services for purchases and exchanges, a 10% discount on performance tickets; invitations to all Visiting Patron Weekend (March 3-4, 2012) events and activities; backstage tours and entry to the Founder's Room and discount hotel rates. For more information or to become a VPP VIP, click here. Spring performances include: Verdi's Simon Boccanegra with Plácido Domingo (pictured above right) and Benjamin Britten's Albert Herring. For more info click here



studioexpresso VIPs Come Together for a Holiday Cheer at Universal Mastering
November 10, 2011 Party To Raise Awareness for MusiCare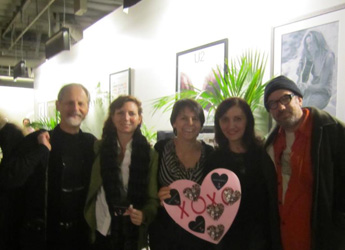 l-r: Eddie Kramer, AJ, Beth Lopez-Barron, studioexpresso's Claris Dodge, Marvin Etzioni; seated: Matt Forger, Rafa Sardina

An intimate group of 50 VIPs came together on November 10 to raise awareness for Grammy's MusicCare www.beapartoftheheart.com at Universal Mastering Studios.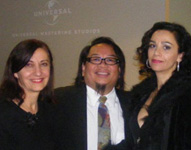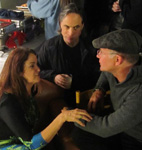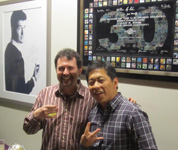 l-r: Claris, Curt Bisquera, Daniela; Candace Stewart of East West Studios, Clark Germain; Universal Mastering's Randy Aronson, Greg Penny, Claris; Erick Labson with a friends.
Award-winning mastering engineers Pete Doell (Miles Davis, Dwight Yoakam, Marilyn Manson, Los Lobos, Richard Marx, Dashboard Confessional, Sheryl Crow, & Harry Connick Jr.) , Erick Labson (Sublime, Aerosmith, Boyz II Men, The Who, Duke Ellington) and Gabriel Wallach were on hand and gave guests grand tour of their mastering facility.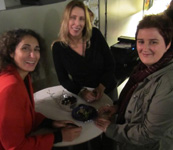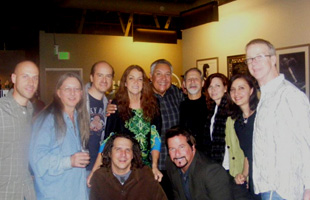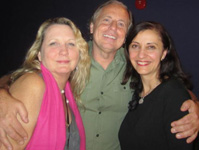 Parisa Fischer (L), Lynne Earls (R); Group photo with mastering engineer Peter Doell (far right); Lenise Bent, Michael C Ross, Claris
Our hosts, Universal Mastering's Randy Aronson, Nicholas Dofflemyer and Blair Milby offered a scruptious buffet and cheer!
Guests were entertained by Clare Fischer trio directed by Brent Fischer.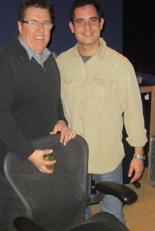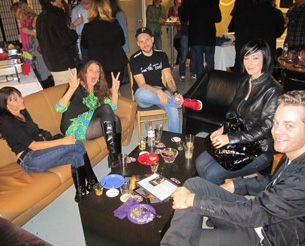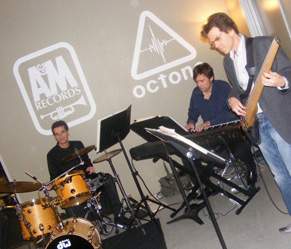 l-r: Brad Lunde of Trans Audio Group with Gabriel Wallach of Universal Mastering; Vicki Giordano of Bridge studios in Glendale and Candace Stewart of East West Studios in Hollywood; Clare Fischer Trio with Brent Fischer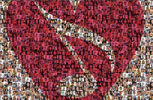 Be A Heart : Donate Today and Support MusiCares with Your Photo & Message The fundraising campaign is aimed at the public to create the world's largest photo mosaic comprised of 1 million photo tiles. According to president/CEO, Neil Portnow, Bon Jovi, Melissa Etheridge, Martina McBride, Rascal Flatts, Pete Stump, and Taylor Swift are among celebs who have already uploaded their photos. MusiCares continue to provide a safety net of critical assistance for music people in times of need. Established by The Recording Academy in 1989, MusiCares' services and resources cover a wide range of financial, medical and personal emergencies. Participants can visit www.beapartoftheheart.com and make a contribution of $1 or more to receive an online tile, upload a photo and include their stories and links to websites and social media platforms. When you donate and upload your photo to the MusiCares mosaic, you'll be giving to a good cause and you can share how music has given back to you. In related news and in celebration of MusiCares' 20th anniversary, artists including Doobie Brothers, Earth, Wind & Fire, "Glee" Live! In Concert!, Josh Groban, Ray LaMontagne, Tim McGraw, Rascal Flatts, Darius Rucker, Taylor Swift, and James Taylor are teaming up with Tickets-for-Charity while on tour to offer fans access to great concert seats to benefit MusiCares. Fans will have access to some of the best seats in the house, including sold-out dates nationwide, by purchasing tickets at www.ticketsforcharity.com/MusiCares20.
Fourteen-time Grammy® winner Paul McCartney to be honored as 2012 Musicares® Person of the year. Annual Gala Benefiting the MusiCares Foundation and its health and human services programs for music people will be held Feb. 10, 2012, During GRAMMY® Week.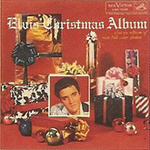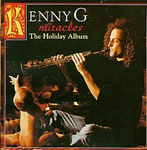 Top Christmas Albums Sales
The holiday album title that has shipped the most copies in the United States is Elvis Presley's 1957 LP Elvis' Christmas Album, which is certified by the RIAA for shipment of 13 million copies in the US (three million copies of the original 1957 release on RCA Victor Records, plus ten million copies of a "budget" edition first released by RCA Camden in 1970 and then by Pickwick Records in 1975). Kenny G tops the list of ten best-selling Christmas albums of the SoundScan era (beginning 1991-present) in the United States with sales of 7.3 million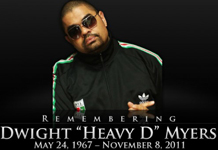 One of the most influential rappers of the 1990s, Heavy D (aka. Dwight Arlington Myers) was pronounced dead in the emergency room at Cedars-Sinai Medical Center on November 8. He was 44. . As leader of the hip-hop trio Heavy D & the Boyz, he gained mainstream fame for the theme song for the TV show "In Living Color." (The song was first "In Living Color," Heavy D & the Boyz later recorded a new theme, "Cause That's the Way You Livin' When You're in Living Color.") Heavy D also rapped on Michael Jackson's "Jam" and Janet Jackson's "Alright." In recent years, Heavy D focused more on TV and movie appearances. He made a cameo in Eddie Murphy and Ben Stiller's new film, "Tower Heist." Heavy D performed at October's BET Awards, his first live performance in 15 years. In pop culture, Heavy D is also remembered for his mention in the Notorious B.I.G.'s 1994 hit single "Juicy" with the lyric "Salt'n'Pepa and Heavy D up in the limousine. He's survived by his beloved daughter, Xea. In lieu of flowers, the family is requesting that donations be made to the Heavy D and Xea Myers Fund: C/O JP Morgan Chase 726 Madison Avenue New York, NY 10085 Memorial Website: http://www.rememberheavyd.com

The Happy Birthday Song! The song has appeared in over 140 movies, in countless advertisements for products ranging from cars to cereals to insurance to paper products and pet stores… and was featured in the world's first singing telegram in 1933. Royalties are earned for public performances of the song as well as its use in movies, television shows, advertisements, music boxes, theatrical productions and the like. (Just an fyi… singing it around the dinner table or serenading your friend is a royalty-free private performance.) The song was written by two sisters… one was an educator and the other a composer. They were knowledgeable about copyright law and took steps to register their work for copyright protection. They may not have guessed that their song would become one of the most popular songs in the 20th Century…. earning over an estimated $45 million dollars to date. Spending $35 to register your music for copyright protection pays off! Mildred Hill was a kindergarten and Sunday-school teacher, like her younger sister Patty. She moved into music, teaching, composing, performing, and specializing in the study of Negro spirituals. Hill and her sister were honored at the Chicago World's Fair for their work in the progressive education program at the experimental kindergarten, the Louisville Experimental Kindergarten School. She wrote about music using the pen name Johann Tonsor. Hill died in Chicago, Illinois, in 1916. She is buried with her sister in Cave Hill Cemetery in Louisville, Kentucky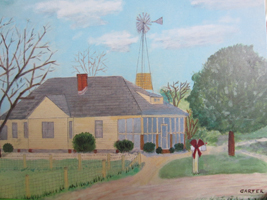 Jimmy Carter Making The World A Better Place. Receiving a Christmas card, personally painted and signed by the former President Jimmy Carter is sweet. What's even more impressive is Carters' dedication to making our world a better place. "Waging Peace. Fighting Disease. Building Hope" is the slogan for their not-for-profit, nongovernmental organization. The Carter Center has helped to improve life for people in more than 70 countries by resolving conflicts; advancing democracy, human rights, and economic opportunity; preventing diseases; improving mental health care; and teaching farmers in developing nations to increase crop production. The Carter Center was founded in 1982 by former US President Jimmy Carter and his wife, Rosalynn, in partnership with Emory University, to advance peace and health worldwide.
http://www.cartercenter.org thanks your ongoing generosity for making The Carter Center a life-changing force for millions of people around the world. The former President created the above image (his boyhood home in Archery, Georgia) for his 2011 Christmas card that says: "With Wam Wishes for Peace and Joy at Christmas and throughout the New Year." Today he and Rosalynn live in nearby Plains, Georgia.
IMAGINE The "test of time" typically rewards iconic artists who produce capital-C Classic work, borrowing from Steven Hyden; which is why over the course of decades, certain songs lose their original meanings and become statements about the legacies of their creators. It's been 40 years since "Imagine" was a hit, and if people still care about that song 400 years from now, it likely will be tied up in the altruistic saintliness that John Lennon (theoretically) still signifies.
Watch John greet a stranger in his garden circa 80s here
Holidays are about giving and connecting to people, yes, sometimes strangers. Thanks for your gift and the lesson John!
Cognac Quince Compote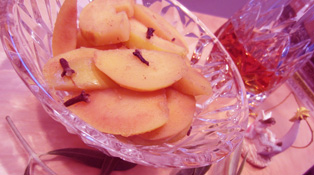 Quince is member of the rose family with a fragrant bouquet and beautiful color -- Enjoy it as a light jam, perfect for toast or filling for croissants, as a condiment for meats (lamb or pork) or as desert served with vanilla ice cream!
Ingredients:
•5 large quinces
•1/3 cup of Cognac
•1/3 cup of water
• 12 cloves
•4 tablespoons of honey (agave juice or sugar)
•3 tablespoon of lemon juice
• stick of cinnamon optional

Preparation:
Clean the quince the way you would an apple, peeling, slicing and removing the seeds (dried pits of the fruit are used to relieve cough). Keep the slices in water (just to the top to avoid turning dark). Drain slices and transfer to a pot. Add Cognac and water and bring to a boil over high heat (30 minutes), turn off heat, and leave the pot on the stove for 30 minutes. Drain off liquid into a large saucepan, add honey and cloves, and bring to a boil over medium heat, stirring continuously with a wooden spoon to prevent sticking and browning. Reduce heat and simmer for 30 to 40 minutes, stirring frequently, until the liquid melds.
Add lemon juice, stir for 5 minutes, and remove from heat. Allow to cool for 30 minutes, pour syrup over fruit and chill in airtight jar.
Can be stored for up to a year and the color of the compote will darken over time to varying shades of red. Enjoy!


You can currently catch a performance of John Cage's "Organ²/ASLSP (As SLow aS Possible)" in Halberstadt, Germany-and your great-great-great-(OK, do that 15 more times)-grandchild will be able to catch the end of it. You can hear this most unusual concert, currently in its 10th year and scheduled to end in 2640 Click to hear the current sound Cage himself did not pick that end-date; 639 years is the length of time between the construction of the first church organ and the 2001 start of his performance, which coincided with Cage's 85th birthday. The score, which would total 29,289 miles, is being played by an automated organ housed in the former St. Burchard church. And it's being played slowly! Chord changes happen so sporadically that the next one isn't scheduled to occur until July 5, 2012; a 2008 note change drew 1,000 listeners. Want your own piece of history? You can sponsor a note for an entire year (the year of your choosing) for a minimum donation of about $1,350. Other works by avant-garde composer Cage include one piece that consists of four minutes and 33 seconds of silence. Ommmmmm
Last two words of this year...Support Local Musicians
Give the gift of a nice concert to your loved ones this Christmas! You'll be supporting our local artists and economy.
Enjoy photographs of musicians by http://www.michaelweintrob.com/
Good Year-End Advice
1. Experts don't always have the answers.
2. Clients cannot tell you what they need.
3. Don't aim for 'better', aim for 'different'.
4. Big challenges create the best work.
5. Aesthetic sensibilities actually matter.
6. Simple is good.
7. Make mistakes, learn quickly.
8. "Value" is different from "price."
9. A-Gamers work with A-Gamers.
10. Real artists create and are prolific.

"If you look at the charts,there's not a lot of male artists… and for whatever reason, female artists sell a lot more records and get played a lot more on the radio."
--Dr. Luke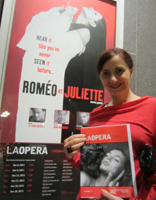 Until next year...EXPRESS YOURSELF
studioexpresso -- where you can find trusted names in music to work with
COME TOGETHER!

Your feedback is valued and welcomed - feel free to contact us via e-mail or phone
Thank you!