Peter Schwartz


Composer l Orchestrator l Arranger l MD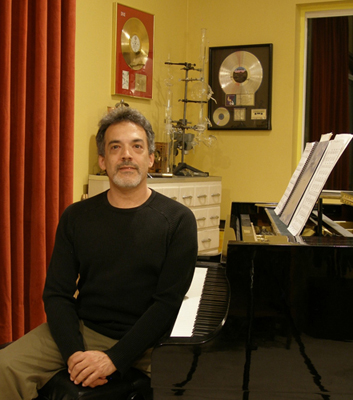 History: In 2001, John Williams accepted Peter's orchestral arrangement for Enya's song, "May It Be" for her performance at the 2001 Academy Awards, where she would vie for an Oscar for Best Song in a Feature Film, "The Lord of the Rings."

His first chance to score for picture came at age 14, for a WTTW television production showcasing successful multi-cultural integration in various high schools around the US.
Years later on the session scene, Peter gained invaluable experience participating in scoring sessions as a programmer, orchestrator, and keyboard player.

An incessant improviser at the piano from an early age, Peter's music never fails to elicit comments about his music's story-telling and visually suggestive qualities.
When Peter was 4 years old, his mother would practice piano in the living room after she put him to bed. But after hearing her repeat the same mistake repeatedly as she tried to get a handle on Minuet in G, Peter felt compelled to get out of bed, toddle into the living room, and correct her mistake. In an attempt to put an end to this recurring habit, or perhaps for revenge, Peter was given a choice: he could himself begin to study either violin or piano. Choosing the heavier of the two and moving ahead many years in the story, Peter graduated from Manhattan School of Music in 1983 with a degree in Piano Performance.
And it wouldn't be long before he found his way into the NYC session scene, eventually amassing a dizzying number of credits as session keyboardist, orchestrator, and arranger for countless household-name artists and producers. Peter also enjoyed commissions to compose concert music, getting calls as musical director for David Bowie, Madonna, Pet Shop Boys, and Enya to name but a few, and opportunities to write orchestral and choral arrangements for a diverse range of artists.
Then, in the mid-90's and fresh off David Bowie's "Outside" tour, Peter landed a role as a ghost writer for the FOX series, "New York Undercover". Under the encouragement and mentorship of James Mtume (the show's de facto composer) Peter's musical lexicon blossomed and underwent a radical change. He now embraced a more atonal voice which melded most naturally with his classical and pop background.
Energized from that experience, Peter's instincts told him to pursue scoring, but it was difficult to turn down continual offers of session work and touring. But in 2000, at the conclusion of the Pet Shop Boys "Nightlife" tour, Peter decided to leave the congestion and noise of New York City and buy house in the quiet confines of rural upstate NY. There he would garret himself to further develop his musical style and hone his film scoring skills.
Fortunately there was no lack of independent filmmaking going on in the sticks, and Peter soon began writing scores for indy films. As you might expect, some of these films were better than others. But one of them proved pivotal...
Current Credits: In 2006, Peter was introduced to (the late) Paul Beard, animator for Blues Clues and other popular children's animated TV shows. Paul was producing his first independent animation and needed a score. And as it happened, Peter's orchestral score for Paul's 6-minute short garnered interest at DisneyToons and thus began Peter's entrée into professional film work.
Since then, Peter has been privileged to add DisneyToons, Mattel, and Warner Bros. to his list of film clients. And when between projects, Peter continues to score select, quality independent films, orchestrate and arrange, craft highly realistic sounding MIDI mockups, and sweeten album tracks.
Why, then, having established himself in NY and with plenty of work to choose from, did Peter pack up and move to Los Angeles in 2010? To pursue what he always felt was his true calling: film scoring.
Peter Schwartz, his wife Sharon, and their beloved dogs Boing and Loosi reside in Los Angeles, along with an assortment of woodwind instruments.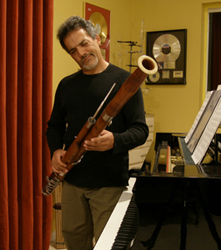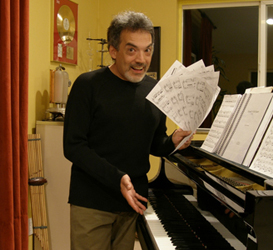 Listen to Schwatz music here at PeterSchwartzMusic.com

Contact: Claris Dodge
claris@studioexrpesso.com
818-990-3031


copyright 2011 studioexpresso