Raphael Saadiq
producer

l songwriter l musician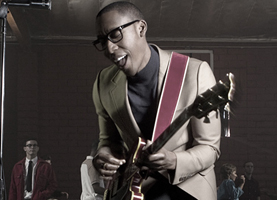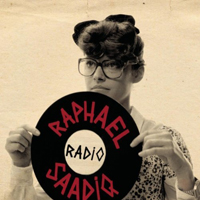 History: With his first-ever solo album release, INSTANT VINTAGE, Saadiq is the writer-producer behind such stellar hits as Angie Stone's "Brotha" and D'Angelo's "Lady" and the Grammy Award-winning "Untitled," among numerous immortal R&B tracks he's produced for others. As the co-founder/producer/member of multi-platinum success artists Tony! Toni! Tone! and Lucy Pearl, Saadiq is touted as a pioneer of 'neo-soul.' "I don't think it represents what the artists before me would like it to be called, really," says the versatile bassist, guitarist, keyboardist, and drummer. Now he's back to create a whole new sound he calls 'gospeldelic' on "INSTANT VINTAG."







"It's the sound of my music, and it really means all of those things to me. I come from a gospel background, and the psychedelic, and the funkadelic -- it's in me. And you feel that," says Saadiq. The 19-track INSTANT VINTAGE is a rewardingly complex blend of soul, R&B, hip-hop, funk, rock, jazz, and doo-wop, rich with inventive bass lines, intricate harmonizing, and colorful strings. The songs were written entirely by Saadiq, who produces, sings, and plays numerous instruments, including a little bit of tuba. Guests on the disc include Angie Stone (background on "Doing What I Can," duet on "Excuse Me"), T-Boz of TLC ("Different Times"), producer/hip-hop artist Hi-Tek ("Tek-1" and "Tek-2"), and Saadiq's older brother, Randy Wiggins, singing on "People."







Saadiq's road to success started at the age of six, when he played bass at church, school and community events in his hometown, Oakland, California. At 18, he stepped onto the world stage when he was chosen, out of hundreds of musicians, to play bass for Prince and Sheila E. on their "Parade" world tour. It was on this tour that Saadiq had the inspiration for what would later become one of the most ground-breaking groups in R&B history, Tony Toni Tonè (whose five albums sold over six million records worldwide). Next he formed and produced the supergroup Lucy Pearl (whose gold-certified album was nominated for a Grammy Award, an American Music Award, two Soul Train Awards and two NAACP Awards).
His music has always been more than skin-deep. It's about making people feel, and about building something fresh from what's come before. On INSTANT VINTAGE, he employs his talent for drawing from the old school, not just to rehash, but to re-inform the new school with the kind of album such giants as Marvin Gaye, Al Green, and Stevie Wonder made back in the day.







Saadiq is owner of a label (Pookie Records) and a production company (Whiskey Slew). Acclaimed producers Jake & The Phatman have been signed to Whiskey Slew. Jake & The Phatman contributed their skills and talents to the Lucy Pearl album, co-producing hits such as "Dance Tonight", "Trippin", and "LaLa". Lucy Pearl's debut gold album was released on Raphael's Pookie Records.
Saadiq recently directed a video for the single "Be Here," a duet with D'Angelo who's also featured in the clip. "I have new challenges that I never, ever had in my life," he says. "Like, as an artist, learning how to balance business and art, but not lie to myself." In fact, Saadiq seems quite confidently true to himself. "All I'm doing is what I can, what God is letting me do. To me, that way is funky, it's gospeldelic. I love that." Raphael completed work with Mary J. Blige producing and writing two songs for her new album at his Blakeslee Recording complex in North Hollywood, CA. He's now getting ready to shoot a video for "I Want You Back" (featuring Teedra Moses), the new single from his critically acclaimed RAPHAEL SAADIQ AS RAY RAY album, released October 5 on his Pookie label. Award-winning music video director Bryan Barber (OutKast's "Hey Ya") has been tapped to direct the clip, which will include an appearance by Teedra Moses.
<![if !supportEmptyParas]> <![endif]>
Current Credits: Grammy Award winning singer, songwriter and record producer Raphael Saadiq has announced the release of his fifth studio album Stone Rollin' on March 22, 2011 on Columbia Records. Sadique's "old school" R&B returns with a new release that celebrates the classic sounds of 60's and 70's soul with a futuristic twist. Raphael debuted the video for the track "Radio" The song is available on iTunes.
Featuring ten new tracks, Stone Rollin' is the follow up to Saadiq's 2008 solo album The Way I See It, which boasted four Billboard R&B chart singles and was nominated for three GRAMMY Awards including Best R&B Album. The album was also selected by iTunes as their 'Album of the Year' in 2008. With the release of The Way I See It, Raphael Saadiq truly made his mark as a touring artist, striking a universal chord with audiences around the world through multiple performances at festival dates throughout Europe and the States — including Bonnaroo, Austin City Limits, Lollapalooza, SXSW and Voodoo Experience– as well as a recent opening slot on the Dave Matthews Band's amphitheater tour.


Contact:AMANDA CAGAN
ABC Public Relations
818 760 8166

VICKIE CHARLES
Universal Records
212 373 0783


copyright 2004 studioexpresso