> home page
> more producers/engineers
Dana Nielsen
mixer I engineer I producer I musician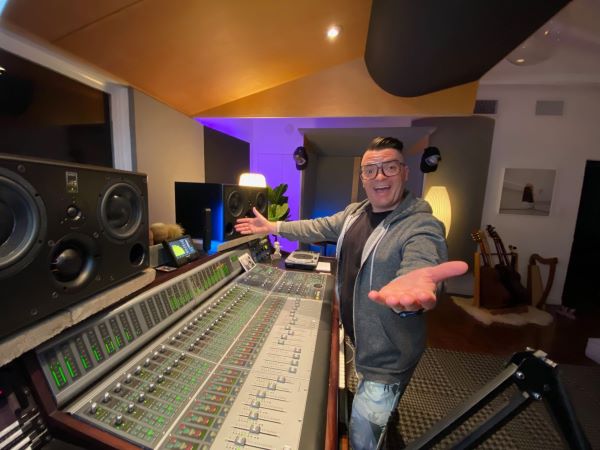 Above: Dana Nielsen in his studio showing off his ATC Speakers and below with Charissa and hubby at Jimmy Kimmel Live with The Avett Brothers and with Rick Rubin at Shangri-La. Photos: Charissa Nielsen

"A great producer is simultaneously tapped into what the song needs as well as what the artist needs."
--Dana Nielsen
Dana Nielsen (AKA Beni Sway) and his wife Charissa (AKA Roxi Jet), two high- school sweethearts, have worked together in the LA music scene for over 20 years. Still, they believe everyone starts small like their company name: Little People Inc. "Whether you're a global icon or an indie startup, we all start our journey as 'little people' in a big creative world," says the Grammy-nominated producer/mixer Dana Nielsen.
Nielsen does more than mixing and producing but he keeps a low profile. As a composer, saxophonist, singer and programmer, Nielsen's own music and/or voice can be heard on countless TV commercials, as well as hit shows like Queer Eye for the Straight Guy, America's Next Top Model, and the Duplass brothers' HBO series Room 104.
Music captured Dana's soul from an early age. "I've been obsessed with it ever since," says Dana who has worked with Bob Dylan on his "Tempest" album, and Neil Young, Neil Diamond, Metallica, Slayer, Weezer, Rihanna, Kanye West, Justin Bieber, Anderson Paak., to name a few icons.

One of their more recent projects is for Post Malone's new album,
Twelve Carat Tooth Ache
. "We were hired to put together a choir for the song
Wasting Angels
, so Charissa (singer and vocal contractor via
Session Singer LA
hired the most amazing talent (shout out to India Carney and Jonathan Mouton), I arranged parts for the four of us singers to record from home, and then I sub-mixed the finished choir stems to send back to Post's producer-extraordinaire,
Louis Bell.



We all worked quickly, and it came out amazing," says Nielsen who has worked with the legendary producer Rick Rubin on various projects including Justin Timberlake's FutureSex/LoveSounds, Red Hot Chili Peppers' Stadium Arcadium, and The Smashing Pumpkins' Shiny and Oh So Bright Vol. 1, which Nielsen recorded and mixed. Dana mixed a full length, Limited Edition of Neil Diamond's "12 Songs" album and also worked as Additional Engineer on Grammy winning albums by Justin Timberlake and Red Hot Chili Peppers. Dana Co-Engineered Linkin Park's top-selling album Minutes to Midnight and Weezer's follow-up to 2005's smash hit Make Believe.


Nielsen is also co-owner of software instrument company,
Skybox Audio
What else has done recently? Nielsen also launched a record company last year called
Neon Tusk
to showcase his work as a writer and producer.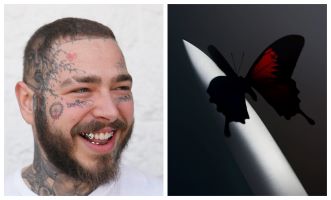 studioexpresso met up with Dana Nielsen in July 2022 for an exclusive interview. Enjoy!
SE: Watched your upbeat and tongue-in-cheek
TikTok post
on how you and your wife sang
Wasting Angels
on Post Malone's new album. Daaaamn Dana you can sing! What other instruments do you play, and how does singing/playing change your approach to a mix?
DN: Aw, thank u so much! I've always loved singing. Charissa and I are high school sweethearts. She was choir president, and I was vice-president… roles which continue on to this day, lol. She's an incredibly talented singer and vocal contractor. Saxophone has been my main instrument since 4th grade. I also play a bit of piano and guitar, various wind instruments, nose flute, haha. I was a Jazz Studies major in college at Loyola Univ, New Orleans. Being a musician, myself has been an incredible advantage for me as a producer, mixer and engineer. The artists I work with are always surprised and relieved that the person in the control room knows where they're coming from, musically, and can speak their language. I might demonstrate melodies with my voice over the talkback or say "why don't we punch in at bar 7 beat 3, right at the drum fill on the IV chord leading into verse 2." Stuff like that can be really helpful. It also builds trust with the band, because they know you understand what they're doing. That said, I keep my musician background secret and subtle until/unless it becomes needed, and even then I keep it extremely low key. I'm not there to draw attention to ME in any way, I'm there to serve the artists. So, you know .. I make sure to never sing too well over a talkback mic, LOL. But it's always fun when the cat's out of the bag and an artist is like, "daaaaamn Dana, ok … I see you … you're a musician! Ok, what's my note again?"

SE: What's your all-time favorite song or track you've recorded or mixed -- fond memory or comment from artist, producer that you want framed on your wall?
DN: Omg, there are soooo many! Any time Rick Rubin listens to your mix and says, "that sounds like a record," that's a powerful statement that never gets old. Bob Dylan called me a genius once, which I'll never forget. I'll prob want that on my tombstone, lol. Kanye West recording his vocals on "Bound" while he's sitting right beside me at the console was unforgettable. And I feel incredibly lucky to have recorded and mixed The Avett Brothers' heart-wrenching and beautiful song
No Hard Feelings
, which is one for the ages.

SE: What are some projects you did with Rick Rubin or other producers? what do you admire about them? What makes a great producer?
DN: I've been so fortunate working with the best producers in the world. I learn so much every day, I always say I feel like I got into the Ivy League of production schools … and I get paid to be there! Ha. Seriously, being a part of the record-making process with such insanely talented artists and producers is a gift and a sacred honor that is never lost on me. A great producer is simultaneously tapped into what the song needs as well as what the artist needs (or doesn't need) in order to do their best work. And though it is WORK and there may be countless hours (weeks, sometimes years) spent on one song in pursuit of greatness, it need not be agonizing. It is possible to make profound art and have a blast in the process. I've seen it and experienced it over and over again. It's magical. And it's these experiences I carry with me into every session I'm hired to produce.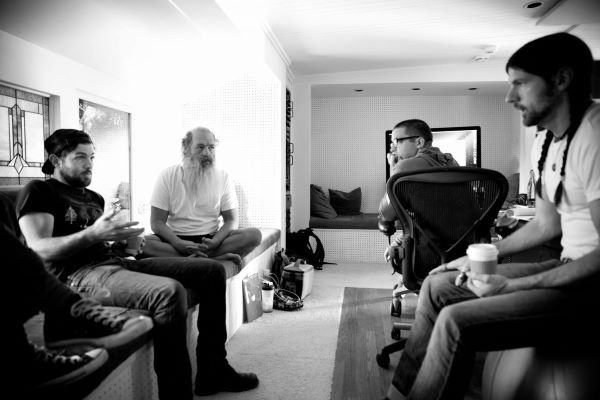 photo by: Mike Cracker aka
crackerfarm
SE: You co-own a software company that has keyboard instrument bundles, Skybox Audio
www.skyboxaudio.com
How and why did you get involved?
DN: My BFF and co-founder Danny Dunlap likes to remind me this all started with some life goals I wrote on a napkin 3 or 4 years ago, one of which was "start a sample company with Danny." Without Danny my napkin dream would have probably just lingered in a filing cabinet or, at best, wiped bratwurst stains off my t-shirt. But Danny is an animal. A musical and technical force of nature. He designed and built a custom robot, which not only automates our sampling process, but also makes it possible for us to achieve the most detailed "true to the actual instrument" samples you've ever played. Our 3rd co-founder, musician and coding genius Azrul Saleh, can somehow — magically — take the musical or technical ideas the three of us brainstorm together, and can script them into reality for our intuitive user interface. My main role at the company is during the recording and mixing stages. I bring my studio album background to each of our instruments, with the goal that each "factory default preset" will feel right at home in your song or score mix with minimal adjustments. Our flagship product, "
Hammers and Waves
" is a 10-instrument bundle of deep sampled keyboard instruments. Producers and composers love it and it's been very well received by the community, finding its way prominently onto live stadium tours, Academy Award-winning films, and Grammy-nominated albums. We've got more great products in the pipeline so stay tuned!

SE: Do you co-write with artists?
DN: Yes! I love writing and co-writing and am actively focused on this, meeting with other writers, tons of remote and in-person co-writes, collabs, brainstorms, workshops, etc.

SE:Your best advice on publishing?
DN: Understand it; protect it; leverage it when needed but be sure you understand it first.

SE: Something accomplishment you're really proud of that has nothing to do with recording/mixing and why?
DN: Sobriety. Fatherhood.

SE: I noticed ATC speakers in your studio. What do you think about these speakers?
DN: I've been a long-time
ATC
enthusiast. In fact, I turned Rick Rubin on to them years ago when I brought my own pair of
25s
in to Shangri-La while I was recording an album with him. Well, Rick had evaluated ATCs before I brought mine in, but he got comfortable with them during that project. I never realized that would turn the tide from "every speaker must be a ProAc Studio 100" to "every speaker must be an ATC25" haha. It sure worked well for me though, as I no longer needed to lug my own pair of 25s to Shangrila! I still own that pair of 25s, but these days I mix on my ATC45s, which I'm crazy about.

SE: Other tool(s) in your studio you can't do without?
DN: My ears, for sure, ha! Hmmm… assuming those don't count, boring answer, but probably my TC Electronic Clarity meter. Or any good meter for that matter.

SE: Mastering -- who are your top 2-3 go-to mastering engineers?
DN: The past many years I have really loved working with Stephen Marcussen and Pete Lyman.
SE: Love, love, love your TikTok post on Post Malone! You and your wife with
Session Singer LA
are credited on his
12 Carat toothache
as choir arranger and for vocals. Talk about how you met and achieved the sound? Did it really happen like your TikTok post says?!!
DN: Thanks! It happened exactly like that! Except it wasn't Post who called us but rather his amazing A&R (now Mercury president), Tyler Arnold, who has hired Charissa over the years to contract the best singers in the biz (and me to record and/or mix them) for what Charissa and I humorously call our "Turn-key Choir Services." I mocked up an arrangement using my voice and charissa's voice, sending it back and forth a few times to Tyler and producer-extraordinaire, Louis Bell, over the course of an afternoon until it was just right. Then we enlisted two unbelievably talented self-recording singers, India Carney and Jonathan Mouton, who were absolutely amazing. The whole process took maybe two days. I took all the individual vocal tracks from the 4 of us singers and sub-mixed some really nice, clean, super polished, organized choir stems and sent those back to Tyler and Louis. Charissa, in addition to her incredible voice, also handled all the SAG-AFTRA paperwork, which she is a BOSS at. Charissa and I have known each other since the 8th grade. We started dating in our senior year of high school and have been together ever since, married 22 years (dating since 1995).
Here's another video
I made for her for our recent anniversary which features some pix of our younger selves along w my custom karaoke recreation of MC Hammer's version of "Have You Seen Her".

SE: Is your studio a private facility for your own projects only? What was involved in putting it together?
DN: Thanks! Yeah it's our main home studio (we have another smaller studio in the house too). When we moved into our current house 14 years ago we immediately hired the late, great Vincent van Haaff and his genius partner, our dear friend, Jacques LaCroix to retrofit a large room with vaulted ceilings into the comfortable, airy, spacious, acoustically delightful room it is today. Our ATC45s stand proudly, mightily on the meter bridge!

SE: Your favorite studio(s) other than yours and why?
DN: ShangriLA is like a second home to me, and one of the most special studios on earth. You can't beat the setting. A view of the ocean and sunset through open windows, sea breeze gusting in on your back while you record Carlos Santana or Justin Bieber or Kendrick Lamar! I meannnn….. c'mon!

SE: First song you heard that made you excited. What was about it?
DN: Some very early, primal, cupid's arrow musical moments of my childhood that come to mind are: "Tell Me Something Good" by Rufus (that funky, jaunty, clavi, syncopated walkdown verse?? the breathing?? the surprise, feelgood soulful chorus??? Gives me chills just thinking about it); "Many Rivers to Cross" by Jimmy Cliff (the b3 organ and gospel singer bgvs and Jimmy Cliff's earnestness make me want to smile with sadness and cry with happiness if that makes any sense). "Break My Stride" by Matthew Wilder (those spooky minor-6 synth chords in the intro.. those verses with all that chordal movement like a journey, the reggae twinged 80s production, the feel-good chorus … it was and still is a potent combo to me that made my 5-year-old brain vaporize into sparkly magic moon dust). Add to that list all Laurie Anderson albums and all Stevie Wonder albums. My parents had a massive, incredible, eclectic record collection that continues to inspire me to this day. I actually have some Spotify playlists that sorta catalog some of these early musical epiphanies:
BENI'S BREW, VOL II
and
BENI'S BREW, VOL III
Speaking of .. Beni Sway is kind of my "artist alias" … if you haven't seen Charissa and me as Beni Sway and Roxi Jet in
the video for our song "Millions"
, it's a riot!

SE:Yeah, you are! If you had one wish for the fairy queen?
DN: no mosquitoes

SE: Beverage of choice?
DN: coffee and lacroix on constant repeat all day every day.
SE: Naturally Beni Sway! You're a riot and a daaamn good mixer/producer. Thank you!

Dana Nielsen Official
Neon Tusk

AllMusic
Facebook
Instagram
Twitter
YouTube


<![if !supportEmptyParas]>
copyright 2004 studioexpresso