Soundelux Captures Glory Of Love
Lynn Fuston Spotlights Triccoli's Vocals With Soundelux ELUX 251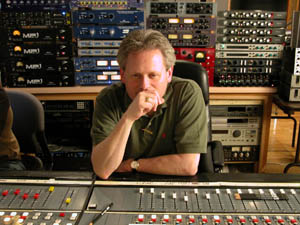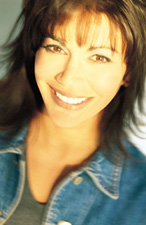 Famed Nashville recording engineer/producer Lynn Fuston discovers the Soundelux ELUX 251 to be the one true microphone for award-winning Christian music singer/songwriter, Kathy Troccoli.


Kathy Troccoli is one of the most spirited singer/songwriters in contemporary Christian music. When it came time to record her new album, she wanted to make sure her fans heard her voice the way she always wanted it to sound. Teaming up in the studio with in-demand, Nashville engineer, Lynn Fuston, Troccoli discovered that the Soundelux ELUX 251 was the microphone that could make it happen.
A two-time Grammy nominee, and winner of three Dove Awards, Troccoli, has had seventeen number one songs on Christian Radio, and her best-selling "Everything Changes" hit number one on the adult contemporary top 40. By paying meticulous attention to the choice of vocal mic, Fuston was able to deliver the sound that Kathy had always wanted to hear. "She had never been totally happy with the vocal sound on her records, going back for 15 albums," says Fuston from his studio, 3D Audio, Inc. "With this mic, she just sounds incredible, like she's singing right into your ear. It's the sound her friends and family have heard before, but it wasn't on her records."
The production of Troccoli's new CD, "Glory of Love," is the latest phase in a new course for the singer that has replaced the heavily produced style of her earlier works with smaller, more acoustic ensembles and sonic environments. With several songs consisting solely of vocals and piano, and maybe an acoustic guitar and cello, Fuston knew that Troccoli's voice, which he has been recording on and off since producing her first raw demos 25 years ago, would be front and center more than ever before. "For this album, we decided her voice would be in the spotlight, instead of the studio production."
Fuston prepared for the recording sessions by planning an intensive vocal mic/preamp shootout, and made sure that the ELUX 251, with its faithful recreation of the legendary Telefunken ELA M251(tm), would be one of the mics Troccoli tried. "I've used the ELUX 251 on a lot of vocalists in the past, and it wins out 90% of the time, which is an unusually high success ratio," says Fuston. "It's the first mic I've found that I can put up in front of a vocalist and not worry whether there is something else in the room that will sound better. Kathy wanted a clear and satiny top-end that would also pick up the depth and richness in her voice. The ELUX 251 gave her exactly what she wanted to hear. I paired it with a Buzz Audio MA2 mic pre and there was absolutely nothing lacking at all."
Designed for mid-range focus with a strong, powerful bottom and airy, unabrasive top-end, the ELUX 251 brings out the most intimate, natural details of male and female vocals, thanks to features such as a true transformer balanced output, and NOS dual triode with traditional resistive (not transistor) load and enhanced original circuitry, for a unique vintage amplification curve and dynamics response. "It's patterned after a classic microphone, but vintage Telefunkens routinely go for $20,000, whereas the ELUX 251 comes in way below that," Fuston notes. "We definitely accomplished a new milestone using the ELUX 251 on this album.
"When I'm looking for the right mic for a singer, it's like trying to find the two puzzle pieces that fit together perfectly," continues Fuston. "That's why the ELUX 251 did such a great job on Kathy's voice. It was the perfect match. The sound of the Soundelux on these recordings is huge, robust, so sweet and rich that it's almost like caramel or melted chocolate.
This mic was everything that we had wished for, picking up all the best things in her voice and accentuating them. There's no doubt that "Glory of Love" is a vocal record, and the Soundelux ELUX 251 focused the spotlight squarely on her voice."
Soundelux Microphones are distributed by TransAudio Group, founded by industry veteran Brad Lunde. For more info on Soundelux, please email Brad Lunde at LVPA or Phone (702) 307-2700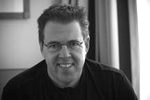 Las Vegas Pro Audio is the direct sales division of TransAudio Group. The goal of LasVegasProAudio.com is to provide a personal long-term relationship with top engineers delivering insightful and accurate advice, unique equipment and long term support.TransAudio has quickly become the premier US importer/distributor for high-end audio. visit the web sites at: www.lasvegasproaudio.com
TransAudio Group's product lines include A-Designs (USA) AEA ribbon microphones (USA), ADT Toolkit, AEA, ATC Loudspeakers (UK), Brauner microphones(Germany), Drawmer (UK), Geoffrey Daking & Co. (USA), Enhanced Audio (Ireland), George Massenburg Labs (GML) (USA), Heil Sound (USA); Mercury Audio (USA) Mission Audio (UK) Phoenix Audio (UK), PAULY Superscreens(Germany), SABRA SOM(Brazil), Soundelux (USA), SoundField Microphones (UK), Z-Systems (USA) and Weiss Engineering (Switzerland) and Z Systems (USA).


Hollywood Cat Confessions
write HC - we want to hear your feedback and any cool news

Aldo Fights Aids



The campaign is titled, "Hear No Evil? (no, not Hear No Evil Studios in UK) See No Evil? Speak No Evil?" and features black and white images of stars like Christina Aguilera, Ludacris, Elijah Wood, Salma Hayek, LL Cool J and many more as they either cover their ears or have their mouth or eyes covered by duct tape, with the intent to get people to stop and notice.
It turns out that Aldo Shoes has launched this huge cause-related marketing campaign (by Calder and partners in 2000) in conjunction with YouthAIDS, an HIV/AIDS education and prevention initiative. The relationship was launched to foster deeper awareness toward education and prevention of HIV/AIDS among teenagers and young adults.

Yes, Aldo may be just another fashion retailer (shoes, accessories), but the company is setting itself apart from the pack in the way it has engaged today's top musicians like Avril Levine, Dave Novaroo, Pink and many others to parle their message on a topic still considered taboo in many parts of the world. So yes, the cynical marketer might want to call this a rip-off or next-gen to the Livestrong dynasty. I say, "hello Aldo, baby! Bring on the empowerment tags"!
The Tags, which are available at ALDO stores worldwide and on www.youthaids-aldo.org or www.aldoshoes.com, will retail for $5, with 100% of the net proceeds benefiting YouthAIDS.Funds raised from the sale of the Empowerment Tags will continue to enable YouthAIDS to educate and protect young people in more than 60 countries.
Madonna Confessions & Gear
According to artist web site, fans snapped up every ticket for the first two Wembley Arena gigs as soon as the box office opened at 9am. Earlier, festival goers jammed into the Sahara Tent at Coachella where Madonna kicked off her worldwide tour using her long-time favorite Sennheiser 3072 wireless mic (pictured blow Right).





The stage show promises to offer entertainment with a capitol E...a politicized video montage starring Adolf Hitler, Dick Cheney, Tony Blair, Osama bin Laden, Richard Nixon, George Bush, and starving African children. A futuristic mechanical bull equipped with oddly gynecological-looking steel stirrups.
Her Confessions' Tour kicked off In L.A. this week and the Diva of Pop is pushing her merchandising in high gear. You can order yourself wine with her image sketched in pink on the bottle or choose from the tasteful prints on large canvases.



The Limited Edition Release features a combination etched/paper label on a bottle of 2004 Dry Creek Cabernet Sauvignon. The product has hand-painted and etched disco lights and the hand painted and etched name of Madonna surrounding a die cut high quality adhesive applied image of Madonna. Dusty cocoa and black cherry aromas make this 2004 Cabernet a very good year.
Hints of vanilla, caramel and bay leaf add to the intrigue. Juicy red plum flavors give this wine a lush mouth feel, while the bright fruit will make it an excellent match with food. Chewy tannins remind you why Cabernet is king! Only 1000 limited edition bottles ($100 per bottle) available also at Wild About Music Store in Santa Monica where you can purchase the Madonna white silk print on canvas (47"x60") $900.00 call 310-899-3114 for more info or visit WAM
Studio Upgrades



StarCity Recording in Bethlehem has expanded its world-class recording studios by bringing in a custom-designed SSL Axiom MT Plus Digital Multitrack Console. After extensive research, Jeff Glixman, executive vice president of StarCity, was convinced that the MT Plus was the perfect solution for StarCity's Studio B. According to Glixman, StarCity has revamped the control room acoustics creating a heavily trapped room with a more linear, tighter bass response. The monitoring system has been upgraded to a full time, four-way system with 18-inch subwoofers. The outboard gear selection includes the usual classic pieces, Lexicon reverb, and modern gear one would expect in a high-end room. Additionally there are more than 24 channels of class A mic pre/eq available for 'direct to storage' recording.
A Case For Scott Key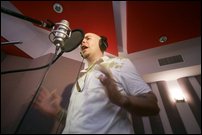 Hip hop star Pitbull while recording a Spanish-language version of the U.S. national anthem (AP Photo/Wilfredo Lee)
Francis Scott Key first published his impressions of the Fort McHenry victory as a broadside poem, with a note that it should be sung to the popular British melody "To Anacreon in Heaven." Soon after, Thomas Carr's Baltimore music store published the words and music together under the title "The Star-Spangled Banner." The song gained steadily in popularity in the years before the Civil War. By 1861 it shared with "Yankee Doodle" and "Hail Columbia" the distinction of being played on most patriotic occasions. Nonetheless Congress did not make the song the national anthem until 1931. The recording, dubbed "Nuestro Himno," which means "Our Anthem" in English, is set to "rhythmic Latin musical arrangement" but respects the song's traditional structure, said Adam Kidron, who heads the record label Urban Box Office (UBO). Mexican pop diva Gloria Trevi, Puerto Rican reggaeton Ivy Queen and Tito El Bambino and other Latino artists are recording a Spanish-language version of the U.S. national anthem in a show of support for migrants in the United States. The Latino-oriented record label Urban Box Office said it plans to release the new version of "The Star-Spangled Banner" to coincide with the U.S. Senate's debate on immigration legislation earlier this month.

Profit or Not, GIVE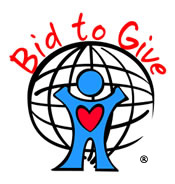 Charity Folks is the leading online charity auction venue. Increased competition is motivating nonprofits to diversify fundraising methods to attract more donors and improve stewardship
This week, Society of Singers' launched its online auction at www.charityfolks.com/sos
What are you bidding for? 2 tickets to the June 2nd SOLD-OUT show of 3 Men & A Big Band featuring Gary LeMel, Jerry Sharell, Steve Tyrell & The Gregg Field Big Band at the El Rey Theatre, Los Angeles. Who's been using this site? Revlon Run/Walk, Musicians On Call, Bonnie Raitt Charity Ticket Auction, to name a few.

AES Pro Audio Expo & Convention is held in the Porte de Versailles earlier in May 20-23. Digidesign ran seminars in French and English on hot topics like Mixing in the Box, Avid Workflow for 5.1, Pro Tools in Music Production, Film Mixing with Icon and previewing Pro Tools HD 7.2.

Fast And Furious Clips For Your Web
Ascend Marketing VP, Christian Hellum has the upcoming "The Fast and the Furious: Tokyo Drift" The sound editorial team at Soundelux sent me action-type digital video clips from some of their field recording sessions. To the extent you are interesting in having access to this stuff and/or utilize video content for your web site, please let me know 323.603.3226," says Hellum.

The Ironworks Label


Actor Kiefer Sutherland and producer Jude Cole have formed their own record label, Ironworks, to promote musicians other studios are passing by. Sutherland built the Los Angeles recording studio operated by Cole, his rock musician and producer friend. Sutherland told the TV tabloid show "Extra," the idea for Ironworks came from seeing "fantastic artists who were not getting signed" by other recording companies. "We started Ironworks to be about real artists," Cole said. The new label is distributed by Fontana. Among those already signed by Ironworks are musicians Rocco DeLuca (pictured above) and Ry Cuming

"MTV, the US cable television music channel owned by Viacom, will launch a digital music download service called 'Urge' designed to compete with Apple Computer's highly popular iTunes service." It uses Microsoft's latest Media Player technology. Users will be able to download individual music tracks for 99 cents each – the same price as iTunes – or sign up for an unlimited subscription service that will cost $9.95 a month or $14.95 if subscribers want to load the music onto a portable player. iTunes does not offer a subscription service.
At launch, Urge will have more than 2m music tracks from 110,000 artists, 500 playlists, 130 streaming radio stations and more than 20 specialist 'blogs' – online commentaries – written by music experts.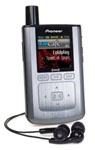 XM2go
This week, the recording industry sued XM Satellite Radio Holdings Inc., alleging its Inno device that can store music infringes on copyrights and transforms a passive radio experience into the equivalent of a digital download service like iTunes. The suit accuses XM Satellite of "massive wholesale infringement," and seeks $150,000 in damages for every song copied by XM customers using the devices, which went on sale earlier this month. XM, with more than 6.5 million subscribers, said it plays 160,000 different songs every month. The suit says that XM has touted its service's advantages over the iPod and cites XM's advertising literature that says "It's not a Pod. It's the mothership." XM said it will vigorously defend this lawsuit on behalf of consumers and also called the lawsuit a bargaining tactic. The labels are currently in talks with XM and its rival Sirius Satellite Radio, to renegotiate digital royalty contracts for broadcasts.


Audio gurus like Andy Brauer discovered eBay some years ago to buy and sell guitars or pro audio gear. Now the music giant, Universal Music has found the online world market and is offering anything from a Studer A80 analog machine toJohnny Cash CD packages and Autographed Joe Cocker T-Shirts!
Warner Chappell April Appointment
Bob Bortnick(most recently with Zomba Music) will serve as an A&R executive for Warner/Chappell's US company, with a particular focus on identifying new talent and further developing Warner/Chappell's leading roster of songwriters.

B3 For Your Shopping Cart
At last year's NARM, when John Esposito asked indie-retail what they most needed to remain in the music business, the answer was 'a level-playing field.' A Burbank, CA-based company, B3 (Big Tree Media) is offering just that by providing comprehensive sales, marketing and transactional support for entertainment content companies, who are selling direct to consumers online. B3 provides a turnkey infrastructure for on-line e-commerce and features the ability to offer and sell multiple forms of music and music related products in a single shopping cart.
Recording Live With John Rodd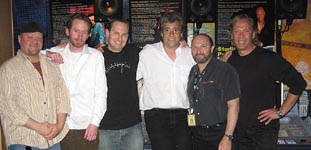 L-R: Jason Toney (Sonic Sales rep); Josh Dugan (Event Electronics - Product Specialist); John Rodd (Scoring Mixer); Ted Keffalo (Event Electronics - President); Mark Spiwak (West LA Music - Sales Manager) and Gerhard Joost (Sound Engineer)
On May 4th, West L.A. Music featured an evening with John Rodd speaking about many things from microphones to mixing. John knows a thing or two about making great recordings of music for film and tv as he worked as the orchestral scoring recordist on numerous Hollywood blockbusters, including Seabiscuit, The Matrix (trilogy), Lemony Snicket and I, Robot.
Recent projects include 5.1 surround mixing of score for Sony Pictures sci-fi action film "Ultraviolet"; mixing the orchestral score for the video game "Onimusha 4 - Dawn of Dreams" for Sony PS2 (which recently won the M.P.S.E. Golden Reel award for best sound editing); mixing the 5.1 score for DreamWorks short animated film "The Penguin Christmas Caper" and many other feature film score projects. John was recently interviewed in Mix Magazine (January 2006) and EQ Magazine (June 2005)
Berger Design For Richardson's Garage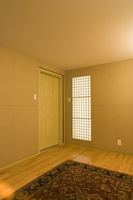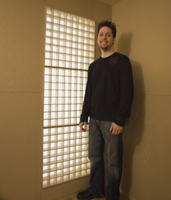 Like many musicians, Dallas-area professional drummer and award-winning audio post engineer Scottie Richardson dreamed of a home studio where he could practice and teach. To ensure that his dream studio wouldn't be intrusive to family and neighbors, Scottie contacted renowned studio designer Russ Berger of Russ Berger Design Group (RBDG) to help convert his garage into a practice space. To help eliminate the "dead box" problem, SpaceCouplers (designed and manufactured by pArtScience for Auralex Acoustics) were installed to give the small space a "large sound." Two coupled spaces are connected to the volume of the main room by 2 x 6 foot apertures. Each aperture is filled with three 2 x 2 foot SpaceCoupler diffusors. These diffusors make the room "live," and also enhance the drum sound. "There was a concern for noise leakage into the bedroom adjacent to the practice space," Berger continues, "particularly during late night sessions hammering out the monkey beat. The shell construction and interior walls were designed with appropriate mass and sealed airtight to ensure adequate sound transmission loss."
During the installation, Berger utilized 3.0 pcf glass fiber board covered with acoustically transparent stretched fabric on the walls and ceiling as the primary absorptive treatment. Behind these materials, decoupled wood and multiple layers of drywall were installed to assist in isolating the sound. Wood flooring was laid over a new concrete topping slab to help level the sloped garage floor and enhance the room's sound quality.


Donny & Marie in 5.1
New DVD release with highlights of the popular 70s show mixed with ATCs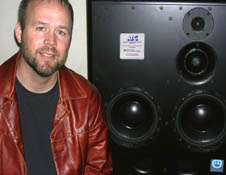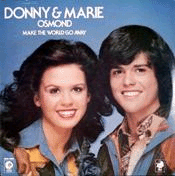 Mike Roskelley and one of his new ATC SCM 110A monitors
Brother-sister duo DONNY and MARIE OSMOND made audiences laugh 30 years ago as the precocious, apple-cheeked stars of the song-and-dance variety series, the "Donny & Marie" show.
Hard to believe that Marie, now a devout Mormon with her own family of eight, was just 19 years old when the show ended in 1979, and her brother Donny, now a grandpa, was a mere 21!
Donny is still recording music, now as a jazz artist, and has assembled a three-disc DVD collection featuring the best skits and star guests from "Donny & Marie" that will be available in August. Mix engineer Mike Roskelley remixed the upcoming DVD release of highlights of the popular 70s show, "Donny & Marie," in 5.1 surround.

Noted for his work with house music artist/DJ Kaskade, Roskelley recently opened his own Salt Lake City studio, featuring a 5.1 monitoring system with ATC (Acoustic Technology Company) SCM 110A active three-way studio monitors and dual ATC Sub1/15 15-inch subwoofers for the LFE channel.
For several years, Roskelley provided mix and mastering services by request for numerous area studios, as well as for individuals working in music composition and arranging. In addition, he offered "educator-consultant" services, assisting others in properly setting up their studios, in particular advising about acoustics and recording techniques.
Eventually he saw the need to establish his own studio, with the first iteration carved out of a room in his home to keep overhead under control. Later came the process of developing a "purpose-built" studio of his own design, located in a separate, new building constructed on his home property. "After spending a lot of years compensating for difficult situations, particularly in terms of acoustics and limitations of monitors, I wanted both a room and monitors that would eliminate all of the guesswork in what I was hearing," Roskelley explains. As a result, his new studio is expressly designed with a critical eye on both factors. And in addition, he doesn't work with a mixing console, preferring to eliminate surfaces with unpredictable acoustic reflections. This keeps the direct sound waves from speakers to listener as pristine as possible, as well as taking advantage of his fluency with alternatives like Digidesign ProTools.
Just before construction of the new studio commenced in October of last year, Roskelley began evaluating monitoring systems, and subsequently had several potential candidates shipped to him for critical listening and comparison. His preferred choice proved to be ATC SM 20A compact two-way monitors, but he was concerned about not hearing the extra lower octave of the bass and kick that is so prevalent in the house/dance tracks he mixes.
"The reproduction of high and mid-range frequencies of the SM 20A is among the best I've ever heard, and the imaging is stunning," he notes. Attention then turned to the three-way SCM 110A, which offers identical mid and high performance, in addition to a 314mm bass driver in a larger enclosure.
"After all of the personal time and money that went into this studio, I was a little concerned with specifying monitors that I hadn't heard," Roskelley says. "But when we set them up and threw the switch, the sound was breathtaking, simply amazing. I might be biased when I say this is the best listening environment I've ever been in, but this has also proven to be the consensus among all the colleagues who have come by to listen."
Specifically, what Roskelley seeks most in an acoustic environment is accuracy. In addition to the obvious, (the bass modes that are inherent in even the best rooms), he was equally concerned about the high-mid and low-mid frequency ranges, and finds that these are often the first victims of smearing characteristics produced by improper acoustic design and poor loudspeaker reproduction.
Utilizing three acoustical software packages to assist in the math for the design of his room, combined with his own extensive experience, he worked in particular to avoid surfaces like glass that add and magnify reflections.
And, the room was designed specifically around the ATC loudspeakers in a standard 5.1 configuration, with three mains equidistant at the front, two mains equidistant at the back, and the dual subwoofers (for added bass presence when desired) on the floor left and right.
"I attribute the quality of this listening environment to the monitors working with the room design," he says. "There are three specific aspects of the ATC monitors that I really like. First, the center image is rock solid. While listening to a vocal panned center in a stereo track, I have had clients actually think the center speaker was on. Toggling back and forth between stereo and mono, the center image remains completely in tact, absolutely no phasing. Second, the clarity of reverb is amazing, from trigger point all the way through the very end of decay. And third, the midrange is so detailed, revealing so many subtleties. For example, I can hear a half-dB of attenuation or boosting in the midrange while equalizing or compressing because of the clarity of three-inch mid-dome in the 110."
Roskelley has been involved with an interesting project of late, collaborating with fellow Salt Lake City resident Donny Osmond on remixing the audio tracks in 5.1 surround for an upcoming DVD release of highlights of "Donny & Marie," the popular 1970s television show. Working between their two studios, Osmond and Roskelley found that the quality of the original recordings - most of them 16-track and 24-track - varied dramatically.
"Another challenge is that many of the original multi-tracks could not be found leaving us with only a mono source for a good portion of the cues,"
Roskelley adds. "Our concern was that seamlessly combining the new surround mixes with these mono cues would be very tough to do without possibly inducing 'whiplash' on the listeners."
He and Osmond hunted for potential solutions, landing on the Z Systems z-K6 multi-channel processor. "Donny went ahead and acquired a z-K6 and sent it up to me for evaluation," Roskelley says. "I put in a call to Bob Katz, who designed the processor's algorithms, to get a feel for it. After about ten minutes of clear instruction from Bob, I had a pretty good understanding of how to get around in the box and started experimenting on the mono tracks.
It was quickly obvious that this box was going to work for us, and in some cases, the fold-outs from mono to surround were quite remarkable."
Roskelley has been handling the mix of the music tracks, with Osmond doing the rest, including the overall final mix. The first of the planned three DVDs has been finished and sent to mastering, with the other two following shortly.
"One of the great things about working in a market like Salt Lake City is that you get to do a wide variety of projects and musical styles, as evidenced by this project," Roskelley concludes, highlighting his point by noting that he will soon be returning to his new studio to begin work with Kaskade on a new release. "You don't get typecast into one particular genre, which keeps it fresh and challenging."
ATC drivers are manufactured in-house to exacting tolerances and are legendary for their many design innovations, such as the innovative SL magnet system and the company's renowned Soft Dome midrange driver, which achieves exceptionally broad and even dispersion to produce a flat response anywhere in the room. Situated in Aston Down in rural Gloucestershire, England, ATC was established in London in 1974 by acoustics engineer and musician Bill Woodman.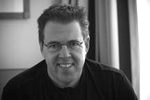 For more info on ATCs, please email Brad Lunde at LVPA or Phone (702) 307-2700

Las Vegas Pro Audio is the direct sales division of TransAudio Group. The goal of LasVegasProAudio.com is to provide a personal long-term relationship with top engineers delivering insightful and accurate advice, unique equipment and long term support.TransAudio Group, founded by industry veteran Brad Lunde, has quickly become the premier US importer/distributor for high-end audio. visit the web sites at: www.lasvegasproaudio.com
TransAudio Group's product lines include A-Designs (USA) AEA ribbon microphones (USA), ADT Toolkit, AEA, ATC Loudspeakers (UK), Brauner microphones(Germany), Drawmer (UK), Geoffrey Daking & Co. (USA), George Massenburg Labs (GML) (USA), Heil Sound (USA); Mercury Audio (USA) Mission Audio (UK) Phoenix Audio (UK), PAULY Superscreens(Germany), SABRA SOM(Brazil), Soundelux (USA), SoundField Microphones (UK), Z-Systems (USA) and Weiss Engineering (Switzerland) and Z Systems (USA).
Busy May For Paramount Encore Ameaycan Studios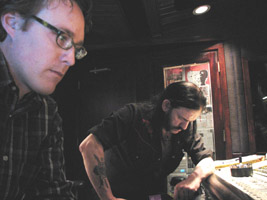 Producer Cameron Webb (Social Distortion, Motorhead, Silverstein, Over It) above-- with Lemmy, bassist & vocalist of Motorhead, at Paramount Studio A hard at work and listening to slabs of sheer volume on their mixes off the studio's SSL 6000 series console.

Legend, John Legend parked in Studio B writing for an upcoming release. The sessions were engineered by Geoff Gibbs. Actor/Rapper Jamie Kennedy tracked and mixed in Paramount C for his debut Warner Brother CD. The sessions were filmed for his accompanying TV show. The dates were helmed by Ethan Willoughby and Geoff Gibbs. Bay Area punk rockers AFI were in studio A mixing tunes for their new Interscope release with engineer Chris Fudurich. Erik Reichers assisted.

ENCORE!
J Records superstar Christina Aguilera tracked vocals for a new release in studio B with engineer Oscar Ramirez and assistant Scott Elgin. Jack Johnson's label-mate at Lost Highway Records, Donovan Frankenreiter, mixed his debut release in Studio A with the maestro, Neal Pogue, manning the board . Chuck Wilson assisted. Will I Am (Black Eyed Peas) collaborated on new tracks with rapper Nas in Studio B. Padraic Kernin engineered with Nick Fournier assisting.

AMERAYCAN
Multimedia megastar Paris Hilton tracked vocals in Studio B with producer J.R. for her debut Warner Brothers release. Oscar Ramirez engineered while Richard Reitz assisted. Dave "Bangin" Bianco mixed a new Sparta track for their new Hollywood Records release. Jamie Seyberth assisted. The legendary Motorhead overdubbed and tracked vocals for their latest in Studio B with "the master," engineer Cameron Webb.


It's Alive
Linett & API On The New Cars Live Album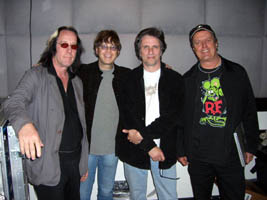 l-r: Todd Rundgren and Elliot Easton (New Cars), Mark Linett and Prairie Prince (New Cars).
Over the course of a career, Mark Linett has worked closely with such seminal artists as The Red Hot Chili Peppers, Paul Simon, Brian Wilson, Love, and, most recently, the New Cars.
Linett and the New Cars - Elliot Easton and Greg Hawkes from the original band in addition to Todd Rundgren, drummer Prairie Prince and singer/bassist Kasim Sulton - set up shop at Sound Stage in Burbank, California for three days of rehearsal in front of an invite-only live audience in January. "They are going out on tour so we did a live recording to hear how things were coming together, as well as to record a live album," Linett explains.
The New Cars performed a handful of hit Cars songs, including "Just What I Needed," "Best Friend's Girl" and "Drive," as well as three new songs titled "Not Tonight," "Warm" and "More." An 18-song release from the performances penned, "It's Alive," is due to be released in early May.
During the recording process he turned to a rack full of API 312s that were modified to be slot mounted along with the original version of the 312s that use the 2520s in a remote system. "It's not the most mobile of racks, but it's worth the hassle of hauling around a rack that weights about 175 lbs.," he says with a laugh. "We have about 48 of the 312s in the rack. I just like the way they sound. It's what I've always used."
"The last big change I made came when I commissioned entirely new input modules for the board, which would give me everything that I wanted," he says. "So, now I have 12 echo sends and three stereo busses that are all switch-able." The board now features 44 550A discrete three-band EQs, four 560 discrete ten-band graphic EQs and a handful of 525 discrete compressors.
Building a studio around the API console was important, Linett explains, "because I am not a believer of mixing in the box. Even as I've graduated from no Pro Tools, to having a Pro Tools system for ancillary work, to a full-blown Pro Tools HD system, I still treat it as a tape recorder and I use the console for mixing.
"So, even some of these bigger projects where I have up to 62 channels of Pro Tools playing back, we'll sum a few things down, but I'll still bring it up on the API as individual channels and mix that way," he continues. "I've never heard a digital summing system in a box that seems to work quite right. Maybe I'm old school, but I like to think of Pro Tools as a big fancy ultimate tape machine that will do all the things that a tape recorder can't."
Phil On ITunes




Los Angeles Philharmonic/Reinbert de Leeuw Minimalist Jukebox - Andriessen/Pärt; Stefan Asbury Minimalist Jukebox - Steve Reich; Los Angeles Philharmonic/Esa-Pekka Salonen Beethoven: Symphony No. 5; Leonore No. 2 Lutoslawski: Symphony No. 4

New releases from Universal Music Classics and available from the ITune store, is splendid recordings with Music Director Esa-Pekka Salonen leading the LA Phil in Beethoven's Symphony No. 5 live at the Beethoven Unbound concerts April 28-30. CD #2 features Reich's Variations for Winds, Strings, and Keyboards; Three Movements; and Tehillim and #CD1 features the U.S. premiere of Andriessen's Racconto dall'inferno, Andriessen's De Staat; Pärt's Tabula Rasa.


Hard Radio Celebrate 10 years

HardRadio has continued to innovate for the past ten years and currently has the largest volume of audience with nearly 600,000 unique visitors per month hitting over 85% of the much sought after 25-44 demographic. has produced over 30 Global CD Music Premieres in conjunction with
the artists, management, and labels. It features such artists as Metallica, KISS, Ronnie James Dio, David Lee Roth, Iron Maiden, Bruce Dickinson, Jackyl, Judas Priest, Yngwie Malmsteen and Great White. Also over a dozen concert web casts have been streamed including a pioneering video Web cast with Metallica in 1996.
Founded by radio veteran and Internet pioneer, Tracy Barnes, who serves as the company's president and general manager, is adding many new features to the site including continuing to evolve with the latest Apple technology. In addition to some design changes for the site overall, there will be a new section with a community focus, "HardAxe," We will now be able to give fans of metal music an even better experience as we push full speed ahead into our tenth year,"
sats Barnes.

DJ Dylan On XM




Revolutionary. Intelligent. Rebellious. Different. Timeless….and oddly enough he wrote our anthem in The Times They Are a Changin.
For 64-year-old singer/songwriter (Blood on the Tracks, Blonde on Blonde) Bob Dylan, once thought of as a bit of an enigmatic reclusive, things are a changin.
There was the advert for Victoria's Secret that he starred in, there was the autobiography, there was the record deal with Starbucks, there was the auction of his early poems and, most importantly, the feature-length Martin Scorsese documentary all about Bob Dylan. And now Bob Dylan presents a weekly one-hour radio show for satellite company XM -- Wed 10am ET Deep Tracks - XM40. The show - a mixture of music, talk, interviews and a crazy phone-in competitions?

For XM, the deal is major coup and gives it a boost against its rival Sirius Satellite Radio, the new home to high-profile shock jock Howard Stern. Sirius has also attracted the likes of Eminem and Jimmy Buffett, who have lent their names to stations on Sirius, while XM has signed Snoop Dogg to create a rap channel. The Dylan show debuts on May 3 on XM's rock album channel Deep Tracks. The man who wrote a dozen or so meteorological titles -- "Blowin' in the Wind," for example -- has chosen the weather as the theme of his first show. Thus, he makes a number of pointed but low-key comments about Hurricane Katrina and New Orleans. And thus, Muddy Waters sings "Blow Wind Blow"; Jimi Hendrix, "The Wind Cries Mary"; Frank Sinatra, "Summer Wind"; and Dean Martin (with a Dixie brass band), "I Don't Care If the Sun Don't Shine." Dylan also tells the story of Johnny Bragg, sent to a Tennessee penitentiary for rape in the 1940s, when "rape could have meant just looking at a white woman in the wrong way." While a convict, Bragg formed a singing group and had a hit called "Just Walkin' in the Rain." "A sad story. A beautiful song. 'Just Walkin' in the Rain.' The Prisonaires," Dylan announces. Weather never sounded so good!
"Songs and music have always inspired me. A lot of my own songs have been played on the radio, but this is the first time I've ever been on the other side of the mic. It'll be as exciting for me as it is for XM," Says Dylan. can only say that in today's changing environment, that the balance of science, business and art has never been more critical. It's the art part that needs a kick in the ass," says lee Abrams, XM's chief creative officer.



XM Satellite, with a market value of about $5.8 billion and more than 6.5 million subscribers, hopes to use stars like Dylan to maintain its lead over Sirius Satellite Radio Inc., which has f about 4 million subscribers.
Ascend Promotions

Ascent Media, The world's largest sound services company with facilities in Los Angeles, New York and London, announced promotions in its Creative Sound Services (CSS) division Duke Lim has been named to a newly created position of Vice President of Todd-AO Studios. Lim, who formerly served as Todd-AO's Vice President of Scheduling, will now be responsible for the day-to-day operational oversight of all five Todd-AO facilities in the Los Angeles area.
Kotkin, previously Managing Director of Ascent Media's Modern Music unit, is assuming the position as Vice President of Operations for the Soundelux group of business units, including Soundelux Hollywood, Soundelux Design Music Group, Modern Music, Signet Sound, The Hollywood Edge and Soundelux Microphones.
Both executives will be reporting directly to Robert C. Rosenthal, Chief Operating Officer of Ascent Media Creative Sound Services. Representing every aspect of audio post-production, the CSS division services all types of feature films, television programming, promotional trailers, independent and documentary films, commercials and interactive games. Collectively, the Creative Sound Services division has garnered more than 20 Academy Awards® for excellence in Sound.

66-piece Orchestra with Avatar's Decca Tree!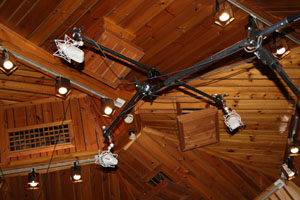 Avatar A (Neve 8068) hosted a number of projects: Music for a play in development called "The Thief" was recorded with producer Joe Church, engineer Lawrence Manchester, assistants Eddie Jackson and Peter Doris. A 66-piece orchestra was recorded with Avatar's own Decca tree! David Foster with engineer Humberto Gatica recording Peter Cincotti for Warner. Peter Doris was Pro Tools Operator/ Assistant.Japanese artist, Arashi, with producer Sushi Kosugi, engineer Roy Hendrickson, assistant Chad Lupo.
Engineer Rob Marks, producer Jim Johnson mixing Sean Paul for Atlantic.
were in.Avatar's Studio B (9000J). Also, James Farber mixing Joe Lovano for Blue Note and Arist/producer Ryan Adams recording and mixing with engineer/producer Jamie Candeloro. Jim Anderson mixing Von Freeman for Premonition Records. Joe Barbaria mixing John Patitucci for Concord with Jim Keller assisting. Thalia recorded vocals with producer Jodi Marr. Avatar's Peter Doris engineered assisted by Eddie Jackson. Goo Goo Dolls mixed a VH1 Live performance with engineer Paul Hager, assisted by Anthony Ruotolo.
Studio C (NEVE-VRP72) hosted Joshua Bell - Voice of the Violin, recorded with producer Grace Row, engineer Charles Harbutt for Sony Classical. Brian Montgomery assisted

Engineer Carl Glanville and producer Steve Lillywhite were in Studio G (SSL 4000G+) mixing live Billy Joel performances for Columbia Records, assisted by Brian Montgomery.
Kevorkian Mastering was busy as well. Projects included: Trey Anastasio's new, upcoming studio album. Thwak! Music (Avatar Studios 2nd Floor) also was busy with projects...Composing music for Office Depot (TV/Radio Spots) with Kaplan Thaler Group - NY. Music and Sound Design for new TV Spot featuring Maria Sharapova for Y&R NY. Producing Music for Victoria Secrets - CPB Group - Miami. Remix project/Loop project - Tower of Power/David Garabaldi (Hudson Music)
Weird Al Mastering at Bernie's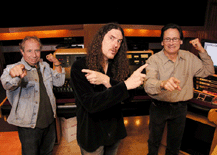 Demonstrating the 5.1 immersive sound experience are (L-R) recording engineer Tony Papa, "Weird Al" Yankovic, and mastering engineer Bernie Grundman. Photo by David Goggin.

Weird Al" Yankovic, the world's leading humorous song parodist and multimedia explorer, has mastered new tracks in 5.1 Surround Sound at Bernie Grundman Mastering Studios. Yankovic's catalogue includes such enduring songs as "Eat It," "King Of Suede," "Like A Surgeon," "Smells Like Nirvana" and "Amish Paradise." Yankovic's new songs are especially suited to exploring the full potential of the Surround Sound experience, as assorted instruments and sound effects travel throughout the entire 360º sonic panorama. The as-yet-untitled Way Moby/Volcano Records album features a wealth of Weird Al bonus material, and is scheduled for release later this year.Bernie Grundman Mastering: 323.465.6264
Gin Blossoms At Ardent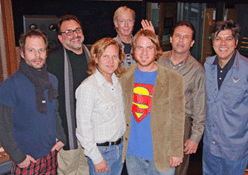 (L-R) are lead vocalist Robin Wilson, Hybrid Records president Al Cafaro, guitarist Scott Johnson, engineer/co-producer John Hampton, assistant engineer Curry Weber, manager Doug Merrick, and guitarist/background vocalist Jesse Valenzuela.
Photo: Mr Bonzai

Power pop alternative band The Gin Blossoms have returned to Memphis' renowned Ardent Studios, the home of many of their hits. Engineer John Hampton, who produced two previous albums (1992's New Miserable Experience and 1996's Congratulations, I'm Sorry) was back at the console with assistant engineer Curry Weber. Hampton is co-producing with Jesse Valenzuela the as-yet-untitled album, slated for June release.


Shawn Murphy's Microphones
CO-100K Now Shipping -- Shown at NAB 2006 in April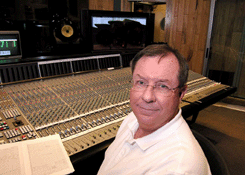 Scoring engineer/mixer Shawn Murphy has employed Sanken's new CO-100K microphone for two recent projects: John Williams' score for Munich and Mark Isham's score for Eight Below. An Academy Award-winner, Murphy has recorded and mixed the scores for more than 250 feature films, and has been using Sanken microphones for more than two decades. http://www.plus24.net
Farewell O'Henry

Late last year, owners of O'Henry Sound Studios, Jacqueline and Hank Sanicola said goodby to their clients of 13 years. "We have enjoyed playing our part in the film, television, commercial and record businesses," they said. We would like to hear from Hank and the staff. Please write to us and let us!
"I truly believe that when the history books are written, our age will be remembered for three things: the war on terror, the digital revolution, and what we did or did not do to put the fire out in Africa (referring to AIDS)"
-- Bono remarks at the US National Prayer Breakfast in April 06


Ever wonder why every generation is fascinated by photos of its era before...Maybe it's the stylish clothes, the dusty yet innovative technology or the brilliant talents and attitude of the subjects.
No matter what, when these qualities are expressed well, voila, they become ageless.
We were reminded of this with Eddie Kramer's photos this last week and found a few more by Ms Aretha Franklin (courtesy of Sony). Here's to all the Kings and Queens In Waiting.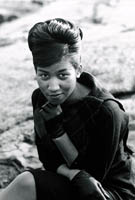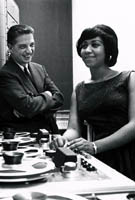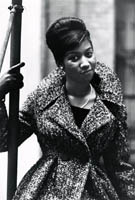 KISSES from studioexpresso. Thanks for reading...Until next month,
stay inspired and in touch!