Jimmy Haslip
producer l composer l bassist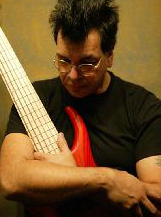 Jimmy Haslip's fiery solos are a high water mark of many Yellowjackets tracks.
Additionally, he credits a virtual who's who of popular and jazz music as musican and producer.

Some of the talents he has recorded and/or toured with over the past 25 years include: Bruce Hornsby (Harbor Lights), ChrisBotti, Alejandro Sanz, Marc Antoine, Randy Crawford, Rod Stewart, Crosby, Stills & Nash, Dori Caymmi, Larry Carlton, Lee Ritenour, Diane Reeves, Bonnie Raitt, Tower of Power Horns, Joe Sample, David Benoit, Ron Wood, The Rippingtons, Michael McDonald, Glenn Jones, Mitchell Froom, Andy Summers, Bobby McFerrin, Take 6, Anita Baker, Walter Becker, Randy Newman, and George Harrison. Yes, that's the "short list!"







Most recently Haslip has produced numerous artists to include: Merilyn Scott, Sandro Albert, Rita Terri Lyne Carrington, Nestor Torres, Michael Franks, Rita Coolidge, Brenda Russell, Bobby Caldwell, to name a few..






Haslip grew up in a rich musical environment listening to Latin music icons like Tito Puente, Mongo Santamaria, Machito, Ray Barretto, Celia Cruz and Eddie Palmieri. He learned how to dance and play authentically on the claves, maracas, cowbell, bongos and the guido, which gave him that keen sense of time and rhythm that surfaces in his bass playing today. In addition to being influenced by the popular music of the time (Beatles, James Brown, Jimi Hendrix), Jimmy was exposed to jazz --Coltrane, Charlie Parker, Miles Davis and Dave Brubeck and classical music --Debussy, Stravinsky, Beethoven, Mozart and Mahler. He picked up bass at the age of fifteen and taught himself how to play. "Actually the very first time I saw an electric bass, was at a junior high Valentine's day dance. There was a live band playing and the bass player had an reddish/orange Hagstrom bass and a small Standel bass amp. It was then that I knew I wanted to play the electric bass! What a feeling! I'll never forget it as long as I live. It was my very first real spark of creative passion!"







Jimmy credits Ron Smith and later Jaco Pastorius as inspiring teachers. "The learning process is never ending. The key is to always strive and search for knowledge. In learning new things everyday, there will be inspiration. That inspiration will thirst for knowledge and so the endless cycle goes. They will feed each other infinitely and theoretically the 'creative well' will never run dry," says Haslip.

Haslip plays and endorse MTD basses (hand made instruments by a Luthier named Mike Tobias) and D'Addario Strings (Special Medium Light Prisms)."For amplification I use and endorse SWR Engineering power amps and speaker cabinets. In the studio I usually just go into a direct box (preferably a Cabletek Direct Box or some kind of tube box, for achieving the ultimate warm/acoustic-like bass sound). Occasionally I will use an amp in the studio (mostly by request). So I will usually use an SWR Engineering Red Head Combo amp or a Baby Blue Combo amp. These amps have an extremely clean sound and a very strong, powerful punch for their size. A great recording amp for studio work!," says Haslip.
As for other instruments: Mr Haslip dabbles on the guitar and piano/synthesizers, in order to write music. "I'm not very adept on these instruments. I can play some very simple blues riffs on the harmonica," says Haslip.



Full Discography available here
Current Credits: Jimmy's collaborative participation on Bobby McFerrin's Bang Zoom (where McFerrin uses his voice as an instrument without singing one word) has gotten rave reviews and he's also proud of his production work on a live recording in Amsterdam (Jimmy was member of this group for over a year) with Liveline.

Jimmy Haslip has helped produce many of The Yellojackest's albums and more recently since 2002 three Jing Chi albums -- The fusion supergroup features Miles Davis alumnus Robben Ford on guitar, veteran session drummer Vinnie Colaiuta and the Yellowjackets' Jimmy Haslip on bass. Their first album was followed by a live set the next year titled Jing Chi Live at Yoshi's, which included guest appearances by keyboard player Otmaro Ruiz and Marc Russo on alto.


For more information contact:
AXIS ARTIST MANAGEMENT, INC.
9715 Belmar Ave., Northridge, CA 91324
p: 818 998-2595
f: 818 998-2875

http://www.axismanagement.com/pages/1/index.htm
http://www.jimmyhaslip.com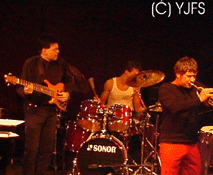 Haslip (left) performing in Holland with Liveline


copyright 2004 studioexpresso