> home page
> more Producer/engineer
Dusty Wakeman
musician l engineer l producer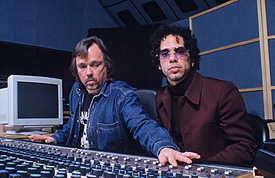 Dusty with Feel frontman, Scot Sax at Mad Dog Studios



History: To the Texas-born Dusty Wakeman it's getting to the heart of the music that's important, which is part of what's brought such a diverse group of artists to him.  Whether it's recording the Grammy-winning Roy Orbison/K.d. Lang duet of "Crying," or discovering and producing Pop-rockers Feel, Dusty enjoys the recording process and attacks the process of making music and making records from all angles.  "The secret is never to take the process for granted and to always pay attention to what is best for the song," Dusty says.

After 16 years of owning and operating Mad Dog Studios in Venice, Dusty relocated the facility in '96 to a 6000'sq. complex in Burbank. Over the last twenty-five years, Wakeman has amassed more than 100 production and engineering credits, working with artists as diverse as Dwight Yokam and Lucinda Williams. He is an accomplished bass player, who's recorded with and toured with Jim Lauderdale, Rosie Flores, Michelle Shocked, Jim Lauderdale and Me'shell Ndegeocello

<![if !supportEmptyParas]> <![endif]>

Current Credits:

Curb Records' new pop division signing, "Feel", led by Scot Sax, has been working with producer/engineer Dusty Wakeman on their upcoming August single and release titled "Won't stand in your way." Also Dusty has been busy with Graveyard Farmers and Minibar. He

played bass, sang

and co-produced

Australian singer/songwriter Anne McCue's new album with her. Amazing Ordinary Things is out in June on Cisco Music.



Anne McCue and Wakeman at Slim's Photo: Jim Casper

Contact:   Dusty Wakeman
Fn:           818-557-0100
e-mail:   mdogstudio@aol.com
<![if !supportEmptyParas]> <![endif]>
copyright 2001 studioexpresso
Copyright 2001 studioexpresso