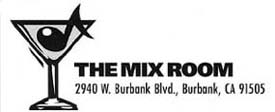 It's in the MIX...Room, that is!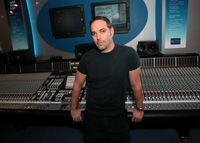 producer/mixer/studio owner Ben Grosse
The Mix Room may have been first built to satisfy its busy mix master, Ben Gross' work (most recently Depeche Mode, Disturbed) load but the three-room world-class facility in Burbank has lately been host to many top artists and mixers to include: Audioslave, Cold, Usher, Chris Botti, BT, Hilary Duff, Eminem, Perry Farrell, to name a few. More recently, Motley Crue with Chester of Linkin Park recorded a remake of 'Home Sweet Home' at The Mix Room to benefit the victims of Hurricane Katrina.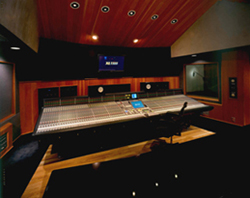 Most recently Rick Beato mixed Trey Anastasio (Fish solo project) and Eddie Kramer mixed Suns Of Neptune.
Who else has been mixing in the house (Room)? Fefe Dobson, John 5 (of Marilyn Manson), Journey, Mya, Usher, Sugar Ray, Third Eye Blind, Soluna, Luther Vandross, Velvet Revolver, A Perfect Circle, Dave Matthews Band, Kid Rock, Madonna, Guster, to name a few.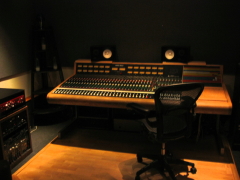 If discs from Fuel, Filter, Ben Folds, Vertical Horizon and Six Pense None The Richer have made it to your CD player or Itune list, you've likely been listening to the mix and production magic of studio owner Ben Grosse.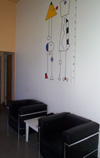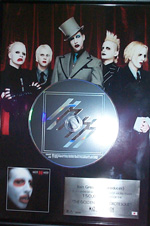 Rafa Sardina blocked the 9K room to deliver Antonio Orozco's Universal release. "I like the well-stocked outboard and the full-service support that you expect from a solid studio like the Mix Room." says Sardina.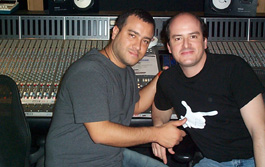 Antonio Orozco Sessions - L-R: Xavi Perez, producer and mixer Rafa Sardina at the Mix Room Studio B.
The Mix Room offers ProTools HD and Mix Plus systems and for the SSL fans, studios B offers an SSL 9000 series consoles. With the new addition of the XL 9000 K series super analogue console in studio A, the owner says: "For me, the XL offers all of the features of the J and adds powerful surround options. The XL will give me the ability to easily switch between regular stereo mixing and 5.1 for DVD, DVD-Audio and SACD. This will allow us to stay ahead of the curve in terms of current and future technology. Best of all, the XL is so similar to a J, in terms of interface and functionality, that it will integrate seamlessly into our environment."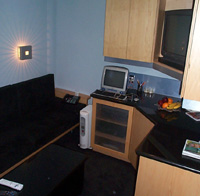 Grosse brought in the renowned designer Vincent Van Haaff to update all three of the studio's rooms a year ago, including Studio A, which houses the new SSL K series console.
booking contact or more info:
The Mix Room studio Manager
e-mail Elissa Ayadi
ph 818-846-8900
Web: The Mix Room