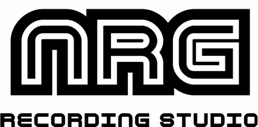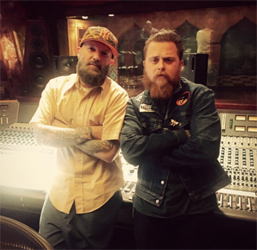 NRG Studio B, Limp Bizkit working on vocals for their new album with producer Andros Rodriguez.

NRG Recording Services (www.nrgrecording.com) located in the heart of the NOHO arts district in North Hollywood, CA, is one of the most in-demand facilities in all of Southern California. In 1991 Jay Baumgardner founded NRG which has been home to such artists as Linkin Park, Kelly Clarkson, Korn, 311, Melissa Ethridge, No Doubt, Staind, Stone Temple Pilots, Offspring, Michelle Branch, Nas, Kanye West, John Fogerty, all Jay Baumgardner's projects and many more hit artists. Jay continues to hone his production and mixing through current projects and stays open to working with acts of all genres.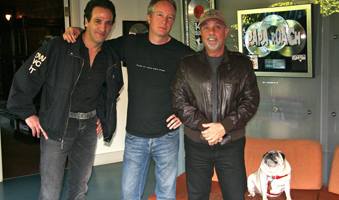 Tommy Byrnes and Billy Joel with NRG chief engineer Wade.
Highly acclaimed NRG Studios recent sessions include: Matchbox 20 (Top photo) who recorded at NRG with Grammy Award winning producer Steve Lillywhite working on new tracks for their upcoming hit set to be titled "Exile on Mainstream" for Melisma/Atlantic Records with engineer CJ Eiriksson and assistant Shawn "Fox" Phelps.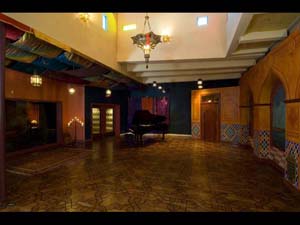 NRG Recording hosted a number of great sessions to include Limp Bizkit working on vocals for their new album with producer Andros Rodriguez in studio B.
Owner and mixer, Jay Baumgardner was busy mixing a variety of records including Epitaph band, Beautiful Bodies as well as the latest from P.O.D.
Tonic guitarist, Jeff Russo worked on the score for the hit FX Network show, Fargo in April. The wildly successful pop punk band, 5 Seconds Of Summer had throngs of fans camped out at our gates while the boys worked on new tracks with producer, Mike Green and producer/songwriter David Hodges.
NRG has 2 large tracking rooms that feature custom vintage Neve consoles with Flying Fader automation, as well as a mix room equipped with the SSL 9000 J. All rooms are outfitted with custom Dynaudio main monitors, an extensive list of outboard gear, and Studer A827's for the diehard analog enthusiasts.
The private lounge attached to NRG's Studio A was fully remodeled following the completion of Linkin Park album, Meteora. Michelle Branch with producer Josh Abraham and the filming of CBS Television's reality show, Rock Star featuring a worldwide search to find a new lead singer for INXS with Co-Hosts, Dave Navarro and Brook Burke were filmed at NRG.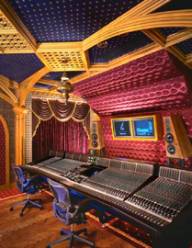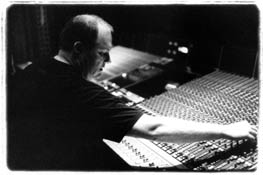 Re-Inventing Music Credits with Jay Baumgardner from studioexpresso June 2022. Read here
NRG founder, Multi-Platinum Producer/Mixer Jay Baumgardner (above) has been producing and mixing for more than two decades. Jay has produced artists such as Papa Roach, Alien Ant Farm, Seether, Drowning Pool, and Coal Chamber. In turn Jay has mixed artists such as Evanescence, Hoobastank, Three Days Grace, Godsmack, Gavin Rossdale, Jewel and Lindsay Lohan.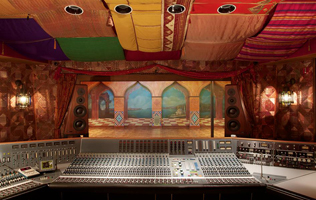 Other recent sessions at NRG include: Linkin Park returned to NRG with producer Rick Rubin, engineers Ethan Mates and Dana to finish up their third Warner Brothers release ''Minutes to Midnight'' in studio B and for a private listening party held in studio C. Released on May 15 of 2007, the first single ''What I've done'' quickly hit #1 on the Billboard Hot Modern Rock Tracks chart giving the album a strong start.Foo Fighters mixed a portion of their latest album in Studio C with mixing engineer Rich Costey, his assistant Claudius Mittendorfer, and NRG's assistant Casey Lewis. Foo Fighters frontman Dave Grohl stopped in to check on things and to relax with a few games of ping pong. Grammy Award winners John Fogerty and engineer Jim Scott return to NRG to work in Studio B with assistant Dave Colvin helping out during their stay. Producer Don Gilmore was back in NRG's Studio A working with Immortal Records band Scary Kids Scaring Kids with engineer Mark Kiczula followed by Jay Baumgardner mixing the album in Studio C. Gavin Rossdale was in Studio B with producer Bob Rock, engineer Eric Helmcamp, and assistant engineer Shawn "Fox" Phelps.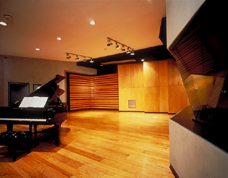 Special features: NRG is leading the way in the Storage Area Network (SAN) arena with a groundbreaking system utilizing the latest in fiber technology. Each room comes fully equipped with at least 24 tracks of ProTools linked via fiber wire to a server consisting of 16 password-protected
72 gig hard drives, and an AIT carousel which automatically backs up each session at the end of each night, eliminating the need for time consuming back ups by ProTools engineers.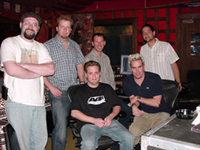 L -R clockwise: assistant engineer, Dan Certa; film director, McG;producer, Don Gilmore, "Sugar Ray" members, Rodney Sheppard and Mark McGrath; Protools/engineer, John Ewing Jr.
NRG was one of the first studios to implement a fibre channel based SAN network back in 2001, providing clients with the piece of mind knowing that their sessions and files were safely and reliably backed up and secure.
Recent upgrades include: EVO storage server from Studio Network Solutions which back ups to new G-Technology's G-Speed Studio for longtime archival storage; all files are backed up to the cloud. Plus now all rooms have been upgraded to the new Avid HDX cards and running on Pro Tools 11.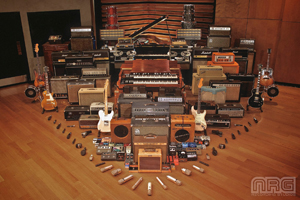 According to manager Annette Scott, NRG Recording Studios has recently acquired the services of a Gourmet Chef to satisfy its client's culinary needs. "Seth King, a graduate of California School of Culinary Arts and a member of Wolfgang Puck's catering team, is well versed in all facets of cooking and is able to accommodate any special request," says Scott. studioexpresso has learned that he has cooked for countless celebrities, to include, the Crowned Prince of Saudi Arabia, and was one of the chefs at the 2006 Oscars. Matchbox 20 session was the first to experience the gourmet food of Chef King - and the word is "TASTY"!
Contact: NRG Recording Studios
North Hollywood
(818) 760-7841