ATC Surrounds Play At The Prestigious Cleveland Institute Of Music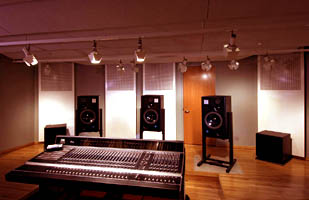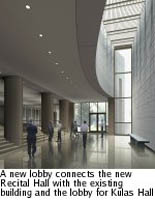 ATC 5.1 Surround System at Peter D'Antonio designed Cleveland Institute Of Musi
photo: Tim Safranek
Two brand-new rooms were recently commissioned at the Cleveland Institute of Music: a recital hall and a state-of-the-art audio control room. Although the recital hall is not yet completed, the control room, considered a "multi-purpose music room" was recently finished. The room was designed by Dr. Peter D'Antonio, adjunct professor of acoustics at the Institute, while the installed system was developed by Bruce Egre, head of the conservatory's audio recording degree program with an ATC (UK)(Acoustic Transducer Company) 5.1 surround system as the cornerstone of the new sound system. The Cleveland Institute of Music (CIM) is considered among the top five music conservatories in the United States, right along with Juilliard School of Music in New York and the Curtis Institute in Philadelphia.
"The new control room was designed and built from the ground up to be acoustically precise," states Egre. "We didn't have to try and fit a square peg into a round hole, so we were able to avoid some of the more common pitfalls of re-fitting an existing space. The institute was very supportive to both Peter and me on such important issues as room dimensions and ceiling height." Tie lines from the Institute's concert hall, a small overdub room and the soon-to-be-completed recital hall feed into the control room.
When Egre and D'Antonio first learned of the plans to build new facilities at the conservatory, they felt that it would be a unique opportunity to make a statement. With the planned links to performance spaces in the complex, it was decided to focus on the control room and design a world-class facility for the school, based on the latest design theories and products. According to D'Antonio, "The first challenge was to orient the room in the available space in order to provide a symmetrical listening environment. Following this, we utilized our Room Sizer program to determine the optimal dimensional ratios for uniform modal response."
A number of RPG acoustical products were utilized in the design in order to minimize reflections, add absorption in specific areas, and diffuse wavefronts in others. Particular attention was paid to controlling the low-frequency response of the room. However, as D'Antonio points out, "We also had to take into account the fact that it is an educational space and needs to accommodate more people than a typical control room. This meant that we had to be very sensitive to the amount of real estate we used for low-frequency control."
To achieve a flat and extended low-frequency response, new Modex Plate resonators were used in all of the available dihedral wall intersections, where the pressure is high. These new devices consist of a damped 1 or 1.5 mm steel plate proprietarily bonded to a damping four-inch backing. The device operates using three mechanisms: the pistonic resonance of the mass/spring, system; damping of the plate bending modes; and porous absorption of the sound waves diffracting around the plate into the backing. The Modex Plate provides absorption from 50-500Hz.
Broadband absorption is also provided with a variant of the Modex Plates, in which one-inch of the backing is moved to the face of the metal plate. The LF Modex Plates were used in the rear of the room and on the upper front wall areas, and then the broadband version was used directly behind the Left/Center/Right loudspeakers.
The low-end is additionally controlled by utilizing four-inch phase ATC
SCM.1/15 subwoofers located at a quarter of the distance from adjacent walls. This unique placement prevents modes below the crossover from being energized. In addition to these low-frequency approaches, a four-inch deep pit roughly 6.5' x 10' was located at the first bounce position of the Left/Center/Right speakers to the listening position. The pit was filled with Modex Broadbands to control the interference caused by this floor reflection when it combines with the direct sound. The pit was covered with carpeting and the console was mounted on rails that spanned the pit.
According to D'Antonio, "Every approach that is currently known has been applied to this control room with the goal of an extended and flat low-frequency response."
The loudspeaker system received special attention as well, with the benefit of relationships between D'Antonio, Egre and Jack Renner formerly of Telarc.
Egre points out that, "we benefited from research already done by Jack Renner at Telarc. When they decided they needed new monitor speakers, they chose ATC. We felt that if Telarc chose them, then they would be the most transparent speakers available."
For the CIM multi-purpose control room, the ATC SCM150 ASL speakers were set up in a surround configuration. According to Egre, "When we conceived this as the ideal room, we felt that ATC would be an important part of that. Not only are the speakers excellent, we have received outstanding support from ATC." Additionally, another school across the street from the CIM, Case Western Reserve University, owns the smaller ATC SCM50 ASL speakers for their own recording facility, where Egre is also an instructor.
Along with running the recording degree program at the Cleveland Institute, Egre also owns Azica Records, his own small label for classical and jazz recordings. However, several unique aspects of this installation merit mention. "Because the new control room is part of an educational facility, it must be versatile. And although applicants must submit to a performance audition to be admitted into the recording program, the curriculum is not limited to classical or acoustic music." However, the emphasis, as Egre puts it, "is on the fundamentals of microphone techniques. We feel that if a student can become adept at recording a piece for violin and piano, one of the most challenging types of recordings, that student will then learn to hear nuances in other types of recording such as with guitar amps or drums."
The ATC SCM150 ASL loudspeaker is an active three-way system incorporating an ATC designed and built 15-inch Super Linear (SL) woofer, an ATC design and built three-inch mid dome, wave guide loaded, plus a one-inch high power wave guide loaded dome tweeter. The drivers are powered with ATC's own proprietary amplifier package with 200WRMS for the lows, 100WRMS for the mids and 50WRMS for the highs all in one package installed inside the speaker.
The ATC SCM0.1/15 ASL subwoofer is one of the lowest distortion subwoofers on the market and incorporates a 1000WRMS-driven proprietary 15-inch ATC SL driver. The woofer is floor loaded to provide ideal coupling with any room.
The ATC electronics/power-pack offers selectable low-pass filters at 2kHz, 180Hz, 120Hz, 90Hz, 70Hz and 50Hz plus a phase invert switch. The ATC sub system is flat to 28Hz.
ATC's drivers are manufactured in-house to exacting tolerances and are legendary for their many design innovations, such as the innovative SL magnet system and the company's renowned Soft Dome mid-range driver, which achieves exceptionally broad and even dispersion to produce a flat response anywhere in the room. Situated in Aston Down in rural Gloucestershire, England, ATC was established in London in 1974 by acoustics engineer and musician, Bill Woodman.
For more info on ATC Loudspeakers (UK)contact Brad Lunde at www.lasvegasproaudio.com or Phone (702) 307-2700 or visit www.atc.gb.net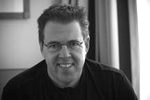 TransAudio Group's product lines include A-Designs (USA) AEA ribbon microphones (USA), ADT Toolkit, AEA, ATC Loudspeakers (UK), Brauner microphones(Germany), Drawmer (UK), Geoffrey Daking & Co. (USA), Enhanced Audio (Ireland), George Massenburg Labs (GML) (USA), Heil Sound (USA); Mercury Audio (USA) Mission Audio (UK) Phoenix Audio (UK), PAULY Superscreens(Germany), SABRA SOM(Brazil), Soundelux (USA), SoundField Microphones (UK), Z-Systems (USA) and Weiss Engineering (Switzerland) and Z Systems (USA).

Las Vegas Pro Audio is the direct sales division of TransAudio Group. The goal of LasVegasProAudio.com is to provide a personal long-term relationship with top engineers delivering insightful and accurate advice, unique equipment and long term support.TransAudio has quickly become the premier US importer/distributor for high-end audio. visit the web sites at: www.lasvegasproaudio.com



Bock Acquires Rights To Soundelux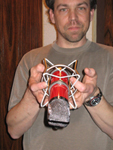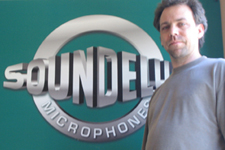 David Bock, designer and co-founder of Soundelux Microphones is acquiring the rights to the Soundelux Microphone company. This new acquisition, scheduled to be finalized in early 2007, includes the use of the Soundelux brand name, all of the microphone design and manufacturing rights, all microphone model numbers/designations and current inventory.
David Bock is acknowledged as one of the few microphone specialists in the industry who really understands vintage sounds and how to achieve that performance through modern technology. His design ability has made Soundelux Microphones one of the most sought after brands in the studio marketplace and with the company under his direction, users can expect even greater achievements.
As usual, all sales and customer service are being handled through Soundelux' dealers and the U.S. sales management office, TransAudio Group email Brad Lunde or call (702) 365-5155






Expresso Cat Walk...

Respected managers Andy Gould and Dan Dalton's Spectacle Entertainment Group has entered into a strategic alliance with Irving Azoff's Front Line Entertainment. Gould and Dalton established Spectacle in mid-2005 after splitting with the Firm. The Spectacle-Front Line deal is similar to that which was struck this year between Azoff's company and another former Firm manager, Simon Renshaw. Spectacle represents Rob Zombie for music and film. The musician-turned-director has two features in preproduction -- a remake of John Carpenter's "Halloween" for the Weinstein Co. and the animated feature "The Haunted World of El Super Beasto" for Starz Media. Spectacle's music clients include Damian "Jr. Gong" Marley and Stephen Marley (sons of the late reggae star Bob Marley), Static X, Driveblind and William Tell. "At a moment in time when the business is in consolidation, it's good to be with someone who's thinking in the future," Gould said in an interview. "The (exclusive) deal (Azoff) did with the Eagles and Wal-Mart, there's going to be more of that stuff. It's back to the days when entrepreneurs mean something. The labels are going nowhere except out of business. Front Line's clients include the Eagles, Christina Aguilera, Jimmy Buffett, Van Halen, Aerosmith and +44. According to sources, Frontline intends to purchase other management and entertainment service companies, with the treasure chest provided by T.H. Lee Partners.
NAMM 07 Sites & Sounds offered a large variety of sofware and attitude on the floor. I ran into writer Dan Daley who pointed to his favorite billboard at the show - The Apple sign referring to its MacBook Pro + Logic Pro read: "The studio has left the building." You couldn't miss the life-siz banner of Ms Aguilera sitting pretty on a Shure blue couch. The sensory overload could only be iterrupted by the occasional fashion flash courtesy of attending musicians.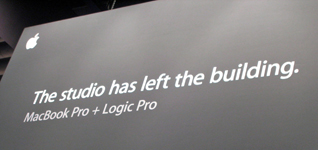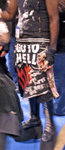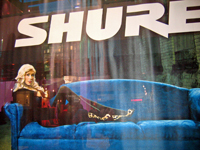 bold expressions from Apple, Shure, and NAMM attendees
We also caught up with mixer/engineer and producer Robert Shahnazarian Jr (All American Rejects, The Killers, Kelly Clarkson) who took a break from his busy studio work and visited Sony Oxford, Grammy and Digidesign booths.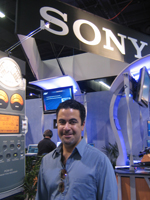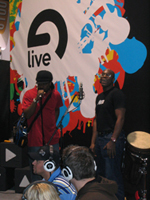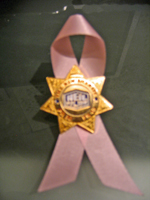 mixer/producer, Robert Shahnazarian Jr. at NAMM; live from NAMM; HEIL SOUND INTRODUCES THE PINK PEARL PR20 MICROPHONE
The Special Pink Pearl Microphone Will Help Bring Awareness To Breast Cancer
At the Heil booth an enthusiastic Bob Heil (in bright yellow sneakers) was showing off his latest microphone series, including THE PINK PEARL PR20 mic which helps bring awareness to breast cancer. "Our own family has been affected by this terrible disease, and this is our way of helping raise the awareness of breast cancer," says Sarah Heil, vice president of Heil Sound. "Early detection is the key to beating this thing and if we can help through being proactive in the entertainment industry then the Pink Peak will have been a success." With its wide frequency range it outperforms old industry technology and it can withstand huge amounts of SPL. "The gorgeous upper mid range makes the Pink Pearl PR 20 the absolute best live female vocal microphone on the planet," says Las Vegas Pro Audio's Brad Lunde who was on hand with Todd Peterson to take care of customer support.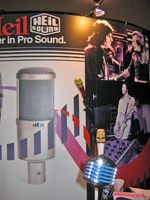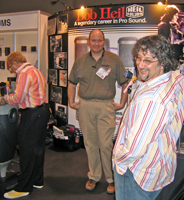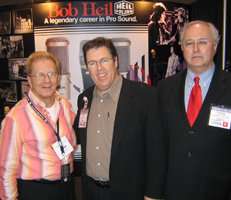 composer/mixer David Gross with Todd Peterson (in the back) at the Heil booth; Bob Heil, Brad Lunde of LVPA, Richard Bowman
Rebel drew a large crowd via their web promotion giveaway (runs through January 31st, 2007) of a Fender® Standard Stratocaster signed by Prosthetic Records artist, Through The Eyes of the Dead.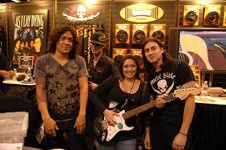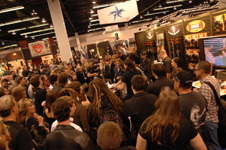 AILD StratWinner and Rebel crowd at NAMM
"Rebel has always been about supporting independent artists," says Rebel founder, Joey Tafolla. "The indie bands of today are potentially the rock stars of tomorrow. Our philosophy is to support these bands in their early stages of their careers, and be a part of their growth." AILD was the first band to sign on with The Rebel Strap Co. back in 06. These hardcore road warriors hailing out of San Diego who are making some noise, have a penchant for the Rebel Tri-Pick Series "Darkness" straps in what else? Basic Black! Rebel's current roster of endorsers includes: POD, Pillar, As I Lay Dying, Blindside, The White Noise, Lonely Kings, Better Left Unsaid, Great Glass Elevator, and others.
East West Releases Fab Four And Collaborates With Digidesign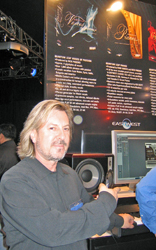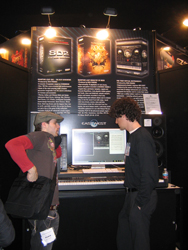 East West's Doug Rogers at NAMM Photo: ByTheC
Musicians, producers and film/TV/game composers looking for truly unique sounds with attitude to create with will find Fab Four Virtual Instruments the most innovative and inspiring collection ever produced. EASTWEST (www.soundsonline.com), the industry leader in soundware development and distribution, introduced Fab Four Virtual Instruments (unaffiliated with or endorsed by Apple Corps. Ltd) at NAMM 07. The Fab Four Virtual Instruments project involved several people intimately involved with the Beatles. Engineer Ken Scott, who worked on Beatles albums including A Hard Days Night, Help, Rubber Soul, Magical Mystery Tour, and The Beatles, engineered the recordings. Guitarist Laurence Juber and drummer Denny Seiwell, both of whom were members of Paul McCartney and Wings, played the same kind of instruments as those used by the Beatles.
According to the founder, Doug Rogers, no expense was spared in acquiring the equipment used to produce this collection. Much of that equipment, ironically, is now housed in EASTWEST Studio 3, where the Beach Boys' legendary Pet Sounds-the inspiration for Sgt. Pepper's Lonely Hearts Club Band, according to Paul McCartney-was recorded. In January 2006, EASTWEST purchased the legendary Cello (formally United-Western) Studios on Sunset Blvd. in Hollywood, re-naming it EASTWEST Studios, which serves as world headquarters for EASTWEST. The 21,000 sq. ft. five- studios facility is said to be redesigned by master designer Philipe Starck and brought back to its original Hollywood glory.

Well over one million dollars' worth of rare period instruments - including authentic guitars, basses, drums, and keyboards - as well as amplifiers, microphones, recording consoles, outboard equipment and tape recorders were used in this production. Neumann, AKG, Cole and STC microphones as used at EMI/Abbey Road Studios were used to capture the sounds, while identical amplifiers, including a 1963 Voc AC30, 1967 Fender Showman and DeLuxe, 1963 Fender Bassman and Tan Showman, and 1966 Vox Defiant, 730 and 7120, were used with the electric guitars. The same kind of recording desks and preamps, including a very rare EMI REDD tube desk, EMI TG12345 desk, and EMI REDD47 preamps, were used to record all instruments, through Fairchild limiters and rare EMI RS124 modified Altec compressors, which were used for dynamics control. As with many of the Beatles recording sessions, a Studer J-37 4-track tube tape machine was used to record everything. Guitars (some costing over $200,000 each) played by Juber include a Gretsch Firebird (1959) and Tennessean (1963), Rickenbacker 360-12 (19650, to name a few. Drums played by Seiwell include a rare 1960 Ludwig downbeat kit with Zildjian cymbals (snare 5" x 14"/toms 9" x 13" and 16" x 16"/kick 22" x 14"/Zildjian 20" crash ride/18" crash medium/14" hi-hat), to name a few.
Fab Four Virtual Instruments carries a $549 MSRP.
PLAY Advanced Sample Engine
At the heart of EASTWEST's new virtual instruments is PLAY. The PLAY system is a professional, fully integrated solution for those with the most demanding production requirements. The PLAY sample engine software is included with all new EASTWEST/QUANTUM LEAP virtual instruments.
PLAY's 64-bit support allows the user to load many more instruments and voices, limited only by the host system's RAM. The advanced sample storage (using lossless compression) and streaming technology in PLAY's high-quality resampling engine saves RAM, speeds up load times, reduces disk load, and saves hard drive space without reducing sample quality. Samples can be played back at 24-bit or 16-bit.

Also look for Digidesign® instruments—including the new high-end sampler Structure™—to feature premium sample content from EASTWEST We caught up with producer and company founder, Doug Rogers who says The Beatles had a profound impact on him musically. "They were the influence for my fascination with sound. Putting this project together took well over a year of research, equipment procurement (much of it from collectors), and gathering a team that could pull off such a feat," Rogers adds. "But it was a labor of love for us all, and the result is truly worth it." "We fully respect the major contributions Digidesign has made to the industry and feel that a relationship of this type is of tremendous benefit to those looking for the best tools to compose with," adds Doug Rogers of EASTWEST. Recent Digidesign® ICON installs include: Fourteen-time Grammy-winning producer, engineer/mixer Eric Shilling (Natalie Cole, Arthuro Sandoval) for his Orlando, Florida-based studio, Nor folk Music and famed Record Plant Recording Studios in LA




The Broadband Emmy Awards recognize excellence in programming created especially for online or mobile viewing. Independent Producers, Directors, Performers, and Composers—the next generation of creators—are all eligible. That means YOU! Have what it takes? Enter the MySpace contest for a chance to win the ultimate red-carpet treatment and entry into the official Emmy competition.
Telarc International Corporation has announced today that trumpet virtuoso Arturo Sandoval has signed an exclusive recording contract with the company. His debut recording for the label is schedule to be released in May 2007. Sandoval has been awarded four GRAMMY Awards, six Billboard Awards and an Emmy Award. Recently, he was awarded his sixth Billboard Award for Best Latin Jazz Album. Granted political asylum in July 1990 and U.S. citizenship in 1999, Sandoval and his family currently live in Miami. "It's an honor and privilege to work with the most recognizable artist in Latin jazz," says Telarc President Bob Woods. "I am very happy to be signing to Telarc and reuniting with producer Carl Griffin, with whom I first worked when I arrived in the U.S. in the early '90s," Sandoval says. "I am having a great time making a brand new album of original compositions, the band sounds fierce, and I am very excited about how it's turning out. I can't wait for everyone to hear it."
50 Cent Blue Condoms he has tried acting, writing, fashion and energy drinks so logically it would make sense for the next initiative to be 50 Cent's own brand of condoms. He claims he will donate part of the proceeds to raise HIV awareness. "The kids become immune when you constantly beat them over the head read a book, read a book. We have to be a little more creative about it," he said. No launch date yet, but the color is said to be blue.

SXSW Music Keynote: Pete Townshend The Who have recently resumed recording and performing activity with enthusiastically received performances and the new CD, Endless Wire. In addition, Townshend and artist Rachel Fuller regularly present Attic Jam, a collaborative series of performances and webcasts featuring notable songwriters. Townshend and Fuller will be performing an Attic Jam with special guests at SXSW on Thursday March 15. The hotel cafe hosted an attick show last November.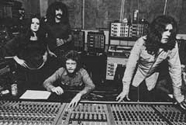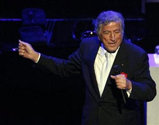 Sundance Stars and Swags...Once upon a time, the Sundance Film Festival, tucked away in snowy Park City, Utah, was all about movies -- raw, low-budget movies with no star egos and studio suits. That is not entirely over. This January the headline sponsors were AOL, VW, HP, Adobe, but despite many stars, parties and freebies, the spotlight remained on the newcomers. The film screenings were open to general public and there were many opps to meet young new directors who offered indie films with maturing and evolving global vision. Several executives of major distributors said they have yet to see a movie with the potential of a "Sunshine" or 2004 Sundance hit "Napoleon Dynamite" in this year's lineup, but several dramas with stellar casts are causing an early stir. One of those is "Hounddog," starring 12-year-old Dakota Fanning as an abused girl, and a second is "Grace is Gone" with John Cusack playing a father whose wife is killed in Iraq. "Resurrecting the Champ," starring Samuel L. Jackson , Josh Hartnett and Teri Hatcher has a well-known cast, and "Clubland" with Brenda Blethyn is a quirky comedy with some early buzz. Grande non-fat cappacino was also a hit... courtesy of another sponsor, Starbucks.
No Mo Tape...Quantegy Recording Solutions has discontinued its various magnetic tape product lines to include Quantegy's well-known GP9, 499, 467, 456/457, 406/407/408, 600 Series, ADAT and DAT. Read CEO, Frank Foster's letter here For more inquiries email Josh Herron or call 334-749-7685

Bye Bye Bearsville -- Last November, Sonic Circus acquired the equipment inventory of the legendary Bearsville Studio in Woodstock, NY. For over 35 years the studio served artists as diverse as The Rolling Stones, Cassandra Wilson, Foreigner, and The Dave Matthews Band. The Bearsville gear collection included studio furniture, microphone stands and gobos to outboard gear, monitors, tape machines, and a historic collection of keyboards and instrument amplifiers. "It's an honor to be able to offer this gear to our customers. It gives us a chance to spread some of the magic of Bearsville to recording studios around the world," said Sonic Circus founder, David Lyons.
The Sales Door To Box Sets The Doors' box Perception (get it?), cleverly packaged as... a door, does hold some astonishing music, but the thing itself is a weird hybrid beast with multiple formats for every release. Each of the group's six albums has not only been re-remastered (this time by the remaining band members plus original engineer Bruce Botnick as the "40th anniversary mix"), but loaded up with a bevy of previously unreleased bonus tracks. But that's not it--for each album, there's a companion DVD, which includes a whole new 5.1 surround sound mix with more tracks, as well as the usual DVD extras, i.e., photo galleries, lyrics, and videos. That makes 12 discs, much of it essentially redundant. The questsion is who pays the $119 listed on amazon?

Listen To The Pandora Discovering new music that you're guaranteed to like is easier than you think. In the internet era where the average person becomes a tastemaker, Pandora is said to be the latest flavor. Tim Westergren, Founder of The Music Genome Project in Oakland had the idea in 2000 to assemble hundreds of musical attributes or "genes" into a very large Music Genome and creates customized radio stations. The Pandora system combs through thousands of songs and millions of pieces of user feedback. An impressive technological accomplishment with an even more impressive implication. If Pandora can nail me as a fan of a band that few people have ever heard of, and my musical tastes are an intimate expression of who I am, then what's to keep Pandora from introducing me to a lot more than music? Voila, Mr Westergren's business model! At pandora visitors are invited to enter the name of their favorite artist or song and to get in return a stream of music with similar "DNA," in effect a private Internet radio station microtailored to each user's tastes. Since the service made its debut last November, more than three million people have signed up. AMG provdies the back end information.
The Legendary Crooner Turns 80 Singers and Songs, a benefit concert, took place on November 9th at The Kodak Theatre in Hollywood to celebrate the milestone of Tony Bennett's 80th Birthday. The special evening featured music artists including Kelly Clarkson, Marc Anthony, Madeleine Peyroux, Stevie Wonder and Quincy Jones, who performed a collection of Tony Bennett's classic songs. As a special highlight of the evening, Tony Bennett himself also performed.

Take A Bite Apple Inc. who's launching Iphone -- an entirely new user interface based on a large multi-touch display and pioneering new software -- reaped record profit during the holiday quarter and stands to remain a Wall Street darling despite issuing a second-quarter forecast that fell below analyst expectations. "Their guidance is always conservative," Piper Jaffray analyst Gene Munster said. "It's a bunch of hoo-ha." For the final three months of 2006, profit surged 78 percent after the company sold a record 21 million iPod players, or about 50 percent more than it did in the same period the year before.Sales of the iconic device accounted for $3.43 billion, or nearly half, of the company's total revenue for the quarter. Apple also unveiled Apple TV, a new set-top box that sends video from computers to the television. Due to be available in February at a price of $299, Apple TV could be a "surprise hit," American Technology Research analyst Shaw Wu said.

Idol Gone Mobil American Idol" has launched a partnership with Cingular to provide video performances from the show available as mobile phone content immediately after fans in Hawaii see the broadcast. Fans will be able to watch clips of full performances and get ringtones of their favorite idol singing 'live.' Season 5 collected more than 580 million votes during the show's run so the profit margin per message would not have to be significant for vendors to reap a hefty profit
Tsunami Producer Management is pleased to announce producer/engineer and Grammy Award winning mixer Stuart Sikes (The White Stripes, Loretta Lynn, Jets To Brazil) as the newest addition to their roster. Releases forthcoming in 2007 include Hot Hot Heat and The Exploders. After finishing work on his new studio in Dallas, Stuart is scheduled to record The Sound Team for Capitol in spring 2007. More info contac Dana Childs at 323) 210-2525 ext. 133


Picolo's Duality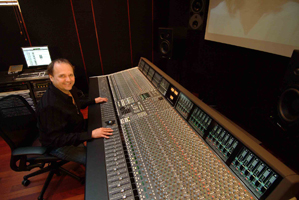 Pictured at the Duality console is Studios Piccolo co-owner Dominique Messier.
Photo: Josée Lecompte
Montreal-based Studios Piccolo, named Studio of the Year in six of the last seven years by Canadian music industry trade association ADISQ, has installed Duality, Solid State Logic's new large-format production console, in Studio B. "It's really well suited for the kind of business we have in Montreal: music, and a lot of 5.1 mixing in that room. Duality can handle that," says Studios Piccolo co-owner Denis Savage, who also serves as the sound designer and front of house engineer for Celine Dion's long-running show, A New Day, in Las Vegas. "It's like something in between an AWS 900 and a 9000 K Series."
The Avatar Brews
17 projects from the recently announced Grammy nominees list were recorded at Avatar Studios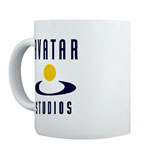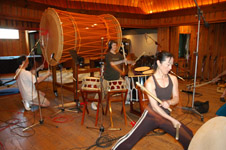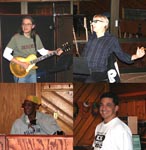 Avatar mug right here! l-r: Taikoza performing the music; Robben Ford (guitar), Will Lee (bass), Bernie Worrell (keyboards), engineer, Niko Bolas
Film director, Robert De Niro was in the house to hear Vince Giordano and The Nighthawks Orchestra, the big band sessions for the film score of "The Good Shepherd" recorded in Avatar Studios' Studio C back in November. The music was composed by Marcelo Zarvos and Bruce Fowler. The session was produced by Fowler. The song "Try Not To Remember" performed by Sheryl Crow and recorded at Avatar has been nominated for a Gloden Globe Award in the category of Best Original Song - Motion Picture. It was produced by Stephen Endelman for the film "Home of the Brave" directed by Irwin Winkler and starring Samuel L. Jackson & Jessica Biel. The session took place in Avatar's Studio B engineered by Gary Chester. Music for videogame Red Steel from Ubisoft was recorded in Studio C. The game, designed exclusively for Nintendo Wii game console, was composed and produced by Tom Salta. A Japanese Percussion group, Taikoza, consisting of five musicians playing various Taiko drums, was recorded by Roy Hendrickson. Robben Ford was in Studio A recording his upcoming release joined by Will Lee (bass), Charlie Drayton (drums) and Bernie Worrell (keyboards).
The session was engineered by Niko Bolas.
RadioStar It




Radio Star Studios opened in 2001 when record producer Sylvia Massy Shivy (Tool, Red Hot Chili Peppers, Skunk Anansie) left the smog and traffic of L.A. for the clean water and good living of Mount Shasta, California. Sylvia brought 20 years of recording experience and a priceless array of recording equipment and musical instruments and set up for recording in the Weed Palace Theater. According to Shivy artists can soon come to Weed to play a show and record a CD simultaneously. Look for the towering "Weed Palace" marquis in neon, to be seen from the I-5 freeway. The theater will have an occupancy of 600 guests, and have state of the art lighting and sound. More recently Lisa Haley brought her Louisiana flavored roots music to RadioStar, with featured guest performances from: Keb Mo, Lee Sklar, George Hawkins, Skip Edwards and many more. According to Sylvia, this is the first time engineer Kale' Holmes has been challenged to find the best way to mic a rub-board and a triangle! RadioStar is now proud owner of an RCA BC-6A tube broadcast console, with 5 glorious mic channels and 3 line level channels. This month guitar amp designer Scott Van Fossen presented RadioStar with a fabulous Fathead combo amp, the third amp made in the series, and the first combo style.
Drama Or Grillz, It's All For The Friendly Pirate!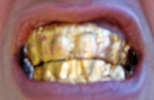 The compilations produced by DJ Drama and his protégés (The Aphilliates) are known as mixtapes, though they appear on CDs, not cassettes. Mixtapes have become a vital part of the hip-hop world. They are often the only way for listeners to keep up with a genre that moves too quickly to be captured on albums. On a mixtape you can hear unreleased remixes, sneak previews from coming CDs, casual freestyle rhymes, never-to-be-released goofs.
Mixtapes are, by definition, unregulated: DJs don't get permission from record companies, and record companies have traditionally ignored and sometimes bankrolled mixtapes, reasoning that they serve as valuable promotional tools. And rappers have grown increasingly canny at using mixtapes to promote themselves. The career of 50 Cent has a lot to do with his mastery of the mixtape form, and now no serious rapper can afford to be absent from this market for too long.

As mixtapes evolved from a street-corner phenomenon to a cornerstone of the hip-hop industry, record companies tried to figure out ways to cash in. Mixtape D.J.'s like DJ Clue, DJ Kay Slay and others have released major-label compilations full of tracks that abide by copyright rules. But it's not easy to turn a mixtape into something you can legally sell: part of the fun is hearing rappers remake one another's songs and respond to one another's taunts; a great mixtape captures the controlled chaos that hip-hop thrives on.
DJ Drama's mixtapes have turned "Gangsta Grillz" into a prestige brand: each is a carefully compiled disc, full of exclusive tracks, devoted to a single rapper who is also the host. Rappers often seem proud to be considered good enough for a "Gangsta Grillz" mixtape. On "Dedication," the first of his two excellent "Gangsta Grillz" mixtapes, Lil Wayne announces, "I hooked up with dude, now we 'bout to make history." The compilation showed off Lil Wayne more effectively than his albums ever had, and "Dedication" helped revive his career. When some unreleased tracks by T.I. leaked to the Internet, T.I. teamed up with DJ Drama for a pre-emptive strike: together, they created a mixtape called "The Leak."
As mixtapes have grown more popular, they have also grown easier to purchase, despite that official-sounding declaration — "For Promotional Use Only" — printed on every one. Sites like mixunit.com specialize in selling them, and big record shops and online stores have followed suit. As of yesterday DJ Drama was sitting in jail, but dozens of his unlicensed compilations were still available at the iTunes shop.
Brad A. Buckles, executive vice president for anti-piracy at the Recording Industry Association of America, said, "A sound recording is either copyrighted or it's not." And he said the DJ Drama case, like most piracy cases, began with illegal product, which was then traced back to the distributor. Chief Baker said that before the raid, DJ Drama and Mr. Cannon were sent cease-and-desist letters from a local lawyer.
There have been mixtape busts before: in 2005, five employees of Mondo Kim's, in the East Village in New York, were jailed after the store was found to be selling unlicensed mixtapes. But the arrest of a figure as prominent as DJ Drama is unprecedented. Record companies usually portray the fight against piracy as a fight for artists' rights, but this case complicates that argument: most of DJ Drama's mixtapes begin with enthusiastic endorsements from the artists themselves.
It also seems clear that mixtapes can actually bolster an artist's sales. The most recent Lil Wayne solo album, "Tha Carter II" (Cash Money/Universal), sold more than a million copies, though none of its singles climbed any higher than No. 32 on Billboard's Hot 100 chart. That's an impressive feat, and it's hard to imagine how he would have done it without help from a friendly pirate. (Brenda Goodman contributed reporting from Atlanta).

Just What Dr Tea Ordered




Did you know that combination of Bupleurum, Scute, Dragon Bone and few other ingredients can relieve stress of everyday life, or have the ability to stabilize addictive/compulsive behavior --widely used in withdrawal from smoking, drinking, and even overeating?! Ho Shou Wu is renowned as an herb of energy and longevity. Where can you get them? The Emporium on Beverly in West LA. Where else? Best known for its Chinese herbal remedies, the on-site store offers professionally trained herbalists, many of whom are graduates of Chinese medical colleges. Here you can find free consultations on immunity boosts, energy enhances and weight-loss facilitators in the form of tonics, capsules and liquefied herbs. The Tea Garden sells its own brand of loose teas, all of which come from Japan, China, Taiwan, India and South America. (The store's white teas have seen a sudden burst of popularity because of their antioxidants.) All tea served on premises is elegantly presented for enjoyment in the outdoor Zen garden not far from gifts like Buddha statues, books, music and the store's own line of bath products and candles9001 Beverly Blvd.
West Hollywood, 90048 (310) 205-0104 Ask for proprietor Mark "Dr. Tea" Ukra
Farewells
Michael Brecker
March 29, 1949 -- Jan 13, 2007


11-time Grammy Award winner composer Michael Brecker's recordings and performances includes with jazz and pop giants: Branford Marsalis, Parliament Funkadelic, Frank Sinatra, Frank Zappa, John Lennon, and Elton John, to name a few. His last studio album, finished recently will be released in June on Heads Up International and will feature Metheny, Herbie Hancock, Jack DeJohnette, Brad Mehldau and John Patitucci. Brecker is survived by his wife, Susan; his children, Jessica and Sam; his brother, Randy; and his sister, Emily Brecker Greenberg.
James Brown
May 3, 1933 --- Dec. 25, 2006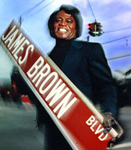 Birth of Godfather of Soul came in 1955 when Brown's band, The Famous Flames record "Please Please Please" at the studio of WIBB in Macon, Georgia. A year later, producer and talent scout Ralph Bass travels to Macon to sign James Brown to the King/Federal label, beating Leonard Chess (of Chess Records) to the punch.
You move us Mr Brown!
James Brown Hit List --#2 of all time with hit records behind Elvis Presley
"I would like to pass on the want to do something. The need is there. Good lyrics are good things, but I would like to pass on that drive, that invigorous undying determination...'Funky' is about what it takes to make people move"
-- James Brown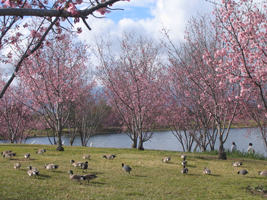 Congrats to Will Smith for His Pursuit of Happyness
2 Golden Globe Noms


Two multi-platinum records, hit television comedy series, and one of the entertainment industry's most sought after leading men, Smith's film credits (Men In Black, Grammy-winning title song, Independence Day, Bad Boys) include "Ali," for which he received an Academy Award nomination for his portrayal of the famed boxer. The Legend of Bagger Vance, directed by Robert Redford earned him an NAACP Award nomination for Best Actor. A music sensation, Smith made his first record as a high school senior and subsequently embarked on a rap career with friend Jeff Townes (DJ Jazzy Jeff and the Fresh Prince). He won two Grammys and three American Music Awards and his first solo album, "Big Willie Style," has sold 8 million copies. His album "Willennium" and the featured single Will2K went double platinum, selling over 2 million copies each.
The Pursuit of Happyness features Will Smith as a man fighting his estranged wife for custody of his young son while struggling to get his professional life on track.