lulo Perez
producer I arranger I programmer I songwriter I musician

History:  Miami and Los Angeles based producer and writer/arranger Lulo Perez is what you'd call versatile and gifted musician. As an accomplished multi-instrumentalist (Trumpet, Flugelhorn and keyboards), he works with artists and bands to create timeless albums.







Perez Produced (as well as played keyboards & MD'd) for Spanish alternative act, Cafe Quijano's Extraordinaria Paradoja del Sonido released in 2000. That album became the group's first platinum record. "This was an experimental record where the band combines rock with well-known Latin rhythms such as rumba, guaracha, son, and mambo," says Perez. He has also produced a track on Platinum Rhythm for Madonna's label Maverick with its release through WEA International.






Lulo has brought his musicianship to numerous releases -- Alex Ubago's Que Pides Tu (2003) Emmanuel's Sentirme Vivo (1999) & Emmanuel Presenta... (2003)
Vicente Amigo's Ciudad de Las Ideas (2002), Ana Belen's Peces de Ciudad (2001) , Rosa's Rosa (2002); Joaquin Sabina's 19 Dias Y 500 Noches (1999) to name a few.



Lulo's collaboration with the Grammy winning singer/songwriter Alejandro Sanz began when Lulo played horn on the superstar's '97 release "Mas" and arranged and played Trumpet on Sanz' 2000 multi-Grammy winning "El Alma Al Aire. Sanz-MTV Unplugged" (2001) won three Latin Grammys and garnered critical raves from around the world for the Spanish singer/songwriter.
Perez and Sanz co-produced "No Es Lo Mismo" with Lulo arranging and playing on selected tracks. It won the Best Latin Pop Album at the 46th Annual Grammy Awards and also won four Grammys at the 5th Annual Latin Grammy Awards - Record of the Year, Album of the Year, Song Of The Year for the producers and Alejandro also took the award for Best Male Pop Vocal Album. Additionally, honors for Best Engineered Album went to Rafa Sardina and Mick Guzauski.





Alejandro Sanz swept the Fifth Annual Latin Grammy Awards in 2006 with No Es Lo Mismo which sold near one million copies in its first week of release. The album, which earned Song Of The Year, Best Male Pop Vocal Album, Record Of The Year and Album Of The Year, and torn up Latin charts worldwide was co-produced by Sanz and Perez. The disc even won Best Latin Pop Album at the 46th Annual Grammy Awards. Alejandro also won Song Of the Year and the honors for Best Engineer went to Rafa Sardina and Mick Guzauski. "We had a blast working with some of the most amazing msucians in the world," says Perez. They include: Alejandro Sanz (vocals, Flamenco guitar, tres); Michael Landau (acoustic & electric guitar); Jose Antonio Rodriguez (Flamenco guitar); Paco De Lucia (Spanish guitar); Hamadi Bayard (tenor saxophone); Carlos Martin (trombone); Anthony Jackson (bass); Vinnie Colauita, Horacio Hernandez (drums); Luis Conte (percussion); Raul Midon, Javier Valverde, Lena Perez, Maria Antonia (background vocals) and Lulo Perez (various instruments). What is most compelling about NO ES LO MISMO is the way Sanz and his co-producer, the Cuban born Lulo Perez, have synthesized these separate yet complementary elements into one purely individual style. In NO ES LO MISMO Sanz has crafted an album that, while it hews to his Spanish roots, has its eyes set firmly on the US charts.






"The album is a fusion of cultures, from Andalucia to Havana, from Mexico to Madrid. It's an artistic groundbreaking effort with strong flamenco flavors. Writing, arranging and producing songs with some of the most soulful contemporary artists of all-time like Alejandro Sanz is truly a thrill for me. When the artists get recognition for the album we've made together, that's simply sweet," says Perez.







Current credit: Most recently Perez completed arranging and producing 14 songs with Sanz. The first single, "A La Primera Persona (To the First Person)" was released worldwide on September 25 and has already set a record for digital sales. After only 24 hours, the song held the first position of downloaded songs on mobile phones and it debuted at number one on the iTunes single charts. Great start, in aticipation of Sanz' new album from Warner Intl, El Tren De Los Momentos (The Train of Moments), due out on Nov 7. Guest stars on the album include: Juanes, Antonio Carmona, Alex Conzales (Maná) Shakira and Calle 13.
A La Primera Persona tells a story of torn love, the usual Sanz theme woven in rich and sophisticated arrangements by Sanz and his coproducer Lulo Perez who offers evocative synth arrangements and urban beats and plays piano, trumpet, electric guitar, percussion, synth bass and Hammond on the album. Most of the material was recorded at Alejandro's own home studio with mixes for bonus digital tracks done at After Hours in Los Angeles and Criteria in Miami. Engineers and mixers include:
10-time Grammy winner, Rafa Sardina (Macy Gray, Stevie Wonder, Dr Dre) and Thom Russo (Michael Jackson, Eric Clapton, Maná).
Sanz has sold over 21 million albums worldwide and amassed 200 platinum discs, 15 Latin and 1 Grammy Awards, as well as other major international recognitions, including having the hit single, "La Tortura" with Shakira.
Perez also produced four tracks on Pedazos de Mi for Universal artist Amaury Gutiérrez
He arranged and played various instruments in addition to mixing and programming three contemporary pop ballads with lush keyboard and horn arrangements on "Solo Quisiera," "No Me Pongas Condiciones", "A Muerte Con Tu Amor" and the more funky and rhythmic sounds on "Que te esta Pasando?" "It all comes down to preserving the artist's identity," says Perez.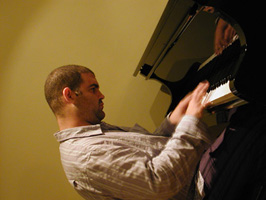 photo: By The Sea

Contact: C Mgmnt
Lulo Perez Web



A ccepting Grammy Awards for Alejandro Sanz at 5th Annual Latin Grammys
<![if !supportEmptyParas]>
copyright 2004 studioexpresso