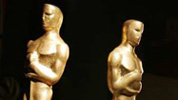 Oscars are less than 30 days away. The nine best picture nominees are "War Horse," "The Tree of Life," "Midnight in Paris," "The Help," "Hugo," and "Extremely Loud & Incredibly Close." On the acting side, George Clooney, Meryl Streep, Brad Pitt and Viola Davis were among the performers receiving nominations, while "The Descendants" and "Moneyball" also scored best picture nods as the 84th Academy Awards nominees were announced in Beverly Hills. One of the most intriguing races to watch on Oscar night will be between the veteran Scorsese, who won the Oscar for best director five years ago for "The Departed," and the Hollywood newcomer, French filmmaker Michel Hazanavicius of "The Artist." Our favorite category is music scores.






The Chemical Brothers -- Hanna
Steven Price and the Basement Jaxx --Attack the Block
Cliff Martinez -- Contagion
John Williams (he has won five Oscars out of 45 nominations) -- War Horse and The Adventures of Tintin
Alexandre Desplat and Dario Marianelli -- Jane Eyre (he once won for Atonement and also was nominated for Pride and Prejudice). Howard Shore --Hugo
Alexandre Desplat --Extremely Loud and Incredibly Close
Trent Reznor and Atticus Ross -- The Girl with the Dragon Tattoo
Mychael Danna -- Moneyball
Alberto Iglesias --Tinker, Tailor, Soldier, Spy.
Ludovic Bource -- The Artist (music serving in place of dialogue in a silent film)

Celebrating Grammy Nominated Artists At Vitello's
Clare Fischer Big Band, January 16, 2012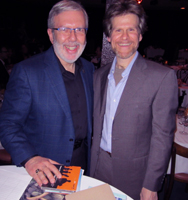 Clare Fischer Big Band at Vitello's on Jan 16, 2012; Music Director, Brent Fischer with Leonard Maltin

The Grammy celebration concert with the Clare Fischer Big Band took place this month at Vitello's in Studio City on January 16. Audiences came from Brazil and Germany to hear the Big Band, among them, world-renown film critic, Leonard Maltin. The band played from Pictures At An Exhibition, recorded in 2004, all with Brent Fischer arrangements. "I feel...Clare and Brent Fischer's version is "Pictures in the Future...The authority, beauty and diversity of each individual picture is captivating from the first to the last minute," said Jorg Achim Keller, producer and leader of HR big band, in the liner notes.
The 18-peace Clare Fischer big band also played tracks from the Fischer catalogue and from Continuum, this year's Grammy nominated album. The Fischers have created musical magic arranging and orchestrating for other artists to include: Prince, Michael Jackson, Raphael Saadiq, Branford Marsalis, Paul McCartney, Usher and Brandy. Brent directs the Clare Fischer bands featuring some of LA's best players: Andy Martin, Carl Saunders, Bob Sheppard, Ron Stout, Scott Whitfield, and Steve Huffsteter, among them. The news of Clare Fischer's passing came on January 26. "A beautiful ending to a beautiful life. The music will continue, "said Brent Fischer.
A Tribute to DR Clare Fischer below.
TED Spells Technology, Entertainment, and Design
Featuring Organist Cameron Carpenter February 27-March 2, 2012, Long Beach, California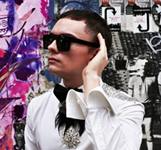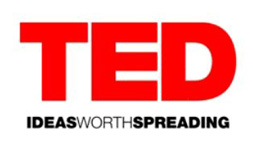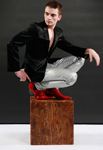 Why do we chase happiness? How repetition creates beauty? TED is a nonprofit devoted to Ideas Worth Spreading. It began in 1984 with the purpose of bringing together people from three worlds: Technology, Entertainment, and Design. There are TED conferences, TEDTalks, the Open Translation Project and even the annual TED Prize.
Cameron Carpenter, looks more like a rock star than a church organist. Hailed by Dallas Morning News as "the most controversial organist alive," he is among the distinguished roster of presenters that will make TED2012 a summit of the great thinkers and revolutionaries of the world. Carpenter joins conductor Michael Tilson Thomas and banjoist Abigail Washburn, energy theorist
T. Boone Pickens, choreographer Twyla Tharp and other leading intellectuals at the annual conference in Long Beach, California February 27-March 2. Cameron was a child prodigy who performed Bach's complete Well-Tempered Clavier at age 11 before touring as a boy soprano with the American Boychoir for two years. He graduated from The Juilliard School in 2006 and lives in Berlin. Known as "The Bad Boy" of organ music, he is the first solo organist in history to be nominated for a Grammy Award.
TED will temporarily install a major digital organ courtesy of Rogers Organs, modified to Cameron's specifications, in the Long Beach Performing Arts Center for his use during the conference.

Two Music Worlds For Christoff Bull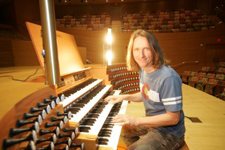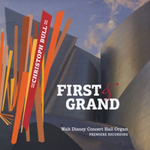 Christoff Bull at Disney Hall, First & Grand: The first album recorded by Bull on the Gehry designed one-of-a-kind pipe organ; Lady Gaga plays the Sydney Town Hall's pipe
organ during her concert on Wednesday, July 13, 2011

Closer to home, in Los Angeles, California, Chrsitoff Bull juggles two music worlds. Church organist and Professor by day and pop singer and composer by night. Bull has a growing fan base and performs in venues ranging from Walt Disney Concert Hall to the Whisky a Go Go and the Viper Room. He has performed with musicians as diverse as Cindy Lauper, Nishat Khan (sitar) and George Clinton & Parliament Funkadelic. As a cross over artist-- accomplished organist, teacher and singer/songwriter, Christoff enjoys both disciplines equally. "I get inspired by the complexity and high intelligence of Bach's music and also by the visceral power of a George Clinton beat. In my work, both genres influence each other: I take some of my classical craft to my pop arrangements and I take the attitude of rock music to my classical playing."
A native of Germany, Christoff Bull began improvising on the piano at the early age of five, but soon began the regiment training traditionally affiliated with classical music. He attended school at Freiburg Conservatory. Bull decided to come to the United States, where he attended the Berklee College of Music. There, he was able to explore other aspects of music including jazz, rock, and recording. After graduating, Bull moved to Los Angeles and put on eclectic organ concerts under the name Organica, playing everything from classical pieces to rock 'n' roll. "A guy like Liszt or Bach or Mozart – they really were the rock stars of their time," he says. Mr Bull has been organ professor at UCLA since 2002 and credits the first album recorded on the Gehry designed one-of-a-kind pipe organ at Walt Disney Concert Hall. The album title appropiately takes its name from the marked occasion and the Hall's location, First & Grand. The beautiful artwork and a 24-page booklet chronicles the recording of the 11 tracks (5-8 minutes each) that include classical standards like Beethoven-Improvisation and Adagio For Strings, op. 11 with few surprises here and there like When You Wish Upon A Star and A minor Trance. Now available at: Cdbaby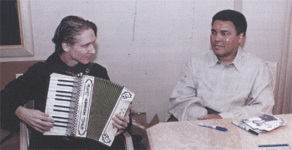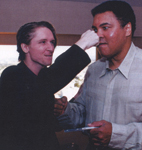 In Our Corner DR Christoff Bull And The Greatest of All Time ALI. More recently Christoff Bull wrote a song tribute to the boxing champion, Muhammad Ali who is celebrating his 70 years on the planet. "Ali," is written and performed by the keyboardist-singer and inspired by the iconic boxer's accomplishments in and out of the ring. Christoph describes the arrangement as "Beatlesque R&B". The track also features Ali in his own words - described by many, as the first rapper. He completed the most recent arrangement of "Ali" in 2010 and asked Grammy-winner, Rafa Sardina (Lady Gaga, Stevie Wonder, Alejandro Sanz) to mix his song. "I've met a lot of people who believe in good enough. I don't and Rafa doesn't either."
According to Bull, Ali himself loves the song. "...Especially hearing his own voice and my accordion playing. He made me feel very welcomed by pretending to box with me," says Bull who met Ali's photographer Howard Bingham through musician friends --singer Angela Carol Brown and percussionist Richard Martinez. Howard loved the song and made the introduction. "An introduction to who?" "Ali!" The next time the boxing icon was in town, Howard Bingham invited me up to Ali's suite at the Hilton. Howard whipped out his camera and took these pictures," says Christoff. The story goes that Christoff would get up in the middle of the night as a little boy to watch Ali reclaim his title from Leon Spinks (1978). "I was first fascinated by Ali as an athlete. His movements were similar to a musician or a dancer; he was an artist-athlete. Of course, there was his creativity in promoting fights, including the use of poetry. I also read about his political courage, his willingness to lose his livelihood in order to speak out against an immoral war abroad and for civil rights at home," says Christoff. Muhammad Ali's 70th Birthday will take place at MGM Grand Garden Arena in Las Vegas, Nevada on Saturday, February 18. Exceptional dining by chefs Tom Colicchio, Scott Conant, Michael Mina and Wolfgang Puck with spirits & wine pairings by master sommeliers. Exclusive auctions and a larger-than-life concert all to benefit Ali's fight against memory, movement and brain disorders.
We asked if there are any pop stars that Christoff would enjoy working with. "I saw a picture of Lady Gaga playing a pipe organ in Sydney, Australia. I could see her working with me - a pipe organist who digs pop and rock," says Bull.

New TV Show To Seek World's Greatest DJs




Simon Cowell's SYCO Entertainment has partnered with Jada Pinkett-Smith and Will Smith's Overbrook Entertainment on the launch of a live, new international TV format to find the world's greatest DJs. This new format has already been developed and will be CO-produced by SYCO and OVERBROOK. The show will capture the incredible rise of the DJ phenomena. It has been in development for over a year and SYCO, OE and Sony Pictures Television will soon announce their broadcast partners in both the US and the UK. In related news, the Queen is heading back to daytime. Will Smith's Overbrook Entertainment and Queen Latifah's Flavor Unit announced Monday that they will be partnering with Sony Pictures Television to produce a new sydicated talk show for 2013 with Latifah serving as host

studioexpresso And The Art of Producing Masters at NAMM 2012
An Engineer/Producer Forum at NAMM, Hot Zone, Anaheim, CA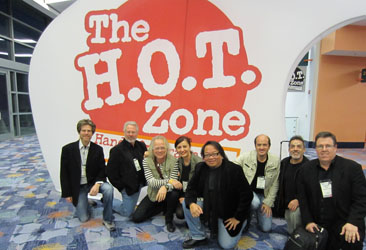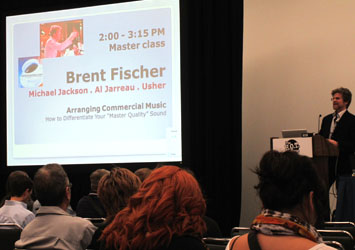 l-r: Brent Fischer, Jay Kaufman - Kaufman & Associates Award-winning studio designer , Greg Penny (Elton John, KD Lang) , Claris Dodge of studioexrpesso, Curt Bisquera, (Sarah Mclachlan, Elton John), Rafa Sardina (Lady Gaga, Stevie Wonder, Alejandro Sanz), Peter Schwartz (Mattel, David Bowie, Enya), Brad Lunde - Trans Audio Group, Representing Choice Audio Gear
studioexpresso presented "Art of Creating Masters," an Engineer/Producer Forum and master class on arranging by Brent Fischer (Usher, Raphael Saadiq, Michael Jackson, Al Jarreau). The panel featured five of the world's top studio engineers, producers, and musicians discussing the latest tips, techniques, and issues affecting the world of studio recording and production. Hosted by studioexpresso's Claris Dodge, the forum brought together the technical brains behind artists like Lady Gaga, Prince, Usher, Stevie Wonder and Elton John.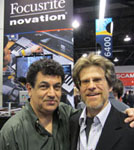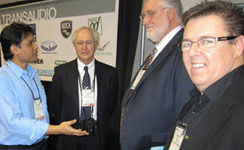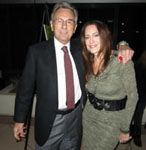 Ruhttp://www.twylatharp.org/bio.shtmlben Valtierra of "Weird Al" Yankovic with Brent Fischer, Trans Audio Group booth, Al Schmitt & Paula Salvatore of Capitol Recording Studios

PANELISTS included: Rafa Sardina (Lady Gaga, Stevie Wonder, Alejandro Sanz) Greg Penny (Elton John, KD Lang) Curt Bisquera, (Sarah Mclachlan, Elton John) Peter Schwartz (Mattel, David Bowie, Enya) which followed a MASTER CLASS on arranging & Orchestrating Timeless Masters with Brent Fischer (Usher, Michael Jackson, Al Jarreau). Brent presented on Arranging Commercial Music -- How to Differentiate Your Sound
Panel BIOS, please visit: studioexrpesso Presents at Hot Zone Namm 2012
A high-end audio system of ATC speakers was used to playback recordings by the panelists coutesy of Trans Audio Group.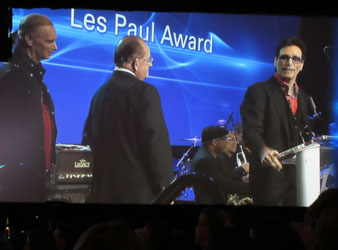 Steve Vai receives Les Paul Award from Les Paul's son Russ Paul and celebrated rock bassist Billy Sheehan at the 27th Annual Tec Awards during NAMM; Congratulated by friends l-r: Claris Dodge, Vai, Rafa Sardina, Brent Fischer

For those of you who attended Tec Awards, Steve Vai's performance w/ Billy Sheehan ended the show on a high note! Steve Vai received the prestigious Les Paul Award CO-presented by Les Paul's son Russ Paul and celebrated rock bassist Billy Sheehan at the gala, CO-presented by the TEC Foundation for Excellence in Audio and NAMM, held on January 20th at the Hilton Anaheim as a special event of the 2012 NAMM Show. Since launching his solo career in the early '80s Vai has ascended to the ranks of rock's "guitar heroes," having become a concert sensation while earning three Grammy Awards and being nominated for more than a dozen. Vai performed with an all-star lineup at the TEC Awards ceremony, backed by the 2Cold Chili Bone TEC Band. Vai has received honorary doctorates from Berklee College of Music and Musician's Institute, and founded Mothership studios and Favored Nations, a record label for musicians, who in Vai's words, "have attained the highest performance level on their chosen instruments." He has also served as a Trustee for the Recording Academy, is on the board of Hollywood Arts, and works closely with his own Make a Noise Foundation, raising money for music education. Grammy Award-winning American guitarist, songwriter and producer Vai who has sold over 15 million albums is simply a Guitar God in top form. He brought the house down with his brilliant performance following a graceful and eloquent acceptance speech. Vai quoted Frank Zappa as his major inspiration. "Two things. Don't stop. Keep Going!"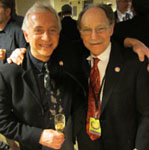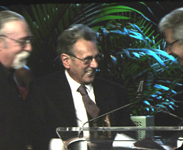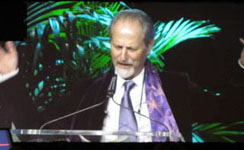 l-r: David Schwartz and Hillel Resner of Tec Awards; Presenters Al Schmitt with Jeff Baxter and Eddie Kramer.
27th Annual Technical Excellence & Creativity Awards winners included: The sound engineers, editors, producers and other audio professionals behind Robert Plant's Band of Joy, Adele's 21, Roger Water's "The Wall Live" Tour, Inception and NBC's Saturday Night Live. The show was hosted by Late Show veteran Will Lee, and featured musical performances by Steve Vai, Lee, the 2 Cold ChiliBone TEC Band, Billy Sheehan, Orianthi, Jeff "Skunk" Baxter, CJ Vanston, scratcher DJ HAPA, among others.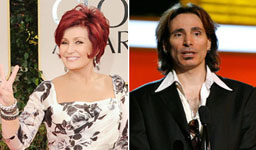 "One Night Only: A Celebration Of The Live Music Experience" Steve Vai
will join Television personality and entrepreneur Sharon Osbourne as CO-hosts at this year's GRAMMY Foundation Music Preservation Project - will explore the history and evolution of live concert performances and celebrate the various and invaluable contributions of those events, the key players behind them, and their influence on the American cultural landscape. Rock icon and philanthropist Bret Michaels will perform as the closing act. Additional performers include GRAMMY® winners Robert Cray, Jonny Lang, Shelby Lynne,and Mavis Staples; current GRAMMY nominees Dave Koz and Ledisi;and the Colburn Orchestra,A Fine Frenzy,winner of the Queen Extravaganza contest Marc Martel, finalist on season one of NBC's "The Voice" Beverly McClellan, and Tyrese. The evening's musical director will be Darrell Brown. "One Night Only: A Celebration Of The Live Music Experience"promotes the GRAMMY Foundation's mission of recognizing and preserving our musical past, so that future generations can continue to benefit from an appreciation and understanding of those contributions. General admission tickets are $25 per person. For tickets and information, visit www.grammyfoundation.org or http://flavorus.com/grammyfoundationonenightonly,or contact 323.908.0607.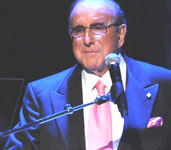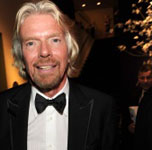 For the fourth consecutive year, Clive Davis and The Recording Academy® will present the annual Pre-GRAMMY®Gala on Saturday, Feb. 11, 2012, at The Beverly Hilton in Beverly Hills, Calif., the evening before the 54th Annual GRAMMY Awards®(www.grammy.com). Sponsored by Harman, Hilton Hotels & Resorts, Hyundai, and MasterCard Worldwide, this exclusive, star-studded celebration will feature special musical performances. "This year we are thrilled to honor extraordinary entrepreneur Sir Richard Branson, whose contributions to the music industry began with a record store in London and grew into a global empire. His iconic Virgin brand is synonymous with excellence and continues to draw consumers on numerous platforms from around the world," said Neil Portnow, President/CEO of The Recording Academy. The Pre-GRAMMY Gala is part of the GRAMMY Week series of events, culminating with Music's Biggest Night. The 54th Annual GRAMMY Awards will take place on Sunday, Feb. 12 at Staples Center in Los Angeles and will be broadcast live in high-definition TV and 5.1 surround sound on CBS from 8–11:30 p.m. (ET/PT). Two-time GRAMMY® winner LL COOL J is set to host (For all nominees click here


Congrats Ron Ruthlege. He is the new Operations Manager at CenterStaging, LA's premier rehearsal and backline facility, specializing in production and technical support for television and live performances. 10 state-of-the-art rehearsal studios, a brand new dance-specific studio complete with mirror wall, playback, and Harlequin Liberty sprung wood floors. Other CenterStaging services include an extensive range of backline, an instrument repair center, storage lockers, cartage services, and onsite cafe & catering facility. RSVP to attend the Industry Insider Party on
February 9th




artist expresso-- Ask Claris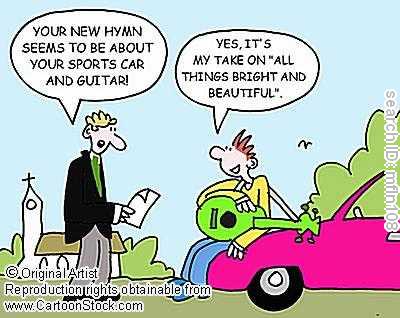 Now and then we'll feature a letter or feedback and or print your Wants/Needs. Our goal remains to empower and encourage you to connect. Send it here claris@studioexpresso.com
When possible, provide a link to your music or gear...When you're interested to have a producer or mixer involved, specify number of songs, budget and desired delivery date. Meantime, visit production talent at studioexpresso to find the right production partner for you.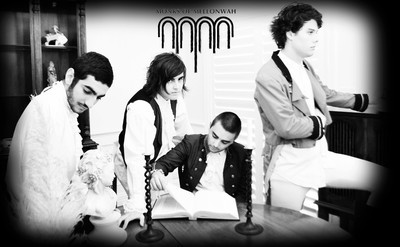 The Monks of Mellonwah are a QUARTET, hailing from suburban Sydney with lead vocalist Will Maher, guitarist Joe de la Hoyde, bass player John de la Hoyde, and backing vocalist and drummer Josh Baissari.
They are nominated for 2 awards - Best Rock and Best Indie Rock Band at the All Indie Music Awards in Los Angeles - Feb10, 2012. You can check their sounds: Retro inspired Rock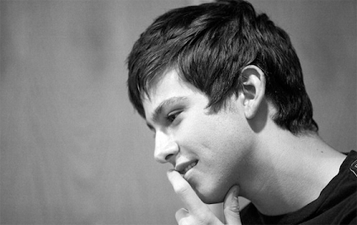 16-year-old Noah Benardout is a special singer-songwriter living in Los Angeles, California. Born in London, he is related to the composer Irving Berlin and heavily influenced by the UK music scene. Noah has been performing since the age of six. He is a Fender endorsed artist for Guild guitars and working with the The Fender Music Foundation for the promotion of music education. Few factoids: The Agency Group is looking after his touring schedule: He performed at NAMM on January 21st, The Whisky in Los Angeles (2/4) as well as SXSW in Austin. He's has worked with industry vets Tim Pierce and Kenny Aronoff!
Listen to his song Haley here

In Industry Profile:Warner Bros. Records' Liv Tortella
by Larry LeBlanc (Courtesy of CelebrityAccess MediaWire)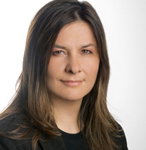 Los Angeles-based Tortella has been the chief operating officer, and CO-president of Warner Bros. Records Inc. since Sept. 14, 2010.It was at that time Warner Music Group configured a new senior management team for the Warner Bros. Records label group that consists of the Warner Bros., Asylum, Nonesuch, Reprise, and Sire labels.As well as Tortella, this senior management team includes Rob Cavallo as chairman; and Todd Moscowitz as CO-president and CEO, all three report to Lyor Cohen. Prior to joining Warner Bros., Tortella was Atlantic Records' executive VP/GM in New York. She joined Atlantic in 2004. In addition to focusing on artist development, Tortella played a pivotal role in molding the label's direction by overseeing business and digital product development there, including bolstering a direct-to-consumer strategy for merchandise and fan clubs. At Atlantic Records, Tortella was instrumental in developing the careers of Paramore, Death Cab For Cutie, Rob Thomas, Shinedown, 3OH!3, Bruno Mars, Cee Lo, and the Zac Brown Band. In addition, she championed the launch of several indie labels, including Alexandra Patsavas' Chop Shop Records which has released the best-selling "Twilight" soundtrack franchise. Canadian-born Tortella began her music career at PolyGram Inc. in Montreal and then Toronto, working in publicity, A&R, and as a product manager for such labels as Island, Def Jam, Mercury, London, and Beggars Banquet Music Group. Afterwards, Tortella spent five years at the Island Def Jam Music Group in New York, as a product manager, and as a senior marketing director. During her freshman year at Warner Bros. Records, Tortella has been closely involved in projects by Michael Bublé, Wale, the Black Keys, Outasight, Theophilus London, and Gary Clark Jr.
Other new artists Ms Tortella is excited about: Birdy (born Jasmine van den Bogaerde) from the U.K.and Kimbra. In an interview with Celebrity Access, Ms Tortella who works closely with Stephen Bryan (promoted as executive VP of digital strategy and business development for recorded music at Warner Music Group in Sept. 2011) claims radio still being important to break an artist and she favors direct digital marketing to fans to the pricy TV advertising. She notes the value of TV and film licensing, as being a large part of their revenue." Definitely a big part of the Black Keys. We pay attention also to nontraditional retail. Warner Bros. is like #1 in nontraditional retail, largely because we have an adult-leaning roster that appeals to those types of places. We look at non-trad a lot when we look at our marketing plans. Starbucks is really an important part of that for us." Read the full interview here

RIP

Etta James
1.25.38 -- 1.20.12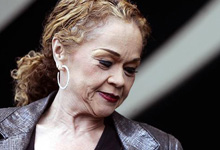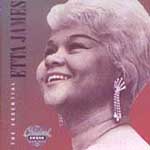 Etta James was born Jamesetta Hawkins in Los Angeles to a teen mother and unknown father. Her assertive, earthy voice lit up such hits as "The Wallflower," "Something's Got a Hold on Me" and the wedding favorite "At Last."
Known as "Miss Peaches," James overcame a heroin addiction, opened for the Rolling Stones, won six Grammys and was voted into the Rock and Roll Hall of Fame. Adele joins the likes of Lady Gaga Jessie J and Beyonce who have paid their own tributes to the singer."If you were to look up the word 'singer' in the dictionary, you'd see her name," Adele said in an interview. The legendary singer died at 73 Friday of complications of leukemia with her husband, Artis Mills, and sons Donto and Sametto James by her side. The funeral at 10 a.m. Saturday with Rev. Al Sharpton presiding will take place at the Greater Bethany Community Church City of Refuge in Gardena "is private for immediate family and friends," according to spokeswoman Rachel Noerdlinger. A public viewing is set for Friday evening at the Inglewood Cemetery in Inglewood, California. It'll take place from 5 to 10 p.m. at the mortuary's Manchester Chapel. The family has requested donations be sent to The Rhythm & Blues Foundation. We join the friends and family of Etta James in mourning her death and celebrating her life and contributions. The heavenly choir has added an agel's voice. Life is like a song... and we're in heaven At Last
A mainstay of the American music scene for more than 60 years
Grammy-winner composer, arranger, pianist, Douglas Clare Fischer Died on Thursday, January 26 at Providence Saint Joseph Medical Center in Burbank, California. He was 83. Wife, Donna, son Brent, daughter Tahlia and close family and friends were by his side.



The memorial service for Dr. Clare Fischer is open to the public and will be on
Saturday, February 4, 11 am
at Forest Lawn Hollywood Hills (across from Burbank Studios).
Please visit www.ClareFischer.com for updates

In lieu of flowers, the family has established a memorial fund
The Clare Fischer Family Trust (Memorial Fund)
Supporting the mission to document and record all written works for education and archival purposes.
PO Box 1563 Studio City, CA 916149

This week the media world (LA Times, AP, UPI, BBC, Hoffington Post and over 200 news outlets) covered DR Fischer's legacy as an accomplished composer. The prolific musician recorded 51 albums with 11 Grammy nominations and two wins.
Though the coverage must focus on Clare's musical gifts, our thoughts are with the loving family, behind the great artist.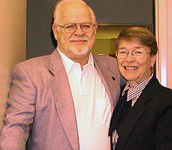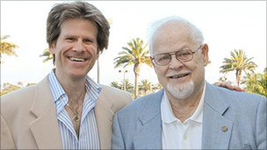 Clare's love of life, wife, Donna. Their story unfolds like a fairy-tale. "As a young man, most mothers rejected me as a potential husband for their daughter, purely because of misconceptions about me. They thought of me only as a jazz musician, not as an educated composer. Which always put me in a bind, because their image was limited," Clare said in an interview
The young couple parted soon after they met in high school (where they played together in bands) and didn't see one another again for 43 years. At a high school reunion they met once more and were together until Clare's passing on January 26, 2012. "Mother was wrong!" he said.

Son Brent Fischer (Michael Jackson, Al Jarreau, Usher) decided to follow Dad's footsteps as a teen. Inspired by Clare's music, Brent chose to stay with his father after his parents separated. Brent who has worked professionally in the music industry since age 16, earned a Bachelor of Music Degree In Symphonic Percussion. As Clare grew in years, Brent became his ears, his hands, his musical mind...transcribing, writing, arranging, directing the Clare Fischer bands and producing albums," as Dad would want it."
DR Fischer was proud knowing that his son will keep it going. "Having absorbed my style over the decades, Brent is uniquely qualified to direct these recordings, in some cases finishing works for me..." Clare said referring to this year's Grammy nominated album, Continuum, produced an directed by Brent whose credits on the album also include arranging and composing "Step Up."
The Fischers are best known for their work for Prince, Michael Jackson, Raphael Saadiq, Branford Marsalis, Paul McCartney, Usher and Brandy.
True love and great music live. Immortal beloved, DR Fischer, is remembered and celebrated by many. But, for his family, a vast emptiness now to be filled each day with fond memories and beautiful music!
"A beautiful ending to a beautiful life. The music will continue," says Brent.
DR Fischer celebrated his 19th anniversary with Donna on his side at the hospital on Jan 17th.
Clare Fischer is survived by wife Donna, sons Lee and Brent, daughter Tahlia, older brother Stewart, nephews Andre, Eric, George, Michael, Clare and Matt; grandchildren Ereston, Alexis, and Logan.
Leave your thoughts at CF Facebook
Enjoy Clare Fischer Music -- 2001 Special NPR In-The-Studio Interview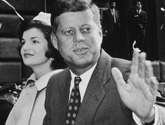 "We've got so mechanical an operation here in Washington that it doesn't have much identity where these people are concerned."
--J.F. Kennedy (speaking about the disconnect between the political machine and voters).
JFK Library Released Last of His Secret Tapes this week - over 260 hours of recordings of meetings and conversations Kennedy privately made before his assassination in Dallas on Nov. 22, 1963
Calling All Musicians!



Watch Obama Sing 'Let's Stay Together -- Apollo Theatre, New York, January 19, 2012
Here is an outside-the-box sales technique: Get President Barack Obama to slip in a couple lines of your song during one of his speeches. Last week, Obama delivered several lines from Al Green's classic 'Let's Stay Together' at a fundraising event in Harlem, and the song has now enjoyed a 490 percent sales increase after the video of the President/crooner went viral. According to Nielsen Soundscan (via Billboard), Green's 1972 classic sold 16,000 digital downloads in the week ending January 22.
"If you have to make hits to survive, you are going to be out of business. Period,"
--Lyor Cohen, Warner Music Group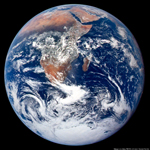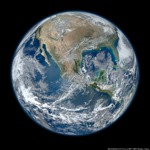 l-r: 1972 and 2012 High Definition Image of Earth: Courtesy of NASA Johnson Space Center

"Blue Marble" High Def...It's Earth like you've never seen it before. NASA last week released what it dubbed the "most amazing high definition" picture of the planet ever taken.The photo on the left is the famous "Blue Marble" image of Earth shot in 1972, which captured Earth from Apollo 17.


Until next year...EXPRESS YOURSELF
studioexpresso -- where you can find trusted names in music to work with
COME TOGETHER!

Your feedback is valued and welcomed - feel free to contact us via e-mail or phone
Thank you!