Expresso Cat Walk And Talk...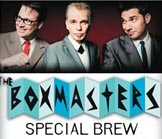 Billy Bob Thornton and The Boxmasters continue to break new ground. Only this time, its coffee grounds! The specialeclectic Kona blend is as distinctive as The Boxmasters brand of rock. The new album on Vanugard was released June 10. This brewreeks diner waffle batter with smokey undertones.The kind you fire upwhen recovery comes calling the next morning or an idea lbrew to slip slide your day away. We've got the double cd in the player...it's surprisingly good, despite all the hype! Just listen to Mr Thornton and learn why he's tinkering with the 24-track, 24/7 Dell Lounge. Better yet, order your Boxmasters Brew right here! The Boxmasters kick off their cross-country tour on July 11th with stops including New York, Austin, Memphis, Chicago, Philadelphia, Dallasand Los Angeles.In addition to the three original Boxmasters, the touring band includes Brad Davis (guitar, mandolin), Mike "Bubba" Bruce (drums), Teddy Andreadis (Acoustic Guitar, Harmonica), Marty Rifkin (Pedal Steel), Darryl Johnson (Bass)" The Boxmasters (Billy Bob Thornton, JD Andrew and Mike Butler) combine the influence of The Beatles, The Rolling Stones, Kinks and The Animals combined with Johnny Cash, Merle Haggard and Buck Owens. Fashioned after a 1960s-era mod band (including matching suits and ties), The Boxmasters combine upbeat rhythms and infectious arrangements wrapped around lyrically dark themes. Sure, you can find them at Myspace.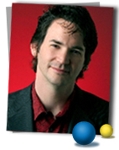 Learning On The Job -- Google VP of Engineering Douglas Merrill (left) is leaving Mountain View for...somewhere in California, where he'll be EMI Music's new president of digital. Cory Ondrejka (right) may be replacing Lauren Berkowitzas EMI's SVP of digital, who will report to Douglas. No worries, EMI still owns the iconic Capitol building! Cory's blog where he announces his move (made two weeks ago, actually) -- along with the news that since 2000, he's purchased 5 albums from Amazon. Ah, but surely he's a music hound who spends tons of time cruising iTunes, or some of the other legal music source, right? Nope. "I neither buy nor hear much new music," he continues: "I had never setup the iTMS on that computer and you would be amazed at how hard Apple has made that process. It's like they don't want to sell me music. Then, once I did remember all the passwords I needed, I couldn't figure out whether the iTunes download was DRM free. So I went to Amazon, which was slightly easier and made it clear the download wasn't broken via DRM." Then Cory humbly submits while it doesn't seem hard to fix this mess, he's got no idea what he's doing, so he'll be learning on the job. Fair enough. We look forward to getting a progress report.


Radiohead's decision to offer their latest album on a pay-what-you-like basis online "to some extent backfired", U2's manager has said. The majority of fans who downloaded In Rainbows ignored the band's website and acquired it illegally by other means, Paul McGuinness told BBC 6 Music. "Sixty to 70% of the people who downloaded the record stole it anyway, even though it was available for free." U2's next album - due this year - would not follow the same approach, he added. The exact release date was "not clear yet but I would think towards the end of October", Mr McGuinness said. "We will obviously work with whatever technology is available to make the release of the new record as interesting as possible," he added. "[But] for U2, physical sales are still an enormous part of our business and we still sell a lot of actual CDs."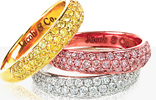 Jail Time 4 Jacob The Jewler -- The New York businessman known in the hip-hop world as "Jacob the Jeweler" has been sentenced to 2 1/2 years in federal prison for lying to investigators looking into a multistate drug ring. Detroit U.S. District Judge Avern Cohn on Tuesday sentenced 43-year-old Jacob Arabov, who pleaded guilty in October to falsifying records and giving false statements. Cohn also ordered Arabov to pay a $50,000 fine. Arabov was arrested in 2006 at his Manhattan jewelry shop. Authorities accused him and others of conspiring to launder about $270 million in drug profits. Arabov has made jewelry for Kanye West and Lil' Kim, among others in the hip hop world. In 2004, Jacob signed a deal with the N.B.A. to design watches with logos for all 29 of its teams), Missy Elliott, Ashanti, Christy Turlington—who wore a 42.9-carat, $180,000 necklace designed by Jacob when she wed Ed Burns in 2003. He even made an 18-karat-gold BlackBerry cover for Pharrell Williams, the hot hip-hop producer and rapper. "People are astonished by it," Williams said. "It's like art. It's like something a king would have." Jacob's family, the Arabovs, were a "huge family whose history started 200 years ago," I had been told by Jacob's rabbi, Itzhak Yehoshua, the chief rabbi of the Bukharan Jews in the U.S.A., out in Queens. "They were honest businessmen in the silk trade."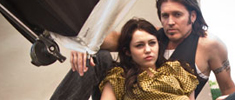 Leibovitz Montana Shoot. Leading a double life as a glammed-up rocker on the Disney Channel's Hannah Montana (left: with hairstylist Christiaan and dad, Billy Ray Cyrus), the15-year-old Miley Cyrus has an early start on the road to superstardom, but you haven't hit it big until you've been photographed by Annie Leibovitz or start a semi controversy.
Here's a few images from the behind-the-scenes shoot, on location in Calabasas, California. The so called semi nude photos appeared in the June issue of Vanity Fair. And if you've been to a toy store lately, you've noticed that Disney has replaced the big ears with a Miley face! Viva merchandising!




Bring In The Dough....Publishing companies are aggressively pushing their copyrights through new media -- EMI Music Publishing has its own channel on YouTube, for instance -- as music supervisors turn to outlets like YouTube and MySpace to find music. "Nineteen of our catalogs are up year over year," says Larry Mestel of New York-based newcomer Primary Wave, which bought 20 catalogs in the company's first 22 months of existence, including artists like Nirvana's Kurt Cobain; Aerosmith's Steven Tyler; Hall & Oates; Earth, Wind & Fire and Steve Earle.
3 thoughts for your penny!
Synchronization licensing involves the licensing of songs for use with visual images (i.e. films,commercials, etc.). Mechanical licensing involves the licensing of songs for audiotape or compact disc.
Publishing involves the licensing of a song copyright. Licensing a master involves a particular sound recording by an artist. You normally need both licences for synchronization.
In an administration deal, the major publisher doesn't own any equity in the copyrights. They just collect a percentage of the money that comes in and pay the rest out to the writer and the writer's publishing company. In a co-publishing deal, the major publisher and the writer's publishing company each own 50% of the copyright.




R.E.M. HELLO
David Belisle has traveled with R.E.M. on tours as well as photographed their recording and video sessions, and has captured their on- and off-stage lives with unprecedented access. The 175 color and black and white photographs in the book are accompanied by handwritten captions by the band and introduction by Michael Stipe. The Seattle-based photographer who has worked with R.E.M., the Yeah Yeah Yeahs, Mudhoney, the Tiny Vipers, and others. R.E.M. rose from cult college radio status to sell more than 70 million albums worldwide and be inducted into the Rock and Roll Hall of Fame in 2007. The publication of R.E.M.: HELLO coincides with the release of REM's 14th album studio album, Accelerate, in April of this year, which will be followed by North American and European tours over the summer.
HELLO is published by Chronicle Books and available as of June 1 for $29.95


MTV Awards Paramount In LA The high-wattage event, now in its 25th year, will take place on the Paramount Pictures lot in Hollywood, and will air on the channel that evening. Los Angeles last hosted the event in 1998. Since then, the awards have been held mostly in New York, but traveled to Miami in 2004 and 2005, and then Las Vegas last year. MTV said this year's ceremony would use the city streets, rooftops, and sound stages all over the Paramount lot. The host, performers, nominees, and presenters will be announced at a later date. MTV and Paramount are units of Viacom Inc . Last year, 7.1 million MTV viewers watched the festivities, according to Nielsen Media Research. Spears, embarking on a comeback of sorts, was ridiculed for dressing as a stripper and badly lip-synching her way through her new single. Jaws dropped among mystified stars in the audience. While viewership was up from 5.8 million the year before, the numbers are a far cry from the record 12 million viewers for the 1999 version.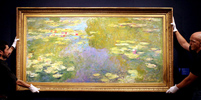 A painting of a water lily by Claude Monet sold for more than $80 million US at auction Tuesday in London, kicking off a week of modern art sales expected to reach records that defy the global economic downturn. The painting sold to an anonymous collector," says Olivier Camu, head of impressionist and modern art at Christie's. The signed and dated 1919 painting has only been seen in public once in the last 80 years.

Wanted: A Sound Logo The world-leading manufacturer of microphones, headphones and wireless transmission systems is enlisting its wide creative customer base to come up with a unique Sound logo...equivalent of a visual symbol. So what does an 'audio specialist' sound like? Here's your chance to tell them! Through July 17, 2008, Sennheiser is hosting a sound logo competition in which fans all over the globe can submit audio clips that encapsulate their idea of the "Sennheiser sound," one of which will be chosen as Sennheiser's official acoustic trademark. The chosen finalist will take home 5,000 euros. An entry is allowed to be up to eight seconds long. To make it as technologically simple as possible for those taking part, contributions should be uploaded onto the www.sennheiser.com/soundlogo website in MP3 format (stereo, 128KBs, max 10MB) by July 17, 2008 for consideration. Each entrant may send in up to five entries. By the end of August, thirty finalists will be selected, at which point their sound logos will be appraised by an international jury. "The public will be a virtual member of the judging panel of five," said Susanne Seidel, president of global marketing at Sennheiser. "You, too, can vote for your favorite sound logo via the website!" Nine runners-up will win first-class sound equipment for their home. They can choose between Sennheiser's dynamic top-of-the-range HD 650 headphones or equipping their rehearsal room with an evolution wireless ew 300 G2 microphone system. "We're really looking forward to receiving entries from all corners of the world," says Seidel. "There will be an explosion of musical creativity."
Established in 1945 in Wedemark, Germany, Sennheiser is now a global brand represented in sixty countries around the world through long-term distribution partners and subsidiaries in France, UK, Belgium, the Netherlands, Denmark, Russia, Hong Kong, India, Singapore, Japan, China, Canada, Mexico and the USA. Sennheiser's technology is produced in manufacturing plants in Germany, Ireland and the United States of America. Their pioneering excellence in technology has rewarded the company with numerous awards and accolades including an Emmy, a Grammy, and the Scientific and Engineering Award of the Academy of Motion Picture Arts and Sciences. The Sennheiser Group is proud to be affiliated with Georg Neumann (Technical Grammy(r) award-winning manufacturer of studio microphones), Klein and Hummel (studio monitors) and the joint venture Sennheiser Communications that brings their award-winning technology to headsets for PCs, offices and call centers.

Allaire studios closed its doors March 2008, according to studio manager Mark McKenna who is now with Bandshell Artists Mgmt and can be reached at Shokan, NY 845-332-3257



COME TOGETHER!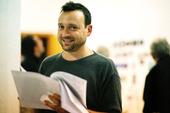 Band/location: Composer, clarinetist, and conductor, Derek Bermel is described as "an eclectic with wide open ears." Bermel has been widely hailed by colleagues, critics, and audiences across the globe for his creativity and theatricality as a composer of chamber, symphonic, dance, theater, and pop works, and his virtuosity and charisma as a clarinetist, conductor, and jazz and rock musician. His band, PEACE BY PIECE is based in Brooklyn, NY and has released two albums on Miscellaneous Records, their first, self-titled album 'Peace by Piece', and most recently, 'The Elements' in May 2004.
Sound: jazz, classical, rock, gospel, folk & classical...complex Bulgarian melodies in Tied Shifts commissioned by eighth blackbird, to Irish bagpipes coupled by Led Zepplin riffs in Voices, Bermel spices up his music with international beats and innumerable folk traditions while maintaining his sophisticated orchestration
Who Meets Who: Derek meets Bermel!
Major Milestone: Bermel currently serves as the 2006-2009 Music Alive Composer-in-Residence of the American Composers Orchestra. His commissions have included those from the National, St. Louis, Albany, and New Jersey Symphonies, Westchester Philharmonic, Chamber Music Society of Lincoln Center, Fabermusic, WNYC, De Ereprijs (Netherlands), Jazz Xchange (U.K.), pianist Christopher Taylor, and cellist Fred Sherry. His premiere CD of chamber music, Soul Garden, was released last season to critical acclaim. He has premiered dozens of new works, including his clarinet concerto, Voices, which created a sensation when it premiered at Carnegie Hall and has since performed with the BBC Symphony, and Boston Modern Orchestra Project. In 2007, he will serve as guest artist performing John Adams Gnarly Buttons with the Los Angeles Philharmonic. Bermel is the founding clarinetist of Music from Copland House and cofounder, music director, and co-artistic director of the Dutch-American interdisciplinary ensemble TONK. In addition, he rocks it with his Brooklyn-based band PEACE BY PIECE as band leader/singer/songwriter. His theatre collaboration Golden Motors with librettist Wendy S. Walters is an opera/musical produced by Music Theatre Group. His many awards include the Rome Prize, Guggenheim and Fulbright Fellowships, awards from the American Academy of Arts and Letters and Fabermusic, and residencies at Tanglewood, Banff, Yaddo, Civitella Ranieri, and Aspen. Bermel was awarded the prestigious 2008 Alpert Award in the Arts for music last week, his third major award this year right on the heels of the American Music Center's Trailblazer Award in May and a Koussevitsky in March. Derek Bermel's past awards include the Rome Prize, Copland Award, Guggenheim and Fulbright Fellowships, the Academy Award from the American Academy of Arts and Letters, a Millennium Commission from Faber Music. He is represented by PeerMusic in the United States and Faber in Europe and Australia. Contact: Joseph Joaquim 917-450-1345 "Mr. Alpert is truly an amazing force, and so completely understated that most people only know him for his recordings with the Tijuana Brass, and not for A&M records, or this very generous award," says manager, Joaquim


Thrilled!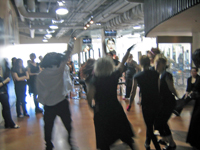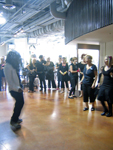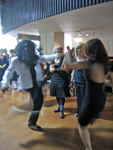 A burst of noise and energy attracted eveyone to the lobby during my last visit to the local hair salon... you could hear shouts coming from that direction now transformed into a saturday-night-live like dance floor. More than 2 dozen stylists (ages 20 to 40 something) were drawn from their hair stations as if they were sleep walking, eager to show their strut all to music by Michael Jackson! That's right the not so forgotten pop star of the '80s was back at this Sherman Oaks salon strong as ever.
This would make a perfect YouTube posting to promote Jackson's new release, I thought to myself. A reminder that brilliant music makes people move, despite the drama surrounding the performer or the era it originated. If only Michael could be here to feel the love, even be thrilled!


Last month, the US Library of Congress officially added Michael Jackson's Thriller to its National Recording Registry. In an effort to preserve records deemed "culturally and aesthetically significant", the Library has archived the album's "best existing version" its existence in perpetuity. Aside from being the biggest selling album of all time, Thriller also contained seven #1 hit singles, remained on Billboard's Top 10 for one year, won the Grammy award for Best Album and was recently inducted into the Grammy Hall of Fame. Named the "Most Successful Entertainer of All Time" by the Guinness World Records, Michael Jackson is among the most highly acclaimed and influential artists in pop culture. He was named the World Music Award's Best-Selling Pop Male Artist of the Millennium and received the American Music Award's Artist of the Century Award. He has been inducted into the Rock & Roll Hall of Fame twice: in 1997 as a member of the Jackson 5 and as a solo artist in 2001. The newly expanded version of Thriller premieres six tracks previously unreleased in any form: "Beat It 2008" with Fergie; a new Kanye West remix of "Billie Jean"; a new 2008 version of "Wanna Be Startin' Somethin'" with Akon; will.i.am remixes of "The Girl Is Mine" and "P.Y.T."; and "For All Time," a rare unreleased cut from the original Thriller recording sessions, newly mixed and mastered by Michael Jackson.
Farewell

BO Diddley
1928-2008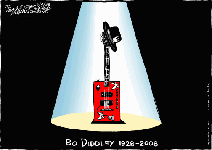 The legendary singer and performer, known for his homemade square guitar, dark glasses and black hat, was an inductee into the Rock and Roll Hall of Fame, had a star on Hollywood's Walk of Fame, and received a lifetime achievement award in 1999 at the Grammy Awards. In recent years he also played for the elder President Bush and President Clinton. Diddley appreciated the honors he received, "but it didn't put no figures in my checkbook."

About his stage name he said: "I don't know where the kids got it, but the kids in grammar school gave me that name." Other times, he gave somewhat differing stories on where he got the name. Some experts believe a possible source for the name is a one-string instrument used in traditional blues music called a diddley bow.

His first single, "Bo Diddley," introduced record buyers in 1955 to his signature rhythm: bomp ba-bomp bomp, bomp bomp, often summarized as "shave and a haircut, two bits." Diddley was also one of the pioneers of the electric guitar, adding reverb and tremelo effects. He even rigged some of his guitars himself. "He treats it like it was a drum, very rhythmic," E. Michael Harrington, professor of music theory and composition at Belmont University in Nashville, Tenn., said in 2006.

Many other artists, including the Who, Bruce Springsteen and Elvis Costello copied aspects of Diddley's style. In the early 1950s, Diddley said, disc jockeys called his type of music, "Jungle Music." It was Cleveland disc jockey Alan Freed who is credited with inventing the term "rock 'n' roll." Diddley said Freed was talking about him, when he introduced him, saying, "Here is a man with an original sound, who is going to rock and roll you right out of your seat."

Diddley died of heart failure at his home in Archer, Fla., spokeswoman Susan Clary said. He had suffered a heart attack in August, three months after suffering a stroke while touring in Iowa.

Earle Hagen
July 9, 1919 - May 26, 2008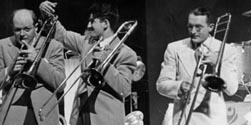 l-r: Les Jenkins, Earle Hagen & Tommy Dorsey 1938; "I Spy" star Robert Culp leads the Hollywood Bowl audience in singing Happy Birthday to Earle Hagen

The Composer-Nobody Ever Heard Of Earl Hagen played trombone in big bands during the 30s, wrote arrangements for Frank Sinatra, worked at 20th Century Fox during the reign of Alfred Newman, created TV themes and scores for Sheldon Leonard shows for Emmy Award-winning whistleable musical themes in the history of television, including themes for "The Andy Griffith Show," "The Dick Van Dyke Show," "The Danny Thomas Show," "I Spy," "That Girl," "The Mod Squad," "Mickey Spillane's Mike Hammer," and so many more. In fact he composed original music for more than 3,000 individual episodes of television during his career, which spanned more than three decades.
Sam Brown For the Record rebroadcast interview from 1997, in remembrance of Hagen (who died May 26th) will be aired on June 29th, 2:00 to 3:00 PM on Sunday KPFK 90.7 FM in Los Angeles, with audio streaming at www.kpfk.org
Hagen's marriage to Sidwell, who died in 2002, lasted 59 years. In addition to his second wife, who is also a singer and whom he married in 2005, he is survived by two sons, Deane and James, both of Palm Desert, Calif.; two stepdaughters, Rebecca and Rachael Roberts of Irvine, Calif.; a stepson, Richard Roberts of Los Angeles; and four grandchildren.


Hooray Hollywood!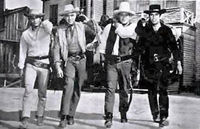 Speaking of classic TV shows, do your remember Bonanza and its memorable theme song by Jay Livingston and Ray Evans? Other show like Lost In Space, Bewitched, I Love Lucy all have reached not just Europe, Japan or Russia but other parts of the world including Iran in the 60s...One could say that Hollywood has done more in the way of breaking down cultural barriers than any ambassador or politician from the free world. No matter where your family lived, you could relate to the family on Ponderosa ranch ...heck, even Johnny Cash dropped in to sing with the family (YouTube footage). They made you part of the family! How beautiful and how American!
So this independent day, you are part of our family. Hooray Hollywood and Happy 4th of July!


Watch THE BEATLES: L.A. 1966 PRESS CONFERENCE shot at Capitol Records
Words to describe the 3-part interviews....Charm, Innovation, Honesty, Communication, Strenght. Let us hear your words!
"What a shame to not understand that a great melody connects on an emotional level, which is valuable, not just hummable."
--George Michael
You are subscribed as %Email% Please click here -- http://www.studioexpresso.com/MailListForm.asp to unsubscribe or subscribe from any future mailings. We respect all requests. Thank you