John Kurlander

engineer l mixer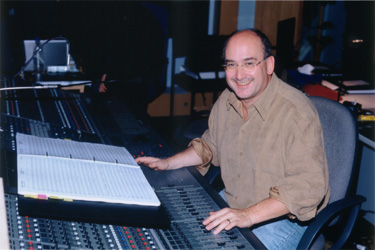 History:  John's career began at Abbey Road Studios in 1967, and his first major assignment was assistant engineer on The Beatles "Abbey Road" LP. Over the years he recorded the wide variety of pop and rock stars for whom Abbey Road was world-famous, and then moved on to record symphonic orchestras, developing the skills acquired in all these arenas into a unique expertise in crossover projects. For EMI Classics, he recorded most of the world's major orchestras including Eugene Ormandy and the Philadelphia Orchestra (2 Grammy nominations for classical engineering), international performers such as Placido Domingo and Itzhak Perlman, and over 100 Broadway and West End original cast albums. By the early 1980s John had become the engineer of choice for many bands "doing some of their acoustic numbers with the London Philharmonic". These included Elton John, Toto, (arranged by James Newton-Howard), Extreme, Everything But The Girl, Greg Lake, Pete Townshend, Ozzy Osbourne, and the classical crossover albums "Hooked on Classics" and "Classic Rock". In 1985 John was appointed Chief Balance Engineer of Abbey Road Studios.

View non-classical or classical discography here





When John recorded the score soundtrack to the Tom Hanks' movie Philadelphia with composer Howard Shore, they forged a relationship, which has continued through (to name but a few) Se7en, The Game, Panic Room and History of Violence to the acclaimed Lord of the Rings trilogy.




He finally left Abbey Road in 1996 and moved to Los Angeles to concentrate on freelance film scoring, and now works regularly with composers Howard Shore, Marco Beltrami (Scream Trilogy, Blade II, I Robot, Hellboy, Underworld: Evolution), Graham Revell (The Siege, Tomb Raider), Tomandandy (The Hills have Eyes) and Antonio Pinto (Lord of War, Perfect Stranger). He also regularly does string sessions for arranger Jeremy Lubbock (Celine Dion, Brandy, Sarah McLachlan etc).

He takes particular pride in working with talented new composers, using his vast experience to bring symphonic dynamics to smaller, contemporary scores.



Current Credits: 
LOTR: Fellowship of the Ring, The Two Towers, & The Return Of The King have had big Music Wins in the Oscars and Golden Globe Awards, and for his engineering work on this project John took home 3 consecutive Grammy's for Best Score Soundtrack Album and 3 consecutive TEC Awards for Best Film Sound Production.
Marco Beltrami's "3:10 to Yuma" recorded and mixed by John has been nominated for 2 Oscars (2008) in the categories Best Score and Best Sound Mix.


L-R: (After years of self-restraint, John finally made the walk across Abbey Road for The Two Towers CD, with Paul Broucek [New Line Cinema], Peter Jackson and Howard Shore. R: Toto IV sessions on the original EMI console in Abbey Road 1



News: John was pleased to contribute to 2 recent book releases: Geoff Emerick's "Here, There and Everywhere" and "Recording The Beatles" by Kevin Ryan & Brian Kehew. Last year John was Beta tester and consultant for Neumann's new Solution-D range of all-digital microphones.

Contact: e-mail: John Kurlander
ph 818-999-4555




copyright 2003 studioexpresso