Tonelux Signs with TRANSAUDIO GROUP for US Distribution


Following a childhood spent changing water into hydrogen and oxygen in a grade school project, and building small explosives with which to go fishing, Paul Wolff built a career and companies by designing a bevy of key recording gear used by virtually every notable sound engineer out there.
In 2004, Wolff formed his own company, Tonelux Designs Limited. The concept of the Tonelux product line was geared towards the "new studio model," where so much more of the production work is being done in the workstation, and the requirement for a large frame console is not as necessary as it had been in the past. TransAudio Group was recently appointed as exclusive U.S. distributor and will rep Paul Wolff's Tonelux Designs Limited discrete audio products for recording and live production, and ShadowMix motorized fader automation for DAWs.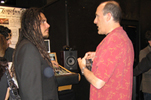 l-r: Jules, the Lord of Gearslutz, shows Bob Clearmountain his new audio toy; Eddie Kramer checks out the new TXC compressor with Paul Wolff; Jeff Goodman and Ryan Hewitt pose next to the Tonelux Console; Munkey from KORN discusses mixing, touring and everything else with Wolff
Tonelux manufactures a broad range of mic preamp, EQ, signal processing and master modules that may be combined in the brand new V8 portable rack or the 19-inch VRACK and configured with the FRACK fader package to create a custom console.

The Tonelux 3RU VRACK can hold up to sixteen modules in any combination, allowing user to create a custom-configured production system for their specific application. Products include mic preamp, EQ, filter, compressor, mixing, aux and master bussing, monitoring and stereo and 5.1 master modules.

The new portable V8 will house up to eight modules and contains a power supply capable of also powering an additional VRACK system. Both racks include buss links, allowing larger, multi-rack systems to be created, and may be combined with the FRACK outfitted with 100mm faders to create a full function mixing console system.

Noted Brad Lunde, president of TransAudio Group, "Paul knows how to design and build product that sounds better, we all know that. Combine that with the unique Tonelux solution of changeable, configurable, customizable modules to create exactly what you need to complete the analog side of your DAW-based studio and you have a clear winner."

TransAudio Group, founded by industry veteran Brad Lunde, has quickly become the premier US importer/distributor and/or US sales and marketing representative for high-end audio. Success hinges on TransAudio providing dealers and end users with a higher standard of product expertise and support far beyond the norm.



For more info on Tonelux contact Brad Lunde at TransAudio Group (702) 307-2700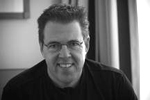 TransAudio Group, founded by industry veteran Brad Lunde, has quickly become the premier US importer/distributor and/or US sales and marketing representative for high-end audio. Success hinges on TransAudio providing dealers and end users with a higher standard of product expertise and support far beyond the norm. TAG product line includes Accusound, A-Designs (USA) AEA ribbon microphones (USA), ADT Toolkit, AEA, ATC Loudspeakers (UK), Brauner microphones(Germany), Drawmer (UK), Geoffrey Daking & Co. (USA), Enhanced Audio (Ireland), George Massenburg Labs (GML) (USA), Heil Sound (USA); Mercury Audio (USA) Mission Audio (UK) Phoenix Audio (UK), PAULY Superscreens(Germany), SABRA SOM(Brazil), Soundelux (USA), SoundField Microphones (UK), Z-Systems (USA), Sonodore Microphones (Holland) and Weiss Engineering (Switzerland) and Z Systems (USA)
LasVegasProAudio.com, LasVegasProAudio.com, a division of TransAudio Group, is the launch pad for the brands of tomorrow. The goal of LasVegasProAudio.com is to provide unique equipment, useful information and long-term support to their clients.




Expresso Cat Walk And Talk...




Just like T.I., rappers RZA and Common are world renowned and much respected among the hip-hop community. They both also co-star alongside the jailed rapper in the upcoming Denzel Washington/Russell Crowe epic 'American Gangster' – which opens on Nov. 2. Common -- legally known as Rashid Lonnie Lynn -- plays T.I.'s father in the Ridley Scott-helmed film. The Chicago-reared recent chart-topper also shared his disbelief of the machine gun charges that the Atlantic Records rapper -- legally known as Clifford Harris, Jr. --is facing. "I don't believe what they accused him of what he did. I just don't," he said. Common even sent some advice out to T.I. -- who pleaded not guilty on the weapons charges and was ordered to be detained for another week: "Continue to pray and know that God is with him. Know that He knows what the truth is and the truth is going to allow [you] to get out and be alright." Indicted by a federal grand jury Oct. 17 on weapons charges, including possession of machine guns, the 27-year-old Atlanta native reportedly faces up to 10 years in prison and a $250,000 fine for each count. Roc-A-Fella Records and JAY-Z (pres at Def Jam Records) will release the new album AMERICAN GANGSTER. Separate from the official motion picture soundtrack, this collection of all-new original material is a musical journey and lyrical interpretation of snapshots from the upcoming motion picture American Gangster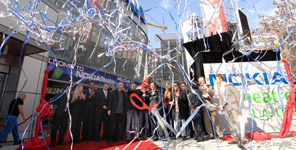 Nokia's LA Live opened with a historic concert by the Eagles and Dixie Chicks at the 7,100-seat state-of-the-art NOKIA Theatre L.A. LIVE, downtown Los Angeles' new theatre on October 18th and 20th. The grand opening was presented by WACHOVIA. Located in downtown Los Angeles within the new LA LIVE sports, residential and entertainment district, it offers guests mid-sized intimacy, with no seat further from the stage than 210 feet, exceptional comfort and amenities never before included in similar theatres, NOKIA Theatre L. A. LIVE will host over 120 music, family, dance and comedy acts, award shows, televised productions, conventions and product launches annually. Across the street from STAPLES Center, the world's busiest arena, and adjacent to the Los Angeles Convention Center LA LIVE hopes to ultimately become the primary the "content campus" and event center for southern California. The 27-acre LA LIVE will also include a 54-story, 1001-room convention "headquarters" hotel (combining JW Marriott and The Ritz Carlton brands and 224 luxury condominiums - The Ritz Carlton Residences at LA LIVE), Club Nokia, a 2,200 capacity live music venue, a 14-screen Regal Cineplex, "broadcast" facilities for ESPN along with entertainment, restaurant and office space. 777 Chick Hearn Court, Los Angeles, CA 90015


Re-birth Of The Lenny...In a historic collaboration among Fender®, Guitar Center® and the Stevie Ray Vaughan estate, the famous Stevie Ray Vaughan "Lenny" Stratocaster® guitar has been commissioned by Guitar Center to be reproduced in a limited edition by the Fender Custom Shop. As part of Fender's Tribute Series of guitars, "Lenny" will be produced in a limited quantity, with 185 guitars offered for sale in the United States, made available exclusively through Guitar Center. Guitar Center stores throughout the United States will introduce the guitar on Dec. 12, 2007, and will offer them to customers for $17,000 (US). Stevie Ray Vaughan was just a struggling young guitarist in Austin, Texas, in 1980, when his wife, Lenora "Lenny" Vaughan, gave him a used Stratocaster that had recently caught his eye in a local pawnshop. As they say, the rest is history with the faith of this 1965 Fender Stratocaster guitar.

Madonna Confessions
Photo Book

Madonna's co-manager Guy Oseary followed the queen of the dance floor during her Confessions Tour back in 2006 and took thousands of live pictures while Madonna was performing hits from her Confessions On A Dance Floor album on stage. The 256 page picture book includes a selection of his best photos and depicts the show as imagined by the queen herself. Published by Flying Dolphin Press, the book will be released on June 10, 2008 and available for pre-order from Amazon.

Madonna's Live Deal.. Madonna and concert promoter Live Nation Inc. announced a deal Tuesday that will give the company an all-encompassing stake in the music of the Material Girl, the latest big-name artist to break ranks with a major record label.
Financial terms were not disclosed in the joint statement released by Madonna and Live Nation.
The deal is worth about $120 million over 10 years, a person who spoke on condition of anonymity because of the confidential nature of the matter previously told The Associated Press.
"The paradigm in the music business has shifted and as an artist and a business woman, I have to move with that shift," Madonna said. "For the first time in my career, the way that my music can reach my fans is unlimited. I've never wanted to think in a limited way and with this new partnership, the possibilities are endless." The singer still owes Warner Bros. Records another studio album and a greatest hits album Shares of Live Nation rose 8 cents to $21.50 during afternoon trading.
Under terms of the deal, Madonna, 49, would receive a signing bonus of about $18 million and a roughly $17 million advance for each of three albums, the person said. A portion of the compensation would involve stock, the person told the AP. "I am thrilled that Madonna, who is also now a shareholder in our company, has joined with us to create a new business model for our industry," Live Nation CEO Michael Rapino said. Madonna has been nominated for induction into the Rock and Roll Hall of Fame in 2008. Other noms include: The Beastie Boys, the Dave Clark Five, Leonard Cohen, Afrika Bambaataa, John Mellencamp, the Ventures, Donna Summer and Chic

Universal Music chief Doug Morris has enlisted Sony BMG Music Entertainment as a potential partner and is talking to Warner Music Group. Together the three would control about 75% of the music sold in the US Besides competing head-on with Apple Inc.'s (AAPL ) music store, Morris and his allies hope to move digital music beyond the iPod-iTunes universe by nurturing the likes of Microsoft's Zune media player and Sony's PlayStation and by working with the wireless carriers. The service, which is one of several initiatives the music majors are considering to help reverse sliding sales, will be called Total Music. While the details are in flux, insiders say Morris & Co. have an intriguing business model: get hardware makers or cell carriers to absorb the cost of a roughly $5-per-month subscription fee so consumers get a device with all-you-can-eat music that's essentially free. Music companies would collect the subscription fee, while hardware makers theoretically would move many more players. "Doug is doing the right thing taking on Steve Jobs," says ex-MCA Records Chairman Irving Azoff, whose Azoff Music Management Group represents the Eagles, Journey, Christina Aguilera, and others. "The artists are behind him."The split with record labels--Apple takes 29 cents of the 99 cents--"is indecent," Vivendi CEO Jean-Bernard Levy told reporters in September. "Our contracts give too good a share to Apple." In August, Morris announced a five-month test with Wal-Mart (WMT ), Google (GOOG ), and Best Buy (BBY ). The three companies will sell music downloads that can be played on any device. It has yet to be seen whether the makers of music players and phones can make enough to cover the cost of baking in the subscription. Under one scenario industry insiders figure the cost per player would amount to about $90 (assuming people hang on to a music player or phone for 18 months before upgrading. 18x $5 subscription fee = 90).

Radiohead has made a new record. You can pre-order the self-released effort from their website right now as a download or a "discbox". If you decide to download only, you can pay whatever you like. That's right, there is no set price! Someone could pay 50 dollars or 10 cents. Got to love the new music economy...more like the wild west! "This is all anybody is talking about in the music industry today," said Bertis Downs, the longtime manager of R.E.M. This is the sort of model that people have been talking about doing, but this is the first time an act of this stature has stepped up and done it. . . . They were a band that could go off the grid, and they did it." We plan to tour next year, starting in May through to probably the end of the year. With lots of holidays in that period," says Bryce Edge of Courtyard Management, the firm that manages Radiohead. XL Recordings will distribute the physical edition of Radiohead's new album, "In Rainbows," outside the United States, according to the New York Times. Industry figures indicate that overall sales of albums are down 14%: from last year at 337.3 million albums sold. Of that total, 300.6 million were CD's. The number of digitally downloaded tracks has risen 46% from the same period in 2006 to 612.2 million. Consumers believe sales are down because: A CD with 2 good songs and 12 pieces of crap does not constitute an album. Meantime, Best Buy, Wal-Mart, and Target plan to make significant cuts in the amount of floorspace they devote to CDs: Predictions of cuts that range from 20% to 40%, with Wal-Mart making the most aggressive pullbacks. Roughly 12,000 albums are released in an average year. Radiohead's contract with EMI/Capitol expired after its last record, Hail to the Thief, was released in 2003; shortly before the band started writing new songs, singer Thom Yorke told TIME, "I like the people at our record company, but the time is at hand when you have to ask why anyone needs one. And, yes, it probably would give us some perverse pleasure to say 'F___ you' to this decaying business model."

Sony BMG Music and MySpace have partnered: MySpace's 70 million users will have access to music videos, audio material and other content, from SONY BMG's artists. The deal calls for MySpace and SONY BMG to share in sponsorship and advertising revenues. Under the terms of the deal, SONY BMG will license music videos, select audio material, and other content from its extensive artist roster and will make the content available on its artists' MySpace profile pages.

Feature film re-recording mixers Jon Taylor and Christian P. Minkler have joined Universal Studios Sound. The team is mixing on Feature Mixing Stage 6 on the Universal lot. Taylor and Minkler mixed the Academy Award-winning film Babel, directed by Alejandro Gonzalez Inarritu. Their work on Babel earned them a 2007 BAFTA nomination and a 2007 Cinema Audio Society Award nomination. The team's recent projects include Gone Baby Gone, directed by Ben Affleck, Bobby and Peter Farrelly's The Heartbreak Kid and The Number 23, directed by Joel Schumacher. "The technology and support at Universal are tremendous," said Taylor. "The whole focus here is using the best tools to achieve phenomenal sound," added Minkler. "We are very excited to have Jon and Chris on board," said Chris Jenkins, senior vice president of Universal Studios Sound. "Their top tier body of work in such diverse genres reflects the deep talent in this team."
New Era Scoring Files Charges Against AFOM, Local 47
The battle between Local 47 and financial core musicians escalated quickly this month as New Era Scoring (NES) filed a federal charge against American Federation of Musicians Local 47. This in response to what the National Right to Work Legal Defense Foundation (NRWF) says is "an ugly union campaign of intimidation, coercion and retaliation against employees exercising their legal rights."





Facilities in California used by New Era Scoring
Professional violinist Sai-Ly Acosta (no relation to Local 47 official John Acosta) who has played for the New Era Scoring orchestra filed a federal unfair labor practice charge with the National Labor Relations Board (NLRB) after union officials enforced a policy, labeled as "illegal" by the NRWF, requiring all musicians to be "in good standing" with the union in order to practice in a union-owned rehearsal facility with an orchestra (not NES) which is represented by the union under a collective bargaining agreement. An NRWF release says that union officials informed Acosta, who is not a formal member of the AFM union, that she and others could be arrested if they attended rehearsal.
Orchestras and other musical groups require that all musicians, as a condition of employment, participate in certain rehearsals – many occurring in facilities owned by AFM Local 47. However, Acosta and several of her coworkers exercised their legal right to resign from formal union membership and become financial core status, and pay a reduced fee to cover the cost of union bargaining. As a result, according to the NRWF release, "union officials are attempting to unlawfully prevent her from practicing with the orchestra. Union operatives have harassed and intimidated the dissenting musicians, calling them 'scabs.'" Financial core status musicians can work union jobs and accrue benefits like other full union members on those jobs, but can also work non-union jobs without fear of penalty by the union.
"These thuggish actions by union officials are both despicable and illegal," said Stefan Gleason, vice president of the National Right to Work Legal Defense Foundation. "But this union intimidation is all too common in states like California where there is no Right to Work law on the books. No one should be forced to pay dues to an unwanted union just to get or keep their job"
Regarding the charges filed with the National Labor Relations board, General Counsel Louis Levy said, "The allegations that have been submitted by the National Right to Work Committee are completely denied by Local 47 and we believe they are false. We believe as the owners of our property we have the right to regulate the use of our property consistent with the law, and we will do so."
Greg Townley, co-founder New Era Scoring, an orchestra that employs financial core musicians, said, "The union has property rights, but the issue that is relevant here is that property rights do not override anti-discrimination laws. If the only reason the financial core musicians are being discriminated against is because they are financial core, then legally that's just as wrong as denying services to any group of people based on race or ethnicity."
According to the NRWF, under the Supreme Court decision in Communications Workers v. Beck and subsequent NLRB rulings, union officials cannot require formal union membership or the payment of union dues unrelated to collective bargaining as a condition of employment. Employees are also entitled to notice of their right to refrain from union membership, an independent audit of union expenditures, and notice of their right to object to paying for non-bargaining activities, such as union political activities.
The NRWF contends that because Acosta and other musicians exercised their legal rights under Beck, they have been unlawfully targeted for retaliation.
The unfair labor practice charge will be reviewed by the NLRB's Regional Director who will decide whether to take the union to trial before a federal labor judge.
Drawmerisms - Twenty-Five Years Young!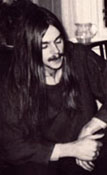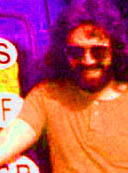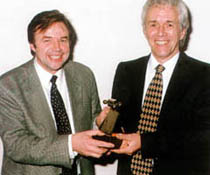 Born and raised on the small Channel Island of Guernsey between England and France, Ivor Drawmer harbored two passions that would merge to create one of the most celebrated and enduring pro audio manufacturing companies in the world. The young Drawmer had a deep curiosity and unique aptitude for electronics engineering, and he honed his skills at a test equipment company on Sark. At the same time, he played keyboards in a number of bands and saw one possible future as a rock star. To effect that dream, he moved to England in the 1960s to join its raucous music scene.

It wasn't until many years later that Drawmer found himself in a recording studio, waiting somewhat impatiently to play his keyboard overdub, while a frustrated recording engineer fought unsuccessfully against the limitations of his equipment. Still trying to get the sound right on the drum kit, the engineer had gated the toms. In those days, gates where crude, on/off devices, and every time the drummer hit the crash, the tom mics opened and fairly vomited an unpleasant gnashing sound. Drawmer told the engineer that he could solve his problem and returned the next day with a primitive-looking circuit board that had two jacks hanging off it. The engineer put it in line, and Drawmer adjusted one of the pots that dangled from its wiry frame. To the engineer's amazement, even the softest tom hit opened the gate while the loudest cymbal crash did nothing.

What Drawmer had designed was the world's first frequency-conscious gate. By forcing the key to listen only to low frequencies, of which toms have plenty and crashes have almost none, the gate became a much more sensitive tool. That design ultimately became the Drawmer DS201, which still sells at a brisk pace and is the most frequently requested gate on touring riders to this day. However, if we step back from the specifics of this particular anecdote, it is easy to see that the same process fueled and continues to fuel all of Drawmer's innovations. He has a knack for recognizing problems, many of which were assumed to be insolvable, and then fixing them with clever, musically-intuitive and sonically superior devices.

However, the genius of Ivor Drawmer might have been lost on the world were it not for the endlessly energetic promotion of sales principal, Ken Giles. Himself a musician and sound engineer who cut his teeth in the 1960s UK heyday, Giles moved into pro audio distribution. Giles recognized the spark in Drawmer that could be stoked into a fire and has dedicated himself, almost from the beginning, to promoting and distributing Drawmer's innovative designs.

While Ivor Drawmer has slowly collected a small, trusted research and development team, every Drawmer product is ultimately designed by Ivor himself. Related Giles, "Even the software is coded by Ivor! He's really unique in the industry. The same man who designed the DS201 gate and the 1960 pre/compressor writes the code for the 2476 mastering software and the TourBuss plug-ins. When he's not working with capacitors and a soldering iron, he's working with a keyboard and a mouse."

Giles coined the term "Drawmerisms" to describe the multitude of features and innovations that are unique to the Drawmer brand. Every Drawmerism starts as a sound engineering problem either that someone on the R&D staff has encountered, that someone has read about, or that customers have related. "The inspirations for my designs evolve," explained Drawmer. "I try to come up with a different angle on things. For example, when I heard people complaining that any time they compressed a track with a lot of low end, the high end ducked out. It took some doing, but I engineered a solution. The DL251 was every bit as musical and functional as an ordinary compressor, but by treating different frequency bands separately, it worked elegantly around that problem."

In addition to the original DS201 gate, Drawmer's venerable 1960 pre/compressor stands as an excellent example of a "Drawmerism." In the early 1980s, high-end studios were rediscovering the beautiful sounds of old Pultec and Fairchild outboard equipment. Unfortunately, according to Giles, these units were dreadfully unreliable. Drawmer saw the value in that sound but realized that vastly more stable designs were possible. At the same time, no one was offering a single input channel. If all you wanted to do was record two microphones, you had to bring them into a mixing board!
Drawmer recognized a need for an excellent-sounding, stand alone input processor that captured the beauty of the Pultec and Fairchild units. And thus, in 1983, the Drawmer 1960 was born, named in honor of the sound it embodied.

Now, of course, everyone from Paul McCartney to Madonna tracks with 1960s. "Digital recording has put a premium on the input sound," commented Giles. "The 1960 was definitely on the leading edge of that wave. Now it has been reborn in variations such as the 1968 and 1969. The long list of Drawmerisms goes on. Drawmer was the first person to incorporate program adaptive gating. He implemented peak punch to re-inject transients into gated percussion. He pioneered tube drive so that users could drive tubes as hard as they wanted without increasing the output gain. The list goes on and on."

Of course that list continues into the digital domain. Ivor Drawmer was among the pioneers who sought to inject life into digital audio in the 1990s. "When digital gear first became available, the complaints were quick to follow," commented Drawmer. "They said, 'yes, it's fine, but it all the sounds the same - sterile.' I started playing with little programs to emulate analog circuitry 15 years ago - little code that, charged up, simulated capacitors, etc. I saw that it worked, but to make it better we actually had to engineer in pleasing imperfections. That's where the art lies. It's easy enough to design a digital compressor, but if you want it to sound good, then you need to do something more. You need to be less mathematical and more practical."

Drawmer started out making high-end signal processing equipment for recording studios and live sound, but their market reach has expanded considerably because they're always ready to offer a unique solution to a sound engineering problem. "Twenty-five years later, people still call us the noise gate company," Giles laughed. "And that's fine; I think it shows that if you're first to the market then you hold a permanent place there. However, if we'd continued to only make noise gates, we'd have a rough go of it. We're certainly grateful that the 1960 and our other flagship products continue to do so well after all this time, but now we have products in software, live sound, digital distribution, master clocks, industrial installation, and others. In each case, Ivor still does the final design!"

Interestingly, while much of Drawmer's product line is shifting in the digital direction, one very important new series bucks that trend. In honor of the 25th Anniversary of Drawmer the company, Drawmer the man has designed a new series of analogue signal processors. Dubbed the "Signature Series," Drawmer has shaken off all engineering concerns save one - absolute fidelity. Price point is no concern, and thus there are no compromises. The S3 three-band tube compressor has started to ship and will be followed by other products in the line.

"The strength of Drawmer has always been, and will always be, the innovations," reflected Giles. "Those innovations have had a significant impact on recording and live sound; many have influenced the production techniques which have evolved and the way the industry makes music. The whole suite of gating tricks that every engineer worth his or her salt knows goes back to Drawmer. The 'direct in' style of minimal chain length recording goes back to Drawmer. And so many of Drawmer's innovations have shown up in the products of other manufacturers, although I would submit with inferior implementation! So Drawmer designs have influenced and shaped the competition and in doing so, the world of pro audio.

"In some ways it's quite amazing that we keep selling all of our old hits in addition to the new products," he continued. "Because our products last decades, you're forced to wonder where all the new units are going. I've never heard of someone throwing away a piece of Drawmer equipment! We make everything right here in England, which makes it a little more expensive than if we outsourced everything. But I think our customers recoup that cost many times over since our products last and last."

As larger companies come to dominate the pro audio world, some question whether smaller specialist companies like Drawmer will survive. Giles thinks their survival is assured: "We'll stay true to our original mission, solving problems and improving the world of pro audio with Drawmerisms that have yet to be invented. There's something to be said for companies who have been operating for 25 years with the same principals and staff. The larger companies have a regular turnover of staff and often very little employee loyalty. The dynamics at Drawmer are very different - pun intended."




For more info on Drawmer products, contact Brad Lunde at www.transaudiogroup.com or Phone (702) 307-2700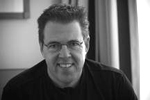 TransAudio Group, founded by industry veteran Brad Lunde, has quickly become the premier US importer/distributor and/or US sales and marketing representative for high-end audio. Success hinges on TransAudio providing dealers and end users with a higher standard of product expertise and support far beyond the norm. TAG product line includes Accusound, A-Designs (USA) AEA ribbon microphones (USA), ADT Toolkit, AEA, ATC Loudspeakers (UK), Brauner microphones(Germany), Drawmer (UK), Geoffrey Daking & Co. (USA), Enhanced Audio (Ireland), George Massenburg Labs (GML) (USA), Heil Sound (USA); Mercury Audio (USA) Mission Audio (UK) Phoenix Audio (UK), PAULY Superscreens(Germany), SABRA SOM(Brazil), Soundelux (USA), SoundField Microphones (UK), Z-Systems (USA),Sonodore Microphones (Holland) and Weiss Engineering (Switzerland) and Z Systems (USA)
LasVegasProAudio.com, LasVegasProAudio.com, a division of TransAudio Group, is the launch pad for the brands of tomorrow. The goal of LasVegasProAudio.com is to provide unique equipment, useful information and long-term support to their clients.





SSL DUALITY Console And XLogic Alpha Chanel Win Tec Awards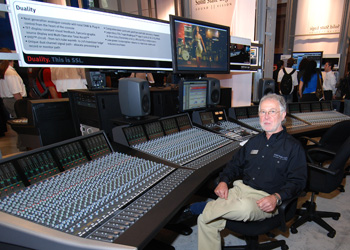 Solid State Logic recently received the Mix Magazine TEC Award for Large Format Console Technology with the Duality Console and for the XLogic Alpha Channel in the Mic Preamplifier Technology category. The awards were presented to SSL at the 23rd annual TEC Awards ceremony during the recent AES Convention in New York City. SSL is the world's leading manufacturer of professional digital and analogue consoles and provider of creative tools for music, broadcast and post production professionals.
With over 40 consoles sold, Duality is the fastest selling large format console in SSL history. The combination of the highest quality SuperAnalogue™ signal path and processing with integrated DAW control, analogue 5.1 surround panning on every channel, constant visual feedback via TFT displays and the convenience of multi-operator Total Recall™ is proving to be an attractive formula. The console is extremely versatile and its ability to handle Music Production, Live Broadcast and Post is proving to be a strong commercial proposition for facilities with a diverse workload.
Chris Jenkins (above), Director of Commercial Applications and co-designer of the Duality console, commented, "We're thrilled to receive the TEC Award for Duality. The success of this console exemplifies SSL's commitment to creating a product that successfully bridges the gap between the Digital Audio Workstation and the professional recording studio console."
With the combination of a studio class mic preamp, filter, EQ and limiting, the XLogic Alpha Channel is a classic analogue channel strip designed to provide the perfect front end to a digital audio workstation. With all the features needed to record great vocal or instrument tracks every time, the Alpha Channel offers a recording solution based on SSL's years of experience in designing the world's leading analogue recording consoles.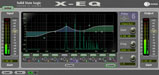 X-EQ (above) joins Drumstrip in extending the range of plug-ins available for Duende, with sophisticated task specific tools that deliver the very finest audio performance, yet are extremely simple to use.

Solid State Logic is the world's leading manufacturer of analogue and digital audio consoles and provider of creative tools for music, broadcast and post production professionals. For more information about our award-winning products, please visit: www.solid-state-logic.com.
Saved By Avastor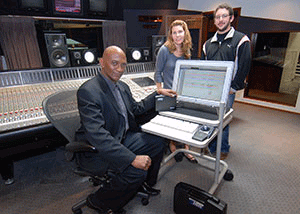 Pictured with an Avastor HDX-800 hard drive at the SSL 9000J console in Westlake Recording Studio C are (L-R) Gussie Miller, studio manager Sara Clark and assistant engineer Nick Braun. Photo by David Goggin.

Talented singer/songwriter and producer Gussie Miller recently switched to Avastor hard drives after a catastrophic hard drive crash that cost him $3,500 to re-record and restore material for my new album. "I haven't had a glitch since." Miller heads up Artis Musicai, a music production company that specializes in contemporary pop, jazz, and R&B songwriting, artist development and production. He is most recently recognized for his work with famed bassist Marcus Miller on the music for Chris Rock's "Everybody Hates Chris" hit TV series, and also Miller's new CD/DVD, "Free." Miller has also worked with artists such as Gino Vanelli, Lavern Baker, Seal, and Cher, to name a few.



Music That Illuminates - Part II
Meet Nicholas Gunn of Gemini Sun Records
An exclusive to studioexpresso Interview With Nicholas Gunn, CEO of Gemini Sun Records in Malibu, California
In an effort to introduce artists to new distribution avenues and international markets, studioexpresso brings this two-part interview. Scroll down to read Part I of the interview here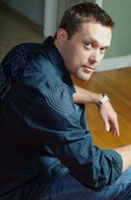 Johannes Linstead and Nicholas Gunn - "Encanto" is currently #7 ON BILLBOARDS TOP NEW AGE ALBUMS
Founder of Gemini Sun Records, multi-platinum selling Flautist Nicholas Gunn places songs on behalf of their artists wtih regards to publishing and/or third party licensing. According to Founder and CEO Nicholas Gunn, a big part of artists' revenue comes in the form of licensing music for TV and film, compilations, branded products for corporate entities, and so on. "Licensing is the bread and butter of our industry and we are always looking for new and unique ways to expose our music in this fashion," says Gunn.
However, since Gemini Sun occupies a niche market in contemporary world music, Gemini artists get limited touring support. According to Gunn, most venues are really set up for more main stream styles of music. They do however work with national promoters who are closely tied to the performing arts centers which generally welcome this genre of music. "Johannes Linstead is our most performing artist with around 60 to 70 dates per year. One way we have circumvented this is by filming and recording a live performance sponsored by Gemini Sun Records for four of our artists; David Arkenstone, Johannes Linstead, Loren Gold, and myself. This is due out next year on DVD, and we anticipate taking the concert to multiple venues in support of its release," says Gunn.
Gemini Sun is heard around 300 stations, including satellite stations that play the music often. "If one were to tune in to Spa Channel or Soundscapes, you most likely will hear our music a dozen times over the day," says Gun who receives significant rotation at many Public Radio syndicated shows such as Echoes and other like minded stations. Gemini Sun also launched its own radio station on Live365 http://www.live365.com/stations/geminisunrecords
According to its founder, Gemini Sun has taken the path of least resistance in its marketing strategy. "The easiest and most convenient way I have adopted to categorize our music is Lifestyle Music. You can find our titles at most record retail, however our best selling accounts are Borders Books and Music, Barnes and Noble Booksellers, and Amazon.com to name a few," he adds. The label has remained consistent in quality, artist choice, and availability of our products over the last six years. "Of course, excellent distribution means excellent availability of our products, and therefore we enjoy a level of success befitting this exposure. However, we have made choices that are current and savvy according to the climate and our products have been under the noses of most seeking out this genre," says Gunn. Gemini Sun Records has attracted artists within the world music genre that have solid track records and strong sales which creates a greater visibility of thier brand and music. "We seem to be snowballing and with additional excellent new signings for 2008, it seems we keep moving on up!" says Gunn.
Gunn agrees that the music industry is in a flux. We've all witnessed major retail shakedowns and brick and mortar retailers getting hit hard. Although, he doesn't believes digital downloads are root of all of problems; It's just a small part of the picture, as Nicholas sees it. "We live in a multimedia society today, where access to music means 100 different ways to purchase. The question becomes, do I purchase on-line at Amazon, do I download at ITunes, do I take the time to get in the car and by the whole package at a retail store, or do I rip off the artist and download and share it for free? The impulse buy from the eighties and nineties is gone – every track can be screened whether on line or even on the Red Dot system at Barnes before you buy. This coupled with YouTube, MySpace, and tons of other emerging multimedia channels, it's all really many options for the consumer. Our job is to help the consumer make the best choice for themselves. So, I look very carefully at incorporating it ALL into our label. We now offer our Gemini Sun downloads at http://www.geminisunrecordsdigital.com/catalog/index.php and look to MySpace and YouTube for what is popular. We have artist profiles, videos, label profiles, and many other types of profiles at all these places. Things will settle, no one really is quite sure when and how, but when it does we want to be there. As long as we are true to our image, music, and identity, I am not concerned about our future as long as I keep my ears and eyes wide open!, Gunn concludes.
Gemini Sun is distributed exclusively in the United States by Ryko/WEA (Warner, Electra, Atlantic Record Corporation or Warner Group). "Ryko, who are family to me, were purchased last year by the Warner Group.

Artists may send finished, studio quality CD's, along with a bio and any other pertinent information to
Gemini Sun Records
ATTN: New Artist Submissions
30765 Pacific Coast Hwy # 330
Malibu, CA 90265
The label will only review digital submissions via this MySpace link or watch Gemini year in review here

Homes With Studio For Sale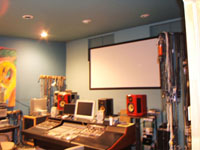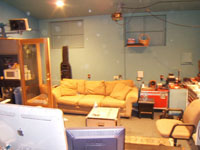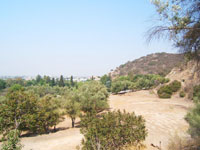 Sun Valley, CA 91352; 1957 built; Lot Size: 59,146 3+2
$1,250,000

The property has three separate structures currently built on it. One is a full service recording studio, the second is a 10x20 mini-studio/storage unit and the third is the actual house itself. The house is a 3+2 mid-century that needs TLC. The studio has vaulted ceilings and is fully sound-proofed, with a master control room, an isolation booth, and a drums and amp room, all separated via double-ply walls and one-inch glass site windows. With freeway access to the 5 fwy, 170 and 101 fwy, and the 210 fwy, it's easy to get to and from in just minutes, but still be detached from the rest of the world.


Granda Hills.....According to Dave Spangler – LA's official "Rock and Roll Realtor" There's a vast range of listings to accommodate anyone's budget. write to spanglertoday@yahoo.com 818-402-1989 cell or visit homes with studios listed here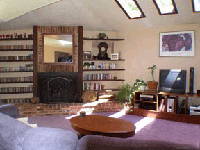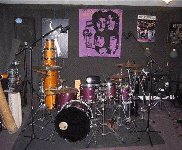 Reseda, 1946 $549K
Fully detached Insulated Sound Studio With Sub Panel* Custom Home with Stained Glass Windows* Custom Oak Cabinets* Skylights & Pergo Type Flooring*Copper Plumbing*Large Living Room with Bay Window*Kitchen with Breakfast Bar*Newer Appliances*Family Room With Custom Fireplace & Shelves*Serene Back Yard*3 Car Carport*Lots of StorageFully Detached Insulated Sound Studio 300 sqf With Sub Panel* Custom Home with Stained Glass Windows* Custom Oak Cabinets* Skylights & Pergo Type Flooring*Copper Plumbing*Large Living Room with Bay Window*Kitchen with Breakfast Bar*Newer Appliances*Family Room With Custom Fireplace & Shelves*Serene Back Yard*3 Car Carport*Lots of StorageWrite to Christine Lloyd-Maddocks homestudios@christinelloyd.com or call (818) 437 0369


Love Is In The Air
Love birds Ken and Magie Allardyce tied the knott in Scottland on September 15th.
The happy groom sported a purple kilt. Congratulations you two!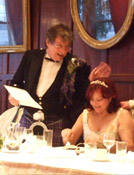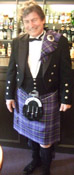 "Yours is the truest dream, but it had immediate effect in your waking life.
What matters is how quickly you do what your soul directs."
--Jelalluddin Rumi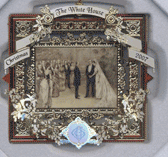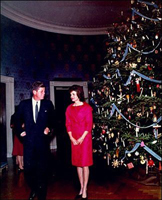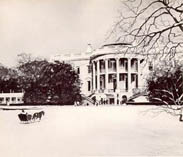 Calvin Coolidge lit the first national Christmas tree in DC, 1923
2007 Official White House Ornament honors the administration of Grover Cleveland and his White House wedding to Frances Folsom (left). Breaking from the tradition of a formal card with a Presidential Seal, the Kennedy Family sent as its official Presidential card a photograph of Mrs. Kennedy and the children taking a sleigh ride on the South Lawn. The Ronald Reagan Presidential Library and Museum is bringing back its annual holiday exhibit Christmas Around the World from November 15, 2007 through January 6, 2008 (in its 14th year). Christmas Around the World features beautifully decorated trees representing the countries which President Reagan visited while in office. With toy soldiers, trains, garlands and Christmas music, the exhibit will delight children and adults of all ages. Also on display, you'll discover a Menorah exhibit consisting many of the Menorahs given to President Reagan while in the White House. First Lady Jacqueline Kennedy introduced the tradition of Christmas Tree themes in 1961 with a "Nutcracker Suite" theme featuring trimmings derived from the ballet by Tchaikovsky. Ornaments included gingerbread cookies, tiny toys, wrapped packages, candy canes and straw ornaments made by disabled or senior citizen craftsmen throughout the United States.


"Condemning genocide conducted by their (Turkish) grandfathers is no more serious than condemning slavery practiced by our great-grandfathers. But when Turkey demands that we abandon our values and condone mass killing as the price of their cooperation in Iraq, we should draw the line
-- Bill Press (host of a nationally syndicated radio show and author of a new book, "How the Republicans Stole Religion."

"I think that everyone who is going to really move up has got to go through some trauma...I'm much more respected in my new job, than I was as the head of the Warner Group, because I survived being thrown out the window, going splat on the concrete, and walking..."
– Doug Morris, CEO, Universal Music Group
"The intuitive mind is a sacred gift and the rational mind is a faithful servant. We have created a society that honours the servant and has forgotten the gift."
--A. Einstein
"Keep studioexpresso coming. We miss the "coffee pot" around a busy studio, where you meet other studio people, and catch up on what everyone is working on. Thanks for keeping the coffee on, -ha!"
-- Tom Fritze, Manager/Mixer/Engineer (Jes)


You are subscribed as %Email% Please click here -- http://www.studioexpresso.com/MailListForm.asp to unsubscribe or subscribe from any future mailings. We respect all requests. Thank you.