Mastering Matchbox 20 And Ratatouille
Gavin Lurssen Uses ATC Monitors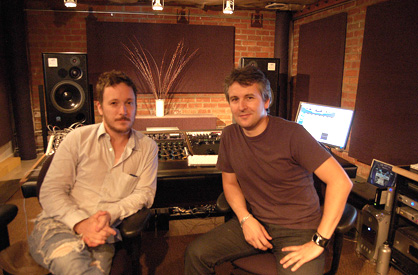 l-r: Matchbox 20 and The Break And Repair Method guitarist, Paul Doucette and Mastering engineer, Gavin Lurssen at Lurssen Mastering, Hollywood California

Because high-profile projects so often involve big-name producers, earning the right to master those projects depends on the proven ability to deliver a timely product that is perfect the first time. And the ability to do that, of course, depends on the skills, judgement, and tools of the mastering engineer.

With a formal education from the Berklee College of Music and an informed musical intuition gifted to precious few in the industry, Gavin Lurssen of Lurssen Mastering in Hollywood, has catapulted himself into the upper echelons of the mastering world in a short matter of time. He has worked on numerous records that have won nominations and many industry awards. His own awards include two Grammys - one for Album Of the Year in 2003 and one for Best Historical Album in 2005. He continues to be credited on dozens of chart-topping projects.

A crucial component of Lurssen's success is his ATC SCM150ASL monitors. They provide him with the accurate reference that he uses to perfect every project, with minimal studio time and no mistakes. A big part of the mastering session involves finding flaws that somehow managed to hide themselves during tracking and mixing. "The ATCs let me hear way into the audio and identify issues that need to be dealt with while working on a project," Lurssen explains. "When the participants of a project sitting next to me hear those problems too, I sometimes get compared to a school teacher - like I'm grading them or something. Anyway, everyone knows that all aspects of the mix need to be revealed to make the correct decisions and corrections if necessary. That is why my phone rings. People rely on an outside point of view."

A year ago, Lurssen upgraded his studio with a set of ATC monitors and has most recently used the system to master new albums for Alison Krauss and Robert Plant and a Matchbox 20 EP, along with the soundtracks for Disney's "Ratatouille" and Sony Picture's "Across the Universe." "These speakers are particularly useful when working on high-quality orchestral recordings. I can't imagine not being able to hear the detail that is necessary to create a proper tonal balance for something like the Ratatouille soundtrack that will go out to a lot of fans. They brought out the big guns for this project and we have a huge responsibility to get the audio in the exact position it needs to be." Lurssen adds, "People like T-Bone Burnett and Mike Piersante rely heavily on me, as they have for many years of working together, to get it right the first time. They have so many projects in the works at any given time that they can't afford to go backwards and adjust. The speakers are a must in order to tell me exactly what is going on with a mix."

In working with Steve Lillywhite, Lurssen says, "We actually met at our favorite, local sushi spot in Hollywood and developed a dialog. When it came time to work together it was further inspired by Matchbox 20 guitar player Paul Doucette." Doucette and Lurssen had a previous relationship working on Doucette's solo project The Break And Repair Method. Lillywhite was producing the new Matchbox 20 EP in Los Angeles and in planning mastering they decided to use Lurssen based on Doucette's previous experience with him. "Matchbox 20 has been away for a few years and their return will have quite a profile in the industry. It is important that the new project holds itself to contemporary standards on every level. The proper level on the disc, the tonal structure, the dynamics, are all important. I rely on the ATCs to let me hear every detail, particularly when getting some level on the disc and retaining the dynamics in a responsible way. I know that sounds like a contradiction in terms but I can hear all that in the ATCs and we don't have to go back and tweak."

While working on the very best of equipment, Lurssen recognizes that music fans will often play the product of his labors on the best and worst of stereo systems, along with everything in-between. "I want to get the performance right so that the music will light up whatever space it is played in," he says. "The challenge is to make sure that all the dials are in just the right places to make that possible. With the no-compromise design of the ATCs, I was comfortable and confident that I had made the right decisions, down to the subtlest of details."


ATC Moves Speaker Design Into The Future
Visit ATC at AES 2007 NYC DEMO ROOM #3D01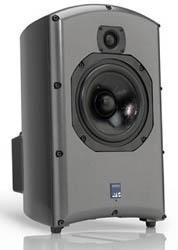 Acoustic Transducer Company (ATC) engineers have made further advances in drive unit technology resulting in a huge increase in performance to their entry level active nearfield monitor - the SCM16A. Las Vegas Pro Audio, U.S. distributor of ATC, will introduce the loudspeaker, at the 123rd AES Convention in NYC. The compact SCM16A active loudspeaker is a robust monitor designed for the accurate reproduction of stereo and multi-channel audio in small to medium-sized studios or in remote locations. ATC's innovation is called Constrained Layer Damping (CLD) - two lightweight driver cones sandwich a constrained damping layer. CLD is dramatically more efficient than conventional damping because of the way it shears adjacent cone sections when the cone flexes. The shearing causes unwanted vibration energy to dissipate as frictional heat, instead of as acoustic distortion.
Thus, ATC's CLD design reduces harmonic distortion between 300Hz and 3kHz, creates an extended resonance-free axial frequency response and improves the off-axis frequency response. In addition to the 150mm CLD mid/bass driver, the SCM16A features a neodymium 25mm soft dome tweeter. The SCM16A's upgraded on-board amplifier pack provides 200 watts to the mid/bass driver and 50 watts to the HF driver. Operating in Class A up to two-thirds of output, this ultra-low distortion design is capable of continuous sound pressure levels up to 108dB. The electronic crossover offers an exceptionally smooth and even frequency response. User controls include input sensitivity and bass boost.

Dimensions (H x W x D): 448 x 270 x 330mm (17.6" x 10.6" x 12.2")
Weight: 17.5 kg / 38.5 lbs.
MSRP: $3,995/pair powered

ATC's drivers are manufactured in-house to exacting tolerances and are legendary for their many design innovations, such as the innovative SL magnet system and the company's renowned Soft Dome midrange driver, which achieves exceptionally broad and even dispersion to produce a flat response anywhere in the room. Situated in Aston Down in rural Gloucestershire, England, ATC was established in London in 1974 by acoustics engineer and musician, Bill Woodman.

ATC products are manufactured by Loudspeaker Technology Ltd, UK. ATC is a registered trademark of Loudspeaker Technology Ltd. Acoustic Transducer Company is a trading style of Loudspeaker Technology Ltd. All trademarks acknowledged.


For more info on ATC Loudspeakers contact Brad Lunde at www.lasvegasproaudio.com or Phone (702) 307-2700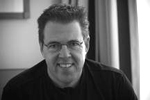 LasVegasProAudio.com, LasVegasProAudio.com, a division of TransAudio Group, is the launch pad for the brands of tomorrow. The goal of LasVegasProAudio.com is to provide unique equipment, useful information and long-term support to their clients.

TransAudio Group, founded by industry veteran Brad Lunde, has quickly become the premier US importer/distributor and/or US sales and marketing representative for high-end audio. Success hinges on TransAudio providing dealers and end users with a higher standard of product expertise and support far beyond the norm. TAG product line includes Accusound, A-Designs (USA) AEA ribbon microphones (USA), ADT Toolkit, AEA, ATC Loudspeakers (UK), Brauner microphones(Germany), Drawmer (UK), Geoffrey Daking & Co. (USA), Enhanced Audio (Ireland), George Massenburg Labs (GML) (USA), Heil Sound (USA); Mercury Audio (USA) Mission Audio (UK) Phoenix Audio (UK), PAULY Superscreens(Germany), SABRA SOM(Brazil), Soundelux (USA), SoundField Microphones (UK), Z-Systems (USA), Sonodore Microphones (Holland) and Weiss Engineering (Switzerland) and Z Systems (USA)



Expresso Cat Walk And Talk...

A musical and cultural icon, hip-hop Renaissance man, entrepreneur, and Hollywood's newest leading man, Soop Dogg is quickly becoming the hottest commodity in the world of entertainment Snoop's music fans won't be disappointed this year with two new projects on the rise. This November, he will drop his highly anticipated solo record Snoop Dogg R&G: Rhythm & Gangsta The Masterpiece. This newest solo album promises Snoop's same beloved rap style, with a series of surprise guest stars, including Pharrell Williams of the Neptunes. The two have been hard at work in the studio for months collaborating on a fresh new sound for the album. The first single off the album, "Drop It Like It's Hot," has already created tremendous buzz on both on the radio and in the streets, positioning the album to be a huge chart topping success. Snoop is partnering with leading modern fashion performance brand Pony, to create a shoe collection called "The One and Only." This particular line of shoes will marry Snoop's signature West Coast flavor with the classic Pony design. The collection will be unveiled this November and will be available in exclusive stores globally for the Fall/Winter 2005 collection. Boss Dogg begins his US Tour tomorrow


Reba McEntire achieves career milestones with her 31st studio album Reba Duets, which debuted last week with unprecedented sales of more than 300,000 landing her in the top spot on The Billboard 200 chart. Billboard will honor the top 20 female executives in the music industry in the 2nd annual Women In Music issue, on stands October 5, 2007. The list will be revealed at a breakfast feting the honorees on October 5th, 2007 at The Core Club in New York. 38 million-selling artist Reba McEntire will deliver the keynote address and receive the first ever Billboard Woman of the Year Award. " In addition to Reba's unparalleled music career, she is a published author and a critically-acclaimed actor receiving praise for her work on Broadway, in films, and on her top-rated, self-titled sitcom.Reba is an inspiration to women everywhere and we are delighted to be presenting her with this award," Billboard Group Editorial Director, Tamara Conniff. McEntire's influences on all genres of music are evident on her upcoming album, "Reba Duets," set to be released on September 18, 2007, on which she joins forces with some of the biggest names in the industry including notable women like Kelly Clarkson, Faith Hill, Carole King, LeAnn Rimes and Trisha Yearwood."I am touched to be embraced in such a warm way by Billboard, and I look forward to celebrating with all the Women of the Year," says Ms M who appeared on the Oprah show on Sept 19 and The Tonight Show with Jay Leno on September 25th. McEntire has achieved 33 #1 hits, won 15 American Music Awards, 12 Academy of Country Music Awards, 7 Country Music Association Awards and 2 Grammy's.



Prashant Tamang, was crowned the new 'Indian Idol' in the grand finale of the over two-month-long talent hunt, unprecedented celebrations started in the Darjeeling hills of West Bengal, the singer's native place. The people, who were glued to their television sets during the live telecast of the finale of the Indian Idol competition featuring Tamang and Amit Paul, a native of Meghalaya as the two main contenders in the reckoning for the title, burst into instant celebrations as soon as the 24-year-old cop became the new Indian Idol. He accepted the prize--a one-crore music contract and a Maruti SX car.


While Kanye is more the critical darling, 50 Cent has some big names on his album to help along his battle for sales. Akon, Justin Timberlake, Robin Thicke, Mary J. Blige, Eminem and Dr. Dre all make appearances on the new album Curtis. And Lead Doll from the Pussycat Dolls, Nicole Scherzinger, gets in on the action as well, singing the hook on "Fire." Nicole, once again performing solo from the Pussycat Dolls, also appeared in the pre-show to MTV Video Music Awards. She continues to put in her time and work hard to build anticipation for her forthcoming solo CD. She's also be recently featured in commercials for the CW Network, and while they don't directly link her to the new season of Pussycat Dolls: Present, one assumes she will also take a break from her solo performing and promoting to appear in some episodes of the show as well.


Tom Hanks has turned Playtone into one of Hollywood's most dynamic forces.
According to the Hollywood Reporter, Hanks' Playtone Productions will develop a 10-part miniseries for HBO focusing on the 1963 assassination of President John F. Kennedy. The project is an adaptation of Vincent Bugliosi's "Reclaiming History: The Assassination of President John F. Kennedy. "Big Love" star Bill Paxton will executive produce with Hanks and Playtone executive Gary Goetzman. As an 8-year-old, Paxton accompanied his father and older brother to an appearance Kennedy made in Paxton's hometown of Fort Worth on November 22, 1963, just hours before his assassination in Dallas. He brought the book to Hanks and Goetzman. "Now, with the 50th anniversaries of President Kennedy's inaugural address and assassination looming in the next few years, we felt it was the right time to pursue this project," says Paxton.
Sound Off! EMP|SFM 2008 will present the seventh Northwest's largest underage battle of the bands competition. Past participants include Schoolyard Heroes, The Lonely H, Capitol Basement and Natalie Portman's Shaved Head, to name a few. With a judging staff comprised of movers and shakers of the Seattle music scene, this competition is a great chance for local, young bands to kick-start their music careers! To enter Sound Off!, you are age 21 or under and play rock, hip-hop, electronic, pop or any other kind of music. Download and print out the application from empsfm.org. Complete the application and send it, along with a non-returnable CD of original music to: EMP|SFM Attn: Sound Off! 330 6th Avenue North, Suite 200 Seattle, WA 98109 Applications are due by Thursday, November 15, 2007. Please review the rules and regulations online prior to entry. Any questions concerning the competition, e-mail soundoff@empsfm.org or call 206.770.2744.


The Nielsen Company announced Monday it has opened up its new social networking Web site irreverently called Hey! Nielsen (www.heynielsen.com) to the public. The site, which gives lovers of pop culture a place to sound off about TV shows, music or movies, has been tested internally within the Nielsen Co. for the past few months.Nielsen, the parent company of Mediaweek, also plans to launch a Spanish-language version of the site, Oye! Nielsen, in January.


Amazon.com's greatly anticipated music download store Amazon MP3 launched today. You'll notice the gaps represented by the missing Warner Music Group and Sony BMG titles. On the left sidebar While prices are cheaper than iTunes, it can still pay to shop around. Amazon.com has put links to bargain albums: $4.99 and under, $5.00 to $5.99, $6.00 to $6.99, etc. Amazon's blog post claims one million of the site's two million downloads are priced at $0.89 and "most albums" are between $5.99 and $9.99. The site lists upcoming MP3 albums and singles but unlike iTunes does not appear to allow for pre-orders. No push to sell MP3 players at any of the download pages.


No FREE Lattes here just FREE songs! On Oct. 2, Starbucks customers at more than 10,000 Starbucks coffee shops will be able to pick up free cards that can be redeemed for a specific song at Apple's iTunes music service. Two of the four major record companies — Universal Music Group and Warner Music Group — chose not to participate. Some executives are leery of large-scale giveaways, arguing that they diminish customers' perception of the value of their music.


On August 16, 2007, American Airlines sued Google in US District Court in Northern District of Texas, complaining about Google's Adwords auction policy, which includes the sale of registered trademarks to competitors for use in advertising by competitors. Google sells American Airlines trademarks as "search terms" in paid advertising, misnamed "sponsored links." According to attorney Cheryl Hodgson, Google's practice should be viewed as the trademark version of digital copyright piracy. "In keeping with the spirit of free speech on the internet, our firm has renamed the trademarks auctioned by Google as "TMadwords." Owners of TMadwords are increasingly seeking a definitive ruling in line with some European courts which are far ahead of the US in preventing the practice. Courts and Germany and France have ruled the practice illegal," she adds. Additionally, she concludes: "Without a clear strategy to go for the ultimate ruling on the law, American may find itself succumbing to the current dilemma facing most litigants, no matter who is legally correct. He or she with the deepest pockets often calls the shots and bury the opponent."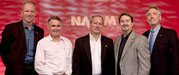 NAMM, the trade association of the international music products industry, today announced the election of its 2007–2008 Executive Committee. The election denotes a change in NAMM's volunteer leadership with Chip Averwater, chairman of Amro Music Stores, taking over for outgoing NAMM Chairman Dennis Houlihan.



Solid State Logic announces the appointments of Jerry Berger and Pete Wood as Vice President Sales and Sales Manager, respectively, Media Production Systems. Jerry will be based in the United States at SSL's New York office and Pete will be based at SSL HQ in the UK.

London is known for its soirees and the opening of the "Age of Couture" exhibition at the Victoria and Albert museum in London drew Emma Thomson, Quinten Terantino (who dropped in from work in his casual best) and his purple highness the Prince, dressed for the occasion and supermodel Kate Moss. VIP guests attended a gala dinner at the Victoria and Albert Museum in celebration of a new fashion exhibition. Dinner tables at $20,000 helped raise the museum funds to further develop its fashion department. The exhibit features haut couture from 1947-57 and is open to public until January


The Russia-born artist Vladimir Kush -- who sells his own Surrealist-inspired work at his own Kush Fine Art, with locations in Lahaina, Hi., Las Vegas, Nev., Laguna Beach, Ca. and New York -- filed a copyright infringement suit on Aug. 6, 2007, in Manhattan District Court against the pop star Pink. Kush alleges that the music video for Pink's current single plagiarizes imagery from his own painting Countes Erotiques. On the surface, the claim is pretty straightforward -- Kush's painting depicts a nude woman in red stockings whose body is merged with the spine of a book, while the Pink video opens with a very similar red-stockinged woman-book swinging open -- but these cases are notoriously slippery. The current precedent, set in Blanch v. Koons, says that something can be classified as "fair use" only if it is deemed to have been used in a "transformative" manner.


Rock and Roll Hall of Fame Inductee Roger McGuinn of the Byrds was added to the all-star Tribute to the Music of Elton John and Bernie Taupin at Carnegie Hall on Wednesday, October 10, 2007, at 8:00 p.m.. Produced by Michael Dorf, this eagerly awaited gala concert is the latest in a series of benefits presented by UJA-Federation of New York's Music for Youth Initiative that supports music-education programs for underprivileged young people. They join previously announced multi-Grammy Award–winners Shawn Colvin and Aimee Mann, Page McConnell of Phish and Phoebe Snow. Other performers in thistalented and eclectic lineup are David Broza, Jill Sobule and Lloyd Cole, Brendan Benson, Lizz Wright, Pernice Brothers, Raul Malo of the Mavericks, Ryan Shaw, Joshua Radin, Howard Jones, Kristina Train, Fools for April, Roy Ayers, Buddy and Naked
(catch nakedeyesmusic.com/ this Saturday September 29th Chicago, IL - Oktoberfest). Order tix here
Sanctuaries Tour
Composers Chang and Leonard with Soundfield Mics (visit Soundfield at AES booth #851)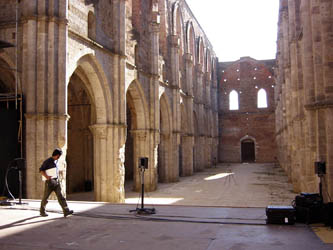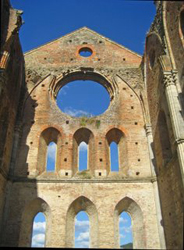 Using a point-source 5.1 SoundField SPS422B microphone, television and movie composer Gary Chang and collaborator Neil Leonard
played and recorded ambient electronic music in five of Italy's medieval sanctuaries.

Centuries-old sanctuaries were among the world's first structures built with acoustics in mind. Because their architects created them long before the advent of electricity or sound reinforcement, only the clever use of materials and design could aid in amplifying music or a priest's voice. Such a design philosophy contrasts sharply with that of churches or recording studios built today. Sound reinforcement is a given, so architects design flatter response rooms.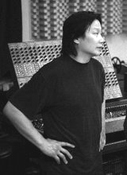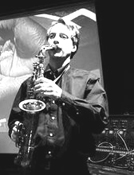 l-r: Composer Gary Chang, composer and saxophonist, Neil Leonard

That simple observation inspired veteran television and movie composer Gary Chang and collaborator Neil Leonard to play and record ambient electronic music through a state-of-the-art 5.1 sound system in five of Italy's medieval "acoustics-as-alchemy" sanctuaries over a two-week span in June 2007. While the avid recordists were excited about the live performances for their own sake, a greater part of them wanted to capture as technically perfect a rendition of each performance in each space as modern technology would allow. Chang researched a range of microphone options before coming across the SoundField SPS422B. Because its multiple capsules are all housed inside a single body, the SoundField SPS422B allows users to simultaneously record in mono, stereo, and 5.1 in such a way that the depth of the stereo and surround fields can be altered in post-production without compromising audio quality in the slightest.

"Often, 5.1 recording is more science than art," commented Chang. "Arrays of microphones are time consuming to set up and calibrate. A point-source microphone made more sense in the scheme of the mayhem of our dragging subwoofers up little medieval streets to get to the churches. One could spend more time on microphone placement and less time on alignment - listening instead of measuring." Chang who won the National Endowment for the Arts Grant for Jazz Composers while attending California Institute Of the Arts is a pioneer in the use of 5.1 surround sound in cinema, concert and installation settings.

"Using the SoundField SPS422B allowed me to use the classic engineering method - mic placement and ears to get the best recordings," he continued.
"We just monitored the mic output in mono and moved it until we were sure we found the best spot. We didn't have to worry about the multi-channel imaging until we were back at the studio, where we were in a much better position to monitor what was going on anyway!" The team used SoundField's Surround Zone Software for Pro Tools that translated the SPS422B's four-channel "B-Format"
signal into the exact spatial imaging that they desired.

The Sanctuaries program is ambient electronic music, created on Gary's "future primitive" analog Wiard Modular Synthesizer System. Recorded digitally, he used t.c. electronics' System 6000 and six channels of Daking compressor/limiters as outboard components during the mix. "I am hoping that the music installation will simply be another contributor to the specialness of the Church's ambiance - my special prayer in the space. In loving memory of Diana Lee Chang," the composer says.

The equipment Chang and Leonard used at each sanctuary was the same, but the physical positioning and distance between their Blue Sky Sat 6.5 loudspeakers and Sub15 subwoofer varied to suit the location. Tara Labs provided over 2,000 feet of audio and power interconnects to accommodate this. The program was DTS encoded and stored on CompactFlash(r) memory. On location, the program was played back on a Marantz PMD570, with a DTs CAD-4 decoder translating back to 5.1.

The results are stunning. It's very easy to feel the stone of the walls in 5.1, with centuries of history and human drama imparting a personality to the recordings that could never be replicated by any amount of processing. More information, including pictures of the tour, can be found at www.sanctuariestour.blogspot.com

U.K. microphone manufacturer SoundField is introducing the DSF-3 Digital Surround Decoder at the 123rd AES convention in New York City. The DSF-3, paired with either a DSF-1 Music Surround Mic System or DSF-2 Broadcast Surround Mic System, completes the line of SoundField's all digital solutions for a simple, easy-to-use, world-class solution to a multi-channel future. This new SoundField digital line has the capability to handle the needs of users in the various applications that require surround sound. The new DSF-3 provides a complete all digital mic-to-multi-channel output surround microphone system with the perfect feature set to address current and future digital recording systems and storage. In addition, the DSF-3 actually improves upon the previous SoundField analog decoder performance with enhanced sound quality and greater channel separation.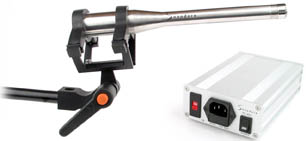 TransAudio has been appointed the exclusive US distributor for Sonodore, a line of hand made ultra-high quality small diaphragm omni microphones and electronics made by Holland's Rens Heijnis Audio Electronics. Recording producer/engineer Bert van der Wolf of Northstar Recordings, Holland, has been instrumental in the development of these high quality-recording tools from their conception in the early 90s, and has been using them in his own recordings for many years. Experienced recording engineers will find Sonodore microphones to be perhaps the most musical they have ever used. Top world studios such as Galaxy Studios-Belgium, Zimmerli Sounds Good-Germany, URM Audio-Great Britain and Barry Hufker Recordings-United States have depended on Sonodore for years. "The mics offer incredible transparency and detail without that clinical 'measurement mic' sound.
This is exactly the right time to introduce them into the US," notes Brad Lunde, president of TransAudio Group, the parent company of Las Vegas Pro Audio.




For more info on SoundField Microphones or Sonodore Microphones (Holland), contact Brad Lunde at www.lasvegasproaudio.com or Phone (702) 307-2700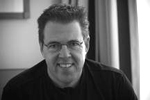 TransAudio Group, founded by industry veteran Brad Lunde, has quickly become the premier US importer/distributor and/or US sales and marketing representative for high-end audio. Success hinges on TransAudio providing dealers and end users with a higher standard of product expertise and support far beyond the norm. TAG product line includes Accusound, A-Designs (USA) AEA ribbon microphones (USA), ADT Toolkit, AEA, ATC Loudspeakers (UK), Brauner microphones(Germany), Drawmer (UK), Geoffrey Daking & Co. (USA), Enhanced Audio (Ireland), George Massenburg Labs (GML) (USA), Heil Sound (USA); Mercury Audio (USA) Mission Audio (UK) Phoenix Audio (UK), PAULY Superscreens(Germany), SABRA SOM(Brazil), Soundelux (USA), SoundField Microphones (UK), Z-Systems (USA),Sonodore Microphones (Holland) and Weiss Engineering (Switzerland) and Z Systems (USA)
LasVegasProAudio.com, LasVegasProAudio.com, a division of TransAudio Group, is the launch pad for the brands of tomorrow. The goal of LasVegasProAudio.com is to provide unique equipment, useful information and long-term support to their clients.


AES News From New York
Workshops & Tutorials.
The 123rd AES Convention will be held in NY's Jacob Javits Convention Center, October 5 - 8 2007. For registration and housing information and for a detailed Preliminary Calendar of Events please visit www.aes.org Aside from the showfloor, there will be many white papers and presentations. For anyone who has ever wondered how audio works in a Windows or Mac, this Tutorial will explore how the audio industry has contributed to personal computer audio, the mechanisms of audio 'streaming,' an explanation of various PC audio formats and present an informed look towards the future.The unfathomable TLA's (three letter acronyms) WAV, PCM, AAC, WMA, MP3 are some of the highly technical subject mattes discussed by Elliot Omiya if Microsoft Corp at AUDIO ON THE PERSONAL COMPUTER. Mastering is often described as the final step in the creative process of making a record and the first step in manufacturing. It is now a common practice for multiple engineers, producers and studios to provide mixes, often in multiple formats, for a single project. This workshop, PREPARING YOUR MIXES FOR MASTERING features Grammy-winning engineer, Gateway Mastering Adam Ayan will cover all facets of preparing mixes for mastering, from technical and organizational aspects to final creative and musical mix decisions. TINNITUS - JUST ANOTHER BUZZ WORD?: Dr. Neil Cherian, MD will delve into the causes of Tinnitus, a common, yet poorly understood disorder where (phantom) sounds are perceived in the absence of an external source. Significant sound exposure is the single most common risk factor. Dr. Cherian will discuss the pertinent anatomy and physiology, the audiologic parameters of Tinnitus, current research, and guidelines for identifying high risk behavior. He will also explore methods for identifying problems, hearing protection, safe standards for listening and appropriate safeguards.
Wired Next Fest Brings The Future To Los Angeles

Are you Future ready? How will you live, work and play in 2015? This September thousands of Angelinos experienced over 160 exhibits from scientists, researchers, and inventors around the globe at the four-day festival sponsored by Wired magazine and Hitachi at LA's convention center. Innovations in communication, design, entertainment, exploration, health, play, robotics, transportation, security, and green living were presented. The future is not so distant where Robots and Humans co-evolve, every product has an IP address, body parts are marketed, average household uses some type of Green energy resource, social neteworking is an important part of the Internet fabric, and the consumer is more and more responsible for validation and analysis (we've certainly seeing more of this in entertainment industry).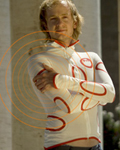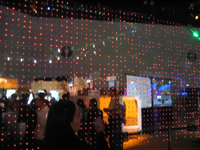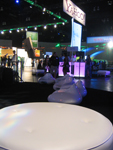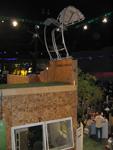 There — now who said technology is making us more antisocial?
Say hello to a wearable way to spread the love: the F+R Hugs is a soft Lycra shirt with embedded sensors that allows you to feel the hugging sensations of a loved one far away. The hug shirt works via mobile phone networks to transmit the heart beat, touch and body temperature of a remote companion in realtime, generating the sensation of a real hug. Watch Hug Shirt founder explain it here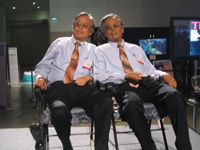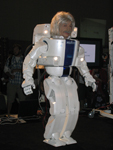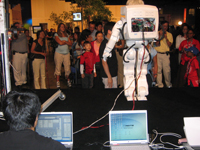 One of the guys with the blue shirt and tie above is actually a robot. His twin bro is the scientist who created him. Can you guess which one? Mr roboto says a few words and can sense human presence (the gentle robot on the right sports human-like skin and hair -- creepy)! Humanoids of all ages enjoyed
the Einstein-look alike robot who can talk, step in each direction and even shake your hand. Shown above with his programmer who sends Mr R instructions from his laptop).
Now if you're more into star gazing, download the latest version of Google Earth and click on the star button or watch a solar tour with astraunat Sally Ride. 167 million years of data went into The future Globe (the blue earth image shown top of the page) which can show the progression of earth's continents dividing with a click of a button - we learned the continents will all become one again - no worries, this will take some time!
In a seminar sponsored by Hitachi, Wired NextFest offered a glimpse of how technology will change the way we work and play in the not so distant future. "The infostructure will be there in 5-7 years," said Mike Willis who spoke about Hitachi's XBRL business unit -- a global open standard that was developed for the electronic communication of business and financial information. According to the speaker, impact of XBRL on Banking/Insurance world will be as great as HTML . XBRL will enable the users and preparers of existing financial statements to:1. Decrease the time and cost of accessing the information contained within the existing financial statements, 2. Decrease the preparation cost and time,3. Increase the distribution of, and access to, existing financial statement information, and
4. Increase and enhance the statement's analysis.
How would you like to call your virtual secretary on the cell or in your car and ask her/him to turn on the light at home or buy you tix for your favorite concert and even heat up dinner before you get home. All within reach sooner that you think!
On the NextFest lounge, Om Records' DJ was spinning tunes while visitors learned how to help develop sustainable solutions for children orphaned by AIDS in Africa.. A vaccine to prevent cancer, robots that do household chores, and alternative sources for energy provided by the sun and the wind were topics at the Green housing booth sponsored by Edison. Sign up for the Summer Discount Plan or the A/C Tune-Up Program between now and September 30th, 2007 and receive a free $10 iTunes®
gift card For more saving tips visit http://www.sce.com/bigsavings

How about a lamp that rewards your energy behaviors? Household lamps typically have very basic functionality with respect to energy - expressed in lit states of 'on' or 'off' or somewhere between. In the 'Flower Lamp' example, it is not just the light of the lamp but its very form that reflects energy used. The lamp 'blooms' – changing its shape and thus lit expression – when energy consumption in a household has been low for some time, thus reflecting the cycles of local energy use. In order to make the lamp more beautiful, a change in behaviour is needed. This year, the Flower Lamp from the Interactive Institute's design research project 'STATIC!', is one of the nominees in 2006. TIME magazine nominees 2006. Watch what's new in surface technology here used in coffee table application (priced at $5k most will wait)! The Moxi Multi-Room HD DMR, featuring the Emmy® Award-winning Moxi Menu by Digeo, enables simultaneous TV viewing & recording, DVD playback, multi-room capabilities, and a single place to store all your digital Media. Bump Top offers your computer a desktop that is a closer version to your real desk top, visit bump top tour here.
Starlight Starbright Children's Foundation and Legacy Interactive unveil "The Tuttles Madcap Misadventures" -- a casual online videogame that pairs a good time with doing good. Starting this November, join others from around the world in playing the game to help lift the spirits of seriously ill children and their families
Music That Illuminates - Part I
Meet Nicholas Gunn of Gemini Sun Records
An exclusive to studioexpresso Interview With Nicholas Gunn, CEO of Gemini Sun Records in Malibu, California
In an effort to introduce artists to new distribution avenues and international markets, studioexpresso brings this two-part interview. Read Part II of the interview next month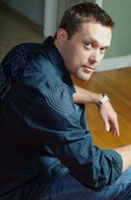 As founder of Gemini Sun Records, multi-platinum selling Flautist Nicholas Gunn finds it interesting that his role is not quite as glamorous as one would think. "Despite having the necessary help outsourced and as well in-house, I still find myself taking orders, packaging product, and soliciting new accounts," says the busy CEO. Indeed Gunn wears two hats, one as musician/artist and one as business owner - and he says he loves both equally. "Being an artist to me is second nature, as I started as a musician and love deeply being connected to music in every aspect of the word. A more challenging but equally rewarding job is that of business owner and how my decisions play an important role of how our titles receive the correct placement at retail," says Gunn who intimately knows his core customer base and artist community. "I can say that I am most proud that I have stayed the course and relied on my instincts and knowledge to stay in the game," he adds.
Gunn was born and raised in England and studied flute at the Royal School of Music. He founded Gemini Sun Records to expand upon his own musical career initially. "I had sold a ridiculous amount of records (close to two million) during the mid nineties as an eclectic instrumental artist, a rare thing indeed. There were retail chains that supported my music at the time such as Natural Wonders and The Nature Company that dried up by the year 2000. I thought to myself at this time, it is pretty clear that my sales are going to drop drastically, so if I don't do something now to expand upon my success, then a might be bagging groceries. I had built some solid resources in the distribution world, and starting my own record label seemed the right thing to do. At the time, I just had a few of my own records on the label and then it grew into something quite wonderful," says Gunn.
Gunn moved to L.A. in 1979 and continued his music studies, expanded to drums and percussion in the late eighties. "I played kit in multiple rock bands during this time but eventually gravitated back to writing and composing instrumental music based around the percussion and flute. After five years of shopping my music, I signed to a label called Real Music in 1994. My first record "Afternoon in Sedona" was not a big seller, but my second and third record "The Sacred Fire" and "The Music of the Grand Canyon" collectively sold over a million records," says Gunn who just released his fourteenth record titled Encanto with Johannes Linstead, one of the artists on Gemini Sun and a successful Latin guitar player in his own right. "I established Gemini Sun Records in 2002 soon after leaving Real Music and the catalog has grown to over 130 titles with over 40 new titles projected for 2008," he says.
Gemini Sun Records now has 18 artists on the rooster and another 15 artists through other labels distributed by Gemini. "When looking for new music, we intend to stay within our core genre, but we are very slowly and deliberately exploring more vocal content that is of a world, ambient nature to bridge the gaps between our fringe genre and popular culture. We look for exciting, well produced, and well executed music that inspires and molds the world we live in. Our motto is Music that illuminates your life…," says Gunn.
Though Gunn's first five releases were on Real Music, his subsequent nine releases are on Gemini Sun. "I record, produce, engineer, and write all of my records by myself," says Nicholas who plays most of the instrumentation such as piano, percussion, flute, and synth. "The strings, such as guitars, violins etc were musicians I brought in for various sessions. It so happens that on my latest release titled Encanto (September 11, 2007) I collaborated for the first time ever with label mate Johannes Linstead. Johannes is an extremely gifted Latin acoustic guitar player and we co-wrote and produced most of the songs together. Instrumentation was added after song writing sessions and Johannes produced around 75% of the record at his studio in Toronto, Canada, while I finished the remaining tracks at my studio in Malibu. The vibe is really a blend of what we both do. It's a combination of Latin guitar and flute with hand percussion and world beat sounds," says Gunn.
Gemini Sun is distributed exclusively in the United States by Ryko/WEA (Warner, Electra, Atlantic Record Corporation or Warner Group). "Ryko, who are family to me, were purchased last year by the Warner Group. I am very fortunate to have one of the strongest distribution forces available to independent labels. The relationship has been nurtured over the years through my affiliation to Ryko in one way or another. Gemini Sun Records now enjoys a direct relationship with Ryko. Our involvement has enabled us to chart multiple times on the top Billboard New Age chart and we have been recognized as one of the strongest emerging Lifestyle Music labels in the industry," says Gunn according to whom the label advertises quite prominently with top retail chains which include Borders Books and Music, Barnes and Noble Booksellers, Amazon.com, Transworld Group (FYE, Specs etc), and Best Buy. "Advertising on the retail level usually takes place in the form of cooperative advertising such as Top Shelf and Listening Wall stations that prominently place and make our titles available to the general public within the chain. In addition to retail, we work with over 300 radio stations that are commited to our music and many trade and retial magazines to advertise our products. We also have a network of overseas distributors that provide extensive penetration into territories such as Mainland China, Russia, South America, UK, and Europe to name a few," adds Gunn.

Artists may send finished, studio quality CD's, along with a bio and any other pertinent information to
Gemini Sun Records
ATTN: New Artist Submissions
30765 Pacific Coast Hwy # 330
Malibu, CA 90265
The label will only review digital submissions via this MySpace link
Drum Lessons And Sessions Offered By Earl Klug
Learn The Moeller Method
You've read about him in Modern Drummer Magazine, may even recognize those beats in recordings with Herbie Hancock, Lee Oskar, Andre Crouch, to name a few.
Now, you can call Doug Klug to put some of that pro touch on your next track. "I would like to help artists and producers save money when they think their project will benefit from a pro session player who's familiar with programming and has experience in both live and studio work. It's amazing how easy life becomes when you can read music and play to click track as well as I do. Plus, I have the ability to play in just about any genre of music," says Klug.
Catch Klug's drumming live (Sanatana and Beatles covers) every Tuesday at his club, Jam Jam (On Western 2 blocks North of Beverly Blvd., and Elmwood). For complete references or to book Doug Klug, please call (310) 204-9027.


Rip
Joe Zawinul
July 071932 - Sept 11, 2007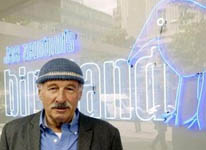 Joe Zawinul, who soared to fame as one of the creators of jazz fusion and performed and recorded with Miles Davis, died on Sept 11.. He was 75. According to manager, Risa Zincke, Zawinul won widespread acclaim for his keyboard work on chart-topping Davis albums such as "In A Silent Way" and "Bitches Brew," and was a leading force behind the so-called "Electric Jazz" movement.

In 1970, Zawinul founded the band Weather Report and produced a series of albums including "Heavy Weather," "Black Market" and "I Sing the Body Electric." After that band's breakup, he founded the Zawinul Syndicate in 1987. Born in the Austrian capital, Vienna, Zawinul emigrated to the United States in 1959, is credited with bringing the electric piano and synthesizer into the jazz mainstream.
Austrian President Heinz Fischer said Zawinul's death meant the loss of a "music ambassador" who was known and cherished around the world. Vienna Mayor Michael Haeupl told reporters he would be given an honorary grave in the capital.

News Just In -- Phil Spector A Mistrial!


In the courtroom today, the jury foreperson told the judge that they were deadlocked 10 - 2-- with 10 jurors voting for a guilty verdict.Prosecutors charged Spector with the murder of actress Lana Clarkson nearly five years ago. Spector's attorneys had argued Clarkson committed suicide


Quote Of The Month

"Yup, the record business is one of hype. smoke and mirrors. All in service to a good first SoundScan week. It would be like introducing the iPhone and only expecting to SELL IT for sixty days."
-- Bob Lefsetz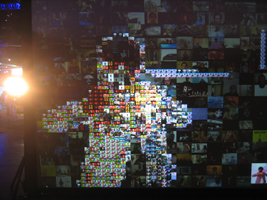 YouTube's Media Mirror display at Wired Next Fest in Los Angeles
Mirror mirror on the wall, who's the fairest of them all? Claris Sayadian-Dodge, studioexpresso's editor (above) in front of the mirror, an interactive video installation, in which over 200 channels of live cable television or in this case, YouTube, are continuously arranged in real-time to form a mosaic representation of anyone who stands in front of it.

Stay connected and find the silver lining, until next month...Ciao!
You are subscribed as %Email% Please click here -- http://www.studioexpresso.com/MailListForm.asp to unsubscribe or subscribe from any
future mailings. We respect all requests. Thank you.