The Color Purple Road Tour With Drawmer Processors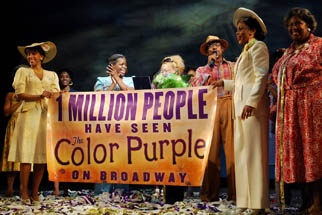 Acclaimed theater sound engineer, Jon Weston (Les Misérables, The Glass Menagerie Man of La Mancha), chose Drawmer DS404 quad gates, DS501 power gates, a DL251 spectral compressor, and DA6 distribution amps for the touring company of the critically acclaimed "The Color Purple."


An adaptation of Alice Walker's immensely powerful book, The Color Purple Broadway musical recently took to the road and is currently playing an extended engagement in Chicago. The show's tremendous success and gushing reviews from otherwise stolid critics are owning in no small part to the spectacular attention to detail that has characterized every aspect of the production, not least of which is the show's studio quality sound reinforcement. Jon Weston, a 25-year veteran of theater sound, perfected every nuance of The Color Purple's sound design.

Drawmer signal processing equipment figured prominently, owing to the manufacturer's flawless record of reliability and legendary, sought-after sound. The music for The Color Purple spans Gospel, Blues, Jazz, and Rock and is performed by a band big enough to crowd any orchestra pit. Weston specified Drawmer DS404 quad gates and DS501 power gates for all of the drum kit mics along with the electric bass. The DS404 features four frequency-sensitive and fully adjustable gates in a single rack space. The DS501 features two frequency-sensitive gates with expanded dynamic control and Ivor Drawmer's unique Peak Punch feature for transient accentuation.

Since Drawmer came out with the first flexible and truly usable noise gate over 25 years ago, almost every other signal processing company has introduced a gate of their own. When asked why the legendary Drawmer gate remains the gold standard, Weston replied, "Drawmer gates are so musical! No matter how fast I need to make the release, there's never a moment when I feel like I've snipped something off - it just sounds like a fader closing very quickly. There's never a perceptible click either, as you can get with other manufacturer's gates. The EQ on the key is so much more effective than other's as well. Drawmer gates are the gold standard because, in my opinion, they are perfect."

Weston specified a Drawmer DL251 spectral compressor for the snare and for the bass drum. The DL251 features Ivor Drawmer's one-of-a-kind high-frequency compensation circuitry that generates compressed material that, while dynamically tamed, sounds as lively and bright as the pre-processed signal. The bass drum application is particularly interesting.
"We mix two bass drum mics together," Weston explained, "one just outside the hole, one inside the drum. Then we send those through the DL251 spectral compressor. It takes a little bit of fiddling, but once we have it, it's very nice. When the drummer kicks lightly, we get this nice, warm 'puh'
sound. When he kicks a little harder, the spectral compressor kicks in and the sound gets more directed. It's perfect because there are times when the music calls for drive under dialog. We don't always want a big kick characteristic because it may not go with what's happening dramatically. The Drawmer DL251 Spectral Compressor makes that - and more - possible."

Finally, while not in a 'starring role,' seven Drawmer DA6 distribution amplifiers keep the show going. The single rack space, six-channel units handle all of the "show program" distribution for intercom and paging systems for the incredibly elaborate show. When asked why he chose Drawmer for this application, Weston answered, "Because show program is one thing we cannot afford to have go down during a show. I'm sure we've all had a bad experience with show program going down to the stage manger or the spot booth. With Drawmer and our proprietary distribution scheme, it has yet to happen. Drawmer is positively bulletproof. You can't put a price on that!"

For more info on Drawmer Gates contact Brad Lunde at www.lasvegasproaudio.com or Phone (702) 307-2700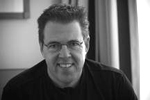 TransAudio Group, founded by industry veteran Brad Lunde, has quickly become the premier U.S. importer/distributor and/or U.S. sales and marketing representative for high-end audio. Success hinges on TransAudio providing dealers and end users with a higher standard of product expertise and support far beyond the norm. TAG product line includes Accusound, A-Designs (USA) AEA ribbon microphones (USA), ADT Toolkit, AEA, ATC Loudspeakers (UK), Brauner microphones(Germany), Drawmer (UK), Geoffrey Daking & Co. (USA), Enhanced Audio (Ireland), George Massenburg Labs (GML) (USA), Heil Sound (USA); Mercury Audio (USA) Mission Audio (UK) Phoenix Audio (UK), PAULY Superscreens(Germany), SABRA SOM(Brazil), Soundelux (USA), SoundField Microphones (UK), Z-Systems (USA) and Weiss Engineering (Switzerland) and Z Systems (USA)
LasVegasProAudio.com, a division of TransAudio Group, is the exclusive U.S. source for Accusound Cable, ATC studio monitors, Digital Audio Denmark AD/DA DXD/DSD converters, Daking electronics, Enhanced Audio mic mounts, Pauly Superscreen pop-filters, SoundField surround-sound microphone systems and software. The goal of LasVegasProAudio.com is to provide unique equipment, useful information and long term support.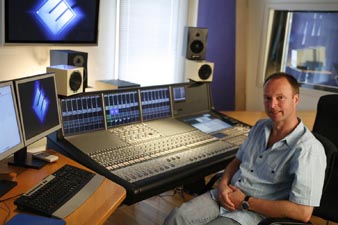 Pictured at the SSL C300 at Editworks is dubbing mixer Adrian Smith
Editworks, one of the UK's leading post-production houses, has installed a Solid State Logic C300 Master Studio System. Editworks, which specializes in high-end programs for the BBC, ITV and Channel 4, chose the C300 to accommodate a sharp increase in 5.1-channel post-production work as high-definition television proliferates Pictured at the C300 at Editworks is dubbing mixer Adrian Smith.
"Selling high-definition television includes supplying an enhanced audio experience, so the future growth in television audio post-production will be a steady increase in 5.1 material," says Smith. "As operators, we need consoles that make that requirement easy." According to Smith an added bonus to choosing the C300 is that it does have a 'controller' layer. "This means that by using a custom HUI configuration, the C300 can control a workstation's mixer, plug-ins and editing functions. The C300 has enabled us to take on extra 5.1 work and makes that transition easier. It is a beautifully made desk, sounds fantastic and with V.2 software, it is the console for the next generation of TV sound post-production," says the dubbing engineer.



Expresso Cat Walk And Talk...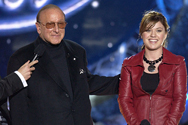 Steve Granitz, WireImage.com
Kelly Clarkson has done a lot of talking about reports of a feud with Clive Davis over the direction of her new album, "My December." According to a recent AP posting now, she's apologizing. The legendary label man is said to have had problems with the rock-heavy songs, which were all co-written by Clarkson. "I want to set the record straight on this by saying that I want my band, my advisors, those close to me and my record label to be one big, tightly knit family," the 25-year-old singer said Monday in a statement posted on her Web site. "Like any family we will disagree and argue sometimes but, in the end, it's respect and admiration that will keep us together." "My December" - which has yet to produce a hit single - is No. 5 on Billboard's 200 top albums chart; it arrived at No. 2. Clarkson's first album, 2003's "Thankful," sold over more than 1 million copies. The multiplatinum "Breakaway," released in 2004, cemented her status as a bona fide artist outside of "Idol" with hits including "Since U Been Gone" and "Because of You."


Tell Me 'Bout It...Common's hot new video duet with Josh Stone Attention DJs...Win $2,500 For Common's Song remix: "The People"
Grand Prize Winner Receives
1) $2500 cash prize
2) Producer's credit for the remix
3) Vinyl and CD servicing of the single to Urban and Crossover radio
4) No royalties will be awarded for the single, this is a complete buy out!
5) Winning DJ will be awarded "I.G.A. Worldwide DJ of the Month" on the I.G.A. rap Dept myspace page.

Rules
1) Remix must be original music, NO SAMPLES!
2) I.G.A. has first right of refusal of remix
3) Remix is due into the I.G.A. Headquarters by Monday, July 30th by 12pm PST via email IGAUrbanPromo@umusic.com or hardcopy.
4) Must be an "I.G.A.Worldwide DJ Association" member
5) Must turn in all feedback
I.G.A. Headquarters
Attn: CommonRemix Contest
2220 Colorado Ave
Santa Monica, CA 90404

Create A Score For This Short Movie. Doug Rogers, founder of EASTWEST, announced today that Christian Ring's "Egolution" is the winning composition of the virtual instrument company's contest. For his winning entry, Ring will receive all six new EASTWEST PLAY products. Ring's composition incorporated the use of EASTWEST/Quantum Leap Symphonic Orchestra Gold PRO XP, Quantum Leap Stormdrum, Percussive Adventures 2, ProSamples 49 and Symphonic Choirs. The driving beats and solemn tone of "Egolution" set the mood for the digital wasteland that Alexander created."The challenging short provided by Zennor really put our users and EASTWEST's virtual instrument lines to the test," Rogers said. "EASTWEST's vast selection of instruments is easily adaptable to each composer's particular style, resulting in ultra realistic compositions that are as unique as its creator." In a move to make way for the products' upgrade to the company's PLAY sample engine, EASTWEST is offering customers a final opportunity to purchase EASTWEST/QUANTUM LEAP SYMPHONIC ORCHESTRA Bundles (Silver, Gold and Platinum including their corresponding PRO XP upgrades) or EASTWEST's Composer Bundle (EASTWEST/Quantum Leap Symphonic Orchestra Gold and Gold PRO XP upgrade, Quantum Leap RA, EW/QL Symphonic Choirs and EW/PMI Bösendorfer Piano 290) at a discounted price of up to 67%. In January 2006, EASTWEST purchased the legendary Cello (formally United-Western) Studios on Sunset Blvd. in Hollywood, re-naming it EASTWEST Studios. The 21,000 sq. ft. facility, redesigned by master designer Philipe Starck, houses five recording studios and is the world headquarters for EASTWEST.


Bodog Music recording artist and human rights activist, singer/songwriter and former Miss Canada Nazanin Afshin-Jam is trying to appeal to world leaders and the international community to grant a stay of execution for an Iranian teenage boy. Sina Paymard's family has managed to raise 70 million of the 150 million "diyeh" (blood money), which his victim's family will not accept.
Nazanin who launched "Stop Child Executions" Campaign, encourages individuals to go to
http://www.stopchildexecutions.com to learn how to immediately help Sina
Paymard who along with 71 other minors are currently on death row in Iran.


The international digital entertainment giant, Bodog Entertainment has six offices worldwide and the label features a diverse and growing roster of talented musicians. Bodog is searching for the top unsigned band in America with "Bodog Battle," which is taking place in 17 major markets and features more than 300 live shows. Bodog Music Founder Calvin Ayre, who is recognized as a world authority on branding in the digital entertainment industry, was spotlighted on the cover of Forbes magazine's best-selling "Billionaires" issue in March 2006. Bodog Entertainment also includes: an international television production division, which produces television series, such as Bodog Fight (BodogFight.com) and Calvin Ayre Wild Card Poker (Bodog.TV); a publishing division (with an online magazine, BodogNation.com, and blog, BodogBeat.com); and an events department renowned for producing parties that are stunning, chic and celebrity-filled.

Stevie Wonder and soul singers Erykah Badu and Jill Scott are among the guests on Queen Latifah's second album for Verve, "Trav'lin' Light." Due Sept. 25, the project was co-produced by Tommy LiPuma and Geffen Records chairman Ron Fair

"American Idol" star Carrie Underwood has penciled in an Oct. 23 release date for her sophomore 19 Recordings/Arista album, which is as-yet-untitled. Production is being supplied by Mark Bright, who was behind the boards for seven tracks on Underwood's smash hit 2005 debut, "Some Hearts."

Serj Tankian has been running his own record label (Serjical Strike) and recording a solo effort. His new album, titled Elect The Dead, is due in October, and while Tankian wrote and recorded much of the music himself, it does include contributions from SOAD drummer John Dolmayan, former Primus drummer Bryan "Brain" Mantia, guitarist/bassist Dan Monti and opera singer Ani Maldjian.Tankian is currently assembling a backing band to tour with him in the fall. And while he's very excited about his solo project right now, that doesn't mean SOAD will never play together again. "We're all doing our own things right now and just taking time off ," he said to MTV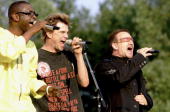 Music And Messages - P8 ConcertBy: Friedemann VogelGetty Images EntertainmentPeople:Youssou N'Dour; Campino; Bono

Play and Share anything on your phone with Cellfish.com Download games, polyphonic ringtones and real music ringtones, share free videos and photos with your friends on your cellphone. Cellfish Media is a new digital content, marketing and distribution group that creates original branded content such as wallpapers, animations, games, infotainment services, and community applications aimed at the Mobile Generation. It operates the largest interactive response business in Germany and is a leading provider of mobile content and services in Europe and North America. You can purchase premium content on CellFish.com using credits. Credits are billed via PSMS on your cell phone bill at either $2.49 for 25 credits, $5.99 for 65 credits or $9.99 for 110 credits. Premium ringtones cost from 10 to 25 credits, images are 10 to 20 credits and videos are from 15 to 30 credits. All non-premium content on the site is free to download to your locker although you may incur standard text messaging charges and/or data charges depending on the type of plan you have with your carrier. For more information, you can always visit our FAQs, our Premium Content Pricing page and also text the word HELP to 43474

The teenage, power Pop/R&B vocal prodigy with the 4 octave voice, Lil' Keesha, will be making her first guest starring appearance on daytime television's most worldwide watched daytime drama, The Bold and The Beautiful. (140 countries, 450 million daily viewers -- Source: TVMI and Wikipedia). The episode airs on Monday, July 30, 2007, 12:30 pm (PST). Check local listings for time and channel. Lil' Keesha comes to The Bold and the Beautiful playing a Boldface Records artist (Boldface Records is the fictional record company owned by character Constantine Parros played by former American Idol finalist, actor/musician Constantine Maroulis) performing her new single "Heaven Knows".


Sum 41 (l-r: Steve Jocz, Deryck Whibley, and Cone McCaslin) have announced a handful of September tour dates, mostly with Yellowcard, in support of their new album Underclass Hero. The new shows begin on September 8 in Portland, ME. The Canadian band's new record is in stores tomorrow.

According to IP attorney, Cheryl Hodgson, buying that expensive suit or designer handbag on sale may be a good value. However, when it comes to trademark filing services the discount route not be the best value after all. Several "do it yourself" or online consumer discount legal service sites also advertise trademark filings for deeply discounted prices, plus the filing fees of $325 per class. The old saying, "If it sounds too good to be true, it is" comes to mind when deciding whether to rely upon such services. Why not use this service over that of a more costly charge by an expert trademark attorney? Before deciding, the business owner should ask: "Is the goal to successfully register the mark, or to file the application for the cheapest price?" More specifically, "Would you have an objection to paying a higher, flat fee for an experienced professional who has properly disclosed hidden costs, advised you of the risks of self-representation, and is likely to greatly increase your chances of success?" The information these filing services fail to mention is often more important than the price they advertise. Cheryl will speak at the Monitor Latino Radio convention, to be held August 12-15, 2007 at the Los Angeles Marriott. Hodgson Law Group can be reached at (310) 623-3515
Tsunami Producer Management welcomes producer/engineer and Grammy Award winning mixer PAUL Q. KOLDERIE to itsroster: Kolderie's lengthy discography includes noteworthy releases from RADIOHEAD, HOLE, THE PIXIES, LOU REED, UNCLE TUPELO, THE MIGHTY MIGHTY BOSSTONES, MORPHINE, and many others. Paul won a Grammy this year for mixing work with IRMA THOMAS at his own Camp Street Studios in Cambridge. He is currently mixing the new JOE JACKSON album for Rykodisc. For more info contact: Dana Childs Tel: +1 (323) 210-2525 ext. 133

Stephanopoulos Move To Newseum ABC is considering moving "This Week With George Stephanopoulos" to the museum's new building near Capitol Hill that opens early next year. The Newseum, a shrine to journalism history, will include a digital HD studio


Mercury A&R Appointments



Mercury's A&R: Evan Lipschutz and David Gray

Mercury President David Massey announced two appointments in May -- Evan Lipschutz and David Gray have both been appointed Director, A&R at Mercury Records. In their new position, Lipschutz and Gray will seek out, acquire and develop new talent and oversee recording projects from the creative standpoint. Both will be based in New York and will report directly to Massey.
Lipschutz has spent the past six years at Daylight Records, a division of Sony Music International and Sony/BMG Music Entertainment. He began his career as A&R Coordinator in 2001, and after two years was promoted to Manager, A&R. In 2005, he was promoted to Associate Director, A&R. During this time, he worked closely with Massey on projects including Good Charlotte, Shakira and Phantom Planet. Gray has served for the past four years as Director, A&R at Daylight Records. During this time he worked closely with artists such as Anastasia, Delta Goodman, Duran Duran and INXS. Prior to that he spent two years as Creative Manager at Zomba Music Publishing
Meet Me In The Playground - Part II
An exclusive to studioexpresso Interview With John Cloud, Head of International/Label Manager, Playground Music Scandinavia

In an effort to introduce artists to new distribution avenues and international markets, studioexpresso brings this two-part interview with John Cloud of Playground Music Scandinavia who works with numerous artsits to inlcude: Allison Krauss and Ibrahim Ferrer. You may read part I of the interview in the June ezine here





SE: What was your first job in the industry?
JC: I started at Radium Records in Gothenburg and alternative rock, electronica, experimental music label that was the cutting edge back 1988. Union Carbide Productions, Hausswolff, Blue For Two and many others came from there. I then went to work at MNW a major indie with big cataloge and worked international for 10 years and then Playground where I have worked for 8 years

SE: What' your general background (area of expertise, education, etc) and how did you get involved with Playground?
JC: I am a graduate of California State University of San Bernardino I majored in Communications, Music and Radio Broadcast. I was Music Director for 4 years at KUOR Radio (a local station first hip hop then switching to Jazz) in Redlands California. I also did two shows and news. I later built and set up KSSB radio an alaternative rock station at the university. I also play guitar and write songs and release music along the way.

SE: Who's in your radar of compelling artists today and why?
JC: We represent labels from America and Europe that focus on country, world, singersongwriter, bluegrass, Alt-country and blues music. Rounder Records, Sugarhill Vanguard, Munich and World circuit such artist as Chingon, Maria Maldaur, Ibrahim Ferrer, Allison Krauss, Donna Huges, Uncle Earl, Alternative Routes, Kim Richey, Marc Broussard, Reckless Kelly among others. In Scandinavia, we work with distributing such artist like: Jose Gonzales, Frida Hyvonen, Tapes, Al Deloner, Pernilla Gunvad, Bright Lightning among others.
SE: How is Playground different from other labels?
JC: Playground label is a rock, pop, singer-songwriter lable. The foreign acts from the labels above are more niched in roots music
SE: What's your role - describe your daily activities
JC: On Playground side I am label manager involved with A&R and product management and international exploitation. With Foreign labels I work with label management and promotions
SE: What are some challenges in your job? Could an artist or their manager help and how?
JC: A good manager can help if they are getting the band's agent to get the shows and to get them press. We work at the same time sending singles to radio, student radios, web communiteis suitable for the style of music and web-zines. We have the videos up on Youtube, Realfresh TV and Singing Fool and using our www.myspace.com/playgroundmusicinternational site to promote them as well. More direct contact with the consumer is the biggest challenge and allowing those fans and friends access to music at first so they will buy later.

SE: If there was one thing you could change about the industry what would it be?
JC: That people still wanted physical CDs as I like vinyl and CDs I am old school deep inside even though I buy music online and have an ipod. Also I would have started finding legal solutions to downloading 15 years ago that way we would have not lost the generation who wants it all for free. They have to understand that eventually this will lead to poorer quality as no one can afford to do great movies or music productions and not make money at it.
SE: Is the label looking for new artists. If so, what's the best way to present a new artist to Playground/Roots
JC: Yes we are seeking new talent. Send us your links to myspace and youtube to start with. If we like what we hear we will contact them.
http://www.myspace.com/playgroundmusicinternational
www.youtube.com/pgmscandinavia
Houses With Studio For Sale
Offered by David Spangler/Rodeo

Singer/Songwriter-owned S of the Blvd home on quiet cul-de-sac. 5bedrooms/4 baths 3011 sqf 0.42 acres. New soundproof recording studio, large drums/sound booth w/hardwd floors. 2BR downstairs, 2BR upstairs, plus maids qtrs. Open floor plan great for entertaining w/wet bar, pool, spa, game & dining all w/hardwd flrs.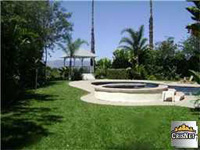 Kitchen has SS appl & granite counters. Master suite w/new cozy F/P, deep soaking tub, marble counters & French doors open to pvt yard, pool/spa, waterfall, patio & gazebo w/beautiful views of the Valley.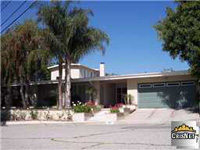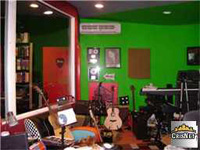 Imagine yourself in this lush tropical landscaped backyard with koi pond in Sherman Oaks . Completey remodeled w/ new kitchen appliances, 800 sf tile deck, Jacuzzi, attached 15X18 storage shed and conv. garage/sound proof music studio. 3 bedrooms/1.75 bath; 1530 sqf; 7290 lot size
Both properties contact David Spangler/Rodeo Phone: 818-402-1989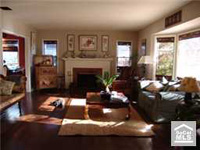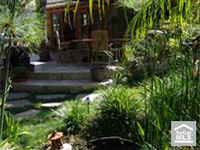 Burbank Property Featured in The Daily News Article "Music is Making Itself at Home"
Offered by Christine Lloyd-Maddocks / Rodeo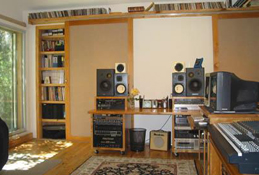 This charming 1944 house (Two Separate Buildings: House Sq. Ft.: 824) has an open plan with loft style living with a large combined living, dining and kitchen area. 1 bed/1bath; Large windows flow straight across the front of the house giving you a view of the tranquil yard which is dotted with mature pines, fruit trees, grasses and flowers. Exit the French Door into the courtyard for some serenity. (824 sq. ft) STUDIO: In a separate structure is a fully functional recording studio with soundproofing and acoustical treatment. Room for V.O. Booth. $568,000 1127 N. Catalina Street Burbank, CA 91505
For more info call call Christine Lloyd-Maddocks at (818) 437 0369
Take A Killer Portrait

1. Premeditate: From what to wear to where to be photographed.
2. Use a soft or indirect light source to downplay age. Reflected daylight is incredibly flattering. If you don't have studio lights, find an area in your house or outdoors where sunlight bounces off white walls. For best results, shoot in the early morning or late afternoon.
3. Stay Away from bold patterns. Solid colors is an easy way to keep the focus where it belongs
For inspiration visit Orchard Photographers

Jakob Haendel On Location Recording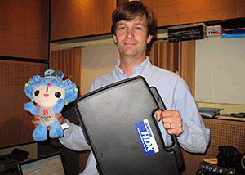 Haendel is in continual demand as a location recording engineer for German and Swiss broadcasters, and has recorded large scale projects such as the Beijing Symphony Orchestra for EMI, The Rio Campos Music Festival, the Rammstein Live DVD, and Maceo Parker Live in Paris."When I am recording ," explains Haendel, "I want to concentrate solely on the music as I am reading the score and not have to worry about transfer rates." Using high-quality, multi-channel Stagetec Reference Mastering A-D converters, Haendel routes 64 channels of digital audio into his Pyramix workstation via MADI.? Tracking to an internal SATA RAID setup, the Avastor HDX-800 drives are used as back-up and for deliverable masters.? In addition to his PC, Haendel uses a smaller Toshiba notebook system capable of recording up to 24 tracks directly onto the Avastor HDX-800 drives via Firewire 800."
"The Avastor automatic internal switching power supply and inaudible onboard cooling fan are invaluable in countries with different voltages and widely diverse climates," commented Haendel." Using the supplied IEC power cord of the particular country is all that is required for secure and grounded operation.
Bad to the Bone At Ardent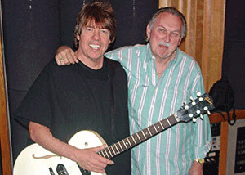 L-R: At Ardent Studios in Memphis are George Thorogood and producer Jim Gaines

Blues-rock celebrity George Thorogood and and his band The Destroyers have returned to Ardent Studios in Memphis to record new material and to re-cut classic tracks for an upcoming EMI
"Best Of" album. Included in the new collection is the enduring worldwide hit "Bad To The Bone," which was featured in Stephen King's Christine and also Terminator 2: Judgement Day, among numerous other films and TV show.
Vintage Mics Restored For Zappa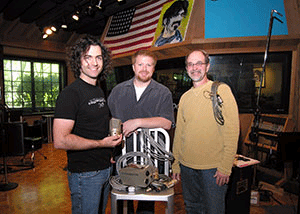 At Frank Zappa's Utility Muffin Research Kitchen are (L-R) Dweezil Zappa with a vintage Telefunken M49; Telefunken | USA CEO Toni Fishman; and Charlie Bolois, owner of Vertigo Recording Services and Telefunken | USA's West Coast service and restoration specialist.
Photo by David Goggin.
Telefunken | USA Completes Restoration of Zappa Microphone Collection. The restoration of Frank Zappa's vintage mic collection, begun in 2005, is now complete. The project began with a visit and evaluation by Telefunken | USA CEO Toni Fishman and was completed by Charlie Bolois, the company's West Coast service specialist. Zappa also took possession of a new Telefunken | USA U47, one of a new line of line of microphones which faithfully recreate the legendary vintage Telefunken sound.Rare Systech Harmonic Energizer Now On Tour With Dweezil


Rip
Henry Edwards
1952-2007


Affectionately referred to by some at HHB as The Old Speckled Henry, Henry Edwards joined HHB in 1998 as new products manager and soon set about bringing his vast experience and considerable talents to bear on the development of a series of innovative new HHB products including the PORTADRIVE location sound recorder and FlashMic digital recording microphone. "More than a great ambassador for HHB, Henry was a great ambassador for the professional audio industry," said HHB's Managing Director, Ian Jones. Edwards served as technical manager at Masterpiece Mastering (formerly Copymasters) with responsibility for all technical aspects of the nine-room facility. Henry cut his teeth working on location jobs with the BBC and independent television companies before moving on to Trident Studios in 1977 as technical manager of the recording studio, mix room, mastering and disc cutting facilities. In 1981, Henry joined CTS and Lansdowne Studios where, as technical manager of the recording complex, he witnessed the transition from analogue to digital recording from a unique vantage point, taking responsibility for the technical implementation of the world's first all-digital multi-track recording facility. Chris Hollebone, then at Sony, remembers a man that was always charm personified. "They were the pioneering days of Sony's CD mastering systems and DASH digital multi-tracks, and Henry was very much in the hot seat.

Henry was a devoted family man, married to Carol with whom he had a son, Niall, and a daughter Tamzyn. It was with great pride that he announced the birth last year of a grandson, Finn. He died peacefully with his family around him on July 11th.

Quote Of The Month
"Our mission is no longer limited to the two-hour concert. It's about taking that two-hour experience and turning it into a 12-month relationship. There's so much around the show itself that we realized we should be selling: a photo at the show, song downloads, the concert poster. We realized we should be selling this stuff not just to the people who went to the show but also to fans who didn't make it there. We need a portfolio of businesses to offer these products and services around the concert ticket." -- Live Nation CEO Michael Rapino (Last year's acquisition of Musictoday was part of a larger transformation within Live Nation, the biggest concert promoter in the business. Rapino discusses how the company has been changing its tune -- and the concert experience -- since spinning off from radio giant Clear Channel in late 2005 in an interview with FastCompany 2/07).
NOMRF On The 2nd Anniversay Of New Orleans Disaster
The New Orleans Musicians Relief Fund, Inc., a grass roots certified 501c(3) founded by and for displaced musicians, has sent grants to hundreds of displaced musicians and with international support, we'll continue. Many musicians including Dr John and the Miraflores Piano Trio (all graduates of Juilliard) have helped raise funds.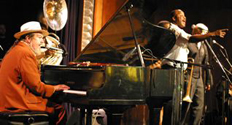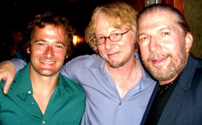 Mike Mills of REM (center) and John Stirratt of Wilco (left) have offered tremendous support to NOMRF (New Orleans Musician's Relief Fund) and founder Jeff Beninato (at right) . For more info on how to get involved or to donate visit http://www.nomrf.org/donations.html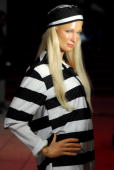 Madame Tussauds New York Unveils Paris Hilton
Photo By: Rob Loud/Getty Images

Some 3000 readers of Wire Magazine got to submit a photo of their choice for the July 2007cover.
Claris Sayadian-Dodge, studioexpresso's editor (below) was one of them. Follow the link below and create a Wired Cover with your own image, courtesy of XEROX technology. We think it's FAB.
http://www.wired.com/promo/xerox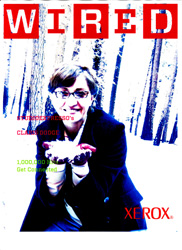 Stay connected. Until next month, remember it's all about having FUN.