> home page




> more engineers/producers

Steve MacMillan
Mixer/Engineer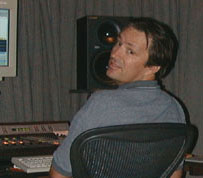 History: With two Grammy nomination for best engineering and over twenty years experience with high profile artists, Steve has mixed hits for Seal, Rod Stewart, Celine Dion, Tina Turner, and now American Idol, Kelly Clarkson. He has worked on albums with producers Trevor Horn, Rhett Lawrence, Rick Nowels, Bernard Edwards, David Paich, and James Newton-Howard.










Steve MacMillan started as an assistant at Kendun in the early eighties working almost exclusively with Motown great Barny Perkins. Later he worked at Ocean Way with artists like Lionel Ritchie, Supertramp, Mr. Mister, and the Manhattan Transfer. Steve went on to engineer Belinda Carlisle's hit album Heaven on Earth, and then five albums for Rod Stewart, mixing most of the singles including the timeless "Forever Young". Mixing Rod's hit "Downtown Train" started a long association with producer Trevor Horn, including three Seal albums. He mixed several of Seal's singles including "The Killer, Don't Cry, Prayer for the Dying, and Lost My Faith". Other projects with Trevor include Mike Oldfield, Tina Turner, and the Coyote Ugly soundtrack with LeAnne Rimes. He recorded and mixed Celine Dion's single Falling Into You. Steve also has a strong presence in the inspirational pop market working with dcTalk, Jaci Velasquez, and Crystal Lewis amongst others. Steve MacMillan has been a ProTools owner since version one, and has great experience combining classic recording techniques with modern hard disk recording and mixing.








Current Credits: Recent projects include mixing Toto's new album "Through the Looking Glass", Merril Bainbridge, and mixing Kelly Clarkson's new single "Miss Independent". The first American Idol's debut album "Thankful" outsold new releases from 50 Cent, Fleetwood Mac, Darryl Worley, and topped The Billboard 200. The RCA release sold 297,000 copies in the U.S., according to Nielsen SoundScan.
Steve just got back from Canada where he mixed tracks for 'Shania Twain Up Close and Personal' for NBC TV broadcast on 11/25/03 with producer Mutt Lang. "We worked in a log cabin near Huntsville (about two hours outside of Toronto on a lake) and lost power for a couple of the days during a snowstrom. No heat, no lights, and no running water while the snow fell. We used generators to run the computers. It was a great thrill and honor to work with Mutt. The band was Alison Krauss and Union Station -- fantastic. Jerry Douglas played some amazing dobro solos and the singing was first rate bluegrass (remember A Man of Contant Sorrow). Shania looks fantastic on the video and it should be a great show," says Steve.

Contact: Email Steve MacMillan or call studioexpresso at 818-990-3031

<![if !supportEmptyParas]>
copyright 2004 studioexpresso