Pearlman Standard
Brauner Phantom V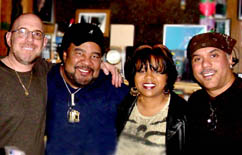 L-R: Ted Perlman, George Duke, Denise Williams and Howard Hewett
Having worked with a true who's who of the music industry, including Whitney Houston, Bob Dylan, Chicago, Burt Bacharach and Elton John, to name but a small fraction, Ted Perlman knows quality when he hears it. A producer, engineer, composer, arranger, multi-instrumentalist and educator based in Los Angeles, Perlman has just added a Brauner Phantom V variable pattern FET microphone to his arsenal of equipment, and believes it might just be the best mic out there.
"If a U87 is the standard everything else is judged by, this raises the bar and changes the standard," declares Perlman. "I would take this Brauner over that one. This is the most unbelievable microphone. I've worked with everything. It's perfectly even, from the bottom through the middle to the top. If somebody is screaming loud or singing high, it doesn't get all screechy. If they have a deep voice, it doesn't get boomy. It's just beautiful."
Perlman works with a great many vocalists at his Buffalo Sound studio in the San Fernando Valley, and until now has been used to pulling out one mic after another to match each different voice. But with the Brauner Phantom V, he says, he's found a vocal mic that suits everyone. "I haven't found a microphone that is so versatile. I'm just so knocked out by how many different applications and situations it works well in. So I rarely have to change the mic now."
Offering an example, he continues, "We had Howard Hewitt, a great, amazing singer, here last month. We went through a few mics and they just didn't sound right. I pulled the Brauner out and - bam!"
According to Perlman, the new mic has also saved him a lot of time and effort, in particular on a new project with U.K. singer Zara Phillips, who has recorded with Bob Geldof, among others, during her 15-year career. "Her voice is cool and interesting but difficult to record. I had to go through and fix her tracks and take out these noises, so I changed to the Brauner.
Instead of having to spend six hours cleaning up the tracks it immediately sounded good. And I could get back to my life!"
The mic also offers benefits to the artist, he says. "It picks up so well.
With most mics, when you back up it tends to get thin, but with the Brauner, you can back up two feet and it sounds just as full and wonderful. You don't have to sing right on top of it. That way, you hear the room, and it's a much nicer sound."
"In addition," continues Perlman, "we just recorded well-known TV & radio personality Tanya Hart with the Brauner Phantom V on all her voiceovers for the Premiere Radio Network show "Ray Charles-The Man & His Music." Not only does the mic sound great for singing, it totally shines on voiceovers. Tanya could have recorded her voiceovers at the radio station, for no charge but fell so in love with the sound of her voice on the Brauner (from one of my previous Brauner mic demos) that she insisted on coming to the studio. Of course I'd like to think my charming personality had something to do with it, but I highly doubt it. It was all Brauner.
If Perlman ever feels like adding another title to his job description, he might consider becoming a pitchman. "This is going to sound like a press release," he laughs. "There are Brauners that are more money and more specialized, but if you are going to buy one Brauner, this is it. You can get yourself a great Brauner mic with the Phantom V and you'll be able to work in whatever situation that arises."
For more info email Brad Lunde, at LasVegasProAudio.com Phone (702) 307-2700 or (702) 365-5155 or Fax (702) 314-2764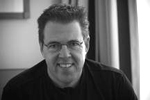 Las Vegas Pro Audio is the direct sales division of TransAudio Group. It was created to serve as a conduit between extremely busy pro audio professionals and boutique high-end equipment manufacturers. TransAudio Group, founded by industry veteran Brad Lunde, has quickly become the premier U.S. importer/distributor for high-end audio.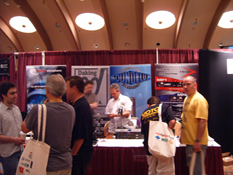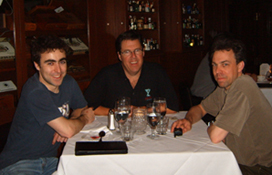 LVPA booth at TapeOp Conference; L-R: Ben Lilly, Brad, and David Bock (Soudelux)
TransAudio Group's product lines include A-Designs (USA) AEA ribbon microphones (USA), ADT Toolkit, AEA, ATC Loudspeakers (UK), Brauner microphones(Germany), Drawmer (UK), Geoffrey Daking & Co. (USA), George Massenburg Labs (GML) (USA), Mercury Audio (USA) Mission Audio (UK) Phoenix Audio (UK), PAULY Superscreens, SABRA SOM, Soundelux (USA), SoundField Microphones (UK), Z-Systems (USA) and Weiss Engineering.
Live 8
Artists United Fight Poverty --July 2, 2005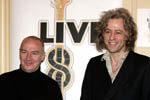 Midge Ure (L) and Sir Bob Geldof at the Live 8 press conference in London on May 31, 2005. Photo: Getty Images

Round-the-world concerts in the run-up to the G8 summit in Gleneagles, Scotland, from July 6 to 8, Live 8 wants to encourage people to speak out against poverty, especially in Africa.
A steadily growing number of top national and international stars have agreed to appear at the concerts to be held on July 2 in London, Paris, Berlin, Rome, Philadelphia, and Barrie in Canada.
Sennheiser to equip all the events with wireless microphone and monitoring technology, will attend to provide on-site support. Sennheiser will work with local sound rental companies at each of these events, invest more than 1000 man hours and supply in excess of 1 million Euro worth of equipment to ensure this event is a success.
According to the organizers Sir Bob Geldof, Live Aid co-founder Midge Ure - Harvey Goldsmith and Richard Curtis, Live 8 is more than just a rehash of the 1985 Live Aid charity concert. This time, it is not a question of fundraising, but mobilizing people to exert pressure on the governments that will attend the G8 summit. This is a vision that has also captured the inspiration of many artistes: the line-up for the Live 8 concert in London, for example, includes Sting, U2, Keane, Robbie Williams, Annie Lennox, Dido, Sir Paul McCartney and Madonna; on stage in Paris, the names include Shakira, Johnny Hallyday, Muse and Youssou N'Dour. The Brandenburg Gate venue will feature A-ha, Herbert Groenemeyer, Die Toten Hosen, Lauryn Hill, Sasha and Wir sind Helden; Rome, in turn, boasts headliners such as Faith Hill, Nek, Tim McGraw and Zucchero.
In Philadelphia, Live 8 has attracted artistes and bands such as Bon Jovi, Dave Matthews Band, Destiny's Child, Rob Thomas, Sarah McLachlan and Stevie Wonder, while Bryan Adams, Simple Plan, Our Lady Peace, Bruce Cockburn and the Barenaked Ladies will all perform in Barrie, Canada. The complete line-ups are featured on the Live 8 website Make your voice be heard against poverty - support Live8!




Burton's Chocolate to Bride With Soundelux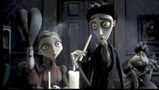 The very next day after he completed his work on Tim Burton's CHARLIE AND THE CHOCOLATE FACTORY, Supervising Sound Editor Eddy Joseph (pictured above) of Soundelux London commenced work on Tim Burton's CORPSE BRIDE, slated for a September theatrical release.
John Schneider & Just Strings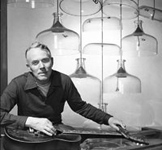 Just Strings explores the inventive composer's custom constructed instruments, including the Chromelodeon, Kithara, Adapted Viola, 7 Bass Marimba, Diamond Marimba, Harmonic Canon, Adapted Guitars and the Cloud Chamber Bowls. For more information, visit microfest.org. The inventive composer visited REDCAT (Disney Hall) on June 20th after last year's sold-out performance of Harry Partch's Bitter Music.


Ian Dury & the Blockheads
Song By Song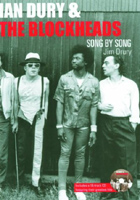 The CD that accompanies the book (published by Sanctuary) of the same name by author Jim Drury takes us through the career of Ian Dury and you get the lyrics to more than 60 of his songs. Look for a new album coming out soon by The Blockheads with one of the origianl members Chaz Jankel.

The band who coined the phrase "Hit Me With Your Rhythm Stick" in the 1980s, Blockheads were the musical force behind the articulate and thought provoking lyrics of the enigmatic shaman - Ian Dury. This book sits the original line up down and discusses with them the back catalogue of hits they enjoyed, as well as their memories of Dury. A must for any true music fan! Available here.

Lerman's Choice
Daking's FET all-discrete was used on Dar Williams' "Brave New Girl"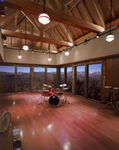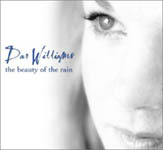 Producer, Stewart Lerman recorded Williams album Allaire Studios
Producer Stewart Lerman was recently presented with an interesting, and ultimately eye-opening, quandary. Lerman was busy working on the mix of singer/songwriter Dar Williams' upcoming release entitled, "Brave New Girl" working with engineer Dave Darlington, studio staff engineer, John Senior and tech guru Paul Hammond at Philly's Elm Street Studios, when he realized "the perfect" compressor was needed for the console's mix buss. So doing what any inquisitive recordist would do, Lerman and his colleagues staged a compressor shootout.
"We had a bunch of different compressors available to us," recalls Lerman, who put four of the top name compressors and the Daking FET compressor/limiter each side by side. "This is a natural sounding piece, and we didn't want the compressor to sound colored or aggressive."
Basic tracks for "Brave New Girl," Williams' eighth full-length album to be released in August, were recorded at the picturesque studio hideaway, Allaire Studios, situated in upstate New York.
"We tracked everyone live, with the whole band playing in the same room, through a Neve 8068 straight to Pro Tools|HD," explains Lerman. Soon after, Lerman and Darlington joined Hammond at Elm Street where the album was mixed back to Pro Tools|HD at 96kHz/44.1kHz via Universal Audio A/D converters as well as to an ATR 102 half-inch analog machine.
For the compressor shootout, Lerman, Darlington, and Hammond were all ears as they mult-ed from the console to each of their chosen processors. "We set each compressor to one basic setting and sent the same exact signal through all of them. We agreed that there was no question that the Daking sounded best. Three out of three pairs of ears selected the Daking. Compression can be a subtle thing, but we all said, 'That one sounds best,' and it was all for the same reasons: its clarity, its lack of accentuated color, and it did only what we wanted it to do. By far, the Daking was the best compressor for the job."
The flexible Daking FET is an all-discrete compressor and limiter featuring transistor circuitry, transistor balanced inputs and outputs, and Class A amplifiers enclosed within a sturdy stainless steel chassis. All parameters of the Daking FET are selectable and repeatable with adjustable threshold settings from -10 to +10 in 2dB steps. Other settings include 250 microseconds to 63 milliseconds of attack, seven release time constants, and 1:5:1, 2:1, 3:1, 5:1, 10:1, and 20:1 ratios. A three-function VU meter (input/output/gain reduction) and two inputs (XLR and quarter-inch TRS) are included.
Lerman, while finding that each compressor performed well, decided that using a compressor capable of a super-transparent performance was most important to the sonic integrity and musicality of Williams' latest recorded effort. "While all the stuff sounded good, I heard the characteristics of the other compressors," he explains. "I wasn't looking for a 'color,' and not having one was a really good thing. I liked what my mixes sounded like.
With all the other compressors, when I started hitting them hard, I could really hear the undesirable elements of stereo compression. With the Daking I never did."
In the end, mixing to dual formats paid off. Sterling Sound's Greg Calbi, the mastering engineer on the project, chose to use the analog master recorded on the ATR 102. "Even though the 96kHz mix sounded identical to what was happening in the studio, the tape's warmth sounded best in the end," explains Lerman. "At the end of the day, Greg chose to use the tape."
For more info email Brad Lunde, at LasVegasProAudio.com Phone (702) 307-2700 or (702) 365-5155 or Fax (702) 314-2764 or visit Daking Products Page.



Want some good Carma? You may find it at CarmaDVD.com
CARMA is an acronym for Culture, Art, Religion, Music and Architecture-- and simplifies the process of finding DVD's by organizing it in one convenient online store that uses Amazon's easy-to-use and secure shopping cart. When you use the search feature on this site, you are actually searching the entire amazon DVD catalog.
DVDs featured on CARMA cross several film genres, including documentaries, music performance, indie, historical, biography, plus a few dramatic works, which makes finding good "CARMA" something of a hunt and peck process and virtually impossible in mass-market retail settings largely dominated by popular Hollywood films. Try
Carma writes their own reviews and interested in hearing your opinions too. If you have a favorite VHS that is not available on DVD, let Carma know about it --they're always interested in preserving superior productions and can work to get it reissued on DVD.
Carma wants to hear from you -- send your comments, and particularly your suggestions for DVDs they should feature to support@carmadvd.com

First Reggaetón Artist to Ink With a Major Label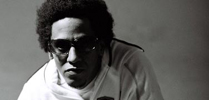 Atlantic has announced the signing of Latin rap superstar Tego Calderón via a long-term, worldwide deal with Calderón's own Jiggiri Records label. Heralded as the king of the Puerto Rican-bred music known as reggaetón, Calderón is the first artist in this rapidly burgeoning genre to ink a global pact with a major label. His debut Jiggiri/Atlantic album, to be entitled "THE UNDERDOG," is slated for release in October.

The announcement was made today by Atlantic Co-Chairman/COO Craig Kallman, who commented: " I am thrilled that one of its signature artists, the brilliant Tego Calderón, has joined the Atlantic family. The reggaetón and Latin hip-hop movements are rapidly merging into the mainstream of American music and media, and Tego's innovative style, street credibility, and charismatic presence have already made him a cultural icon, placing him at the leading edge of the vibrant new urban-driven Latin scene."


Born and raised in Puerto Rico, Tego Calderón -- AKA "El Abayarde" -- has earned international acclaim for his unique musical style, which mixes salsa and Afro-Caribbean rhythms with hip-hop and dancehall reggae influences. Lyrically, he has forged a revolutionary flow inspired by his authentic street roots, creating a social chronicle that openly addresses such issues as racism, poverty, and class oppression. Combining hip '60s slang with modern urban language, and set apart by his unmistakable Afro hairstyle and captivating stage presence, Calderón's appeal transcends economic, social, and age barriers, as he creates music with truly universal appeal.

In 2002, Calderón released his solo debut, "EL ABAYARDE." Breaking sales records in the underground reggaetón genre, it sold a remarkable 50,000 copies in just one week, and Calderón became an overnight Latin superstar. Just three months after making his solo premiere, Calderón was greeted with a tumultuous response at a sold-out concert at Roberto Clemente Coliseum in San Juan. Calderón has been featured on a variety of mixtapes and been invited to add his trademark vocal style to collaborations and remixes by the likes of Fat Joe's Terror Squad (the #1 smash, "Lean Back"), Usher, N.O.R.E., 50 Cent, Cypress Hill, and Wyclef Jean, along with fellow Latin stars Roselyn Sánchez, Toño Rosario, and Aventura, among others.

From his ovation-gathering appearance at New York's annual Puerto Rican Day parade in 2004 to becoming the first Spanish-language artist to be featured on New York's Power-105, Calderón has been breaking cultural barriers. Earning widespread critical acclaim, he has been featured in the New York Times, Vibe, Fader (cover), Urban Latino (cover), Fuego, and many other publications. In its recent cover story on Calderón and reggaetón, the Village Voice noted that Calderón "almost single-handedly... steered his country's dominant youth culture out of the island and Latino neighborhoods, and into the American stream of pop consciousness."

Among Calderón's achievements are Latin Grammy and Billboard award nominations, the 2004 Source Hip-Hop Music Award for International Artist of the Year, a Tu Música award, and nominations for La Gente and Lo Nuestro awards.


Later last month a multi-faceted agreement with platinum selling hip-hop star and entrepreneur Cam'ron and his Diplomat Records was inked by Asylum Records (Warner Music Group). Under the agreements, Asylum Records will provide marketing, promotion, distribution and sales services for future releases from Cam'ron as well as artists signed to his Diplomat Records label. Currently, artists on the Diplomat roster include 40 Cal and Jha Jha. "Cam'ron is a multi-talented artist who has demonstrated his skill not only in music but also in fashion, film, the liquor business with Sizzurp, and marketing, as well. We are excited to start working with him and the entire Diplomat family," says Todd Moscowitz, president, Asylum Records.
Serving Your Surround Zone Plug-ins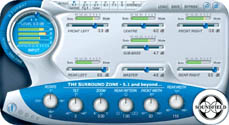 LasVegasProAudio, the direct-sell division of TransAudio Group (see pic below), is now shipping SoundField's Surround Zone plug-in for Digidesign's Pro Tools software on both Mac and PC platforms.
The Surround Zone brings all the control and innovation of SoundField's surround and stereo processing to the digital domain. It combines the hardware features of both the SP451 surround processor and the MKV System and is designed to accept the B-Format information generated by any of the current SoundField microphone models.
A full surround recording can be captured using a single SoundField microphone incorporating a patented multi-capsule array. Because the microphone captures the sound at a 'single point', as opposed to multiple spaced microphones, all channels are completely phase coherent. This enables surround mixes to be collapsed back to stereo or mono without the loss of any vital audio information. Each microphone system outputs SoundField B-Format, which is a three-dimensional snapshot of any acoustic event.
Once the SoundField B-Format is in the Digidesign environment the plug-in enables the user to generate various surround mic-arrays with variable polar patterns. Specifically the Surround Zone provides a choice of three separate
5.1 arrays, individual 6.1 and 7.1 arrays, independently variable width of both the front and rear pairs, phase coherent LFE and individual level controls with mute and solo all with bargraph metering. The software also provides additional control over the sound such as: Rotate - 360 degree horizontal rotation; Tilt - adjust the microphone pick-up angle by plus or minus 45 degrees in the vertical plane; and Zoom - zoom in on sound sources.
The Surround Zone can output mono, stereo, M/S, 5.1, 6.1, or 7.1.
In addition to the surround capabilities also provided are simultaneous stereo outputs. The stereo page features fully variable graphically displayed polar patterns, variable stereo width, variable high-pass filter from 20Hz up to 250Hz, and mid/side encoded output. Both the Surround Zone software and SoundField Microphones can be purchased directly from LasVegasProAudio. Direct purchase price of the Surround Zone software is $975.00 and combination price of the software and SoundField SPS422B microphone is $5,650.00
For more info email Brad Lunde, at LasVegasProAudio.com Phone (702) 307-2700 or (702) 365-5155 or Fax (702) 314-2764
NRG Home of The Rock Star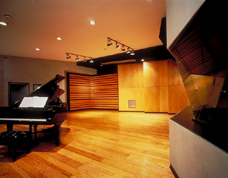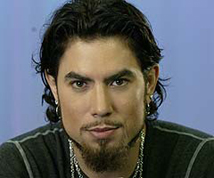 NRG welcomed the filming of CBS Television's new reality show, Rock Star featuring a worldwide search to find a new lead singer for INXS. Co-Hosts, Dave Navarro and Brook Burke were on hand for the filming.
Along with former "Wild On" girl Brooke Burke, Navarro will host "Rock Star: INXS" for CBS this summer. The Mark Burnett-produced series, which premieres in July, will be an "American Idol"-like competition to find a new singer for the formerly mega-selling band INXS.
The show will begin with 15 contestants living together in a Hollywood Hills home. The winner will become the lead singer of INXS and will go on a world tour with the band, known for their hits What You Need and Need You Tonight.
Navarro has done a couple of hosting gigs in the past, including the MTV Movie Awards pre-show and the videogame awards show "G-Phoria" on cable channel G4. He also knows from being a rock star, having been the guitarist for Jane's Addiction and, for a time, the Red Hot Chili Peppers.

Other NRG sessions included: Eric Sarafin who returned to NRG's Studio B to mix the upcoming release by Australian superstar, Pete Murray. Eric was assisted by Sergio Chavez. Don Gilmore set up shop in Studio A, to record a new song for The Veronicas. Engineer Mark Kiczula worked alongside assistant Fox Phelps.
To schedule a session or tour, contact: Annette Scott, Studio Manger 818.760.7841


Billy Bob Thornton's Cave
Finalizing Latest and Third Solo Effort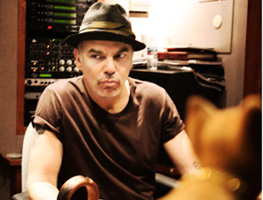 Following up on his critically acclaimed album, Edge Of The World, noted songwriter, musician and recording studio owner Billy Bob Thornton is currently putting the finishing touches on his third solo album that is due out early Fall. This new record, which has the working title HOBO, is co-written and co-produced by Billy Bob Thornton and Randy Mitchell. In addition, all tracks were recorded and mixed by songwriter/guitarist Randy Mitchell who has worked with Thornton for the past 3 years. The album is also co-mixed and co-produced by Grammy® award winning engineer Jim Mitchell (Guns n' Roses, Slash and Poe).
Recorded in Billy Bob Thornton's state-of-the-art recording studio, The Cave, the album reflects on experiences in California, its unrivaled entertainment industry and Thornton's past twenty years immersed in the Los Angeles lifestyle and music scene.
"The idea of this record is to address the need for people to come to California if you are going to make it, as California is sort of the last frontier in the entertainment business," stated Billy Bob Thornton. "It is a record about joy, sadness, success and failure — the realization of dreams and not realizing your dreams. Every song has something to do with that theme, with a couple of songs that are about something that happened one creepy night in Central California — it's a loose tribute to California!" Thornton expressed.
Jim Mitchell, who has engineered and co-produced with Billy Bob Thornton for the past five years, talks about the creative and technical aspects of capturing Billy's vocals on the album. "The record has a heartfelt story-telling, left of center, incredible mood to it and creating a sonic landscape to match is exactly what Billy expressed he wanted for its sound," Jim Mitchell said. "Working in The Cave, with both state-of-the-art and vintage recording equipment, I think we've nailed the true essence of Billy's vocals on this record. When he sings the real quiet passages with a low, soft breathy voice, you feel like he's singing directly into your ear. And with the more rockin' songs, he's powerful, up-front and right in your face creating a dialog between the guitars and vocals. Making the stories come alive is another fun part of my job. I'm extremely proud of this record."
Billy Bob Thornton, who earned two Gold record certifications and performed on the Grammy winning album, The Wind by Warren Zevon, has received critical acclaim from journalists and musicians alike for his songwriting and vocal performances on his last two albums. He recently performed live with rock legend Alice Cooper at the historic El Rey Theatre in the heart of Los Angeles.
Duran Duran with Orlando Phil
Unique Performance on July 18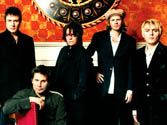 Argent Mortgage Orchestrated™, the newly announced concert series produced by Elevation Entertainment which pairs popular recording artists with symphony orchestras in "one night only" engagements, announced that Duran Duran will join the series.

Duran Duran will be accompanied by the Orlando Philharmonic Orchestra, with a July 18 performance at the Chapin Theater at the Orange County Convention Center in Orlando, Florida. Tickets go on sale this Friday, May 20 at the Orlando Philharmonic Box Office/the Bob Carr Performing Arts Centre and Ticketmaster. Presale and special VIP Ticket Packages will go on sale this Tuesday, May17th at www.DuranDuranMusic.com
The first three previously announced concerts include LeAnn Rimes with the Boston Pops (May 23 in Boston), Seal with members of the Minnesota Orchestra (June 13 in Minneapolis) and Jewel with the Cleveland Pops Orchestra (July 30 in Cleveland Hts., Ohio). The shows featuring the Grammy Award-winning Rimes and the Grammy Award-winning Seal are both sold-out. Only lawn seats remain for Jewel's concert at Cain Park in Cleveland Hts., Ohio.


Avatar: Feels Like Home
Dolly & Norah Return Favors while Kevorkian Masters Phish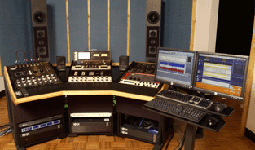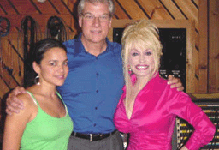 Kevorkian Mastering; Dolly and Norah "Feel Like Home" at Avatar Studio A Control Room

A series of live performances by PHISH were mastered by Fred Kevorkian in his new mastering room located on the 3rd floor of Avatar. Fred's album credits include Ryan Adams, The White Stripes, Dave Matthews Band, Phish, Iggy Pop, The Walkmen, Cassandra Wilson and many others. The mastering room is approximately 300 square feet.
Kevorkian's studio was constructed from a design originally conceived by Sam Berkow of SIA Acoustics and was further enhanced and refined by Roy Hendrickson, Avatar's Chief Engineer. The room features state of the art analog and digital equipment such as the Muth transfer console, Sontec equalizer, Weiss and Z Systems processing units.

Avatar Sessions: Since Dolly Parton's participation in Norah Jones' album, Feels Like Home, Norah returned the favor by participating in hers. John Mayer stopped by with producer Steve Jordan and bassist Charlie Hunter to record his upcoming release. Mayer also played on a BB King tribute record. Producer/engineer David Bendeth mixed a track for Hollywood Records' Breaking Benjamin assisted by Chad Lupo. Windup band, Omnisoul is in Studio C for recording and overdubs for their debut release. Gregg Wattenberg is producing, Greg Gordon engineering assisted by Eddie Jackson.Producer Todd Barkan was in with Calle 54 artist Nino Josele. Avatar's Roy Hendrickson engineered assisted by Eddie Jackson and Peter Doris.
Pianist Makoto Ozone was in with engineer Joe Ferla recording a new disc using Sony's DSD format. Makoto produced the sessions and Aya Takemura assisted.Producer/engineer Al Schmitt was in with Concord Records' pianist Taylor Eigsti Brian Montgomery handled the Pro Tools operation. Virgin Records' Ricky Fante was in with producer Josh Deutsch and engineer Vaughn Merrick. Anthony Ruotolo assisted. Sh'K'Boom Records was in recording the cast of the Broadway show Spelling Bee, , which recently won a Tony Award. Joel Moss engineered, Kurt Deustch produced, Jan Folkson operated Pro Tools with Aya Takemura assisting. Universal Music's East Village Opera Company was in with engineer/producer Neil Dorfsman. Anthony Ruotolo assisted. Brad Mehldau was in recording and mixing with James Farber assisted by Aya Takemura. Eric Clapton with producer Simon Climie and engineer Alan Douglas was in recording for an upcoming release. Brian Montgomery assisted. Mixer Rich Costey mixed the new Weezer album produced by Rick Rubin. Ross Petersen assisted.
To book Kevorkian mastering or for more information, visit Fred's Room to view the gear or call or email Tino at (212) 765-7500 to book a session with Fred. "We've already enjoyed bringing out our grill a few times up on our rooftop patio for burgers," says Tiino.

Avatar is now accepting resumes for part or full time maintenance tech position. For more information, please contact mailto:TechJob@AvatarStudios.net
Congrats to Avatar Studios for being nominated for a 2005 Outstanding Creative Achievement Award in the category of Record Production / Album for Norah Jones' Feels Like Home. The award recipients will be announced at the 21st TEC Award Presentations on October 8 as part of the AES Conference, which will be held in New York this year. "For those planning to attend, drop by Avatar Studios and check out all the new changes," says Tino.

The Village On The Charts

Trent Reznor and Nine Inch Nails, whose With Teeth, was recorded in Studio D at The Village, debuted May 21 at #1 on the Billboard 200.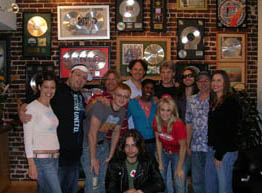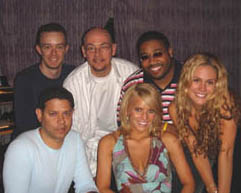 L-R: The American Idol finalists camp it up for Ford in the lobby of The Village with producers the Wojahn Bros; Jessica Simpson: Top row: Assistant engineer Jared Nugent, keyboardist Dan Shea, producer Cory Rooney. Bottom: engineer Ian Cross, Jessica Simpson, Simpson's assistant Kasey

The Village Sessions include: Producer T-Bone Burnett, with engineer Mike Piersante and assistant engineer Jason Wormer, recorded the soundtrack for The Wendell Baker Story in Studio A. Produced by—and starring—Luke Wilson—Wendell Baker also stars Owen Wilson and Harry Dean Stanton. Burnett and Piersante have also been in Studio D recording the score for the much-buzzed-about Johnny Cash biopic Walk the Line.
In Studio D, multi-award-winning commercial producers the Wojahn Bros. cut vocals with the American Idol finalists for a Ford spot.
Wildly busy producer Dave Sardy swooped into Studio A for some last minute updates on the new Oasis release Don't Believe the Truth, which was mixed earlier this year at The Village.
Jessica Simpson camped out in Studio F creating material for her new album with producer Cory Rooney, engineer Ian Cross and assistant engineer Jared Nugent.



Solid State Logic And The Real World
Peter Gabriel's Joint Venture Acquires Technology Giant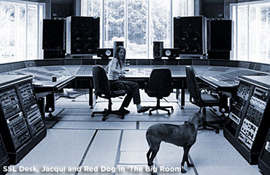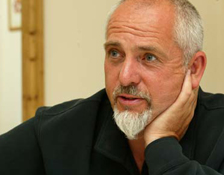 Photo: Carl Desouza
Solid State Logic's assets have been acquired by a joint venture established by musician and technologist, Peter Gabriel, and broadcast industry entrepreneur, David Engelke. The company, which will trade as Solid State Logic, will continue to design and manufacture mixing consoles and related audio technology at its Begbroke, Oxford headquarters.
The principal investors bring considerable experience of both the company's main markets: music recording and broadcast. Peter Gabriel's background as an artist is well known, but he has had a long involvement with technology. Syco Systems, which he co-founded, developed the 'Tablet', one of the world's first purpose-built digital audio workstations. Real World Multi Media, part of Peter's Real World Group, won awards for both technological and creative innovation. More recently, he has had success with OD2 (On Demand Distribution), now the leading European platform provider for the distribution of on-line music. At the same time his many years as artist and studio owner at Real World in Wiltshire have given him a passion for the possibilities of technology, and how it can serve and transform the process of music making and post production.
American David Engelke, formerly also an SSL console owner, has been involved with production and broadcast companies including Pinnacle Systems, Montage Group, and Digital Editing Services and invented several widely adopted technologies in the broadcast industry. Technologies developed by him and his engineering teams have earned them three EMMY Awards from the US National Academy of Television Arts and Sciences and an OSCAR from the Academy of Motion Picture Arts and Sciences.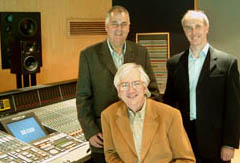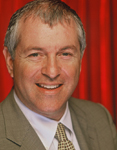 L-R: Piers Plaskitt (seated), Antony David (Standing L), Chris Smith (Standing R); SSL New President, Phil Wagner

David Engelke, who currently heads up Broadcast Devices LLC, spoke about his enthusiasm for the company, "The Solid State Logic brand stands for excellence like no other pro audio company in the world. We are investing to strengthen the company and bring these brand values to a broader market through continued innovative product development."
Peter Gabriel added: "I have been a long time fan of SSL. We're very excited about the opportunity of working with the company and to have a chance to participate in its future and its product development. Real World has enjoyed a close relationship with the company for many years."
Peter Gabriel and David Engelke have recruited an experienced management team for their joint venture. Antony David, SSL's Sales Director in the 80's and early 90's, then head of Pro Audio at Sony Broadcast & Professional Europe, is Managing Director; Piers Plaskitt, previously President of SSL Inc and President Sales & Marketing at Euphonix, is Group Commercial Director; and Chris Smith is Group Finance Director.

In related SSL news, Phil Wagner has been promoted to President of SSL, Inc. Phil joined SSL in 1992 as Vice President Western Operations, and was then promoted to Senior Vice President seven years ago. As President of SSL, Inc., Phil will be responsible for overall sales and customer relations for the U.S., Canada and Mexico. He has sold over 150 consoles in music, broadcast, post and film during his tenure at SSL.


XL in Sound Kitchen and Larabee Studios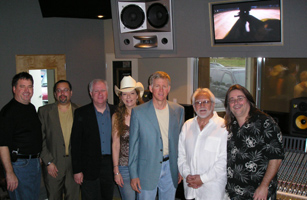 SoundKitchen Studio D Scores an SSL --AES party L-R: Elliot Cunningham, owner of Sound Kitchen, Dave Malekpour, president of PAD, Don Worshba, senior vice-president of SSL, Sharon Corbitt, Sound Kitchen's studio manager, Greg Weston, David Del Sesto and Steve Marcantonio, engineer of the new Brooks & Dunn album.

Nashville's Sound Kitchen, recently installed an SSL XL 9000K in Studio D, which they obtained from Professional Audio Design's (PAD) liquidation of New York City's The Hit Factory. PAD also furnished Studio D with Augspurger 2 x 15" with Horn Custom speakers finished in Austin Martin Sky Grey Metallic with Crown MA5000 and Bryston Amps; the BSS OmniDrive FDS366 Digital Speaker Management system; Universal Audio 1176LN Blackface Reissue Compressor; TC Electronics D. Two Delay and 2 x Lexicon PCM 42 Digital Delays; and a Gefen Extender system for the ProTools monitor & keyboard.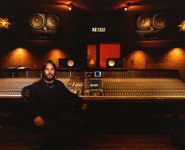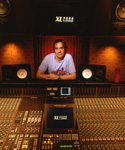 L-R: Dave Reitzas and David Russell at Larabee Studios

Top engineers Dave Reitzas and David Russell (pcitured above) have been making musical magic on the new Solid State Logic XL 9000 K Series SuperAnalogue™ Console recently installed in Studio 1 at the premiere recording facility Larrabee Sound Studios in Los Angeles




Mama Of Dada
Beatrice Wood: The Art of Life
June 24 – August 28, 2005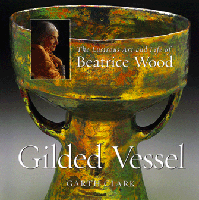 An intimate look into the life of one of the most significant and alluring cultural figures of the 20th century. As a prolific ceramist, Beatrice Wood's career in the arts blossomed from her great love of life. Her expansive and imaginative spirit infused her life's work and that of contemporary culture, making lasting contributions to humanity.
"...Beatrice Wood is one of the most important artists of the 20th century. Her long illustrious life, reflected in her figurative works and luster glazes, has inspired writers, filmmakers, painters and ceramic artists," says, Kevin Wallace, Curator of Craft and Folk Art Museum (5814 Wilshire Blvd., 323-937-4230)
Sonoma's Ranch On The Prairie
Prairie Sun Studios Offers More For Less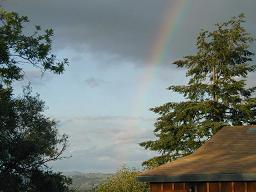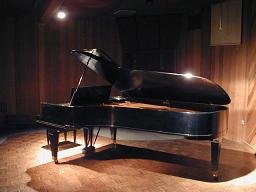 At Prairie Sun rural setting offers serenity, country walks, and scenery of farm life as well as gourmet restaurants and classic Sonoma wineries. Owner Mark "Mooka" Rennick says "The home-studio boom has been beneficial for us, providing more opportunity to showcase services people really need like tracking drums, mixing and world class mastering."
Next time you're planning to visit Bay Area or Sonoma, make this facility a destination. The newly acquired 1964 Baldwin nine-foot grand piano could be one of many reasons why you would choose this facility. The artist-centric attitude exuded by owner and staff over the last twenty-five years, may be the reason why so many great artists, producers, and engineers from a large variety of musical styles have recorded at Priarie Sun.

Recent clients included Les Claypool (Primus), Guitarist Nels Cline (Wilco), Journey, AFI, virtuoso-guitar label Shrapnel Records. Eric McFadden and Wally Ingram with some help from Keb Mo, as well as bassist Juan Nelson of Ben Harper's band the Innocent Criminals. Golf course designer/Poet Robert Trent Jones Jr. with pianist Nolan Gasser (Steve Miller band) and Violinist Alasdair Fraser. Also Jam-Rockers Steel Train, Bay area Heavy metal act Watch Them Die, Southern Rockers the Jackson Stone Band, Hawaiian slack-key guitar heroes, and many more.
Whether he is booking a mixing session or several weeks of intense album crafting, "Mooka" - a musician, producer, and engineer - loves to work with people who share his intense passion for music. From major label albums to independently funded projects, Mooka believes in working with the artist and their budget. Amenities include 'on site' accommodations in two comfortable, two bedroom houses with full kitchens, baths, and cable TV
For more information, or to schedule a tour, please call Mooka himself at 707-795-7011
Bling In The Ring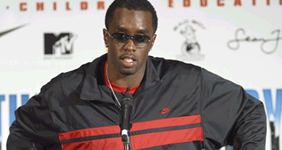 Bad Boy CEO and hip-hop mogul, Sean "P. Diddy" soon (drum roll, please) will become a wireless-service provider. At the cellular industry's annual confab in New Orleans earlier in March, Combs boldly declared that he is an MVNO, wireless jargon for mobile virtual network operator. "I have tens of millions of subscribers who spend billions of dollars every year on all sorts of items -- mainly music," he said. According to the award-winning artist, the value of music when downloaded to phones can take advantage of the success of the wireless space.
The music industry got burned by the Internet but is now getting a lift from cell phones. Down the road, there's a rosy future in wireless downloads of entire songs. But now, the big bucks are in ringtones.
In a recent article in Business Week, the new music delivery cell phones are referred to as iPod Killers! What does the most elegant music player on earth falls short of? It doesn't do downloads over the air, make calls, or take pictures. The Samsung SGH-1300 which will hit key US markets close to yearend will retail at $450-500 each and offer 3-gig hard drive that can store 1000 songs with iPod quality sound. By 2008, half of the 860 million cell phones sold will play music.
Ringtone snippets of songs cost $1 to $3 and replace the ring you hear when someone calls. Revenues are expected to reach $9.4 billion by 2008. Sprint is alone among major carriers in the US in offering 24/7 streaming music. For as little as $5.95 a month, users choose among six channels of radio-like programmed music, from '80s hits to country tunes. Upstarts are working on technology to put satellite radio on mobile phones, too. In November, Korea's SK Telecom launched what could be the future of music on phones. It's offering a $5-a-month service, called Melon, that allows unlimited downloads from a library of 700,000 tunes. Unlike subscription services in the US, Melon lets customers get a new song without a PC. That makes it a potential game changer: You can get any song you want anytime, anywhere - for $60 a year. SK is also selling downloads for 50cents a song. 02 Germany plans a similar service later this year. So, look for monophonic, polyphonic, true and ringback tones coming to a phone near you!
Score For Crowe's "ElizabethTown"
Minimalist Gear includes Sennheiser & Neumann Mics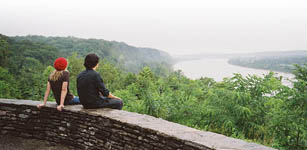 Famed Heart co-founder, guitarist and vocalist, Nancy Wilson, has distilled the recording equipment complement to a bare minimum during her work on the score for Elizabeth Town (The film is scheduled for release early in the fall). According to the project's recording engineer, Carl Kaller, who is using just three Neumann microphones - two TLM127s and an M150 - plus a TRUE Systems Precision 8 mic preamp to capture Wilson's multi-instrumental talents, and has provided a pristine path to the recorder, requiring almost no signal processing. Wilson's home in a studio (dubbed Little Ruckus) has been put together for the project. Although a pair of high-quality compressors is on hand, he says, "I'd say 85 percent of the music that we've recorded is what's hitting these mics and going to Pro Tools|HD. The collaborations between the musician and her music-savvy filmmaker husband, has included "Vanilla Sky," "Almost Famous," "Jerry Maguire" and "Say Anything." As far as setting up the microphones, he explains, "It's all about experimentation... and putting the headphones on and moving the mics around until we're happy. For the most part I'm using the TLM127s to create stereo. Mostly what I'm creating is an LCR, using the 127s, and then I move the M 150 around for a center. It's getting a lot more of the low frequencies. I've found that if I bury these 127s inside the piano, it gives us a really great, rich sound, with the harmonics just flowing over you," says Kaller.


Carole King Masters New Album at Bernie Grundman's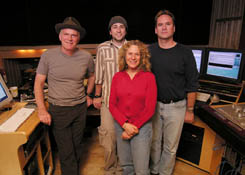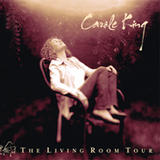 Grundman Session with Carole King (L-R): guitarist/co-producer Rudy Guess, assistant engineer Brandon Miller, and mastering engineer Chris Bellman. Photo: David Goggin
Legendary singer/songwriter Carole King recently completed and mastered The Living Room Tour, her double live album of classics recorded during her 2004 tour. The Rockingale Records release will be distributed by Concord Records and Starbucks Hear Music beginning in July, which coincides with the 2005 leg of The Living Room Tour.
Facing 9Lives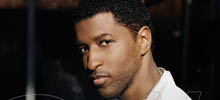 The soulful singer/songwriter/producer, Babyface is back in action with his 9th album, Grown & Sexy. The CD drops July 26th, and Face is out playing live to support the new release from J Records. Watch Face on the Tonight Show July 19th.
He has sung his way into the upper tiers of the soul elite and produced scores of remarkably moving, high quality hits. On July 26, 2005, the legend returns with the album of his life, GROWN & SEXY.
The single, "Sorry For the Stupid Things" a soaring mid-tempo ballad where a man apologizes for all the drama he creates in his woman's world

American Idol Winner Visits Nashville's first "Resort Studio"
Carrie Underwood At Karian Studios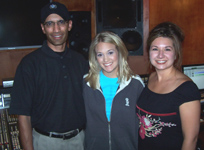 Owners Ian and Karen D'Souza take a break with Carrie Underwood (center) in Studio A of Karian Studios.
Nashville's newest "it girl" Carrie Underwood spent a weekend fit for an Idol princess at the resort studio near the lake in Gallatin,TN. Fresh from winning American Idol, Underwood plans to record her album this fall. She was the darling of the CMA Music Festival and now Elite songsmiths gathered for a three day retreat at Karian to get to know Underwood and play her songs. Craig Wiseman, Hilary Lindsey and Rivers Rutherford were just a few of the songwriting A-list that attended.
Karian is Nashville's first "resort studio" offering amenities ranging from spa services to horses to sailing on Old Hickory lake in their yacht. THe SSL and Pro Tools HD 3 Accel equipped studio offers luxury lodging. Owner Ian D'Souza, a seasoned producer/engineer, was able to serve as chief engineer for the weekend as he does for many of the sessions that come to Karian.
Mike "Frog" Griffith who is production coordinator for Dann Huff, Mark Bright, Marty Williams and many more says, "I am simply stunned at what they are able to offer as a day rate for this studio. It is one of the best deals I have ever come across."
For more information about Karian Studios please call studio owner/manager Karen D'Souza for more information at 615-230-4999.
BT & Jorgl Winged by The Recording Academy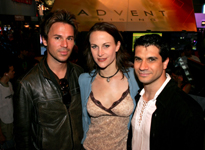 The Producers & Engineers Wing of The Recording Academy® appointed recording technologist/pro audio journalist Steph Jorgl as its new Executive Director and announced launching of a new remix delivery standards committee headed by Brian Transeau (BT).
Following closely on the heels of the release of its technical recommendation document, "Guidelines for Pro Tools Session Interchange", the P& E Wing has begun development of a "Remix Delivery Standards" guideline to be released Fall of 2005. "There is an entire new demographic of music-savvy fans that would love nothing more than the prospect of taking Jay-Z's vocal and putting it over the Killers. If we have a standardized remix format, online download services like iTunes can sell a 'bundle' of loops, stems and MIDI files that open directly in Garage Band or Live - and for a buck or two, any 14-year-old kid can dissect, remix, mix and match tracks by his or her favorite artists. There's a huge market out there for this and the prospect of getting it started, as we did with the Dance Music Album category for the GRAMMY®s, is very exciting," says BT.


MW Showroom Opens in Marina Del Rey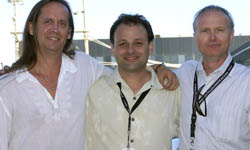 L-R: Jim Mona from Jim Mona Company, MW Audio president Mike Warren, and Danny Brant, MW Audio's Sales Manager.
The "BBQ Bonanza" for the openning of MW Audio attracted a large number of local music recording and sound production friends."We are a high-end professional audio and video sales company that also provides a wide range of services, including system design and installation for recording studios, post production, broadcast, theater and live sound," says Michael Warren founder of the new new state-of-the-art showroom that opened in Marina Del Rey, Los Angeles earlier this month.

Warren began his career at Guitar Center Hollywood, moved to Sam Ash Professional, to handle Artist Relations for the past two decades before luanching MW Audio.

Current and upcoming projects include two additional hi-definition boardrooms for advertising agency Chiat Day; two multimedia conference rooms for Palisades Media, Santa Monica; a complete audio/video studio in Valencia, CA, for music producer Rich Handley; an additional studio for Jeff Jones Music; an updated facility of six studios for Elias Arts, Santa Monica, including new Mackie DXB200 Digital Consoles; and an Audio Laboratory, including 18 stations with Mackie Control Universal, for Willamette University.

118th AES Touts Success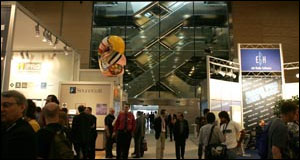 The organizers of the 118th Convention, held for the first time in Barcelona, are calling the show a success. More than 250 exhibitors attended the convention, which includes nearly 50 companies exhibiting for the first time. 6,200 attendees traversed the convention floor.
The attendance figure is similar to the attendance at the 116th convention held in Berlin last year. The 120th AES Convention will be held in Paris from May 20 to May 23, 2006, at the Porte de Versailles.


Lords Of DogTown
Sony Pictures -- opened June 3rd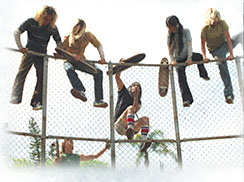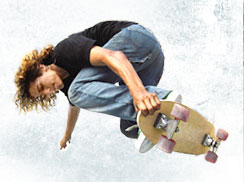 From the dangerous waves off a long-forgotten pier in the 70s to the concrete wasteland of a city slum, LORDS OF DOGTOWN brings to cinematic life the rebel beginnings of some unforgettable sports culture stars -- Tony Alva, Jay Adams and Stacy Peralta.
The Dogtowners had gone from pure poverty to making rock-star money and lives, and some of them barely survived.

In 1999 Spin published an article detailing the history of the Z-boys, focusing on the Dogtown experience, and it caught the attention of Hollywood development exec John Linson who worked at Fox at the time. "I grew up in Santa Monica," says Linson, "so it was a movement I always knew about. I always felt it should be made into a movie." Linson immediately began talks with Jay Adams and other original Z-Boys to secure their cooperation and involvement.
The Z-Boys became famous for their pool skating and radical behavior. Low-riding cement lovers, these outlaw surfers took to the curves and walls of neighborhood pools and invented a whole new style of skating. With one hand stretched out to touch the concrete as they pivoted like their surf idol Larry Bertleman, the Z-Boys' skating was like no other, inspiring kids the world over and transforming the sport forever.
The Zephyr Team, which they later became, was aggressive, passionate, and poetic.
"When you think about American Graffiti or Fast Times at Ridgemont High, they were seminal movies about youth culture," says Sony Pictures Chairman Amy Pascal. "LORDS OF DOGTOWN is that kind of film. These kids sparked a movement that reverberates to this day."
Directed by Catherine Hardwicke (Thirteen) the film features lot of newcommers plus surprises like Rebecca de Mornay (as Philaine, Jay Adams' mother).
The Dogtown soundtrack from Geffen features vintage classics, including: the Jimi Hendrix Experience, "Fire;" David Bowie's "Suffragette City;" Nazareth with "Hair of the Dog;" the Stooges, "T.V. Eye;" Foghat, "I Just Want To Make Love To You;" Ted Nugent's "Motor City Madhouse;" T Rex with "20th Century Boy;" Joe Walsh, "Turn To Stone;" Sweet, "Fox On The Run;" the Allman Brothers Band, "One Way Out;" Rod Stewart's "Maggie May;" Deep Purple, "Space Truckin';" Sparklehorse, "Wish You Were Here;" and Iggy Pop's "Success."

"This movie is a dream project for me. I live in Venice, I surf and I know so many of the people involved in this, so I was just so excited to get that call. I read the script Stacy wrote, went in to meet Amy Pascal at Sony, and gave her my pitch. After a few months of research and preparation, they green-lit the film.," says Hardwicke. ""
Shot entirely on location in Southern California in 56 days, a 50' long, 25' wide, 10' deep Dogbowl was custom built at a house in Pasadena to accommodate the action scenes!
Mix Open Charity Event #10
Golf, Auction, Winners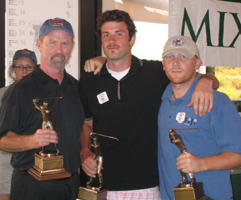 Michael Greene of Artist Tribe and the winning team

116 audio and music folks gathered to play golf at this year's Mix Open at Malibu country club on June 13th. Proceeds went to the day's big winners -- House Ear Institute's Sound Partners program and Sound Art in LA. The event's founder, Ed Cherney, was on hand along with a number of Sponsors to include: Harman Pro, CenterStaging, The Pass Studios, Design FX, Audio-Technica, P&E Wing, Absolute Musicm Mix Magazine
Record Plant, Panasonic, Shure, Yamaha, The Village and Warner Brothers Studios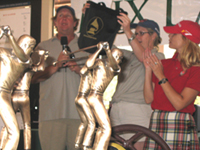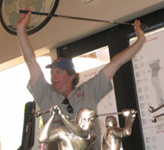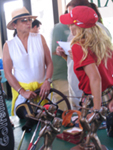 L-R: Cherney, Erika Lopez, Rose Mann Cherney
Auction items included a Walden Guitar donated by American Sound & Music, a Panasonic Home Theatre in a Box, a Takamini Guitar donated by Sound Design Corporation, a Big Baby Guitar donated by Taylor Guitars, a Lavry Blue 2-channel D/A Converter, Audio-Technica mics, a BLUE 8 Ball Mic, a Shure mic, a SCF Guitar Pedal donated by TC Electronic, a Lexomega S/PC Recording interface, donated by Harman Music Group and many other items!
"Thanks to the enthusiastic support of the audio community, the 10th Annual Mix L.A. Open was our most successful tournament yet. Many thanks to everyone who turned out, as well as our many sponsors," says executive director, Karen Dunn.
Farewell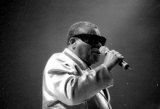 George Scott (on tour with Peter Gabriel 2003) |©2004 Photo: Teresa Nelson
George Scott, a founding member of the Blind Boys of Alabama gospel group, died in his sleep on March 9th, 2005 at his home in Durham, NC. He was 75. Scott was the booming baritone voice of the group, which formed at the Alabama Institute for the Negro Blind in the late 1930s. Since then, Scott and his bandmates traveled the world spreading their unique brand of soulful gospel music. Blind Boys' new cd, "Atomb Bomb" does remake songs by Eric Clapton, Norman Greenbaum and Fatboy Slim and does turn over two vocal spots to the Gift of Gab from the hip-hop duo Blackalicious, but the other guests (guitarist David Hidalgo of Los Lobos, harmonica whiz Charlie Musselwhite and organist Billy Preston) are restricted to instrumental support. They still know how to dig a deep groove with their percussive shouts, especially when they revive a song like the Soul Stirrers' 1950 classic "(Jesus Hits Like the) Atom Bomb."
Donations in memory of Scott go to: Memorial and Honor Program - George Scott
American Diabetes Assn. P. O. Box 1130 Fairfax, VA 22038-1130


Photo by Suzie Katayama

"The more I wrote, the worse I played, and when almost anyone plays and writes, you've got to make a choice. To play an instrument well is a full-time job."
-- Johnny Mandel


Only In Action do we discover what is wrong or right...In the end, it's hard work that counts.
--Beatrice Wood
"Much as FM liberated radio back in the late Sixties, satellite is liberating radio now,"
--Lee Abrams, XM chief programming officer

An increasing number of customers are lining up to pay thirteen dollars a month for that liberation. XM, has added 541,000 subscribers so far this year, bringing its total subscribers to 3.77 million, while Sirius added 306,500, bringing its total to 1.5 million. And satellite's profile will grow even higher in January, when Howard Stern moves his morning show to Sirius
"Starbucks accounted for one third of total Genius Loves Company sales - more than any traditional music retailer. We will continue to work with major and independent labels like Maverick, Lava, Warner, Interscope, Vector, Rounder, Virgin, sony, BMG, and Concord to name a few, to make music discovery a part of our customers' experience."
-- Howard D. Schultz, Chairman Starbucks, Seattle
Birthdays to Celebrate
Les Paul's 90th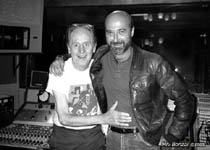 photo: courtesy of Mr Bonzai -- taken 20 years ago by Mix magazine founder David Schwartz at Les Paul's home studio
He just finished recording Les Paul & Friends: American Made World Played, his first new album since 1978, an all-star collaboration CD to be released August 30th, including cuts with Jeff Beck, Eric Clapton, Peter Frampton, Billy Gibbons, Buddy Guy, Beth Hart, Steve Miller, Keith Richards, Johnny Rzeznik, Richie Sambora, Neal Schon, Kenny Wayne Shepherd, Sting, Joss Stone, and more.

BB King's 80th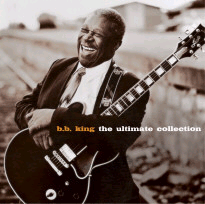 King will celebrate his approaching 80th birthday with a multi-artist blues concert in Mississippi that will benefit the planned B.B. King Museum and Delta Interpretive Center. King, who will turn 80 in September, will headline the July 30 show at the Isle of Capri's Mississippi Gulf Coast Coliseum and Convention Center in Biloxi.
Forever Young -- Happy Birthday Mr Paul, Mr King and America! Happy 4th of July.

" We hold these truths to be self-evident, that all men are created equal, that they are endowed by their Creator with certain unalienable Rights, that among these are Life, Liberty and the pursuit of Happiness."