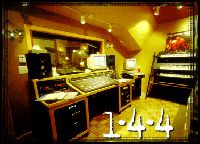 History: Jeff Gross has build an impressive resume by writing music for Baywatch, MTV's Road Rules and Real World programs, FOX, CNN and has worked as a percussionist for many different artists including the likes of Gary Wright (of "Dreamweaver" fame) and MTV's on-air talent and musical director Jon Ernst (The X Show, Singled Out, VH1's Behind the Music, Beat the Geeks).
I grew up in a household where dad sang and played every instrument but the harp, my uncle played guitar, piano and sang, and my brother is a guitarist/singer/music therapist, so there were plenty of musical instruments around the house in New York," says producer, engineer and writer, Jeff Gross. "I started out playing piano but got the itch to play drums in high school."






Jeff discovered electronic music after moving to California to attend the Dick Grove School of Music. While working on a degree in audio engineering, he started playing percussion with the Los Angeles based Naked to the World. From there he ended up doing sessions and sharing the stage with artists that included Bela Fleck, the Flecktones, Carly Simon, Dwight Yoakam, Lowen and Navarro, Al Stewart and Peter White, and Craig Chaquico.
Jeff's credits include: EG Daily ("The Rug Rats", the voice of Babe the Pig), Doug Ingo (Iron Butterfly), Carl Varhiem (Supertramp's 1st call guitarist in L.A.) Mike Neely (Frank Zappa), Matty Spindel (Grammy winning engineer for Santana's "Supernatural"), Don Huffington (Bob Dylan, Lucinda Williams), Philip Bynoe (Steve Vai), Kevin Ricard (Stevie Wonder), Jean Micheal (Toto), Ardeshir Farah (Strunz and Farah), Garrison Star , Johnny Spine Shank (Spine Shank). Jeff also produced and engineered two "live" records for Mickey Champion, a 78 year-old blues singer who has worked with with Billie Holiday, Duke Ellington and Nat King Cole. These are her first recordings since the 1960's.




144 is Jeff's studio, located in Los Angeles' San Fernando Valley and it offers a wide range of services for music and film production including: recording, mixing, light mastering, editing, post, voice-over, foley, and much more. The core of 144's recording setup consists of Cubase, Logic, Nuendo and soon ProTools HD, 6 Alesis ADAT XTs with a Mackie Digital 8 Bus and a pair of HR824 monitors.






Current Credits: Grammy winner Matty Spindel and Jeff Gross have finished work on Rick Springfield's new record The Day After Yesterday which hits stores nationwide 7-12-05. With Matty engineering and Jeff playing percussion, programming, loops, and sounds, this trip-down-memory-lane cover record will surely take you back. Loaded with great songs, Rick has an active promotion schedule including Larry King (7/2), Soap Talk (7/11) - taped performance, Good Morning America (7/12) - live performance, and Regis & Kelly (7/13) - live performance. Jeff produced Jamestowne, a local L.A. band with a strong buzz. Other projects include the third Spanish Guitar recording from Yussi (Ricky Martin's guitarist), and the film "Pool Hall Junkies," that stars Chazz Palmintieri, Christopher Walken, and Rod Steiger.
Jeff co-produced "My Best Friend," the latest release from L.A. based singer/songwriter Roger Len Smith, a.k.a. RAJ. "My Best Friend" also features Rami Jaffee and Ben Peeler (Wallflowers), Victor Bisetti (Los Lobos), and former Grant Lee Buffalo drummer, Joey Peters, among others. "Poolhall Junkies" now in theatres, on DVD and Cable - The movie features original music by Jeff Gross. Recently Jeff wriote music including the theme song for the film PoolHall Junkies staring Chazz Palmintieri, Christopher Walken, and Rod Steiger. Latest Projects - Stereo Suite, Aseop Lied, Scared of Girls. Jeff has also partnered with Grammy winner Matty Spindel to form Red Road Music, a production company to develope and produce new talent. Currently in the studio producing Nadine Zahr with Matty Spindel.
Jeff just did 2 track for a 16 year old girl who just signed on to be the next spokes person for MILK. He also has been working with Bob Saget on music for his new movie and some music for the Pepper Dennis show.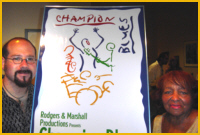 L-R: Tracking for RAJ's "My Best Friend" with Rami Jaffee (Wallflowers); Jeff and Mickey Champion, "Poolhall Junkies" now in theatres, on DVD and Cable - The movie features original music by Jeff Gross.

Contact:
144 Studios


Jeff Endorses MACKIE MIXING

<![if !supportEmptyParas]> <![endif]>
copyright 2002 studioexpresso