Open the door and enter The Village!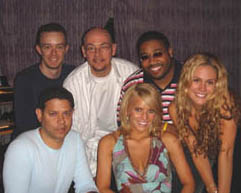 Jessica Simpson: Top row: Assistant engineer Jared Nugent, keyboardist Dan Shea, producer Cory Rooney. Bottom: engineer Ian Cross, Jessica Simpson, Simpson's assistant Kasey
What do ...............
They've all been spotted recently working at The Village, Los Angeles' premiere Westside recording facility.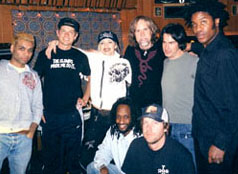 No Doubt with producer Glen Ballard
Established in 1968 in a 30,000 square foot former Masonic Temple, The Village is a multi-story, multi-studio complex featuring the best of both vintage and modern gear. Its historic Studio D, one of the largest studios in Los Angeles, has a spacious live recording room with three iso booths and a live echo reverb chamber connected, via audio and video tie lines, to the building's second floor 4000 square foot performance space, complete with stage and chandeliers.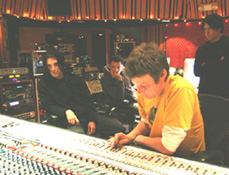 Alan Moulder at the board with Trent Reznor, standing, guitarists Twiggy Ramirez, left, and Gem Archer right.

Studio D was the first studio in the world to purchase the acclaimed Neve 88R console.
The Village's other main studios also boast Neve consoles: Studio A features a vintage 72-input 8048, and Studio B, with its VRLSP, is a favorite for scoring work. Also in the complex is Studio F, a compact, multi-purpose surround suite. The Village's studios are all equipped with Pro Tools HD systems that are linked by Fibre channel SAN.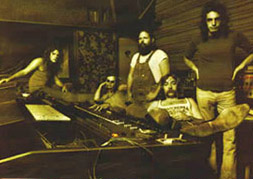 Steely Dan circa '73
Recent clients at .....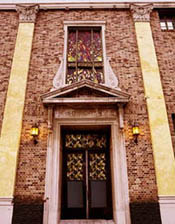 The Village remains vibrant today largely because of its original artist-friendly philosophy," says CEO Jeff Greenberg. Evidence of this consistent philosophy are loyalclients including TBone Burnette, Smashing Pumpkins, Roy Thomas Baker,
Red Hot Chili Peppers and Foo Fighters, to name a few.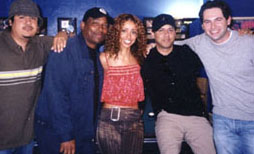 Mya and friends
To be a fly on The Village's walls would make one a witness to legendary recording sessions of Rock and Roll history, including The Rolling Stones' Goat's Head Soup, Fleetwood Mac's Tusk, Eric Clapton's landmark, After Midnight, as well as his Grammy Award-winning Tears in Heaven, most Steely Dan records including Aja, numerous Bob Dylan records, as well as modern blockbusters including the last three Smashing Pumpkins releases, The Wallflowers, Rage Against The Machine, Melissa Etheridge, The Red Hot Chili Peppers' By the Way, the Foo Fighters' One By One, and Nelly's blockbuster Nellyville.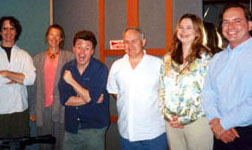 Mike Myers and Possy

The Village is also considered to be one of the Hollywood film industry's premier recording and post-production facilities where film scores for Walk the Line, Hairspray, Persuit Of Happiness were recorded. Additionally, TV spots are recorded at the Village for handful of commerical companies including Jack In The Box and Porsche as well as American Idol.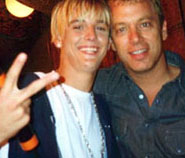 Aaron Carter and Chris Douridas
The recent buzz at The Village is due, in part, to almost daily live recordings in the facility's Neve 88R-equipped Studio D, where the nation's hottest radio program, KCRW's Morning Becomes Eclectic, broadcasts some of the most exciting music to be found on the air--or on the 'Net. Helmed by influential tastemaker Nic Harcourt, the morning sessions at The Village are not only broadcast in real time but are also simulcast and archived on KCRW.com. In one recent week alone, Village staff engineer Ghian Wright recorded Morning Becomes Eclectic sets by The Swell Season, Bat For Lashes and M.I.A and red hot up-and-comers The Magic Numbers, Koop, The Editors and Ryan Adams.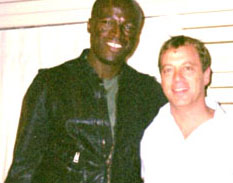 Seal and Chris Douridas

Powering The Village's hit making studios are a bevy of Apple Macintosh computers, which run ProTools™ in the various tracking and composer studios, and scheduling and accounting software in executive offices. The Village uses more than twenty Apple Macintosh computers on a daily basis – not including additional ever-present G5 towers and personal PowerBooks brought in by clients. Greenberg notes, "About 95% of our sessions these days are recorded to hard disk and backed-up nightly through our Storage Area Network – a process that depends entirely on the performance and reliability of our Apple Macs."

"Long before the Apple Computer Company revolutionized the way people listened to music with the iPod, iTunes, and the iTunes Music Store, The Village was using Apple Computers exclusively to record the hits that would eventually wind up on millions of iPods," says Greenberg.
According to Jeff, The Village was one of the very first professional recording studios in the country to completely embrace the Apple platform.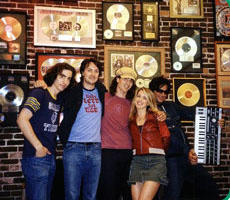 Liz Phair & friends at the Village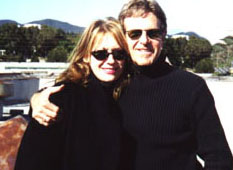 Heart's Nancy Wilson with Village CEO Jeff Greenberg on deck at Village's roof-top lounge with views of the Pacific ocean.

The Village attracts top musicians who need the finest equipment, ambiance and support services to record their music. In addition to great artists, the studio has recorded the film scores for Almost Famous, Vanilla Sky, Moulin Rouge, Girl Interrupted, Stewart Little, Million Dollar Hotel, Hurricane, Next Friday, The X-Files Movie, Toy Story 2, Mulan, The Shawshank Redemption, There's Something About Mary, Big Daddy, Oscar and Lucinda, Con Air, Dr. Doolittle, Mad City, the Oscar winning Good Will Hunting, and the Ali.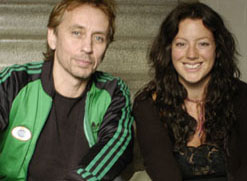 Sarah Mclachlan and Nic Harcourt

For the past three years, The Village has been nominated as studio of the year by the readers of Mix magazine. 2006 outstanding film sound production for walk the line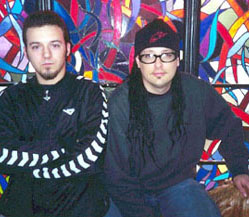 Jonathan Davis

Jeff states, "Our Storage Area Network is a centralized server that sends all of the sessions through fiber to a secure block of hard disks with a RAID configuration. A dedicated Apple Macintosh G5 CPU backs-up all of the data on a nightly basis, ensuring security and redundancy for all of our sessions." keep this paragraph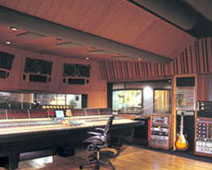 studio D with Neve 88R
All Village Studios use Apple Macintosh G5 with an Apple Cinema Display, again running ProTools, with all sessions recorded to the Storage Area Network.

Stone Temple Pilots recorded their latest CD, 4, and it was the Smashing Pumpkins' studio-of-choice where they recorded their last three CDs. And, as rumor has it, Guns & Roses have been holed up in B working on a famously forthcoming CD.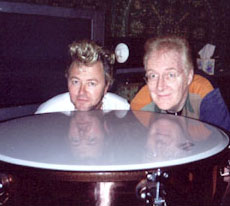 Brian Setzer and John Holbrook
Studio F (designed by Vincent VanHaaf) recorded Missy Elliot's Under Construction, and Nelly's Nellyville, two of the most successful hip-hop albums of 2002/2003.
new pix of F coming and lobby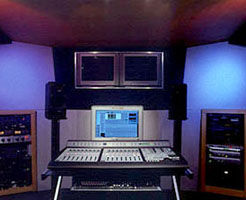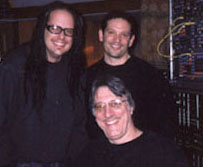 Korn Sessions -- Jonathan Davis Michael Beinhorn Frank Filipetti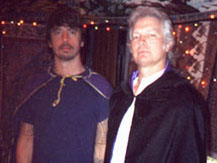 DaveGrohl and JimScott
Other engineers and producers hard at work at The Village on recent projects have been producer Ry Cooder, Steve Berlin with engineer Robert Carranza recording Los Lobos, R&B giants Jimmy Jam & Terry Lewis producing Usher with Ian Cross engineering.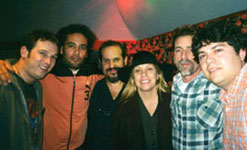 Ricki Lee Jones and freinds at the Village

Summing it all up, Greenberg explains, "Whether recording in one of our tracking studios, surfing the web during a break on any one of the numerous iMacs in the studio lounges, writing in a composer's studio, or working in one of our offices, our goal is to help make the experience enjoyable. The goal is to provide the latest tools and best people to help deliver artist/producer's vision."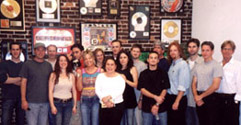 The Village People
Contact: Darren Frank, Studio Manager
310-478-8227
The Village (310) 478-8227
web site: http://villagestudios.com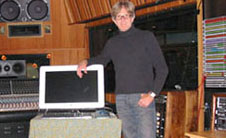 Pictured above is Jeff Greenberg, CEO of The Village with one of the numerous Macintosh Computers used throughout LA's most notable and historical recording studio.

Watch the video interview with producer John Wooler from the historical Village Studios here!
To view download FREE Real One Player here!