Chaz Jankel
songwriter

l arranger l musician l producer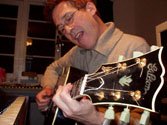 The new cd "Zoom" available at Jazz CD UK; K2 DVD- score composed by Jankel - order through amazon scroll down 4 link
History: Keyboardist, guitarist and singer/composer Chaz Jankel is best known in the UK as member of Ian Dury & the Blockheads during the British funk/new wave band's commercial peak in the early 80s. First hooking up with Dury as part of the pub group the Kilburns & the High Roads, Jankel was asked by Dury to join his new outfit, and appeared on such Blockheads releases as "New Boots & Panties!!" (which spawned Dury's best-known hit, "Sex & Drugs & Rock n' Roll") and "Do It Yourself (single — "Hit Me With Your Rhythm Stick,") before leaving the group. But in 1981, Jankel teamed up once more with Dury (sans the Blockheads), for the release Lord Upminster, which spawned the U.S. Top 40 dance hit "Spasticus Autisticus." By this time, Jankel had become more interested in pursuing a solo career and he issued several releases for A&M under self-titled debut followed by "Chasanova," "Questionaire" (contained the U.S. dance hit "Glad to Know You," a collaboration with Dury), "Chazablanca," and 1985's "Looking at You
."








In the US Jankel is best known for his soundtrack scores and session work on numerous albums and films. Chaz wrote the R&B hit "Ai No Corrida" which was recorded and performed by legendary Quincy Jones. Chaz has scored original soundtrack music for: "Making Mr Right," "War Party," "DOA,"

"An Unsuitable Job For A Woman,"

"Killing Dad," "The Rachel Papers," "Tales From The Darkside," "Cat From Hell," "Earth Girls Are Easy," and "K2."










Current Credits: Jankel is currently performing with the Blockheads (minus Ian Dury who lost his battle to liver cancer 3 years ago). "The spirit within the band is strong and were half way through recording our first album as "the blockheads,") says Chaz. He is recording and performing with his accoustic Jazz Quartet (Dave Lewis - Tenor Sax, Dylan Howe Drums, Andy Crowdy - Bass, CJ - piano) while producing and collaborating with other artists on songs.








Jankel's most recent release "OUT OF THE BLUE" on Famous Music is a departure from his earlier work. "One of the things I was certain about was that I wanted the music to be played by an acoustic quintet although finding the right combination of musicians took a while. On various occasions when I went to visit Ian Dury we would invariably end the day with a glass of something refreshing coupled with the music of, say, for example, Bill Evans, Jaki Byard, Art Blakey and Charlie Mingus not forgetting Patsy Kline and various heavy beats. Since then I've bought tons of jazz (I must slow down) and a fair number of romantic and modern classical cds from Mendelssohn to Scriabin. If I'm lucky some of that influence has infiltrated Out Of The Blue," says Jankel. Both "Out Of The Blue" and Chaz's new cd, "Zoom" (coming soon) available on Jazz CD UK
Chaz has been down the Beeb with Derek the Draw doing radio interviews with regional radio stations to promote "Where's The Party?" "Now all we need is for them to glue the new Blockheads record to their playlists (to quote Derek!)," says Chaz. Take a look at the Live Dates and hear Chaz at few more jazz gigs in which he will be promoting the new album Zoom!



Contact:
Visit: Chaz Jankel Web Site


copyright 2004 studioexpresso