Expresso Walk And Talk with...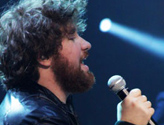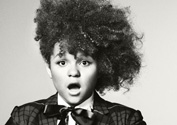 I'm Casey and Just Got Signed! American Idol's Casey Abrams posted this tongue and cheek tune on YouTube when he got signed to Concord Music Group in January. The season 10 finalist, who was famously saved during week five of the competition (and eventually eliminated on April 28) was a fan favorite from the start thanks in large part to his unexpected song choices (Nirvana's "Smells Like Teen Spirit," Ella Fitzgerald's "Lullaby of Birdland") and bubbly personality. Congrats Casey! X Factor USA finalist Rachel Crow has completed a deal that will put her on the same label as Beyonce, Adele and Celine Dion. Crow has signed with Sony Music-owned Columbia Records. Her CD is expected to be released in partnership with Simon Cowell's company, Syco. Maybe Eminem can rap on it?" she says. Nickelodeon has signed the fourteen year-old sensation Crow to an overall talent deal, it was announced by Paula Kaplan, Executive Vice President, Talent Strategy and West Coast Operations. As part of the new pact, Nickelodeon is developing a comedy series for Crow.

Jimmy Iovine Receives Recording Academy Presidents Merit Award
VIP Guests At The Village Studios : Dre Dre, Stevie Nicks, Jimmy Jam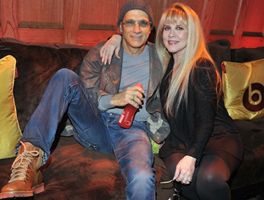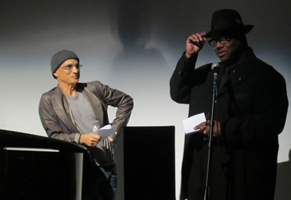 Jimmy Iovine (left) with singer Stevie Nicks (Photo: WireImage) and with Jimmy Jam who called himself "the other Jimmy wearing a cool hat!" at Village Studios Photo: by The C

The Recording Academy Producers & Engineers Wing kicked off GRAMMY Week with its fifth annual event, this year honoring music producer, entrepreneur and chair of Interscope Geffen A&M Records Jimmy Iovine (Bruce Springsteen, Patti Smith, U2, Stevie Nicks, Tom Petty & the Heartbreakers) with a Presidents Merit Award on Wednesday, Feb. 8, 2012. Standing in the front row stage left was Dr. Dre while at stage right was Stevie Nicks. Jimmy Jam, Recording Academy president and CEO Neil Portnow and P&E Wing' Maureen Droney also participated in the presentation to Iovine. VIP guest included The Black Eyed Peas' Will.i.Am (left) and "American Idol" Executive Producer Nigel Lythgoe. Universal Music Group CEO Zach Horowitz, Mary J. Blige, Universal Music Group Chairman/CEO Lucian Grainge. Iovine pledged support to P. Diddy, noting "we're bringing back Bad Boy in a big way." Iovine's career spans the breadth of the music industry, from his roles as an engineer, producer, and co-founder of Interscope Records, to his current position as chairman of Interscope Geffen A&M Records and his founding of Beats Electronics with Dr. Dre.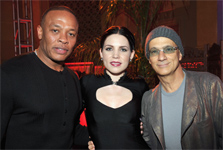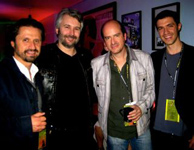 l-r: Dre, Grey, Iovine; Lurssen, Sardina, Cohen at the Village Studios
Acoustic performances included singer/songwriter Skylar Grey above (I need a Doctor, Invisible, Coming Home) and Lana Del Rey (below right) sang her song, Video games from her album Born to Die.
Throughout all of these endeavors Iovine has continued to be an outspoken evangelist for high quality audio. He is recognized for his commitment to excellence in audio and ongoing support for the art and craft of recorded music. The event was held at Village Studios in West Los Angeles during GRAMMY Week that culminated with the 54th Annual GRAMMY Awards on Sunday, Feb. 12th. Producers & Engineers Wing Senior Executive Director Maureen Droney said, "The evening was a huge success, and once again we must offer a sincere thank you to all of our sponsors who included: The Village Studios, West L.A. Music and Westlake Professional Sales. Co-sponsors included Harman International brands AKG Acoustics, JBL, and Lexicon; Iron Mountain; Avid; Musician's Institute; Music Marketing; Shure Incorporated; Beats Electronics; Ultimate Ears; Focusrite Novation; Prism Media Products; Apogee Electronics Corporation; Full Sail University; Guitar Center Professional (GC Pro); Lurssen Mastering; Sennheiser Electronic Corporation; SoundExchange. Eco-friendly cocktails were provided by VeeV. The event has previously honored T-Bone Burnett, Island Records' Chris Blackwell, and five individuals associated with Atlantic Records: Tom Dowd, Ahmet and Nesuhi Ertegun, Arif Mardin and Jerry Wexler.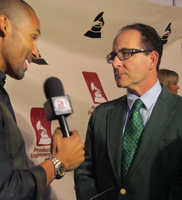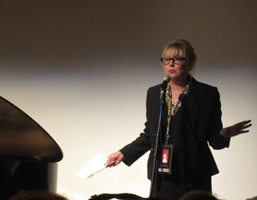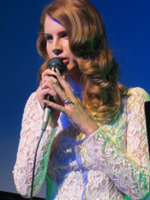 l-r: Ron Fair, Maureen Droney, Lana Del Rey at Village Studios photos: by the C
Iovine talked about learning to see "The Big Picture" from Springsteen manager, Jon Landau who said to a young and frustrated engineer, Iovine: "You go into that studio and say to Bruce Springsteen, 'I'm here to support you' and everything will be all right." Iovine followed his advice and few weeks later Springsteen returned the favor with a Patti Smith top 20 hit, "Because the Night."
He singled out many people (Roy Cicala, Doug Morris, the late studio owner Eddie Germano and artists such as Mary J. Blige and Tom Petty) to honor with a personal note of thanks, including Stevie Nicks (whom he praised for her unique vocal style) and Elliot Scheiner the first producer Iovine ever worked with and whom he credits for giving him the studio bug ("He wore boots and a leather jacket with a matching leather bag, and at the end of the night he went home with a beautiful woman and I said, 'That's what I want!"

Grammy Foundation's 14th annual Entertainment Law Initiative Luncheon
Kenote: Spotify's Daniel Ek , Honoree: John Branca and Five Law students: Finalists of the 2012 ELI Writing Competition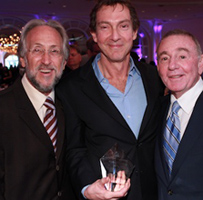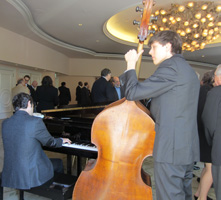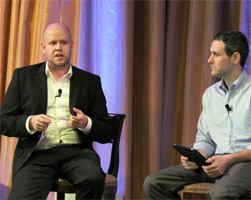 (L-R) Neil Portnow, John Branca and Howard Weitzman of Kinsella Weitzman Iser Kump & Aldisert pose with Branca's Service Award. (Photo: Michael Underwood/PictureGroup); Musicians perform at the Beverly Hotel; Keynote Daniel Ek at the Entertainment Law Initiative luncheon
Spotify founder, Daniel Ek was the keynote at the Grammy Foundation's 14th annual Entertainment Law Initiative Luncheon and Scholarship Presentation at the Beverly Hilton. He explained his company's history and anticipation about its growth. Honoree John Branca (the 60-year-old Branca could pass for a rock 'n' roller himself), spoke to a room that included his firm's lawyers, past honorees Joel Katz and Jay Cooper, and Kobalt's Willard Ahdritz, focused on being driven by passion for music. A fan of Elvis Presley, the Doors, the Rolling Stones, Berry Gordy and the Beach Boys, he related two stories that greatly affected his career. The first came when he was a second-year lawyer and had to help the Beach Boys decide whether to retain Steve Love as their manager. Mike Love and Al Jardine were pro; Carl and Dennis Wilson were against. Brian Wilson was asked to cast the deciding vote, but was "deep in slumber with his head down on a conference table," Branca said. He improvised, asking Brian to knock once to keep Love, two to fire him. "Lo and behold, Brian knocked three times." It became Branca's job to get Love to resign. Second, when Branca first became Michael Jackson's lawyer, the singer called with a request that was of utmost urgency. "I got ready ­ had my pen out and notebook out," Branca related. Jackson's request? He needed his pinball machine fixed. Branca who now takes care of the Jackson estate, said in his opening remarks that though many think of entertainment law is extinct and belongs to La Brea Tar Pits, the aging entertainers are making estate planning a new and growing area for attorneys. It was told in an interview that Branca didn't know whether Jackson had revised his 2002 will, which named Branca, along with long-time music producer John McClain, as coexecutors of Jackson's estate. Over the years, Branca has also been busily helping clients acquire and sell music catalogs. He handled the sale of Berry Gordy Jr.'s Jobete Music to EMI, and Sony/ATV Music's acquisition of the Leiber Stoller catalog, which included songs made famous by Elvis Presley ("Jailhouse Rock" and "Hound Dog"), the Drifters ("On Broadway"), the Clovers ("Love Potion No. 9"), and the Coasters ("Yakety Yak" and "Charlie Brown"). More recently, he worked for one of the final bidders (Sony/ATV and another company) for the Warner Music Group, which was sold in May for $3.3 billion to Access Industries. In June he was reviewing deal terms for the sale of EMI, the world's fourth largest music company and the record label for Katy Perry, the Beatles, and Pink Floyd. A generation earlier, it was a client of Branca who made headlines with one of the most famous and controversial music deals of all time: Michael Jackson's acquisition of the publishing rights to ATV Music, which included some 250 Beatles songs, including "Yesterday," "Help!" and "Let It Be." When the deal came down, there was some public grumbling from Paul McCartney, but the artist never seriously bid for the catalog, and later he and Jackson remained friends. John Lennon's widow, Yoko Ono, who also didn't bid, remarked that she was happy the rights now belonged to Jackson, a fellow songwriter. Branca and McClain further transformed Jackson's estate's fortunes by refinancing costly debts and putting together deals to open Jackson-themed Cirque du Soleil shows (one in Las Vegas and another traveling version); launch an interactive museum and a Michael Jackson-themed lounge at Mandalay Bay in Las Vegas; create a best-selling dance game for Ubisoft Entertainment; release ten albums of both old and unreleased music in the coming years; and ramp up Jackson's profile on Facebook. The result: In the 15 months after Jackson's death, the estate generated $310 million in revenue. By comparison, the Elvis Presley estate, previously considered the "gold standard" in the entertainment business, earned profits of about $25 million over the same period. "If I do nothing else in my career except having done this for the Jackson estate, I can say I did a great fucking job," Branca crows.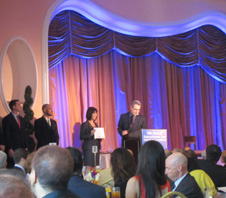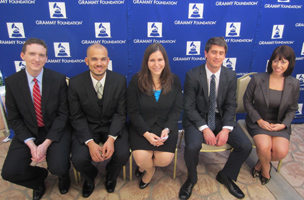 The finalists of the 2012 ELI Writing CompetitionAt Beverly Hotel l-r: Trevor Roe, Jonathan D. Evans, Ryanne E. Perio, J. Hardy Ehlers, and Sarah Abelson photos: by the C

studioexpresso special video report (interviews with Sarah Abelson and Jonathan Evans) coming soon!
The finalists of the 2012 ELI Writing Competition were honored at the event, with a cash scholarship of $5,000 presented to the author of the winning paper, and $1,500 awarded to four runners-up. Each ELI finalist received airfare, hotel accommodations, and a ticket to the 54th Annual GRAMMY Awards telecast, as well as invitations to other GRAMMY Week activities. The finalists of the 2012 writing competition are:
Winner:
J. Hardy Ehlers, Harvard Law School
"Too Cool To Be Sued? Hype Machine's Legal Issues And What Content Owners' Tolerance Of Them Means For The Music Business And Copyright Law"
Runners-Up:
Sarah Abelson, University of Colorado, Boulder Law School
"An Emerging Secondary Market For Digital Music: The Legality Of ReDigi And The Extent Of The First Sale Doctrine"
Jonathan D. Evans, Southwestern Law School
"Solving The Sampling Riddle: How The Integrated Clearinghouse Would Benefit The Industry By Promoting Creativity And Creating New Markets While Maintaining Profits For Source Material Owners"
Ryanne E. Perio, Columbia Law School
"Policing The Android Market: Why The Expanding DMCA May Harbor Google From Liability For Illegal File-Sharing Apps Available On Android"
Trevor Roe, Southwestern Law School
"Defendant's Attorneys Fees: Copyright Infringement Cases Impose New Duties On Litigators To Evaluate Their Cases And Inform Their Clients Before Filing"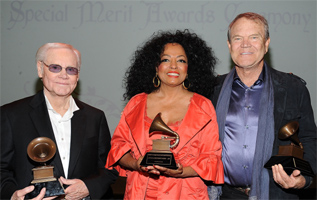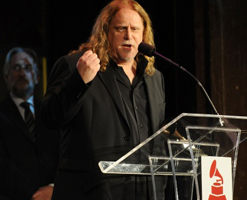 George Jones, Diana Ross and Glen Campbell, Warren Hayes photos: Grammy.com

studioexpresso attended the Grammy special Merit Awards Ceremony on the Saturday at the Wilshire Ebell Theatre.
The Recording Academy presented the Lifetime Achievement Award, honoring lifelong artistic contributions to the recording medium, to Allman Brothers Band, Glen Campbell, Antonio Carlos Jobim, George Jones, the Memphis Horns, Diana Ross and Gil Scott-Heron; the Trustees Award, which recognized outstanding contributions to the industry in areas other than performance, to Dave Bartholomew, Steve Jobs and Rudy Van Gelder; and the Technical GRAMMY Award, honored an individual's and/or corporation's outstanding contributions of technical significance to the recording field, to Celemony and Roger Nichols. Friend Jeff Skunk Baxter and Nichols' wife and daughters were there to accept for Audio engineer Nichols who won six GRAMMYs for his work with Steely Dan and a seventh for his work with John Denver. He also worked a span of artists including Crosby, Stills & Nash to Cher. "Hallelujah!" exclaimed Diana Ross, striking a personal note in accepting her Lifetime Achievement Award. "Lifetime Achievement?" she mused. "To me, my lifetime achievement are my children," pointing to her three daughters, two sons and first grandson, who joined her onstage. President/CEO of Recording Academy® Neil Portnow and family and friends of nominees were in attendance. studioexpresso special video report coming soon!
Song and Performance Big Winners at 54th Annual Grammy Awards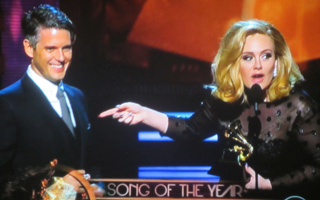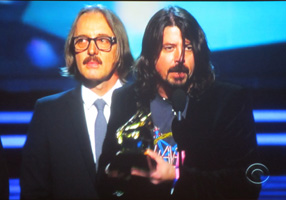 l-r: The big winners Adele and Dave Grohl with producers Paul Epworth and Butch Vig photos: by the C

Just this week, an audience of 6.2 million watched the British Music Awards where Bruno Mars took the international male solo artist award and Coldplay took home the British band title. Adele, the 23-year-old British soul phenom who swept all six categories she was nominated for at the 54th Grammy Awards, including album of the year for her sophomore smash "21", however, flipped the bird after her acceptance speech for collecting the British album of the year award was cut short by host, British comedian and actor James Corden. At the Grammys, the show started on a somber note with the news of Whitney Houston's death. Host LL Cool J handled it with much care siting a short prayer at the start of the show.
Most agree, this was a big year for song and performance. There were fewer pyrotechnics (minus Nicki Minaj's staging) and the big winners Adele (in her first live performance since undergoing vocal cord surgery last fall) and BonIver prooved that you can wow and capture audiences sans trendy looks, costumes and dance routines. BonIvar took home the award for Best New Artist and Best Alternative Music Album, Justin Vernon handled his winnings with grace. Speaking of grace, Adele recognized producer and song doctor, Paul Epworth (Florence and the Machine, Cee Lo Green, Foster the People). Epworth is the little-noticed co-author of three of the songs on the album and the producer of two. Ryan Tedder, who shared in Adele's album of the year prize as a producer, performed later at an industry party with his band, One Republic. During the set, he saluted Houston and Jennifer Hudson, who paid tribute to the late pop star during the Grammy telecast with a rendition of "I Will Always Love You." Adele's "21" album beat Van Halen's new "A Different Kind of Truth" for the No. 1 slot on the Billboard 200 chart, following her Grammy win.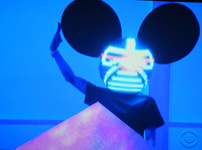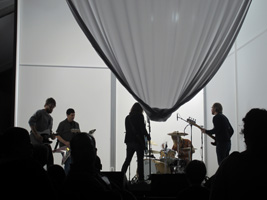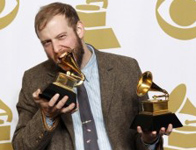 l-r: DeadMouse and Foo Fighters in the Grammy Rave Tent on the rehearsal day at the Staples Center in Los Angeles photo: by the C & Grammy.com
Justin Vernon of BonIvar takes a bite at his awards for Best New Artist and Best Alternative Music Album.
Grammy Behind the Scenes -- studioexpresso special video report coming soon!
According to Bluefin Labs, the Grammys earned 13 million social comments. That breaks the record from the previous week's Super Bowl.This year's telecast of Feb. 12 on CBS featured 18 production pieces with about 22 songs performed by some of music's brightest stars. CBS once again delivered with 1,080 lines of picture resolution and the latest in HDTV and 5.1 technology. "Arguably it's one of the biggest shows" in the history of the Grammys, producer of the show, Ken Ehrlich said in an interview. His calling card: Pairing of stars performing together not seen before. Glen Campbell with the Band Perry, Coldplay with Rihanna (Rihanna and Kanye West picked up two Grammy Awards for the All of The Lights , Best Rap Song and Best Rap/Sung Collaboration), Foo Fighters (took five Grammy awards, including Best Rock Album) with Deadmau5, inside a tent near LA Live outside the Staple Center. Foo Fighters joined David Guetta, Chris Brown and Lil Wayne for a special performance, marking the first-time ever electronic music spotlighted on the show.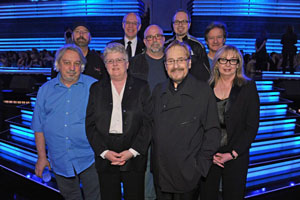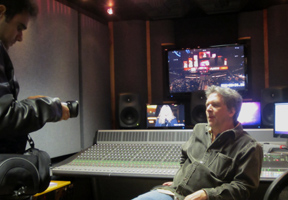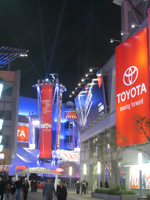 M inutes before the start of the 54th Annual GRAMMY Awards, several members of the 2012 audio team gathered for a photo. Pictured L-R: Top Row: Toby Scott, Bruce Springsteen Engineer; Hank Neuberger, GRAMMY Award Telecast sound supervisor; John Harris, Co-Broadcast Music Mixer; Glenn Lorbecki, Recording Academy Secretary/Treasurer; Bob Clearmountain, Bruce Springsteen Engineer. Bottom Row: Eric Schilling, CO-Broadcast Music Mixer; Leslie Ann Jones and Phil Ramone, GRAMMY Award Telecast sound supervisors; and Maureen Droney, P&E Wing Senior Executive Director. Photograph courtesy of The Recording Academy/Wireimage.com 2012. Photograph by John Shearer.;
Mark Linett in the Music Mix Mobile truck at Staple Center. Photo: by the C

studioexpresso went behind the scenes to meet some of the men and women responsible for the technical side of things.The GRAMMY Awards' technical staff consists of audio pioneers who continually strive to employ the best. The Recording Academy Producers & Engineers Wing members Phil Ramone and Hank Neuberger again supervised the broadcast audio, while fellow P&E Wing member Leslie Ann Jones (Skywalker Sound) supervised the house audio utilizing the latest in technology to provide television viewers worldwide with a cutting-edge, high-definition/5.1 surround sound event.
The broadcast music mix was handled by John Harris and Eric Schilling. ATK/Audiotek provided the sound system with FOH (front-of-house) Engineers Ron Reaves and Mikael Stewart. A New Jersey/California-based remote facilities company, Music Mix Mobile (M3), combining the talents of award-winning production professionals and state-of-the-art audio solutions, is a collective consisting of industry veterans John Harris, Jay Vicari, Joel Singer, Mitch Maketansky and West Coast-based partners Bob Wartinbee and Mark Linett. Small Changes, Big Difference. Engineers in the two M3 remote trucks made the switch to the WLM (www.waves.com Loudness Meter plugin. The move for the first time enabled all essential 5.1 and stereo metering to be displayed directly in line-of-sight with the broadcast monitor screen, providing the music mixer with visual feedback at a glance without having to move his head from the soundfield to look at a rack-mounted unit."We have one screen inside the truck dedicated to metering only coming off the Pro Tools mixer system. The engineer can just look up from the console and see the program in front of him on the 46-inch LED screen, he can look to his right and see all the meters, he can look at previews to his left, and he stays in the zone the entire time," says Singer. On the Springsteen part of the show, his engineer, Bob Clearmountain, asked if we could put a Waves 5.1 SSL bus compressor on the main output to give it that little pop that he wanted. We used a couple of other Waves plugs that weve always used from the SSL 4000 and V-Series collections, and the Chris Lord-Alge CLA-76 Compressor. Chris happened to visit the truck and he saw that we were using all sorts of plug-ins that were part of the signature bundle that he created with Waves. Earlier TBWA\Chiat\Day Los Angeles and The Recording Academy partnered on a marketing campaign for the annual GRAMMY Awards telecast -a new application to connect fans to artists. "At WeAreMusic.grammy.com, users can choose their own songs and upload their own photos that explode into thousands of particles and reconstruct themselves, all while moving to the music," said Patrick O'Neill, executive creative director at TBWA\C. studioexpresso special video report coming soon!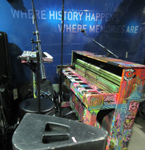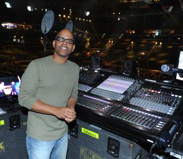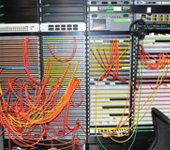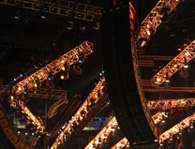 Backstage at the Grammys Staple Center Photos courtesy of: By The C and The Recording Academy ®/Wireimage.com © 2012

The annual Clive Davis pre-Grammy party, in its 37th year, at the Beverly Hilton Hotel became both a crime scene and a party scene on the eve of Houston's death in her fourth-floor suite. The founder of Arista Records and now the chief creative officer of Sony Music Entertainment said earlier: "It's her favorite night of the year..."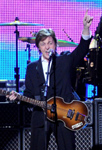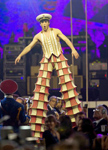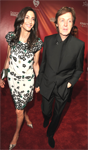 $6.5 Million Raised. Thank You for Caring! 2012 MusiCares Person of the Year gala honoring Paul McCartney (seated with his bride Nancy Shevell) shattered the record for the fund-raising event, generating more than $6.5 million for the Recording Academy's division that provides medical care and other support for musicians in need. McCartney himself opened the ceremony with his own rendition of the Beatles hit "Magical Mystery Tour". Attendees who paid $1,500-2,800 enjoyed Cirque du Soleil's Beatles LOVE troupe, and McCartney perform a handful of numbers joined by notable artists --from 25-year-old pop princess Katy Perry to 85-year-old music institution Tony Bennett, the Foo Fighters, Coldplay, Neil Young & Crazy Horse, Alison Krauss, Duane Eddy, Alicia Keys, Norah Jones, James Taylor, Diana Krall and Sergio Mendes, to name a few. Neil Young and Crazy Horse earned a standing ovation for their loud, scrappy, guitar-driven I Saw Her Standing There. "Thank you everybody," the 69-year-old former moptop told the audience. "That's it — go home!" Then he added, "Thank you for coming, and thank you for caring." The cocktail reception and silent auction, sponsored by the Starkey Hearing Foundation, that offered an exclusive selection of luxury items, VIP experiences, and one-of-a-kind celebrity memorabilia for bidding guests. The auction was followed by a gala dinner sponsored by AEG Live, and a star-studded tribute concert sponsored by Acura/ELS Surround. During the gala dinner, a live auction featured two original Baldwin baby grand pianos painted by pop art icon Peter Max- signed by Max, McCartney, and Ringo Starr - that was a gift from the artist to Starr (went for $175,000.); as well as a customized Acura TL (sold for $80,000) .This year's red-carpet press arrivals area were sponsored by Kinect for Xbox 360and Dance Central 2. Yoko Ono and George Harrison's widow, Olivia, were on hand (Ringo Starr was sick at home), along with Tom Hanks, Bonnie Raitt, Glen Campbell, Brian Wilson, Smokey Robinson, David Foster, Don Was, Jeff Lynne, David Crosby, Steven Van Zandt, Randy Jackson, Carole King, Jason Mraz and LA Reid. Emcee, comedian/actor Eddie Izzard invented a hilarious McCartney bio populated by Jacques Cousteau, Fidel Castro and Muhammad Ali, with all events occurring in 1962. Even the dinner menu at the event reflected McCartney's lifestyle and was strictly vegetarian, featuring a tomato and fresh mozzarella tower to a main course of grilled seitan, a wheat gluten used as a meat substitute, and roasted vegetables in puff pastry. The closing musical treat: Dave Grohl joined McCartney and his axe men Rusty Anderson and Brian Ray for a five-way guitar shootout.

The Sunday night soiree at the Los Angeles Convention Center offered a Carnival Celebration atmosphere. ACM and its design and lighting team turned the vast convention space, equaling the size of three football fields, and transform it into a festive Carnival theme with women in bikinis and elaborate headdresses shook their feathered skirts on stages while shirtless men practiced the Brazilian martial art capoeira, performing kicks, flips and handstands. The desert menu: Caramelized banana-chocolate bread pudding, spinning lady sundae bar, passion fruit crème tarts, palma saffron pears galette, Miami spice cheesecake, sugarcane wafers, and macadamia nut squares! We're told all leftovers were donated or recycled.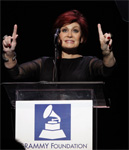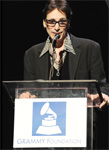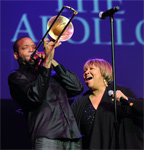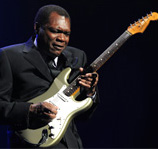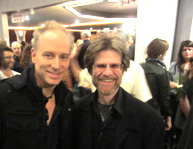 l-r: Co-hosts Sharon Osbourne and Steve Vai, Performers Trombone Shorty with Mavis Staples, Robert Crey; Attending KC Porter and Brent Fischer mixing at Saban Theatre
One Night Only at Saban Theatre was held on February 9 during Grammy week celebration. Warner Bros artist LP's live performance blew everyone's mind at the One Night Only - A Celebration of The Live Music Experience - 14th Annual Grammy Foundation Music Preservation Project CO-hosted by Sharon Osbourne and Steve Vai. The charming hosts took the audience down memory lane, a retrospective of music through the filters of different iconic music venues: The Apollo, the Opry, the Troubadour, Crocodile Cafe, the Paramount, the Savoy and B.B. King's Blues Club & Grill The Colburn Orchestra began the evening, performing an excerpt from Antonin Dvorak's "Symphony No. 9." Vai spoke about musicians getting their start in "holes in the wall" and Osbourne discussed the relationship between artist and fan. Vai related venues to churches where musicians go to worship. A Fine Frenzy's Alison Sudol, Ledisi , Mavis Staples, Shelby Lynne, Trombone Shorty, Dave Koz and Robert Cray were among the fabulous performers.Watch a short wrap up video posted at Grammy.com This year Grammy Foundation awarded a Preservation Grant to Caffe Lena to benefit its archive and they have generously donated the audio content for the evening's program.


Facebook IPO Is Music To Mark's Ears -- with 845 million users who gossip, play games and swap 250 million photos per day, Facebook hopes to raise as much as $10 billion when it begins selling shares this spring (by comparison, among US companies, only Visa Inc., General Motors Co. and AT&T Wireless have held larger offerings than $10 billion). The financials show the company produced a $1 billion profit last year from $3.71 billion in revenues - 85% of those revenues from advertising, with the rest from social gaming and other fees. Facebook's founder, 27-year-old Mark Zuckerberg, is worried about how wealth and public scrutiny may change the company's culture. "Facebook was founded to connect people not be a company," says Zuckerberg who sporst 11.7 mill subscribers on facebook in a letter. Facebook is on track to be valued between $75 and $100 billion. And that's a lot of facetime for Mark! Many of the most popular music services around the world are integrated with Facebook. Share baby, share!

Get In The Front Row...Stageit! Evan Lowenstein is running a Web service called Stageit that blends concerts—sector of the industry that's still makes money—with something like a pay-per-view meets Skype.
Here's how it goes. An artist fires up a webcam and plays live for 30 minutes in an intimate setting, ie their bedroom. The talent controls the price—usually about $5—and caps how many people can watch. Lowenstein has signed up a few bigger names, including Jackson Browne, Indigo Girls, and Jason Mraz. Stageit handles billing, ensures that there's enough bandwidth, and includes a chat feature so fans can ask questions or request songs. There's a "tip jar" so listeners can give more money if they want, and Stageit takes 40 percent of sales (yes, including the tips, which Lowenstein says account for nearly half of Stageit's revenue)."You can't pirate intimacy, and you can't pirate an experience," says Evan Lowenstein who along his twin brother landed a song "Crazy for This Girl" on the TV drama Dawson's Creek over a decade ago (It peaked at No. 15 on Billboard's Hot 100).
About 800 musicians have used the service since it launched in March. This year, as its popularity grows, Lowenstein expects some shows to top $25,000 in sales. Glen Phillips, former singer of Toad the Wet Sprocket, compares the idea with striptease sites, "but instead of clothes coming off, [viewers] get to see somebody play music." Phillips, who has been doing weekly shows on Stageit, says he'd need millions of plays on Spotify or other streaming music services to match the $800 a week he can make from Stageit. Soon, Lowenstein plans to add channels for comedians, cooks, and athletes. In the meantime he enjoys putting Stageit to use himself, giving Dawson's Creek fans renditions of Crazy for This Girl. A recent show netted him $600, he says, and "I have the time of my life." High-profile backers like Napster founder Sean Parker and Jimmy Buffet are among investors. God save the tips!


It Takes A Rap Genius! The obvious trend: The mainstreaming of rap. What's a Basquiat (pronounced boss-KEY-ought)? A Neo-expressionist artist who embodied a rich African-American culture in the 1980's? Basquiat, was an individual; Jean-Michel Basquiat. Last year, Yale University Press published The Anthology of Rap, edited by two college English professors who earnestly bestowed an air of academic legitimacy on the work of everybody from the Sugarhill Gang to Carter's Young Money crew. Rap Genius bills itself as a "thug Wikipedia." What did rapper Lil Wayne, aka Dwayne Mic Carter, mean by "Real Gs run in silence like lasagna" on his first single, 6 Foot 7 Foot lyrics? Rap Genius contributor "vmoney" answered. "When you pronounce 'lasagna' this G is silent." "We certainly had that up before Yahoo! Answers or Cha Cha," boasts Mahbod Moghadam, one of the site's founders.
Yet Mahbod Moghadam and his co-creators—Tom Lehman and Ilan Zechory left high-paying corporate jobs to devote themselves full-time to rap lyric demystification. They met at Yale, rolled out the site in September 2009 from the living room of the apartment Lehman and Zechory shared in New York's East Village. It now attracts 732,798 unique visitors monthly, according to Compete, a company that tracks website usage. While they aren't making much money yet, they say record companies such as Universal Music Group are interested in using the site to promote their acts and digital music companies such as Spotify are considering weaving Rap Genius's lyrical analysis into their services. Rap Genius has encouraged users to post or interpret songs by the Canadian indie rock band Arcade Fire (Neon Bible), Elton John (Tiny Dancer), and poems by T.S. Eliot and E.E. Cummings.
Users have even put up excerpts from the Bible. "Some users say, 'That isn't rap!'?" says Lehman. "But other people read about how God turns someone into a pillar of salt and go, 'Yeah, God! That's so thug!'" Go ahead, earn your Rap IQ™! Read more here
New Addition To SOS Hall Of Fame! SOS Management is delighted to announce the addition of producer, engineer, mixer and writer, John Fryer (Cocteau Twins, Ninie Inch Nails, Him, Love & Rockets)



artist expresso-- Ask Claris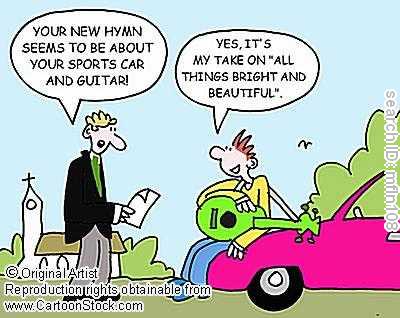 Now and then we'll feature a letter, artist or feedback and or print your Wants/Needs. Our goal remains to empower and encourage you to connect. Send it here claris@studioexpresso.com
When possible, provide a link to your music or gear...When you're interested to have a producer or mixer involved, specify number of songs, budget and desired delivery date. Meantime, visit production talent at studioexpresso to find the right production partner for you.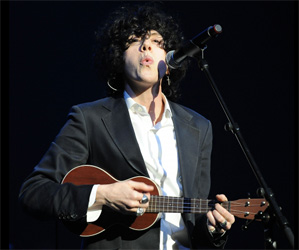 One of this year's most exciting artists who did not receive a Grammy, is the gender bending singer/songwriter LP (Laura Pergolizzi) newly signed to Warner Bros Records. Her live performance blew everyone's mind and brought the house down at the One Night Only - A Celebration of The Live Music Experience - 14th Annual Grammy Foundation Music Preservation Project CO-hosted by Sharon Osbourne and Steve Vai. Watach her in a more intimate setting at East West Studios. Think of Edith Piaf sans the little black dress. Sometimes you can hear David Bowie meets Tiny Tim. L.P.'s songwriting, singing and playing is fluid, sincere, effortless. She wrote "Cheers" for Rihanna and co-wrote "Beautiful People" performed by Christina Aguilera. She CO-wrote"Afraid To Sleep" which was performed by NBC's The Voice finalist Vicci Martinez and reached #10 on iTunes Top Singles Chart. In September 2011, LP signed a deal with Warner Bros. Records, and is currently in the studio collaborating with Billy Steinberg, PJ Bianco, Eg White, Jim Abbiss, The Matrix, Isa Summers (from Florence and the Machine), Fraser T. Smith, and others. Her Warner Bros. debut release is scheduled for the second half of 2012. The voice of popular Citigroup Accessories Ad, LP is earning points and on a climb!


RIP
Whitney Houston
August 9, 1963 – February 11, 2012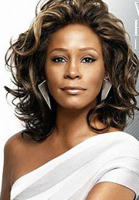 She stunned the world with her talent and her untimely death at 48. Her success carried her beyond music to movies, such hits as "The Bodyguard" and "Waiting to Exhale." Whitney Houston began singing as a child at New Hope Baptist Church, where her mother, Grammy-winning gospel singer Cissy Houston, led the music program for many years. Her cousin singer Dionne Warwick also sang in its choir. 69-year-old Aretha Franklin is her godmother. A sensation from her first album, Houston was one of the world's best-selling artists from the mid-1980s to the late 1990s, turning out such hits as "I Wanna Dance With Somebody," "How Will I Know," "The Greatest Love of All" and "I Will Always Love You." She won six Grammys and more than 400 other awards in a 25-year career. "Houston was a complete professional and moved the cast and crew to tears two months ago when she sang the gospel hymn "Her Eyes on the Sparrow" for a scene for Houston's final film project, a re-make of the 1970s release "Sparkle," said Bishop T.D. Jakes, a Texas minister and producer.
On February 9, 2012, Houston visited singers Brandy and Monica, together with Clive Davis, at their rehearsals for Davis' pre-Grammy Awards party at the Beverly Hilton Hotel in Beverly Hills, CA. That same day, she made her last public performance, when she joined Kelly Price on stage in Hollywood, CA and sang "Jesus Loves Me". On February 11, 2012, Houston was found dead in a suite at the Beverly Hilton Hotel, in Beverly Hills, California, submerged in the bathtub.
The invitation-only service was held at noon (1700 GMT) at the New Hope Baptist Church. Houston is survived by her daughter Bobbi Kristina Brown, 18, from her marriage to singer Bobby Brown. Leave a message for her family here
RIP
Don Cornelius
September 27, 1936 – February 1, 2012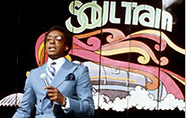 The Magic Behind Soul Train. The "Soul Train" founder died early Feb. 1st after shooting himself in the head. He was 75.
Don Cornelius started "Soul Train" in 1970. An instant hit, it was one of the longest-running syndicated shows in history, introducing audiences to many top music acts and providing a never-before-seen TV platform for black culture. He made an indelible impact on American television, and music culture. "His beautiful, deep voice and measured pace always sounded warm and familiar to the millions who admired and followed his broadcasts, said Recording Academy CEO, Neil Portnow. The first "Soul Train" dancers came from local high schools: Dorsey, Locke and Crenshaw. Their sometimes outlandish outfits were pure '70s LA streetwear. Cornelius would drop by a local park and tell the kids, "Anybody who wants to go, we'll have buses and take you to the TV studio. All you've got to do is come on the show and dance." The next Saturday they were bused to the Paramount lot and later received a chicken dinner and a Coke, Cornelius' standard payment. When the show shifted to more of a clubbing vibe, "Soul Train's" hoofers came from underground spots like Paradise 24, behind the CircusCircus disco. So it's no surprise that Cornelius' passing last week was marked by a vigil at the Paramount lot, an impromptu "Soul Train" dance line in Leimert Park and at a club in Echo Park.
Even in death, Cornelius could still pack a dance floor. Cornelius is survived by two sons, Anthony and Raymond.
In related news, Soul Train Holdings LLC, the entity created by NBA legend and entrepreneur Earvin "Magic" Johnson when he bought the Soul Train library and brand last year, has a lot of ideas. Among them are bringing a Soul Train variety show back to television, CEO Kenard Gibbs told The Associated Press. There have been discussions with writers about taking Soul Train to Broadway, Gibbs said, and also in the works are film opportunities, potential book deals and, in 2013, the first Soul Train cruise. During a memorial for Cornelius in Los Angeles, Johnson assured Cornelius' son Tony, "The brand that your father has created will last a lifetime."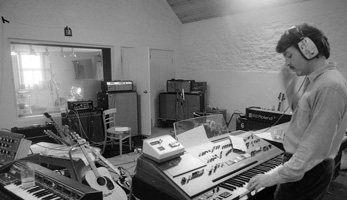 From Paul McCarntey Photo Collection

Enter The Rude Studio. In 1971, Paul and Linda escaped London to their farm in Scotland. At the farm, Paul had a little studio put in so that he could demo, experiment and make music. That was RUDE STUDIO. Now YOU can experiment with Paul's music online at NEW RUDE STUDIO. This app has been developed with the ethos of Rude Studio in mind but is not related by content
and is not intended to be an authentic online replication. Have fun mixing some of this century's beloved songs!
Quotes

In October 2009 Adele arrived at Paul Epworth's cramped London studio for a songwriting session in ragged shape, sad and wrung out from a breakup with her boyfriend. That afternoon they composed and recorded "Rolling in the Deep," the song that dominated the 2011 charts and became one of the biggest crossover hits of the last quarter-century.

"I've got this riff, this idea, that's going round and round my head," she said and I went, "Go on then, what is it?" And she went, [sings] "There's a fire." I put all the verses down as one long recording, and then we put spaces in the track to start work on a prechorus and a chorus. We wrote the core of the song — her verses and the chords — in under 15 minutes. And the rest of it was structured over two hours. "
---Paul Epworth


" It's not about sounding perfect. It's not about what goes on in the computer. It's about what goes on in here (heart) and what goes on in here (mind)."
--Dave Grohl, Foo Fighters accepting his 2012 Grammy for best Rock Performance


"Consciousness expresses itself through creation. This world we live in is the dance of the creator."
--Michael Jackson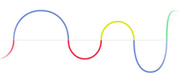 The Man Behind the Google Doodle: Happy 155th Birthday Heinrich Rudolf Hertz.
A Scottish physicist named James Maxwell tried to convince people that light, electricity, and magnetism were all versions of the same phenomenon. It was a weird idea at the time. How could the invisible power of magnets go hand-in-hand with the radiant glow of candlelight? They're obviously different to the human eye, but actually quite similar in hidden ways. Maxwell was the first to figure out that light moves like a wave, just as magnetism and electricity move through the "electromagnetic field." This was a huge breakthrough – it made sense of the invisible world in the same way that Isaac Newton and his falling apple unified the visible world. Hertz went on to prove that these waves move at the speed of light, that they can be reflected by some materials, and could pass through others. While this research eventually led to radio, radar, and broadcast TV, Hertz did not initially understand the magnitude of his discovery. The search engine giant, Google swapped out its regular banner Wednesday for a Google doodle in honor of Hertz's 155th birthday. Here's to the invisible world and those who recognize it!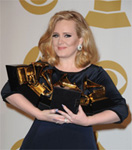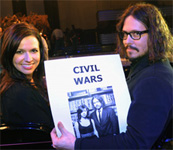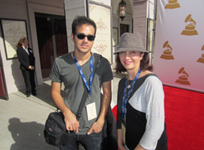 studioexpresso special video report coming soon! Congrats to all the Grammy winners

Until next month...EXPRESS YOURSELF
studioexpresso -- where you can find trusted names in music to work with
COME TOGETHER!

Your feedback is valued and welcomed - feel free to contact us via e-mail or phone
Thank you!