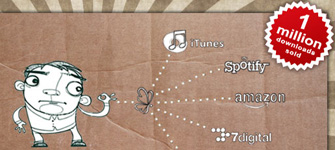 WIN FREE Digital Distribution and Get Reviewed When you Enter your album! A special non-exclusive offer from IMD (IMusicianDigital) for studioexpresso Artists and Producers
You must be on our mailing list to qualify…so, be sure to enter here http://www.studioexpresso.com/MailListForm.asp studioexpresso is pleased to introduce you and your artists to IMB, a distribution service with over 200 shops worldwide to include iTunes, Amazon, Napster, eMusic, Musicload, and hundreds more... (note: tunecore, cd baby and reverbnation offer around 40 shops). 10 winners selected each month: Enter June through September 2011. winners will receive a code from studioexpresso to enjoy FREE Distribution! Value: $39 ($29 distro + $10 barcodes). Additionally, winners work will be featured and reviewed in studioexpresso eZine with an over 20,000 industry readers – label, manager, music supervisors, press, etc.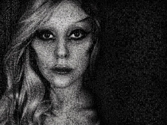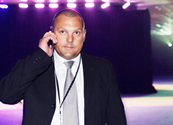 Reborn This Way According to Alexandra Wolfe at BusinessWeek, the former hedge fund manager and co-founder of UNX Matthew Michelsen's connections to music industry stars persuaded him to apply his financial tech savvy to entertainment. Michelsen received the phone call that would change his life—from 50 Cent in 2008. Actually, the rapper and energy drink mogul was calling to speak with Michelsen's wife, Jenny, about investing in her 3D eyewear company, Gunnar Optiks. Jenny passed the phone to Matthew, and an unlikely friendship was born. A fter "Fitty" introduced him to Lady Gaga's manager, Troy Carter, Michelsen saw an opportunity to employ his financial tech expertise: Carter had been looking for a way to unify Gaga's "Little Monster" fans online. Michelsen, now 39, introduced Carter to Silicon Valley entrepreneurs Joe Lonsdale and Alex Moore. The group subsequently founded the Backplane, an online platform that allows fans to build all-encompassing e-communities. With seven figures in startup costs coming out of Michelsen's pocket, the Palo Alto company has 12 employees, and, he says, is in talks with Eminem, Justin Bieber, and the National Football League. Its most important client, however, remains Gaga. Littlemonsters.com uses the Backplane technology to create a Gaga universe for her 38 million Facebook fans and 10 million Twitter followers—replete with e-mail addresses and calendars. "The goal is for everyone to start their own interactive community," says Michelsen. "If you're a Girl Scout mom, you could have your own Backplane with 12 other moms." Though the Gaga model seems a bit more promising.Michelsen's Best Advice 1. Know Your Weaknesses. "Find friends and business partners who can do the things you can't. This is hard to do, because most people only really value the skills they're good at and downplay the importance of other abilities." 2. Exude confidence. "It's contagious. Walk into rooms planning to make it happen. If you assume something is impossible, it probably is. But if you're confident that you're supposed to be there, others will be, too." Meantime, Lady Gaga sold a whopping 1.1 million copies of Born This Way in its first week, but 440,000 of those copies went for just 99 cents on Amazon.com. Amazon, however, did pay Gaga's distributor the full price of $8 to $9 per album—which means, the New York Times calculates, the online retailer lost more than $3 million. Call it marketing cost!
Cloud Computing has proven to be one of the biggest tech trends of 2011. Digital music storage is where the action is. In the last few months, both Amazon and Google have rolled out cloud-based storage specifically for music. Apple announced the unveiling of its new cloud computing product, iCloud, at WWDC 2011 in June. Sony doesn't offer any free storage, but it does offer a catalog of six million songs with all the major labels on board at two affordable monthly subscription prices starting at $9.99 per month. Maybe we can expect more news from Apple like integrating iTunes for purchasing music to deliver straight to the cloud. iCloud allows Apple to target iPhones at 5.1 billion handset users worldwide, compared to 1.3 billion PC users. iCloud could be an important step for Apple, making it so users are not required to have a Mac or PC to sync their device, or store music and movies.


Eventbrite Ticketing Bands have more options than ever for doing serious ticketing at the door - and capturing fan data. That includes everything from the Square mobile credit card reader to Topspin, though Eventbrite really wants to change this game. The company is now preparing to release 'At the Door,' a package for processing credit cards, printing tickets, tracking attendees, and printing receipts for last-minute takers. This is at the beginning stages, and Eventbrite teased the concept to members of the media in New York last week. Basically, 'At the Door' revolves around an iPad app, a credit card swiper, and a ticket printer, all of which can be quickly assembled at the venue and moved on a whim. The system can process 400 tickets an hour, and even functions while offline (though online processing introduces far better features). This is all part of a broader initiative dubbed Eventbrite Box Office, and the company is testing the beta concept. But a traditional venue is not required for this to work; instead, the ticketing action can happen around any event, wherever that might be.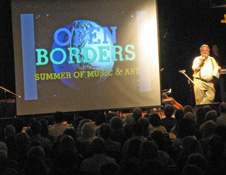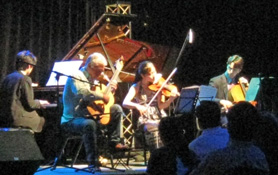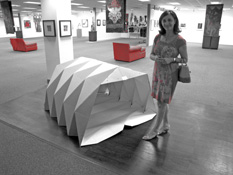 Larry Janss Introducing Angel Romero and Janss Wu Chen Ensemple at Open Borders; studioexpresso's Claris Dodge checking out Cardborigami at Open Borders

Open Borders is a music, arts and digital media extravaganza filling a 40,000 square foot performance space in a former Borders bookstore in Thousand Oaks, California, putting on at least 4 shows per week and daily gallery and performance art all summer long through August 7. All proceeds will support multiple 501(c)3 nonprofit organizations and charitable causes, such as teen suicide and car crash prevention, Teen Line, The Trevor Project, SEVA, CAUSE, and The Boys and Girls Clubs of America.
Main Gallery is exhibiting works by Daniel Johnston, Andre Miripolsky, Lawrence Janss, Lynn Ferrand, Francisco Behr, and many more exceptional artists. The building will also display a wide range of murals including a community signature wall. In addition to contemporary artists, masterworks by Ansel Adams, Joyce Tenneson, Edward Curtis, African and Himalayan artifacts are also part of the exhibit.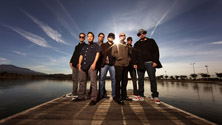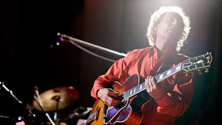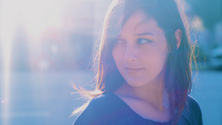 The music line up includes SATURDAY, JULY 16 - Lee Ritenour & Roger Kellaway. SATURDAY, JULY 30 - Ozomatli FRIDAY, JULY 22 - Preservation Hall Jazz Bad THURSDAY, JULY 21 - Meiko, Tom Freund. Be sure to reserve your tix here



studioexpresso caught up with architect Tina Hovsepian, a designer and philanthropist who will be presenting her work at the 2011 Dwell On Design (June 24-26) at the Los Angeles Convention Center.
You can view her work, dubbed, Cardborigami at Open Borders in Thousand Oaks through August 7 and at the Dwell On Design June 24-26. Tina invented a portable shelter that has real market advantages. A typical unit can be both opened and closed in less than a minute with no assembly required. It weighs about 10 pounds and can be carried easily as a backpack. A closed unit is only 2'8" wide by 3'6" tall by 4" deep, this size of a large camping backpack. These cost about $15 each to mass produce.
Hovsepian who graduated from the University of Southern California with Bachelor of Architecture in 2009 currently designs contemporary, sustainable, LEED rated, homes in Santa Monica for Duvivier Architects. Born and raised in Los Angeles, this young architect always had a consuming interest in humanitarian causes, especially the plight of the homeless on Downtown's infamous Skid Row. In 2007 she designed and build a prototype of a temporary shelter made of folded cardboard, Cardborigami. Tina received Second Prize for Most Innovative at the 2009 USC Undergraduate Symposium for Creative Work. That was the first time an Architecture student had won an award in this school-wide category. "Ideally they will be waterproofed and flame retardant once the design is finalized," says Hovsepian who is an Assoc. AIA. "The homeless already have the right idea. Turns out cardboard is the ideal material for a portable shelter because it is insulated, structural, light-weight, and recyclable. My goal was to make one unified skin that would unfold to create instant space. To do so I studied the ancient art of paper folding, origami. Also, after making many paper cranes, I chose the dome-like, collapsible structure as the final form for Cardborigami," says Tina who believes that design fundamentally impacts the daily life of our society. To learn more about Tina, her nonprofit project and to read her blog visit www.cardborigami.org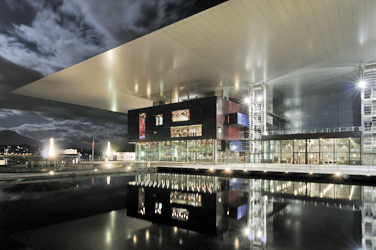 KKL Luzern, one of the world's most beautiful concert halls has selected WSDG for its Electro Acoustic Upgrade.
The project will be completed in 2012. The retractable electro acoustical system in the concert hall is used as a high-quality sound reinforcement system during some events, typically jazz, world music or pop style concerts and also for speech announcements during performances. Installed in 1998, the original system has reached the end of its useful life and was in need of replacement. Working closely with the KKL Luzern event technology staff, WSDG partner/general manager Dirk Noy and deputy general manager Gabriel Hauser are currently coordinating a multi-stage design process. This process starts by defining critical detailed user specifications, developing a comprehensive program of system planning, organizing and evaluating in-situ tests by a number of invited manufacturers and preparing a final system installation and calibration. Completion of this complex operation is projected for 2012.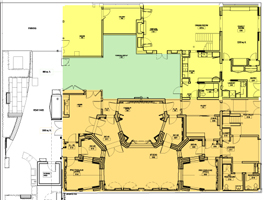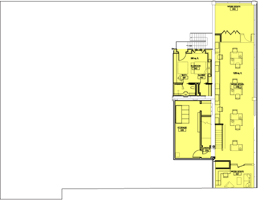 Real Estate Opportunity....Own A Unique Property in San Francisco
An investment opportunity for the right candidate who can be a major player in the art/music scene in the city by the bay.
Become the landlord of this beautiful property for less than $4 million. The current tenant has been running the facility as a popular studio for several years. Space is zoned SLI in the heart of SOMA. Fully furnished and built out as recording studio, gallery and living area with three rooms, lounge and office spaces in 8,600 square foot concrete building equipped with state-of-the art gear. Amenities include: BBQ with landscaping & fountains, Eat-in kitchen, Restroom - one with a shower, Wet bar and Freight entrance.

Several years ago studioexpresso put out the call when a similar real estate opportunity presented itself in the heart of Hollywood. That situation resulted in a happy ending! Visionary/owner of East West Studios, Doug Rogers rose to the occasion and saved 6000 Sunset in Hollywood from becoming a condominium or a parking lot. Now sister city, San Francisco is calling for a visionary like Mr Rogers.
As the new owner you will enjoy a built-in recording studio as tenant which help generate rent income from day one!
Please contact Claris at 818-990-3031 for more information, including detailed brochure.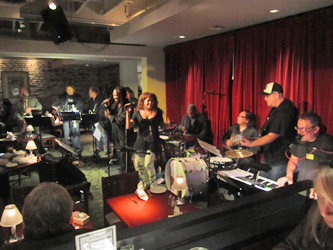 S.O.G.O. stands for Sherman Oaks Groove Orchestra or give me that big phat funky sound that's R&B and Soul with some of LA's best session musicians --Tim Owens, Melanie Taylor, Jeff Paris, Terry Wollman, Don Lutz, Ed Wynne, Bill Churchville, Brandon Fields, Curt Bisquera and Herman Matthews. "We said, why not let's do it," says drummer Curt Bisquera (Josh Groban, Mick Jagger, Elton John) of the standing-room-only show at Cafe Cordiale in Sherman Oaks on June 9th. After just two rehearsals the band, comprised of LA's top session players, sounded tight and grooved like they've been playing together for years. Bisquera will be at the Hollywood bowl with Sarah McMclauglin on July 16 and 17. Reserve your box seat today!

Artists write or call us every day from all corners of the world -- US, France, Germany, Russian, Israel, Asia, Australia and Middle East. Most are interested to get heard or build their careers. Now and then we'll feature a letter or feedback and share our picks. Our goal remains to empower new artists and encourage them to find their voice and musical path. Most importantly, we're here to remind the artists that it's a long journey, so enjoy the process and grow your fan base.
We encourage artists to provide a link to their music site when they contact us...if you're interested to have a producer or mixer involved, specify number of songs, budget and desired delivery date. Meantime, visit production talent at studioexpresso to find the right production partner for you.
Let us know if you would enjoy having us host pre-production sessions from host studios where industry can hear your music and offer suggestions and resources. Send an email with "I want to get heard" in the subject line to claris@studioexpresso.com



Special A&R Registry Offer For studioexpresso Community

Attention Studios! This month studioexpresso Readers are getting a special deal on Ad space for Summer Edition of the A&R Registry. According to founder Ritch Esra, The A&R Registry reaches over 7000 Music Business professionals in the US, Canada, UK, Europe and Australia. All Full Page, ½ Page & ¼ Page Ads are 50% off. In addition, all advertisers receive a one year subscription to the A&R Registry as well as an excel databases for your marketing use. Only few spaces are left, so please call Ritch at 818-781-1974 or e-mail him at ritch@musicregistry.com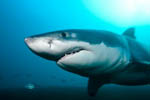 AC/DC's Fin Base Growing! Matt Waller, a tour operator in Neptune Bay, discovered that great white sharks act more calmly when listening to music by AC/DC. The two songs favored by the sharks: "You Shook Me All Night Long" and "Back in Black." So if the great whites aren't necessarily rocking out to AC/DC's greatest hits, what's the appeal? Waller notes that there is a connection between a song and the frequency and vibration in the water that the sharks enjoy. Happy Birthday (May 19) Phil Rudd!
Speaking of sharks, Grooveshark is striking partnerships, including one with Indaba Music to create Breakthrough Radio, a showcase of up-and-coming artists. Watch Mike from Linkin Park at Paramount Studios collaborating with the world!
Unsigned bands/artists can enter before June 28 for an opportunity to be featured on Indaba.


Toto 2011 Summer tour calendar covers Europe, Japan and Chile - 12+ cities near you! Go behind the scenes with TOTO's VIP package, offering you the chance to meet the band and have special access to the soundcheck, photo with the band, among other things. A fan writes: "In tribute to to Michael Jackson (Porcaro and Jackson), they played Steve Porcaro's written 'Human Nature' from 'Thriller." The guys delivered BIG TIME!" Toto is Simon Phillips, Drums and Purcussion; Steve Lukather, Guitar and vocals, Steve Porcaro, Keys and vocals; David Paich, keys and vocals, Mike Porcaro, bass; Joseph Williams, vocals with former members and guest musicians. Have you looked at these guys' catalogue lately? They don't have to write another song, really!
"Sometimes I want to play on a mountain top with fog, just because it's cool"
--Flaming Lips lead man


EGO stands for Edging God Out
--Kenny Lee Lewis, Guitar, Bass, Vocals (The Steve Miller Band)

"We're analog people, not digital. I personally can't stand digital music. You're getting sound in bits. It affects a different place in your brain. When you play it back, you can't feel anything."
-- Prince (In an interview with the Guardian in 2010)

"When it comes to listening music, suggesting similar music (as done at Amazon or Grooveshark) may help you discover new artist, but it also trains listeners to be less loyal. It's like asking for an espresso and getting a latte!
--Claris Dodge, studioexpresso
Ringing The Wedding Bells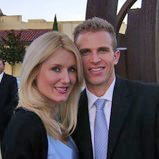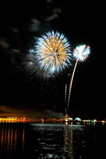 Mark "Mooka" Rennick of Prairie Sun Studios & Pamela Reed are tying the knott on August 6th, at the Bohemian Grove, Monte Rio
Emily Rebecca (daughter of mixer/producer Ken Allardyce) & Scott James Street were married on June 25th in Edinburgh, Scotland

To Love & Happiness!
And a happy belated Father's Day to you Dads. Turn up the volume on the fireworks this 4th of July!

Until next month...EXPRESS YOURSELF