ATC Surrounds The Great Divide In Aspen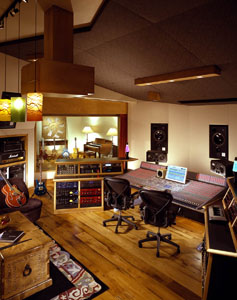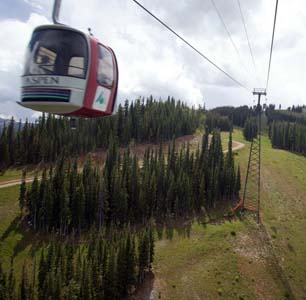 An ATC 5.1 system was the choice of Jamie Rosenberg for his world-class Great Divide Studios in Aspen, Colorado.
Photo by: Dave Marlow
Against a backdrop of the world's best ski slopes and amid the hubbub and ritz of movie star sightings and million-dollar homes, Aspen Colorado's Great Divide Studios sets the benchmark for high-end recording in a laid-back facility that melds perfectly with the city's "do it in comfort, do it with style" attitude. The summer of 2006 saw the studio's fourth incarnation in a completely new building created by celebrated designer Martin Pilchner of Pilchner Schoustal International. The control room centers on a Pro Tools HD Accel system with an Icon-D Control surface and is brought to life by five soffit-mounted Acoustic Transducer Company (ATC) 150ASL full-range loudspeakers and an ATC Sub1/15Pro subwoofer.
Jamie Rosenberg, Great Divide Studios' owner, has gone to great lengths to give the new space a warm, homey, comfortable feeling. "It's not a laboratory," he said. "It's a place that inspires creativity." A long list of major label and indie label clientele, the majority of which return for multiple visits from points afar, suggests that Rosenberg has perfected his recipe, which he has been tinkering with since he opened in 1992. However, Jamie won't take all the credit. In a nod to the famous real estate maxim, "location, location, location," he deadpanned, "being in Aspen doesn't hurt."
The choice of speakers for the latest, and most probably final, Great Divide Studios, was not a decision that Jamie took lightly. "I was quite unhappy with my last set of midfields," he complained. "They were surgically accurate, but painful to listen to for any length of time. Unfortunately, it's challenging to audition soffit-mounted speakers, but everything I heard from ATC at AES conventions suggested that they were the way to go. When I learned that George Massenburg and Doug Sax, two opposite ends of the spectrum, had outfitted their new rooms with ATCs, that clinched it."
Great Divide Studio's 5.1 system features ATC 150ASLs on all five channels. Each 150 is comprised of a fifteen-inch SL driver, a three-inch soft dome mid, and a one-inch wave-guide-loaded driver with active crossovers and internal ATC tri-amplification. They boast 117dB maximum continuous SPL and a response that is amazingly flat and coherent. The single ATC Sub1/15Pro subwoofer features a fifteen-inch SL driver and 3rd order harmonic distortion that is 35dB quieter than any other subwoofer on the market. In short, both the 150ASLs and the Sub1/15Pro are engineered for absolute fidelity, with no price-point compromises to sully that worthy goal.
Jamie is quite pleased with the new room. "The ATCs combined with Pilchner's acoustics are a magical combination. You get exactly what you hear. There's no second guessing! The ATCs are definitely precise and revealing - tools you need as an engineer. But at the same time, they're a lot of fun to listen to, even after tracking or mixing for twelve hours a day, seven days a week." Given the studio's relaxed atmosphere, many musicians liken the experience of working at Great Divide to tracking at a friend's comfy house on the best stereo (or 5.1!) system in the world.
Jamie's choice of ATC loudspeakers is consistent with his knack for assembling racks of gear that trigger a Pavlovian response in any engineer that knows what he or she is looking at. In addition to all the latest Pro Tools hardware and software, Jamie's clients can avail themselves of Neve, UA Audio, Chandler, Great River Electronics, Grace Designs, Requisite Audio, Manley, Empirical Labs, Eventide, and Lexicon outboard equipment, among much else. His microphone cabinet harbors Telefunken, Neumann, Sony, Brauner, Royer, Earthworks, AKG, Sennheiser, among many others. His instrument collection is on a similar tier. To top it all off, clients who are tense after recording a difficult riff can mellow back into Great Divide's vibe in a Sharper Image massage chair!
ATC's drivers are manufactured in-house to exacting tolerances and are legendary for their many design innovations, such as the innovative SL magnet system and the company's renowned Soft Dome mid-range driver, which achieves exceptionally broad and even dispersion to produce a flat response anywhere in the room. Situated in Aston Down in rural Gloucestershire, England, ATC was established in London in 1974 by acoustics engineer and musician, Bill Woodman.
For more info on ATC studio monitors(UK) contact Brad Lunde at www.lasvegasproaudio.com or Phone (702) 307-2700
Illuminating Sounds Of Walkin' On Water
Drawmer 1968 ME compressor on acoustic Instruments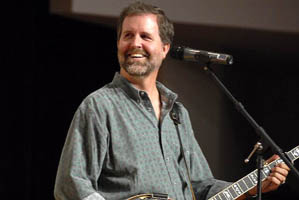 Accurately capturing the natural sound of an acoustic instrument in the recording studio can be a tricky endeavor, requiring some combination of time, money and experimentation.
But Tom Macomber, banjo player with the gospel band Summer Church and the owner of an independent record label, Walkin' On Water Records, believes he has found what he has long been looking for with Drawmer's 1968 ME, a special edition two-channel tube/FET compressor that simply illuminates the true character of his instrument.
"When we put that Drawmer 1968 on my instrument two weeks ago, on a Sunday, suddenly I was hearing the banjo sound that I hear when I play my instrument," says Macomber. The musician and producer started WOW Records as an outlet for his own band with a little spare cash 13 years ago and has since developed it into a label with a growing roster of Christian music artists.
The 1968 is the compressor section from the Drawmer 1969, a FET compressor with tube output stages. The 1968 is designed to deliver a transparent sound even under the heaviest compression. "We have another compressor that is the most transparent thing I've ever used," says Macomber. "I like it a lot, but to my ears, when I listen to the playback through the Drawmer, it puts the richness the instrument had in the first place right back in."
Macomber, who is endorsed by U.S. instrument manufacturer, Deering Banjo Company, says that what he has always experienced during playback has never quite matched up to what he has heard as he performs in the studio. "I've never lacked for signal to tape," he shares. "And I've got some recording gear that I use that I like a lot. But the Drawmer 1968 ME gave me what I'd always heard in my head but I'd never heard coming out of the playback."
He continues, "It's very warm and rich and musical sounding without adding all kinds of artifacts that sound like you've processed the signal. You hear recordings where they put on reverb and EQ something to death and it doesn't sound like any instrument you've heard before. A banjo has a lot of bell bronze and sometimes you want a chiming, bell-like tone in certain hand positions. The Drawmer accentuates that, and lets me hear what I thought I'd played."
Macomber shares, "I do a lot of work out of two different studios in Upland and Ontario, California. One studio is digital and the other is all analog; that's where I prefer to track." But, he says, "I love the banjo's signal going to tape, but I've never really been satisfied with the mix that we get."
All that has changed with the addition of the Drawmer 1968 ME, which now brings a realistic character to the banjo that allows it to sit perfectly in the mix. "A perfectly neutral preamp does reproduce your instrument faithfully," Macomber acknowledges, "but somehow you do want to add something, some character. The Drawmer gives me that character. It makes the instrument sound like it belongs."
Macomber purchased the Drawmer unit through his favorite dealer, Sweetwave Audio, located near Denver, Colorado. I had a great response from Drawmer, a great response from TransAudio, and Sweetwave is great to deal with."
As Macomber works toward completing the next Summer Church album release, he is happy that he has finally found the sound that he has been looking for. "I told Richard at TransAudio, my banjo finally sounds like my banjo."
For more info on Drawmer (UK) contact Brad Lunde at www.lasvegasproaudio.com or Phone (702) 307-2700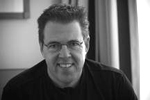 Las Vegas Pro Audio (www.lasvegasproaudio.com) a division of TransAudio Group, is the launch pad for the brands of tomorrow including ATC studio monitors(UK), Accusound Silver Audio Cables, Digital Audio Denmark AD/DA DXD/DSD converters, Daking electronics, Enhanced Audio mic mounts, and Pauly Superscreen pop-filters. The goal of LasVegasProAudio.com is to provide unique equipment, useful information and long term support.TransAudio Group, founded by industry veteran Brad Lunde, has quickly become the premier U.S. importer/distributor and/or U.S. sales and marketing representative for high-end audio. Success hinges on TransAudio providing dealers and end users with a higher standard of product expertise and support far beyond the norm. TAG product line includes Accusound, A-Designs (USA) AEA ribbon microphones (USA), ADT Toolkit, AEA, ATC Loudspeakers (UK), Brauner microphones(Germany), Drawmer (UK), Geoffrey Daking & Co. (USA), Enhanced Audio (Ireland), George Massenburg Labs (GML) (USA), Heil Sound (USA); Mercury Audio (USA) Mission Audio (UK) Phoenix Audio (UK), PAULY Superscreens(Germany), SABRA SOM(Brazil), Soundelux (USA), SoundField Microphones (UK), Z-Systems (USA) and Weiss Engineering (Switzerland) and Z Systems (USA).
Star City's New Sighning
Jeff Glixman Blown Away by Guitar Virtuoso, Tyrone Vaughan At SXSW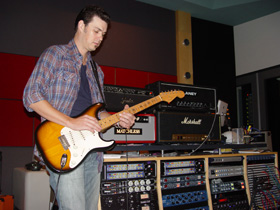 During the 2006 South by Southwest Festival in Austin, TX, StarCity Production partners Jeff Glixman and Jim Gentile attended a staggering number of live performances in search of music that would capture their attention. Late one evening, the two wandered into a club and were moved by the superb sounds of Tyrone Vaughan and his four-piece band. Shortly after returning home from the festival, Glixman and Gentile reached agreement with Tyrone Vaughan on a production deal. The band is currently completing a 12-song CD at StarCity Recording Company's world-class studio.
The son of the Fabulous Thunderbirds' Jimmy Vaughan and nephew of guitar legend Stevie Ray Vaughan, Tyrone previously played in the band 'Breedlove' before forming his own band. Tyrone Vaughan consists of Vaughan and Bruce Castleberry on guitar, John Olrech on bass and Rob Schilz on drums. The music, deeply rooted in blues, is probably best described as modern soul/rock. "I have big shoes to fill, but I'm born to do it and I'm having a blast doing it with Jeff and his crew at StarCity.""While walking the streets of Austin, I commented to Jim about the lack of ripping guitarists," stated Glixman. "I wasn't hearing anything that moved me. We then entered a club, and we saw one guy tearing it up on a Les Paul and another on a Strat. I was immediately taken with the vibe of the performance and the artists. Hearing only the last song of the set, I was duly impressed to the point of speaking with Tyrone to make arrangements for Jim and me to hear the band again the next day. The next step was to bring Tyrone to our studio, StarCity Recording, and see how he and I interacted in the recording environment. I find this the only real way to see if we mesh, and is much better than just talking about it."
The 12-track CD will be recorded and mixed in analog with Glixman and StarCity's Zak Rizvi working as co-engineers on the project. At StarCity, Tyrone's guitar rig will include: a custom-built Matchless Avenger, a 1975 50 Watt Marshall Mark II, a 1964 heavily modified Fender Bassman, a 1968 50 Watt Sound City, a heavily modified 1978 800 Series Marshall Head, an Orange AD 30, and a 1964 Ampeg Gemini I. The recordings will be captured on the studio's Studer A827 Gold 2" analog 24 track recorder. For the mix, Glixman will use StarCity's ATR-102.
"On a musical level, Jeff and I are kindred spirits; I met my match," continued Vaughan. There will be no cut and paste; everything will be performed in real time. What you hear is what this group is capable of doing on any given night in live performance."





Expresso Cat Walk And Talk...

The pay-cable network HBO has struck a deal with Timberlake that will have him headlining his first solo concert special late this summer in support of the multi-platinum"FutureSex/LoveSounds" album....taped during Timberlake's Aug. 16 performance at New York's Madison Square Garden the show is scheduled to air on Sept 3, Labor Day. The concert-special genre has struggled of late, including NBC specials featuring Madonna and Tony Bennett, but HBO is forging ahead with a concert special by Justin Timberlake.
EMI Music announced that Amazon.com digital music store will exclusively offer tracks and albums as MP3s free of digital rights management (DRM) restrictions. EMI is the first major music company to make its entire digital music catalogue available for sale. The agreement follows EMI's launch of its new premium download offering, in which the company began offering retailers DRM-free music to sell in the audio format of their choice in a variety of bitrates up to CD quality. Eric Nicoli, CEO of EMI Group, said: "Amazon.com is synonymous with a great consumer experience, and they have become an important retail partner of ours. I applaud Jeff Bezos and Amazon.com for making this move.Jeff Bezos, Founder and CEO of Amazon.com, said: "Our MP3-only strategy means all the music that customers buy on Amazon is always DRM-free and plays on any device."


Some 20 million viewers watched the season finale of ABC's "Grey's Anatomy" to find out whether Cristina and Burke's wedding will take place. They also heard the premiere of a song that will serve as the soundtrack of the episode's climactic final five minutes. That tune will be performed by indie artist, Ingrid Michaelson, a 26-year-old Staten Island native who lives at home with her parents and has become the chanteuse of "Grey's Anatomy." In the fall of 2006, her myspace page came to the attention of TV music supervisor, Lynn Grossman of Secret Road Music Services. She helps select songs for the Fox drama "House" -- established the company to seek out fresh talent like Michaelson that would work for TV. Meantime, Ms. Michaelson, who until recently was earning about $250 a week teaching theater to kids part-time, has three of her songs aired on this season's "Grey's" as the sonic backdrop for the drama's soapy tales of Seattle Grace Hospital. The exposure sent one of those songs to No. 13 on the iTunes pop music chart. For each 99-cent sale on iTunes, Ms. Michaelson grosses 63 cents, compared with perhaps 10 or 15 cents that typical major-label artists receives via their label. To-date she has sold about 60,000 copies of her songs on iTunes and other digital stores." Many shows will only pay unsigned artists about $1,000 for the use of their music on TV, while artists on major labels might garner more than $30,000. Unlike her other tunes on the program, Ms. Michaelson won't be able to sell her "Grey's" finale song immediately after the show airs. The song will appear on a soundtrack for the series that will be released in the fall. Ms. Michaelson says she used to watch "Grey's" and "sing my songs over the dialogue. I can just hear her phone ringing by label scouts now! Sweet!
Visit studioexpresso at hotel cafe on June 7, 9pm with Ingrid Michaelson.

Martin Scorsese announced last week at the Festival de Cannes the launch of the World Cinema Foundation, devoted to the preservation and restoration of neglected films. "In America, we know 90% of silent films are now gone," Scorsese says. He plans to bring together directors from all over the world to work on their countries and raise funds for film preservation.
According to our sources Def Jam is laying off 40 staffers. WEA is cutting 70 staffers serving the traditional brick-and-mortar marketplace. While Warner Music Group shares fell 12 cents to $17.30 last week, the label giant is developing a new TV Video Programming called 'Den of Thieves' -- sources say it's to promote new albums and artists on television, the internet and mobile services.
Mixing Outside The Box With SSL
XLogic X-Rack modular rack system at Wade Martin's WM Studios In Phoenix Arizona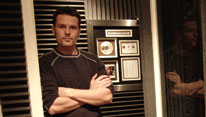 Wade Martin (Matthew Earl Jones, Joni Sledge, Yes, Michael Mancini, Rolling Stones) is an exceptionally prolific music producer and song writer, sought after by artists, to even scientists all over the world for his ability to put together songs that can climb the charts, or sounds that can target specific brain waves to achieve a therapeutic end. He understands the importance of having the right recording studio to work in, which is one of the keys to achieving the right vision.
With four full units recently installed at his Phoenix Arizona based WM Studios (www.wmstudios.tv), Martin has demonstrated the immense value and outstanding sonic performance of Solid State Logic's acclaimed XLogic X-Rack modular rack system.
Martin, who has written, produced and performed songs including the 2005 release "A Song for You," which reached No. 29 in the U.S. national Top 500 Hot AC, reports exceptional results on both the front and back end of the signal path since purchasing four X-Racks from pro audio/musical instrument retailer Sweetwater.
"The SSL X-Rack technology effectively provides a million-dollar console without spending a million dollars or sacrificing all the physical space," Martin marvels. "It's the same technology that comes out of SSL's 9000 K Series console. Compare the two and SSL is definitely not lying-they sound identical."
"I'm using the X-Racks in two ways," Martin continues. "First and foremost I'm using it for summing, so all my channels are not confined to the digital domain. This is giving me more space, in layman's terms, in my stereo field. The X-Rack summing has given me a lot more room to breathe. I've summed with other consoles and other units, but I've found that there's nothing better than SSL." Martin also employs the X-Rack's superb Dynamics and Channel EQ modules (as well as the Eight Input Summing Module, Four Channel Input and Mic Amp) to great effect, he reports. "Once again, these are directly out of the 9000 K Series, but with a twist. I recently used the EQ module in the X-Rack at a mastering session, and it was a pleasure to be able to toggle between the G Series and the E Series. That was really cool for the application, where I was looking for a vintage EQ feel. It delivered exactly that."
The X-Rack, says Martin, "really helps people like me that subscribe to the theory of 'getting out of the box' to fatten things up. And the Total Recall® is awesome too. The X-Racks provide the ability to save your settings for each session. That makes life a whole lot easier."
The X-Rack is a modular rack system that incorporates a unique Total Recall® capability. The X-Rack now boasts six optional modules: Eight Input Summing Module, Four Channel Input, Master Bus, Mic Amp, Channel EQ and the original Dynamics module. This combination makes it possible to configure X-Rack as a standalone mixer an analogue summing system, or as a standalone processing solution for studio and live applications or working with the flexible inserts of an AWS 900+ Analogue Workstation System to provide a complete "SSL" channel processing solution for the console.
"In 2007, the need for versatility is very, very important," Martin summarizes. "That's what the X-Rack means to me, and that's how I see it changing the way studios think about their big consoles." Wade Martin can be reached at (866) 279-9623 or info@wmstudios.tv.

Solid State Logic is the world's leading manufacturer of analogue and digital audio consoles and provider of creative tools for film, audio, video and broadcast professionals. SSL's product range includes the C100, C200 & C300 Digital Consoles, Duality, the large format analogue console with integral DAW control, AWS 900+ Analogue Workstation System, the XLogic range of rack processors & I/O, the Duende DSP engine for workstation users and the Soundscape Audio Workstation product line. For more information about our award-winning products, please visit: www.solid-state-logic.com.
Slab of Pure Analogue Attitude
SSL Introduces The XLogic Alpha VHD --4-Channel Analogue Mic/Line/Instrument Preamplifier



Introduced at the recent Musikmesse in Frankfurt, the Alpha VHD Pre joins SSL's growing XLogic family of rack mount equipment. Whether you need to track pristine vocals, crunched drums or electric guitars on the edge of sonic destruction, the VHD Pre delivers a powerful and versatile sound shaping tool kit-the perfect analogue companion to any digital recording system. Based on the VHD circuit from SSL's acclaimed Duality console, the VHD Pre adds four SSL mic preamps to any line level DAW audio interface, transforming it into a professional quality, multi-channel analogue recording system.The four ultra-clean, high-grade mic preamps are combined with independent Variable Harmonic Drive circuits that use 100% analogue signal paths to generate rich harmonic colouration, adding SSL analogue attitude to your digital recordings.
When VHD is used in conjunction with the input gain control, a huge variety of preamp sounds can be created, from gentle warming to serious overdrive. At relatively low input gain settings the VHD Pre's preamps deliver transparent signals with all of the sonic fidelity you'd expect from SSL. As the input gain setting is increased, more of the signal is passed to the Variable Harmonic Drive circuit, increasing the intensity of the effect from subtle to extreme. By adjusting the VHD control, the distortion characteristics can be shifted from '50s valve-style overdrive (if the VHD selection control is turned fully counter-clockwise for 2nd harmonic distortion) to '70s transistor-style grit (if the VHD selection control is turned fully clockwise for 3rd harmonic distortion)… or a blend of the two.
As a feature of Duality, XLogic E Signature Channel and XLogic Alpha Channel, VHD is used in studios around the world and is rapidly establishing itself as the 'go-to' tool that allows modern producers to achieve a sound that evokes the sonic heritage of SSL while adding a strong contemporary edge.
The XLogic Alpha Channel will ship worldwide in May 2007 with a MSRP of $1,995.00.
The last time writers struck was in 1988, a bitter five-month walkout. Hollywood studios are speeding production on movies and TV shows, preparing for a possible strike by writers and more trouble next year when contracts with actors and directors expire. TV networks, which are in the midst of planning fall schedules, also might pack their lineups with more reality shows and other unscripted fare as protection against a possible strike. "It's simply sound business," said J. Nicholas Counter, president of the Alliance of Motion Picture and Television Producers, which negotiates on behalf of the studios. Among the shows accelerating production is NBC's "Las Vegas," which started three months earlier than usual with the aim of finishing 18 to 24 episodes before the fall. Normally, the show would have only about seven or eight episodes filmed. "In essence, it makes us strike proof," said Gary Scott Thompson, the show's writer and executive producer and a veteran of the last writer's strike in 1988. Another NBC show, "Law & Order: Special Victims Unit" began shooting two months early. The three-year pact between studios and the Writers Guild of America expires Oct. 31 and talks are scheduled to begin in July. Bochco, the Emmy Award-winning creator of such shows as "NYPD Blue" and "Hill Street Blues" is creating a legal drama pilot for TNT. He said the issue of stockpiling always arises as a negotiating tactic. There are powerful incentives for both sides to avoid a strike. Network programming is losing viewers and advertisers are spending less on TV and more on the Internet.
One Humble Device: The Mic Mount
Enhanced Audio M600 Mounts For Barry Hufker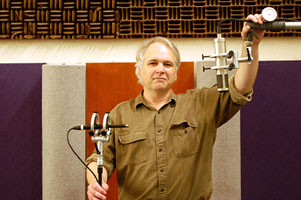 Barry Hufker, who also serves as associate professor of audio production at Webster University in St. Louis, recently purchased two Enhanced Audio M600 mic mounts for crisper, cleaner and more detailed sound.
photo by: Mike Smith
Sound engineers know that the tools they choose have a dramatic impact on the quality of their recordings. They select their microphones with near-religious fervor and could argue endlessly about the pros and cons of different signal processing equipment. They justifiably pay tremendous amounts of money for slight improvements in digital to analog conversion and use cables that are painstakingly engineered to convey every possible sonic nuance. All of these links in the audio chain have received ample press to the relative exclusion of one humble device: the mic mount. Sound engineers might be surprised to learn that a mic mount's effect on the quality of a recording can be as dramatic as all of the other tools that they so happily obsess about!
Barry Hufker is a case in point. With over 35 years in pro audio, Hufker is currently an associate professor of audio production at Webster University in St. Louis, Missouri, a program that he founded 18 years ago. When not teaching the next generation of sound engineers, Hufker records classical, jazz, and international music in and around St. Louis. To his credit are recordings for CD, DVD, and broadcast of Bobby McFerrin, Arlo Guthrie, Dave Brubeck, Chanticleer, and his regular engagements with the Opera Theater of St. Louis and the St. Louis Chamber Chorus. Like most sound engineers that have such extensive experience, Hufker is passionate about his equipment, opinionated about his craft, and skeptical about new gear and its inevitably inflated marketing boasts.
"Over the years, I've met many interesting people in this line of work," said Hufker. "I've come to know and trust Brad Lunde and Richard Bowman at Las Vegas Pro Audio, a distribution company that I do business with. I like the way they run things. They focus on relatively smaller companies that design unique and interesting products, like API, the makers of my cherished 3124 four-channel preamp. There is no doubt that if they choose to rep a company, that company is doing something special.
"So when they told me I had to try an Enhanced Audio M600 mic mount, I suspended the cynicism and skepticism that I might have unleashed had the recommendation come from someone else," he continued. "But all the same, it was going to take some hard evidence to convince me that a mic mount could really make a noticeable difference."
When the mic mounts arrived, Hufker brought them unopened to his class of upper-division audio majors. To begin, they hooked up his Brauner VMA tube condenser, a microphone for which Hufker's voice fairly trembles with respect and love, to its factory mount. They recorded spoken word and, as Hufker fully expected, the VMA sounded great. No surprise. Then they swapped out the factory mount for the Enhanced Audio M600.
"We were very rigorous - everything was exactly the same," he explained. "I heard the difference, but it was still hard to believe. With the Enhanced Audio M600, everything sounded crisper, clearer, more detailed. The bass had better definition and the high end was cleaner. To be honest, I was startled. The microphone which, moments before had sounded so wonderful, sounded even better!"
Shortly thereafter, Hufker found himself at the St. Ambrose Church in St. Louis recording the St. Louis Chamber Chorus. The church is highly reverberant, and Hufker fought the competing demands of distance from the chorus for a nice blend of voices versus proximity to the chorus to cut down on reverberation. He started with his pair of Sonodore RCM402 omni condensers in their factory mounts. "I found the best balance I could between too close and too far, but it still wasn't all I was hoping for,"
Hufker recalled. "I switched out the factory mounts for the Enhanced Audio M600s and changed nothing else. Same position, same preamp, same everything.
"It was hard to believe, but the M600s gave me the sound I was looking for and was afraid I wasn't going to get! The bass was tighter, the mid-range was clearer, the highs were clean, the stereo image tightened up, and all of a sudden I was capturing a presence in the chorus that moments before I had been missing!"
Hufker concluded, "I had recorded two samples - one with the factory mounts and one with the Enhanced Audio M600 mounts. Listening to them back to back, it was immediately apparent that the new mounts made a dramatic improvement. So I've gone from being a non-believer to a believer. I have to admit, the M600 does what Enhanced Audio promises it will do!"
For more info on Enhanced Audio (Ireland) contact Brad Lunde at http://www.transaudiogroup.com/ or
Phone (702) 307-2700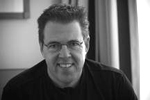 Las Vegas Pro Audio (www.lasvegasproaudio.com) a division of TransAudio Group, the exclusive U.S.source for Accusound, ATC studio monitors(UK), Accusound Silver Audio Cables, Digital Audio Denmark AD/DA DXD/DSD converters, Daking electronics, Enhanced Audio mic mounts, and Pauly Superscreen pop-filters. The goal of LasVegasProAudio.com is to provide unique equipment, useful information and long term support.
TransAudio has quickly become the premier US importer/distributor for high-end audio with a product line to include , A-Designs (USA) AEA ribbon microphones (USA), ADT Toolkit, AEA, ATC Loudspeakers (UK), Brauner microphones(Germany), Drawmer (UK), Geoffrey Daking & Co. (USA), Enhanced Audio (Ireland), George Massenburg Labs (GML) (USA), Heil Sound (USA); Mercury Audio (USA) Mission Audio (UK) Phoenix Audio (UK), PAULY Superscreens(Germany), SABRA SOM(Brazil), Soundelux (USA), SoundField Microphones (UK), Z-Systems (USA) and Weiss Engineering (Switzerland) and Z Systems (USA).
From Home To Studio
LA Conference A Huge Success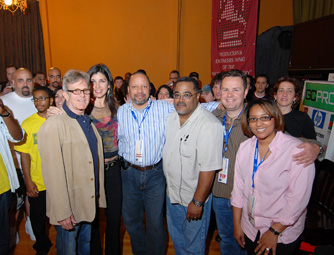 L-R at The Village Recorder: CEO Jeff Greenberg and studio manager Brooke Boyle, Grammy® Award-winning engineer Ralph Sutton, conference leader David Hampton, hard drive sponsor Avastor VP Richard Wilson, and engineer/event coordinator Lisa Hampton.
Photo by David Goggin.

For the second year in a row, top audio professionals convened at The Village Recorder to share their tips and tricks for making great home studio recordings and teaching the essentials for making a successful career in audio engineering / producing. The annual conference was established by engineer and consultant David Hampton, who for over 25 years has contributed to the success of top artists such as Herbie Hancock, Marcus Miller, Prince, and Rafael Saadiq. His new book, "So, You're an Audio Engineer. . . Well, Here's the Other Stuff You Need to Know," is used in classes at Full Sail's "Recording Arts" program.
Among conference participants were Grammy® Award-winning engineers Ralph Sutton (Stevie Wonder), Khaliq Glover (Prince, Justin Timberlake), producer/arranger/programmer Darrell Diaz (Herbie Hancock, Arturia), Leslie Ann Jones (Skywalker Sound), Al Ramirez, Conley Abrams III, Clarence McDonald, Eric Zobler (George Duke), Morris Hayes, Randy Emata, Tina Morris, and Kelli Clark (20th Century Fox). A highlight of the weekend was a panel discussion moderated by comedian/actor/studio owner Sinbad. Sponsors included the Producers & Engineers Wing of NARAS, GC Pro, HP, Monster Cable, MATK Corp. Blue Sky International, Glyph Technologies, RackMount City and Avastor. For info about the conference: http://www.soyouareanaudioengineer.com

MIX Tee-Off A Success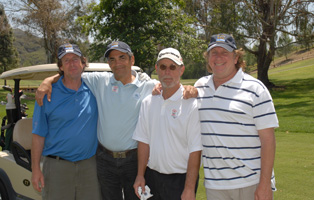 The 12th Annual Mix LA Open was a rousing success as approximately 120 of the best and brightest in the audio industry played 18 holes in perfect weather at the Malibu Country Club. Winner of the contest was Team Ed Cherney (l-r Chuck Cherney, Kenny Gradney, Paul Barrere and honorary chairman, Ed Cherney) with a score of 55. The Village Recorder team also shot a 55 for second place. Third place honor went to the Bose team. The Longest Drive Contest was won by Ryan Andrews. Closest to the Pin was awarded to Marc Bertrand and the Longest Putt title went to Kenny Gradney.

Sponsors included: Absolute Music, Acme Audio, Audio-Technica, Design FX Audio, Full Sail, Harman Pro/JBL Professional, The Pass Studios, Record Plant, The P&E Wing, Sennheiser Electronic Corp., Shure, Sound Design Corporation and Yamaha Corporation.
Massenburg Hosts Workshop at MG Sound in Vienna
Producer / Engineer Shares His Latest State-of-the-Art Techniques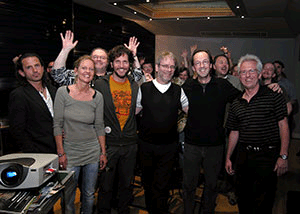 L-R are MG Sound's Martin Böhm, Eva Böhm, and Stevie Coss; George Massenburg, and European GML Distributors Bernard Frings and Thomas Riedmeier. Photo by David Goggin.
Coinciding with the Audio Engineering Society Convention, respected producer / engineer George Massenburg hosted a recording workshop at MG Sound Studios, the largest independent audio recording complex in Austria. Massenburg concluded a series of workshops which were held in Rome, Milan, Munich, and Vienna.
"It's all about the performance," Massenburg stated, after presenting his procedures for recording live with groups of musicians playing together in traditional fashion, while employing the optimum resolution digital formats and processing. In the course of the workshop, Massenburg delved into recent changes in the music industry, the decline of the established record label model and the new opportunities presented to innovative producers and engineers.
On tour with Massenburg were Bernard Frings, of Brainstorm Electronics Europe, the George Massenburg Labs distributor for Europe, and Thomas Riedmeier, of CML, the distributor of GML products in German.
50s Teen Idol Sounds Preserved


Two of the most popular teen idols of the 50s and 60s, Fabian and Frankie Avalon will soon have new digital releases of their hits, as well as unreleased tracks which have been in storage since the original recordings were made. Restoration and archiving to digital was done by Bruce Maddocks' Cups 'N Strings Studios, an industry leader in the delicate art of analog rescues.

"We knew we had a treasure trove of material and that we needed an expert like Bruce to ensure that the remastering process went smoothly," explained Barth Ballard of Digital Music Group, Inc., which recently purchased Chancellor Records and all the physical and digital rights to the label catalogue. "In the process of restoring and transferring the original 1/2-inch and 1/4-inch analog masters, we were excited to find that much of the material had never been released in any format. Digital Music Group is looking forward to releasing these tracks as remastered digital files for distribution at online music stores iTunes, Real, and Napster as well as through top mobile audio channels such as Helio and Moderati." For more info about Digital Music Group, Inc. contact Barth Ballard, Senior Director of Operations at bballard@dmgi.com
John M Eargle Remembered



Following the passing earlier this month of audio industry pioneer John M. Eargle, a memorial tribute to the life and work of John Eargle to take place
June 14th, 8:00PM
pre-reception starting at 6:30PM
Linwood Dunn Theater of the Academy of Motion Picture Arts and Sciences
Pickford Center for Motion Picture Study
1313 North Vine Street (at Fountain) in Hollywood, California.

A number of friends and colleagues from the many areas of the audio industry who John touched have been asked to speak on the personal and professional impact that John had on them and the many areas of his endeavors. All friends and colleagues of John are welcome to attend.
In addition, a scholarship fund has been established in John's name under the auspices of the Audio Engineering Society's Educational Foundation. The Scholarship is being established with an initial donation from JBL/Harman International Industries, Incorporated. Contributions should be made by check to the AES Educational Foundation with instructions to credit the Eargle Fund. They should be mailed to: AES Educational Foundation, Robert Sherwood, Treasurer, One Wolf's Lane, Pelham, NY, 10803. All contributions will be acknowledged. Contact Bob Griffin, Griffin Public Relations
& Marketing at (212) 481-3456 Ext. 16 or bgriffin@griffinpr.com
Eargle recorded and/or produced approximately 275 compact discs. He received a GRAMMY Award for Best Engineered Album, Classical, from the National Academy of Recording Arts & Sciences in 2001. He also received a Scientific and Technical Award that same year from the Academy of Motion Picture Arts and Sciences. More here

"Aloha Pumehana" To A Dear Friend
A true island legend, Superb Entertainer, Icon, Gentleman and Hawaiian Soul
By Audy Kimuara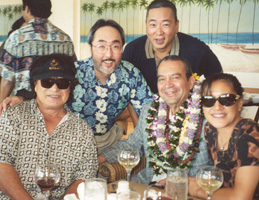 l-r: Don Ho, AK, Robert Asakura, Ben Wood, Haumea Ho.
Personally, I just miss my friend of 30 years who treated me and everyone else with kindness and respect throughout his career.
In 1977, I was a young recording engineer and selected by Don and producer Bob Morgan from the mainland to record all the tracks for Don's double album "Don Ho - 30 Hawaiian Favorites" which was sold world-wide and became his biggest seller. It was my first project on my own as a young recording engineer and I was working with Hawaii's biggest star, a big time mainland record producer and all the top musicians in Hawaii. I was pushing the buttons, turning the knobs and nervous about doing a good job for them.

Don treated me like a member of his family. We literally spent day and night together for 2 months - recording from 10 am to 4 pm daily and sometimes again from 2 am until as late/early as 9 am. All of this was done while both of us were working; Don at the Polynesian Palace, myself with a trio called Westwind at the Jolly Roger East. Don was tireless and the consummate professional.
Most of all, he treated me like a son and an old family friend. I will never forget our chats over late night dinners after recording, his fatherly advice about hard work, treating people with decency and even his asking me advice about whether to allow his son to use his Rolls Royce for a high school prom. We told each other jokes, talked about music, food, and life.
Not many people know that he was one of the few big Waikiki entertainers with a college degree, a Major, a pilot in the US Air Force and the youngest aircraft commander at the time of the Korean conflict. Other than the day of his father's funeral, he never missed a day of work in decades. He was also earned a black belt rating in Aikido.
His graciousness and hospitality are legendary. Two years ago, my friend from Wyoming told me his mother's dream was to come to Hawaii and see Don Ho. When I made reservations for them through his office, I simply asked if they could be seated "someplace close to the stage."
They came to Hy's after seeing the show and told me they were seated in the front row, center table. Don greeted them all warmly, kissed my friend's mother, entertained them, then gave her an autographed CD after the show. That's the kind of person he was.
I last saw Don about two months ago at Hy's and he treated me as he always did - with a big smile, a hug and words of praise and encouragement.
I won't say "goodbye" - that is too final. Instead I will say "Aloha pumehana" to a dear friend. Hawaii has lost one of her finest sons.
May 20, 1946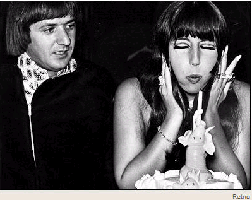 Cheryl Sarkisian La Piere (Cher), right, is born in sunny California. At 16 she will be discovered by an older man who gets her work singing back-up on Phil Spector recordings. Soon, the duo starts recording as Sonny & Cher.