Ralph P. Sutton
mixer l re-mixer l engineer

l producer


Ralph Sutton, aka "Ralph P-Funk", is a American Recording and Mixing Engineer based in Los Angeles, CA. Sutton's illustrious career as a recording engineer spans the better part of three decades and innumerable sessions with the recording industry's elite. After graduating from the Recording Institute of America, and taking follow-up courses at UCLA, Ralph was hired at City Recorders as a runner, and quickly advanced to second engineer.  He subsequently moved to Chateau Recording Studios where he collaborated with Ken Scott, the great British engineer of Beetles' fame and worked on recordings for Missing Persons, Kenny Loggins and Kansas among others.

Sutton says through his many collaborations he has developed his own style.






Sutton soon moved to Electra Asylum Recording Annex where he participated in the recording of Motley Crue's second album, Shout at the Devil.  Between '82-86 Ralph settled at Motown Hitsville, U.S.A. where he began to record the R&B and funk sounds that garnered the reputation he has today.  "Besides recording, the breadth of his experience encompassed all phases of the process.  "I worked on a project from start-- tracking-- to finish-- mixing, mastering, shipping, promotion and sales.  At Hitsville, I cultivated the finer points of engineering: microphone techniques, recording strings, horns, and vocals and mixing, editing and mastering records," says Sutton. His clientele at Hitsville reads like a Who's Who in the history of American music. Including his work with Marvin Gaye, The Temptations, The Four Tops, and Smokey Robinson, he's also worked with producing legends James Carmichael, Norman Whitfield, Holland-Dozier-Holland and Hal Davis.It was at Hitsville where he developed his sound, a menagerie made up of funk, rock and R&B, thus earning him the nickname "P-Funk."
"I learned to mesh rock with that funk. It's that thing that's hard to put your finger on. It's that old school flavor that I grew up with in my house," Sutton said."I mixed the Dennis Edwards single "Don't Look Any Further" with Jeremy Smith, and that song is still widely sampled today," adds Sutton.  Later Sutton collaborates with composer Michael Masser and Russ Terana on Whitney Houston's, The Greatest Love album.  Soundtrack work during this period includes: Get Crazy, The Big Chill and The Last Dragon.  Again paired with Russ Terana and Guy Costa, Sutton handled all the prerecorded music for the Emmy's in 1983 and 1984.




"You know I believe the most important thing I have learned about collaborating is joint effort in the process, team work and knowing your position on the team recognizing that on the playing field, which is the studio and control room and the position I play is engineer, if I do my job to the top of my ability and always bring my A-game, not only does it make a better product, it makes a better environment to work in where new ideas are created and the energy is high," Sutton says.







It was also his grandfather, H. B. Price, that influenced Sutton's musical tastes. Sutton said that Price, along with his mother and slightly older aunts, exposed him to various types of music. "I grew up listening to the Temps, the Tops, Smokey, the Stones, Elvis and all kinds of Jazz," Sutton said. "It was a cornucopia of different musical styles."

After six years, Sutton moved on to Kenny Rogers' Lionshare Recording Studios. There he teamed up with producer David Foster and engineer Humberto Gatica, and together they created music for Julio Iglesias, Chicago, Barbara Streisand, Frank Sinatra and Dionne Warwick. Through some of his many clients, Sutton began to master the fine art of remixing. These include Michael Jackson, Paula Abdul, Jon B, Babyface and Lionel Richie.
"When approaching a remix, I approach the song new in my mind not the old," Sutton said, "Some just want to make what they have better. Others want a new sound completely."
Nonetheless, Sutton's talents are not limited to single artist recordings. He also has a long list of soundtrack credits under his belt. They include hit films like Eddie, Bulletproof, B.A.P.S., Sprung Dangerous Ground, The Big Chill, John Q, Bamboozled, Christine, and Get Crazy. He says that when working on a soundtrack it is vital to have what is needed, most importantly the appropriate studio and equipment.
Some of Sutton's most memorable moments include the "fellowship and camaraderie" that was shared in the studio during his time at Motown Hitsville. Sutton says that while there he enjoyed working with the same artists he grew up on, like The Temptations, The Four Tops, Smokey Robinson, David Ruffin, Eddie Kendricks, and others.






Ralph re-mixed "You Are Not Alone" for Michael Jackson; "Wanna Take You Down" for Lionel Richie; Paula Abdul's "If I Were Your Girl" and "Cry For Me;" and Stevie Wonder's remake of Marvin Gaye's "Stubborn Kind of Fellah."  He has recorded and mixed three of Norman Brown's albums, Just Between Us, After The Storm and Better Days Ahead.  For the exceptional recorded quality of After The Storm, Sutton received Adlib Magazine's Superior Record of the Year in the Best Engineering Section.  On the heels of that award, in 1995, Sutton's engineering skills were requested at The Tracking Place.  This particular studio hails as one of the first recording facilities that Babyface opened in Los Angeles through Yab Yum/ Edmonds Entertainment, and while there, Ralph re-mixed Jon B's "Simple Melody" and "Pretty Girl."  In addition, he recorded and mixed for Rotae, Az Yet, and Take Six.   1996 brought further expansion into movie scores.  As Stanley Clarke's engineer, Sutton recorded the scores for Eddie and Dangerous Ground.  With Michael Boddicker, he recorded and mixed cues for Bulletproof.  1996 also brought expansion to international shores.  Sutton mixed the album of Japan's natural sonic artist, Yoshiaki Ochi, and was flown to Seoul South Korea to mix an album for C4, their answer to house music.  The dawn of 1997 delivered two more movie scores with Stanley Clarke, Sprung and BAPS.  The second half of the year through mid-1998, Sutton was in the studio with Lionel Richie and recorded and mixed his album "Time".  Subsequent recording efforts for 1998 include remixes of Montell Jordan's, "I Can Do That, " and Rafael Saddiq's Lucy Pearl, "You Smell Like PuPu." As Chief Engineer and Director of Studio Operations for Wonderland Recording Studios Ralph recorded and mixed for Stevie Wonder.

Past work includes soundtrack for Spike Lee film 'Bamboozled' and the upcoming soundtrack for Newline Cinema, 'John Q' starring Denzel Washington.

Sutton was appointed by Mayor A.C. Wharton to the Memphis Music Commission, he served as Chairman of the Producers and Engineers Wing of the Memphis Chapter of NARAS where he sat on the Board of Governors.





Sutton's work can be heard on Stevie Wonder's 2006 Grammy-winning single, "From the Bottom of My Heart." Production work includes: "The Grammy's Salute to Gospel" where Sutton worked with various award-winning artists such as Cece Winans, Donnie McKlurkin, and Kirk Franklin. Ralph engineered and mixed rapper out of Jonathan Wells, Titanium's "From the Ground Up," produced by Jimmy Thomas at Sutton's studio D at HOB. Distributed by Universal, the new label is launched by running back for MA Vikings. Sutton also worked on 4 tracks on Yo Gotti release on TVT Records and engineered and mixed the entire album for female group, Men-neffer on the Tonic Note label at studio D at HOB.

Sutton

met Belz in 1997, and was later introduced to his partner Pete Williams which lead to having his room at

The House of Blues Studio D in Memphis. Sutton considers himself to be more than just an engineer, he is a "techno artistic interpreter" of sound. "I do consider myself an artist. I believe that when I am in studio with the producer and the artist that I am acting as the interpreter of what the artist and producer and musicians are working on and creating," Sutton said. "I become one of the artists as well in that they entrust my interpretive skills of their music or project to my experience and mastery of the tools involved in the recording and mixing process."



He advices the same principle to other industry hopefuls, along with a few other pearls of wisdom, like reading trade magazines and being as multifaceted as possible. He added that it is key to always remember that the music or entertainment industry is a business, first and foremost. Also education, awareness and practice are essential, he adds. "Study the craft, understand the different aspects so that you can take advantage of opportunities presented to you," says Sutton. As a veteran member of the National Association of Recording Arts and Sciences, he advises industry hopefuls as well as promotes the progress of the industry that he loves so much. He has been a very active member since he joined NARAS in 1982.
"It gives me the opportunity as a music professional to get involved in the community at large and to fellowship with other professionals," Sutton says.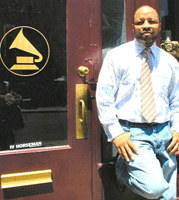 <![if !supportEmptyParas]> <![endif]>
Contact:  RalphSutton.com
copyright 2001 studioexpresso