A Singular Perfomrer; A Singular Microphone
Ian Moore & The Soundelux Elux 251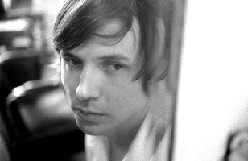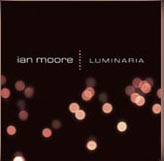 Ian Moore and Luminaria (Click on the cd for sound bites from this album)

A daring singer/songwriter who has developed a devoted following for six adventurous albums, Moore has taken control of the recording process by helming his own studio in the Northwest hideaway of Vashon Island. Gifted with an inspiringly expressive voice and multi-instrumental virtuosity, Moore looks to the Soundelux ELUX 251 microphone to help bring his visions to the world.
"I'm always looking for a microphone that serves a purpose," says Moore, who is currently working on his seventh CD slated for release in the spring of 2007. "I'm not interested in transparency, I'm looking for amazing character, and the ELUX 251 is a brilliant mic for my voice. It works really well in capturing the soul of my voice, the power, and the nuance - realistic yet mysterious. The upper mid frequencies capture that space right below the sibilant "S" sound that makes the voice sound really intimate when sung quietly and really present when opened up. To me, the sound is very similar to the vocal sound on a lot of Lanois' 90s productions where the vocal seems to be at the very front of the mix with the music creating an impressionistic background."
The Austin, Texas-bred Moore, whose critically acclaimed albums such as "Modernday Folklore," "And All the Colors," and "Luminaria," have been labeled as indie folk, psychedelia, distorted, and everything in between, remembers clearly when he was introduced to the sound of the Soundelux ELUX 251. While recording a one-off song for a Nick Drake tribute in a Seattle studio, Moore's engineer placed the legendary Telefunken ELA M251, in front of him and his acoustic guitar.
"It was an epiphany," he recalls. "He put this mic ten feet in front of me, brought it up, and it was the best sound I've ever heard in my life. It sounded like I'd always imagined my voice and guitar to sound like, with life, character and quality in the low-end. To this day, it's one of my favorite recordings ever. I said, 'I've got to get one of those.'"
Moore's research among trusted engineers and producers confirmed that the mid-range focus, powerful bottom, and airy, unabrasive top-end of the lovingly engineered Soundelux ELUX 251 made it a highly valued, world-class performer. Now that Moore has built his own simple Pro Tools Digi 002-centered studio, the ELUX 251 has become an essential component for his self-engineered sessions, which range from traditional setups to highly experimental.
"It's a really versatile microphone," says Moore of the ELUX 251, which is switchable between omni, cardioid, and figure-8 patterns. "I can really nail it if I sing hard, especially when paired with a Universal Audio LA-610 mic pre and an LA-2A compressor going to the 002 rig. It sounds terrific. You get this amazing transformer distortion, like a tube amp. When you hear a singer do that, it's got emotion and urgency, and I like the recordings where I can hear that.
"I've used it as a mono room mic for a very haunting drum sound. It's also really beautiful on acoustic guitar, with a lot of nice top-end that brings out the delicate qualities of my 1943 Gibson GI guitar, as well as the low-end. It's a really nice balance. Generally, I mic it right around the 12th fret with the ELUX 251, and I get a very full effect. I can do what I want to do."
Designed with features such as a true transformer balanced output, and NOS dual triode with traditional resistive (not transistor) load and enhanced original circuitry, for a unique vintage amplification curve and dynamics response, the Soundelux ELUX 251 has left a permanent impression on the sound of Ian Moore. "This microphone is a great tool," he concludes. "I was up until 6 am this morning with it, working and having a ball. I'm just really enamored with the ELUX 251."

For more info on Soundelux (USA) contact Brad Lunde at LVPA or Phone (702) 307-2700
TransAudio Group, Inc. - 7320 Smoke Ranch Rd Suite G
Las Vegas, Nevada 89128 - Tel: 702-365-5155 Fax: 702-365-5145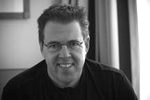 TransAudio Group's product lines include A-Designs (USA) AEA ribbon microphones (USA), ADT Toolkit, AEA, ATC Loudspeakers (UK), Brauner microphones(Germany), Drawmer (UK), Geoffrey Daking & Co. (USA), Enhanced Audio (Ireland), George Massenburg Labs (GML) (USA), Heil Sound (USA); Mercury Audio (USA) Mission Audio (UK) Phoenix Audio (UK), PAULY Superscreens(Germany), SABRA SOM(Brazil), Soundelux (USA), SoundField Microphones (UK), Z-Systems (USA) and Weiss Engineering (Switzerland) and Z Systems (USA).

Las Vegas Pro Audio is the direct sales division of TransAudio Group. The goal of LasVegasProAudio.com is to provide a personal long-term relationship with top engineers delivering insightful and accurate advice, unique equipment and long term support.TransAudio has quickly become the premier US importer/distributor for high-end audio. visit the web sites at: www.lasvegasproaudio.com
Congrats to LVPA and Trans Audio Group for all four 2006 Tec Award Noms for The A Designs Pacifica, ATC SCM110ASL, Heil PR20 and Soundelux E251


Sing Blackbird Sing!
ATC Speakers At Blackbird Studios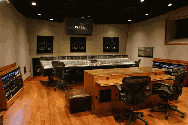 Co-owned by seasoned engineer John McBride and his country superstar multi-platinum recording artist Martina, Blackbird Studio offers a total of six recording and production areas, plus several pre-production suites. All tracking and mix areas are equipped with ATC (Acoustic Transducer Co. UK) self-powered loudspeakers, a high-end brand specializing in recording, mastering and live sound throughout the world. High SPL 3 way far field monitor for music/filmis based on the same mid and HF drivers, and the same amplifier block as the SCM200A Pro, the SCM300A employs larger 375mm bass drivers and a larger 300 litre enclosure to deliver even higher maximum volume (121dB/1m), with extended bass and increased transient headroom.
"The new 5.1 system sounds outstanding," McBride enthuses. "We have a very accurate, very smooth low-frequency response down below 20Hz and great accuracy up to 20K. The room sounds great and also translates extremely well to other listening environments," says studio owner/manager, John McBride. Their new studioF is rectangular with a 750 square-foot floor control room area within a 30 x 24 x 23 foot shell.
Ms McBride kicks off her Christmas spectacular The Joy of Christmas (now in its fourth year) a 16-city tour in Chicago Nov. 24 and runs through Dec.
LasVegasProAudio.com, a division of TransAudio Group, is the exclusive U.S. source for ATC studio monitors. For more info contact Brad Lunde at LVPA or Phone (702) 307-2700


A Trans Audio Group Picitorial Tour of Pro Gear At AES 2006
ADesign, Daking, Heil, Soundelux, Manley and more...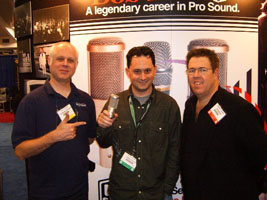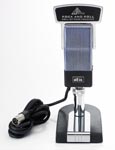 LVPA's Brad Lunde at AES Heil Booth; Collector Edition Heil Classic Pro
A special limited collectors edition of the Classic Pro commemorating Bob Heil induction into the Rock and Roll hall of fame is available through Pro Audio. It has the same amazing specs as the Heil Classic Pro.Get yours before they run out!



A-Designs Audio introduced the "PACIFICA", a single rack space, dual (mono/mono) channel microphone pre amplifier that comes amazingly close to the original in looks and sound. There are few but valuable improvements, such as a front panel active hi-z 1ž4 inch input that places the input transformer directly in the signal path for a huge direct sound. The PACIFICA possesses a uniquely "Made in California" feel with a significant heft from the huge transformers contained within. The original cream colored panel and red knob scheme has been retained. We think the A Designs PACIFICA will achieve an instant classic status, becoming an important part of your "must haves" for years to come.
MSRP $1900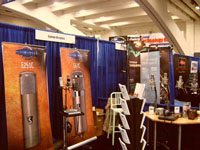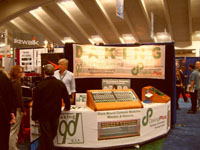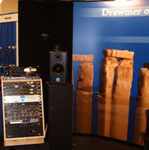 Soundelux, Daking and Manley Booths at AES
www.lasvegasproaudio.com is a division of TransAudio Group and offers a select group of imported lines, including ATC loudspeakers, Daking pro audio gear, and Brauner and SoundField microphones. LVPA is dedicated to providing their customers with a long-term partnership that delivers, not only direct pricing but timely, accurate product information and unparalleled personal customer service.. Visit the web sites at: www.lasvegasproaudio.com Phone (702) 307-2700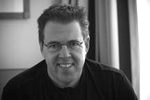 Founded by industry veteran Brad Lunde, TransAudio Group has quickly become the premier US importer/distributor and/or US sales and marketing representative for high-end audio. Success hinges on TransAudio providing dealers and end users with a higher standard of product expertise and support far beyond the norm. TransAudio Group's product lines include A-Designs (USA) AEA ribbon microphones (USA), ADT Toolkit, AEA, ATC Loudspeakers (UK), Brauner microphones(Germany), Drawmer (UK), Geoffrey Daking & Co. (USA), Enhanced Audio (Ireland), George Massenburg Labs (GML) (USA), Heil Sound (USA); Mercury Audio (USA) Mission Audio (UK) Phoenix Audio (UK), PAULY Superscreens(Germany), SABRA SOM(Brazil), Soundelux (USA), SoundField Microphones (UK), Z-Systems (USA) and Weiss Engineering (Switzerland) and Z Systems (USA)




Meow From The Hollywood Cat
write HC for news from your music and audio world...this month:
Google Acquires YouTube for 1.6 billion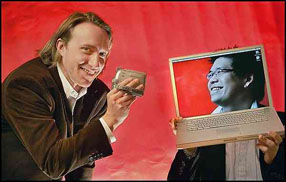 YouTube cofounders Chad Hurley, 29, left, and Steven Chen, 27 (AP Photo)
The price makes YouTube Inc. (sporting Wendy's .99 cent burger ad on its home page), a still-unprofitable startup, by far the most expensive purchase made by Google during its eight-year history. Last year, Google spent $130.5 million buying a total of 15 small companies. The two companies even share a common financial bond: Sequoia Capital, an early Google investor that owns a roughly 30 percent stake in YouTube. Menlo Park-based Sequoia remains a major Google shareholder and retains a seat on the company's board -- factors that might have helped the deal come together after just a week of negotiation.
Legal experts and industry veterans say Google stands to inherit court challenges from independent film makers, garage bands, television studios and others who claim their copyright infringers. Now artists and companies could look to YouTube's new deep-pocket backer for payment, either in business deals or courtroom battles.
The New York Times reports that YouTube gave each label an equity stake that just hours later was valued at up to $50 million from the Google acquisition. Three of the four major music companies — Vivendi's Universal Music Group, Sony and Bertelsmann's jointly owned Sony BMG Music Entertainment, and the Warner Music Group — each quietly negotiated to take small stakes in YouTube as part of video- and music-licensing deals they struck shortly before the sale
Google is betting that the popular video-sharing site will provide it an increasingly lucrative marketing hub as more viewers and advertisers migrate from television to the Internet.
YouTube will continue to retain its brand, its new headquarters in San Bruno and all 67 employees, including co-founders Chad Hurley and Steve Chen. Meanwhile, Google will continue to run a less popular video service on its own site.
"We are excited to have the resources to move faster than ever before," says Hurley, YouTube's 29-year-old CEO
Schmidt thinks so highly of Hurley and Chen, 28, that he compared them to Google's now 33-year-old cofounders, Sergey Brin and Larry Page.
YouTube announced new partnerships with Universal Music Group, CBS Corp. and Sony BMG Music Entertainment. Those alliances followed a similar arrangement announced last month with Warner Music Group Inc.
Google Inc. shares climbed $8.50 to close at $429 on the Nasdaq Stock Market. Meanwhile according to RIAA, the overall estimated retail value of the industry, when shipments of physical products to various outlets are combined with the estimated value of digital revenue streams, was $4.9 billion during the first half of 2006. That represents a 6.1 percent decline when compared to the first six months of 2005.
Exec Exodus At Sanctuary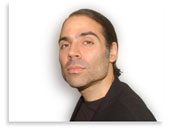 Merck Mercuriadis
With acts to include Groove Armada, Guns N' Roses, Iron Maiden, Manic Street Preachers, Mick Fleetwood, Slayer, Slipknot and Super Furry Animals, Sanctuary artists is going through an exodus of key managers to include Merck Mercuriadis (AXL Rose), cofounder and worldwide artist relations head Rod Smallwood (Iron Maiden) and Craig Jennings (Funeral for a friend, Yourcodenameis: MIlo, Bullet for My Valentine and Fightstar) are rumored to leave. Peter Asher, Rick Sales and Carl Stubner are still in the LA office.

Smallwood and fellow Cambridge University student Andy Taylor founded Smallwood-Taylor Enterprises - later renamed Sancturay Group in 1976. Three years later, the pair signed Iron Maiden who exits with Smallwood. Mercuriadis who served more than 16 years at Santcuray is expected to join mega managers Irving Azoff and Howard Kaufman at Front Line. Sources say he will continue to manage Morrissey, Guns 'N Roses and Joss Stone. He will also continue to co-manage Elton John


New Agent Shuffle


Recognized as one of the top 35 executives under 35 (Hollywood Reporter's Next Generation issue) Randi Michel has been appointed East Coast head of talent for the William Morris Agency by CEO Jim Wiatt. Michel is a longtime rep of Queen Latifah and her production company Flavor Unit Entertainment. She also works with Morgan Freeman and his Revelations Entertainment, John Travolta, Terrence Howard, Jennifer Lopez and Jenji Kohan, creator of cable show "Weeds."
Sean Goulding (from the WMA's Beverly Hills office) and Natasha Bent (previously with 13Artists & The Village Agency), have recently joined The Agency team in London. This fall, the Los Angeles office will acquire new agents - Omar Al-joulaniand (Toranto office) Dave Shapiro (previously with Equal Vision Records and Velocity Touring) .
Al-joulaniand's roster includes: Silverstein, Protest The Hero, Jakalope, Jeremy Fisher, and Bif Naked as well as being responsible for the Canadian bookings of international clients such as Hawthorne Heights, Matisyahu, and Yellowcard.

Sean's roster includes cKy, Dúné, The Films, Juliette & The Licks, Keller Williams, Members of the Public, Moving Units, MxPx, Slightly Stoopid, and Weird Science.
Natasha's current roster includes AMPOP, Anechoic, Brinkman, Deadboy and The Elephantmen, Deadkids, Fionn Regan, Fortune Drive, The Hours, My Luminaries, The Noisettes, and Undercut.

Dave's roster will consist of As Cities Burn, Before Today, Chiodos, Cinematic Sunrise, Billy Darling, The Devil Wears Prada, Gatsby's American Dream, Goodbye Tomorrow, He Is Legend, If Hope Dies, killwhitneydead, Meg & Dia, Olympia, Portugal. The Man, The Sound of Animals Fighting, and Versus the Mirror.
Sony BMG - Looking From The Top



Rob Stringer, CEO Sony; Sir Howard Stringer with the Sony president, Ryoji Chubachi (Michael Caronna/Bloomberg News)

Over a month ago, Rob Stringer officially took the helm of the Sony U.S. label group - essentially replacing Donnie Ienner (& Michele Anthony were let go in June) , the longtime executive who reigned with a heavy hand and an outsized personality. Stringer, incidentally, is the younger brother of Sir Howard Stringer, the chief executive officer of Sony.
Stringer, who had headed the company's U.K. division, is said to be scrupulously going over the company's personnel rolls looking for cuts, since nearly 2,000 layoffs worldwide following the 2004 merger between Sony Music and Bertelsmann's BMG
Sources say Sony's urban music division is to be altered which boasts such hit artists as Beyonce, Shakira, AC/DC and Jessica Simpson.
With Sony's stock up 24 percent in the last year, Sir Howard has the wind at his back — for now, at least. Part of the reason for that handsome stock surge is the overall buoyancy in the Japanese stock market. So far, the reviews for Sir Howard's first year are better than those that have greeted "The Da Vinci Code." For one thing, the company's Bravia televisions — a result of a joint venture with Samsung— have given him bragging rights in a category in which Sony previously stumbled. He also gets credit for holding onto the financial services business rather than selling it as soon as he took over, a move that many analysts had erroneously predicted. "Stringer hasn't had such a big impact on earnings," said Yuji Fujimori, an analyst in Tokyo for Goldman Sachs. "But he's succeeded in changing the tone of the company." "I think he feels it's an honor to be given this job, and it is such an unusual set of circumstances that he feels duty-bound to get it right," Rob said.
In the near term, much is riding on the PlayStation 3 — which was delayed by several months and has cost more to produce than the company envisioned — and the success of Blu-ray, the high-definition DVD format that Sony pioneered. While PlayStation 3 runs the risk of being lapped by other platforms such as Microsoft's Xbox 360, Blu-ray faces its own hurdles in a looming format war with rival Toshiba's HD-DVD. These high-stakes products will hit the market at roughly the same time as "Casino Royale," the first James Bond film that Sony has produced since it led a consortium of investors in a purchase of MGM in 2004. Overseas, "The DA Vinci Code" brought in an additional $154 million. That was the biggest opening ever for a Sony film outside of North America and currently ranks second to "Star Wars: Episode III" for the best overseas box office weekends in Hollywood history.
Perhaps no one understands Sir Howard's thirst for work better than his brother, Rob. He recalled that his older sibling, born in Wales but now an American citizen, once had a plaque in his office quoting the belief of the broadcasting legend Edward R. Murrow that no non-American would ever head CBS News — a job Sir Howard eventually snared. Now he is the first gaijin to run Sony.
Last month Sony bought, rival to YouTube, video-sharing network, Grouper for a reported $65mill.
Sony apparently found Grouper particularly appealing because it operates its own peer-to-peer network and can distribute high-quality downloadable movies. The Sausalito-based company will retain its current management, working closely with a team at Sony Pictures. "When you pair Grouper's innovative video sharing platform on the web and the desktop with Sony's connected devices and copyrighted media you create a dynamic and exciting environment for consumers," said Grouper CEO and co founder Josh Felser. The Wu Thang Clan vs The War in Iraq is a must watch!

Deliver Us From Evil
Lionsgate Doc On Child Abuse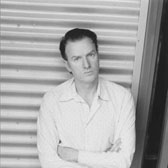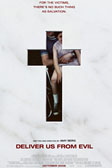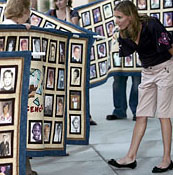 L-R: Composer Mick Harvey; Amy Berg, director of the film, at a protest against sexual abuse last month at the Los Angeles cathedral (AP)

In the documentary, "Deliver Us From Evil," the former priest, Oliver O'Grady, describes how he abused young boys and girls across central California over 20 years, including a period in the 1980's when Cardinal Mahony was his superior as the bishop in Stockton's civil case, where a jury awarded $30 million in damages to the brothers in 1998 (an award reduced to $7 million in negotiations).
The film was written and directed by Amy Berg, a former television producer. It features a taped deposition from 1997 stemming from a civil trial in Stockton in which the brothers in the criminal case against Mr. O'Grady brought suit against the local diocese, alleging that its bishops — including Cardinal Mahony — failed to prevent Mr. O'Grady from having contact with children in the face of evidence of his history of abuse.
The documentary, which won first place in the documentary category at the Los Angeles film festival in June, will be publicly released in New York, Los Angeles and Boston this month. The music score is by celebrated arranger, multi-instrumentalist, producer, film soundtrack composer and co-founder of Nick Cave & the Bad Seeds, Mick Harvey
121st AES Ends On A High Note
San Francisco Music Tribute, Tec Award Winners and New Toys Unveiled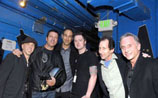 l-r: Lws paul Award winner, Steve Miller performs at the TEC Awards;Talking House producer/creative director Paul Ruxton, Third Eye Blind singer Stephan Jenkins, Talking House president/producer John ?Paulsen, indie SF musician Ben Flanagan, AES PR representative Howard Sherman, Talking House event producer David Schwartz

Hosted by Talking House and Recording Academy, the San Francisco Music Tribute, Past and Future at the Warfield was a blast according to many VIPs invited who got treated to sets by the hard swingin' Brubeck Jazz Institute Quintet in the Jazz Lounge. Guests also perused the collection of auction items that raised over $10,000 for Music In Schools Today. Items included all kinds SF music memorabilia like a pile of signed stuff from Green Day; a trip to the Montreux Festival with round trip air and hotel from Meyer Sound; photos and gear signed by Metallica; an original Starship tour jacket; a signed guitar and red wine from the Doobies; and a guitar plus Cabo Wabo tequila both signed by the great Sammy Hagar! Future of Music set -- Talking House artists Kerry Gulbranson, Sarah Aili, TS Leach, Jason DEBO, Bray, Mud, pc muñoz, and A Band Called Pain... all on the same stage for the first time! KFOG's Renee Richardson spoke about the Bay Area's huge, diverse contribution to music Two drum kits enabled Mike Bordin, Lars Ulrich and Jeremy Colson all to play double drums with Matt Sorum. The finale of The Dead Kennedy's classic, "Holiday In Cambodia" followed by Iggy Pop's "I Wanna Be Your Dog", with Satriani, Slash, De Martini, Duff and Steve Jones all on guitars blew the place apart.hour and half set of non-stop rock stars, including Billy Morrison, Donovan Leitch, Matt Sorum, Steve Jones, Lars Ulrich, Robert Trujillo, Mike Bordin, Jeremy Colson, Chester Bennington, Joe Satriani, Slash, Duff McKagan, Mark McGrath, Warren De Martini, Stephan Jenkins and Chris Wyse.


The TEC Awards were presented by the Mix Foundation for Excellence in Audio and sponsored by Mix magazine. Proceeds of the ceremony go to hearing conservation programs and scholarships for students of the audio arts and sciences In addition to 23 awards for Technical and Creative Achievement, the sell-out crowd saw legendary rocker Steve Miller receive the prestigious Les Paul Award by virtuoso guitarist Billy Gibbons of ZZ Top. Remote recording engineer David Hewitt was inducted into the TEC Awards Hall of Fame by producer/engineers Ed Cherney and Elliot Scheiner. The TEC Award for Record Production/Single went to Gorillaz's "Feel Good, Inc.," and the Surround Sound Production award went to the engineers and producers of Dire Straits' Brothers In Arms--20th Anniversary Edition. For the second year running, the production team of Fox's "24" won the TEC Award for TV Sound Production. Other Creative winners include the live sound crew behind Allison Krauss + Union Station (Tour Sound Production) as well as the design team of Las Vegas' beautiful Studio at the Palms (Studio Design Project). In the category of Technical Achievement, the 15 winners included AMS Neve's 88D (Large Format Console Technology); Digidesign's D-Command (Small Format Console Technology); Groove Tube's GT Convertible (Microphone Technology/SR); JBL's VRX932LA and LSR4300 Series (SR Loudspeaker and Studio Monitor Technology awards); Yamaha's M7CL (SR Console Technology); the Waves SSL 4000 Collection (Signal Processing Technology/Software); Shure's UHF-R (Wireless Technology) and E4 Earphones (Ancillary Equipment); Neumann's TLM 49 (Microphone Technology/Studio); Digidesign's Mbox2 (Digital Converter Technology) and Pro Tools 7 (Workstation Technology); as well as the AMS Neve 1073 DPD (Mic Preamplifier Technology) and Rupert Neve Portico 5042 (Signal Processing Technology/Hardware).For the complete list of 2006 TEC Awards winners, visit: www.mixfoundation.org/tec/06winners.html Next up is AES Vienna, May 5-8, 2007, followed by AES NYC from October 5-8 2007.

Solid State Logic Multiple Installs Announced And Duality Introduced At AES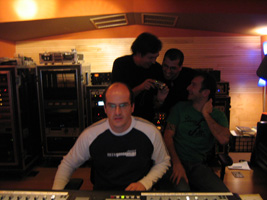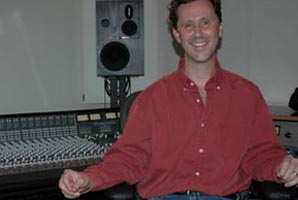 l-r: 10-time Grammy winner engineer/mixer/producer, Rafa Sardina at After Hours; engineer/producer John Merchant at the AWS 900 Barry Gibb's personal studio

Los Angeles based ten-time Grammy-winner mixer/engineer Rafa Sarina (above left) has built an eclectic and impressive client list to include: Macy Gray, Stevie Wonder, Dr Dre, Dru Hill, Luis Miguel, Sheryl Crow, Angie Stone and Alejandro Sanz, among others. Last month he added a new SSL AWS 900 to his state-of-the-art studio in Woodland Hills, CA, After Hours where he mixed select tracks for pop mega star Alejandro Sanz.
Months after a Solid State Logic AWS 900 Analogue Workstation System proved indispensable in the creation of Barbra Streisand's hit album Guilty Pleasures, legendary musician and producer Barry Gibb purchased an AWS 900 for his personal studio.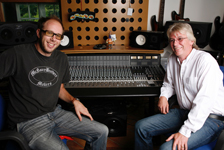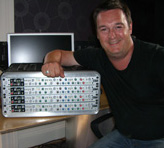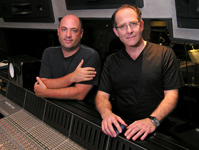 l-r: Pictured at the AWS 900 are Tom Rowlands of the Chemical Brothers (left) and Nick Clarke of Tech Nick Clarke Ltd; Engineer/producer Mark "Spike" Stentwith (Madonna, Björk, Gwen Stefani), reports "amazing" results with his XLogic E Signature; at the Record Plant in Los Angeles at an SSL 9000 J Series console are Tal Herzberg, co-producer and engineer, and Geffen Records chairman Ron Fair.

UK production duo The Chemical Brothers (above left) have chosen to upgrade to the Solid State Logic AWS 900 Analogue Workstation System for their private studio in Sussex, England. "We are really enjoying using the AWS 900," says Tom Rowlands of the Chemical Brothers. "It's a great desk because it gives us all the features of a high-end console at a reasonable price. Also, importantly for us, it has a small footprint. It's perfect for musicians and producers who want to get a high-end sound in a private studio. We love the EQ, mic preamps and dynamics, and think the whole feel of the faders and pots are great."
Interscope Geffen A&M (IGA), home to a multitude of prestigious recording artists, will install a Solid State Logic C200 Digital Production Console in its new studio facility, which will open in 2007. Part of the Universal Music Group, the music industry's leader in global sales, IGA will use the 48-fader, 216-input C200 to record and mix top artists on a roster that includes Black Eyed Peas, Pussycat Dolls and Mary J. Blige. "We chose the SSL C200 console because of its powerful recall functions, and our ability to switch effortlessly between massive production set-ups in seconds. My production crew and I grew up on SSL consoles," Fair concludes. "All the engineers we work with can't wait to get their hands on the C200-we could sell tickets!" SSL Inc. president Phil Wagner comments, "We are obviously thrilled that UMG/IGA is installing the C200 for Ron Fair and Tal Herzberg. This order represents the most significant commitment to SSL's C200 Digital Production Console to date."
At AES in October, SSL unveiled Duality, a large-format production console that combines the analogue sonics of legendary SSL E, G & K Series consoles. It offers extended Digital Audio Workstation integration capabilities and is the next generation console for those who love analogue but work digital. The console has a unique split channel path that enables channel processing to be placed in the input or monitor path of the workstation. In addition to a SuperAnalogue™ mic amp, each channel features a Variable Harmonic Drive™ input stage designed to add analogue character to soul-less workstation outputs. A 2nd to 3rd harmonic drive control provides a range of tones, from the warmth of 50's tubes to the 'edge' of 70's transistors. Duality offers VCA style or moving fader automation and complete control over DAW parameters from the console channel rotaries. There are multiple stereo busses or multiple 5.1 stems to make the best use of a full set of 5.1 pan/positioning controls on each channel.

The Avatar Brew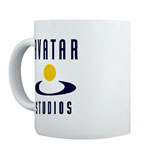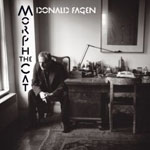 Congrats to NY's Avatar for receiving 2006 TEC Award in the Outstanding Creative Achievement / Record Production Album category for Donald Fagen's album, Morph the Cat.
President Kirk Imamura reports that Avatar's Pro Tools editing suite, Studio E has reopened after extensive renovation and is now available for bookings. The room features a SSL AWS-900+ console, Pro Tools HD2 Accel system and Lipinski speakers. Call Tino for more details.
Studio B hosted Chris Shaw mixing Panic! at the Disco's track for the movie "Nightmare Before Christmas", assisted by Chad Lupo. Chris Botti recently overdubbing parts for "Love Is In The Air" Soundtrack. Frank Wolf engineered, Doug Cuomo produced, Anthony Ruotolo assisted. Roberta Flack overdubbing, Brian Montgomery engineering, Ricky Jordan produced, assisted by Chad Lupo. Interscope artist M.I.A. was overdubbing with Avatar engineer Peter Doris in Studio G with Mr. Bangladesh producing. ABC's Knights Of Prosperity shot a scene in Studio C where also John Scofield Trio recorded with James Farber, Scofield produced. To book your next session at Avatar, call
212.765.7500 Sure, you can order your Avatar mug right here!


Volker Strifler Band In-Studio Concert
"The Dance Goes On" Record Release concert at Prairie Sun Studios, Cotati, CA
Nov 3, 2006 at 8pm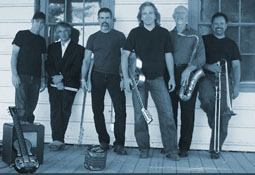 According to studio owner/producer, Mark "Mooka" Rennick, Volker has been an incredible friend and client. "I am very proud of the work he's done in our studios for his exquisite new album. Thanks to NHT and 95.9 the KRSH radio, we're happy to host this unique opportunity for our friends and business partners to catch the Volker Strifler Band performing material from "The Dance Goes On" in a private in-studio concert. And for those unable to attend, we will of course be recording the event for broadcast on The KRSH, 95.9 FM in Sonoma County," says Rennick. To attend, RSVP to: Mooka at Prairie Sun 707-795-7011
Film Music Magazine announces the availability today of the new 2006-2007 Music Supervisor Directory, including over 600 confirmed listings of top music supervisors, music licensing and clearance professionals, and music executives including studio music department executives. The directory is available at a 20% discount through October 17.
For more information or to order http://www.gmdgstore.com/view-FMW1113.html


R.I.P Tower
1960 - 2006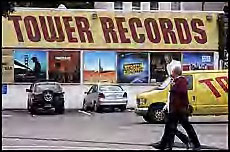 After almost 30 hours of what attorneys described as "robust" and "vigorous" bidding, Great American won with an offer of $134.3 million, beating Trans World Entertainment, which had hoped to continue operating at least some Tower stores. Great American began the liquidation process and going out of business sales, which eventually will result in the elimination of the jobs of some 3,000 Tower employees.
Back in August Tower filed for Chapter 11 and stated that it has been hurt by an industrywide decline in music sales, downloading of online music and competition from big-box stores such as Wal-Mart. With 89 stores in 20 states the company owes creditors about $200 million.
Russ Solomon founded Tower in Sacramento, Calif., in 1960, starting by selling records out of his father's drug store and eventually opening the company's landmark store on Hollywood's Sunset Boulevard in 1969. He and his family were left with 15 percent interest in the company.
Some would say the end of Tower is another nail in the coffin of the "old mold." Tower stocked everything because it was the only way a customer could get the music. Now if you want everything -- from polka to pop or soundtracks -- you go to the net. With the death of the giant chain stores, also dies a certain culture that most 30 or 40 something year olds remember. Labels treated the managers with the same deference afforded radio PD's; because in those days, a Tower Store could influence the music buyer in the city they were in. Tower stores were not only a place to buy the music, but if friends were looking for a place to meet up
"I remember riding home as fast as I could with that big yellow paper bag and making a bee line to my stereo. Of course as a result, I became totally obsessed with records, ended up buying a ton of them and have been making them ever since. I never considered going to college - Tower Records afforded me the education of a lifetime, " says producer Scott Mathews.
There's gonna be a bunch of pierced and painted kids looking for work about 3000 of them!
The survey also stated 79% of students are currently downloading their music online. But 72%, UP from 65% in spring 2006, are utilizing free P2P networks as opposed to iTunes (iTunes owns 91% of this market.)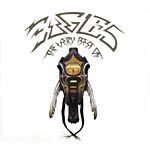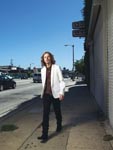 Beck Photo: Peter Yang; Hair and makeup: Roz Music; Stylist: Jennifer Johnson; Prop Stylist: Dominic Muller
The good news is smart artists and managers are getting it! Read Wired (Beck on the cover). Release a traditional 13-track CD? No thanks, says Beck. Instead, he puts out a cycle of songs, remixes, and videos that fans can string together any way they want. Such is the future of the album, as envisioned by Beck; it's something to be heard, seen, and reconstituted by artist and audience alike. As the Beatles did with Sgt. Pepper's almost four decades ago, Beck has expanded the range and potential of the form.

We applaud the recent Wal*mart deal Irving Azoff got the Eagles. Is it selling out or adapting to the times and selling WELL? We think, the latter. 1970, Randy Meisner, Glenn Frey, Bernie Leadon, and Don Henley began their careers by performing back-up to Linda Ronstadt. This experience led to a signing in 1972 with Asylum. The group released the hit album, The Eagles, the same year. In 1999, RIAA created the Diamond award for 10 million in sales. Their Greatest Hits 1971-1975 topped that list with 25 million. By November of 2000, Their Greatest Hits 1971-1975 had sold an astounding 27 million copies. Hotel California (16 million) and Greatest Hits, Volume II (10 million) would also achieve Diamond status. In 2001, The Eagles became the third best-selling group of all time with 83.5 million in cumulative record sales. Only the Beatles and Led Zeppelin have sold more.

"Poetry is just the evidence of life. if your life is burning well, poetry is just the ash."
--Leonard Cohen (new DVD, "I'm Your Man" by Lionsgate release date: 11/14/06)
soundtrack from verve
'It's time for the album to embrace the technology.'
--Beck