SoundField Mark V's Brilliant Performance at Ballet Mécanique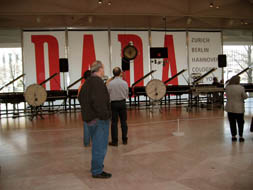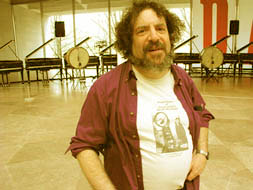 The entrance to the Dadaist exhibit, National Gallery of Art, Washington, DC wherePaul Lehrman captures the recent performances of George Antheil's (Bad Boy of Music), "Ballet Mécanique," with sixteen player pianos using SoundField Mark V microphones
Stravinsky, Copland, Schoenberg, Satie, and a host of other composers may have captured the ear of the public and made a larger dent than he did, but George Antheil, the self-styled "bad boy of music" was without a doubt a genuine player in the Jazz Age. Born in 1900 in Trenton, New Jersey, Antheil was a gifted pianist and ambitious composer. His largest work, "Ballet Mécanique," features a cast of musicians that includes three xylophonists, four bass drummers, and a tam-tam, along with 16 player pianos, three airplane propellers, a siren and more. To capture the "Ballet Mécanique" in all its raucous glory-as played by an orchestra of robots-composer and recordist Paul Lehrman turned to a SoundField SPS422B for help.
Lehrman clearly understands the capabilities embodied in the single capsule, four-sided SoundField capsule and knew using this mic could only add to the uniqueness of this recording.
"This project was like nothing I've ever done before, and I don't think anyone else has tried to do anything quite like it either!" says Lehrman. "The SoundField Mark V four-channel microphone came into the mix towards the end of the project, and it performed superbly."
Lehrman, who had helped revive Antheil's 1924 masterwork several years ago, and has since seen two dozen performances of it around the world, was asked to do this project by the National Gallery of Art, in Washington, DC. He enlisted the aid of Eric Singer, of the League of Electronic Musical Urban Robots. "We built a robotic orchestra to play this piece," Lehrman said.
"Every piano note, xylophone strike, bass drum hit, and siren wail came from a MIDI sequence and was triggered by an electrical voltage." They set up the instruments on the mezzanine of the east wing of the National Gallery, at the entrance to an exhibit on Dadaist art. For a period of two months this "ensemble" would perform the piece automatically, twice a day.
After the "Ballet Mécanique" had been running for about a week, Lehrman went into the National Gallery after hours to record the piece in its entirety. "That's when we got a hold of the SoundField microphone. The results are superb. The SoundField records in four channels and outputs a derived stereo as well. That's what I've listened to so far, and the stereo image is gorgeous. It conveys the space beautifully, and that's no small feat... it's huge!
"The orchestra was set up in an area that's approximately 75 feet wide. It's an enormous open space, cavernous, with a tremendous amount of ring-the RT60 is something like five seconds. I wanted to see if we could capture the immenseness of that environment.
"We used a bunch of different microphones for a total of about ten tracks in all. Everything was recorded in Digital Performer running on a Mac. The SoundField did an astonishing job of capturing the enormously long reverb time and all the transients of the space. The way it reconstructed what it feels like to be in this incredibly large room listening to this orchestra is fantastic - even in stereo.
"The microphone itself has a monster cable with about a dozen conductors that feed into it. It spits out four B-format channels, which are the SoundField surround format, plus the derived stereo image. The user has some control over the image. And you can put some rolloff on it - but we took the audio in straight.
"The stereo image is mostly for monitoring. The interesting stuff will happen when we begin working with the four-channel information. You need a decoder to do this. The most popular one is a software application called "Surround Zone" for Pro Tools and Nuendo. I'll be working with a mastering engineer here in Boston who has it and knows it well.
"Eventually we'd like to make a DVD in surround sound, and of course we'll use the SoundField tracks to create the soundtrack when we do. The Washington installation was just put up in March, so we're still getting our tracks together in preparation of the upcoming mix. The SoundField microphone came to us at the last moment, as I said, but I'm thrilled to have had the opportunity to put it to work. The sound it captures is stunning."
Soundfield microphones are distributed by TransAudio Group, founded by industry veteran Brad Lunde. For more info on Soundfield, please email Brad Lunde at LVPA or Phone (702) 307-2700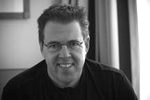 Las Vegas Pro Audio is the direct sales division of TransAudio Group. The goal of LasVegasProAudio.com is to provide a personal long-term relationship with top engineers delivering insightful and accurate advice, unique equipment and long term support.TransAudio has quickly become the premier US importer/distributor for high-end audio. visit the web sites at: www.lasvegasproaudio.com
TransAudio Group's product lines include A-Designs (USA) AEA ribbon microphones (USA), ADT Toolkit, AEA, ATC Loudspeakers (UK), Brauner microphones(Germany), Drawmer (UK), Geoffrey Daking & Co. (USA), Enhanced Audio (Ireland), George Massenburg Labs (GML) (USA), Heil Sound (USA); Mercury Audio (USA) Mission Audio (UK) Phoenix Audio (UK), PAULY Superscreens(Germany), SABRA SOM(Brazil), Soundelux (USA), SoundField Microphones (UK), Z-Systems (USA) and Weiss Engineering (Switzerland) and Z Systems (USA).
Paula DeAnda Signed On The Spot
DeAnda auditioned for Clive Davis and A&R Senior VP Steve Ferrera a few weeks ago and was signed on the spot. "Doing Too Much" was co-written by DeAnda and Baby Bash and produced by Happy Perez.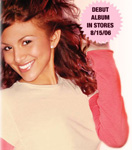 Commented Clive Davis, Chairman, BMG US Label Group: "Paula auditioned for us in my office, singing acappella and dazzled everyone. She has a powerful voice and is a triple threat as a writer and arranger. Signing her was a no brainer."

Musicians For The Penney Foundation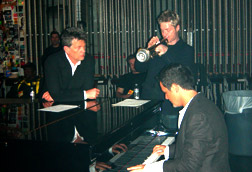 counterclockwise: Alejandro Sanz, Chris Botti and David Foster
photo: Courtesy of RLM

Superstar Alejandro Sanz was invited to participate in the benefit concert in Los Angeles organized by David Foster for the JC Penney After school foundation which aims to raise awareness for children in USA needing to receive quality afterschool educational programs.
Alejandro Sanz accompanied Andrea Boccelli, Kenney Chesney, Sara Evans, Martina McBride, Chris Botti, John Legend. The gala concert was presented by Dr. Phil Mc Graw and Robin Mc Graw who offered information about the cause in a press conference.
The live show, held in the historic Shrine Auditorium, will be shown on the CBS tv channel.
There will also be a DVD and a CD of the concert, all raising money and awareness about the JCPenney Foundation. Sanz just got back from Madrid where he performed in front of 50,000 fans for the 40th anniversary of the chart program called Los 40 Principales. Sanz is currently in production for his upcoming Spanish and English albums.




Hollywood Cat
write HC for news from your music and audio world...
Warner/Chappell's New P.E.D. L. Initiative For Songwriters
Currently, digital music services wishing to license Warner/Chappell's library of musical compositions for exploitation in Europe must obtain separate licenses from at least 25 different collection societies. Under Warner/Chappell's new P.E.D.L. Initiative, Warner/Chappell will designate several of these European collecting societies as its non-exclusive licensing agent and will authorize each of the designees to grant pan-European digital licenses in Warner/Chappell's Anglo-American repertoire. Digital music services will be able to go to any of the collecting societies designated by Warner/Chappell to obtain these multi-territory digital licenses.
The P.E.D.L. Initiative will be a boon to both digital music services and to Warner/Chappell's songwriters. This is meant to significantly reduce the administrative burden and expense of the existing local licensing regime. The P.E.D.L. Initiative will also provide digital services with latitude in choosing among several collection societies from which to obtain Warner/Chappell's pan-European rights. Simplifying the licensing process will foster the growth of digital music services in Europe and increase the presence of Warner/Chappell repertoire on those services, thereby benefiting Warner/Chappell's songwriters.
Mix Open Benefits House Ear Institute
Studios, Manufacturers and Musicians gather on June 12 at the Malibu Country Club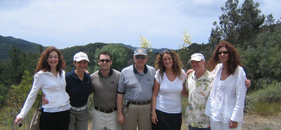 l-r: Candace K and Claris of studioexpresso, Candace Stewart of Firehouse, Ellis Sorkin, Jane Scobie; Golfers On the move

Presented by the Mix Foundation for Excellence in Audio, the charity golf tournament draws many of the Southern California sound community's most avid golfers. Proceeds benefit the House Ear Institute's, "It's How You Listen That Counts" campaign, the music education programs of SoundArt, and scholarships for students of the audio arts and sciences.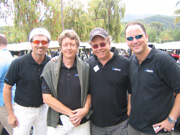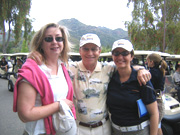 l-r: the Euphonix Team with Andy Wild and Rich Evans; Maureen Droney of Grammy producer's Wing, Hillel Resner and Claris

A 2006 Mustang convertible provided by Vista Ford of Woodland Hills, CA, will go to the golfer who hits a hole-in-one. New this year will be a chipping contest, in addition to the various competitions managed by Pin-Up Golf Girls. Following the tournament, there will be a barbecue dinner with acoustic entertainment by music producer and singer/songwriter Alder, and jazz vocalist Sarah Schweppe. A raffle and silent auction will also round out the day, featuring an assortment of donated audio equipment, musical instruments and gift packages. Gibson Les Paul Standard model guitar, donated by the Gibson Foundation; as well as an Apple iPod-60 GB; a BOSE Companion 2 multimedia speaker system; and, a two-night stay at the Palms Casino Resort in Las Vegas, Nevada. ""Word has gotten around that this is a great chance to connect with industry colleagues, lose that studio tan, and raise thousands for hearing health and education," says tournament director, Karen Dunn.
Sponsorships, foursomes and individual tickets are still available. For more information about these and the silent auction or raffle, please visit www.mixfoundation.org, or contact Karen Dunn at (925) 939-6149, or send email to KarenTEC@aol.com.


One Stop Design and Integration From Kaufman Associates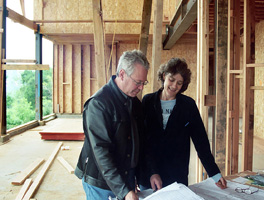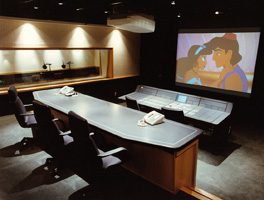 Throughout his career, Jay Kaufman has worked with many music and film greats including Martin Scorsese, Robert Altman, John Denver, David Bowie, and Rod Stewart.

In 2005, Kaufman formed K&A, offering media facilities design, acoustics and A/V systems design and integration services. Jay's current projects include the design of a home recording studio, media room and lighting for an 8,000 square foot residence, and site analysis for a new post production facility in Burbank.
Over the years, Jay has built relationships with architects, acousticians, interior designers, contractors, electricians, engineers, film mixers… Our Associates are available to help make your project an enormous success.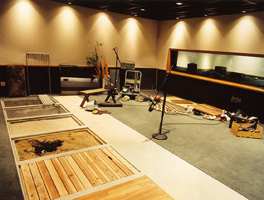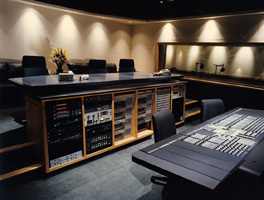 In the mid 70's Jay partnered with Allen Sides at his small studio on Ocean Way in Santa Monica. Over the next fifteen years, Ocean Way Recording grew to legendary status as one of the world's most successful multi-room recording facilities, catering to some of the biggest names in show business including Eric Clapton, Michael Jackson, and Lionel Richie. As the Director of Operations and Chief Engineer, Jay played a principle role in the success of what is arguably one of the best sounding and maintained studio complexes in the world.
Upon leaving Ocean Way Recording, Jay offered his extensive talents as an independent acoustical, studio and systems engineer. He was known throughout the industry for his expertise in tuning rooms, building audiophile speaker systems, designing and building recording studios, and designing, modifying and maintaining high-tech equipment, as well as record engineering, mixing, and facilities management. His clients included Bill Bodine Music, Coast Recording, Kiva Recording, The Matrix Alliance, and Hollywood Records.
Jay was then brought on at SMS Digital Post as Chief Operations Officer. During his tenure he transformed this post production facility to a world class operation, providing services to Disney, Universal, Lucas Arts, and Warner Bros. Part of this revitalization was the addition of a state-of-the-art dubbing theater, two ADR stages and a Foley stage which Jay designed and built.
Jay is a member of: ASA (Acoustical Society of America), AES (Audio Engineering Society), SMTPE (Society of Motion Picture & Television Engineers), and HPA (Hollywood Post Alliance).
A Matched Pair At Foxy
Warner Bros. A&R Producer Records with new Ela M16 MkII Mics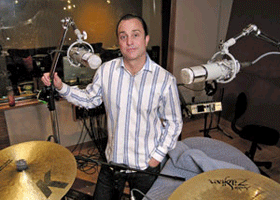 Pictured in his LA studio is producer/engineer John Feldmann and his matched pair of Telefunken USA microphones.
Photo by David Goggin.

John Feldman, frontman of the enduring band Goldfinger, has purchased a perfectly matched pair of Telefunken USA's new R-F-T M16 MkII microphones for his Foxy Studios in LA. The M16 is one of a new line of affordable microphones which faithfully recreate the legendary vintage Telefunken sound.

"We do a lot of recording here at Foxy Studios and I especially wanted a dedicated pair of overhead mics for the drums. These M16s have a very warm, very organic sound with a real nice top end. For instance, with the cymbals I don't have to spend so much time mixing every splash and little ride bell. It's all there, and with a matched pair I am getting beautifully balanced stereo imagery."
As one of LA's most successful A&R executives, Feldmann has signed, produced, engineered and mixed such Platinum groups as The Used and Story of the Year. He has also engineered, produced and co-written with artists such as Good Charlotte and Hillary Duff. After playing 385 Goldfinger shows in 1996, Feldmann and his band broke the Guinness Book of World Records for the most shows ever in one year for a touring band.

Feldmann uses a Manley 2-channel all tube mic preamplifier for his M16s. His Pro tools HD-equipped studio houses racks and racks of vintage outboard gear, as well as new staples like the Universal Audio 6176 reissue compressor/limiter. Monitors include Genelec 1031s, Yamaha NS-10s, Aurotones, and large Dynaudio Acoustics AIR 25s. "When the label is here with the band and we're listening to my mixes," Feldman remarks, "I crank up the Dynaudio's because I don't want them talking to each other. They can appreciate the detail I get with these new Telefunken mics."
Take 8
Awards for Concord Records and Telarc Intl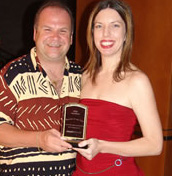 Mary Pastorius gladly accepts the award from label president Dave Love at the event
Concord Records, Telarc International and Heads Up International, leaders in the jazz recording industry, scored no less than eight jazz industry awards this past week – five from the Jazz Journalists Association (JJA) and three from JazzWeek.

Of the 41 categories in the 2006 JJA Jazz Awards, Concord Music Group took five trophies at the tenth annual awards ceremony on Monday, June 19, at B.B. King's Blues Club and Grill in New York City. The winners are:
Concord Music Group: Jazz Record Label of the Year; Sonny Rollins:Musician of the Year and Tenor Saxophonist of the Year; Dianne Reeves:Female Jazz Singer of the Year; Joey DeFrancesco:Organist/Keyboardist of the Year. he Jazz Journalists Association nominated more than 200 jazz musicians, recordings, labels, producers, concert presenters, authors, broadcasters, photographers and new media outlets for recognition of achievements in 2005-2006. Winners were determined by a voting pool of approximately 400 JJA members.
Two days earlier, Concord Records, Telarc and Heads Up scored three wins at the annual JazzWeek Awards on Saturday, June 17, at the Clarion Riverside Hotel in Rochester, N.Y. Sponsored by JazzWeek, the national radio airplay chart that compiles a weekly report of the top fifty traditional jazz and contemporary jazz recordings played on radio stations across the United States and Canada.

Ferdinand To Fagen In The House At Avatar
Avatar hosted producers such as David Foster, Steve Lillywhite and Matt Serletic and sessions included works by Billy Joel, Willie Nelson, Lou Reed, Counting Crows, Peter Cincotti, Ryan Adams and Satellite Party with Perry Farrell. The 12 Gardens Live album by Billy Joel, mixed at Avatar, was just released from Sony. The Willie Nelson album, produced by Ryan Adams, was
(partially) tracked, mixed and mastered (by Fred Kevorkian) at Avatar.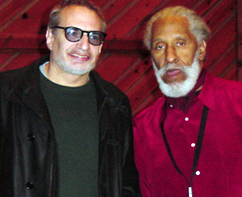 Pictured at Avatar l-r: Franz Ferdinand Session; Donald Fagen and Sonny Rollins
Avatar Studios has also been nominated for a 2006 TEC Awards in the Outstanding Creative Achievement / Record Production Album category for Donald Fagen's Morph the Cat, from Reprise. Much of the work was done at Avatar Studios. Elliot Scheiner mixed the album, including the surround mix, at Avatar's Studio C. Avatar's own Brian Montgomery was the overdub / Pro Tools engineer as well as the second mix engineer. The 22nd Annual TEC Awards presentation will be held Saturday, October 7, 2006, at the Hilton San Francisco.
Grundman Masters Timeless Artists
New from Dweezil Zappa & Sergio Mendes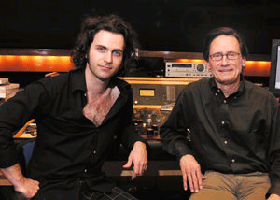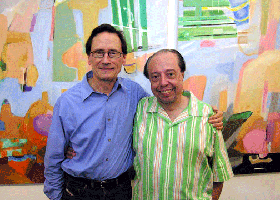 Pictured during sessions are (L-R) Dweezil Zappa and mastering engineer Bernie Grundman. Pictured during sessions are (L-R) mastering engineer Bernie Grundman and Sergio Mendes. Photos by David Goggin.

Sergio Mendes' new album "Timeless" has been nominated for two TEC (Technical Excellence and Creativity) Awards, in the categories Record Production/Single or Track and Record Production/Album. The A&M collection features appearances by will.i.am of The Black Eyed Peas, Stevie Wonder, Erykah Badu, Q-Tip, Jill Scott, and Justin Timberlake. "Timeless" was mastered by Bernie Grundman, who has worked with Mendes since his A&M debut "Herb Alpert Presents Sergio Mendes & Brasil '66." The album's music encompasses revisions of Mendes' classic Brazilian material and ideas, given a new twist via new lyrics and arrangements. Mendes explains, "This record is great Brazilian classics and the great Brazilian melodies that the kids of today haven't heard mixed together with the world of hip hop."

Dweezil Zappa, son of music icon Frank Zappa recently mastered his new solo album, Go With What You Know, at Bernie Grundman Mastering. Recorded in Zappa's Utility Muffin Research Kitchen studio, it is his first release since 2000's Automatic. The album is comprised of Dweezil compositions, as well as Frank Zappa's "Peaches En Regalia," originally recorded in 1969 and augmented in 2006 with the Dweezil touch.

"I am playing all of the main melody lines on guitar," Zappa explains, "using the guitar to mimic the instruments that were originally played. Frank's guitar solo is doubled by a flute on the original record. It is still doubled by a flute, but I also learned the guitar solo and played that. So you hear Frank on the left side and me on the right side playing in unison. That is a good example of what will be happening on tour."

Zappa's new album, on the family Zappa Records label, has a shipping date of June 20, during the final leg of the "Zappa Plays Zappa" tour covering Europe and America, which began on May 15 in Amsterdam and concludes June 24 in San Francisco, with another Fall tour scheduled. Tour material consists entirely of Frank Zappa compositions. Joining Dweezil's band are musicians playing on his new album, plus Frank Zappa alumni Steve Vai, Terry Bozzio, and Napoleon Murphy Brock.
Future Disc Relocates to Pacific Northwest
The mastering facility started in 1981 by Steve Hall, Future Disc has closed down its Los Angeles operation. Hall will be relocating Future Disc to the Pacific Northwest.
During their quarter of a century in business Future Disc grew to a 6,000 ft facility with multiple mastering studios offering several top-notch mastering engineers in addition to Hall. Future Disc's other mastering engineers included Kris Solem and Gabriel Wallach and DVD engineer David Conrad. While Hall and his wife Laura will be relocating Future Disc to the Pacific Northwest, the other engineers will move on to work on a variety of things. Hall says he wishes them all well and will miss their expertise and skill. Although there will be a period of downtime, Hall will resume mastering when the relocation is complete. Customers should continue to check the website for updates at http://www.futurediscsystems.com/
"We will accommodate all of our customers that have projects in the pipe line during this transition and once we are back up and running we will still specialize in high quality vinyl mastering as well as CD and surround mastering," Hall says of the move. Hall has mastered acclaimed surround projects such as The Band's The Last Waltz, Earth Wind & Fire's Gratitude, the Grateful Dead's American Beauty, Workingman's Dead, Jackson Browne's Runnin' On Empty, and the Beach Boys' Pet Sounds. In addition to the surround projects Hall has amassed an impressive discography that includes Madonna's True Blue, the soundtrack for Pulp Fiction, the soundtrack for City of Angels, Green Day's Nimrod, Jane's Addiction's Nothing's Shocking, and Toy Matinee's Toy Matinee, to name just a few.
Hollywood Sound and SSL AWS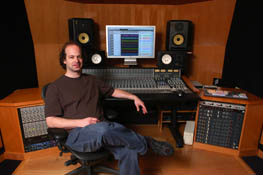 Los Angeles-based guitarist and songwriter Douglas Gorlin has chosen a Solid State Logic AWS 900 Analogue Workstation System as the centerpiece of his new recording studio, Hollywood Sound.
Designed by Vincent Van Haaff of Waterland Design, Hollyview Sound (www.hollyviewsound.com) features an abundance of vintage instruments, amplifiers and recording equipment as well as breathtaking views of Laurel Canyon and plenty of natural light.

Einstein, Cobain and Elvis Make The Forbes List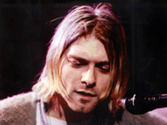 We know their faces and their contributions. Even in the afterlife, the list released by Forbes magazine of people who remain big-time moneymakers include: Elvis Presley , Albert Einstein, Kurt Cobain, Andy Warhol and Marilyn Monroe.

Presley, who died in 1977, raked in an estimated $52 million last year. Cobain, who committed suicide in 1994, generated about $50 million. Most of that came when his widow, Courtney Love , sold 25 percent of Nirvana 's song catalog in April.

Einstein, who has been dead for more than 50 years, took in about $20 million in 2005, Forbes estimates. The Hebrew University of Jerusalem controls the famed thinker's estate and collects $5 million a year from the use of his images. The university also earns royalties from Disney's line of Baby Einstein toys and videos, Forbes reports, which generated $400 million in sales last year.

Warhol died in 1987. Still, he earned $16 million last year through the Andy Warhol Foundation for the Visual Arts, which owns his estate. Monroe, who died in 1962, generated $8 million in 2005
Farewell Billy Preston & Arif Martin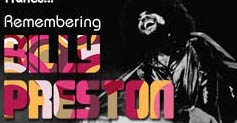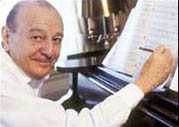 A brass band played a rollicking version of "Amazing Grace" during a service filled with tributes to the prolific songwriter and keyboardist Billy Preston who died June 6 in Scottsdale, Ariz., at age 59. He battled chronic kidney failure, received a kidney transplant in 2002.
Billy was called the Fifth Beatle because he played keyboards on Let it Be, The White Album and Abbey Road. He also played on the Rolling Stones's hit song Miss You, and often played with Eric Clapton. He also did the organ work on Sly & the Family Stone's greatest hits and sessions with Bob Dylan. Preston's own hits included "Nothing from Nothing," "Will it Go Round in Circles," and "You Are So Beautiful," which Joe Cocker turned into an international hit. Sporting a memorable Afro and gap-toothed grin in the 1970s, Preston broke out as a solo artist, winning a best instrumental Grammy in 1973 for "Outta Space," and scoring other hits. In 1975, Preston sang on the debut of "Saturday Night Live." Last year he appeared on "American Idol."
Fans and freinds can make donations in Billy's Memory to The American Kidney Foundation and Musicares
12-time Grammy winner Arif Mardin is among the 20th century's most important music producers. He died past Sunday June 25th at 74. He is survived by his wife Latife, son, producer/engineer Joe, daughter Julie and daughter Nazan Joffre.
From The Young Rascals' #1 hit "Good Lovin'" to Bette Midler's "Wind Beneath My Wings" to his most recent works with Jewel and Norah Jones. Arif Mardin has transcended genres and contributed to many of contemporary music's most brilliant works. Atlantic Records' Co-Chairman/ Co- CEO Ahmet Ertegun declares: "In a business often driven by trend and fashion, Arif has remained a true artist." "When we launched studioexpresso in 2000, one of the first calls I made was to Mardin. The consummate gentleman, he promplty returned the call and offered advice and support. He will be missed and remembered," says Claris Sayadian-Dodge.
Welcome Kai!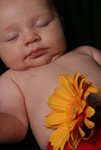 Congrats to Digidesign's Chandra Lynn and her family on the arrival of baby boy Kai!
We understand she has fallen deeply in love with her new son and decided to make some life changes including resigning from her full-time post as Digidesign's press and artist relations manager and return to marketing consulting business, Glow Marketing (www.glowmarketing.com).
"Fortunately Digidesign has retained my services to lead the press efforts for the Pro Tools|HD, ICON, Pro Tools LE & DigiDelivery product lines. In addition, the company has retained Sara Griggs to manage the press efforts for VENUE, Digidesign's live sound segment. Yvette Kay will act as press relations coordinator in Digidesign's headquarters. Feel free to contact hiring manager Pablo La Rosa at plarosa@digidesign.com, with any questsion," says the glowing mom!
Happy Independence Day! Make Some Romance!
Moon River, wider than a mile:
I'm crossin' you in style someday.
Oh dreammaker, you heartbreaker,
Wherever you're goin', I'm goin'your way.
Two drifters, off to see the world.
There's such a lot of world to see.
We're after the same rainbow's end,
Waitin' round the bend,
My huckleberry friend,
Moon River and me.
--From Moon River (Henry Mancini)


"I have just seen our picture - BREAKFAST AT TIFFANY'S - this time with your score. A movie without music is a little bit like an aeroplane without fuel. However beautifully the job is done, we are still on the ground and in a world of reality. Your music has lifted us all up and sent us soaring. Everything we cannot say with words or show with action you have expressed for us. You have done this with so much imagination, fun and beauty. You are the hippest of cats - and the most sensitive of composers! Thank you, dear Hank." --Lots of love, Audrey

Source:
Clarke, Gerald. Capote: A Biography. New York: Simon and Schuster, 1988.
Mancini, Henry. Breakfast at Tiffany's. Linear notes, 1961.
Maychick, Diana. Audrey Hepburn: An Intimate Portrait. New York: Carol Publishing Group, 1993.