> home page
> more producers/engineers
Warren Riker
producer l engineer l mixer l musician l songwriter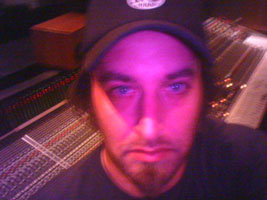 History:  With 3 Grammys (The Fugees, Lauryn Hill and Santana) under his belt, Riker credits over 40 million albums sold containing his work as mixer, engineer and producer.
His love for versatile music makes it impossible to put him in one category, but these days he likes to produce rock, do mixes and remixes for pop and urban artists and also finds time to program and co-write songs for film, TV and games.

Warren Riker has been honing his skills in the studio since he was 15 years old. "Back in Jersey, my guitar teacher gave me the key to his small studio and said go do your thing. That's where I learned about making records" says Riker.




Everyone has their first big break. For Riker, it was the Fugees, The Score album. "I worked over the course of a summer in their basement, recording and mixing the album. It sold a zillion copies and it spun into alot of hip hop work for me. I grew up on rock music, so I had to make my own rukes about hip hop while I was making that record and I think it gave me a different appraoch then say someone who had a history in listening to it," says Riker.






Riker has produced, recorded and mixed tracks for artists including Michael Jackson and Destiny's Child through to Down and Sublime. Though his earlier work had been in Urban genres, lately Warren's passion and dedication to Rock music finds him busy working with more rock based projects than ever before.





Warren who is musically proficient and a multi-instrumentalist with extensive knowledge in the areas of Pro-Tools and analog recording techniques, has a studio in North Hollywood.
"My studio affords me to work with great indie bands that are on tighter budgets". A recent developement is Supercreep, from New Jersey. We made the record entirely at my home studio and at their rehearsal place. I then got them hooked up with great management and got them signed," says Riker.





Current credits: Riker is currently co-producing a Danish metal band, Mnemic. He's producing The Under Water, an Indie band from Pennsylvania.
Supercreep's album on Universal will be re released in August which he produced, engineered and mixed. Riker mixed all the tracks for Universal artist Stephen Marley's album "Mind Control" due out this summer. He produced, engineered and mixed Cathedral on Nuclear Blast outside of London. Riker mixed few tracks for Killa Kela,, the British singer/rapper on Colombia. Produced , cowrote, programmed, engineered and mixed 3 tracks for jazz/triphop artist Shannon Eileen. He's also producing the third record for the Iowa band, On A Pale Horse. He also mixed the entire Aeon Spoke album including the single "Pablo At The Park" out Sept. 06 on the SPV label


Contact:

studioexpresso


818-990-3031
Copyright 2003 studioexpresso