Switch to the "Brite" Mode
Soundelux U99S Shipping Now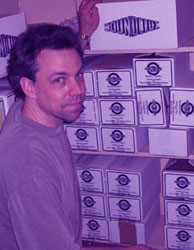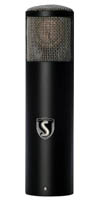 Soundelux is introducing the U99S, a switchable version of the award-winning U99 microphone. Designed by David Bock (above), the U99S combines the performance of two high-grade tube condenser microphones in a single unit, giving users the choice of selecting "Normal" or "Brite"
sonic signatures at a flick of the switch. This new feature makes the Soundelux U99S a truly modern day version of the classic microphones from the 1960s.
Unlike recent modifications made to many vintage microphones that remove the low pass filter circuit in order to achieve a more open high-end sound, the U99S delivers that performance characteristic by simply switching to the "Brite" mode. In "Normal" mode, a high-frequency rolloff is introduced that replicates the performance of the original vintage microphone.
The U99S employs the P99 true linear power supply, which is derived almost entirely from the original vintage technology. In addition, the unit features a German handmade, one-inch diameter dual-symmetrical backplate and a dual-membrane kk67 type capsule tensioned for warmth and clarity while avoiding the 5kHz rise, common to some vintage microphones, to produce a less peaky mid-range response.
Thanks to its high gain, flat mids, and a controlled and less dominant proximity effect, the U99S shines in a wide variety of applications, from vocals to acoustic instruments to percussion. It brings sparkle, depth and intimacy to drum kits without the midrange boxiness typical of small diaphragms.
Uniquely, the quality sound of U99S remains superior with either near and distant sources. The excellent polar response also enables it to capture a room or ambient environment. Surprisingly, the U99S is being offered at the same price point as its predecessor, the U99.
USMSRP: $3,250.00
Take Along A Portable Surround
Soundfield ST350 Microphone Shipping Now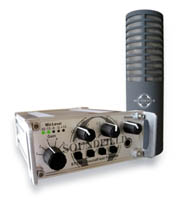 The ST350 is designed from the ground up and is the result of a comprehensive R&D program incorporating feedback from recordists, broadcasters and SoundField users. The new microphone electronics are capable of driving long cable runs, enabling the microphone to be positioned hundreds of yards away from its control unit or alternatively handheld on a short boom.
Control features include high-performance mic pres with discretely switched 6dB gain steps and composite five-segment LED bargraph for level monitoring.
Continuously variable control is offered over the stereo polar patterns from omni through to cardioid to figure-of-eight with a width control providing everything from mono to wide image stereo. End fire and invert controls are provided to correct for three-dimensional microphone positioning while still maintaining the correct stereo and surround perspective. Other features include hi-pass filtering to reduce rumble and wind noise, switchable M/S output and headphone monitoring.
The ST350 can be used in conjunction with the SoundField Surround Zone software to offer a complete recording and post-production package. Surround Zone is now available on the Digidesign Pro Tools, Steinberg Nuendo and SADiE platforms.
Brad Lunde, president of LasVegasProAudio comments, "We have listened to the market requests for a more compact and portable SoundField system. The new ST350 is less than half the size and weight of the other competitive microphones."
MSRP: $6,700.00

For more info on Soundelux and SoundField Microphones please email Brad Lunde at LVPA or Phone (702) 307-2700 both distributed by TransAudio Group, founded by industry veteran Lunde.

Congrats to LVPA and Trans Audio Group for all four 2006 Tec Award Nominations for The A Designs Pacifica, ATC SCM110ASL, Heil PR20 and Soundelux E251C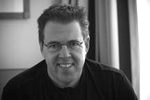 Las Vegas Pro Audio is the direct sales division of TransAudio Group. The goal of LasVegasProAudio.com is to provide a personal long-term relationship with top engineers delivering insightful and accurate advice, unique equipment and long term support.TransAudio has quickly become the premier US importer/distributor for high-end audio. visit the web sites at: www.lasvegasproaudio.com
TransAudio Group's product lines include A-Designs (USA) AEA ribbon microphones (USA), ADT Toolkit, AEA, ATC Loudspeakers (UK), Brauner microphones(Germany), Drawmer (UK), Geoffrey Daking & Co. (USA), Enhanced Audio (Ireland), George Massenburg Labs (GML) (USA), Heil Sound (USA); Mercury Audio (USA) Mission Audio (UK) Phoenix Audio (UK), PAULY Superscreens(Germany), SABRA SOM(Brazil), Soundelux (USA), SoundField Microphones (UK), Z-Systems (USA) and Weiss Engineering (Switzerland) and Z Systems (USA).
EMI & The Firm Form Artist Friendly Label


The Firm is launching an unnamed, new artist-friendly music company to be distributed by EMI Music in the US and licensed for territories around the globe. It will take the unprecedented step of splitting all profits with the artists signed to the venture rather than the traditional royalty structure. Multi-platinum recording artist and actress Mandy Moore and rock group Army of Anyone, featuring former members of Filter and Stone Temple Pilots, are the first to sign to the company.
Last year, The Firm designed an innovative deal that put EMI and Live Nation in partnership with the band Korn so that all parties benefit from the rock group's overall success. Korn's first record under the agreement, "See You on the Other Side," is fast approaching 2 million units sold worldwide.
"Jeff shares my view that our changing industry sometimes calls for breaking the mold and pursuing new business models. As a result, we're already having success with the groundbreaking deal we did with The Firm on Korn, and we look forward to this being another solid venture," said David Munns, vice chairman EMI Music worldwide.

Firm client Ice Cube recently self-financed a new album, and The Firm handled such record company functions as A&R, marketing, promotion and publicity for the newly created Lench Mob Records while EMI handled distribution. The album, "Laugh Now, Cry Later," debuted top 5 in the U.S. three weeks ago.
"The current state of the industry challenges us to conceive innovative approaches in music," said Mandy Moore. "It is, therefore, especially exciting to be part of a venture in which artistic freedom is encouraged. I am thrilled by the opportunity to join forces with The Firm, as well as with those I've trusted throughout the years."
While many in the music industry are pessimistic about the future, we think the possibilities are limitless if we can find fresh ways to support and nurture great art and the talent that creates it," says Jeff Kwatinez, CEO of The Firm.


DIY DVDs From CinemaNow

According to Forbes Magazine, consumers who like the convenience of owning movies but don't like driving to Wal-Mart Stores or Best Buy to purchase them now have another option: CinemaNow has launched the first legal movie-download service that lets buyers burn Hollywood films onto a blank DVD.

The move could potentially lead Hollywood to a showdown with retailers who sell and rent DVDs, which provide the industry with almost half of its revenue.

Until now, CinemaNow and other online movie vendors have only sold major-studio films over the Internet on a subscription service or via an arrangement that let consumers keep the films, but didn't let them move them off their PCs.

For the time being, CinemaNow's burn-to-DVD service doesn't include first-run films. Instead the service is offering about 100 older movies from the Walt Disney Co. (nyse: DIS - news - people ), General Electric's (NYSE: GE - news - people ) NBC Universal, EagleVision, Lionsgate (NYSE: LGF - news - people ), Sony (NYSE: SNE - news - people ) and the Sundance Channel. Titles include Charlie's Angels: Full Throttle, Scent of a Woman, and Barbershop.

The process takes less time than an earlier version of the service that launched this year for CinemaNow's All Adult Channel. But it's still likely much slower than driving to a big-box retailer, which will typically sell the discs at comparable prices.Prices will range from $9 to $15 per download, comparable with the prices CinemaNow charges for other download-to-own titles. But unlike those downloads, burn-to-DVD movies let customers create the equivalent of a store-bought DVD, complete with extra features and printable artwork. Customers will be permitted to burn only one copy per purchase.

Movielink, which is owned by a consortium Hollywood studios, announced that they planned to offer their own burn-to-DVD downloads, but didn't set out a time frame. Movielink is a joint venture of MGM, Viacom's (NYSE: VIA - news - people ) Paramount Pictures, Time Warner's (NYSE: TWX - news - people ) Warner Brothers Studios, Sony and Universal. Meanwhile, industry observers predict that Apple Computer (nasdaq: AAPL - news - people ) is close to a deal to launch its own movie service.


Ching Ching for Top 3 Touring Artists
Summer is Big On Live Shows

Madonna
TD Banknorth Garden/Boston-Thursday thru Monday-7/6-7/10
Gross: $6,337,115
Sold/Capacity: 36,741/36,741
Ticket Price(s)-$350.00/$55.00

Kenny Chesney, Gretchen Wilson, Big & Rich, Dierks Bentley, Carrie Underwood
Gillette Stadium/Boston-Sunday-7/16
Gross: $4,136,945
Sold/Capacity: 55,124/55,124
Ticket Price(s)-$85.50/$72.50/$37.50

Dave Matthews Band
Gomez Tweeter Center/Camden, NJ-Tuesday/Wednesday-6/27-6/28
Gross: $2,130,763
Sold/Capacity: 50,045/50,045
Ticket Price(s)-$56.50/$37.50





Top Ten A&R Wish List:
High Chasability Factor

1. Hits
2. Busy Bands -- with Gigs, music placements
3. A "Story" or "Angle"
4. Fresh Recordings - Best New Songs
5. Fan Base
6. Simple Packages with A Live Video
7. A Little Mystery
8. People They Know Introducing You
9. Artists with Buzz
10. Artists with good Web Presence and Photos







Hollywood Cat
write HC for news from your music and audio world...
Here's a band that's got it all! LA based Hypnogaja (above) has made a considerable leap from being a local draw on Hollywood's world famous Sunset Strip to becoming a national touring act. The band's visibility has grown by playing opening slots for bands such as Shinedown, Cold and 311, through prominent film & TV placements (NBC's Las Vegas, UPN's Americas Next Top Model and Touchstone's Cold Creek Manor) and exposure on MTV2 through Comcast cable's On Demand service. Recently, Apple computers ran a feature story on Hypnogaja's innovations as a grass routes act, noting the band's deft use of technology both in the studio and on the road http://www.apple.com/pro/profiles/hypnogaja/index.html
Hypnogaja are scheduled to appear at the Virgin Megastore in Hollywood (6801 Hollywood Blvd., Suite 105 in the Hollywood & Highland Center) on Thursday, August 24 at 7 PM. The band will be performing songs from the new album, Acoustic Sunset – Live at the Longhouse (Union State/Longhouse Records), produced by the legendary singer/songwriter Wendy Waldman ("Save The Best For Last," "Fishin' In The Dark"). Following at 10 PM that night, Hypnogaja takes the stage for a plugged-in show at the World famous Whisky A-Go-Go in West Hollywood (8901 Sunset Blvd.).
Decca Records Signs The Section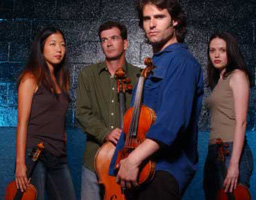 Congrats to The Section Quartet who last month signed a record deal with Decca Records, a Universal Classics record label, and will begin work on their debut album in the next few months.
"One important and unique part of our deal allows us to perform recording session work, string arranging and live collaborations as usual, so we look forward to continuing our professional relationships with those of you with whom we work," says Eric Gorfain The signing comes just weeks after their second appearance on the main stage at the 2006 Coachella Music and Arts Festival, in Indio, CA. Their first appearance was in 2004.

The quartet, who include leader/violinist Eric Gorfain, violinist Daphne Chen, violist Leah Katz and cellist Richard Dodd, are most known for their string adaptations of songs by Led Zeppelin, Radiohead, Tool, The Clash, Green Day, KISS, Ima Robot, Muse and dozens of others. In 2004, TSQ independently released NO ELECTRICITY REQUIRED to rave reviews.
The quartet has toured the US and the UK opening for such artists as Linda Perry, Grant Lee Phillips and Sam Phillips. In 2005, the quartet enjoyed the praises of sell-out audiences at their own headlining shows throughout the US and Europe, culminating recently with their appearance at the Coachella Festival, just last April.
They have followed up that performance with the independent online release of LIZARDS LIKE US, available at the iTunes Music Store and coming soon to other online music stores. "The Section Quartet played on the new Sean Lennon album as well. I wrote four string arrangements for that album. Sean's a great guy," says Gorfain.

Rivers Cuomo says that, for now, Weezer is "done." Cuomo, the band's bespectacled songwriter and frontman, told MTV that while he remains in touch with his bandmates, "we've never mentioned getting together." "Really, for the moment, we are done," he said. "And I'm not certain we'll ever make a record again, unless it becomes really obvious to me that we need to do one."

Led Zeppelin's classic hit "Rock and Roll" has been dropped as the theme for Cadillac's television commercials and advertising campaign (lasted 4 years) will be sacked in favor of a more contemporary advertising direction

Sanctuary Group has appointed Bob Cahill to EVP/GM of Sanctuary Records Group North America, effective immediately. Cahill has been with the company for four years, previously holding the title SVP of sales. "We are refocusing the Company on core strengths – which center on rock music both heritage and contemporary. We also sport one of the strongest release schedules we've ever had in the coming months. We'll offer focus, spirit, integrity and agility, combined with a little common sense and attention to detail, to our artists and partners," says Cahill. Sanctuary Group COO Roger Semon addressed the company's recent struggles and plans for the future: "It's no secret that Sanctuary has been going through a challenging period. To achieve our new goals, we need to have dedicated, astute and ambitious executives in key roles.


Founded in February 2005, YouTube is a consumer media company for people to watch and share original videos worldwide through a Web experience.YouTube has said its users are now watching more than 100 million videos per day.
It has 29% of the country's multimedia market (Hitwise). Last month 2.5 billion videos were watched on YouTube. 60% of all videos watched online in the US are on Youtube while Yahoo, Microsoft's MSN, Google and AOL each have 3 to 5% of the video search market. It has almost 20 million visitors to the site each month, according to Nielsen/NetRatings. (BBC).

Competitor, Current, is less advertising driven and offers more viewer content -- Current is about what's going on: stories from the real world, told by you. The schedule is sliced into short segments called "pods" -- each just a few minutes long. Nice!
Egyptian Ruby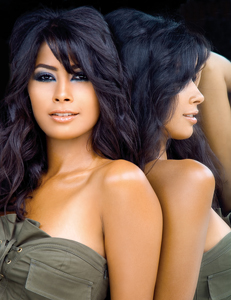 Music videos - or "video clips" as they are known - are the visual wallpaper of choice in the cafes, shops and discos frequented by Egypt's young people.And as popular female stars reveal more and more flesh, controversy has inevitably grown in Egypt's mainly Muslim society. Ruby (real name: Rania Hussein) began her career as a model and actress in TV commercials before becoming a huge pop star in her native Egypt and most of the Arabic-speaking world.
She is Egyptian, rather than from more liberal Lebanon like many current stars. Her raunchy moves, bare midriff and revealing clothing have had conservative MPs clamouring for a ban. Ruby's producer Sherif Sabri is well used to this debate. He says Ruby's video clips are "artistic, tasteful and rhythmic". Her long awaited second album, is due to be released at the end of July 2006.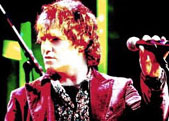 Naked Eyes' Pete Byrne (above) was on TV Sunday 23rd July. Live show was recorded in Philadelphia November '05, for those with High Def. HD Net. Naked Eyes Videos on YouTube.com


Most will tell you, it's not the first time we've heard of CBGB's closing. Latest rumor says, they're closing doors for the very last time at the end of September 2006. Kristal, who opened the club in 1973 as a venue for country, bluegrass and blues (hence the acronym), had been locked in a fight for the last few years with the club's landlord, the Bowery Residents' Committee (BRC), which initially hiked CBGB's rent and claimed the club owed about $80,000 in back rent, a figure Kristal disputed in court. While a judge ruled in Kristal's favor last October, the BRC declined to renew CBGB's lease. The closing comes despite the efforts of many prominent New York political and cultural figures, including Mayor Michael Bloomberg, to intervene on the club's behalf. Independent music promoters Rocks Off have signed on to handle the booking for CBGB's closing festival, although no specific performers have yet been announced. Last December, the New York Post reported that Kristal was considering moving the nightclub to Las Vegas. A new location for the club was reportedly being eyed near the Aladdin Hotel and Casino, at the 475,000-square-foot Desert Passage retail and entertainment strip.
Lennon's Friendly Fire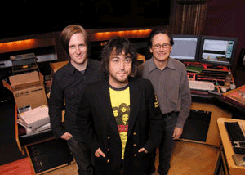 M astering sessions at Grundaman (L-R) recording engineer Tom Biller, Sean Lennon, mastering engineer Bernie Grundman.
Photo by David Goggin.

Capitol Records artist Sean Lennon has mastered his new album "Friendly Fire" at Bernie Grundman Mastering. "There was a long period after the first album where I felt disillusioned with the machinery of the industry. It's not that I stopped recording, playing and performing, I did all of those things, just more discreetly," says Lennon. Produced by Lennon, the "Friendly Fire" sessions were recorded by Tom Biller (producer Jon Brion's engineer for his recordings with Fiona Apple and Kanye West, as well as the scores for Eternal Sunshine of the Spotless Mind and I (Heart) Huckabees). Drummer Matt Chamberlain (Pearl Jam, Tori Amos) joined Lennon in the studio for two weeks of collaboration.
Where Lennon played most all instruments on his debut, the "Friendly Fire" sessions found him still writing most of the parts, but creating a "band" to record live to tape, mostly in single takes. Other participants included Jon Brion (organ, guitar, additional drums), Cibo Matto's Yuka Honda (piano, keyboards, bass), Harper Simon (guitar) and Bijou Phillips (background vocals), among others.

Lennon has also produced a short film for each of the album's tracks, directed by Michele Civetta. The fantastical shorts, which together comprise a conceptual film about betrayal and the failure of love, feature appearances from Lennon and friends including Lindsay Lohan, Bijou Phillips, Asia Argento, Carrie Fisher, Devon Aoki, Jordana Brewster and others. "Friendly Fire" is scheduled for release on September 26.
Delicate Restoration At Cups N' Strings
Supertramp '79 Paris Masters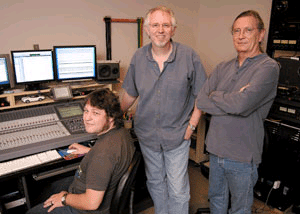 L-R: Engineer Grant Johnson, Cups 'N Strings owner Bruce Maddocks and Supertramp producer Russel Pope. Photo by David Goggin.

Supertramp co-producer Russel Pope recently visited Cups N' Strings Studios to supervise the delicate restoration of 24-track analog tapes recorded at the multi-Platinum band's renowned 1979 Paris concerts. The tapes were recently discovered in the Northern California barn of the band's drummer Bob Siebenberg.
"The condition of these tapes was appalling," explains Pope, who co-produced the original project with Peter Henderson, the live engineer for the Paris concerts. "And the film footage has been sitting in the vaults since the day it was shot. Everything was stashed away and now it's all being re-assembled. I've worked with Bruce Maddocks on a number of restoration projects here at Cups 'N Strings and without his expertise we could have been in big trouble."

"The 2-inch analog tape masters were a bio-hazard," adds owner/chief engineer Bruce Maddocks. "They were covered with cow dung. We cleaned them up as best we could before putting them in the convection oven for baking, which produced some very penetrating odors. Luckily, we were able to salvage all of the tapes and transfer them successfully to Pro Tools."

After transfer to digital, the tapes will be shipped to London where they will be mixed by Peter Henderson. The final editing and post-production will take place at director Peter Clifton's studios in New Zealand. Clifton is known for such concert films as Led Zeppelin's "The Song Remains the Same."
Globe TV from Uk's Universal Music Label

Universal Music, the UK's leading record company, has moved into TV production with the launch of Globe Productions, a division focused on creating both new television formats and innovative TV platforms for its artists.
Globe is launching with a broad remit, which includes creating programming around its current and catalogue artists, alongside developing new television formats, both music-based and factual. It will develop programme ideas in-house, as well as working closely with independent production companies.
Among those working with the new enterprise are the TV producer Suzi Aplin and Anita Land, the leading talent agent whose broadcast clients include Jeremy Paxman.
Globe already has several programme ideas in development and has secured its first commissions, the latest being a documentary on Paul Weller via a new ongoing relationship with Double Jab Productions. A similar alliance with Monkey, the independent production company set up by Will Macdonald and David Granger, resulted in the six-week series on Girls Aloud which has already been a ratings hit for E4 and will be broadcast on Channel Four this autumn. Globe Productions owns a stake in these and all further joint commissions, as well as owning ancillary rights such as audio and DVD spin-offs.
Universal Music Group International Chairman and CEO Lucian Grainge says: "The launch of Globe is a natural progression for Universal Music. The opportunities for our artists in television are immense, and through Globe we are taking a more pro-active approach, closing the gap between artists and broadcasters. I hope we can find new ways of presenting music on television, and the promotional aspect is just the tip of the iceberg; my vision for Globe is to develop ground-breaking television formats which can be successful worldwide."
The new Globe division reports in to Universal Music Operations President David Joseph, and will be run day-to-day by General Manager Iain Funnell, who is moving to Globe from his role as Polydor Director of TV & DVD in September.
Suzi Aplin, one of the most respected producers working in music television, has been working alongside Universal Music and its TV production partners to explore opportunities for Globe. Her role is a part-time consultancy, and she continues her work with Open Mike, the BBC and Comic Relief among others.

Media Facility Design, Acoustics and A/V Systems Design and Integration by Jay Kauffman Visit K&A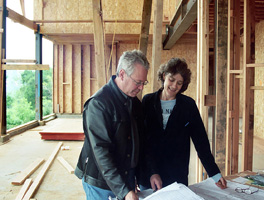 Nashville: A Fertile Ground For Indies
Tennessean's Ryan Underwood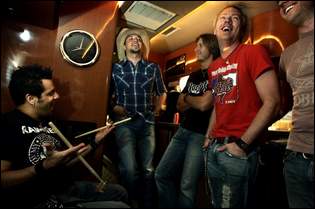 For Music Row insiders, young country hopefuls like Jason Aldean's "Top 10" single "Hicktown" holds special meaning. Artists no longer need the backing of a big label to hit it big — a significant shift that harkens to how the local music industry operated 30 years ago.
In the last year alone, in addition to Aldean, who last month was named the Academy of Country Music's Top New Male Vocalist of the Year, artists such as Craig Morgan, Jack Ingram, Little Big Town, Neal McCoy and others have cracked the Top 25 on the country charts while on independent labels.

"I think the profile of independent-label artists has certainly been raised. It's one of the most positive developments that this town has seen for a long time," says Wade Jessen, director of country charts for Billboard magazine

It's a trend that's been under way in other music formats such as rock and hip-hop for years, though it's just now catching on in country, as this weekend's CMA performance lineup made abundantly clear.

Why? For starters, deep job cuts over the past several years at major labels amid an environment of overall industry consolidation have left Nashville swimming in underutilized industry and creative talent.

Mike Kraski, a Sony Music veteran who was being groomed to become a label president one day, found himself out of a job three years ago when the company let him go. Instead of hopping to another major label, Kraski hooked up with country star Clint Black and his manager, Charles Sussman, to form Equity Music Group.

The label started out of the gates with Black, while it began to cultivate groups like Little Big Town, a 2003 Sony cast-off whose hit song "Boondocks" went to No. 9 on the Billboard country charts last year.

Independents see their size and simpler business models as a source of strength. Jon Loba, national vice president of promotion for Broken Bow Records, the label that Jason Aldean and Craig Morgan are signed to, said the smaller artist rosters at an independent allows the staff to focus more on individual projects, rather than just throwing lots of acts against a wall to see which ones stick. "I remember at Warner Brothers having to release singles — things that weren't ready — for the simple fact that we needed to hit our quarterly numbers," Loba said.

As Scott Robinson, himself a layoff victim and co-founder of Dualtone Records, the home label of singer Chely Wright and others, puts it, "The majors are great at delivering hits; indies are great at developing hits."

Jack Ingram, a longtime favorite among Nashville crowds who struggled to attain much commercial success — until recently. Ingram, who has been signed to labels affiliated with MCA (now part of Universal Music Group) and Sony, was the first artist signed by Scott Borchetta's
Big Machine Records, which launched last August in partnership with country star Toby Keith. In the first six months of 2006 alone, Ingram scored the first No. 1 single of his career with "Wherever You Are" and secured touring spots with Sheryl Crow and the duo Brooks & Dunn.

"At Universal I was over three labels and a person like Jack Ingram was just not on my radar," Borchetta said. "Then I went down to see him in concert — this is somebody that was already playing 150 dates a year — and it was like, 'Oh my God. This has been right under my nose all along and I didn't even know it."



Art of Nash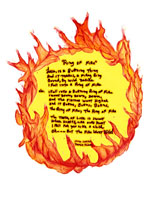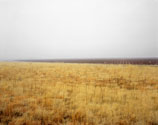 "Songwriting has always been one of the most effective ways I communicate. There've been plenty of times when I've been asked about my songs and someone will say, "How did you write that?" And quite honestly, I never really have any idea. All I know is that songs are the most powerful tools imaginable and they serve to bring us all to a place where we can experience shared memories and emotions," says Graham Nash.

According to the legendary songwriter, Nash, Manuscript Originals was established to celebrate the work of great songwriters throughout the world and to honor classic songs that continue to endure throughout time. Among the collection available for purchase, is Ring Of Fire, co-written
by Merle Kilgore and June Carter, which was recorded by Johnny Cash for Columbia Records in 1963. It was # 1 on Billboard's Country Singles for seven weeks and spent 10 weeks on Billboard's Hot 100, peaking at #17 and earning a Gold Record. "Ring of Fire" went on to win a CMR Award for Best Song of the Year and received a Grammy® nomination for Best Country Western Recording. Merle Kilgore wasInducted into the Nashville Songwriters Hall of Fame in 1998. This piece was authentically handwritten, illustrated and pencil signed by Merle Kilgore.
Manuscript Originals available through his web site http://www.grahamnash.com
Also enjoy Nash photography and music here http://www.nasheditions.com/ - click on Photography.

Farewell To A Pink Floyd
January 6, 1946 -- July 7, 2006


Syd Barrett (AP Photo)


Syd Barrett, Pink Floyd cofounder who spent his last years in reclusive anonymity died at 60 in July. Barrett had suffered from diabetes for years.
The surviving members of Pink Floyd - David Gilmour, Nick Mason, Roger Waters and Richard Wright - said they were "very upset and sad to learn of Syd Barrett's death."
Barrett co-founded Pink Floyd in 1965 with Waters, Mason and Wright, and wrote many of the band's early songs. The group's jazz-infused rock and drug-laced, multimedia "happenings" made them darlings of the London psychedelic scene. The 1967 album "The Piper at the Gates of Dawn" -largely written by Barrett, who also played guitar - was a commercial and critical hit.
But Barrett suffered from mental instability, exacerbated by his use of LSD. His behavior grew increasingly erratic, and he left the group in 1968 - five years before the release of Pink Floyd's most popular album, "Dark Side of the Moon" - to be replaced by Gilmour.
Barrett released two solo albums - "The Madcap Laughs" and "Barrett" - but soon withdrew from the music business altogether. An album of previously unreleased material, "Opel," was issued in 1988.
He reverted to his real name, Roger Barrett, and spent much of the rest of his life living quietly in his hometown of Cambridge, England. Moving into his mother's suburban house, he passed the time painting and tending the garden. His former bandmates made sure Barrett continued to receive royalties from his work with Pink Floyd.
He was a familiar figure to neighbors, often seen cycling or walking to the corner store, but rarely spoke to the fans and journalists who sought him out over the years.
Despite his brief career, Barrett's fragile, wistful songs influenced many musicians, from David Bowie -who covered the Barrett track "See Emily Play" -to the other members of Pink Floyd, who recorded the album "Wish You Were Here" as a tribute to their troubled bandmate.
It contained the song "Shine On You Crazy Diamond" - "Remember when you were young, you shone like the sun." The band also dwelt on themes of mental illness on the albums "Dark Side of the Moon" and "The Wall."
His impact on my thinking was enormous. A major regret is that I never got to know him. A diamond indeed." - David Bowie
The band spokeswoman said a small, private funeral was held.

After silence, that which comes nearest to expressing the inexpressible is music
--Aldous Huxley
Enjoy A Picture Perfect Summer
Schafphoto.com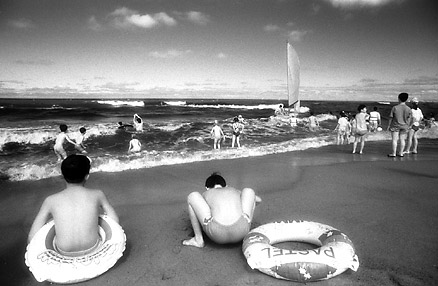 Kids in LifeSavers in Korea
To Life Savers...we know a few. Until, next month...Stay cool and connected. Peace.