Eric Gorfain
musician l string arranger l producer






The Section
History:  Los Angeles-based musician Eric Gorfain played violin at the age of four. His string quartet, The Section, featuring Eric Gorfain and Daphne Chen on violins, Leah Katz on viola and Richard Dodd on cello, is first-call by such producers as Linda Perry and Jon Brion.

Gorfain has performed with such notable artists as Eric Clapton, Sinead O'Connor, Maria McKee, Dwight Yoakam, Faith Hill and Rod Stewart. In 1996, Gorfain toured with Robert Plant and Jimmy Page on their Unledded Tour of Japan. Perhaps most well-known is TS's contribution to Christina Aguilera's worldwide smash hit, Beautiful, written and produced by Linda Perry.

The Section also accompanied the pop princess while she performed her hit single "Beautiful" on Saturday Night Live. The quartet also accompanied chart-topping singer, pensive pianist Fiona Apple.

Gorfain's arranging credits include A Perfect Circle, Grant-Lee Phillips, Kelly Clarkson, Sierra Swan, Something For Kate, Finch, Buffalo Tom, Tesla and Mandy Moore, while Chen has arranged for Kurt Karr, Alejandro Escovedo and Tenacious D.

A graduate of UCLA, Eric began his professional career as a violinist in Tokyo.  Continuing to meld the rock and roll attitude with classical strings, Gorfain has written string arrangements for Mandy Moore and Buffalo Tom as well as other string quartet tributes released on Vitamin Records, including tributes to Led Zeppelin, U2, and Bjork.

Falling into the producers chair with his discovery of the Japanese rock band, Charcoal (VAP Records, Japan), Eric Gorfain has been building a career in production in both LA and Tokyo.  In addition to Charcoal's first four releases, Eric has produced/co-produced pop artist Tomo Suzuki (Sony Japan) and classical countertenor Slava (Polydor Japan), in addition to writing, producing and recording a number of songs for "Yoake no Mariko," a Playstation 2 video game, and "Iron Soldier Mikazuki," a new science-fiction TV show for the Fuji TV network. He completed five tracks for a string quartet tribute to the band Tool (September '01 release) and Led Zepplin release in 2002.

The quartet continues to record its original arrangements of rock music's most challenging songwriters, such as Radiohead, Tool, Led Zeppelin, Kiss. Pink Floyd and Jeff Buckley.The Section's Tribute to Radiohead, Strung Out on OK Computer was released on Vitamin Records (VIT-8621) in 2001. Textured soundscapes, eerie futurism, angst and alienation comprise the rock masterpiece and most critically acclaimed album of the 90s. These elements have been captured in remarkable and haunting string arrangements of the songs of OK Computer. The String Quartet Tribute to Radiohead features a complete reworking of the album OK Computer in rich classical style. Featuring performances by The Section, the album was arranged and produced by Eric Gorfain, who also plays violin on the tribute. Experience this experimental and surreal concept as if in a dream- the distopia that is OK Computer- the struggle of man and machine. Available in record stores, online, or by mail order at CMH, P. O. Box 39439, Los Angeles, CA, 90039-0439.

In early March of 2003.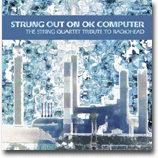 Current Credits: 

The Section recently joined Brion in the studio as he produced Kanye West. The Section Quartet's credits include A Perfect Circle (P: Billy Howerdel and Maynard), "I Huckabees" soundtrack (C/P: Jon Brion), James Blunt (P: Tom Rothrock), Eliot Morris and Kate Earl (P: Tony Berg), "SAW" soundtrack (C/P: Charlie Clouser), Sierra Swan (P: Linda Perry & Bill Bottrell), Wes Borland (P: Danny Lohner & Wes Borland), Rick Springfield (P: Rick Springfield) and newcomers Men Women & Children (P: Raine Maida).

In June of 2006, The Section Quartet signed a record deal with Decca Records, a Universal Classics record label, and will begin work on their debut album in the next few months.
"One important and unique part of our deal allows us to perform recording session work, string arranging and live collaborations as usual, so we look forward to continuing our professional relationships with those of you with whom we work," says Gorfain

.


The signing comes just weeks after their second appearance on the main stage at the 2006 Coachella Music and Arts Festival, in Indio, CA. Their first appearance was in 2004.

The quartet, who include leader/violinist Eric Gorfain, violinist Daphne Chen, violist Leah Katz and cellist Richard Dodd, are most known for their string adaptations of songs by Led Zeppelin, Radiohead, Tool, The Clash, Green Day, KISS, Ima Robot, Muse and dozens of others. In 2004, TSQ independently released NO ELECTRICITY REQUIRED to rave reviews.

The quartet has toured the US and the UK opening for such artists as Linda Perry, Grant Lee Phillips and Sam Phillips. In 2005, the quartet enjoyed the praises of sell-out audiences at their own headlining shows throughout the US and Europe, culminating recently with their appearance at the Coachella Festival, just last April.

They have followed up that performance with the independent online release of LIZARDS LIKE US, available at the iTunes Music Store and coming soon to other online music stores.




Contact:

studioexpresso
www.quietstreet.com                                                     

copyright 2001 studioexpresso