The Entire Woodstock Hendrix Performance
First Release in 36 years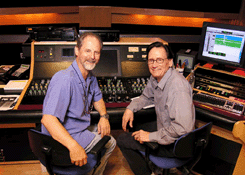 l-r: Eddie Kramer Masters and mastering engineer Bernie Grundman

Eddie Kramer recently mastered the 5.1 soundtrack for Jimi Hendrix: Live At Woodstock (The Deluxe Edition) in the surround sound suite at Bernie Grundman Mastering. The two-disc DVD chronicles every song played by Hendrix in his landmark performance which closed the Woodstock Festival on August 18, 1969. Kramer, who was Hendrix's original studio engineer was on hand at Woodstock, and soon thereafter, helped conceive and, subsequently, ran Electric Lady Studios in NYC.

The new DVD includes never before seen footage captured by a college student who was experimenting with the new open-reel video format, resulting in 80 minutes of performance. The original theatrical version of Woodstock included only 10 minutes of Hendrix's concert. The new collection also includes a documentary featuring Hendrix performance footage and interviews, a press conference filmed two weeks after Woodstock, and co-producer Kramer's detailed recollection of the recording of the entire epic festival.

"At one point, Jimi noticed a cameraman perched precariously high up on the speaker scaffolding and looked directly into the camera for his performance," remarks Kramer. "In sum, it's a riveting record of one of the most historical rock performances of all time."

Jimi Hendrix: Live At Woodstock (The Deluxe Edition) will be released this coming September 13th by Experience Hendrix through Universal Music Enterprises.
Nashville Meets Las Vegas At Blackbird
Blackbird Open House Features Finest Gear in North America Distributed By Las Vegas Pro Audio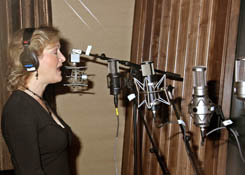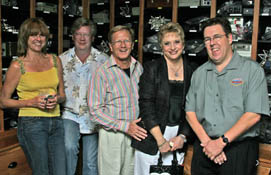 l-r: Nashville's Carolyn Martin sang through a variety of microphones at Blackbird Studio's two-day TransAudio Group/LasVegasProAudio Open House. Mics shown include the new Brauner Phantom AE, a Soundelux U99, Brauner VM1-KHE and a Soundelux E49. The happy folks in Blackbird mic closet include Deb Daking, Geoff Daking, Bob Heil, Sarah Heil and Brad Lunde. Yup, you'd be smiling too if you were inside John McBride's famed mic closet!

Blackbird Studio's John McBride opened his famous Nashville studio for a two-day event showcasing Brad Lunde's burgeoning product lines for both LasVegasProAudio and TransAudio Group. Why did Blackbird host such event? Because owner/engineer John McBride's is dedicated to having the finest recording gear in North America in his studio and TransAudio Group distributes much of it.
On Friday July 29th and Saturday, July 30th, the who's who of Nashville's elite recording studios, independent engineers and record label executives were treated to a first time bash at John and Martina McBride's Blackbird Studios in Berry Hill, Tennessee.
On Friday night, cocktails and hors d'oeuvres were elegantly severed in both famed Studios A&B and the recently completed studios C&D in the rear section of the block-long facility. On Saturday, the staff at Blackbird switched the décor to red-checkered tablecloths for Nashville's famous, down-home "Jack's BBQ" lunch replete with mama's sweet ice tea. Visitors enjoyed Blackbird's incredible ambience and experienced the live performance of some of the world's top quality pro audio gear.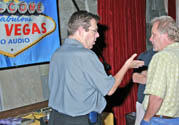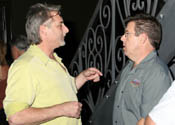 l-r: Brad Lunde, president of TransAudio Group/LasVegasProAudio gives noted producer/engineer/mixer Gary Paczosa the rundown on his distributed brands
As a special sneak preview, guests were able to admire the almost completed, much talked about, new George Massenburg recording studio at Blackbird. If you were not among the three hundred or so guests, you'll just have to wait a bit longer to see what the Massenburg studio buzz is all about.
On both days, one of Nashville's top vocalist, Carolyn Martin, and guitarist Andre Reiss performed in the Studio C recording booth, allowing all to evaluate various microphones and mixing selections. "Our hats are off to Carolyn Martin, not only for her incredible vocal style, but for her really incredible patience with studio engineers who asked her to sing the same song, over and over, through umpteen different mics - but hey! Is there a better way to showcase microphones!" says Lunde.
TransAudio staff members Richard Bowman and Todd Peterson were on hand to discuss the problem-solving capabilities and performance properties of their product lines. A wide array of manufacturers were also on hand to answer questions and show off their wares. These included Peter Montessi (A-Designs ), Geoff Daking (Geoffrey Daking & Co), Bob Heil (Heil Sound Proline Microphones), Ben Lily (ATC Loudspeakers), and George Massenburg (George Massenburg Labs ).
Products represented at the event include A Designs (USA), ADT Toolkit (Germany), ATC (UK), Brauner microphones (Germany), Drawmer (UK), Enhanced Audio (Ireland), Heil Sound Mics (USA), GML (USA), PAULY Superscreens(Germany), SABRA SOM (Brazil), Soundelux (USA), SoundField Microphones(UK), Weiss Engineering (Switzerland) and Z Systems (USA).

For more info, please email Brad Lunde at LVPA or Phone (702) 307-2700 or (702) 365-5155 or Fax (702) 314-2764
Gift Of Music
Henry Mancini Institute Music Festival July 22-Aug 12 at UCLA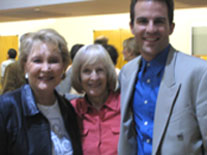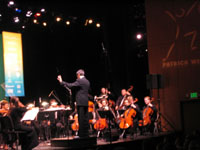 l-r: Mrs Ginny Mancini, friend and composer Justin Freer; Vince Mendoza conducting

In its ninth season and under the helm of artististic director, Patrick Williams, The Henri Mancini Institute featured Hollywood's top composers' works during a week-long music festival -- David Newsman, James Newton Howard, Alan Silvestri and Justin Freer, to name a few.
Guest musicians included Alex Acuna, Dave Grusin, Peter Erskine, Christian McBride, Tom Scott, John Pena. Bobby McFerrin received the prestigious Hank Award, presented by Quincy Jones. He performed on August 13th at Royce Hall. The concert was directed by Patrick Williams featuring Shelly Berg and Abe Laboriel, Sr.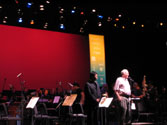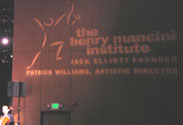 The HMI currently boasts over 475 Summer Education Program alumni -from 41 states and 27 countries. HMI's Professional Alumni Ensembles are hired regularly throughout the U.S. as part of HMI's continuing network of support for these musicians. Past appearances have included the Walt Disney Concert Hall and the Hollywood Bowl performing with artists such as Diana Krall, Dianne Reeves, Shirley Horn, and Monica Mancini.
The Young And The Restless At Studio City Sound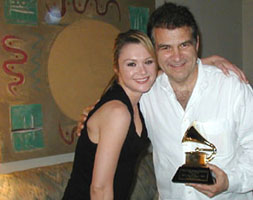 Tom Weir is holding his GRAMMY AWARD, with singer/songwriter Lauren Woodland who is also a lead actress on
"The Young and The Restless".
Studio City Sound's Tom Weir is holding his GRAMMY AWARD, with singer/songwriter Lauren Woodland who is also a lead actress on "The Young and The Restless".
Tom received this Grammy Award for mixing the "Toots and The Maytals Album" - "True Love," which received the Best REggae Album of The Year Award.
AES Spotlights
Introducing Mics distributed by LVPA at AES, NYC (booths 850, 851, 859)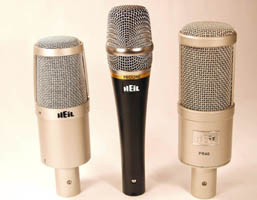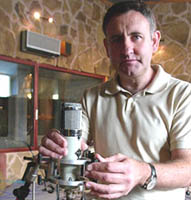 l-r: Heil, Coldplay's producer and engineer Ken Nelson with The Enhanced Audio M600


The Heil Proline Microphones From LVPA
The series consists of the PR-20 handheld mic, the PR-30 internally shock-mounted mic and the PR-40 wide bandwidth mic.
Building on Bob Heil's extensive history as a product innovator, the Heil Proline mics all feature large diaphragm dynamics and neodymium magnets. Expect incredible deep bass response, ultra smooth mid-range and an extended, but gentle, top end. These properties make the mics appropriate for a wider variety of applications than typical dynamics, including recording, live sound lead vocal and voiceover for broadcast. Joe Walsh, of the Eagles and James Gang fame, was one the prime beta tester for the Proline mics.
The PR-40 incorporates the Heil DM 6 large dynamic element, offering a flat response from 28Hz to 18kHz with an engineered midrange rise for enhanced vocal articulation. The Heil PR-40 features a unique copper-wound voice coil and neodymium magnet structure that creates a magnetic field ten times stronger than the traditional microphone magnets. This coupled with a low mass quilted aluminum diaphragm, produces tremendous low-frequency response with very low distortion. Previewed at the NAB 2005, Bob Heil's innovative PR-40 was honored with trade magazine Radio World's "Cool Stuff" award. The PR-40 offers the widest bandwidth of all the Heil Proline mics and ships with an all-metal stand adaptor, a wooden storage box and Heil cleaning cloth - a package suitable for microphones costing many thousands of dollars. It comes is a cherry wood box with the Heil exclusive Teflon-lined, all metal mic clip.

The product is now available.
MSRP for the PR-40 is $325.00 USD.
An optional shock mount, the SM2, will be available for MSRP $94.00 USD.
Similar in appearance to the PR-40 is the Heil Sound PR-30, the internally shock-mounted version of the Heil end fire large diaphragm dynamic mic. This microphone is designed primarily for broadcast voiceover, and has an innovative sorbothane shock mount system to prevent low-frequency thumps or bumps from traveling mechanically up the stand or boom arm. That makes it an ideal live sound stand mounted mic. The PR-30 also produces a wide frequency response, excellent transient response and low intermodulation distortion (IMD), through the use of a special magnet structure and a large (1 1/8-inch), low mass, aluminum voice coil assembly. A special phasing plug assembly ensures a very linear cardioid pattern and reduces the proximity effect while achieving extreme articulation across the 40Hz - 18kHz frequency response. The PR-30 ships with an Heil-exclusive Teflon-lined, all-metal stand mount.

The product is now available.
MSRP for the PR-30 is $289.00 USD.
An optional shock mount, the SM2, is available for a MSRP of $94.00 USD.
Following a 20-year Heil Sound tradition, the new PR-20 was engineered for natural speech articulation without the need for heavy electronic equalization. With a similar wide frequency response, excellent transient response and low IMD, as the other models in the line, the PR-20 also incorporates a special phasing plug assembly that ensures a very linear cardioid pattern and controlled proximity effect while achieving extreme articulation across its 40Hz - 18kHz range. The superior low handling noise of the rugged PR-20 is achieved by mounting the very wide frequency response dynamic element into a special sorbothane shock mount system. The low handling noise and exceptional lack of bass-boosting proximity effect make the PR-20 ideal for professional live sound applications.
The PR-20 will ship with metal mic clip.
The MSRP for the PR-20 is $160.00 USD.
M600 Universal Microphone Mount Available Through LVPA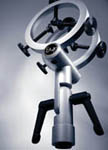 The Enhanced Audio M600 is increasing its high profile user base. Coldplay's producer and engineer Ken Nelson, who has also worked with Gomez, Badly Drawn Boy and Kings of Convenience, has recently purchased four M600s. The legendary Air Studios, Lyndhurst Hall, London has recently purchased three M600s and David Gilmour's Astoria studio has purchased ten Enhanced Audio M600s.
Manufactured in Dublin, Ireland. The unique design of the revolutionary M600 offers increased musical headroom and greater dynamic transient capability through the reduction of low-level mechanical noise and increase in low-level information. And that in essence provides an enhanced reproduction of the overall performance.
M600 has been designed to interface and complement a broad range of currently available microphones up to 65mm (2.56inches) in diameter and fits standard 5/8-27 American Unified thread microphone stands and, with the use of an insert, will fit 3/8-16 B.S.W. thread stands.
The Enhanced Audio M600 is made up of two concentric, low-resonance aluminum rings. Three equally spaced, adjustable mounting screws hold the microphone centrally inside each ring. Each screw is tipped with a techno polymer plastic (Delrin) thrust pad to prevent the screws' rotational force from being transmitted to the mic, while also protecting it from external structural and ground-borne vibrations. The low resonant frequency of the M600 significantly reduces the transmission of infrasonic vibrations - such as traffic, heavy machinery and seismic energy. This results in an audibly tighter and extended bass response, cleaner treble and improved detail.
Producer Ken Nelson's testimonial and other high profile user testimonials can be viewed at the Enhanced Audio website www.enhancedaudio.ie and also at the Las Vegas Pro Audio website
The product is now available.
MSRP: $325
Introducing Soundfield's New ST350 Portable Surround Mic

The lightweight multi-capsule microphone featured compact mic-pre/control unit that generates surround and stereo simultaneously at balanced line levels. ST350 can be used in conjunction with the SoundField Surround Zone software to offer a complete recording and post-production package. Surround Zone is now available on the Digidesign Pro Tools, Steinberg Nuendo and SADiE platforms.
Brad Lunde, president of LasVegasProAudio comments, "We have listened to the market requests for a more compact and portable SoundField system. The new ST350 is less than half the size and weight of the other competitive microphones."

The product is now available.
MSRP: $5,900
Drawmer's New Three-SUM

LVPA is also introducing the Drawmer Three-Sum Multi-Band Split & Sum Device at AES 2005, NYC (booth #850). It's a 1U device that enables individual processing of up to three bands prior to re-summing. The stereo signal is split into two or three frequency adjustable bands, which can be sent to external processors before returning to the Three-Sum where they are re-combined.
The Three-Sum employs a high-quality signal path culminating in a variable threshold, brick wall limiter section with bypass facility. To ensure transparency the limiter design is 'two stage,' applying different processing to the H.F. content of the material. In applications where the dynamics of the material need to be retained to create an open sound, the limiter is essential for catching peaks.
The Three-Sum has been designed for use in high-end mastering and general recording applications. Alternatively, it can transform a project studio, equipped only with 'single band' processors, into a serious multi-band facility. Each of the three bands has bypass and mute switches to allow independent band and effect monitoring.
Commented Brad Lunde, president TransAudio Group, "The benefits of multi-band processing have been apparent to sound engineers for quite some time, however, 'locking in' your audio to just one specific multi-band unit can restrict your options. Low-frequency energy, the vocal midrange and high-frequency detail can benefit from different types of processing. The Three-Sum allows the engineer to apply his favored outboard to any particular 'slab' of the audio bandwidth."
The product is now available.
MSRP: $1,295
Heil Proline (booth 851) and M600 Mic Mounts (booth 859), ST350 Portable Surround Mic, Drawmer Three-SUM (850) are available for review and are now shipping. Please stop by and visit Brad Lunde at AES, NYC or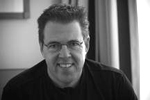 call at LVPA (702) 307-2700 or (702) 365-5155 or Fax (702) 314-2764
Las Vegas Pro Audio is the direct sales division of TransAudio Group. It was created to serve as a conduit between extremely busy pro audio professionals and boutique high-end equipment manufacturers. TransAudio Group, founded by industry veteran Brad Lunde, has quickly become the premier US importer/distributor for high-end audio. visit the web sites at: www.lasvegasproaudio.com
TransAudio Group's product lines include A-Designs (USA) AEA ribbon microphones (USA), ADT Toolkit, AEA, ATC Loudspeakers (UK), Brauner microphones(Germany), Drawmer (UK), Geoffrey Daking & Co. (USA), George Massenburg Labs (GML) (USA), Heil Sound (USA); Mercury Audio (USA) Mission Audio (UK) Phoenix Audio (UK), PAULY Superscreens, SABRA SOM, Soundelux (USA), SoundField Microphones (UK), Z-Systems (USA) and Weiss Engineering.
The Good Charamel



Goo Goo Dolls' Robby Takac signed 3 bands via his Good Charamel Records. Takac also produced the albums for Last Conserative, Klear and The Juliet Dagger. to contact Robby contact Brian Gross 818-343-3673



Avatar Hosts Monheit, Fagen and Phair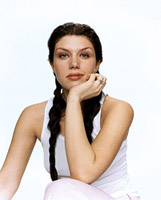 Epic Records' Jane Monheit recording a Christmas record at Avatar Studios in New York, with producer/engineer Al Schmitt. Peter Doris assisted.
Elliot Scheiner has been busy mixing Donald Fagen in studio C (Neve VR), assisted by Brian Montgomery. Producer John Alagia recently in cutting tracks with Liz Phair. Brian Scheuble engineered assisted by Anthony Ruotolo.

Train Training With Berklee Online
Drummer Scott Underwood Composed With Online Courses at Berkleemusic.com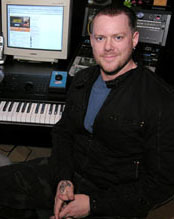 Pictured is Scott Underwood, Train's drummer and composer. Photo by David Goggin.
After completing several Berleemusic.com online courses, Train's drummer Scott Underwood and the band are back in the studio working on their forthcoming album. Since their 1994 formation in San Francisco, the group has grown steadily as a locomotive force in music. The band's Drops of Jupiter earned Platinum status, with the single "Drops Of Jupiter (Tell Me)" spending 53 weeks on the Hot 100 and earning a Grammy® as the Best Rock Song of the year. Train recently appeared on Good Morning America performing "All I Ever Wanted," a sneak peak from their upcoming album.

While touring, drummer/composer Scott Underwood studied online at Berkleemusic.com and incorporated his new skills into the interactive Internet mode of Train's collaborative composition style. With pre-production complete, the band entered the studio on July 29 to record their new album. In addition, Underwood teamed up with Train's bass player Charles Colin (a Berklee grad) to form the experimental two-man group called Foodpill. They recently released their provocative debut album Elixer.

"When I found out about the Berkleemusic online classes," Underwood explains, "I thought it would be ideal because Train was touring all of the time. So, I was able to get online in the hotel rooms, and I had my little MIDI keyboard controller and I started out studying Pro Tools. I already had a pretty good grip on the program, but decided to start at level one and right off the bat, I learned a whole bunch of short cuts. If you have a little background, it really accelerates and enhances the learning experience."

Studying online allowed Underwood to create new demos while still touring, which were augmented by his online courses in piano technique and music theory. "It was great because the classes really stimulated my creative juices," he continues. "I would drift off after the lesson, find myself falling in love with a certain melody and the next thing I knew I had a song forming. Then I could pull up the Pro Tools and start laying things down. It really pumped up my abilities."

Enrollment for the fall semester at Berkleemusic.com Ends September 15.
Courses begin on September 19.

To learn more about interactive online courses, visit: http://www.berkleemusic.com
Student advisors are available at 866.BERKLEE (866.237.5533) to answer any questions.
Berkleemusic.com is Berklee's online music school, delivering online access to world-renowned music faculty, educational concepts, and time-tested curriculum, previously available only to on-campus students.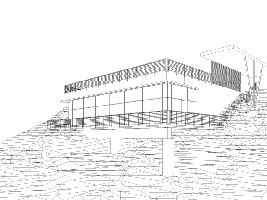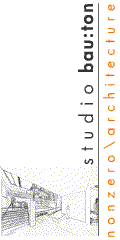 Walden Studio Plans

nonzero\architecture and studio bau:ton's expertise with audiovisual facilities and its fresh approach to architectural challenges are key factors in the successful designs for these complex and multifaceted projects. Previous projects for the film music community include the Fox Newman Stage, studios for Patrick Williams, Dieter Meier, David Newman, and screening rooms for Disney and David Lynch among many others.
For more information please contact: Peter Grueneisen, AIA nonzero\architecture
studio bau:ton, LLC T. (213) 251-9791 F. (213) 251-9795


Real Estate Expresso!
Hot Properties With Recording Studios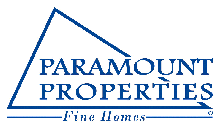 According to Christine Lloyd-Maddocks, Specialist Realtor to the Music Industry, inventory of Homes with Recording Studios are on the rise. "Today's Market offers a healthy mix of homes with recording and media rooms. Over 70 home listings with studios come up each month on Multiple Listing Service (MLS)," says Lloyd-Maddocks. "When you speak to the average agent, they often don't always understand the difference between a studio vs an office. Does the room come with a designer or acoustician attached, what are the studio's special features --booth, ceiling height, acoustics, etc. Christine is sensitive to our community's needs and lingo," says studioexpresso's Claris Sayadian-Dodge. As more and more musicians are choosing real estate as investment strategy, each month we'll discuss trends and resources that might be helpful to buyers and sellers. So, got a home with studio for sale or looking for that special home with a studio click on the links below which will lead you to Lloyd-Maddocks web site and she will do the rest of the work for you.
Each month we'll list two homes that are good value finds. For more info: please contact Christine Lloyd-Maddocks, Specialist Realtor to the Music IndustryFeaturing Homes with Recording Studios

Home Studio in Woodland Hills
Reduced this week to $799,900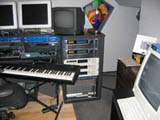 Woodsy-cabin...wow" inside spacious contemporary 3+2.5 w/too many features to list
Totally remodeled (limestone and wood flooring, open beam ceiling, shutters, skylight) open floor plan great for entertaining or just staying at home fab kithchen,



sumptuous private master suite with sun deck project/composer studio w/vocal booth is perfect for musician 2,452 gorgeous sq feet of woodland hills living private relaxing ack yard low maintenance-pool mature landscaping close to Blvd.






sorry, the cat or the gear is not included!


Contemporary Home Studio in Sherman Oaks
Reduced to $1,790,000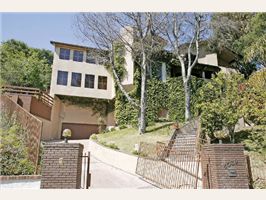 Gated home 4+5 with great westside access from this spacious entertainers home w/pool and spa and views! Grand living room w/soraing ceilings, chef's kitchen w/hrdwd floors and breakfast room opens to a large family Room.




Separate & private recording studio w/2 rooms, full bath. Indoor basketball ct. Call to see this stunning home that doubles as studio.

ATC At London's New A-List Club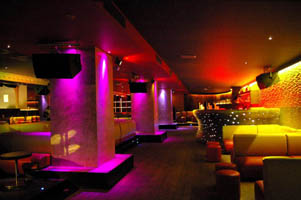 Chinawhite co-founders, Fred Moss and Marc Merran, have joined forces with Samy Sass of Monaco's Sass Café fame, to launch London's most significant and exquisite nightlife venue, MO*VIDA.
Built on the site of the former Break for the Border Tex-Mex restaurant - in the vaults of the famous London Palladium Theatre, this luxurious £2m conversion of the 400-capacity venue is poised to reinvigorate London's elite nightlife.
For sound reinforcement, Fred Moss has again returned to the high-fidelity of ATC's studio reference loudspeakers, which he had earlier specified for his award-winning venues, Chinawhite and Aura. These have been worked into the raw brick arches of an interior scheme conceived by French designer, Samy Chams of Prospect Design, whose portfolio includes the VIP Room in St.
Tropez and Baoli in Cannes. As well as restoring the basement venue's original features, Chams has created a timeless and elegant atmosphere designed to create a South of France atmosphere.
Installed by Nick Whittaker, of Whittaker Electronics, no fewer than 17 of ATC's PA65 active three-way enclosures have been flown in the main room, with 20 single 15-inch active subs built into the furniture - a formula which has already found considerable success at Chinawhite.
In the VIP/Champagne Room at the rear, with its cozy alcove beds, an additional three PA65s are complemented by a pair of active single 12-inch custom horn-loaded subs (which are concealed under these cubicles).
The ATC active approach favors a different principle to conventional PA. The mid-highs incorporate a three-channel Class A/B amplifier (producing 200W bass, 100W mid, 50W HF), with active momentary gain on all channels. Drivers consist of a 15-inch SL bass, three-inch soft-dome mid and a one-inch fabric dome tweeter, producing a maximum SPL of 116dB with a dispersion pattern of ±80 degree horizontal (coherent) and ±10 degree vertical.
States Fred Moss, "We have now standardized on ATC. We had a hybrid system installed at Chinawhite, which didn't sound very good, and we had to have an engineer in nearly every week.
"I needed something more reliable. From the days when I ran a record label, a couple of studios in which I would do my mastering ran ATC reference monitors. I was impressed with them. So initially I got the idea of putting a special system based on ATCs into AURA, although at MO*VIDA we have reverted to the system used at Chinawhite and where possible built the subs into the fittings.
MO*VIDA's capacity includes a 75 person lounge, plus a 50 capacity VIP room.
The restaurant seats up to 70 guests who can dine in European style and enjoy a pre-club culinary experience of Italian, French or English cuisine.
ATC's drivers are manufactured in-house to exacting tolerances and are legendary for their many design innovations, such as the innovative SL magnet system and the company's renowned Soft Dome midrange driver, which achieves exceptionally broad and even dispersion to produce a flat response anywhere in the room. Situated in Aston Down in rural Gloucestershire, England, ATC was established in London in 1974 by acoustics engineer and musician Bill Woodman.
ATC is distributed in the US by www.transaudiogroup.com


For more info on ATC monitors, please email Brad Lunde, at Las Vegas Pro Audio/Trans Audio Group or Phone (702) 307-2700 or (702) 365-5155 or Fax (702) 314-2764
Back to School
Berkleemusic And UCLA Online Collaboration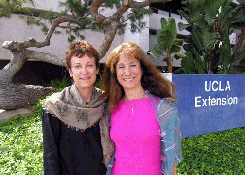 L-R: UCLA Extension's Jane Kagon and Pascale Halm. Photo by David Goggin.
Berkleemusic, the online extension school of Boston's renowned Berklee College of Music, has partnered with UCLA (University of California, Los Angeles) Extension's Department of Entertainment Studies as the newest member of its online Partnership Learning Program.

UCLA will be offering five of Berkleemusic's courses: Desktop Music Production for PC, Sound Design for the Electronic Musician, Producing Music with Reason, Sampling and Audio Production, and Producing Music with Digital Performer.

"With globalization and the digital revolution, the key to success for educational institutions and students alike, are collaborations such as the one with the Berklee College of Music and UCLA Extension. It is critically important to form these high level alliances in order to effectively support the next generation of artists and entertainment industry professionals" explained Jane Kagon, Director of the Department of Entertainment Studies & Performing Arts. Pascale Halm, Program Director, Department of Entertainment Studies, added, "We are thrilled to work with Berkleemusic because they have developed courses that are technologically very strong and ones which really supplement the curriculum we offer to the students. It gives them access to technology and subject matter that is absolutely state-of-the-art."

Enrollment for the fall semester at Berkleemusic.com ends September 15. Courses begin on September 19. To learn more about interactive online courses, visit: http://www.berkleemusic.com
Student advisors are available at 866.BERKLEE (866.237.5533) to answer any questions.

Rich Sounding Masters
studioexpresso's Lenise Bent and Matt Forger Among KPFK's Guests
For The Recod w/ Sam Brown Sunday, August 28, 2005/10 to 11PM





l-r: Bent, Forger, Brown
It is a fact of life that any artist thinking of a career in the recording industry, has to be able (in the very least) to put together a 3-5 song "demo" of their work. In point of fact, demo is now a misnomer, "master" is more the reality. As the saying goes, "you never get a second chance to make a first impression." Mastering and recording engineers will offer advice and tips on how to make a demo/master inexpensively -- but have it sound like you spent the big studio bucks making it.
About The Guests:
Matt Forger mixer/engineer (Michael Jackson: Thriller, Bad, Dangerous)
Lenise Bent, mixer/engineer (Steely Dan, Fleetwood Mac, Blondie, The Knack)
Nacny Matter, mastering engineer (Ray Charles, Peter Gabriel, Duran Duran, Slash)



Art, Religion, Music and Architecture
Dream Works On The Market
In an era when the business is controlled by fewer major studios (six when we wrote the article) and more than a decade after its launch, the Hollywood powerhouse, Dreamworks, founded by Jeffrey Katzenberg, Steven Spielberg and David Geffen is valued for an estimated $1billion or more.
NBC Universal, owner of the fifth- biggest Hollywood studio, may buy DreamWorks SKG, first reported by the New York Post.
Talks between NBC Universal and DreamWorks are in early stages. NBC Universal, which distributes DreamWorks' films, would gain a library of about 60 movies including ``Saving Private Ryan.'' Acquiring DreamWorks would give Universal the opportunity to expand its profitable DVD operation.The sale would also return capital to investors, including billionaire Paul Allen (one of its biggest shareholders).
Meanwhile, potential acquirer Univesal - together with Viacom Inc.'s Paramount Pictures - is discussing a possible breakup of United International Pictures, the overseas movie distribution apparatus they jointly own.
The sale would end DreamWorks' attempt to compete with the biggest studios such as Time Warner Inc. and Walt Disney Co. DreamWorks, which started in 1994 as a studio for film, music, television and animation, agreed in 2003 to sell its music unit and last year sold shares in its animated film business. The animation studio, maker of ``Shrek'' and ``Madagascar,'' is a public company run by Katzenberg.
A sharp decline in movie attendance this year stung by disappointing box-office results are cited. Messrs. Spielberg and Geffen have at times appeared less involved in Dreamworks than initially planned.
``DreamWorks doesn't have the capital resources to become a big player in the entertainment world, so the only option is to be bought out,'' said Harold Vogel, a New York-based analyst with Vogel Capital and the author of ``Entertainment Industry Economics.''
DreamWorks spokesman Brian Edwards said yesterday the company doesn't comment on such matters. Universal spokeswoman Susan Fleishman declined to comment.
DreamWorks Animation shares added 82 cents to $23.80 at 9:32 a.m. today in New York Stock Exchange composite trading.

Touted early on for its creative talent, the company was formed in October 1994 after Katzenberg left Disney when he was passed over by Michael Eisner for president. Spielberg, who directed films such as ``Schindler's List,'' ``Jaws'' and ``E.T.,'' was to help select films for the movie division and Geffen, who managed top acts such as Crosby, Stills, Nash & Young and produced film hits such as ``Interview With the Vampire,'' would run the music business.
DreamWorks SKG created Oscar winning films ``American Beauty,'' ``Gladiator'' and ``A Beautiful Mind.'' The studio, with $275.2 million in US and Canadian box office sales, ranks seventh this year among companies with Hollywood studios. News Corp. ranks first with $1.03 billion.
Louise Setara BiCoastal With Solid State Logic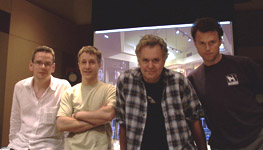 Grammy Award winning engineer Jay Newland, the engineering force behind the Nora Jones multi-platinum albums, recently mixed Louise Setara, a new English artist, on the Solid State Logic C200 Digital Production console at BiCoastal Music in Ossining, NY. For Newland, the console delivered the sterling audio quality that he expected and made his transition easy to an all-digital signal path.
Lucinda Williams Records New Album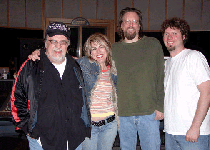 l-r: producer Jim Dickinson, Lucinda Williams, engineer Jeff Powell, and assistant engineer Adam Hill.
Three-time Grammy®-winning rock-folk-country star Lucinda Williams dropped by recently at Memphis' renowned Ardent Studios to sing a duet on "Hurry Up Sunrise" with the Allstars' Luther Dickinson. The song is from Electric Blue Watermelon, the new album by The North Mississippi Allstars. Due in stores on September 6, the ATO Records release was produced by Jim Dickinson and features performances by Williams, Robert Randolph, and the Dirty Dozen Blues Band.


Elton Gets An Ella



The Society of Singers, a Los Angeles-based non-profit that helps professional singers cope with financial, medical, family or other crises (substance abuse rehab, psychotherapy and HIV/AIDS treatment), is celebrating its 20th anniversary with the release of a benefit CD featuring performances by such top singers as Tony Bennett, Celine Dion, Ella Fitzgerald and Frank Sinatra.

The organization was founded in 1984 by Ginny Mancini, singer/wife of late legendary movie composer Henry Mancini, and Gilda Maiken Anderson, lead singer of The Skylarks.


This year pop legend, Elton John will be honored with an Ella Award from Society Of Singers Assoc. Previous Recipients - Frank Sinatra, Tony Martin, Peggy Lee, Steve Lawrence & Eydie Gorme, Lena Horne, Rosemary Clooney, Joe Williams, Tony Bennett, Julie Andrews, Plácido Domingo, Barry Manilow and Celine Dion.
The pop singer is having a busy year indeed with musical Billy Elliot (music by Elton John and Lee Hall) which got launched in May of 2005 at the Victoria Palace Theatre in London's West End. Elton's incredible Red Piano shows at The Colosseum, Caesars Palace, Las Vegas is now under way, and there are further concerts scheduled during October 2004. The show will feature Elton's classic songs and stunning, over-the-top visuals.


Monday October 10, 2005
Beverly Hills, CA
6:30 pm Cocktails; 7:30 PM Dinner/Show
Tix and Sponsorship Oppourtunities avaialable:
Support SOS by buying sheet music from Support SOS -- Buy your music from Sheet Music Plus. A portion of the proceeds from each purchase made will go to SOS in support of its programs
Soundies



Music distribution channels and methods are rapidly evolving in the music business, with the greatest growth opportunities shifting toward partnerships between artists and labels on one hand, and corporate brands and marketers on the other.
Perhaps this is why so few brands have a defined music strategy, and virtually no brand can claim to have tapped and translated the power of music into measurable, long-term brand equity. Led by European marketers, there are signs of change.
Having sponsored concerts and festivals for several years, the Stella Artois brewery, part of Brussels-based Interbrew Group, has recently launched its own music label. Stella Artois Music is signing Belgian acts with international potential, and looks to "dynamize" its own brand and "support the music industry" through a down period. In this context, the music investment is both a brand tool and a public relations strategy.
On a larger scale, pharmaceutical joint venture Lilly ICOS has chosen music as the primary platform to convey marketing and educational messages to middle-aged men concerning its sexual dysfunction treatment Cialis. Now operational in six countries, the first-of-its-kind global music initiative "Music for 2" features live concert events, original music and health-themed websites, and custom CD giveaways.
It is not only marketers who are presenting music in non-traditional ways; music labels and artists are also crafting creative music partnerships. SOUNDIES enjoys long-standing relationships with all five major music labels and a host of independent companies offering the finest music repertoire. We have concluded that after three years of suffering, the global music business is regaining its legs and moving ahead, in part by taking a more creative and collaborative approach to marketing music in conjunction with brand partners.
The Universal Music Group, for example, regularly works with customers to package its artist releases into sponsorable program packages that may include custom discs, enhancements, access to exclusive content, appearances, licensing for media use and other elements. Just-privatized Warner Music Group is also showing its creativity, with the recent launch of a series of Barbie branded discs, CO-branded with Mattel and marketed through partnerships with Scholastic Books, Hallmark and others. In conjunction with Warner, SOUNDIES recently produced a loyalty premium program featuring classic rock repertoire, dovetailing with our client radio station's ongoing direct marketing campaigns. Such initiatives are the tip of an opportunity iceberg for brands with a creative vision for music integration as part of the brand-building process.
With so many choices regarding content and music-based marketing programs, determining which properties to pair with a brand, and how, is a complicated process. SOUNDIES helps its clients through the labyrinth by bringing both brand and music expertise to the equation, opening the door to truly creative programs that leverage the interests of all partners.
As marketers turn to music as an integral and truly strategic element of brand identity, strategy and equity, objective music consultants with brand expertise, strategic vision, access to content, the ability to negotiate complex rights issues, and an established network to leverage and execute are becoming a valued commodity.
A growing need means a growing crowd of recent and self-proclaimed "music experts." But for us at SOUNDIES the consultive approach is not new. In this environment of opportunity for our clients, we pledge to continue the level of service that has made SOUNDIES… the Only Sure Thing In the Music Business.
Kevin Parks, an adjunct professor teaching Music Licensing at The John Marshall Law School, is the founder and president of SOUNDIES, Inc., a Chicago-based music consulting and licensing agency. SOUNDIES serves corporate and agency clients in integrating music into promotional, advertising and brand-building programs. The following article identifies trends in the fast-changing music business, particularly with respect to "commerce and content" partnerships between music labels and corporate marketers. http://www.soundies.com/home/default.asp


TEC Awards Music and Sound Auction
ebay 10/3-16 2005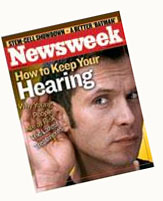 The Mix Foundation for Excellence in Audio will present the Second Annual TEC Awards Music and Sound Auction, scheduled to run on eBay from October 3rd to October 16th, 2005. The online sale will coincide with the 21st Annual Technical Excellence & Creativity Awards, to be held on Saturday, October 8 at the New York Marriott Marquis.
The auction will be managed by H.E.A.R. (Hearing Education and Awareness for Rockers), a nonprofit organization dedicated to informing musicians and the public about the prevention of hearing impairment in the music environment. Proceeds will benefit H.E.A.R.®, as well as the Sound Partners™ campaign of the House Ear Institute in Los Angeles, a hearing conservation program CO-founded by the Mix Foundation in 1997.

As in the first auction of 2004—which raised more than $22,000 for hearing health programs—organizers are encouraging donations of pro audio and music equipment and various other gift items for the 14-day online bidding event. Already-donated items include a Gibson Les Paul guitar signed by Les Paul, a Squire Stratocaster autographed by Pat Benatar, in-ear monitors from Future Sonic and Westone, and an Alternative Tentacles Records CD collection from Jello Biafra. Later this month, as additional items are donated, they will be posted on the auction homepage: www.hearnet.com/auction.html.
To donate musical instruments or pro sound equipment. please contact John Pledger at 415-453-8618, or e-mail jpledger@comcast.net. To donate tour memorabilia, artwork, gift packages or money, contact Kathy Peck at 415-409-3277, or e-mail hear@hearnet.com. Information about TEC Awards tickets or sponsorships can be found by contacting Karen Dunn at 925.939-6149, e-mailing karen@tecawards.org, or following the TEC Awards links on www.mixfoundation.org.
Little Help From Friends


Legendary saxaphonist Michael Brecher is diagnosed with MDS (myelodysplastic syndrome), and it's critical that he has a marrow or blood stem cell transplant. There are some important points to understand concerning this process: 1. The screening involves only a blood test. 2. The cost for the test is generally $40-95 - medical expenses are paid for by the patient or insurance. Go to www.marrow.org or call 1-800-MARROW-2 to find the donor center nearest you. 3. A match for Michael would be most likely come from those of Eastern European Jewish descent.

Brecker, 56, is an internationally renowned jazz musician. As a result of his harmonic innovations, Michael is among the most studied contemporary instrumentalists in music schools throughout the world today. Michael has recorded and performed with a virtual Who's Who of hundreds of jazz and pop giants including Herbie Hancock, James Taylor, Chick Corea, John Lennon, Aerosmith, Paul Simon, Wynton Marsalis, Frank Sinatra, James Brown, Bruce Springsteen and Elton John. As a leader and CO-leader of The Brecker Brothers (with Randy Brecker) and Directions in Music (with Herbie Hancock and Roy Hargrove), Michael has received 11 Grammy Awards-more than any saxophonist. For further information, go to http://www.michaelbrecker.com Brecker's first album for Heads Up has been postponed. "This isn't about selling records, it's about trying to help save a man's life" says Dave Love, President of Heads Up International.
Send your tax deductible donations to the Time is of the Essence Fund https://secure.entango.com/donate/tRVDd4BqJUJ. 100% of all funds received will be exclusively used for the testing of potential donors willing to join the international registry. NOTE: Enter "Time is of the Essence Fund" in the "If Other" box just above the amount to be donated. To make a donation by mail, please send your check to: The Marrow Foundationl; Time is of the Essence Fund
400 Seventh Street, NW, Suite 206 Washington, DC 20004




The Hollywood Cat (THC) Out On The Town...Check'n New Talent





To start...who but The Cats! Jeff Barnett – Trombone, Joel Stoner – Flute, Doug Koeber – Trumpet, Brian Bogle – Tenor Sax, Paul Tavenner – Drums, Jeff Markgraf – Acoustic Bass, David Edelstein - Piano. The hot new jazz band is available for events -- email us to get on Mr. B's list (1333 N. Hollywood Way, just south of Burbank Blvd.) If you like tunes by Miles Davis, Wayne Shorter, Duke Ellington, Charlie Parker, Thelonius Monk, Dizzy Gillespie, and Gershwin, you'll dig The Cats!

Victoria Robertson (THC especially digs her album cover with an espresso!) was nominated "Best New Artist" at 2005 (14th) San Diego Music Awards. She has been working with former Cello engineer Alan Sanderson who has recently started his own recording studio in San Diego, called Strate Sound. Alan has been picking talented artists from the San Diego, producing and engineering their albums. Victoria is one of the artists catching people's attention and gaining popularity by touring internationally for the US troops as Miss USO. Victoria takes her classically trained vocals and combines them with electronic beats, live musicians, and hooky melodies to create a refreshing new sound. Last years SD award's "Best Female Artist" Tristan Prettyman just completed an album with Virgin which seems to be taking off. As you probably know, coffee house crooner Jason Mraz just completed his second album 'Mr A-Z' with producer Steve Lillywhite. "Fono is starting to get some major label interest and another band I've been producing by the name of Transfer is getting a lot of radio play by local radio favorite 91x. Now that 91x is severing it's ties with Clear Channel things are looking even better for music down here," says Sanderson. Switchfoot, and Jewel were previous winners of the "Best New Artist" category at the San Diego Music Awards to be held on September 12th at 7pm at Humphrey's By the Bay. If you like to vote/support SD Awards do it before Aug 31st.
Weeknights in August with James Bond on AMC! Seattle-based musician/arranger Jeff leisawitz of electron productions delivered the swanky spots. Jeff works with singer/songwriters, solo artists, djs and bands to develop, record and/or re-mix their original music and he moonlights with 007 now and then.

Walking In Denver




Pensive Marc & Jen. Bullet hole in windshield. ©2005 Tom Dube

Grammy-winning singer ("Walking in Memphis") Marc Cohn was shot in the head during an attempted carjacking after a concert in Denver but survived with only minor injuries, according to friend/fellow musician Shane Fontayne who was in the tour van with Marc that eve. Cohn had just finished a performance (Aug. 7) at Denver Botanical Gardens when a man fleeing on foot from police tried to commandeer the van Cohn was riding in. "X-ray of his head, where you clearly could see the bullet, about half an inch long imbedded in his head. It had not entered the skull. The bullet had been extracted without the need for surgery. I looked at him and said, "There's your next album cover!" He was able to laugh and he asked if we could stay with him," says Fontayne.
""Do you believe that everything happens for a reason?" Marc asked. "Yes", I replied," adds the shaken musician who has dedicated a page on his site to the accident.
"The man who perpetrated this action was caught. He had apparently been holed up in a nearby hotel with his girlfriend for three days doing crystal meth." Glad to hear you're doing well, Marc & Shane! The man who perpetrated this action was caught. He had apparently been holed up in a nearby hotel with his girlfriend for three days doing crystal meth. Glad to hear you're doing well, Marc & Shane! Read details of that eve posted on Shane Fontayne web site.


Farewell To Father of Moog
May,23 1934 --- Aug 22, 2005

The inventor and pioneer of the modern synthesizer, Robert Moog, passed away last Sunday in his North Carolina home at the age of 71. He died of a glioblastoma multiforme brain tumor.
The sound of a Moog (pronounced Mohgue) synthesizer is unmistakable. Just listen to the increasingly brightening timbres heard on George Harrison's "Here Comes The Sun." It gave The Doors their unique sound, and since then has been used by the likes of the Grateful Dead, Frank Zappa and even modern acts like Dr. Dre, Beck, Phish and Wilco. And that electronic ditty on your cellphone, file-sharing MP3s, the iPod-they are all part of Dr. Moog's legacy. Synthesizers today are chip-size and ubiquitous.

A native of New York City, he earned a bachelor's degree in physics from Queens College, New York, a bachelor's degree in electrical engineering from Columbia University, and a Ph.D. in engineering physics from Cornell University. He received a Grammy Trustees Award for lifetime achievement in 1970.

According to one of his engineers, Bob was once in a noisy restaurant and had pleaded (to no avail) for the waiter to turn down the ghastly synthsized Muzak. Bob was fond of silence.
Moog's family has established The Bob Moog Foundation dedicated to the advancement of electronic music in his memory. Many of his longtime collaborators including musicians, engineers and educators have agreed to sit on its executive board including David Borden, Wendy Carlos, Joel Chadabe, John Eaton, David Mash, and Rick Wakeman. For more information about the foundation, contact Matthew Moog at mattmoog@yahoo.com

The movie: "Moog," directed by Hans Fjellstad is avaialble through Amazon at Carma DVD here
According to an interview with Mr Bonzai, when Mr Moog was asked what music he would like to be played at his funeral, he chose: Music from the movie: Theremin: An Electronic Odyssey with director Steve Martin. We understand he got his wish.

Jobs
Xepa Digital has a job opportunity, opening for an archive engineer or archive engineer trainee in Los Angeles. If you know of anyone qualified and can recommend to Managing Engineer/Partner, Ken Cillat, he would greatly appreciate it. "For the right person, the job would be 40-48 hrs/week and could last 4 years or longer. A technically savey, intelligent, self-motivated person would be a perfect candidate. If they had knowledge of DAW's and Analog tape machines would even be better. If they resembled Angelina Jolie.....priceless," adds Caillat

XepaDigital.LLC (pronounced Zeh-pa) www.xepadigital.com kcaillat@xepadigital.com
724-794-3686 office; 805-312-3042 cell
Drum Lessons/Sessions
Earl Klug is accepting private students and offers the Moeller Method

You've read about him in Modern Drummer Magazine, may even recognize those beats in recordings with Herbie Hancock, Lee Oskar, Andre Crouch, to name a few.
Now, you can call Doug Klug to put some of that pro touch on your next track. "I would like to help artists and producers save money when they think their project will benefit from a pro session player who's familiar with programming and has experience in both live and studio work. It's amazing how easy life becomes when you can read music and play to click track as well as I do. Plus, I have the ability to play in just about any genre of music," says Klug.
Catch Klug's drumming live (Sanatana and Beatles covers) every Tuesday at his club, Jam Jam (On Western 2 blocks North of Beverly Blvd., and Elmwood). For complete references or to book Doug Klug, please call (310) 204-9027.
Love Is In the Air
Happy 10th Anniversary to Steve and Sharon Parr who'll celebrate in Texas Grand style in September -- sorry we're going to miss the party...here's to the next 10 Mr & Mrs!

It's A Girl!


Congrats to Lulo and Delvis for their beautiful daughter Vera Perez. According to her dad, ....She's the "Best Production of the YEAR !!!!!!"

As usual we want to finish with a quote and the image of inspiration...
The Rolling Stones have revealed the entire list of musical acts to include Black Eyed Peas, Beck, Jason Mraz, Alanis Morissette, Pearl Jam, Maroon 5 who will open for them during the 2005 dates of their "A Bigger Bang" World Tour.

"Music is part of a movie, game or web experience. The packaging is no longer relevant, etc. Just the MP3 matters and those are close to free. So the overarching story here might be that, for a brief hundred years (the late 1800's to now-ish) songs and recordings became vastly overvalued and that now they are returning to their long-standing past value of "very little." Even if you buy into iTunes' rosiest projections for future sales, by the end of the decade, if CD sales disappear, total music sales will be one eighth to one tenth what they are today. Recorded music is becoming nearly free under any scenario."
---Eric Godtland, manager of Third Eye Blind
Lefsetz Letters

Still Rolling...It's only Rock and Roll but I like it, I like it, Yes I Do!!!



Charlie Watts, Keith Richards, Mick Jagger, and Ron Wood.
Photo: AP

Until next month, Dance Like Nobody's Looking