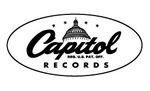 Another publishing exec joins the top ranks of EMI's record division wtih Dan McCarroll's appointment as President of the Capitol & Virgin Label Group in North America. Currently EVP of NA Creative at EMI Music Publishing, McCarroll will lead EMI's A&R and development efforts in the U.S. In his nine years at EMI Music Publishing, Dan McCarroll has signed and worked with a series of successful songwriters including John Mellencamp, Cobra Starship, Travie McCoy, Toby Gad, Steve McEwan, David Hodges, Alter Bridge, Death Cab For Cutie, Butch Walker and Panic At The Disco


l-r: Master Class/Tutorial Co-Chairs, Conrad Cooke and Jose (Vene) Garcia Master Classes and Tutorials at The 129th AES Convention : Vene Garcia and Conrad Cooke have developed a masterful program designed to provide attendees with real-world solutions, and considerable food for thought. "Tutorials and Master Classes provide an invaluable opportunity for sharing information on functionality shifts in our communal environment," remarked Convention Co-Chair, Valerie Tyler. Among the highlights is Hybrid Mixing; A Step-By-Step Class On Mixing The All-American Rejects' Hit Single, Gives You Hell: Eric Valentine - will discuss the techniques, plug-ins, outboard gear and external summing used in the process. The session will conclude with an opportunity for participants to improve on the finished version. A Preliminary Calendar of events including comprehensive Master Class and Tutorial abstracts is posted at: http://www.aes.org/events/129/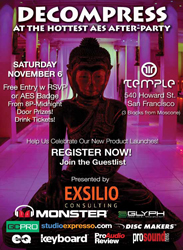 Saturday, November 06, 2010
8:00 PM - 11:00 PM (PT) 540 Howard St. San Francisco 94105
RSVP here Free entry w/ RSVP or AES Badge Door Prizes, Drink Tix

Be at the defacto destination for all AES attendees interested in after-hours networking. After a long day of cutting-edge pro audio at the annual AES Convention, attendees are invited to let loose at Decompress, a free after party on Saturday, November 6th, 8 P.M. at Temple Nightclub, San Francisco. The event is free-of-charge with RSVP at http://templeafterparty.eventbrite.com. Decompress is produced by Glow Marketing and MATK Corporation, and presented by Exsilio Consulting Inc, Monster Cable Products, NewBay Media (publisher of Pro Sound News, Pro Audio Review, EQ and Keyboard), GCPro, Disc Makers, Glyph, and Studioexpresso. The AES After-Party is free with RSVP or an AES Badge from 8PM – 12AM or $10 at the door. Guests are welcome to stay after midnight once they have entered Temple during the party; Temple closes at 2AM. Located only a few blocks from the Moscone Convention Center, Temple Nightclub has been selected as the site for the event. It is one of three "sustainable" clubs in the world. DJ/Producer and local music activist Paul Hemming conceived the space as an entertainment complex that is environmentally friendly.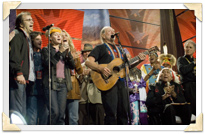 Farm Aid Turns 25 September 22, 2010, marked the 25th anniversary of the first Farm Aid concert held in Champaign, Illinois. Willie Nelson, Neil Young and John Mellencamp organized the first Farm Aid concert in 1985 to keep family farmers on their land. At that time, family farmers were in a fight for their livelihoods and their farms in an economic situation that closely mirrors what so many Americans face today. Since that first concert, Farm Aid has been a relentless champion for family farmers. Through the dedicated hard work of its board of directors, which added Dave Matthews in 2001, many thousands of donors, and the nearly four hundred artists who have generously donated their time and performances, Farm Aid is now the longest running benefit concert series in America. HOMEGROWN.org is a part of Farm Aid's program work to cultivate a greater demand for good food from family farmers and strengthen the links between farmers and eaters.

Goodbye Elliott, Hawaii's #1 Rock band played at The ROXY on October 27 according to award-winning record producer and mixer, Al Clay (PINK, The Pixies) who is currently mixing and mastering the band's new 2011 full-length CD at his Westside Pacific Studios in Pacific Palisades. The band's music is featured on Sirius Radio, AOL Music, Direct TV, iTunes, and rock radio stations across North America & Europe. Remarkably, the band landed a surf company clothing sponsor, a feature film promotion with a major Hollywood studio, an invitation to be featured on a network television show and an indie record deal offer. Not bad for a group of talented young guys from Kona, Hawaii whose biggest thrill on the tour was the chance to visit Disneyland. Ohana (family) band members: brothers Jonny Stimac (lead singer songwriter, guitar, ukulele) and the youngest of the seven Stimac kids, Chris Stimac (lead guitar, ukulele, steel drums and vocals). The hazel eyed, light brown-haired front men are joined at the hip by life-long friends who literally grew up together on The Big Island of Kona: Paul Gubser (Bass), Ryan Johnston (keyboards, ukulele, songwriter) and Jordan Lawrence (Drums); the trio of musicians provide back-up vocals in addition to sonic showmanship.


World-Class 1,700-seat Concert Hall at Cal State Northridge Cal State Northridge will announce the inaugural spring lineup for the Valley Performing Arts Center in a couple of weeks. The tunable acoustic in the new $125million Valley Performing Arts Center in Northridge, Calif. ranges from classical guitar and amplified guitar, from a piano to a 110-piece orchestra. "It's a pretty exciting time," said Bob Bucker, who heads both the Valley Performing Arts Center and the CSUN College of Arts, Media and Communication. The three-building complex is LEED Silver certified – one of the top ratings for "green" design. The indoor and outdoor space includes academic stages and wifi-ready lecture halls with more than 200 seats. There's also studio space for KCSN – the university's public radio station." The hall's black-tie gala - with tickets between $1,000 and $2,500 is set for january 29. Mike Curb, Chairman of Curb Records, and a music industry icon, made a record $10 million gift to the university in 2006, half endowing the arts college, and the other half for CSUN's planned Valley Performing Arts Center.The college was named Mike Curb College of Arts, Media and Communication in his honor.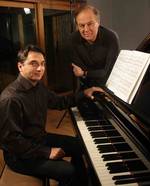 Vienna's MG Sound Studios are pianist Igor Tchetuev and Italian vocalist Ferruccio Furlanetto.
MG Sound, largest recording complex in Austria, has launched a new label dedicated to the finest in classical music. Prestige Classics Vienna debuts with "Songs" of Sergei Rachmaninov (1873-1943) and Modest Mussorgsky (1839-1881). Two-time Grammy Award-winner Michael Horvath has come out of retirement to co-produce the debut album featuring renowned Italian operatic bass singer Ferruccio Furlanetto, accompanied by famed Ukrainian pianist Igor Tchetuev. The sumptuous CD package includes extensive liner notes in English, German and Russian, and three short video documentaries of the making of the album. Co-producing with artistic supervisor Michael Horvath was famed conductor Johnny Bertl and the MG Sound production team of Martin Böhm & Ludwig Coss. "Songs," the debut release from Prestige Classics Vienna, is available on iTunes, Amazon, and as a worldwide CD release through CD Baby. "Songs" is under consideration for a Grammy(r) Award by members of The Recording Academy. View making of the album and listen to samples of this CD here


, TEC Awards will take place during NAMM in January 2011 in Annaheim. Go to complete list of 2010 Creative Achievement Nominees in two categories: Technical Achievement and Creative Achievement.
26th Annual TEC Awards Friday, January 14, 2011 NAMM Show Anaheim, CA. Highlights sessions this year include Stream Formats, Facility Design and new developments in the on-going Loudness issue and studioexpresso artist panel -- details coming soon! Les Paul Award 4 Lindsey Buckingham Multi-instrumentalist, composer and producer Lindsey Buckingham will be presented with the prestigious Les Paul Award at the 26th Annual Technical Excellence & Creativity Awards, to be held Friday, January 14, in the Pacific Ballroom of the Anaheim Hilton during the 2011 NAMM Show. Presented by the TEC Foundation for Excellence in Audio, the TEC Awards recognizes outstanding achievement in professional audio production and product design.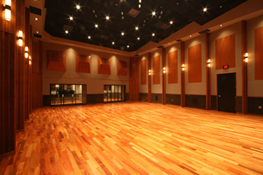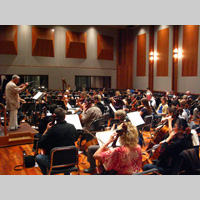 Congrats to Jay Kaufman of Kaufman & Associates for his nomination of Bridge Studios. "The ground-up 6,500-square foot scoring facility focuses on refinement of classic acoustical elements to produce a very even reverberant field throughout the space with a .95-second RT60," says Kaufman. The 800-square foot control room houses a 96-input Neve VSP with scoring master section, custom Neve cue mixer and Flying Faders II. The LCR monitors are ATC300's modified by Kaufman to operate in a vertical free-standing configuration.


artist expresso-- Ask Claris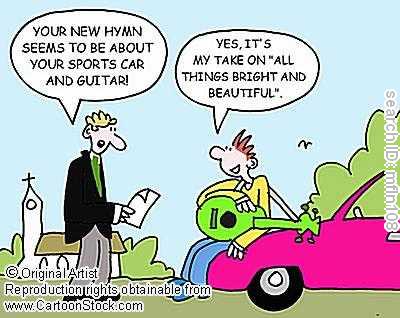 We hear from artists every day from all corners of the world -- France, Germany, Russian, Israel, Asia, Australia and Middle East asking how they can get heard or build their careers. We've decided to feature a letter or phone message each month and share our response with other new artists with similar needs or questions. Our goal remains to empower new artists and encourage them to find their voice and musical path. Most importantly, we're here to remind artists that it's a long journey, so enjoy the process. We encourage artists to provide a link to their music site when they contact us..this way, if a producer or manager is interested, they can be contacted directly.

Artist: I have not heard a band that even comes close to their style with twisting guitar leads, catchy soulful vocals, and hooks that just invite people in to smile and enjoy life. A lot of their songs are about hope and love, being the lead singer was a US Marine and struggled a lot though hard times. Kim Stephens from Capitol Nashville flew down to see the band a few months ago and gave them some really helpful pointers as well as has been coaching the band through their careers. If you would like to hear some of the new material they have been working on i can send you some rough tracks which will will be stuck in your head for days.
C: To check a producer's availability and /or interest kindly provide: 1. Number of songs to be produced, recorded/mixed
2. Delivery time and technical requirements 3. Specify your recording budget (studio, musicians, mixer/engineer and arranger, producer expenses). We can then check availability/interest based on the info you send.
Artist: www.myspace.com/SouthsideSerenade
C: Meantime, visit production talent at studioexpresso We can recommend someone who fits your requirements or you may send your top 3 choice(s). Thanks.
Love Stays
Two beautiful daughters were born to Greg Burns and his wife Katherine Crowley who sadly did not survive the birth on October 15th. May Isla & Addison fill your world with love and hope, dear Greg. Our thoughts are with you and your family.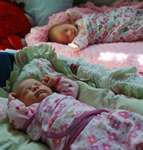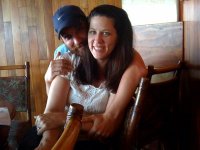 Nature has long provided soothing sounds of birds, water, and leaf?!
Listen to this Chinese leaf player
Until next month...thanks for reading.