Chief Creative Officer Cavallo Warner Music Group Corp. (NYSE: WMG) announced that it has named Grammy Award-winning music producer, Rob Cavallo, to the newly created position of Chief Creative Officer. As such, Cavallo will provide WMG with his exclusive services as a producer and an A&R executive. One of the top-selling producers in the world, Cavallo has produced or had creative involvement in albums that have sold more than 125 mill. Covallo produced Paramore's latest Album, "brand new eyes," which debut at No.1 in the UK and No. 2 in the US The burgeoning rock act sold 175,000 copies of "Brand New Eyes," according to Nielsen SoundScan, the latest in a series of high-charting albums that bear Cavallo's stamp. Other Successful Collaborations Include Work with Black Sabbath, Eric Clapton, Phil Collins, Dave Matthews Band, Fleetwood Mac, Goo Goo Dolls, Green Day, Kid Rock, Avril Lavigne, Alanis Morissette, My Chemical Romance and Shinedown. He's currently working on Adam Lambert's debut album for RCA. "It all goes back to what happens in the studio," Cavallo said. "If a band knows what audience they're creating for, and how that audience is going to get it, then they can make the content better, and more appropriate for whatever those platforms may be."


Executive Moves Warner Music Group (NYSE: WMG) announced today that Executive Vice President Kevin Liles has decided to leave his day-to-day role at the company to pursue his own entrepreneurial opportunities. He will maintain a consulting relationship with the company. Kevin Liles' ascent to president, author, philanthropist, motivational speaker and consultant to many entertainment and political boards began in 1991 when he undertook an unpaid internship for Def Jam in the Mid-Atlantic region. By 1993, he had become the Mid-Atlantic Marketing Manager and by 1998, after only seven years, Liles accepted the position of President of the Def Jam Music Group. During his tenure as President, Def Jam revenues doubled to $400 million. In addition to presiding over the label's artist roster and day-to-day business at Def Jam, Liles oversaw the diversification of the Def Jam brand, including establishing Def Jam South, Def Soul, Def Soul Classics, Roc-A-Fella and Murder Inc. He also led the brand-extension efforts and cross-marketing deals that linked Def Jam's name to movies, television, DVDs, clothing, financial services, mobile content and video games. As President and CEO of Def Jam Interactive, Liles partnered with Electronic Arts to create three Def Jam-branded video games and more than ten different SKUs. Titles such as Vendetta, Fight for New York and Icon have sold more than 8 million units worldwide, to date. Liles recently orchestrated a new partnership with 4mm games, launched by former Rockstar game founders Jamie King and Gary Foreman. The first release, the highly anticipated Def Jam Rapstar, is scheduled for early 2010. Following the merger that created the Island/Def Jam Music Group in 2002, Liles added the title of Executive Vice President of Island Def Jam Music Group to his resume. Thanks to his uncanny ability to provide leadership while allowing artists the freedom to create, he has been instrumental in the success of, and eventual cross-over of, many artists who have made the leap from "performer" to "global brand" including Jay-Z, Hoobastank, Ludacris, Sum 41, Ja Rule, LL Cool J, DMX, Kanye West, Musiq Soulchild and Ashanti. By 2004, Liles joined Warner Music Group as Executive Vice President and was part of the senior executive team when the company went public in 2005. As the lead executive behind the implementation of WMG's new 360-degree strategy for enhanced artist partnerships, Liles oversaw the expansion of the traditional record company role in the artist's career. His expertise in all facets of artist relations and brand expansion allowed for successful, complete partnerships with artists in each facet of their careers -- fan clubs and ticketing, endorsements and licensing, artist management, TV production and merchandising. Throughout 2008, Liles was instrumental in assembling a coalition of like-minded entertainers who made strategic visits to swing states in the final weeks before the historic Presidential election. Liles, along with Jay-Z, Beyonce, P. Diddy, Russell Simmons & Mary J. Blige, encouraged Americans to exercise their right to vote. Currently, Liles is a committee chairman on the upcoming Jay-Z & Friends "Answer The Call" Charity Concert, taking place at Madison Square Garden on September 11, 2009 and benefiting the NYC Police and Fire Widow and Children's Benefit Fund. Liles serves as board member/advisor to Ogilvy & Mather Diversity Board, Harbor Bank, Healthcorps, SEED School of Maryland, New Yorkers For Children, Junior Achievement of New York and is a member of The Executive Leadership Council. He is the bestselling author of "Make It Happen: the Hip Hop Guide to Success" and oversees both Kevin Liles for a Better Baltimore, which invests in the Baltimore community, and the Make It Happen Foundation, which empowers African-American youth to succeed in the business world.


Elected To SPARS Board Kirk Imamura (left)is the Owner and President of Avatar Studios, New York, an award winning, highly respected four room, world class facility, which has played host to many artists over the years, including Madonna, Bruce Springsteen, The Rolling Stones, David Bowie, Paul McCartney, Paul Simon, Donald Fagen and Norah Jones. Under Kirk's leadership, the studio has received numerous awards, including five TEC Awards for Outstanding Creative Achievement and is recognized as one of the premier recording destinations in the world. Tony van Veen is CEO and President of Audio and Video Labs, Inc., the parent company of Disc Makers and CD Baby.

Senior VP at WMG Film/TV WMG global music publishing company, today announced the promotion of Wendy Christiansen to Senior Vice President, Film/TV Music Creative. Effective immediately and based in Los Angeles, Christiansen reports to Scott Francis, President, Warner/Chappell Music, and Chairman and CEO, Warner/Chappell Music. In this role, Christiansen will continue to be responsible for overseeing and leading the Film/TV Creative department in pitching and securing, in new and innovative ways, licensing uses for Warner/Chappell Music in film and television projects. Christiansen will work closely with studio executives, directors, producers, music supervisors and film music editors, and will identify and develop innovative synchronization opportunities and solutions for potential licensees. Prior to joining Warner/Chappell, Christiansen served as Senior Director, Film Music for BMG Songs. Previously, Christiansen was Senior Director Creative/Film and Television Music at Zomba Recording, where she was responsible for the promotion, placement and licensing of music on the Zomba-controlled record label (Jive, Jive Electro, Scottie Bros., Silvertone, Sub-Lime, Reunion, Capricorn, Mojo, Essential, Volcano and Verity) and copyrights for film, television, soundtrack albums and commercial use. Christiansen began her music career in publicity at RCA Records/BMG.


New SPARS Officers Elected During the recent 127th AES convention in New York, the Board of Directors of SPARS elected new officers for the coming year. Eric Johnson was elected President while Sherri Tantleff was elected Secretary. Other appointments included the election of Kevin Becka as Treasurer. Immediate past President, Leslie Ann Jones will remain on the board as a consultant. "The outstanding leadership these individuals bring to SPARS will provide the vision and energy to move the 30 year organization to the next level," stated SPARS Executive Director, Paul Christensen
In addition, the board welcomed two new members, Kirk Imamura and Tony van Veen.

SXSW Smokey! One of the architects of the "Motown sound," the legendary Smokey Robinson will deliver the keynote address at their 2010 Music Conference. The address will kick off SXSW activities at the Austin Convention Center on Thursday, March 18, 2010. Robinson continues to forge new trails, mentoring "American Idol" contestants in 2009 and writing and recording new music. Robinson's current CD "Time Flies When You're Having Fun," was released on August 25, 2009 on his own Robso Records and the songs sound as fresh and timeless as his pioneering work from the 60's. Robinson's keynote anchors the twenty-fourth annual South By Southwest Music Conference and Festival, a world-renowned gathering of artists and music professionals. By day, registrants attend conference events and the trade show at the Austin Convention Center. At night, hundreds of performers command dozens of stages throughout downtown Austin. Registrations are now available for SXSW 2010 at the official website.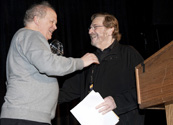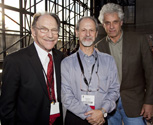 This year's TEC Awards "big birthday," 25th, was hosted by industry veteran Chris Stone, founder of Record Plant, World Studio Group, Penteo Surround and co-founder of S.P.A.R.S. The ceremony featured a stellar lineup of presenters including past Hall of Fame inductees: remote engineer David Hewitt; engineer/producer Eddie Kramer; engineer, producer and technologist George Massenburg; and the Pope of Pop, producer/engineer Phil Ramone.4Winners click here Congrats!



Simon Sues Starbucks Carly Simon had hoped her album, "This Kind of Love" would garner the same kind of success that Paul McCartney's "Memory Almost Full" had on Starbucks (NASDAQ:SBUX) music label Hear Music. However, the pop star's latest hit the shelves just as the coffee chain announced it was dumping its music label. Simon's album tanked, and now she is taking Starbucks to court, seeking $5 to $10 million in damages. Starbucks foisted her album off on Concord Music Group, which, Simon claims, resulted in poor promotion and distribution. According to the New York Times, the new set of songs has sold 124,000 copes to date. McCartney's album sold well over half a million. Simon claims that she was also shorted on the $575,000 advance and demand for her older albums, which she says a hit would have created, never transpired. Starbucks released a statement in response to the lawsuit, claiming it had fulfilled its obligations and noting that her album had received "tepid response from music consumers" overall. Starbuck spokesperson says: "We would have preferred to work this out with Ms. Simon, but it appears we are headed for litigation."


Rare Instruments Stolen From UCLA KCBS-Channel 2 | KCAL-Channel 9 reported last week on the theft from UCLA's Ethnomusicology Department of 18 rare and expensive instruments from around the world. Since last spring, 18 instruments have been stolen: Four tamburas and two sarods obtained in 1959 from India One harp from Mexico and a harp from Chile Three balalaikas and two domras obtained in 1973 from Russia (13) One bo and two Dan Tranhs from Vietnam obtained in 1968 Since the thefts, the department has restricted access to the rooms that house the instruments. Those same rooms also served as practice venues for the students. Anyone with information about the thefts or the instruments can call the UCLA Police Department at (310) 825-9371. Those, who wish to remain anonymous, can also email mrider@arts.ucla.edu with information. No questions will be asked.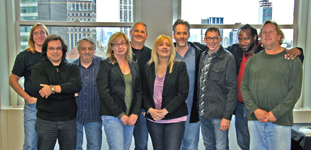 P&E Wing Steering Committee The Recording Academy's newly-appointed Steering Committee Co-Chairs Eric Schilling (Florida) and James McKinney (Washington, D.C.) note the particular emphasis that the P&E Wing will continue to place on the development of standardized metadata practices, advocacy for performance rights and educational outreach. "One of our top priorities is the recording metadata project we're working on with the BMS/Chace company and the Library of Congress," stated Schilling. "We need to address this issue; if we don't, we're going to end up with no available credits at all and no good way to track information for payment. We believe that consistent and open standard metadata systems are essential to the overall recording industry, not just to the P&E Wing. Something else we believe is good for the entire industry is support for The Recording Academy's Advocacy department and the Performance Rights Act so that's also high on our list." "Our goal is to work on projects that will make our industry better," added McKinney. "It's about raising the standards of quality for what we do. The other members of the 10-person 2009-2010 Steering Committee are Chuck Ainlay, Carlos Alvarez, Ed Cherney, Mike Clink, Nathaniel Kunkel, Sylvia Massy, Phil Ramone and Dan Workman.


Tweet Tips 4Artists
•Updates from the studio when recording
•Updates on the manufacturing process (announce when artwork is finished, when the master has been approved, etc)
•Reminders about release dates, shows and other news
•Updates from the road when you're on tour
•News about deals it's ok to talk about (for instance -"just arranged digital distribution with such and such company")
•Day to day work news (e.g., "just signed off on ad copy for magazine")
Meet Yi-Jia Susanne Hou, Violin She can be heard on the silver screen performing the violin solos in the 2008 Atom Egoyan film Adoration which won the Ecumenical Jury Prize at Festival de Cannes 2008, featuring music composed by Mychael Danna (The Untouchables, Requiem for a Dream). Internationally celebrated violinist Yi-Jia Susanne Hou is the first violinist ever to capture three Gold Medals with unanimous decisions at international violin competitions: Concours International Long-Thibaud (France, 1999), Lipizer International Violin Competition (Italy, 1999) and Sarasate International Violin Competition (Spain, 1997). Hou has collaborated with world-renowned artists such as Mstislav Rostropovich, Pinchas Zukerman, Alan Gilbert, Vladimir Spivakov, Cho Liang Lin, Marcello Viotti, Marek Janowski, Lan Shui, Robert McDuffie, Ralph Kirschbaum, Lawrence Dutton, Joseph Kalichstein, Alain Trudel, Bernhard Gueller, Gregory Vajda, Ling Tung, Li Xin Cao, Jamie Parker and Boris Brott, among others.

Sunday Nov 15 at 4pm
Barnum Hall, Santa Monica (campus of Santa Monica High)
Tix at http://newwestsymphony.org/buytickets3.cfm
Music talks, Hear & Now Live begins at 3pm

8mm at the Viper Room on Sunday, Nov. 8: on-stage at 11pm. Founded by super-producer/ mixer Sean Beavan and his wife, Juliette, who has been described as a cross between Jessica Rabbit and Billie Holiday, 8MM is like the glamorous, neo-noir love-child of David Lynch, Portishead and Aimee Mann. Known for their steamy live performances, they have toured internationally to critical acclaim. Championed by tastemakers (such as Nic Harcourt and Jason Pettigrew), music from their debut album, "Songs To Love And Die By" has been widely licensed (Grey's Anatomy, One Tree Hill, Shark, Moonlighting etc). Having established themselves with their debut release, they are available for the right label home. Here is some footage of them performing "Give It Up". And their EPK Other bands on the night include AWESOME NEW REPUBLIC, PLEASURE ADDITION and ECHOGRAM.

KMD's Karen Margroff Dunn, a 25-year audio industry veteran and former Executive Director of the TEC Awards, launched her event production firm KMD Productions at the Winter NAMM Show in January 2009, and the company has spent the last nine months building its business in the audio, film and music sectors of the industry. KMD continues to expand its clientele and range of services to include a number of industry awards ceremonies, advocacy organizations and charity events. To date, the company has put on the 14th Annual TEC LA Open Charity Golf Tournament (Malibu, CA), an audio industry favorite; organized the first-ever Recording Industry Charity Poker Tournament in conjunction with GRAMMY® Award-winning engineer David Reitzas (Hollywood, CA); organized the first-ever Motion Picture Sound Editors (MPSE) Charity Golf Tournament (Malibu); and is hired by San Francisco-based Music In Schools Today (MuST), as events manager for their organization. For more info contact Karen Margroff Dunn at KMD Productions (925) 708-0307
Real Expresso Estates 4Sale...With Candace, Agent 4The Stars
Candace's real estate experience began in February 2000, when she joined property manager and developer, Trammell Crow Company (now CB Richard Ellis), as Marketing Director for Century Plaza Towers and the former ABC Entertainment Center. The mixed-use complex has since been redeveloped and is now the illustrious 2000 Avenue of the Stars in Century City. As real estate agent for Coldwell Banker in Los Feliz, Candace puts her clients' best interest first. She takes a keen interest in understanding their needs and desires, then creates a strategy to meet their goals and objectives. A licensed, California Realtor whose business experience, in real estate, marketing and entertainment media, helps her clients to buy and sell properties that meet their long term and short term needs. As an owner of income property and an MBA graduate, Candace understands how purchasing a home, condo or other property is not only an investment of capital, but also a personal choice where budget, lifestyle and satisfaction need to be considered.contact Candace Kentopian at 323.559.0856, or via email visit her site at www.FabLAHomes.com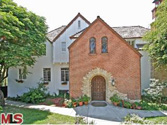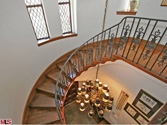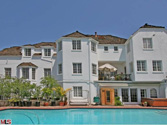 This month Candace is spotlighting a house owned by ** Michael Feinstein ** – the multi-platinum selling, five-time Granny nominated entertainer dubbed of "The Ambassador of the Great American Songbook." Feinstein is considered one of the premiere interpreters of American Popular Song. His 150 plus shows a year have included Carnegie Hall, the Hollywood Bowl and major concert halls, as well as the White House and Buckingham Palace. More than a mere performer, he is nationally recognized for his commitment to the American popular song, both celebrating its art and preserving its legacy for the next generation. It is listed by Richard Stanley of Coldwell Banker and interested parties can contact Candace Kentopian at 323.559.0856, or via email at 323.559.0856 or visit my site at www.FabLAHomes.com LP $1,599,000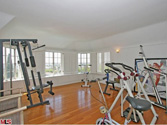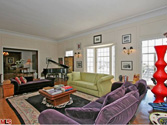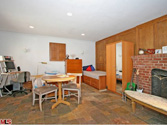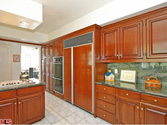 Grand '30s Tudor manor with downtown & city lights view & swimmers' pool. Impressive scale & size w/ 3 stories. Elegant & historic street. Southern exposure opens most rms to sunshine & city vus. Quality original character details throughout. Original hdwd flrs & distinctive paneling. Ornately carved fireplace interiors. Updates include new roof, kitchen w/ Viking, Sub-Zero, custom woodwork & marble surfaces. Includes steam shower, outdr spa & sauna. Recording/editing rm. Celebrity provenance. Bar, Breakfast, Center Hall, Den, Dining, Family, Library/Study, Living, Patio Open, Powder, Sauna, Service Entrance, Sound Studio

Calabasas Studio Real Estate presented by Dianne Maddocks
5 Beds: 5 Baths; Sq. Ft.: 7317; Lot: 1.62 Acres LP $2,695,000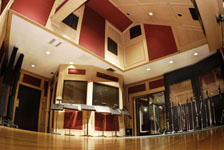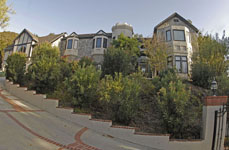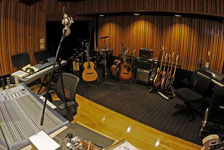 Studio A is 2500 sq. ft. comprising of a Control Room, Live Room and six Iso Booths. Studio B is 1200 sq. ft. with a Tracking Room, (currently used as a Control Room) and a custom Guitar Base Room. On the Post Production side: Green Room is a THX certified dubbing stage used for motion picture and television dubbing. Purple Bay: Used for Sound Design, Editorial, and Pre-Dubbing. Black Bay: Is an offline non-linear edit bay and transfer room. Plus a Foley/ADR Stage with eight pits. For further details call us at 818-990-3031




Face Call Actorfest LA Walt Disney Parks and Resorts will hold two Open Call auditions at Actorfest LA (11:00 am and 1:30 pm). Auditions in Los Angeles, CA are scheduled for November 14, 2009 at 11:00 AM (Pacific Time US & Canada) at California Market Place. Registration is free! They are seeking Character Look-alikes to perform in meet-and-greets, parades and stage shows at locations around the world. And don't forget the Disney Cruise Line! The high seas await with destinations to exotic locales such as Europe, the Mediterranean and the Caribbean. Seeking males (5'9" – 6'2") and females (5'0" – 5'8") to portray popular lead characters made famous in the following Disney features: 101 Dalmatians, Aladdin, Alice in Wonderland, Beauty and the Beast, Cinderella, Peter Pan, Pirates of the Caribbean, Sleeping Beauty, Snow White and the Seven Dwarfs, The Little Mermaid, Tinker Bell, and the upcoming The Princess and the Frog.



Winners 10th Annual The Latin Recording Academy® Awards were announced on September 17 at a press conference attended by national and international media at the Conga Room at LA LIVE in downtown Los Angeles. Artists with nominations included GRAMMY(R) and two-time Latin GRAMMY winner Beto Cuevas, Spanish pop singer Shaila Durcal, salsa vocalist Luis Enrique, Latin pop singer Luis Fonsi. Complet list of nominees here. The show is held on Nov 5 at Mandalay Bay Events Center. Contact: ticketing@grammy.com



To Get To You Australian Idol Damien Leith didn't make a cent on 300,000 CDs AUSTRALIAN Idol survivor Damien Leith sold more than $5 million worth of records when he won the 2006 crown but had to sell his car to pay the rent. The popular family man, whose new single To Get To You has returned him to radio playlists for the first time in three years, has revealed he did not receive any of the proceeds from selling more than 300,000 copies of his The Winner's Journey record. According to industry sources, Leith and his runner-up Jessica Mauboy were victims of fine print in the standard contract signed by contestants, which specifies that the Idol creators 19 Entertainment and local producers Fremantle Media own the rights to their performances on the show. The Winner's Journey records, released by SonyBMG, compiled those performances, leaving Leith and Mauboy without an income from their "debut" records. Leith, who worked as a chemist before being dared to audition for Idol by two mates, said there have been "patches" since his win when he considered going back to his day job. After three years of "fighting", Leith still doesn't know where the estimated $3 million profit from The Winner's Journey sales went. "For the first few months after the series, we were really stressed about what was happening; we thought money from The Winner's Journey was going to come through and it didn't, basically I didn't get paid," he said. The singer and songwriter has released two records since the studio album Where We Land and covers album Catch The Wind and has kept his career alive and bills paid by touring. But it is his fourth album, Remembering June, which is released on October 9, which he feels is the record he has dreamed of making for the past 16 years. To Get To You is set to put Leith back on top as it was the second most added track to radio playlists last week and features on a Channel 7 promotion for their new hospital drama Mercy.

R.I.P. Greg Ladanyi
July 6, 1952---Sept 29, 2009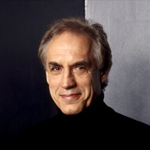 studioexpresso community has lost a dear friend and a legendary producer/mixer/engineer, Maple Jam Music Group President Greg Ladanyi (your sentiments will be posted here Greg Ladanyi . Simply email your thoughts to: studioepxresso

Ladanyi sustained head trauma following a fatal on-stage accident late September in the Greek Republic of Cyprus. He was touring with Maple Jam Music artist, Anna Vissi. "Our thoughts and prayers are with Greg's family, friends and the many artists he touched. Greg was in excellent spirit three short weeks before the tragic accident that took his life. He attended the studioexpresso Audio Underground, at THE VILLAGE STUDIO . Celebrating life of Ladanyi at Capitol on October 18 was a fitting tribute to his life and passion for audio and music," says studioexpresso Claris Dodge. Over 200 family and music friends gathered at Capitol studios to celebrate Greg and his legacy. Touching live performances offered by Jackson Browne, Dave Stewart, Steve Lukather, Waddy Wachtel, Lee Sklar, Danny Korchmar, Randy Jackson...Guests heard a new song, Leap of Faith, penned by Glenn Ballard and debued in a duet by Dave Stewart and Anna Vissi. Jackson Brown opened the jam with a touching song he wrote for the occasion about how one can be spared by desease or old age. He then sang Warren Zevon's song "Life'll Kill Ya." His daughter said it best. Greg reminded us to dream every day. Greg is forever with us.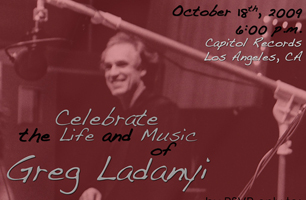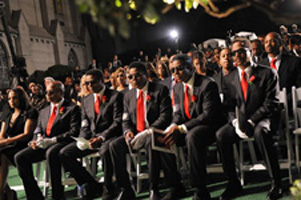 l-r: Ladanyi Memorial at Capitol; Michael Jackson Memorial with his family --Janet Jackson, Randy Jackson, Jackie Jackson, Tito Jackson, Jermaine Jackson and Marlon Jackson attend Michael Jackson's funeral service held at Glendale Forest Lawn Memorial Park on Sept. 3, 2009 in Glendale, Calif. (AP Photo/The Jackson Family/Harrison Funk

Ladanyi worked on six albums with Jackson Browne, including his landmark 1977 disc 'Running on Empty,' four albums with Toto, three albums with Don Henley, including his 1984 bestseller 'Building the Perfect Beast,' and the Church's 1988 watermark 'Starfish'. He also helped produce Fleetwood Mac's 1990 record 'Behind The Mask' and had worked with Jeff Healey ('See the Light'), Jaguares ('Bajo el Azul de Tu Misterio') and most recently on Vissi's Greek album 'Apagorevmeno.' During his career, Ladanyi earned 16 Grammy nominations, including being nominated for Producer of The Year for Henley smash 'The Boys of Summer.' He won the Best Engineered Recording -- Non-Classical Grammy in 1982 for Toto's 'Toto IV' album. As president of Maple Jam Music Group, Ladanyi evolved the company from the original Maple Jam Records label founded in 2004 to a full service entertainment entity that works hand-in-hand with the artist to fully develop their careers. As a home to many established and up-and-coming artists we will continue to move forward, keeping Greg Ladanyi's legacy alive.

Lucy Vodden's connection to the Beatles dates back to her youth, when she made friends with schoolmate Julian Lennon, John Lennon's son. Julian, then 4, came home from school with a drawing one day, showed it to his father, and said it was "Lucy in the sky with diamonds." Lucy Vodden, who inspired the Beatles' classic song 'Lucy in the Sky with Diamonds,' died after a long battle with lupus. She was 46. At the time, John Lennon was gathering material for his contributions to "Sgt. Pepper's Lonely Hearts Club Band," a landmark album released to worldwide acclaim in 1967. The elder Lennon seized on the image and developed it into what is widely regarded as a psychedelic masterpiece, replete with haunting images of "newspaper taxis" and a "girl with kaleidoscope eyes." Rock music critics thought the song's title was a veiled reference to LSD, but John Lennon always claimed the phrase came from his son, not from a desire to spell out the initials LSD in code.

Raphael Saadiq's Let's Take A Walk Outside is a welcome mood changer.


Speaking of mood changer, in case you missed Gustavo Dudamel Debute w/ LA Philharmonic -- Dudamel spoke of "a special moment in his life," "being in front of an amazing orchestra," "Children here being the future" "Proud to be Latin, Venezuelan and American." "No South, No North, One America. It's the message of Beethoven," he said and proceeded to lead the orchestra into Beethoven's 9th Symphony accompanied by the LA Master Chorale & Spectacular Fireworks Finale at the Hollywood Bowl on October 3, 2009. Welcome Dude!

Love Stays
Congrats to violinist Lisa Dondlinger and hubby on the arrival of Tristan. Tango anyone?!!

Treat someone you love!
You are subscribed as %Email% Please click here -- http://www.studioexpresso.com/MailListForm.asp to unsubscribe or subscribe from any future mailings. We respect all requests. Thank you