Crickets Meet Chrysler In A True Performance
TRUE Systems Captures The Sound Of "REN"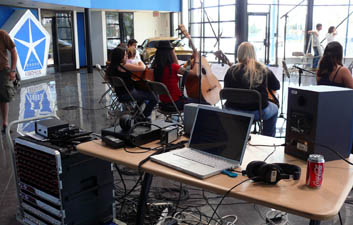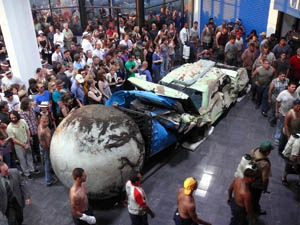 "REN," a highly creative opera/performance project, is a collaboration between American artist Matthew Barney, composer Jonathan Bepler and Berlin's noted sound engineer Jonathan Teige. During a living performance in an abandoned car dealership south of L.A., Teige used four TRUE Systems Precision 8 mic pres coupled with over twenty-four Microtech Gefell microphones to handle the remote recording needs.

Controversial American artist Matthew Barney and collaborating composer Jonathan Bepler - the team that created the celebrated "Cremaster Cycle" series of art movies - have begun a new project of hugely orchestrated one-time opera/performances set around the world and inspired by Norman Mailer's 1983 novel "Ancient Evenings." The first performance, "REN," took place in mid-May at an abandoned car dealership off the I-5 Interstate south of Los Angeles.
Some 600 spectators witnessed the event, which involved a drum and bugle corps, the complete destruction of a Chrysler Imperial by a twenty-ton excavator, the release of several thousand crickets, and much, much more over the course of two spectacular hours. Together with the composer Jonathan Bepler, Daniel Teige, sound engineer at Bepler's Berlin studio, was charged with the Herculean task of capturing sound for a future video release of the event. In addition to a well-chosen rack of converters and audio cards, Teige and Bepler counted on the bomb-proof reliability and unsurpassed fidelity of four True Systems Precision 8 mic pres coupled with over two dozen Microtech Gefell microphones strategically located throughout the event space.

As is the case with any of Barney's and Bepler's works, "REN" is difficult to succinctly describe, though an attempt might be: a melding of ancient Egyptian mythology and symbolism with 21st Century themes and ephemera. The wrecked 1967 Chrysler Imperial used in "Cremaster 3" sat in the parking lot of the abandoned dealership, which was decked out with believable salesman, eighty new Chryslers, and other nuances so as to look fully operational. The performance began with an approach from all directions by squads of a fifty piece drum and bugle corps, who gathered throughout the huge site to play a vast, surround-sound introduction. After a rousing, post-modern fanfare on the roof, the Imperial was dragged by forty-five laborers into the showroom to compete with a 1979 Pontiac TransAm whose mega sound system played groaning sub-tones. An all-female mariachi band led by the great Mexican singer Lila Downs, and the salesmen (assembled as a "choir") provided the musical accompaniment as an amazing stockpile of 11,000 crickets emerged from the twenty-ton excavator that eventually shredded the Imperial. Through all of this, the audience moved from seats to the showroom. The music came from all over the lot. From Teige's perspective, it was tremendously challenging to capture sound, given the event's radical dynamic range and spatial extent.

Although Barney and Bepler had been working on REN for well over a year, Teige only began his preparations seven months prior to the event. As the date approached, he readied the studio's awesome collection of Microtech Gefell microphones, making sure that each one was performing perfectly. Even though there would be over two dozen microphones, he needed only a scant four-rack space of mic pres in the form of four TRUE Systems Precision 8s.
From the Precision 8s, signal would flow to an Apogee AD-16x converter and two Apogee Rosetta 800s, all of which were clocked to a bank of Pro Tools HD cards in a Magma chassis by an Apogee Big Ben running at 96kHz.

Nevertheless, there was only so much that he could do from Germany! Teige arrived at the abandoned lot two weeks prior to the performance. "It was a huge amount of work to do in such a small amount of time," he admitted. "It was one of those things where we had so many other things to worry about, we had to trust our hardware completely. The Apogee converters and TRUE Systems mic pres are the sort of thing I never lose sleep over. They always perform perfectly. In this case, we counted on that!"

Although Teige and Bepler concentrated the bulk of their recording gear in the showroom, where most of REN's action took place, they had mics located all over the lot. With over one hundred musicians and actors and a mobile audience, blocking REN was intense. Making sure that every significant utterance or note was captured - let alone captured with stunning clarity - was the sort of thing Teige and Bepler lost sleep over.

From Teige's end, everything went off without a hitch. On a larger view, a few audience members were injured by flying glass! "The sound quality is excellent," he said. However, this came as no surprise as the engineer and the composer had paired TRUE System pres with Microtech Gefell microphones in previous projects "The TRUE Systems Precision 8s and Microtechs are the perfect partners. We've had countless unsolicited praise about the clarity and beauty of the sound on previous projects from people who don't think much about audio. It's that obvious."

"REN" is certainly not the last use that combination will see, either. Barney and Bepler have plans for six more performances of similar magnitude but different content to take place in a mine in Poland, a steel mill in England, a taxi garage in New York City, a building site in Abu Dhabi, a ship-breaking yard in India, and finally (and closest to conventionally!) an opera house in an as-yet undetermined location.

TRUE Systems, Tucson, Arizona designs, engineers and manufactures high-value, high-end professional audio products at reasonable prices for the domestic and international marketplace. Tim Spencer is the principal designer and engineering force behind the company. Tim has been with TRUE Systems since it's inception in 1997. The U.S. built line includes the SOLO series, the P2 Analog and Precision 8 multi-channel mic preamps.

True Systems can be reached via e-mail at sales@true-systems.com or via phone (702) 307-2700 or email Brad Lunde at More info visit www.transaudiogroup.com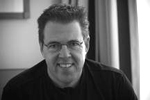 TransAudio Group, founded by industry veteran Brad Lunde, has quickly become the premier US importer/distributor and/or US sales and marketing representative for high-end audio. Success hinges on TransAudio providing dealers and end users with a higher standard of product expertise and support far beyond the norm. TAG product line includes Accusound, A-Designs (USA) AEA ribbon microphones (USA), ADT Toolkit, AEA, ATC Loudspeakers (UK), Brauner microphones(Germany), Drawmer (UK), Geoffrey Daking & Co. (USA), Enhanced Audio (Ireland), George Massenburg Labs (GML) (USA), Heil Sound (USA); Mercury Audio (USA) Mission Audio (UK) Phoenix Audio (UK), PAULY Superscreens(Germany), SABRA SOM(Brazil), Soundelux (USA), SoundField Microphones (UK), Z-Systems (USA), Sonodore Microphones (Holland), Tonelux,
True Systems and Weiss Engineering (Switzerland) and Z Systems (USA)
LasVegasProAudio.com, LasVegasProAudio.com, a division of TransAudio Group, is the launch pad for the brands of tomorrow. The goal of LasVegasProAudio.com is to provide unique equipment, useful information and long-term support to their clients.



Expresso Walk And Talk...



Who's epic concept album 'Quadrophenia has aged well like its two remaining members. Their legacy was young and vibrant at a tribute concert taped in Los Angeles for an upcoming episode of VH1 Rock Honors. Actors, comedians and, most importantly, fellow musicians turned out to pay their respects to one of the defining bands of the twentieth century. David Duchovny and Adam Sandler were on hand to introduce bands and get some television face time. Dressed as Elton John's pinball star from rock opera Tommy, The Flaming Lips played a medley of the movie's songs while frontman Wayne Coyne roamed over the audience in a giant bubble. While introducing Pearl Jam, though, actor Sean Penn took a dig at the station holding the event, telling the crowd, "We know that we're all here tonight because The Who never did sell out." Yes, everyone can see the Pearl Jam- Love Reign O'er Me performance on VH1 site as well as YouTube Fast forward Innovation. In the beginning, the Who was a "Maximum R&B" band, picking songs from the American soul records they loved and playing them with unique volume and intensity. They were part of London's Mod movement, which required the proper clothes, the proper swagger, and the right collection of Motown 45's. Nobody embodied the Mod life better than Daltrey, whose sharp hairstyle and cool attitude were something to emulate. From this era comes "Leaving Here," a song first done by Eddie Holland (of Motown's immortal Holland/Dozier/Holland songwriting team) and sung with proper grit by Daltrey. Note the proto-feminist lyric! But even while the Who were doing soul for the Mod kids, Townshend was reaching for something grander The Who's more ambitious streak appeared early on, as Townshend pushed himself to write longer multi-part songs with involved storylines. This reached its peak with 1969's Tommy, the double album that put the term "rock opera" into the vocabulary.


Take a guess which studioepxresso producer is behind the face of Pete (above).

Facebook and Microsoft Corp. announced a strategic alliance in which the two companies will collaborate to bring relevant advertising to the more than 9 million registered users of Facebook. The 24-year-old chief executive, Mark Zuckerberg must be thrilled!

Legendary producer/engineer Eddie Kramer was at Hallandale, FL last month at a session co-sponsored by world-leading DSP specialists Waves and GcPro. It was part of Waves on Tour's "Studio Classics Collection Experience," an ongoing series of educational events featuring Kramer and Waves Product Specialists discussing, demonstrating and celebrating Waves' Studio Classics Collection.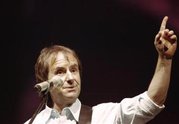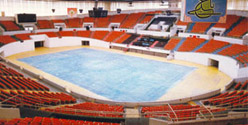 Singer Chris de Burgh will stage a concert in Tehran with an Iranian band in late November, the first such concert in the country in nearly 30 years, an Iranian satellite news channel reported on its website. The Irish-born singer will perform with Iranian band Arian."The concert is scheduled to be held in the last week of November at Azadi Indoor Stadium in Tehran which seats 12,000 people," said Majid Roqani, the head of public relations at Taraneh Sharqi Cultural and Artistic Company.The concert will be the first time since the 1979 revolution that an Iranian pop band played alongside a Western singer inside the Islamic Republic. Western pop songs with lyrics are banned by Iran's authorities although state radio sometimes plays instrumental versions. Iranian pop bands say their lyrics and tunes are vetted before they can be officially sold in Iran.Pirated versions of the latest Western albums or songs by underground Iranian groups are available on the black market. Arian and de Burgh recorded a song called "A Light for Eternity." That song was played at the cultural center where De Burgh held a news conference in the Iranian capital in May.


Nominations for the 60th Primetime Emmy Awards covering the period of June 1, 2007 through May 31, 2008 were announced by the Academy of Television Arts and Sciences. As usual, HBO led the field, garnering 85 nominations, with its miniseries "John Adams" leading all programs with 23 nominations. "30 Rock" led all broadcast series with 17 nominations. ABC was second with 76 nominees, followed by CBS with 51, NBC with 50, Fox Broadcasting with 28, Showtime with 21 and AMC with 20. DOWNLOAD THE COMPLETE 2008 NOMINATIONS LIST HERE

Guitar Center held its latest Guitar Center Sessions event with legendary songwriter/guitarist Dave Mustaine of Megadeth. The free event took place Thursday, July 10th, at Guitar Center's Hollywood store, located at 7425 Sunset Blvd., from 6:00-9:00 pm. Co-sponsored by Marshall Amplification, the over-capacity event showcased an intimate discussion, plus live performances, with one of metal's most legendary icons. Since forming Megadeth in 1983, Dave Mustaine has gone 20 times platinum, has received seven GRAMMY nominations, and has influenced and inspired a generation of guitarists and fans alike.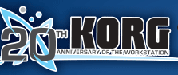 Korg Celebrates 20 Years and You Save! 2008 marks the 20th anniversary of the famous Korg M1 Music Workstation. Summer Offer: From July 1 through August 30, 2008, customers who purchase any new M3 Music Workstation (M361, M373, M388 or M3M) from an authorized Korg USA dealer, can receive a free EXB-RADIAS expansion option (a $350 value). The EXB-RADIAS is a 24-voice analog modeling and digital synthesis engine that also includes Korg's exclusive formant-recording vocoder. visit www.korg.com/promo
BiCoastal Studios in Ossining, NY, has been on a roll lately, employing Aviom Personal Mixers for recent recording sessions with some of the music industry's brightest stars, including the Yellowjackets Jazz Quartet, Rob Thomas of Matchbox Twenty, and progressive rocker Danny Brill. "We installed the Aviom Personal Mixers in 2003 at the suggestion of the studio's designer, Russ Berger," Hal Winer, owner of BiCoastal, says whose clients include: Phil Ramone, Neil Dorfsman, Bjork, Omar Hakim, Tony Levin, Antigone Rising, New York Philharmonic Chamber Group and Mick Guzauski (photo: Michael Sciotto Records at BiCoastal with Aviom)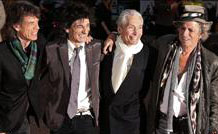 Shaun Curry, AFP/Getty Images
Start Me Up? The Stones topped Forbes' rich list for music acts last year, earning some $88 million between June 2006 and June 2007, mostly from their "Bigger Bang Tour." The British rock band announced they signed a long-term exclusive contract with Vivendi's Universal Music, after 20 years with the British EMI label during a show on April 2. Though the terms were not disclosed, Universal officially annouced the new deal last Friday and said it covered both future albums by the Stones and their back catalog, including albums such as "Sticky Fingers" and "Black and Blue" and the songs "Brown Sugar" and "Start Me Up." Universal will now release all new recordings by the group through its Polydor label and take over full digital and physical rights. It added that it will "begin planning an unprecedented, long-term campaign to reposition the Rolling Stones' entire catalog for the digital age." Terra Firma Capital Partners, the private equity firm that bought the London-based EMI last year and its new boss Guy Hands failed to re-sign British band Radiohead and other major artists, including Coldplay and Robbie Williams. EMI, whose artists also include the Beastie Boys, Norah Jones and Kylie Minogue, earlier this year announced plans to cut more than a third of its work force in a restructuring aimed at offsetting the impact of falling revenue from CD sales and the departure of several of its major artists, including Paul McCartney. What's your take? Did Guy Hands paid too much for EMI or is Universal just playing poker?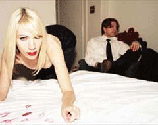 Oming Through Lynch Foundation Transcendental Meditation is not new, but introducing it in schools is what has become one man's passion. Over the last four decades, David Lynch (Twin Peaks, Mulholland Drive) has created some of the widely discussed screen works of our time. In his book, Catching the Big Fish, Lynch writes candidly about the tremendous creative benefits he has gained from his thirty-two-year commitment to practicing Transcendental Meditation. David Lynch Foundation for Consciousness-Based Education and World Peace offers a program that any student from the age of 10 years and upwards can practice a few minutes twice a day—"Quiet Time", a technique that promotes more dynamism in activity and yet prevents the accumulation of stress that wreaks havoc on health. This is a key to better health. In the past year, the Foundation has provided millions of dollars for thousands of students, teachers, and parents to learn to meditate. The Foundation also provides funds for independent research institutions to assess the effects of the program on creativity, intelligence, brain functioning, academic performance, ADHD and other learning disorders, anxiety, depression, and substance abuse. Accoridng to William Stixrud, Ph.D., a prominent clinical neuropsychologist in Silver Spring, Maryland, who specializes in work with children and adolescents and who has studied and lectured frequently on the effects of stress on developing brain, Stixrud says educators have long known that the optimal mind/body state of a student is one of relaxed alertness. The question has been, how does the student get there? The answer, Dr. Stixrud says, is the Transcendental Meditation program. For more on Transcendental Meditation visit http://www.mum.edu/
8MM performed at the red carpet David Lynch Foundation benefit on July 16 at the Key Club on Sunset Blvd. Femme fatal frontwoman, Juliette Beavan, has recently been recruited as a celebrity model for the sexy red-carpet line, Stop Staring! Producer Sean Beavan just completed producing and mixing MEESE's highly anticipated debut album for Atlantic. He also mixed TIGER LOU's forthcoming album and is currently executive producing an additively infectious remix of DOUBLE 0 ZERO's "The Hi Hi's" with Ben Rosen


Doug Rogers, founder and producer of EASTWEST (soundsonline.com), has announced Justin Ray Miller as the winner of the virtual instrument company's "Score This Movie" contest. For his winning composition, "The Polish Prescription for the People (Ending is Beginning)," Miller will receive all seven EASTWEST PLAY products. In January 2006, EASTWEST purchased the legendary Cello (formally United-Western) Studios on Sunset Blvd. in Hollywood, re-naming it EASTWEST Studios. The 21,000 sq. ft. facility, remodeled by master designer Philipe Starck, houses five recording studios and is the world headquarters for EASTWEST
"Color Your Sound" with Jack Joseph Puig (U2, Black Eyed Peas, John Mayer), will be held 7:00 pm, Wednesday, August 6, 2008, at RSPE Audio Solutions, 4130 Cahuenga Blvd., Suite 210, Universal City, Calif. Puig will demonstrate these critically-acclaimed new plug-ins and share his insider's view of the hitmaking process. He will discuss how to turn a computer into a rack of vintage gear, maximize studio techniques and transform tracks into radio-friendly mixes. The event is free and open to the public, but space is limited, so please feel free to RSVP and reserve a ticket at www.waves.com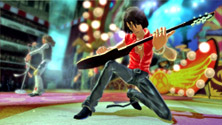 Reported by Wall Street Journal in early July, a new game called Guitar Hero: Aerosmith went on sale, the latest installment in the hot-selling Activision Inc. franchise and the first to let players jam along with music centered on a single act. A version of Guitar Hero featuring the metal band Metallica is due out within the next year, and Activision is in serious discussions with Van Halen about showcasing that band in Guitar Hero as well, people familiar with the matter say. Last year, Guitar Hero was the top-selling videogame franchise in dollar terms in the U.S., with $820 million in sales -- a record for a single game property, according to industry tracker NPD Group Inc. More than 10.8 million copies of Guitar Hero were sold last year, while a new entrant in the music-games category, Rock Band, sold more than 1.1 million copies, according to NPD. Led Zeppelin's thundering riffs are among the most sought after by music game makers, but the group's guitarist, Jimmy Page, and his bandmates have repeatedly turned down offers from both Activision and MTV, says Peter Mensch, a partner at Q Prime Management, which manages Mr. Page, along with Metallica and other acts. The sticking point: The band isn't comfortable with the prospect of granting outsiders access to its master tapes, a necessary step in creating the games. "It ain't about the money," Mr. Mensch says. Aerosmith's Joe Perry says this is an outlet for income for artists, like albums used to be. Irving Azoff, whose Front Line Management manages Aerosmith and other major artists, says videogame deals can be "much more lucrative than anything you can do in the record business." Industry executives say bands can receive millions of dollars up front, plus a generous royalty on sales. A person close to Aerosmith says the band expects to make more money from the game title than it has from any of its dozen-plus studio albums. Plus Market Watch says they're introducing the icons to a new generation. Sales of Aerosmith's "Same Old Song and Dance" shot up 130% in the week following the release of Guitar Hero 3, which included the track, Activision says. Who's next?!
According to Music4Games.Net composer Steve Jablonsky (Transformers, The Texas Chainsaw Massacre) is scoring the music for Gears of War 2, the forthcoming blockbuster sequel third person shooter developed by Epic Games.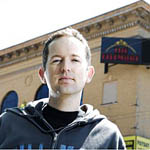 Chronicle photo by Mike Kepka Rick Mueller, formerly president of San Francisco, has been elevated to the new position of president of California for LiveNation. In his new role, Mueller will relocate to Live Nation's Los Angeles headquarters where he will oversee all operations in California, which includes more than 2,000 annual concerts and 15 owned or operated venues. Additionally, Mueller will oversee Live Nation's entire booking and marketing team in California, including Matt Prieshoff, Rich Best, Jodi Goodman, Emily Simonitsch, Michael Bailey, Greg Siegel, Robin Alexander, Brad Locker and Creighton Burke.
Lee Smith, who helped mentor Mueller, will continue to serve as chairman of Live Nation San Francisco.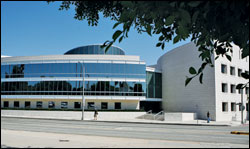 Sony BMG will relocate to the signature Beverly Hills building that once housed CAA

Sony-BMG signed a ten-year lease for the building that formerly served as the headquarters for the Creative Artists Agency (now Michael Ovitz is their landlord). Designed by I.M. Pei and built in 1989 for a cool $25 million. Unique features of the building include a lobby that takes up almost the entire first floor with a painting by Roy Lichtenstein . The challenging real estate market made the building a tough sell. According to Variety, Sony-BMG's deal will cost them approximately $4 per square foot and cover the annual operating expenses for the building, to the tune of $700,000 and $900,000 per year. Sony-BMG staffers are expected to take residency in the 65,000-square-foot space by January of 2009.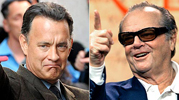 Tom AFTRA (YES vote) VS Jack vs SAG (NO vote)
AFTRA Accepts Deal On Wednesday SAG prexy Alan Rosenberg issued a decidedly chilly reaction to the deal announcement -- sans any congratulations to its sister union AFTRA -- after complaining the day before that SAG had been left out of the loop during the last week of AFTRA's negotiations. The DGA, IATSE and Assn. of Talent Agents, on the other hand, issued statements praising AFTRA's deal. The toxic relations between SAG and AFTRA add a volatile element to the mix. AFTRA president Roberta Reardon was particularly pleased that the pact retains actors' consent over online use of clips. "The clips discussion took up an enormous amount of time," she added. "That's partly because the unions had not anticipated the companies pushing the issue and partly because no business model currently exists. It's a real win for us."
The three-year agreement received support well below the usual level in such tallies, following a month of unprecedented battling between the unions. Despite the Screen Actors Guild's avid campaign, the 70,000-member AFTRA (American Federation of Television and Radio Artists) have ratified the union's primetime deal by 62.4% However, 120,000 member The Screen Actors Guild (SAG) president Alan Rosenberg attempted to portray the 37.6% "no" vote as a moral victory after SAG spent a month urging its 44,000 members who also belong to AFTRA to turn down the deal so that SAG could negotiate better terms. "We will continue to address the issues of importance to actors that AFTRA left on the table and we remain committed to achieving a fair contract for SAG actors," he added.
At the center: Residuals, the extra payments that actors get from reruns and a more permanent structure for New Media --Webisodes, podcasts, Vcast, VoD (video on demand), XBox 360, 3G (3rd Generation cellular network), Blu-ray etc all based on real information about the true economics of the business.

SAG currently dominates prime time and feature films, the rival union is poised to eventually capture a number of new prime-time dramas and sitcoms, thanks in some part to friendlier relations with the studios. AFTRA currently covers nine prime-time shows, including the HBO comedy "Curb Your Enthusiasm" and the new CBS series "Project Gary." The federation represented 22 prime-time pilots produced this year and all the actors in them, up from 16 last year. By comparison, SAG represented 33 produced pilots. Each guild claims jurisdiction over digital, setting the stage for conflict, especially in cable TV, in which AFTRA has made significant inroads. In the last four years, for example, AFTRA's share of scripted dramatic basic cable shows has grown to 55% from 15% as the union signed deals with producers of such shows as "Army Wives" on Lifetime and FX's "Dirt." During the same period, SAG says its share has shrunk to 45% from 85%. "Analyzing the question as a zero-sum contest between two unions is ridiculous," said Kim Roberts Hedgpeth, AFTRA's executive director.

AFTRA's tentative contract includes pay hikes for actors and is modeled on similar pacts negotiated by writers and directors. But SAG leaders say it doesn't address their bargaining goals, such as increasing the residuals that actors earn from DVD sales, giving them a say in how products are pitched in TV programs and ensuring that all shows created for the Web are covered under the union's contracts.

Speaking of residuals... music producers or musicians must be familiar with some label contracts that may be somewhat dated given today's internet based earnings. So, review that contrat sitting on your desk or worst filed away on your desktop or in the ol' drawer.
Tattoo: A Playlist For Generation Y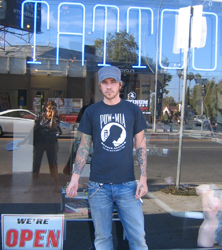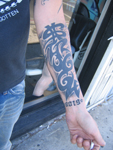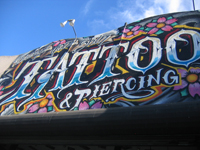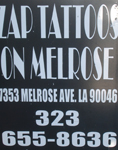 Tattooing has been a Eurasian practice at least since Neolithic times. Tattoos have served as rites of passage, marks of status and rank, symbols of spiritual devotion, decorations for bravery, sexual lures, pledges of love, punishment, and as the marks of outcasts, slaves and convicts. Over the past 50 years, tattooing has significantly increased in popularity. At least one-third of men and women between 18 and 25 have a tattoo, according to the 2006 Generation Next Study by the Pew Research CenterAccording to Wikipedia, 36 percent of Generation Y (individuals born, roughly, between 1980-94) have at least one tattoo studioexpresso got the tour by some of Hollywood's popular Tattoo parlors on Melrose. It's the crowd who reads Skin & Ink, Tattoo Flash, Tattoo Savage and may have Bright Eyes from Omaha, Nebraska or Minus Circus from Ireland on their playlist.

A 2007 episode of the American news magazine 60 Minutes entitled The Age Of The Millenials proposed that members of generation Y like customization. The same tech-savvy folks who utilize communication modes like Facebook, MySpace, YouTube, texting and IM. Millennials' reputation for being peer oriented and for seeking instant gratification may explain their appetite for music. Just keep in mind that Gen Y's don't listen to critics, authority or judges, rather they listen to their friends' recommendation in blogs (28% author a blog and 44% read blogs). What's on your playlist?
Matrix Excitement At SPARS Luncheon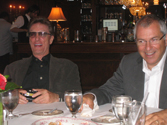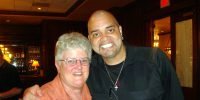 l-r: Leslie Anne Jones of Skywalker Sound, Jeff Greenberg, CEO of Village Studios and SSL President, Phil Wagner; SPARS President Leslie Ann Jones and Sinbad

SSL Director of Commercial Applications, Chris Jenkins presented Matrix, the affordable small format console with configuration that encapsulates a high quality 16 channel, 40 input analogue line mixer with a multilayer 16 fader DAW controller. President, Phil Wagner were on hand at a Los Angeles SPARS luncheon on July 22, 2008. The event, attended by
Southern California studio members, was sponsored by West L.A. Music and Solid State Logic Grove Center restaurant in Los Angeles. According to mixer/engineer, Barry Rudolph the price point (roughly $25K) and features offer composers/musicians, engineers/prdoucers and studios with Logic, Nuendo and Protools great flexibility. "All of our hard work over the last two years of conceiving and designing our 'new baby' has reached fruition and the first customers are now receiving their units. Dealers around the world are starting to show their demo systems to engineers, producers and musicians who have been searching for the product that gives their studio a new heart," says Pres, Phil Wagner. He also added that continued strong demand for its highly popular C Series digital consoles --C100 and C200 are enjoying attention from a wide variety of installations throughout North America.
SSL is to send product specialists to local pro-audio stores with a full demo system of Matrix and SSL's other analogue and digital products. For additional information visit www.solidstatelogic.com


Live and work in this charming manor home with recording studio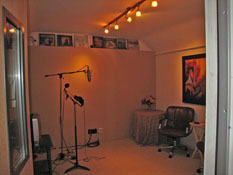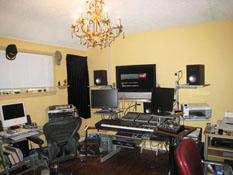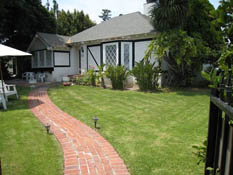 13103 Valley Vista Blvd Studio City CA 91604
MLS#: F1775460 $999,950.00
Sq. Ft.: 2345;
Beds: 4 plus 1 in Cabana / Baths: 4 plus 1 in Cabana / Garage: 2 inside plus 4 outside
Corner Lot house has Bedrooms 2 and 3 and a full bathroom -a separate area of the house and form a Recording Studio Suite suitable for music and post recording, editing, mixing, ADR, Foley, featuring s ound isolation door and video link to the Control Room, acoustic wall panels. Elegant Lihving Room with fireplace, Formal Dining and Den with custom fireplace. A Breakfast Room runs off the up-dated Kitchen and the large Den takes you through French Doors to the outdoors. A leafy courtyard, bbq and pool area feature an ex large sparkling pool and 110 sq. ft. Cabana. Beautiful hardwoods through out, French doors and lots of architectural detail. Call Christine Lloyd Maddocks (818) 437 0369 for further details.


COME TOGETHER!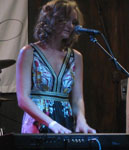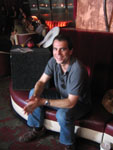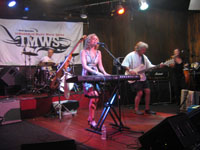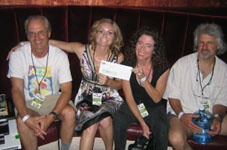 Kate VanHorn, Matt Wright and band at Knitting Factory - happyily displaying their $1k check
Band/location: Kate VanHorn
Who Meets Who: Tori Amos, Ani Difranco, Sarah McLachlan, Joni Mitchell
Major Milestone: This month Kate performed as 1 of 6 finalists from over 2,000 entries for Discmakers' 2008 Independent Music World Series ( Selected by Taxi & editors of Billboard Magazine). The group shared the stage with talented indie acts on July 17th at the Knitting Factory in Hollywood. Kate has been effervescing with captivating tunes and clever lyrics since the tender age of 12. Kate's band: Vic Carberry(Tommy Tutone, Sarah Baker) on drums; Jeff Martin on bass, and Roxanne Oliva (Tom Waits) on accordion, percussion, harp, keyboards and winds. Mooka Rennick, owner of PRAIRIE SUN RECORDING in Cotati, CA, has played a vital role in assembling these fine musicians for Kate's upcoming self-produced album "truce". The record is co-produced and with additional arrangement by Jeff Martin and engineered, mixed and mastered by Matt Wright
Kate at MySpace


Kopi 4 The Coffee Gourmet In 2007's The Bucket List, starring Jack Nicholson and Morgan Freeman, Kopi Luwak is the beverage of choice of Nicholson's character, who repeatedly praises it as the best cup of coffee in the world. Kopi Luwak or Catshit is coffee made from coffee berries which have been eaten by and passed through the digestive tract of the Asian Palm Civet. The civets eat the berries, but the beans inside pass through their system undigested. At $85-140 for 100 grams (if you can find it) it'll keep you awake!

"Nine years after Napster and the old players STILL don't get it."
--Lefsetz

"Music is an outburst of the soul"
-- Frederick Delius, composer
You are subscribed as %Email% Please click here -- http://www.studioexpresso.com/MailListForm.asp to unsubscribe or subscribe from any future mailings. We respect all requests. Thank you