True Blue

The Blue Devils Drum Corps is the most decorated outfit in the history of Drum Corps International (DCI) and have taken first place in DCI's World Championship twelve times - more than any other corps in the world. Their performances explode with precision and speed that suggest not a collection of humans, but rather a tightly-governed organic machine. John Loose, AV Services Manager for Dolby Laboratories, recognized that a Blue Devils performance captured in full HD video and accompanied by 96kHz, 24-bit, 7.1-surround sound would make for an extremely compelling demonstration of Dolby's technologies for use by its licensees. He relied on two 8-channel, extended-frequency and fast-transient-response True Systems Precision 8 mic pres to capture the Blue Devils performance with realism that is, because of the surround imaging, arguably even more astounding than a live performance.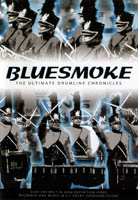 Since the Blue Devils were already planning to record an HD Video documentary of their preparations and performance at the 2007 DCI World Championships in Madison, Wisconsin, Loose and associate Adam Pinch arranged to record the entirety of their performance in a private session using the beautiful acoustics of the city's Overture Center for the Arts. Although the duo had eight channels of Focusrite preamps, they knew that they wouldn't be nearly enough and contacted Wisconsin-based Full Compass to rent additional preamps to feed their Pro Tools rig.

"Because we didn't know how much space we'd have for the gear, we wanted eight-channel strips to minimize our footprint," explained Loose. "We needed something that was super clean with great pads to beat back the high SPLs we were expecting. In addition, the fact that we were recording at 96kHz meant that our front-end would do better with an extended frequency response. Because the True Systems Precision 8 is utterly transparent, has ample headroom, and captures frequencies all the way out to 500kHz, it more than fulfilled our requirements." They rented two Precision 8s to bring their full track count to twenty-four.

The Blue Devils Drum Corps "A" consists of five bass drummers, six snare drummers, and four tom, or "tenor," drummers. All of the drummers stand, and the bass drummers use both sides of their drums, marching-band style. "One of the tricky parts of this was that everyone is in close proximity, and the bass drum performance in particular features a lot of stick movement," said Loose. "Since we were also doing video, we wanted to minimize the visibility of the mics." Together, these factors suggested shotgun mics for the bass drums. They used several Sennheiser MKH 416 shotguns positioned on the floor and angled up at the sweet spot of a few of the bass drums. Loose added, "The Precision 8 was great because we could flip the phase on one side and come away with a remarkably solid bass drum sound."

Loose and Pinch used Shure Beta 98DS clip-on mics for the top and bottom of a few of the snare drummers and ran the snare's quick transients through the equally quick response of the Precision 8. The sheer number of tenor drums, six to a player - 24 in all - created a close-miking problem. They opted to record the high toms of one drummer, the mid toms of another, and the low toms of a third using Sennheiser MD 421 dynamics inserted into the toms from below ("Phil Collins style") and preamplified by the Focusrite. Finally, Loose and Pinch used the Precision 8s for two AKG 414s and the rear channel outputs from a Holophone surround microphone for ambience. "The Precision 8s sounded amazing," Loose concluded. "Their fast transient response makes for some very snappy drums. When you watch and listen to the performance on HD DVD or Blue Ray in full 96kHz, 24-bit, 7.1 sound at a respectable volume, it will make your heart race and your hairs stand up!"


Drawmer -- A Good Sounding A to D Converter & Word clock




TransAudio Group, a premier sales and marketing representative for high-end audio equipment based in Las Vegas, Nevada, has announced the availability of the Drawmer A2D2, an AES Grade 1 dual stereo output analog-to-digital converter. The stereo A/D converter offers dual simultaneous stereo outputs, each with separately selectable sample rates, and additionally provides three word clock outputs, allowing the A2D2 to also act as a master clock generator.

For maximum flexibility, the stereo A/D converter in the A2D2 provides simultaneous dual stereo outputs that may each be selected to different sample rates, including 44.1, 48, 88.2, 96, 176 and 192kHz. This permits, for example, the output of a high-resolution 192kHz version with a simultaneous lower resolution 44.1kHz version. Each digital output has a selectable word length of 16 or 24 bits, with automatic dither generation.

Level control of the dual Burr Brown analog input stages is via fully variable front panel rotary controls, operating over the range of -2dBu to +28dBu, or 24-turn precision presets for a fully calibrated input. +Accurate 24-segment peak reading LED bar meters display incoming signal levels from -50dBfs to 0dBfs and also include separate overload LED indicators.

The A2D2 incorporates an AES Grade 1 standard low jitter clock generator and offers three word clock outputs to allow the unit to act as master clock generator. An external clock input allows the user to select an alternative clock source without having to re-route clock cables. The A2D2 uses a linear power supply to minimize interference with the internal clocks.

Noted Brad Lunde, president of TransAudio Group, the US distributor for Drawmer "A good sounding A to D converter that delivers two different digital outputs at different sample rates is unique. I don't know of another converter that delivers a 96 or 192 main output and a 44.1 copy at the same time."


M-Clock Lite is the ideal no-nonsense solution for anyone seeking a simple high precision word clock without the complexity of the high-end devices that offer features that are non-essential for most everyday applications.
The unit incorporates an AES Grade 1 master clock generator with a long-term frequency accuracy of +/- 1ppm and offers forward compatibility with future high-speed clocks, supporting 44.1, 48, 88.2, 96, 176.4, 192, 352.8 and 384kHz clock rates at extremely low jitter. "I thinks it's very smart for Drawmer to expand its clock range to include a universal efficient, simple, precision master clock from 44.1 to 384kHz with ten outputs, making it useful for years to come," says Brad Lunde, president of TransAudio Group. "Drawmer designed the M-Clock to easily facilitate digital recordings easily and simply."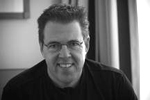 For more info on True Systems or Drawmer contact Brad Lunde at TransAudio Group (702) 307-2700

TransAudio Group, founded by industry veteran Brad Lunde, has quickly become the premier US importer/distributor and/or US sales and marketing representative for high-end audio. Success hinges on TransAudio providing dealers and end users with a higher standard of product expertise and support far beyond the norm. TAG product line includes Accusound, A-Designs (USA) AEA ribbon microphones (USA), ADT Toolkit, AEA, ATC Loudspeakers (UK), Brauner microphones(Germany), Drawmer (UK), Geoffrey Daking & Co. (USA), Enhanced Audio (Ireland), George Massenburg Labs (GML) (USA), Heil Sound (USA); Mercury Audio (USA) Mission Audio (UK) Phoenix Audio (UK), PAULY Superscreens(Germany), SABRA SOM(Brazil), Soundelux (USA), SoundField Microphones (UK), Z-Systems (USA), Sonodore Microphones (Holland), Tonelux,
True Systems and Weiss Engineering (Switzerland) and Z Systems (USA)
LasVegasProAudio.com, LasVegasProAudio.com, a division of TransAudio Group, is the launch pad for the brands of tomorrow. The goal of LasVegasProAudio.com is to provide unique equipment, useful information and long-term support to their clients.



Expresso Cat Walk And Talk...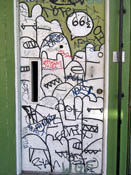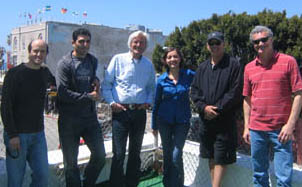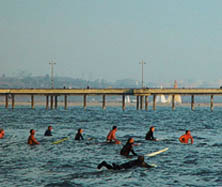 l-r: Producer/mixer Rafa Sardina, Artist Gor, Hans Veldhuizen, NovaTunes Founder and President, Claris Sayadian-Dodge of studioexpresso, producer Greg Ladanyi of
Maple Jam Records, NovaTunes Senior VP of Marketing & Sales man, Steve Rosenblatt

NovaTune it... studioexpresso producers met up with Hans Veldhuizen, Founder and President of NovaTunes in beautiful Venice California on April 10 to learn about this revolutionary new music distribution model --Itunes meets Myspace.
The online store allows artist to manage their music sales and splits and connect to fans easily. The true Venice Beach Bohemian lifestyle comes alive on the block near the sandy beaches where NovaTunes headquarters are located. First you enter the unassuming graffiti covered door and find pleasant space that includes rehearsal suitable for showcasing artists and offices with an open rooftop offering ocean views and blue skies!

NovaTunes accepts material in the singer-songwriter and guitar rock and world genres and plans to release music from new artists each week. "We like studioexpresso community's filtered music content – artists working with trusted names in the industry and talent being nurtured and developed appeals to us. We're inviting studioexpresso producers to submit an artist from expresso10 for a compilation album distributed by NovaTunes," says Senior VP A&R / Artist Development, John Wooler.

Music fans can listen to full albums of all the artists on NovaTunes, and if they like what they hear, purchase music directly from the artist. Frequent purchasers will gain All Access membership, which allows them to download music and pay for it later. Artists receive 70% of music revenue at the moment of purchase. "The back end system of NovaTunes offers artists and managers transparent online accounting system and I think that's going to set NovaTunes apart from other distributors. That means revenue that comes into NovaTunes from sales, you get the proceeds immediately," says Claris Dodge of studioexpresso. "Since our on-line sales are through paypal or credit card we are able to pay the artist almost immediately after each sale into an account that the artist or his manager/label can control," says Veldhuizen. "We do not sign artists, we think artists should own their own masters (crazy, I know), we license their work to sell on line. Our agreements are non-exclusive so the artist can continue doing all the good things they are doing for their career, just add us into the mix," says Wooler.
The music on NovaTunes is sold in a new digital album format called the 'DP' (a 'Download Pack' with music tracks, printable artwork and often an iPod ready video). Most of the DPs sell for $7. The music is available in 5 different high quality formats: 192 and 320 kbps AAC/MP3 as well as in WAV-format, all for one low price. NovaTunes downloads are DRM-free, and thus playable on any computer, MP3 player or iPod. "NovaTunes is built on respect for the artist and the music fan," says founder Hans Veldhuizen. "We strongly believe there are people out there who are willing to support the artists they like and pay for music, provided that it's reasonably priced, easy to download, and come without any annoying restrictions." 5 different Download Formats are offered. NOTE: If you're using an iPod - AAC is the preferred format with better sound quality and less file size. If you're not using an iPod, MP3 is the preferred format, since it will work with any audio player. 192kbps bit rate is the preferred option for any portable player, including the iPod. 320kbps bit rate provides a slightly enhanced audio playback quality but also increases the file size and download time. WAV files are the actual mastering quality and are over 500 Mb download (1/2 a Gb)! According to NovaTunes website, large downloads requires a VERY good Internet connection. An estimated download time for WAVE files, on a very good connection can be + 30 minutes * You have a total of 5 downloads per purchased DP.
Please RSVP via email claris@studioexpresso.com to attend the next
NovaTune Open House For studioexpresso producers
Thursday May 8th, high 12noon
Space is limited to 12
"Basically we are remaking that cool record store we all used to hang out in, where you'd discover new music, only we are doing it on line," says Senior VP of Marketing & Sales, Steve Rosenblatt who offers to give a full power point presentation along with a brief video from one of NovaTunes Artists Board of Advisors, Graham Nash.
"We think this will lead to good discussion of how NovaTunes can help our producers get new music into the marketplace," says Dodge. Who's on NovaTunes? Jackson Browne, Graham Nash, Leon Russell, Over The Rhine, Van Dyke Parks, David Crosby and about 40 up-and- coming artists. Signing up is free! Take a Listen!



Legendary record boss Clive Davis, 76, is stepping down as CEO of Sony BMG Music. In his 55 year career Davis signed Janis Joplin, Pink Floyd and Bruce Springsteen. He will reportedly take on another creative post at the label. Davis is a member of the Rock and Roll Hall of Fame as a non-performer. Barry Weiss, 49, the chief of the company's Zomba Label Group, will become chairman and chief executive of the BMG Label Group, overseeing RCA and Zomba, and an array of artists like Justin Timberlake, Alicia Keys, OutKast and Kelly Clarkson. The pop hits that Mr. Davis is known for delivering (ie: Alicia Keys sold 3.4 million copies since its release last year) typically require the kind of expensive videos and marketing campaigns that labels are reluctant to finance at a time when music sales have been sliding. Sony BMG's decision to promote Mr. Weiss underscores the idea that hits alone cannot save the industry. As head of BMG, Weiss will oversee RCA Records, Jive, J Records, LaFace, Arista, Volcano, Verity, GospoCentric and Fo Yo Soul. Weiss, on the other hand, personally oversees many of his artists' creative decisions, and has also enjoyed his share of chart success with acts like Chris Brown and T-Pain. However, he also has a reputation for tightly managing expenses, and being savvier about the digital revolution. T-Pain's hits, for example, have had considerable success as ring tones, the kind of high-margin, low-glamour products that are becoming more important to labels' bottom lines. Richard Sanders, now president for global market, with become head of international. Mr. Davis will continue to work with some acts and report directly to the Sony BMG chief executive, Rolf Schmidt-Holz. Many of Mr. Davis's recent successes came from "American Idol," which places certain artists with various divisions of BMG. BMG tried to move Mr. Davis aside once before, in 2000, ostensibly because of a mandatory retirement policy. Antonio Reid succeeded him at Arista, the label Mr. Davis founded in 1975. But after vocal protests from artists and executives — and a considerable amount of media coverage — BMG executives made a deal to commit $150 million to start J Records as a joint venture with Mr. Davis. (BMG bought the remaining half of J in 2002.) Although Mr. Davis's employment contract was not up until next year, this will give the company a succession plan."The business is under tremendous pressure, and it's very tough to maintain profits as they were in preceding years," said Danny Goldberg, a former record company president who now runs the management firm Gold Village Entertainment. BMG label group is overseen by Rolf Schmidt-Holtz, CEO of Sony BMG Music Entertainment. Sony BMG said that Davis will continue to work with top artists in his new position as chief creative officer Sony BMG Worldwide.

Keith Richards wants to open a guitar museum. The Rolling Stones guitarist has a collection of around 3,000 guitars and is considering showing them off to the public. The 64-year-old rocker said: 'I've probably got too many (guitars)...It's an incredible collection of beautiful instruments but I only play about ten of them, and guitars have to be played." Richards has also considered giving away some of his instruments as gifts, because a lot of his guitars were originally given to him as presents. He added: 'I don't know what I've done to deserve that. I've been one of the biggest a**holes in the world!' His fans would not agree with that!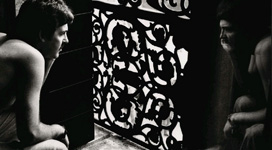 Paul McCartney will perform live to hundreds of thousands of people in Independence Square, Kiev, Ukraine. Dubbed, the Independence Concert, the FREE event organized by Victor Pinchuk Foundation, will take place on Saturday, June 14, 2008, and will be broadcasted live on Novy TV. "The historic concert will be shown on screens in cities across the Ukraine for those who can't make it to Kiev," says the organizer. A wealthy businessman who made his fortune in steel, Pinchuk is the son-in-law of former Ukrainian president Leonid Kuchma and founder of a namesake charitable foundation that supports social issues ranging from health care to human rights.Coinciding with the concert, the Pinchuk Art Centre will mount a show featuring 40 of McCartney's paintings, with the singer to personally open the exhibition in Kiev. He played for 90,000 in Moscow's Red Square in 2003.
In related art news, Paul's beloved wife, Linda McCartney's Photographs (BW above) will be part of a special exhibit in UK from April 25 - July 19, 2008; Monday - Friday 10.00 am - 6.00 pm; Saturday 10.00 am - 4.00 PM; Admission FREE James Hyman Gallery and Paul McCartney announced the exhibition of 28 platinum photographs by Linda McCartney. This is the first major exhibition of platinum prints by Linda McCartney to be presented with the full support of Paul McCartney and his family. This exhibition is the result of a three-year collaboration with gallerist and art historian James Hyman. Tel. +44 (0)20 7494 3857 info@jameshymangallery.com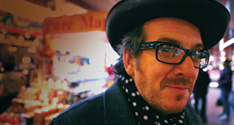 Elvis Costello has released his new album 'Momofuku' on vinyl because he says "this is how it sounds best'. Video of the day is Paramore 'That's What You Get.' Elvis says the 'Momofuku' title is actually a reference to the man who invented the Cup Noodle, Momofuku Ando! 'Momofuku' is available now on vinyl from Costello's website. The album comes with instructions on how to also download the album. A CD version will follow on May 5th. In a posting at his website, Costello explains that the album was made so quickly that "I didn't even tell myself about it for a couple weeks".

Snoop who says he regularly studies thesauruses to expand his understanding of the English language, is reported to have the soccer champ, David Beckham to rap on his upcoming record. The pair are also said to be planning to release a range of yes, it's not a typo, slippers! David appeared as a guest on Warner Bros. The Ellen DeGeneres Show on April 24

Jennifer Lopez and Marc Anthony baptised their twins on Saturday, April 12. The couple then hosted a reception attended by their closest friends and family members at their nearby Brookville house. Max and Emme didn't cry at all! It was recently reported 'El Cantante' actor Marc bought his 38-year-old wife a $300,000 eight-carat yellow canary diamond ring to celebrate the birth of the twins. "Your heart is connected to them (the children). With all the things that Marc and I have accomplished in our lives, this is the biggest thing that will ever be," says the happy mom.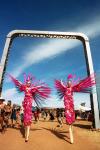 ROCKET! Andalucia, SPAIN Firday-Sunday May 16 - 18, 2008
Blast off is almost here for the musically galactic, Latino romantic and beautifully climactic Spanish music festival
Coldcut, Pendulum, The Nextmen, JFB & Beardyman, Evil Nine, Bad Manners, Transformer, Serge Santiago, Icicle, Groove Allegiance, Babyhead, Zen Hussies. tix: http://rocketfestival.com/en/content/bus-uk
http://rocketfestival.com/en/content/rocket-rail-loco2 Following on from last years sold out event that brought us The Noisettes, Metronomy , Late of the Pier, These New Puritans, Friendly Fires and Simian Mobile Disco amongst others, War Child Music's annual dance party, ARMY OF YOU, returns again on Thursday 29 May, this year at the Scala, Kings Cross, UK. ARMY OF YOU aims to raise awareness of and funds for, War Child an international child protection agency that works with the most marginalised children – child soldiers, street kids and children in prison – in Iraq, Afghanistan, the Democratic Republic of Congo and Uganda – www.warchild.org.uk

Studio Suite has become the new standard for inventory and scheduling management in studios now celebrating its 10th anniversary with record breaking sales of Studio Suite 8. "Our user-base is growing by leaps and bounds: well over 3,000 users at well over 1,000 studios," says AlterMedia president, Joel Stoner who exhibited his product at NAB April 14-18. Take a video demo tour here! For more information, contact Studio Suite at 1-800-450-5740 (US and Canada); 1-818-752-3900 (Los Angeles).
Jim Ladd's Theater Of The Mind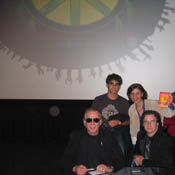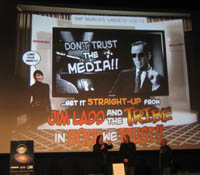 l-r: Billy Sherwood and Jim Ladd at Archlight, Hollywood with young fans
The record release party for Jim Ladd's Headsets Chapter 1 "Alone Out Here" at the Hollywood Arclight Theater in April looked like a cult convention. My twenty-something friend fit right home which was pretty strange. But, once you hear the universal theme of the music and song messages, you realize that no matter what age group or generation, the music makes you belong! the CD was presented in its entirety, along with a full length video edited skillfully that tells the story of an astronaut who finds himself marooned in space on a one way trip into infinity. Along with original songs and spoken word pieces that tell this incredible story.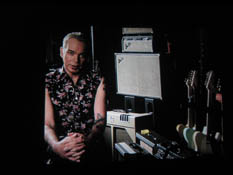 Wear this "Headsets" and take an intimate journey of theater of the mind... Jim Ladd's radio show "Headsets" live on KLOS, 95.5 FM reached millions of fans. Now Ladd and ex-Yes/current Circa: guitarist Billy Sherwood have joined forces on this album that was released mid December. Songs included: "Universal Garden" from the YES album "Open Your Eyes", "The Lonesome Trail" from Conspiracy, and "One World Going Round" from World Trade "Euphoria". Also featured is a remake of the Rolling Stones' "2000 Light Years from Home" performed by Billy Bob Thornton, and a hypnotic tribal drum solo performed by John Densmore of The Doors.

Score And Win EASTWEST Products
From now until June 30, 2008 users can create their own score for an original short movie created by Zennor Alexander and posted on the EASTWEST forum at http://www.soundsonline-forums.com/showthread.php?t=12974.
The concept of the piece is:
"This is a story about the circularity of life - Out of the void comes a seed which sprouts into a plant. The leaves of the plant mature which ends the growth phase. As the leaves fly off in all directions, we follow one on its journey into the unknown. The leaf meets another and the two fly around in a mating dance, eventually merging. The merged leaves become mature wings, and fly off through this new world to find the original void from which they came. The wings finally dissolve and compact to become a new seed, completing the cycle." The score should have a wide variety of pace, mood and style and must be composed solely with sounds from libraries distributed by EASTWEST, with an emphasis on EASTWEST PLAY-powered virtual instruments. Entrants are free to show their creativity and originality in the selection of instruments and the juxtaposition of their composition with the film's imagery. Once users have completed their piece, they need to post a link to it on the EASTWEST forum here http://www.soundsonline-forums.com/showthread.php?t=12974 for it to be considered.
Compositions entered in previous EASTWEST contests, posted on EASTWEST forums, or containing third party copyrighted material or software, are not eligible. From entries posted on the forum, Zennor Alexander and the EASTWEST staff will select a winner. The winner, who will be announced on July 15th, 2008, will receive all seven PLAY products which include:
Fab Four, Quantum Leap Pianos, Quantum Leap Gypsy, Quantum Leap Ministry Of Rock, Quantum Leap Voices of Passion,
Quantum Leap SD2 and Quantum Leap Goliath.

REEL Estate Finds
Modern Masterpiece Architect: Ana Henton --2467 Corralitas Dr. Silver Lake - Echo Park
Located north of Dodger Stadium with easy access to Los Feliz, Silver Lake, Echo Park, Downtown, and the 5 Freeway
Beds: 3; Baths: 2.5; Sq.ft: 1,900 approx. 2008 construction

MLS# 08-261805 Sales Price: $ 869,000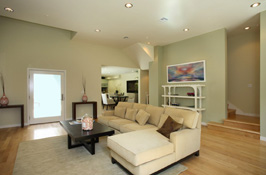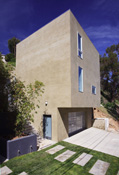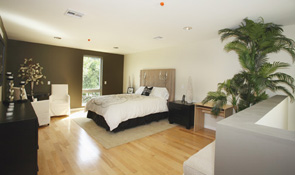 This single family home is a brand-new, impeccably constructed, hillside 2008 residence. Art is defined in beautiful open living spaces filled with light, and designed with an entertainer's frame of mind.

Enjoy an expansive living room, dining area, gourmet kitchen with top of the line appliances, and two terraced patios for outdoor and indoor living. A must see property for the most discriminating Buyer.
To view, mention this ad and call Candace at 323.559.0856


Stately Tudor Manor --2131 Cedarhurst Drive Los Angeles, CA 90027
Beds: 5 Baths: 5.5 Garage: 2 3 Levels Sq. Ft.: 4928 Built: 1935
MLS#: F1760833 $2,800,000.00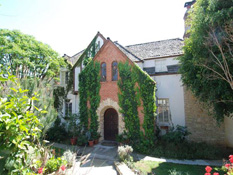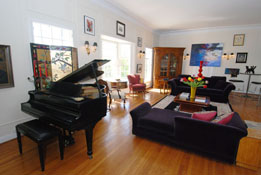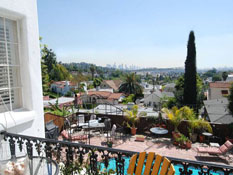 Formerly owned by famed singer and pianist, Michael Feinstein, who used this studio as a Live Sound Room, and storage for his music archives. Located North of Los Feliz with stunning city views, this stately English manor, has classic detailing with original details.With its separate entrance, the adjoining control room and a separate electrical panel (providing clean power) is the perfect place for your creative endeavors.The kitchen combines original character with hi-end appliances, light and bright Breakfast Room, Formal Dining with own balcony, the huge Living Room is step down with stunning city views and adjoins the traditional Library. The 5th Bed and Bath currently used as a guest-apartment with kitchenette and own entry. A 20 x 40 pool opens out to magnificent city views. Mention this ad when you Call (818) 437 0369 or e-mail christine@homeswithstudios.com.
AES Europe Turns 60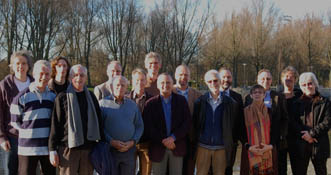 The 124th AES Convention Committee: L-T-R. Bert Kraaijpoel, Tin Jonker and Roland Bolz, Student Sessions; Peter Swarte, Chairman; Frits Vroom, AV Facilities; Alex Balster, Historical Events; Michiel van Eeden, AV Facilities; Steven van Raalte, Advisor R&D Target Group; Diemer de Vries, Papers & Posters; Ben Kok Workshops & Tutorials, Rinus Boone, Papers & Posters; Roger Furness, Executive Director; Gis?le Clark, Marketing Support; Han Tendeloo, General Support: Menno van der Veen, Technical Tours and Thierry Bergmans, Exhibition & Registration. Not pictured are: Florian Camerer, Broadcast Sessions; Martin Wöhr, Advisor R&D Target Group; Stan Tempelaars, Historical Events; Stefani Renner, Communications & PR and Jan Romijn, Special Events.
Marking the 60th Anniversary of the Audio Engineering Society, the annual AES European Pro Audio Expo and Convention will be held in the Amsterdam RAI International Exhibition and Congress Center May 17-20. Executive Director Roger Furness reports that "a broad technical program and exhibits will be presented under the banner theme, 'New Horizons In Audio."
Multi-Platinum recording engineer Geoff Emerick will present a special Making-Of Sgt. Pepper's Lonely Hearts Club Band film commissioned by the BBC to celebrate the 40th anniversary of its first release. "It is a unique coincidence that the AES was twenty years old the year Sgt. Pepper was released" Roger Furness remarked. This historic event is certain to be an unforgettable highlight of the 124th Convention." As a 60th Anniversary Celebration, bonus, the AES is offering fifty full program passes to the 124th Convention. To enter the drawing visit www.aes.org/events/124/quiz/ , and take the AES challenge, "QUIZ AES." For detailed information about the 124th AES Contention, please visit www.aes.org


Artists To Watch....COME TOGETHER!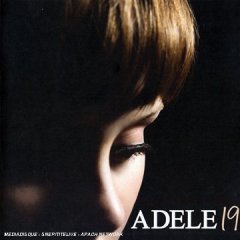 Artist/location: Adele, South London, United Kingdom
Sound: singer/songwriter mixes up R&B and Soul served up with a healthy dash of feisty London attitude
Who Meets Who: Etta James, Jill Scott, Bjork meets The Cure and Peggy Lee
Major Milestone: 2008 debut album on Amazon & Itunes; Great videos, Touring extensively UK, Chicago, LA -- Coming to the Roxy in LA 5.21; Myspace Profile Views: 2,873,508 . Signed to Columbia Records in the States March 08


Artist/location: Trio Lady Antebellum: Nashville
Sound: Country
Major Milestone: self-titled debut album release: April 15 on Capitol Records
Single "Love Don't Live Here" currently #14 on R&R and #12 on Mediabase and ITunes mainpage
"Single of the Week" for the week of March 25
Recently nominated for the Academy of Country Music's "Top New Group"
Named one of Billboard's "New Faces to watch in 2008" (the only country artist to make the list )
MSN Music chose them to be in their "Class of 2008"
Reviews: One of the "Eight to Watch in '08" -- The Boston Globe "Who's Hot in 2008" -- Country Weekly "the next BIG thing." -- Nashville Lifestyles
Touring with Martina McBride - her Waking Up Laughing tour and will hit the road again this spring opening for artists such as Kenny Chesney, Taylor Swift, Tim McGraw and Carrie Underwood.
For further information regarding Lady Antebellum, contact: Dixie Owen Capitol Records Nashville 615-269-2087
"Art is a form of magic designed as a mediator between this strange hostile world and us."
--Pablo Picasso
The single biggest problem in communication is the illusion that it has taken place.
--Geroge Bernard Shaw


Happy belated 50th B-day Ms Rose!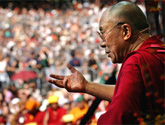 Non Violent response to aggression is the message of enlightenment. Martin Luther King and John Lennon subscribed to this philosophy. So does the Dali Lama. However, what we don't see on the evening news is the fact that there is still a Genocide in Tibet today (Regenerate Films captioned this recent footage posted on YouTube in March). Each year in April we remember 1.5 million lives lost in the first Genocide of the 20th Century. Those who denies this violation of human rights, continue to overlook injustices in the twenty-first century in Darfur and Tibet today. The responsibility lies upon each and every one of us to educate and to become activists despite government politics.
Echoing Thomas Jefferson, article 3 of the Universal Declaration of Human Rights reads, "Everyone has the right to life, liberty and security of person." Last year, few of us got together and created a tolerance program for public schools in Los Angeles: Screen, Shoot & Share gives the students learning tools including documentaries on Genocide, and Q&As prepared by an educator. The students are encouraged to interview one another after screening the recommended films and capture their views on video, later to be edited and shared with friends.

You are subscribed as %Email% Please click here -- http://www.studioexpresso.com/MailListForm.asp to unsubscribe or subscribe from any future mailings. We respect all requests. Thank you.