Lurssen Mastering Studios Open In Hollywood
Award-Winning Owner/Engineer Chooses ATC Speakers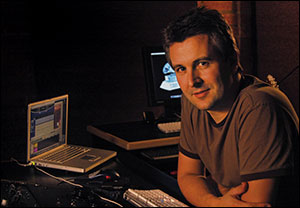 Winner of two Grammys, mastering engineer Gavin Lurssen chose ATC (Acoustic Transducer Company) SCM150ASL's for his new Hollywood-based Lurssen Mastering facility.

Since its opening at the end of 2006, Lurssen Mastering in Hollywood has worked on an extensive roster of projects, including work by T Bone Burnett, Grant Lee Phillips, Kimberley Locke, Joe Henry, Loudon Wainwright, Reliant K (live recording), John Doe, unreleased demos by Warren Zevon, Bo Diddley and John Lee Hooker reissues, Peeping Tom and Tomahawk (Mike Patton, formerly of Faith No More), Randy Newman, Sean Hayes, Draco Rosa, Hayley Sales, Bratz, "God of War II" soundtrack, Cartel, AM, Brandi Shearer, Mandi Perkins, Chris Pierce, Joe Purdy and Robert Earl Longley.
Lurssen holds the unique distinction of being the first mastering engineer to be honored by the Recording Academy with a Grammy in the Album of the Year category. "There are three mastering engineers in the facility and everybody is thrilled about the diversity of each engineer," says Lurssen, who worked at Doug Sax' Mastering Lab in Hollywood for 15 years before branching out on his own. Lurssen Mastering also features mastering engineers Jonathan Belzley and Gabriel Wallach.
Winner of two Grammys, mastering engineer Gavin Lurssen's new facility is outfitted with three-way active ATC SCM150ASL Pro monitor speakers. "These were the best sounding speakers that I researched," says Lurssen. "In my opinion, you can put ATC speakers in any environment and they will tell you the truth. If the pair of speakers that you're using guide you and tell you what to do on your mastering console then you are in good shape."
Lurssen was particularly impressed that each custom amplifier module in the self-powered system is perfectly matched to each driver. "If you buy a speaker system without an amplifier you have to find an amplifier that matches the speaker system. Everybody has an opinion on that, so you could end up with this amp or that amp. The fact that these amplifiers are specifically made for the speakers that they're driving is very attractive to me."
"What is also important to me," he continues, "is that Charlie Bolois, who is the Los Angeles technician for ATC, is instantly available for anything that might come up. Mastering is a business that sells time, and if we have down time we're not making any income." Bolois' Vertigo Recording Company was also responsible for all of the equipment integration and installation at the studio.
Lurssen's mastering work has been featured on several Grammy-winning and Grammy-nominated releases, including "O Brother, Where Art Thou?" the soundtrack release that won Album of the Year in 2001 - the first year that the mastering engineer was also recognized. In 2003, Lurssen received his second Grammy in the Best Historical Album category for his mastering work on "Martin Scorsese Presents The Blues," the acclaimed box set companion to the PBS series. He also mastered three of the five original songs nominated for Oscars in 2004, including two from "Cold Mountain" and one from "A Mighty Wind" and one the following year for the movie "Transamerica."
ATC's drivers are manufactured in-house to exacting tolerances and are legendary for their many design innovations, such as the innovative SL magnet system and the company's renowned Soft Dome mid-range driver, which achieves exceptionally broad and even dispersion to produce a flat response anywhere in the room. Situated in Aston Down in rural Gloucestershire, England, ATC was established in London in 1974 by acoustics engineer and musician, Bill Woodman.
For more info on ATC Loudspeakers (UK) contact Brad Lunde at www.lasvegasproaudio.com or Phone (702) 307-2700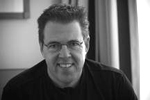 Las Vegas Pro Audio (www.lasvegasproaudio.com) a division of TransAudio Group, is the exclusive U.S.source for ATC studio monitors(UK), Digital Audio Denmark AD/DA DXD/DSD converters, Daking electronics, Enhanced Audio mic mounts, and Pauly Superscreen pop-filters. The goal of LasVegasProAudio.com is to provide unique equipment, useful information and long term support.
TransAudio has quickly become the premier US importer/distributor for high-end audio with a product line to include A-Designs (USA) AEA ribbon microphones (USA), ADT Toolkit, AEA, ATC Loudspeakers (UK), Brauner microphones(Germany), Drawmer (UK), Geoffrey Daking & Co. (USA), Enhanced Audio (Ireland), George Massenburg Labs (GML) (USA), Heil Sound (USA); Mercury Audio (USA) Mission Audio (UK) Phoenix Audio (UK), PAULY Superscreens(Germany), SABRA SOM(Brazil), Soundelux (USA), SoundField Microphones (UK), Z-Systems (USA) and Weiss Engineering (Switzerland) and Z Systems (USA).
The Live-In-Studio Session Connector, Mixer and Engineer Robert Shahnazarian Jr.
Rare Takes For Sony Connect Set Artists From Peter, Bjorn and John and Test Your Reflex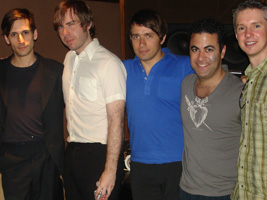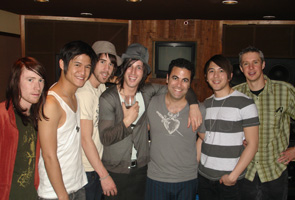 l-r : The band Peter, Bjorn and John with Robert and Gregg Orgorzelec from Sony Connect; Robert and Gregg with RCA recording artists Test Your Reflex.
Once again you can sit in fly-on-the-wall Connect sessions with ground breaking artists recorded by mixer, engineer, musician and producer Robert SJr who makes these unique takes available on the Sony online store. This month the sessions begin with rockers Anberlin (Stephen Christian - Vocals, Guitar; Deon Rexroat - Bass Joseph Milligan - Guitar; Nathan Young - Drums) Peter, Bjorn and John and RCA artist, Test Your Reflex. Peter, Bjorn and John (originally from Sweden) came to the studio and played on 5 songs with instrumentation that includes 2 acoustic guitars, percussion plus a sampler. "Good work for a day," says Robert. The session with Test Your Reflex showcases 3 voices, 1 acoustic guitar, 1 electric guitar, keyboard, bass and drums. "Since I was not made aware of the full-band setup, we had to convert the adjoining lounge at studio 1 into a drum room an hour before the session. I live for this kind of excitement…Nevertheless, the boys were having such a good time making music that it allowed me to capture great performance gems," says Robert who will be recording a video shoot featuring Tom Morello, signed to Epic Records later this week. "This will be an acoustic set at Cole Rehearsal, where Rage Against The Machine recorded their album Evil Empire. We set up today and record all day tomorrow. Boom, boom, boom," says Robert.

Robert Shahnazarian Jr. has mixed and engineered over 1001 songs for Live-In-The Studio Sessions for Sony Connect Set artists to include: All American Rejects, Alien Ant Farm, The Killers, Kelly Clarkson, Super Furry Animals. Additionally, he A&Rs and has his own studio and label, Feudal -- http://feudalrecords.com/index.htm Most recently, Robert completed work for Connect Set artists The Decemberists and Mute Math and singer and songwriter Jeremy Enigk of emo-core pioneers Sunny Day Real Estate and The Fire Theft. Each week, new, cutting-edge artists record with mixer/engineer, Robert Shahnazarian Jr. These rare acoustic sessions are exclusively available at CONNECT Music Store in US, UK and Canada. Connect is the world's largest online music downloads store with over 2 million songs to preview and own.
High Demand Sited For SSL's Large-Format Console Duality
Audio Professionals Worldwide Recognize Solid State Logic Unparalleled Quality (NAB Booth# N2526)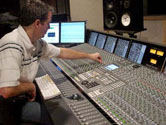 Producer/engineer Aris Archontis with North America's first Solid State Logic Duality console at his new, Chris Pelonis-designed private recording studio in Sherman Oaks; The Duality is housed in Sheffield's large music studio, explains Sheffield Audio-Video President Richard "Vance" Van Horn, and serves the facility's commercial recording and training programs; Mono Music Studios, owned by legendary composer/producer Benny Andersson, has installed a Solid State Logic Duality 96 channel large format production console; Pictured at the Duality is producer/engineer Rob Heany, who spent a month in Studio B mixing Canadian recording artist Kevin Parent's first English language album.
Since the December 2006 installation of a 48-fader Solid State Logic Duality console, Studio B at Montreal's Studios Piccolo has been the scene of non stop activity. Already, several major artists have booked and completed long-term projects in Studio B, as the Duality-equipped, surround-sound studio attracts attention from all over North America. Engineer Drew Mazurek, who has recorded or mixed artists including Linkin Park, Godhead and Jawbox, engineered the first Duality session at Sheffield is also impressed with the console. "It is all very well thought out—ingenious, actually," says Mazurek

Since its introduction at the 121st Audio Engineering Society Convention in October 2006, Solid State Logic's Duality console has quickly earned the distinction of the fastest-selling large-format console in the manufacturer's distinguished history. The groundbreaking Duality which has rung up more than 30 sales to elite commercial and private studios around the world, combines the analogue sonics of legendary SSL E, G & K Series consoles with extended Digital Audio Workstation integration capabilities.
Duality owners include such top audio professionals as Miami-based Scott Storch (50 Cent, the Roots, DMX, Missy Elliot); Paris-based Mirwais Ahmadzai (Madonna); ABBA's Benny Andersson, owner of Mono Music in Stockholm; Alicia Keys, owner of New York-based studio the Oven; Pete Townshend, owner of the legendary London-based studio, Eel Pie; and producer/engineer Aris Archontis, owner of Sherman Oaks, Calif.-based Archon.
Commercial recording studios that have recognized the unparalleled quality and value of Duality include Studios Piccolo in Montreal, which has enjoyed a full schedule in its 5.1 mix room, Studio B, since the December 2006 installation; and Sheffield Audio Video Productions in Phoenix, Md., where Duality serves the facility's commercial recording and training programs. Most recently, Patchwerk Recording Studios in Atlanta has purchased a Duality.
Other Duality installations around the globe include Osaka School of Music, TSM and SCA, all in Japan; Baltic Recording in Denmark; top London-based studio Sahara Sound; Songworks in Sweden; and Cosmos Studios in Mexico.
"We've been an SSL company from the beginning and they've never let us down," says Sheffield Audio Video Productions President Richard "Vance" Van Horn. "Today's young engineers and students are much more in tune with digital audio workstations, and Duality integrates the DAW. John [Ariosa, Sheffield owner/CEO] and I knew that this was the one we had been waiting for. It just fits all the bills for what we do in our business."
Designed to closely integrate with the operator's workstation of choice, Duality offers a wealth of creative and sonic options. The console has a unique split channel path that enables channel processing to be placed in the input or monitor path of the workstation. In addition to a SuperAnalogue™ mic amp, each channel features a Variable Harmonic Drive™ input stage designed to add analogue character to sterile workstation outputs. A 2nd to 3rd harmonic drive control provides a range of tones, from the warmth of 50's tubes to the 'edge' of 70's transistors.
There are both E and G series equalizers and peak sensing or RMS/over-easy compression to choose from. Duality offers VCA style or moving fader automation and complete control over DAW parameters from the console channel rotaries. There are multiple stereo busses or multiple 5.1 stems to make the best use of a full set of 5.1 pan/positioning controls on each channel.
Duality features an engineer-familiar hardware control surface and adds TFT display across all channels to provide comprehensive visual feedback on signal levels, channel settings, system configuration & routing to deliver highly efficient multi operator Total Recall™. Duality is the analogue console for the digital age, all for a price point that's roughly half of its equivalent K-Series sister console.
Solid State Logic is the world's leading manufacturer of analogue and digital audio consoles and provider of creative tools for film, audio, video and broadcast professionals. SSL's product range includes the C100, C200 & C300 Digital Consoles, Duality, the large format analogue console with integral DAW control, AWS 900+ Analogue Workstation System, the XLogic range of rack processors & I/O, the Duende DSP engine for workstation users and the Soundscape Audio Workstation product line. For more information about our award-winning products, please visit: www.solid-state-logic.com.


Solid State Logic's AWS 900+ Analogue Workstation System is also a hit among commercial recording studios. West LA Music/Westlake Audio Are The New Dealer For AWS 900+





Expresso Cat Walk at SXSW..... Moments You Didn't See or Hear With Producer Dave Carlock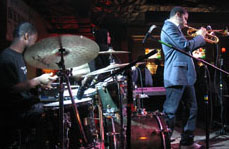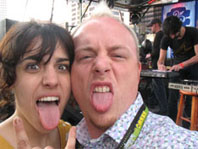 hristian Scott performing @ Bourbon Rocks in Austin, 3/17/07; Via Audio's Jessica Martins with LA producer/mixer Dave Carlock at Blind Pig in Austin, 3/17/07 photo by: Dave Carlock

March 13, 2007 Austin, TX --This was my first SXSW and it won't be my last. As a producer/engineer/musician who loves live music, this was a bizarre and incredible experience. Where else in the US--or even the world--can you find a street like 6th Street--a long street comprised almost entirely of bars, pubs, clubs, and restaurants that feature live entertainment? Add in some tattoo parlors and hole in the wall pizza places and you have the stage set for a great time. And that's not even mentioning the surrounding streets which are also full of activity.
I decided early on to throw any heavy planning out the window and let the wind blow me around. This felt like the kind of place that a creative approach could yield good results. I met a lot of great people in the most random places and in the most random ways, each time getting me more and more excited about how "randomness works" at SXSW. I also ran into people I knew from NY days that I hadn't seen in a while--Shep Goodman, now A&R at Universal/Motown, my attorney friend Wallace Collins, Matt Pinfield of Matt Pinfield(!), and Jon Leidersdorff formerly of a great NJ band called Outcry. I played some keys on their record and helped them arrange some mini-tours back in Michigan.

I found I was continually drawn to Emo's multi-venues, Bourbon Rocks, Dirty Dog and Darwin's Pub. All great venues with great artists. My approach was to avoid the major draws. As much as I really wanted to see the Stooges, for example, I decided that this trip was about finding diamonds in the rough and seeing who I might be able to connect with creatively and personally.
A major complaint of the SXSW critics is to say that the festival has gotten too large and that the majority of the bands are signed now. I did think that that was a bit of a problem. However, it was easy enough to avoid the long lines and familiar names and search out something else. And unlike LA, popping into a random club usually didn't disappoint. Maybe it wasn't something I was interested in, but I never found a band that I thought was awful. There was incredible spirit and drive from everyone I saw there.
Joe D'Ambrosio, Steve Greenwell & I stopped in at Christian Scott's show. He and his band were individually very good, but for my taste, seemed to have a little trouble really gelling till midway through--but hey! This is live!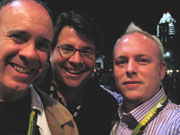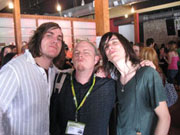 NY producer/engineer Steve Greenwell (Joss Stone), producer/engineer manager Joe D'Ambrosio and LA producer/mixer Dave Carlock (P!nk, Blink 182) spreading West Coast/East Coast harmony in Austin, 3/16/07; Jeff LaTour and Jonathan Temkin from Self Against City with LA producer/mixer Dave Carlock at the Drive Thru Records party in Austin, 3/15/07.
photo by: Dave Carlock
Some of my random favorites:
Eli Reed and the Truloves (Thurs @ Bourbon Rocks)--a truly authentic 60's style R&B band complete with horn section. Eli sounds like a wonderful tribute to Sam Cooke with new material ripe for licensing, if he can connect with the right music supervisor. I saw him with my friend Jen Wilson, editor of the Music Network in Australia. Through my earplugs (necessity), you could hear the mic breaking up in the best tradition of James Brown records--I felt like I was there. I almost grabbed Jen to dance, but wasn't sure if she was into the American 60's R&B thing. But the room was so hot, I'm sure if I'd made the jump, people would've rushed the dance floor. Officially list that among my small regrets in life! Next time the room feels so ready to blow, I'm there. The music felt just like all those sweaty R&B B&W club photos you see from the era.
Self Against City (Thurs @ Emo's) I'm glad Stefanie Reines got me an invite to the Drive-Thru records party or I might have missed it--it was a great high energy show from a tight band. Richard Reines' scouting abilities and Stefanie's great approval skills make the label a winner, I'm sure everyone's heard Hello Goodbye by now! Watch for Self Against City's record to drop really soon.
Via Audio (Sat @ Blind Pig)--Jessica Martins drew me in personally--good trait for an artist. They have a few songs that I think are good, based around her vocal. The rest are fun, quirky alt/pop rock, but not as standout as my favorites. The band is comprised of multi-instrumentalists and singers, but it was Jess's energy that tipped it for me--she was fun as hell to watch and very intense. She goes to "a place" when she's on stage and I want to go there too. I could really feel her thing up there. You can tell from the photo we fuckin' rocked it...
Earl Greyhound (Weds @ Mohawk)--I first heard of them from Gary Cambra, ex of the Tubes, whose new solo record I've been mixing. He sent me their myspace page two days after they were in LA. I was so excited about what I heard, I was pissed that I missed them! I noticed bassist Kamara Thomas's fro & feathers across the room before I even knew they were in Austin. We met and she confirmed they were playing next, so I was ecstatic. It makes one realize, once again, the importance of an artist's image. Here was an artist I'd seen only a few pictures of one night a month earlier and--POW!--I recognize the back of her head in a crowd of people in a strange city--if only we could *all* look that distinctive! The band was really tight and powerful with a great stage presence. On their myspace page, 'SOS' & 'All Better Now' are killer, heavy blues/pop tracks with traces of Queen harmonies and Zeppelin riffing that really hooked me immediately. Unfortunately for me, though most of the the rest of the crowd probably didn't care, the venue's PA couldn't do the band justice. They could've benefitted from a regular sound guy to help recreate the sound of the record live. It's so stunning sonically that it would make a difference. I'm definitely gonna catch them at the Troubadour on March 31st.
"So if you couldn't tell, I had a blast," says Carlock.
--Dave Carlock contributed to this report that's also posted on DC's Myspace (set to launch its own news service that will allow users to comment on and rate stories that they post on their personal pages). Whether he's playing instruments or engineering for rock artists that have won him Platinum records awards like Pink and Blink 182; doing Pro Tools engineering for classic rock royalty like Eric Clapton, Joe Cocker or Styx; producing or recording punk rockers like The Transplants, Rancid, Danny Diablo or Bad Religion; or working with some of adult contemporary music's most long lasting artists like Richard Marx, David Foster, and Dolly Parton; Dave is one of those rare individuals that can move from genre to genre because of his passion for universally memorable songs.
Soundfield's New Software Driven Surround Micropphone
Hear The SPS200 At NAB 2007 -- Booth #9421
MSRP: TBA


SoundField will debut the compact and lightweight the SPS200 A-Format microphone for stereo and 5.1 surround recording at the NAB convention, booth #9421. Designed for computer-based field and studio broadcast and recording applications, the SPS200 offers software plug-in A-Format to B-Format conversion, plus stereo and surround sound decoding and manipulation in place of an outboard control unit.
The most affordable of the SoundField Technology product range, the relatively lightweight SPS200 A-Format microphone uses the same established SoundField multi-capsule technology as the high-end models and offers many of the impressive features of the company's more expensive microphones. The SPS200 provides the ability to capture 5.1, 6.1, 7.1-channel audio and simultaneous stereo with variable width and to continuously vary the effective polar pickup pattern and orientation without moving the microphone.
The SPS200 comprises four low-noise, studio grade condenser capsules and weighs-in at less than 8 ounces (220 grams). Offering standard 48V phantom power, compatibility with all equipment is ensured through a provided short breakout cable that offers four line level outputs on balanced XLR connectors.
The first SoundField microphone to not require an accompanying outboard control unit, the SPS200 A-Format microphone relies on software for all format conversion, decoding and manipulation. The SoundField Conversion Lounge plug-in handles A to B-Format conversion and the SoundField Surround Zone plug-in looks after all aspects associated with stereo and surround sound decoding and manipulation. The software is compatible with Digidesign Pro Tools|HD and all PC and Mac DAW platforms that support VST Multichannel, including Nuendo, Cubase and Soundscape.
In addition to A-Format to B-Format conversion, the software supports many other features, for example allowing for 360-degree rotation and ±45-degree tilt control. A Zoom function gives the effect of zooming in or out from the sound source while End Fire re-orients the mic for end fire use rather than the more standard side address. An Invert function maintains the correct three-dimensional perspective in both surround and stereo when the SPS200 is suspended upside down above the sound source.
The software offers six modes for surround sound applications, including three 5.1 presets plus 6.1, 7.1 and 8-channel presets, with variable control of the front and rear width and rear polar patterns. In stereo mode, the software offers adjustment of polar patterns, stereo width and a high-pass filter as well as a Mid/Side (M/S) encoder.
For more info on SoundField Microphones (UK) contact Brad Lunde at http://www.transaudiogroup.com/ or Phone (702) 307-2700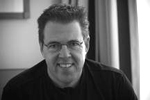 TransAudio has quickly become the premier US importer/distributor for high-end audio with a product line to include A-Designs (USA) AEA ribbon microphones (USA), ADT Toolkit, AEA, ATC Loudspeakers (UK), Brauner microphones(Germany), Drawmer (UK), Geoffrey Daking & Co. (USA), Enhanced Audio (Ireland), George Massenburg Labs (GML) (USA), Heil Sound (USA); Mercury Audio (USA) Mission Audio (UK) Phoenix Audio (UK), PAULY Superscreens(Germany), SABRA SOM(Brazil), Soundelux (USA), SoundField Microphones (UK), Z-Systems (USA) and Weiss Engineering (Switzerland) and Z Systems (USA).

MASTERING ENGINEER ALERT: Ask DAD (Digital Audio Denmark) & Get a FREE SACD
The first DXD recording of Mozart's violin concertos in Norway


TransAudio Group, the U.S. distributor of Digital Audio Denmark (DAD) precision AD and DA converters, will offer complimentary SACDs of the world's first DXD recording to mastering engineers by simply calling Brad Lunde at TransAudio Group (702) 365-5155 and requesting a copy. This is a dual disc set with both the standard CD and SACD formats. With 24-bit, 352.8kHz recording and dramatically improved impulse response, DXD (Digital eXtreme Definition) is the first digital format to overcome the sonic failings of every protocol heretofore employed.
The system used for the disc represents the collaboration of DAD with Merging Technologies to create the eight-channel Sphynx-2 converter for Merging Technology's Pyramix DAW. Two-time Grammy nominee Morten Lindberg and Hans Peter L'Orange used this high-end solution, along with a minimal array of DPA 130V microphones, to record violinist Marianne Thorsen and the Trondheim Soloists in Selbu Church, Norway. The musicians performed Mozart's violin concertos and were recorded live.
At the moment, Digital Audio Denmark is the only company whose AD and DA multi-channel converters are capable of delivering DXD. Their DAD AX24 is a user configurable system that is field upgradeable from 24/48 to 24/192 to full blown DXD, all within the same chassis. Not only has DAD built a completely modular system to address any sample rate, they have reached an extraordinary level of audio performance, winning shootouts the world over.
"The recording quality is, I believe, quite the best there is in the world today," said a reviewer of the Mozart DXD recording on www.SA-CD.net. "The DAD DXD Mozart disc is truly awe inspiring," noted Brad Lunde, president of TransAudio Group. "It gives the listener an excellent idea of just how different sounding the DXD format is. This Mozart CD sounds extraordinary and it immediately highlights what Digital Audio Denmark's technology can do. Only a limited number are available, so we are hoping the right people call fast."
TransAudio Group is now offering Digital Audio Denmark converter systems for sale on their Las Vegas Pro Audio website and selected US pro dealers as they get the product out to the US market for the first time. www.lasvegasproaudio.com is also the exclusive US source for ATC studio monitor(UK), Geoffrey Daking & Co. (USA), Enhanced Audio mic mounts and PAULY Superscreens(Germany) pop-filters. The goal of Las Vegas Pro Audio is to provide an outlet for product too high end for traditional dealer networks.
Hear Paul McCartney!
Introducing The New Concord/Starbucks Label



The world's largest specialty coffee retailer has become a content developer. They announced earlier this month partnering with Concord Music Group to launch the Los Angeles-based Hear Music label. And their 1st signing is a Beatle! The former Beatle made an appearance via a video feed from London at the company's annual meeting.The former Beatle, Paul McCartney made an appearance via a video feed from London at the company's annual meeting two weeks ago.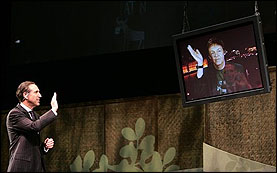 Starbucks Corp. chairman Howard Schultz waves buh-bye to singer Paul McCartney. (AP Photo)
With over 7000 coffeehouses all over the world (5,668 in US) and large demographic and presence, it's easy to see how. Starbucks Records is expected sign, record and produce its own artists rather than licensing songs from other labels and will seek to secure distribution for its releases in other retail outlets (currently only distributing music though its retail coffee shops). With enough licensing deals in place with major and independent record labels, the company also plans to build its own digital-music store a la Apple's iTunes. More recently Hear Music Introduced Artist's Choice™ with interviews of favorite artists like the Rolling Stones and the music that matters to them. Hear Music has been used as a brand on other releases developed for sale in Starbucks stores. The coffee giant also has a branded page on Apple Inc.'s iTunes digital music store, and a handful of hybrid music-and-coffee stores that allow customers to burn tracks to CDs. Concord, which controls several other labels, helped Starbucks sell the Grammy-winning "Genius Loves Company," an album of Ray Charles duets.
Citi® and AAdvantage® offers 3+3+3=1
Traveling Through Life Concert Series With Prince, Christina and Dave




With a theme of "3 Cities, 3 Concerts, 3 Journeys, 1 Card," Citi and American Airlines are once again bringing the "Traveling Through Life" concert series to its Citi® / AAdvantage® cardmembers with each artist taking fans on a unique and personal musical experience unlike any other in live entertainment. The distinct "Traveling Through Life" series is a mix of high caliber artists performing hand picked songs in intimate venues, interspersed with storytelling and delivering an unparalleled fan experience.
This year's slate includes Dave Matthews and Tim Reynolds at the Citi® Performing Arts Center's Wang Theatre in Boston on April 20th, Christina Aguilera at San Diego's Civic Theatre on May 21st and Prince performing at The Orpheum in San Francisco in late May. Tickets for all three shows go on sale at Noon EST on March 20th exclusively for all Citi® / AAdvantage® credit cardmembers at www.privatepass.citi.com.
The Capitol Pinch...The label giant is feeling the pinch after another year of declining CD sales. "Unless you're the Beatles, you're pretty much off Capitol now," says Gregg Donovan, manager of Aussie band, Airborne who signed a seven-figure deal with the company in 2005 on the basis of a raw demo and an electrifying live show. They had recently completed their debut album, Runnin' Wild, in Los Angeles. Airbourne's members were initially worried about being left without a US label or the rights to their album. But after intense negotiations, the band has left the partnership owning their album, without any debt. Mr Donovan believes the label has dropped 75 per cent of its roster, and even superstars such as Moby are not safe. Capitol roster includes: The Vines, Mercy Arms, End of Fashion, Dandy Warhols, Ima Robot, and Melissa Auf Der Maur. "Unless you sold half a million copies of your last record for Capitol, you're probably gone," one source said at Australine news magazine, The Age.
Wyman Shoots
Morrison Hotel Gallery through April 15
7517 W. Sunset Blvd., Hollywood (323) 874-2068,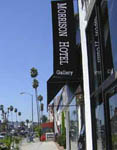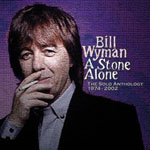 He has opened a restaurant, become an avid archeologist of Roman sites in England (recently unearthed a rare Roman coin and even rarer brooch near his country house), written half a dozen books (on topics as varied as blues music and the aforementioned archeology), is raising three preteen daughters and does concert tours and benefit shows with his own rock-blues-jazz-oriented band. He also played bass in the Rolling Stones, from the group's founding in 1962 until he voluntarily exited in 1993. You can hear Bill's sound on hits as "(I Can't Get No) Satisfaction," "Brown Sugar" and "Jumpin' Jack Flash," but his low-key manner put him in the background of the more colorful Mick Jagger and Keith Richards. "My life's very, very full," says Wyman, who turned 70 in October, speaking from his home in Suffolk. "So not much time to do photography," Bill says who stopped flying years ago and did not attend the gallery reception for his photo exhibit in Hollywood last Saturday. Wyman's passion for photography started when an uncle returning from World War II handed down a Brownie box camera and he had plenty of opportunity to click. It's hard to come up with a more photogenic cast than Jagger, Richards, Brian Jones, Ron Wood and Charlie Watts, not to mention such friends as John Lennon, Elton John and the Who. Those and more, captured in offhand moments both on stage and off, will fill the walls of the Morrison Hotel Gallery in Hollywood for an exhibit titled "Wyman Shoots," running through April 15.


An investment firm run by former Walt Disney Co. Chief Executive Michael Eisner has launched a studio that will produce and distribute videos for the Internet, portable media devices and cell phones, as Hollywood strives to reach tech-savvy viewers online. The studio, Vuguru, has signed for its first project, "Prom Queen," a scripted 80-episode mystery consisting of 90-second installments described as "a blend of love, gossip, and betrayal" during the final two weeks of high school. Tornante will be producing "Prom Queen" with independent production team Big Fantastic. The deal was brokered by United Talent Agency's online division."Prom Queen" debuts on April 2 and will be available at Vuguru's site PromQueen.tv, online magazine Ellegirl.com and YouTube. It will also be available on Veoh Networks, CO-financed by Eisner's investment company Tornante Co. "The entire concept here is content is king," Eisner said in a phone interview. "What will drive traffic is interest in the subject matter." Eisner, who helped define modern filmmaking and merchandising during a 21-year reign at Disney, now aims to do the same online. The studio's next project will feature videos that are five minutes in length and it is working on another project with seven-minute videos.


Epic Records pres Charlie Walk has named Andy Gershon the label's Exec. VP. In his new role, Gershon will play an essential role in expanding and diversifying EPIC's roster, covering all genres of music. And as EPIC continues to evolve from a traditional record label into a brand-building music company, Gershon will help lead in building a new, creative economic model for the music company." Gershon's career began in artist management, working with bands such as Love and Rockets, The Cocteau Twins and The Sundays. In 1996, he formed Outpost Recordings, a joint venture with Geffen, and signed Days of the New, The Crystal Method and Veruca Salt.
If These Halls Could Talk: A Historical Tour Through San Francisco
Recording Studios
Author: Heather Johnson

Read on leading Bay Area artists, producers, engineers, and studio owners take readers on a guided tour through some of San Francisco's top recording studios, venturing behind the scenes of some of popular music's hottest albums. Readers will learn about the recording techniques, the
magic, and often unusual experiences that went into a wide range of recordings, including works by Jefferson Airplane, the Grateful Dead, Santana, the Pointer Sisters, Herbie Hancock, Journey, Huey Lewis and the News, Chris Isaak, Faith No More, Green Day, and many more.
A Light of Hope For Cancer Patients
With Jazz vocalist James Torme And Sponsor Conroy Flowers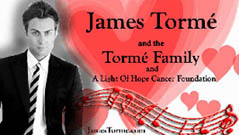 This past Valentnes Day, A Light of Hope Foundation (ALOHF) Co-Founders Richard Fricke and Jodi White proudly announce a very special donation from Conroy's as A Light of Hope joins with City of Hope to give away hundreds of teddy bears and flowers to the revered national medical center's patients. "We are especially honored to have James Torme with us today (representing his father, jazz legend, Mel Torme?) to greet the patients as James' grandparents, Bill and Betty Torme, have been longtime supporters of the City of Hope and actually performed for our patients many years ago," says Britta Bucholz, Senior Director of Music and Entertainment Industries, at City of Hope. Fricke notes, "pleasurable surroundings in and around the treatment area have been proven to be linked to chemicals which are naturally released in the brain. These chemicals can reduce stress and assist in accelerated recovery. The same result has been scientifically proven with specific music, of which numerous studies have drawn similar conclusions." For more information about A Light of Hope Foundation (ALOHF), making a tax-deductible donation, becoming a sponsor of future events or volunteer opportunities, you may log onto www.alightofhope.org or call 310.228.3644.



Todd Agnew Records Fourth Album at Ardent
Grammy®-winner John Hampton at Producer's Helm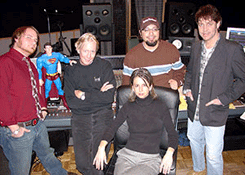 Pictured at Ardent Studios in Memphis are (L-R) engineer Curry Weber, producer John Hampton, drummer Kim Trammel (seated), Todd Agnew, and bassist Dave Smith.
Popular Christian rocker Todd Agnew is recording his fourth album at Memphis' Ardent Studios with producer John Hampton, who won a Grammy last year for his work at Ardent with The White Stripes. Agnew remarked that his new album, entitled "Better Questions," is his most venturesome production so far, and cites studio owner John Fry, producer John Hampton, engineer Curry Weber and assistant engineer Adam Hil as indispensable in achieving his goal. "The theme for this album is that I have better questions than I do answers," says Agnew, "and that that's okay. It's okay not to know everything - the questions themselves are important." The album features some of Memphis' finest players: Steve Selvidge (guitars), Kim Trammel (drums), Dave Smith (bass), Jack Holder (guitars) and Jonathan Chu (strings). The record is slated for release July 17th on Ardent Records, with an accompanying DVD.
According to producer Jeff Gross the Britney Spears breakdown song he produced last week written by Vinnie Favale (frequent Howard Stern guest and VP of CBS east coast) is getting lot of views on YouTube (when we checked it was up to 14,246 )! It made it onto the front page at www.IFILM.com and even made it to howardstern.com "I know the lyrics are cheese so don't give me a hard time about that but people are digging the song. Gross got an email from Howard himself - "wow, nice job..that girl is good as well...," says Stern.
The G Word - Watch Screamers trailer at myspace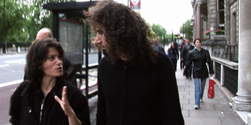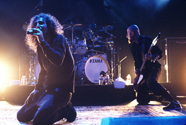 Director Carla Garapedian with SOD's Serj Tankian; SOD performance from the film, Screamers
Using System Of A Down's music as the backdrop to historical footage and current accounts from genocide survivors, "Screamers" presents some of the great questions of our time: Can we stop genocide? Do we really mean 'never again'? And how can we take action to prevent atrocities of this magnitude from happening in the future?

SOD's Serj Tankian cofounded Axis of Justice with Rage Against the Machine/Audioslave guitarist Tom Morello, to mobilize musicians and music fans around progressive issues.

"The philosophical and moral code of these engineers must be to create the finest possible documentation of the session--whatever the hell it is."
--Eugene Chadbourne, All Music Guide